I may earn money or products from the companies mentioned in this post. Please click my Disclosure Policy to learn more
Sherwin Williams Agreeable Gray SW 7029 is a soft warm gray paint color. It is an amazing neutral that works well with almost any other color in any space. It's also a crowd-pleaser as it's Sherwin William's number one selling color.
Here we go again, another day, another gray paint color. But this isn't any old gray paint color. It's said to be the best greige/ gray paint color out there. It's highly popular among my customers and I see the gray ALL over Pinterest. I bet you know what paint color I'm talking about.
Let's give a welcoming round of applause for……
Sherwin Williams Agreeable Gray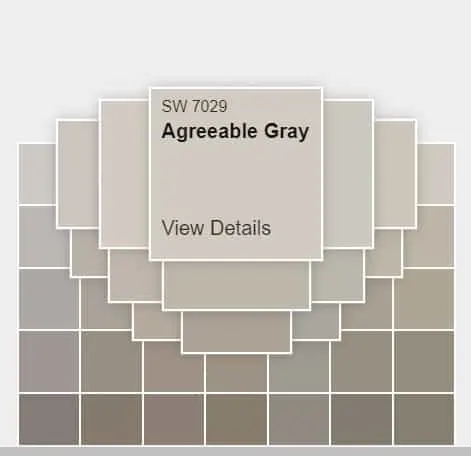 Today we are going to dive deep into the world of Agreeable Gray. I want to see if this color lives up to all the hype it gets. I mean you can't type in "gray paint color" on Pinterest without this bad boy popping up.
Don't get me wrong, it's a fabulous gray, but I want to break it down and see what makes Agreeable Gray Sherwin Williams top-rated paint color. There must be a good reason it's considered the best gray paint color.
Stats on Agreeable Gray SW 7029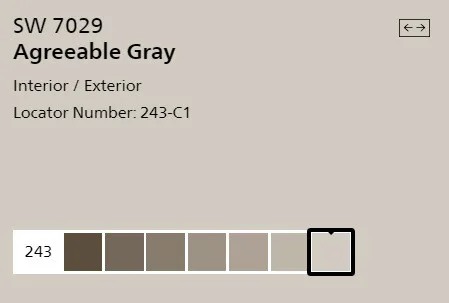 R: 209 G: 203 B: 193
Hex Value: #d1cbc1
CIE-L*Ch(ab) = 82.534 5.537 91.128°
Hue Family – Yellow
LRV: 60
Color Collections: Reasoned
For those who are unfamiliar with LRV or Light Reflectance Value, here is a quick recap. It is a measurement commonly used by design professionals that measures the amount of light reflected from a surface. LRVs range from 0-100, with 100 being pure white and 0 being absolute black.
To sum it up, higher numbers reflect more light and lower numbers do the opposite. At 60 AG is a bit past the middle of the range. It will reflect a good amount of light.
What color is Sherwin Williams Agreeable Gray?
You would think this is a silly question being that GRAY is in the name of the paint color. However, you'd be surprised at some of the names of paint colors and how they don't look anything like their names.
So yes, Agreeable Gray is in fact a gray a paint color. But there is more to it than meets the eye. Yup AG may look like a gray paint color but, he's got a lot going on.
Agreeable Gray undertones.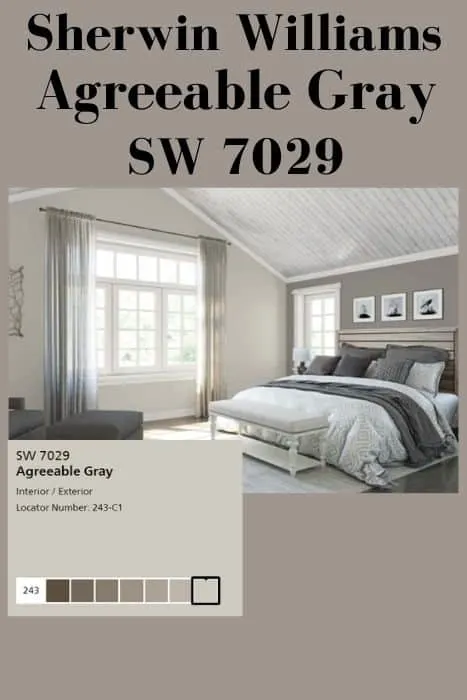 Agreeable Grays undertones tend to stay rather neutral. It has taupe/ brown in giving it its warmth with a dab of violet in it. It has a nice balance of warm and cool tones explaining why it's been called the perfect neutral gray.
Let's keep in mind that in cooler lighting situations AG is going to look cooler. All grays (warm and cool) have 3 undertones, blue, green, or purple which means there is always a chance that these undertones will show up in the right lighting. I've seen Agreeable Gray look almost blue in some rooms. So even though it is a warm paint color it still has cool undertones that like to sneak up on you.
Is Agreeable Gray considered greige?
Yup. it sure is. Agreeable is a gray that leans towards beige, hence the term greige. Now not all greiges are the same, there are colors such as Accessible Beige, which are beige that leans towards gray.
Agreeable Gray is a soft greige with a little warmth in it.
Don't forget to pick up these amazing painting tools! They will only make your life easier!
Is Agreeable Gray SW 7029 a warm or cool color?
AG is a warm gray/ greige paint color.
If you place it side by side with another paint color, Depending on the color you are comparing it to, it can either look more or less warm than the opposing color.
For example, when you compare Ag to SW Passive or BM Gray Owl, it's clear that AG is a warm color.
Regardless, Ag is considered a warm gray paint color.
INTERESTED IN MORE WARM PAINT COLORS? CHECK THESE OUT:
SW Agreeable Gray and Lighting
We know that lighting is one of the main factors contributing to how a paint color will look. It can virtually change the appearance of any color. That's a big deal when you are trying to choose the right paint color. So, it's best you are familiar with the lighting situation of the room you are finding a paint color for.
North-facing rooms – North facing rooms tend to have light that comes off cooler and even blueish in tone. Paint colors that are on the lighter side like Agreeable, will appear a bit muted whereas bolder dark colors will pop and embrace that cooler light.
South-facing rooms– In South facing rooms, there tends to be a consistent warm light throughout the day. Warm and cool tones work with south facing light. This light intensifies colors, so darker colors will seem brighter while, softer colors will almost look like they are glowing. South facing light will show off SW Agreeable Grays warmth.
West-facing rooms- Light is cooler in the morning and warmer or brighter in the afternoon/ early evening. Early evening is when West-facing rooms have the best light. Warmer tones might seem overwhelming because of the red-orange the light gives off. However, if the main use for the room is in the mornings, the colors won't appear as intense because of that cooler light. Agreeable Gray in a west-facing room will show off more of the warmth the color has in the afternoons.
East-facing rooms– Light is warmer or brighter in the mornings and cooler in the afternoon/evenings. An East facing room's bright morning light is more yellow-orange toned. Going with a warm palette will help balance the lack of natural light in the evening. Sherwin Williams Agreeable Gray will show cooler in the morning of an east-facing room.
As much as lighting plays a big part in how a paint color looks, there are other factors to keep in mind. For example, furniture, fixtures, cabinetry, and floors. These are all elements that can affect the way a paint color will look.
WAIT! Before you start painting make sure you have the best painting tools to make your job easier. It will take hours off your painting times!
Where can you use SW 7029 Agreeable?
Anywhere! Use Agreeable Gray throughout the house….
Kitchen
Bathroom
Exterior
Living Room
Basement
Cabinets
Trim
Ceilings
There are so many opportunities throughout the house to use this versatile gray paint color.
Use Agreeable Gray in the bathroom
The bathroom walls are the perfect place to use SW Agreeable Gray. Because this gray is pretty dang neutral, it goes with almost any color. As you can see in the photo, AG makes a beautiful backdrop for this bathroom's black and white color scheme.
You can also use Agreeable SW7029 on your bathroom vanity. This soft greige will give the room a fresh and crisp feel.
Use Agreeable Gray in the kitchen
Another excellent place to use AG is in the kitchen. Again, this warm gray will provide a neutral backdrop allowing you to bring in color elsewhere.
Is Agreeable gray good for cabinets?
Yes ! Use Agreeable Gray on either the kitchen cabinets or walls. This gorgeous near-neutral paint color is an amazing kitchen cabinet paint color option. Consider using a black paint color with AG, in the kitchen. It will create such a bold beautiful contrast.
If you are considering painting your kitchen cabinets yourself, read this first!
MAKE SURE YOU HAVE THE RIGHT TOOLS BEFORE YOU START PAINTING! GET THE PAINT TOOLS THE PROS USE!
Agreeable Gray on the exterior of your home
AG is an amazing paint color option for the exterior of your home. It will, however, come off much lighter than it does indoors. Obviously, because of the direct sunlight, it is getting. Agreeable Gray is still a fantastic option for the exterior, especially if you want a light color that isn't white.
LOOKING FOR MORE EXTERIOR PAINT COLORS? CHECK THESE OUT:
Don't forget to pick up these amazing painting tools! They will only make your life easier!
Colors similar to Agreeable Gray
Out of pure curiosity, I like to find some other gray paint colors that are similar to the color in question. In this case, I have come across a few gray paint colors that are very comparable to AG.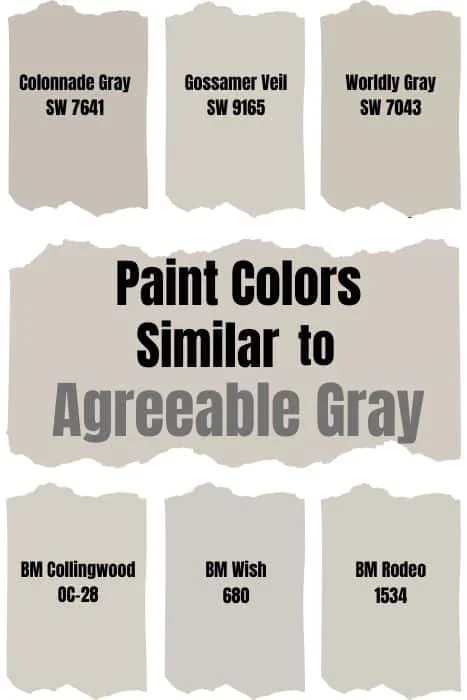 Colonnade Gray SW 7641
Gossamer Veil SW 9165
Benjamin Moore Rodeo 1534
Benjamin Moore Wish 680
Benjamin Moore Collingwood OC-28
If you are interested in finding a paint color from Benjamin Moore that is similar to SW 7029 Agreeable, look at BM Collingwood OC-28, BM Wish 680, or BM Rodeo 1534.
Are these gray paint colors exactly match AG? No, however, they are close and they are all around great gray paint color options.
Benjamin Moore Equivalent to Sherwin Williams Agreeable Gray
I understand that there are times we don't have access to certain brands because of location, the painter you are using, etc. For that reason, I like to give a paint color that is very similar to a different brand. So for Agreeable Gray, I found two colors that are quite similar.
N320-2U TOASTY GRAY – Behr Color collection
If you are thinking about trying to color match between brands, I highly suggest not doing so. Every paint brand is different so there is no guarantee that the paint color you are trying to match will be the same. If you do decide to go this route, please please please do yourself favor and get a sample of the matched color beforehand.
KEEP TRACK OF YOUR PAINT COLORS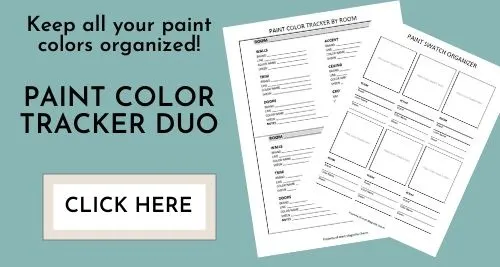 Are you looking for a way to keep track of all the paint colors in your home? Have you ever had to touch up some paint in your home and forgot what the paint color was? It's like you are playing the guessing game, what color, paint, finish, and brand. It's completely frustrating! I have the perfect solution to keep your paint colors all in one place. My simple paint color tracker can keep you and your paint colors organized!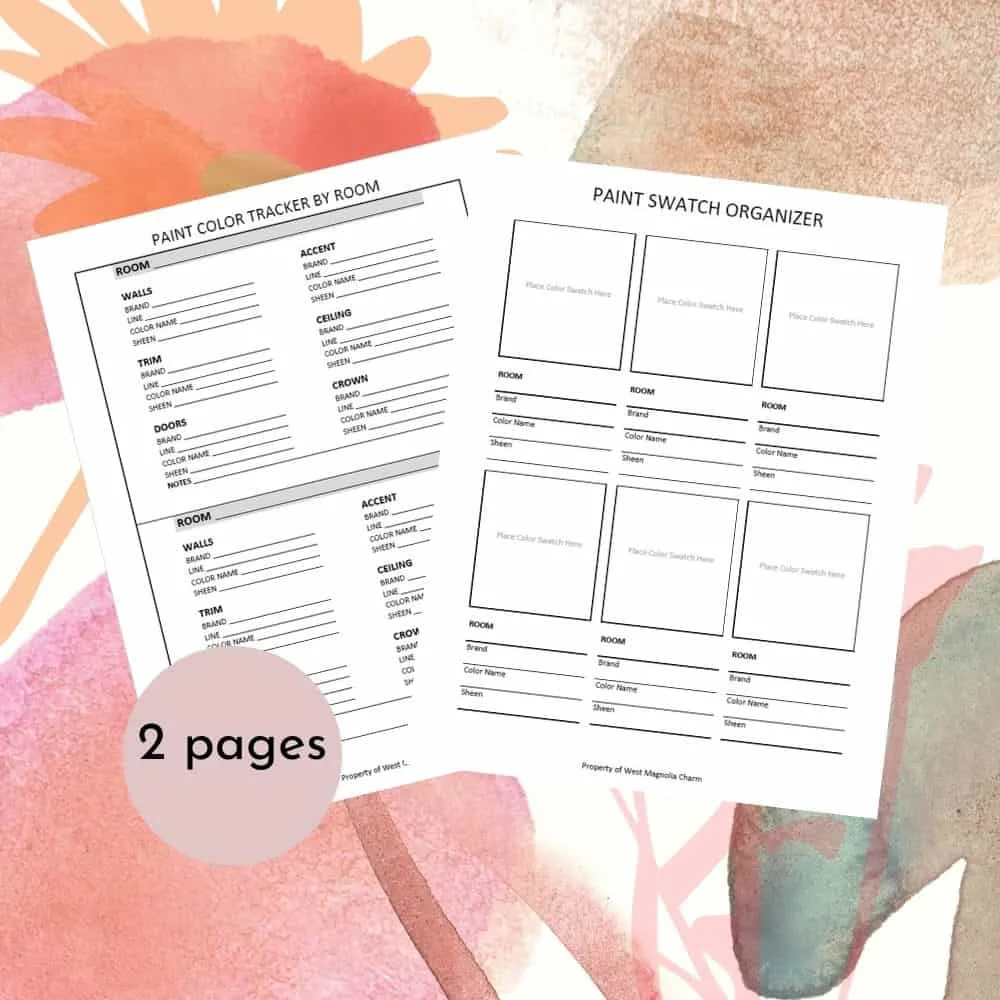 AG Coordinating Colors
By now you know that AG is a neutral gray, I hope I made that clear. Neutral grays tend to work well with almost any other color, greens, blues, etc. But I want to give you a few specific paint colors that coordinate exceptionally well with Agreeable Gray. I mean, I like making your life easier. You are welcome!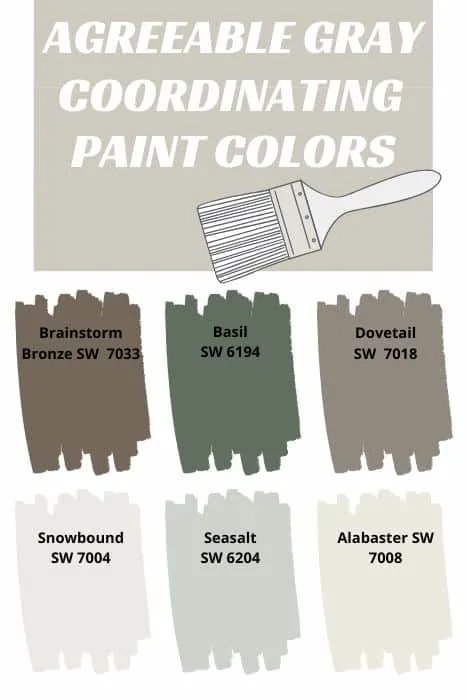 Riverway SW 6222
Brainstorm Bronze SW 7033
Basil SW 6194
Snowbound SW 7004
Agreeable Gray and Dovetail
Dovetail is one of my favorite darker shades of gray by Sherwin Williams. (All of the interior doors in my home are painted Dovetail)
In my opinion, it is a neutral gray. There aren't any bold, overpowering undertones stealing the show. It's just a great dark gray paint color. It coordinates perfectly as a dark accent color to Agreeable SW 7029.
Agreeable Gray vs Repose Gray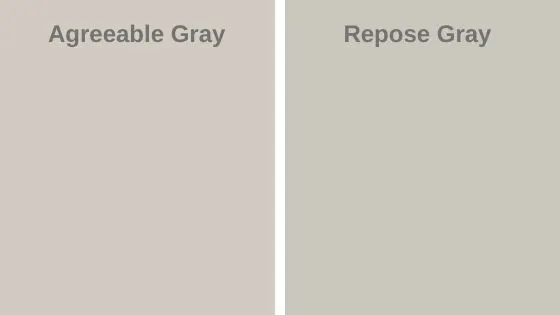 This color match up right here is the battle of all battles. These are 2 of the most popular colors among my clients. On many occasions, the final decision comes down to these 2 gray paint colors.
Let's see how the battle of Agreeable Gray vs. Repose Gray pans out.
Agreeable has an LRV of 60, which is a hair lighter than Repose Gray at 58.
AG has more warmth in it and also has brown/taupe undertones, leaning a bit more beige.
Repose Gray is cooler-toned leaning a bit grayer.
When it comes to being a greige Agreeable Gray takes this one.
Unlike how Repose can show the purple/blue undertone it has, AG tends to stay docile, sticking to the griege that it is.
If you are interested, check out the Repose Gray full breakdown, I give you all the facts and tell you my thoughts on it. Spoiler, I LOVE Repose Gray.
WAIT! Before you start painting make sure you have the best painting tools to make your job easier. It will take hours off your painting time!
Accessible Beige vs. Agreeable Gray
This is another pairing that often comes up with clients. Everyone always wants to see how Agreeable Gray vs. Accessible Beige SW 7036 compare.
Accessible Beige is more warm-toned than AG.
The LRV of Accessible Beige is 58 which is slightly lower than Aggreables 60.
Accessible Beige is more of a beige color with gray undertones.
Accessible Gray has a tiny bit of green in it which will come out in certain lighting situations.
Comparing these 2 colors side by side you can see that Accessible Beige's name is pretty accurate. The beige is really showing through.
Agreeable Gray vs. Revere Pewter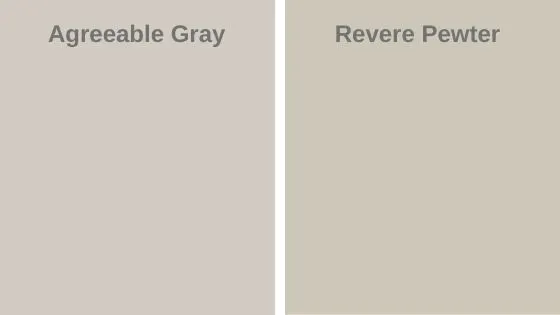 OK, Sherwin Agreeable Gray vs. Benjamin Moore Revere Pewter. 2 extremely popular neutral paint colors. How do they compare?
Revere Pewter is a bit darker than AG
Agreeable Gray has an LRV of 60, which is slightly higher than Revere at 55.51.
Revere Pewter is slightly warmer appearing to look a little more beige when compare to AG.
In certain lighting, Revere Pewter can show the hints of green in its undertone, whereas with AG the sneaky undertone is slightly bluish purple.
Piqued interest in Benjamin Moore's Revere Pewter? Learn more about this popular paint color.
Agreeable Gray vs Edgecomb Gray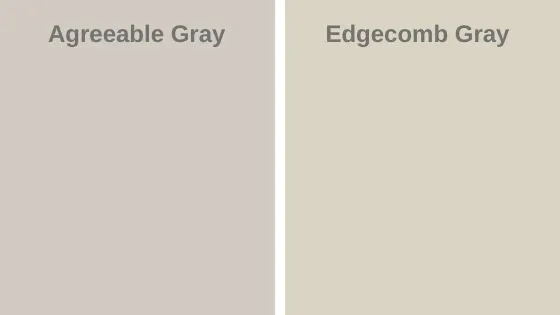 Now let's explore the difference between the very popular Benjamin Moore Edgecomb Gray and Agreeable Gray.
Edgecomb Gray has an LRV of 63 a hair under AG's 60.
Edgecomb Gray is a greige that is beige with a little gray in it.
Unlike AG, Edgecomb Gray doesn't have any sneaky undertones that may sometimes turn up.
Both colors are very versatile to use throughout your home.
Edgecomb Gray is a warmer paint color than AG.
Agreeable Gray vs. Balboa Mist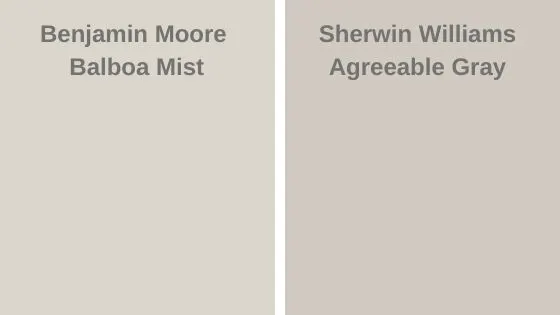 Benjamin Moore Balboa Mist is slightly warmer toned of the two colors.
Agreeable has an LRV of 60, which is lower than Balboa Mist at 67.37
AG is the darker of the colors
Both colors are very versatile to use throughout your home.
in certain lighting conditions, Agreeable Gray has the potential to flash green and Balboa Mist can flash purple.
READ MORE: BM Balboa Mist Paint Color Review
Don't start painting until you have the right tools!

SHOP MUST HAVE PAINTING TOOLS
Color Recap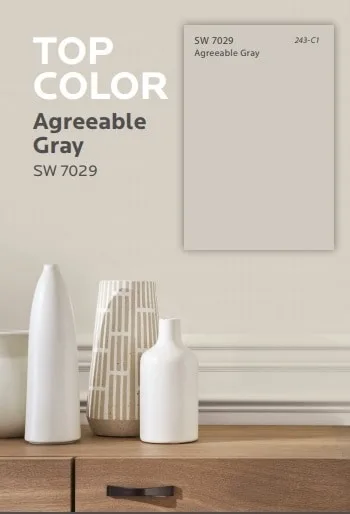 ---
# 1 on Sherwin Williams List of top 50 Paint Colors.
In South facing room Agreeable Gray is at it's best, showing off the warm, soft greige color it truly is.
AG is sitting pretty at an LRV of 6o.
It's considered to be a greige. Gray leaning towards beige.
It stays pretty neutral.
AG is extremely versatile and can be used throughout the house in multiple applications.
AG coordinates beautifully with many other colors including SW Dovetail.
Because of its versatility, AG can be used in all different decor styles, from modern to farmhouse. this griege works with them all.
Final Thoughts
What can I say, SW Agreeable is truly a fantastic gray paint color. But the real question here is, does this paint color live up to all the hype it gets, being referred to as "the BEST gray paint color"?
Simple answer? Yes, it does.
Agreeable is a near-perfect shade of gray with a pleasant undertone. This paint color works everywhere. It works in dimly lit as well as sun-filled rooms. It is, in fact, a crowd-pleaser.
Would I consider this the "Best" gray paint color? No, but only because of my love affair with Repose Gray. I'm sorry, I cannot get over it. I will say that, in terms of warm grays, Agreeable is the best. It's definitely in my top 5 favorite grays.
Now that you have all the facts, what do you think? Is Agreeable Gray the BEST gray paint color? Is it as agreeable as its name says it is?
---
Want to learn more about other paint colors?
---
*Friendly Reminder*
As I always suggest, before you commit to any paint color make sure you test your paint colors!

BUY SWATCH BRUSHES

Use a product like Samplize to easily test out how the paint color will look. I like Samplize because it is mess-free and you can move the peel-and-stick watch around to see how the color will look in different areas of the room. If you are unfamiliar with Samplize, check out my full review on it to learn more.
You can also paint swatches on what poster board. This will allow you to move the swatch around without painting it on the wall.
Use Samplize Peel & Stick Paint Samples for a mess-free way to test paint colors!
And of course, you can paint the swatches directly on the wall. Just be sure to paint them all around the room to see how the paint color will act in all lighting. And make the swatches large. Ok, not large, monster size.
Be prepared to swatch! Grab yourself some chippy brushes.
Don't make these painting mistakes
Don't forget to grab your FREE Interior Paint Checklist. It will save you time and keep your painting project organized!
SUBSCRIBE TO MY EMAIL LIST AND GET A FREE COPY OF MY INTERIOR PAINTING CHECKLIST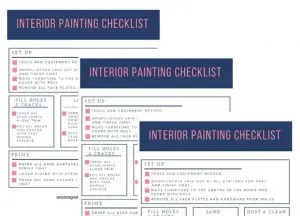 RECENT ARTICLES: