Gray paint colors are by far the most popular paint colors among most of my customers. That being said not all grays are created equal. There are warm grays, cool grays, dark grays, light grays, the options are endless. However, there are a handful of gray paint colors that are more popular than others and one of those is Revere Pewter by Benjamin Moore. 
Revere Pewter has been one of the top-selling gray paint colors according to Benjamin Moore. I'd categorize it as a light to mid-toned gray, with warm undertones. It is a fantastic neutral that works well in many spaces.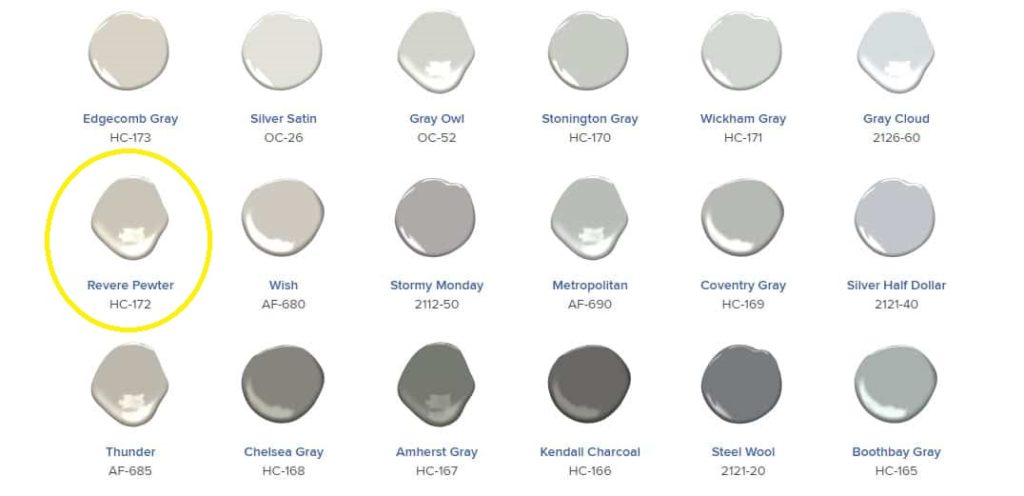 Even though it is lovely, is it still a favorite gray? 
While I was gathering some photos to include in this post I had to go back almost a year to find pictures of this color.
This got me wondering, what were the reasons customers were no longer requesting this gray to use in their homes?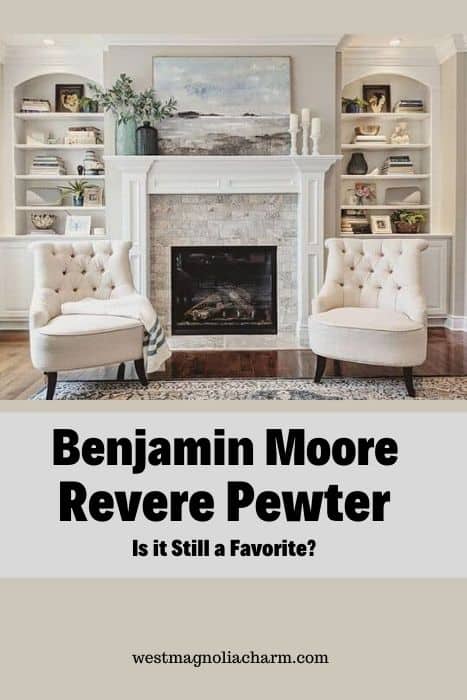 To try to better understand why this color isn't often requested, I'm going to share all the stats and some color comparisons to see if I can come to a conclusion. 
Benjamin Moore Revere Pewter HC-172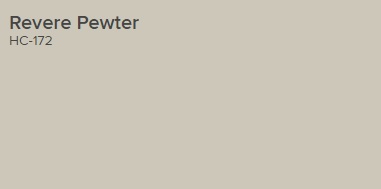 Revere Pewter has an LRV of 55.51. I'm sure you are wondering what LRV is and why I'm mentioning it. LRV, or Light Reflectance Value, is a measurement commonly used by design professionals that measures the amount of light reflected from a surface. LRVs range from 0-100, with 100 being pure white and 0 being absolute black.

To sum it up, higher numbers reflect more light and lower numbers do the opposite. So with an LRV of 55.51, BM Revere Pewter is just about in the middle of the scale.
What Color is Revere Pewter Benjamin Moore?
Revere Pewter is a gray paint color with warm undertones.  It's definitely warmer than BM Thunder as well as some of the other popular grays from Benjamin Moore 
Light definitely plays a big role in how the color will look too.  For example in a room with North exposure and a lot of light, the color can come off fairly gray with some hints of green. In other instances though, can look almost taupe. 
The lighting, direction your room is facing, and the color of your furnishings all contribute to the color will look on your walls.
Even though BM Revere has warm undertones, it won't look yellow on your walls. I know when you think of warm you think it may come across as beige or yellow. That's not the case most of the time.
In the living room below,  Iris and Oak Interiors painted the walls with Revere and brought the room together with gorgeous neutral furnishings. 
I wouldn't consider Revere Pewter to be a beige even with its warm undertones. I'd have to say it is more in the greige category. I do find that in many pictures it can look a little on the beige side. but it's a different story in real-time. 
I also have to note, Revere can often have a muddy feel to it. I know, I know muddy sounds like it's a bad thing however, it's not. By muddy, I mean earthy, natural, and even rustic. 
In the kitchen above, Blue Shell Construction used Revere Pewter on the cabinets and Benjamin Moore AF-565 Mysterious as an accent on the island.  This is a perfect example of the warmth coming that the color has. 
A Revere Pewter Kitchen can look fantastic when paired with the perfect coordinating colors.
Revere is so versatile that it will pair well with a ton of different colors. The great thing about this warm gray is that you can use warm and cool colors to complement it. 
One of my favorite projects we did for a customer was with Revere Pewter and Edgecomb Gray. Those two colors were used to paint stripes in the entryway.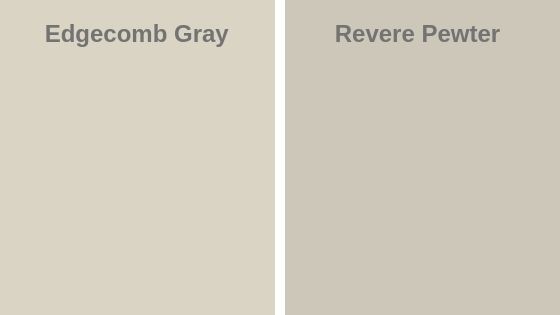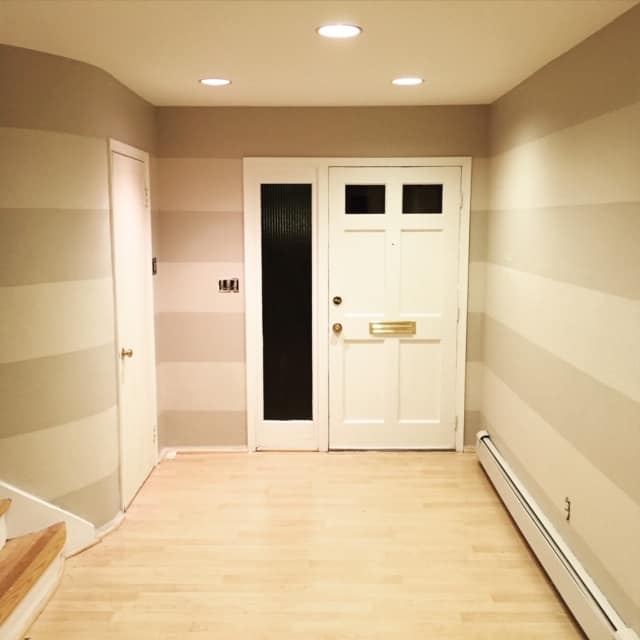 Here you can see how well the two colors pair with one another. The lighting wasn't the best at the time so the colors are coming across almost beige. 
See how lighting affects paint colors?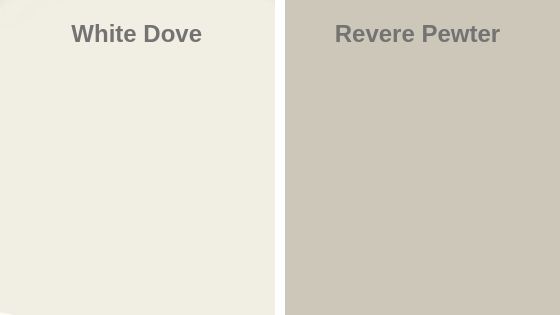 Another complementary color is Benjamin Moore White Dove. This is a beautiful color combination and can be used in a number of ways.
For instance, use this combination in the kitchen. paint your cabinets one color and your walls other. Both colors will work on either the cabinets or walls.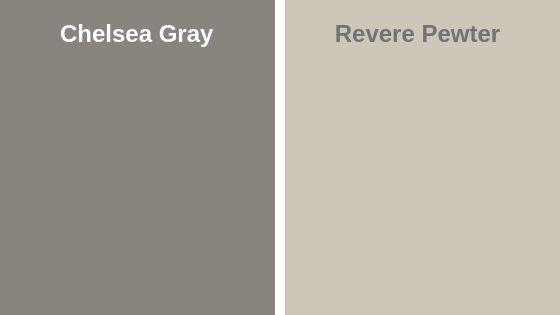 For a darker coordinating color, Chelsea Gray is a great option. These colors play well together because they are of the same tone. 
One way to incorporate Chelsea Gray is by painting your interior doors.
Revere Pewter doesn't only have to be paired with other neutral colors. It works and coordinates beautifully with bright colors like pink and coral. But also with soothing colors like green and teal.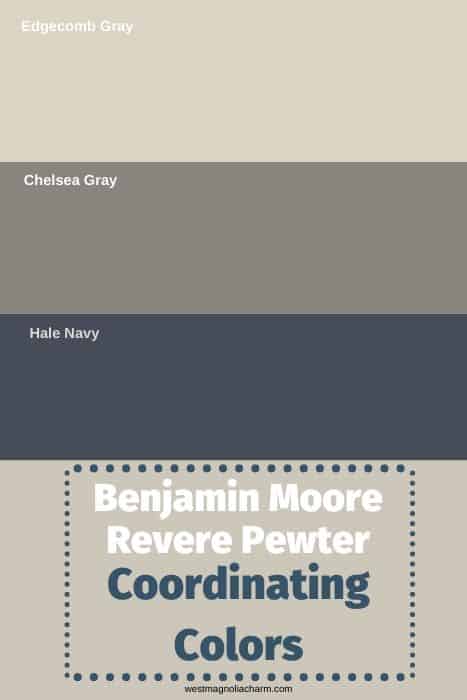 What's the best trim color with Revere Pewter?
As we just learner, RP looks great paired with a number of colors. But what is the best trim color for Revere Pewter? The top 2 trim paint colors that go with  Revere are:
White Dove – gray undertones
Simply White – yellow undertones
*You can also go with a true white. 
Choosing the best trim color depends on what else is going on in the room.  You want to make sure all the colors are playing well together.
Revere Pewter vs Agreeable gray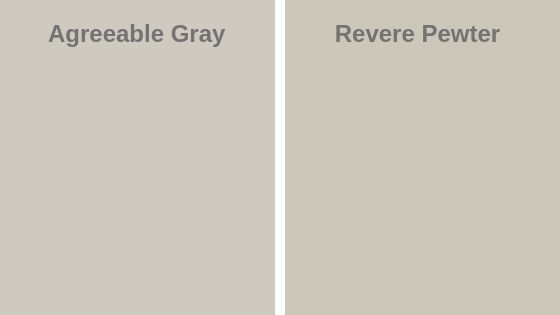 As you can see from the side by side swatches, Revere Pewter Benjamin Moore and Agreeable Gray Sherwin Williams are close, but not an exact color match. 
What are the differences between Benjamin Moore Revere Pewter and Sherwin Williams Agreeable Gray?
Agreeable Gray is lighter than Revere Pewter.
Agreeable Gray has an LRV of 60, which is slightly higher than Revere at 55.51. 
Agreeable Gray also has warmth in it but, has taupe undertones. 
In South facing room Agreeable Gray is at it's best, showing off the warm, soft greige color it truly is.
Unlike how Revere can show the hints of green in its undertone, Agreeable Gray tends to stay docile, sticking to the greige that it is. 
Revere Pewter vs. Agreeable Gray, who's the winner?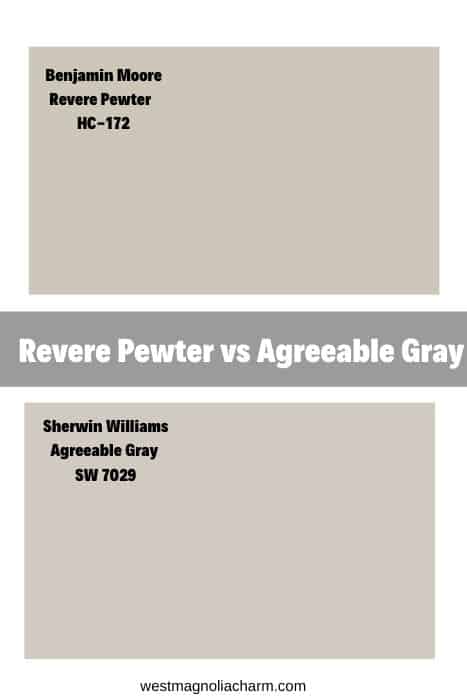 It's hard to say who won this color battle. Both are great gray paint colors. It basically comes down to the undertones that can come out to play. If you are looking for more of an earthy, muddy gray Revere Pewter is it. For a light gray paint color that doesn't come across as muddy, Agreeable gray is it.
If I had to choose between the two, and I was basing it off of what customers ask for, I'd go with Agreeable Gray.
Check out my full in-depth Agreeable Gray Review 
Accessible Beige vs Revere Pewter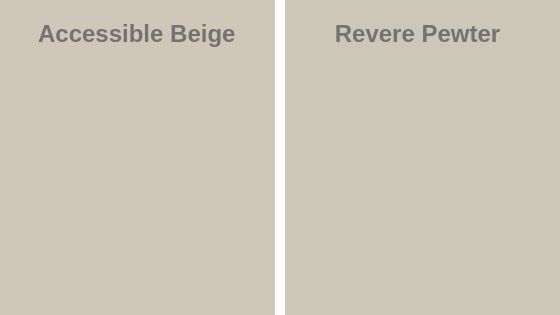 When you look at Accessible Beige and Revere Pewter side by side you can see that they are not the same color. 
What are the differences between Accessible Beige by Sherwin Williams and Benjamin Moore's Revere Pewter?
Accessible Beige is more warm-toned than Revere
Accessible Beige has an LRV of 58, slightly higher than RP 55.51
Accessible Beige is more of a beige color with gray undertones.
Both Accessible Gray and Revere have that hint of green in them.
Accessible Beige vs Revere Pewter, Who won this battle?
I can't declare who's the winner here because they are both awesome greige paint colors.  And it comes down to personal preference. If you are looking for a bit more warmth, Accessible Beige is a great choice. Even though Revere is a warm paint color, Accessible has a bit more to it.
If I had to choose,  between the two, I'd go with Revere Pewter.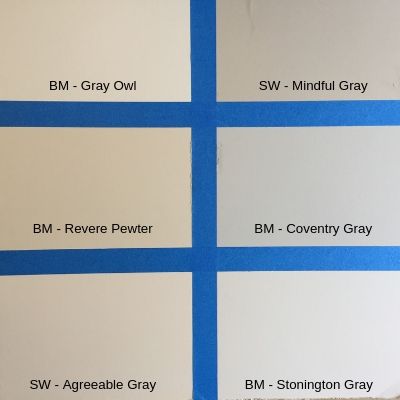 I wanted to see for myself how some of the most popular grays compared so I painted them all side by side on a piece of drywall.
The colors I used :
BM Gray Owl
BM Conventry Gray
BM Stonington Gray
I was actually surprised how beige Revere looked next to the other colors. 
This is why painting swatches before you commit to a color is a good idea.  
And just for reference, this picture was taken with a little natural light. 
Interested in More Paint Colors?