I may earn money or products from the companies mentioned in this post. Please click my Disclosure Policy to learn more
Benjamin Moore Beach Glass is a light to medium blue-green paint color. It is quite a versatile color because there is a hint of gray to it that gives it an approachable take on using color. With a balance of warm and cool tones, this gorgeous color will work with any decor style.
Hello, my friends! So glad to have you!
We are here to talk about a beautiful paint color. I bet you are wondering what made me choose to talk about this particular paint color today. Worry no longer, I will gladly give you the back story.
My parents are renovating their 2-family apartment and I have so graciously been giving my opinion on paint colors to use. The colors I have suggested so far have been some of the most recent reviews I've posted, Silverpointe and Dovetail. Such amazing colors.
Basically, I have been coming across some amazing underrated paint colors and
Let me introduce to you the spectacular
BENJAMIN MOORE BEACH GLASS 1564

This elegant color exudes such style and grace. It's not only easy on the eyes but also has a calming presence to it. I don't know about you but I'm super excited to get into this review.
STATS
LRV: 49.7
HUE FAMILY: Blue-Green
COLOR COLLECTIONS:
Beach Glass has an LRV of 49.7. What is LRV mean?
LRV or Light Reflectance Value is a measurement typically used by design professionals. It measures the amount of light reflected from and absorbed by a surface. LRVs range from 0 -100, with 100 being pure white and 0 being absolute black. A great article to read to learn more about LRV is Light Reflectance Value: What Do Those Numbers Mean?
It is not the highest LRV but it's pretty much smack in the middle of the scale. You can expect it to not reflect the most light but it certainly won't be absorbing a ton either.
Beach Glass is from the blue-green hue family. I like to share this bit of information because it lets you know the roots of a color. It can give you a better understanding of the color. It's particularly useful with near-neutral paint colors however, it is still a valuable piece of knowledge when looking at any color.
Beach Glass is in the Benjamin Moore Classics color collection which is a collection of 1,680 inspired hues that are as timeless as they are forward. It is also no surprise that it's a part of Benjamin Moore's most popular paint colors, it's downright stunning.
Don't start painting until you have the right tools!

SHOP MUST HAVE PAINTING TOOLS
WHAT COLOR IS BENJAMIN MOORE BEACH GLASS?
BM Beach Glass is a medium bluish-green paint color. This is not a light blue-green color. It has a good amount of depth to it. Basically, it can hold its own.
It's quite soft and somewhat on the muted side but don't let that make you think it's a boring paint color. Beach Glass does not lack character or charisma. This stunning blue/green paint color will liven up any space.
Beach Glass is pretty dang versatile for a non-neutral color. While it's not a super vibrant and saturated color, it still has color to it. The reason this color is versatile is that it has some gray to it. The gray makes the blue and green tones less vibrant and a little bit easier to use.
Keep in mind that depending on the lighting and the other elements in a room, Benjamin Moore Beach Glass has the potential to look either more blue or green. You may see it look bluer in a room with tons of natural light whereas in a room that has less natural light it may show its green side.
Want to know how to tell you for sure what color will show up in your space? By sampling and testing the color in your space.
IS BENJAMIN MOORE BEACH GLASS A WARM OR COOL COLOR?
Beach Glass is an interesting paint color as it has both warm and cool tones. This is pretty much defined by what's happening around the color. For example lighting, a north-facing room with cool light will enhance the cool tones in Beach Glass.
When determining whether a color is warm or cool in tone, I find comparing it to a paint color you are familiar with helps tremendously.
Let's take BM Muslin and compare it to Beach Glass. When set side by side you see Beach Glass is the cooler color. Now when you compare BG to BM Cedar Grove. It's cooler in comparison.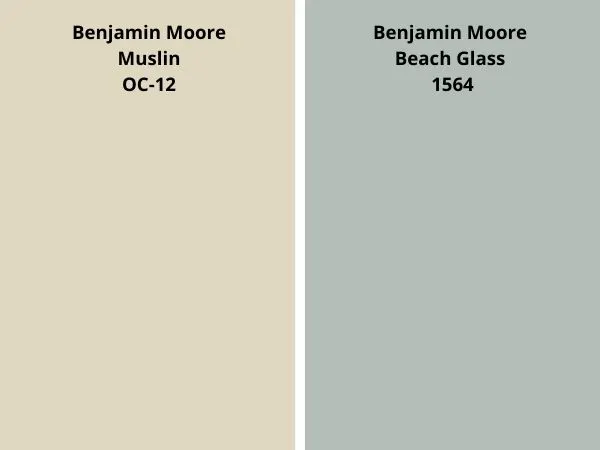 INTERESTED IN MORE WARM PAINT COLORS? CHECK THESE OUT:
WHAT UNDERTONES DOES BEACH GLASS HAVE?
Regarding the undertones Beach Glass has, this is what Benjamin Moore says:
A gray undertone brings versatility to this calming blue.

Benjamin Moore
Taken directly from the source itself, Benjamin Moore says Beach Glass has a gray undertone.
Undertones are always so tricky to understand because they are subjective. What you see in your home is not what I will see in mine. Again, light, elements of your home, and decor all play a part in how a paint color will look.
Always test your paint colors. This is the best and most accurate way to see how a paint color will perform in your home.
---
WAIT! Before you start painting make sure you have the best painting tools to make your job easier. It will take hours off your painting time!
BENJAMIN MOORE BEACH GLASS AND LIGHTING
I know I keep saying lighting plays a very large part in regards to how a paint color will look. And it is true. The lighting among other details will play a role in how a color will look painted on your walls.
As you may know, as the sun moves throughout the day, so does its intensity. So basically the position of the sun will determine what color light it will project.
Let me give you a quick rundown of the four cardinal directions and how the sunlight appears.
North-facing rooms – Light in North-facing rooms comes off cooler and sometimes somewhat bluish. Lighter colors appear more muted, while bolder colors will show up, or appear better.
South-facing rooms– In South-facing rooms, there tends to be a consistently bright light throughout the day. Warm and cool tones work with south-facing light. This light intensifies colors, so darker colors will seem more vivid while softer colors will almost look like they are radiating.
East-facing rooms– East-facing rooms have the brightest light in the mornings, with a yellow-orange tone. If an east-facing room will be used regularly in the evenings, going with a warm palette will help to offset the lack of natural light.
West-facing rooms– Early evening is when West-facing rooms have the most favorable light. Warmer tones might seem a bit strong because of the red-orange tones the light gives off. However, if the main use of the room is in the mornings, the colors won't seem as intense.
To sum it up, Beach Glass in a north-facing room will look different than in a south-facing room.
Yes, lighting is important but as I expressed before there are additional factors you simply cannot forget about.
For example the color of your decor, furniture, fixtures, cabinetry, and floors. These are all elements that can affect the way a paint color will look in your room. These things are often overlooked when choosing a paint color.
WHAT ARE THE BEST LIGHT BULBS TO USE?
Natural light affects paint colors and guess what? So does artificial lighting.
The color of the light bulbs you use will affect how a paint color will look in a room. And unfortunately, it's an essential detail that is frequently overlooked.
With the variety of light bulbs available and it can become overwhelmingly confusing. I mean what really is the difference between a soft white and bright white?
Thankfully finding the right light bulbs becomes easier once you know a little bit about them.
For reference, light color or light appearance is measured on the Kelvin (K)temperature scale. Lower Kelvin numbers mean more yellow light; the higher the Kelvin number the whiter or bluer light.
Remember, lower Kelvin (K) numbers = yellow light, Higher Kelvin (K) numbers = white/blueish light
I always recommend using this type of light bulb.
Be cautious of the light bulb names such as "daylight" or warm light". I'd advise against picking a light bulb by its name.

Instead, always check the package for actual facts. This allows you to choose the best bulb for you.
Don't forget, as much as lighting plays a major part in how a paint color will look at times, there are other determinants to be aware of. For instance, decor, furniture, fixtures, cabinetry, and floors. These are all elements that can affect and/or influence the way a paint color will look in your room.
WHAT IS THE BEST WAY TO SAMPLE BEACH GLASS 1564?
I feel like a broken record sometimes but I feel so strongly about sampling paint colors. There is no better way to see how a paint color will look in your home.
So what's the best way to sample Benjamin Moore Beach Glass?
SAMPLIZE OF COURSE!!!
Instead of physically going to your nearest paint store to grab your samples, you need to try Samplize Peel & Stick paint samples.
Why should you try Samplize?
Super affordable
Mess-free
Non-damaging
Made with real manufacturer paint
Displays color just like a wall
Environmental friendly
Reusable
These peel & stick paint samples are super affordable and allow you to test a paint color in all different areas of a room without the mess of a traditional paint sample!
You know how I feel about testing paint colors. It's a must!
Don't create more work for yourself. Order Samplize now and have them shipped directly to you. No fuss, no mess! Check them out for yourself. You won't be disappointed.
Get $5 off your first Samplize order using the code "FIRSTFIVE"
WHERE TO USE BENJAMIN MOORE BEACH GLASS?
Easy question, simple answer. Use BM Beach Glass anywhere you'd like..
Seriously though, this gorgeous blue color will look amazing
Bedroom
Dining room
Bathroom
Exterior
Living Room
Entryway
Kitchen Islands
DINING ROOM
When I think of a dining room, I think of it as being comfortable and inviting. And that is precisely the vibe that Beach Glass will provide.
Sarah @sarahlabrieinteriors on Instagram painted her dining room walls in Beach Glass. Not only does it look gorgeous but it also makes the room feel welcoming.
It's also such a pretty paint color to go with light wood, like her table.
BEDROOM
Bedrooms are a place to unwind and relax. they are a place to let you of your day. So it only makes sense to paint the walls in your bedroom a calming and soothing paint color like Benjamin Moore Beach Glass.
Karen simpleinspirationsathome on Instagram used the color Beach Glass on her walls. It looks not only beautiful but so relaxing as well.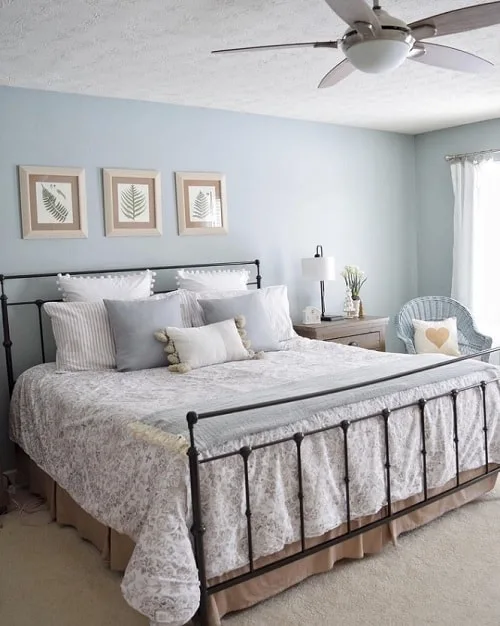 IS BM BEACH GLASS A GOOD EXTERIOR PAINT COLOR?
Absolutely! Beach Glass is an amazing paint color to use on the exterior of a home. Why? Well, other than the obvious answer that it's gorgeous, there are some other reasons it will work for the exterior of a home.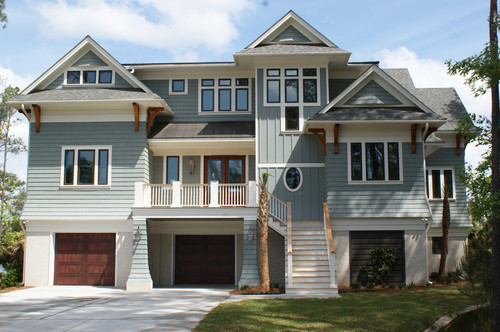 BM Beach Glass is a medium paint color. This is great for exteriors because it has the depth a color needs to stand up to the sun without fully washing out as some very light paint colors can do. I find that paint colors in this depth are ideal for the exterior.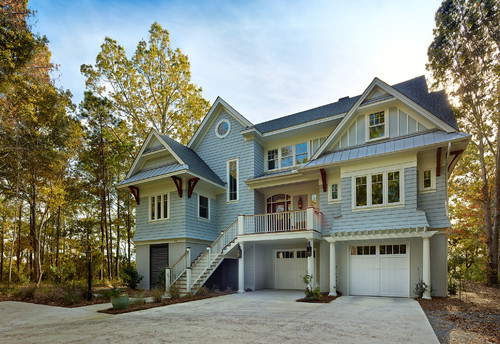 I think Beach Glass would be an amazing beach house paint color. For starters, beach is in the name of the color. More seriously, Beach Glass has a very coastal beachy feel, perfect for a coastal home.
---
LOOKING FOR MORE EXTERIOR PAINT COLORS? CHECK THESE OUT:
---
WHAT'S THE BEST TRIM COLOR TO USE WITH BENJAMIN MOORE BEACH GLASS?
Finding the best choice for a trim color can be tricky with some paint colors. Luckily that is not the case here.
The attractive blue-green, Beach Glass is very reliable in that it tends to play with other colors. This means when it comes to trim colors your possibilities are endless.
Chantilly Lace is a phenomenal bright white. Beach Glass being a rich aqua will provide a crisp contrast to the bright white trim.
For a white paint color with a slightly warmer look to it, a color like BM White Dove would fit the bill.
Another thing I'd like to note is, that Beach Glass looks exquisite with wood tones. It meshes well with the warmth of lighter woods as well as complements the richness of darker woods. So if you have wood trim in your home Beach Glass would be an excellent wall paint color option.
READ MORE: THE BEST WHITE PAINT COLORS FOR TRIM
SHERWIN WILLIAMS EQUIVALENT TO BENJAMIN MOORE BEACH GLASS
If you are looking for an exact Sherwin Williams dupe for Benjamin Moore Beach Glass, I hate to break it to you but you aren't going to find one. However, there is one color that is similar according to the spectatorial data
Sherwin Williams Silvermist
LRV 47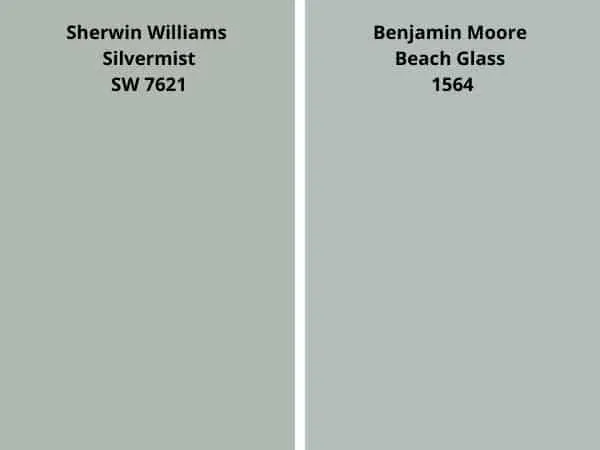 You can see that once they are placed side by side, they are not the same color. They are similar in depth but Beach Glass has more of a blue appearance whereas Silvermist looks greener.
I think if you are a fan of blue-green, green-blue paint colors in general, you'd be happy with Silvermist as an alternative.
I know what you are thinking, can't I just color match with Sherwin Williams paint? Yes, you can but proceed with caution.
Paint manufacturers use different formulas to create their paint colors, so if you try to color match the colors won't exactly match. If you are feeling brave enough to try it I HIGHLY suggest getting a small sample can to start off with.
WHAT COLORS GO WITH BM BEACH GLASS?
Where to begin? The beauty of Benjamin Moore's Beach Glass is that it has a wonderful balance between warm and cool tones. Additionally, it has that bit of gray in it that makes it more versatile than some other blue-green paint colors. That versatility allows it to coordinate beautifully with many different colors.
It's easy to find colors to coordinate with Beach Glass to create a beautiful color palette. Some of the paint colors that work well are:
CHANTILLY LACE
SEA PEARL
OCEAN FLOOR
STONE
MAN ON THE MOON
QUARRY ROCK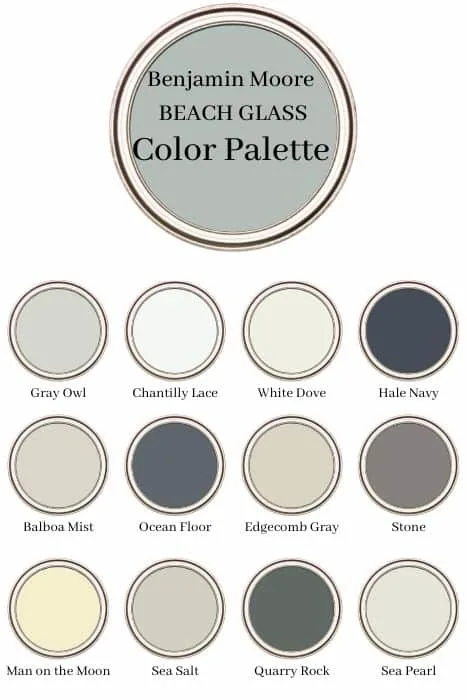 BENJAMIN MOORE BEACH GLASS COLOR STRIP
The color strip is the page on which a paint color is displayed in the paint deck.
HEALING ALOE 1562
QUIET MOMENTS 1563
BEACH GLASS 1564
MOUNT SAINT ANNE 1565
STONYBROOK 1566
NIGHT TRAIN 1567
QUARRY ROCK 1568
Follow these helpful painting tips and avoid these mistakes to get the job done right!
COLOR COMPARISONS
Earlier I spoke about comparing colors and how it can be helpful in choosing a paint color. Sometimes if you are looking at a paint color by itself, it looks one way but when you place it next to another color it looks different than it originally did.
The act of comparing the colors helps you see if a color is bluer or greener, and so on.
I have a few paint colors that I want to compare to Beach Glass. Let's see how they stack up
BEACH GLASS VS SHERWIN WILLIAMS SEA SALT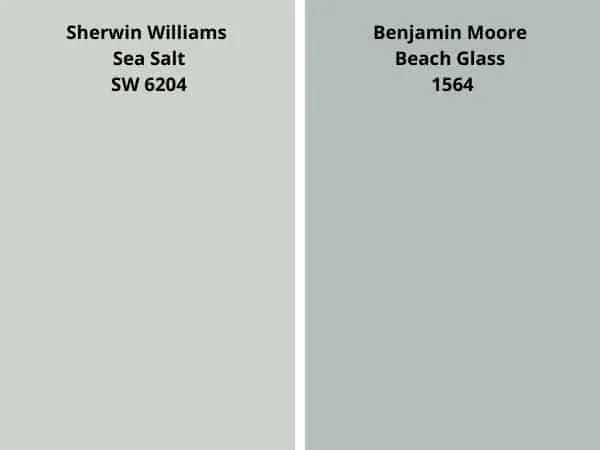 SW Sea Salt has an LRV of 63 higher than BG at 49.7
Sea Salt is lighter
Beach Glass has a bit more blue to it
Sea Salt has more green
Sea Salt has less gray and it is a bit higher in saturation
READ MORE: SHERWIN WILLIAMS SEA SALT REVIEW
BEACH GLASS VS PALLADIAN BLUE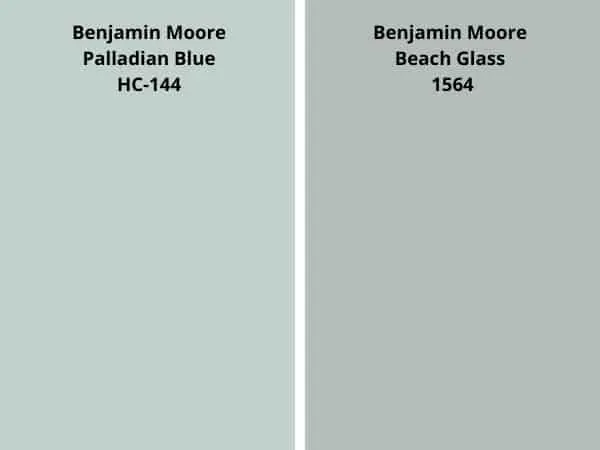 BM Palladian Blue has an LRV of 60.4, higher than BG at 49.7
Palladian Blue is the lighter color of the two
Both are blue-green colors but Beach glass has a bit more blue
Palladian Blue is more saturated, Beach glass has more gray
QUIET MOMENTS VS BEACH GLASS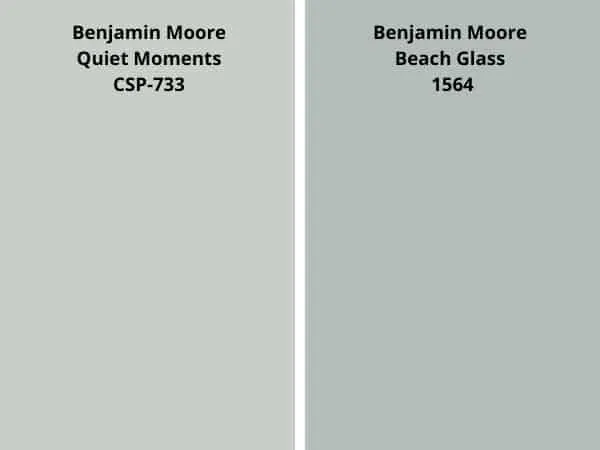 BM Quiet Moments has an LRV of 60.73. higher than BG at 49.7
Both paint colors are on the same color strip
Quiet Moments is lighter
Both colors have a mix of blue/green/gray in them
Beach Glass leans a bit closer to blue and Quiet moments leans a bit more green
Quiets moments is also known as Smoky Green CC-700
BEACH GLASS VS SEA GLASS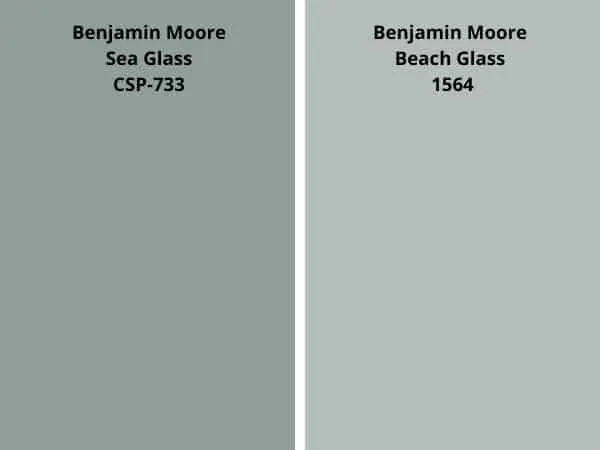 BM Sea Glass has an LRV of 33.29 lower than BG at 49.7
Sea Glass is the darker of the two colors
Sea Glass leans a hint closer to the green side
Beach Glass is a tiny bit less saturated.
Sea Glass is for the Aura Color Stories Collection and is not recommended as exterior paint.
READ MORE: 14 BEST GREEN PAINT COLORS
BENJAMIN MOORE BEACH GLASS VS MOUNT SAINT ANNE
BM Mount Saint Anne has an LRV of 41.9 which is a bit lower than BG at 49.7

Beach Glass is lighter
both have lower saturation and a decent amount of gray to them
Mount Saint Anne has a bit more blue to it.
Both colors are on the same color strip
Mount Saint Anne is also known as Kentucky Haze AC-16
BENJAMIN MOORE BEACH GLASS AND REVERE PEWTER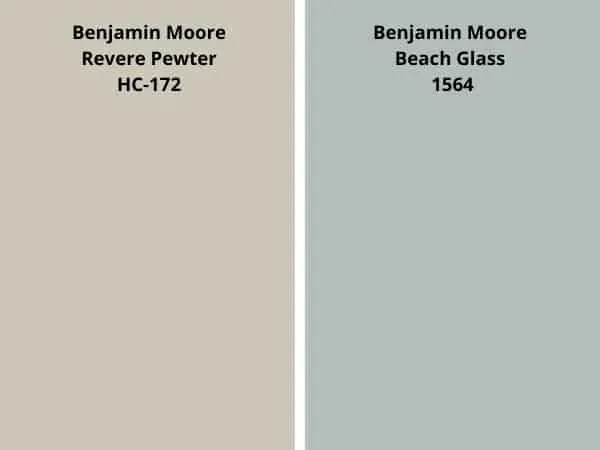 It's quite obvious that BM Revere Pewter and BM Beach Glass are two completely different colors. So the real question here is if these two colors will coordinate well with one another.
I think they do work nicely with one another. Together they give off a very sandy, beachy vibe. They also balance one another.
I do think it is important to test them in your home before painting. You want to make sure you are happy with how they will look.
READ MORE: BENJAMIN MOORE REVERE PEWTER PAINT COLOR REVIEW
RECAP
Here's a quick review or recap of what we learned about Benjamin Moore Beach glass today.
it is a medium-toned paint color
LRV 49.7
comes from the blue-green hue family
it's considered a blue/green color with some gray in it
Its a part of the collections: MOST POPULAR PAINT COLORS and Benjamin Moore Classics®
in very bright air rooms, it will look a bit more on the blue side
in rooms with less light, it will look more like the greenish-blue side
It's a very calming and relaxing color perfect anywhere, especially in bathrooms and bedrooms
This would be a fantastic paint color to use on the exterior of a home.
KEEP TRACK OF YOUR PAINT COLORS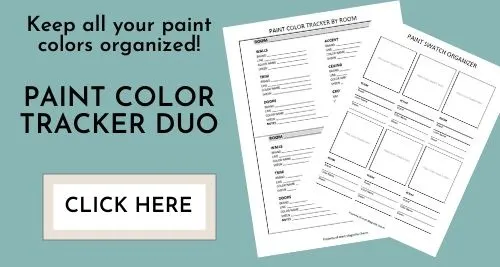 FINAL THOUGHTS
I have to be honest, I love this paint color. BM Beach Glass is pretty much flawless in my eyes. I'm a sucker for blues and bluish-greens and BG lands in that category.
It is a very calming and tranquil color that will no doubt give your space a beautiful and relaxed feel. Beach Glass is very unique in that it has a mix of warm and cool tones so it really goes with the flow of the elements in a space.
It's attractive, elegant, and downright pleasing to look at, what more can you ask for out of a paint color?
If you are a fan of blues/greens I think Benjamin Moore Beach Glass is a paint color worth checking out.
---
SUBSCRIBE TO MY EMAIL LIST AND GET A FREE COPY OF MY INTERIOR PAINTING CHECKLIST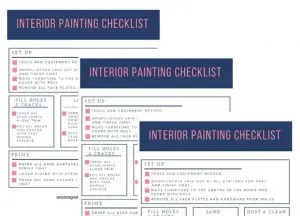 ---
RELATED ARTICLES: