I may earn money or products from the companies mentioned in this post. Please click my Disclosure Policy to learn more
Discover the timeless elegance of Benjamin Moore's Classic Gray OC-23, a paint color crafted to transform any space into a sophisticated haven.
Hello and welcome!
I'm so glad you are joining me today for another fantastic paint color review.
I know what you are wondering. What's the reason behind choosing today's paint color?
Well, to be honest, there is no reason. I was rummaging through my Samplize samples and thought, 'Hey, that's a great color".
Not a compelling reason, but a truthful one.
Anyway, the absolutely fabulous paint color I'm blabbing about to is…
BENJAMIN MOORE CLASSIC GRAY OC-23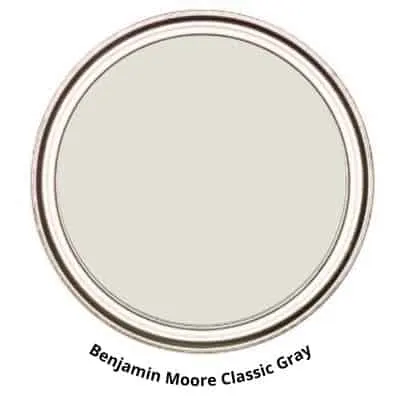 STATS
Let's hope right into it with a few stats on Classic Gray.
LRV – 73.67
Hue Family – Yellow
Color Collections – Off-White Collection
Also Known As 1548
Shall we begin with LRV? Let me explain what it is and why it is significant.
LRV, or Light Reflectance Value, is a measurement commonly used by design professionals that measures the amount of light reflected from and absorbed by a surface. LRVs range from 0 -100, with 100 being pure white and 0 being absolute black.
A great article with more in-depth information about LRV is Light Reflectance Value: What Do Those Numbers Mean?
Classic Gray has a relatively high Light Reflectance Value (LRV) of 73.67, indicating that it reflects a substantial amount of light.
Understanding the hue family of a paint color is valuable as it provides insight into its origin and potential color shifts in different lighting. Being aware of these details can enhance your overall painting experience.
BM Classic Gray is from the yellow hue family.
While the color collections may not be essential information, it can be enjoyable to explore the other colors included in the collection.
KEEP TRACK OF YOUR PAINT COLORS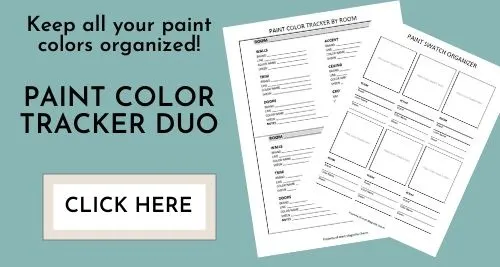 WHAT COLOR IS CLASSIC GRAY?
Benjamin Moore's Classic Gray OC-23 is a soft, light, near-neutral paint color that exudes timeless sophistication and understated beauty.
This versatile shade is a perfect blend of gray and beige, offering a neutral yet warm tone that complements a wide range of design styles.
Classic Gray is relatively light and, in certain lighting conditions, has the tendency to look almost white.
Benjamin Moore describes it as,
An ultra-light shade of gray that can also function as an off-white.

Benjamin Moore
Depending on the lighting source, Classic Gray can look gray or beige. For example, in a south-facing room, the warm tones will be accentuated, and it will appear more on the beige side.
Another thing to note about how it looks is it could feel a little flat in a dark room. In a super bright sunlit room, Classic Gray can possibly wash out a tad, but in a room with balanced light, it is exquisite!
IS BM CLASSIC GRAY A WARM OR COOL TONED PAINT COLOR?
Classic Gray is a warm-toned paint color. Some may even describe it as a greige paint color, a mix of gray and beige.
I wouldn't exactly say it's overly warm-toned. I'd say it's pretty balanced.
Though, you need to keep in mind that lighting has a significant role in how Classic Gray will appear. For example, some lighting conditions will cause this light paint color to appear almost beige. This is why you have to be familiar with the lighting!
A tip you can use when you are struggling with whether a paint color is warm or cool is to compare paint colors.
For example, let's take Classic Gray and compare it to Gray Owl.
When they are next to one another, you can point out the Gray Owl is more cool-toned.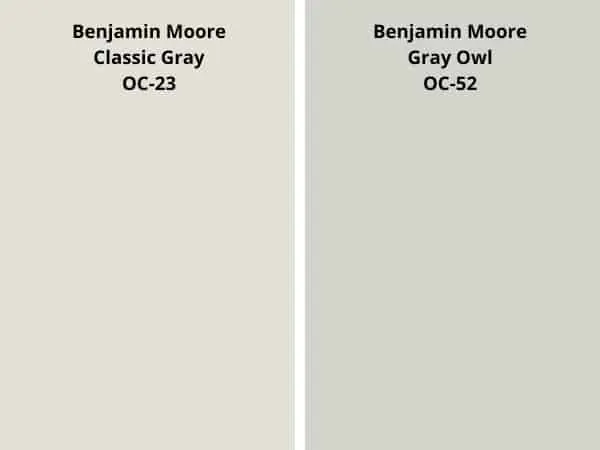 Like Cool-Toned Paint Colors? Check These Out!
Another way to determine what tone a paint color is is by sampling it in your home. This will give you the most accurate representation of how the paint color will look.
Use Samplize Peel & Stick Paint Samples for a mess-free way to test paint colors!
WHAT ARE THE UNDERTONES OF CLASSIC GRAY?
Benjamin Moore Classic Gray has green undertones or colors that are visible in specific lighting and exposure.
Like all gray paint colors, Classic Gray is influenced by all the elements going on around it. For example, lighting, decor, and even what is outside of your window.
Certain shades of gray may appear unassuming at first, but their undertones can create disturbances when exposed to uneven lighting. In the case of Reflection, these undertones may manifest as a shade of purple.
Checking how paint colors look in your home can prevent any unwanted surprises. Swatching the colors before painting can help you make an informed decision on whether or not you like it.
CLASSIC GRAY, CARDINAL DIRECTIONS, AND LIGHTING
Lighting is one of the most important factors when it comes to how a paint color will look in your home.
It primarily impacts how you will perceive a paint color. Because of this, it's a fantastic idea to know the lighting circumstances and the cardinal direction of the room you are choosing the right paint color for.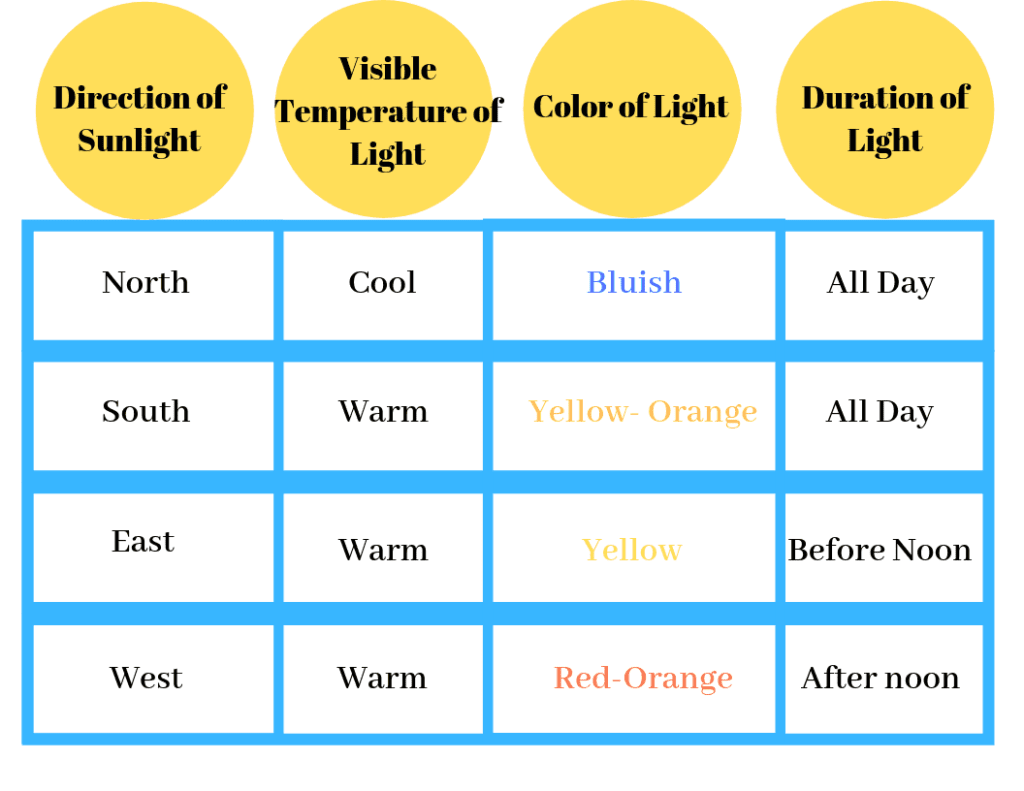 The table shows the four cardinal directions: north, south, east, and west, with a brief description of how the light looks from each direction.
NORTH-FACING ROOMS – Light in North-facing rooms comes off cooler and somewhat bluish. Lighter colors will appear more muted, while bolder colors will show up or appear sounder.
SOUTH-FACING ROOMS – For rooms that face south, the lighting tends to remain consistently bright all day long. Both warm and cool tones complement this lighting well. The colors in the room will appear more vivid due to the light's intensity, making darker hues appear brighter and softer tones shimmer.
EAST-FACING ROOMS – East-facing rooms have the brightest light in the mornings, with a yellow-orange tone. If an east-facing room is used mainly in the evenings, going with a warm palette will help balance the lack of natural light.
WEST-FACING ROOMS – Early evening is when West-facing rooms have the most favorable light. Warmer tones might seem overwhelming because of the red-orange the light gives off. However, if the primary use for the room is in the mornings, the colors won't appear as strong as they would in the evening.
When selecting a paint color, it's important to take lighting into consideration. Nonetheless, it's also crucial to keep in mind the other factors that can impact how the color appears.
This includes fixed features like cabinetry, flooring, tiles, etc., and the decor colors you choose for your home.
WHAT ARE THE BEST LIGHT BULBS TO USE?
Just as natural light affects paint colors, so does artificial lighting.
The color of the light bulbs you use will influence how a paint color will look in a room. And unfortunately, it's an important detail that is often overlooked.
With the variety of light bulbs available and it can become overwhelmingly confusing. I mean, what is the difference between soft white and bright white?
Thankfully, it becomes easier once you know a little bit about light bulbs.
For reference, light color or light appearance is measured on the Kelvin (K)temperature scale. Lower Kelvin numWhen planning your home, it's essential to consider both the permanent fixtures like cabinets, flooring, and tiles, as well as the decorative colors that will give your space a personal touch.bers mean more yellow light; the higher the Kelvin number, the whiter or bluer light.
Remember, lower Kelvin (K) numbers = yellow light, Higher Kelvin (K) numbers = white/blueish light
I always recommend using this type of light bulb.
Be cautious of the light bulb names such as "daylight" or warm light." I'd advise against picking a light bulb by its name.
Instead, always check the package for actual facts. This allows you to choose the best bulb for you.
Don't forget, as much as lighting plays a significant part in how a paint color will look at times, there are other determinants to be aware of. For instance, decor, furniture, fixtures, cabinetry, and floors. These are all elements that can affect and/or influence the way a paint color will look in your room.
WHAT IS THE BEST WAY TO SAMPLE?
As someone who respects the importance of choosing the right paint color for a room, I highly recommend testing and sampling various options.
This step in the painting process is often overlooked, but it can provide a tangible idea of how the color will appear in the space. Neglecting this step seems impractical to me.
LEARN HOW TO TEST YOUR PAINT SAMPLE THE RIGHT WAY.
GRAB A SAMPLING PAINT COLORS WORKSHEET TO LEARN HOW TO GET THE MOST OUT OF YOUR SAMPLES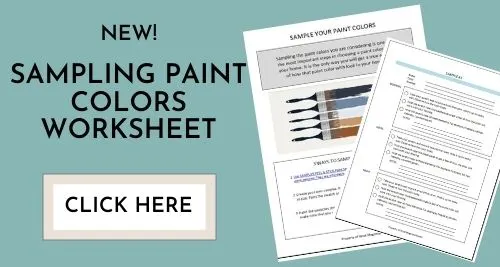 Instead of physically going to your nearest paint store to grab your samples, you need to try Samplize Peel & Stick paint samples.
Why should you try Samplize?
Super affordable
Mess-free
Non-damaging
Made with real manufacturer paint
Displays color just like a wall
Environmental friendly
Reusable
These peel & stick paint samples are super affordable and allow you to test a paint color in all different areas of a room without the mess of a traditional paint sample!
You know how I feel about testing paint colors. It's a must!
Don't create more work for yourself. Order Samplize now and have them shipped directly to you. No fuss, no mess! Check them out for yourself. You won't be disappointed.
Get $5 off your first Samplize order using the code "FIRSTFIVE"
WHAT IS THE BEST TRIM COLOR FOR BENJAMIN MOORE CLASSIC GRAY?
Choosing a trim paint color to go with Benjamin Moore Classic Gray does not have to be complicated.
Look for colors that have the same tone or hue family. This ensures that colors will coordinate well.
Generally, trim paint colors are white. So I have a few white paint colors to share that work well with Classic Gray.
OC- 117 Simply White
OC-17 White Dove
OC-151 White
Don't think white is the only trim color you can use.
Consider using a darker color to create a sense of drama and contrast in the room. If you prefer a monochromatic look, consider using the same paint color for both the walls and trim, but opt for different finishes.
READ MORE: BEST WHITE TRIM PAINT COLORS
WHERE TO USE CLASSIC GRAY?
Classic Gray OC-23 is a gentle and soothing color that can bring a welcoming and peaceful atmosphere to any room. Its subtle shade blends effortlessly with different color schemes and accent pieces, making it perfect for both modern and classic interiors.
I like to say if you went through the steps of swatching and testing the paint color in your room and you like how it looks, then that's the perfect place for that paint color.
There aren't rules and laws you need to abide by when it comes to paint colors. Have fun and create a space you love and enjoy.
LIVING ROOM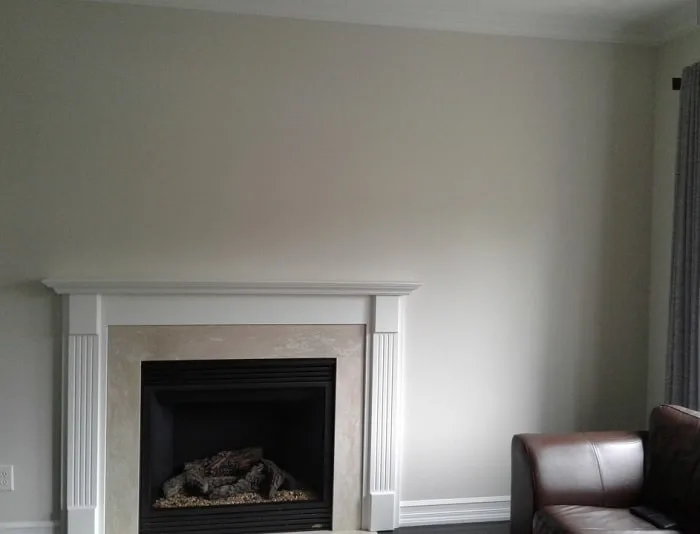 The living room is a fantastic place to use the lovely Classic Gray.
Taylorbritain painted their walls with Classic Gray. Here the color looks soft and neutral.
BEDROOM
If you are looking for a light sophisticated neutral paint color for your bedroom, Classic Gray will fit the bill.
Stacy Lynn used Classic Gray in her bedroom, and it creates such a beautiful backdrop for the decor in the room.
READ MORE: SOOTHING BEDROOM PAINT COLORS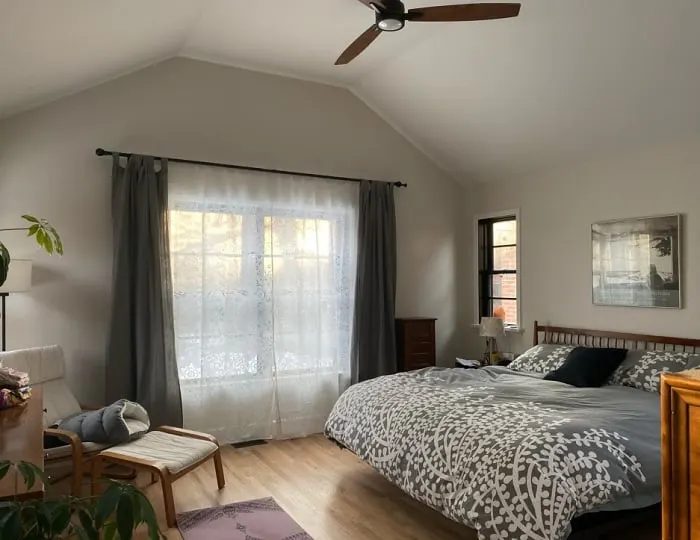 BATHROOM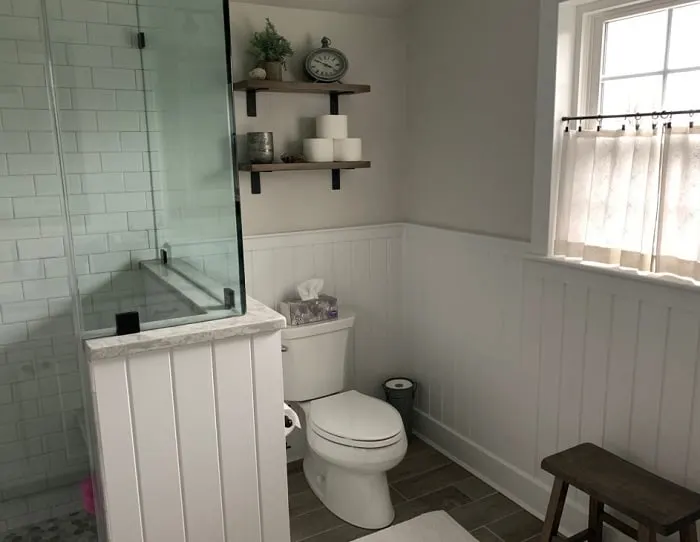 The bathroom is another fantastic place to use CG.
Cdisimone painted the upper half of the walls in her bathroom using BM Classic Gray. Adding this soft neutral tone can bring an elegant and peaceful vibe to the surroundings.
KITCHEN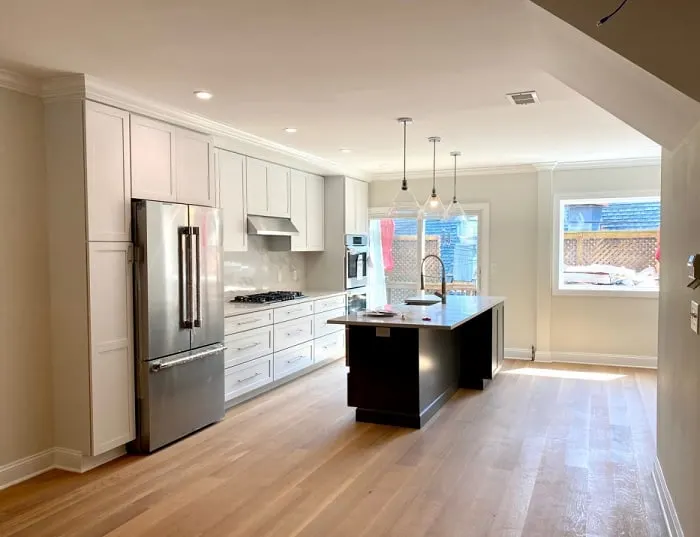 IS CLASSIC GRAY A GOOD EXTERIOR PAINT COLOR?
It's not whether or not Classic Gray is a Good exterior paint color; the question is, is it a good exterior paint color for your home and what you are looking for?
The case with paint colors on the exterior of a home is that the paint color with always look lighter in the sunlight.
With a very light paint color like Classic Gray, it will appear to look white and wash out a bit. This is because the color doesn't hold enough depth to stand up to the sun.
That being said, that doesn't mean it's a good or bad exterior paint color.
If you have knowledge about how colors behave and have tested them on the exterior of your home, and if you are satisfied with the results, then the paint color is suitable for your home.
CHECK OUT SOME OF THESE EXTERIOR PAINT COLORS:
WHAT IS THE SHERWIN WILLIAMS EQUIVALENT TO BM CLASSIC GRAY?
I frequently come across this question: Is there a matching paint color available in another brand?
Unfortunately, there isn't.
Sometimes, specific colors can look very similar once they are painted on walls, making it difficult to tell them apart. However, I haven't come across an exact duplicate yet.
I understand why people want to find equivalents when certain brands are not available. It can be frustrating when you find a paint color you love from a brand that's not accessible in your area, and you want to find a similar color elsewhere.
Not to mention the frustration of finally finding a paint color you love only to learn you can't use it.
So for everyone interested, I have found one Sherwin Williams paint color that is comparable to BM Classic Gray.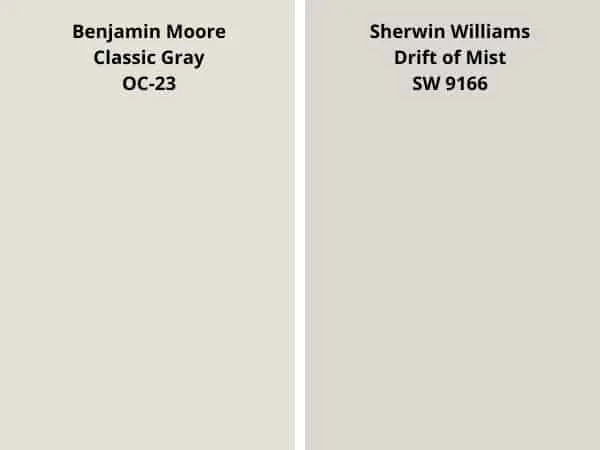 As I said close but not exact. And remember, the colors shown on the screen are not an exact representation of the paint colors.
To see the true colors, you need to sample the paint colors with real paint in your home.
SHOULD YOU COLOR MATCH?
If you decide to try your hand at color matching, that's entirely up to you.
There is nothing wrong with it, and there is a chance the color you get is exactly what you hoped for.
I am a bit uncertain about color matching because different brands have their own unique formulations for paint colors. Consequently, there's a possibility that mixing a paint color that doesn't belong to a particular brand may result in a slightly different shade.
If you are willing to give it a shot, I highly recommend starting with a small sample of the color to start. By following this approach, you can verify if the color matches your expectations.
CLASSIC GRAY COORDINATING COLORS
Benjamin Moore's Classic Gray is a versatile and neutral paint color that can beautifully coordinate with a range of other shades. Here are some Benjamin Moore paint colors that work harmoniously with Classic Gray:
Edgecomb Gray HC-173
Simply White OC-117
Kendall Charcoal HC-166
Nightfall 1569
Stone Harbor 2111-50
These coordinating Benjamin Moore paint colors can be used for accent walls, trim, or as part of a complementary color scheme to enhance the beauty of Classic Gray and create a cohesive and visually appealing atmosphere in your home.
Don't start painting until you have the right tools!

SHOP MUST HAVE PAINTING TOOLS
COLOR COMPARISONS
Who doesn't love a good comparison? Paint color, that is.
I like to do this when reviewing colors. It's interesting to see how some popular paint colors stack up to one another; like are they similar? Are they completely opposite? Things like that.
Who knows, it can possibly help you decide on a paint color.
Let's get into comparing!
CLASSIC GRAY vs PALE OAK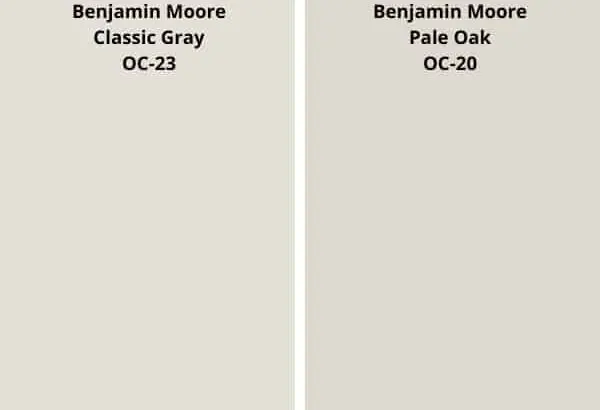 Pale Oak OC-20 has an LRV of 68.64, a bit lower than CG's 73.67.
BM Pale Oak is the darker paint color of the two.
Both are from the yellow hue family.
Pale Oak is the more saturated of the two.
Both colors can show a pinch of purple in unbalanced lighting.
READ MORE: BM PALE OAK FULL PAINT COLOR REVIEW
CLASSIC GRAY vs AGREEABLE GRAY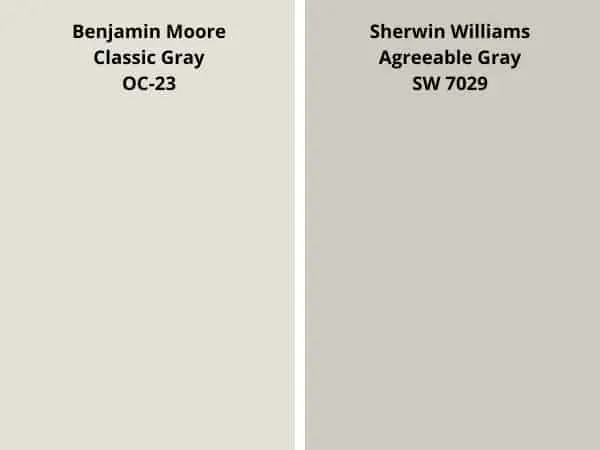 Agreeable Gray has an LRV of 60, that's lower than CG's 73.67.
Agreeable Gray is the darker paint color of the two.
Both paint colors are from the yellow hue family.
SW Agreeable Gray is a bit more saturated.
Both colors can be considered greige.
READ MORE: AGREEABLE GRAY- FULL PAINT COLOR REVIEW
CLASSIC GRAY vs BALBOA MIST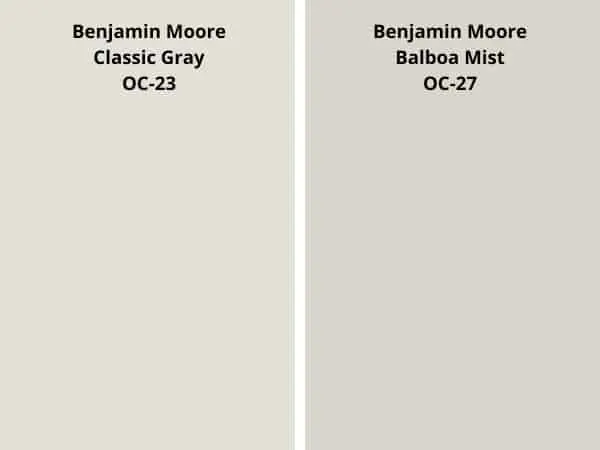 Balboa Mist is a bit cooler in tone.
The LRV of Balboa Mist is 65.53, lower than Classic Gray's 73.67.
Both have that slight chance of shifting or flashing lavender in specific lighting.
CG is the lighter paint color
Both paint colors are similar in saturation.
READ MORE: BENJAMIN MOORE BALBOA MIST PAINT COLOR REVIEW
CLASSIC GRAY vs EDGECOMB GRAY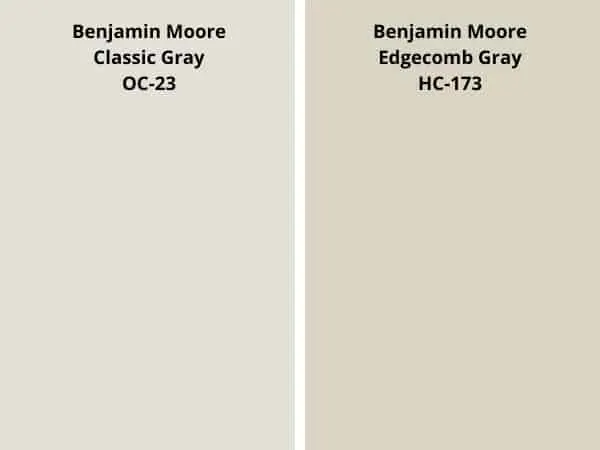 Edgecomb Gray HC-173 is the warmer paint color of the two.
Edgecomb had an LRV of 63.09, which is a bit lower than Classic's 73.67.
BM Edgecomb Gray is the darker paint color of the two.
Edgecomb Gray is a more saturated of a paint color.
READ MORE: EDGECOMB GRAY COLOR REVIEW
CLASSIC GRAY vs GRAY OWL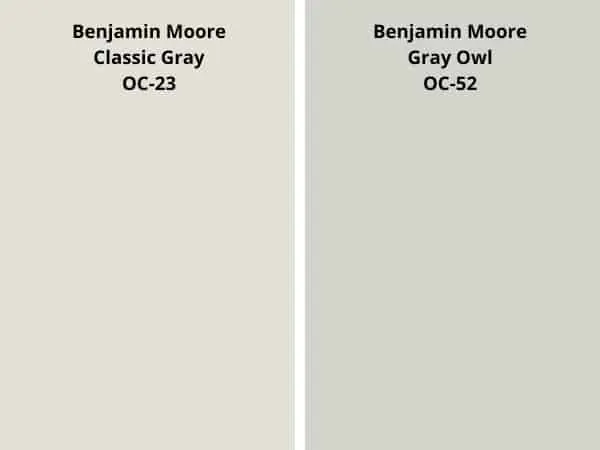 Gray Owl has an LRV of 64.51, lower than CG's 73.67
Between the two paint colors, Gray Owl is darker.
Gray Owl is cooler in tone.
Classic Gray is more saturated.
Gray Owl has blue/green tones to it.
READ MORE: GRAY OWL PAINT COLOR REVIEW
WAIT! Before you start painting make sure you have the best painting tools to make your job easier. It will take hours off your painting time!
RECAP
You have successfully made it to the recap point of the color review. Or you just jumped to this point? Either way, you are here. So let me just give a brief recap of all the ins and outs of Classic Gray OC-23.
LRV – 73.67
Hue Family – yellow
Color Collections – Off-White Collection
Also Known As 1548
has green undertones
In specific lighting, it may flash a shade of purple.
it is warm toned
can be considered a very light greige
Using SAMPLIZE Peel & Stick Paint Samples is the best way to test the color.
Simply White and White Dove are good trim colors
It can be used anywhere, especially in living rooms.
It looks great with wood tones.
Drift of Mist is the Sherwin-Williams equivalent.
CONSTANTLY FORGETTING WHAT PAINT COLORS YOU USED IN YOUR HOME? KEEP TRACK OF THEM ALL WITH THIS HANDY PAINT COLOR KEEPER
FINAL THOUGHTS
Experience the unchanging sophistication of Benjamin Moore's Classic Gray OC-23. This paint color is skillfully designed to elevate any room into a refined sanctuary.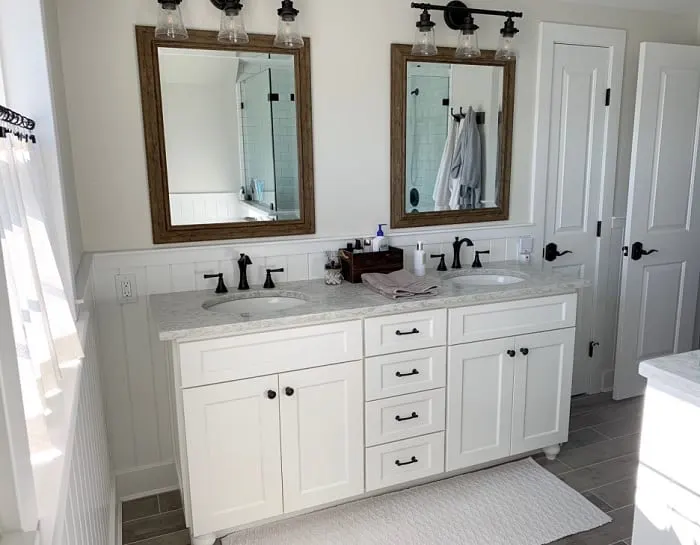 With its subtle tones and versatile nature, this shade strikes the perfect balance between warmth and neutrality. Whether you want to create a serene sanctuary or a refined backdrop for bold accents, Classic Gray harmonizes effortlessly with any design style.
Let this enduring hue envelop your walls, bringing a sense of calm and refinement to your home. Elevate your space with Classic Gray OC-23 and unlock a world of understated beauty.
Looking for more color options? Grab your own Benjamin Moore fan deck


Looking for more color options? Grab your own Sherwin Williams fan deck.

Are you planning on tackling a painting project on your own? Use these tips to help you paint your room like a pro.
Do you want to paint like a pro?
Get the painting tools the pros use.
Drop cloths are a must for any painting project. Paint is messy! Save yourself the hassle of unnecessary cleanup by using drop cloths. You'll be happy you did.
A high-quality paint brush will go a long way. The same goes for paint rollers. You want to use tools that will work with you, making your painting job more manageable.