I may earn money or products from the companies mentioned in this post. Please click my Disclosure Policy to learn more
Moonshine is an amazingly beautiful cool-toned neutral gray paint color by Benjamin Moore. This color has a soft elegance to it, which makes it so appealing.
Well, hello again. Welcome back, or for those of your who are new around here, very nice meeting you. I am glad you stopped by. Obviously, you are here for a reason, and that reason is to learn about another beautiful paint color.
I loved this paint color from the moment I set my eyes on it. It's soft, subtle, and seriously gorgeous. I have used this paint color in my home, and let me tell you, the love is real. So, of course, I HAD to dedicate a full in-depth post to the color that quickly stole my heart and I so lovingly nicknamed Moony. (Any Harry Potter fans out there?)
Let me introduce you to the stunning
BENJAMIN MOORE MOONSHINE OC-56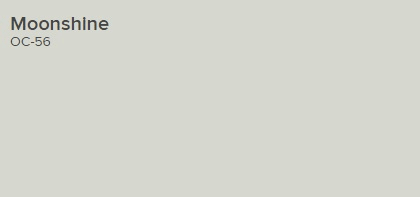 This soft shade of gray packs a surprisingly powerful punch of subtle, intoxicating color.

Benjamin Moore
STATS
AKA MOONY
LRV – 68.28
Yellow / Green-Yellow Hue Family
Moonshine OC-56 is also known as MOONSHINE 2140-60. What do those numbers even mean? They are there telling you the color collection. So, OC is the Off-White Collection and the numbers (without letters) are the Color Preview Collection.

If you are at all curious as to why Benjamin Moore does this with some of their colors, this is some info to explain it a little further.
Benjamin Moore's Off-White Colors is a collection of off white colors pulled from existing collections. Almost every color in this collection can be found in another collection. All the colors were re-numbered for this collection. You will find most of these colors have two numbers; one from the original collection and one from the Off-Whites collection. Some of the names are the same, and some of the names are different. There is not any reasoning behind why the names were changed, other than marketing

benmooreguru
Moonshine has an LRV of 68.28. I know you are asking yourself, "What the heck is LRV mean?"
LRV, or Light Reflectance Value is, it's a measurement commonly used by design professionals that measures the amount of light reflected from or absorbed into a surface. LRVs range from 0-100, with 100 being pure white and 0 being pure black.
So why is LRV important, though?
Identifying the LRV of a paint color comes in handy when you are trying to decide whether a color may or may not be too dark for a space.
Essentially, the higher the LRV of a paint color, the more reflective the color will be. And the lower the LRV, the more light the color will absorb.
Moonshine has an LRV of 68.28. It's not the highest, nor is it the lowest. It's a little higher than midway, which is an excellent spot for paint colors to be.
LRV is for sure important. However, it is 100 percent not the end all be all. You have to remember to take into account the other elements of the space you are painting. For example, the amount of light, the type of lighting, and the fixed and decor elements. These, as well as LRV all play a critical part in how a paint color will look in your room.
WHAT COLOR IS MOONSHINE?
The Benjamin Moore paint color Moonshine is a light near neutral gray paint color. At first glance, it resembles a soft, slightly cool-toned gray color, and for the most part, that is precisely what it is. But let it be known that near neutrals like BM Moonshine tend to be influenced by what's going on around them.
Say you have a blue rug, blue throw pillows and your room is north-facing. You will most likely see Moonshine come off more on the cool side.
If you have a sufficient amount of light there is also the possibility of having it look like a neutral gray, of course, depending on the conditions. This is why I always suggest testing paint samples in your home.
Use this worksheet to get the most out of sampling paint colors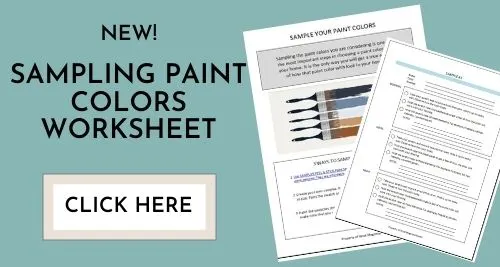 WHAT UNDERTONES DOES BENJAMIN MOORE MOONSHINE HAVE?
Moonshine has subtle undertones of blue/green. Like all gray paint colors, Moonshine can be influenced by all the elements going on around it. For example, lighting, decor, and even what is outside of your window. Some grays can have "sneaky undertones" that show up and cause a bit of a stir. However, I like to think Moonshine is a color that doesn't have anything sneaky coming your way.
We know Moonshine has some blue/green to it, so we can expect to potentially see those colors show up in certain lighting.
As you can see in the picture by @pleasantbaydesigns on Instagram, Moony is showing a bit of green. I think it looks beautiful. There is a certain calm tranquillity that this color exudes while being elegantly serene, and it's proven in this photo.
READ MORE: MUST SEE GREEN PAINT COLORS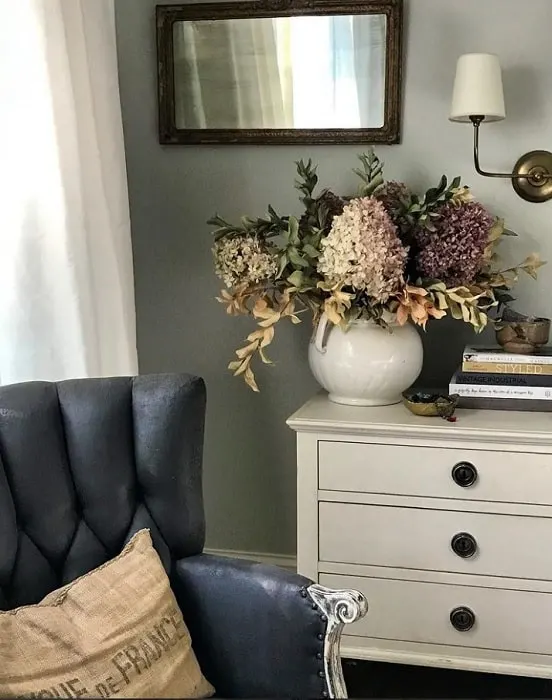 IS MOONSHINE A WARM OR COOL COLOR?
Benjamin Moore Moonshine is a cool-toned paint color. But don't let the term cool scare you. It's not at all, nor is it anywhere near an icy cool gray color. The coolness of Moonshine gives it all its appeal.
One of my favorite ways to determine if a color is warm or cool is by comparing it to another color that you already know the tone of.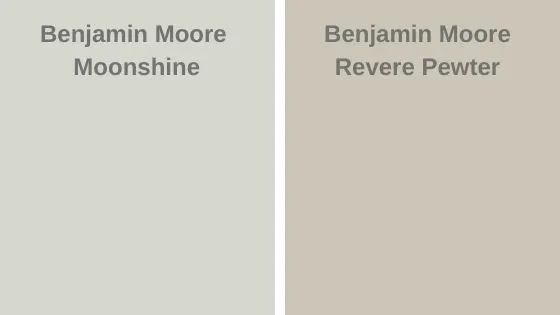 A good example of this would be comparing BM Moonshine to BM Revere Pewter. You can clearly see that Moonshine is the cooler paint color of the two. Revere Pewter is cooler in comparison.
Now, if you were to compare Moony and BM Winter Snow, you will see that Winter Snow is cooler.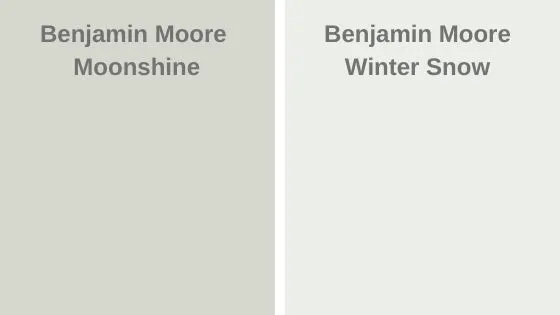 I find comparing paint colors is a fantastic way to help you in your paint color search.
LIKE WARM PAINT COLORS? CHECK THESE OUT:
Doing some painting yourself? Make sure you pick up this essential painting tool!
MOONSHINE AND LIGHTING
Lighting is unquestionably a contributing factor in how paint colors, like Moony, will look in your home.
Lighting plays a large role in how you will perceive a color. For this reason, it's a good idea to be familiar with the lighting situation of the room you are choosing the right paint color for.
For reference, here is how light appears in different directions.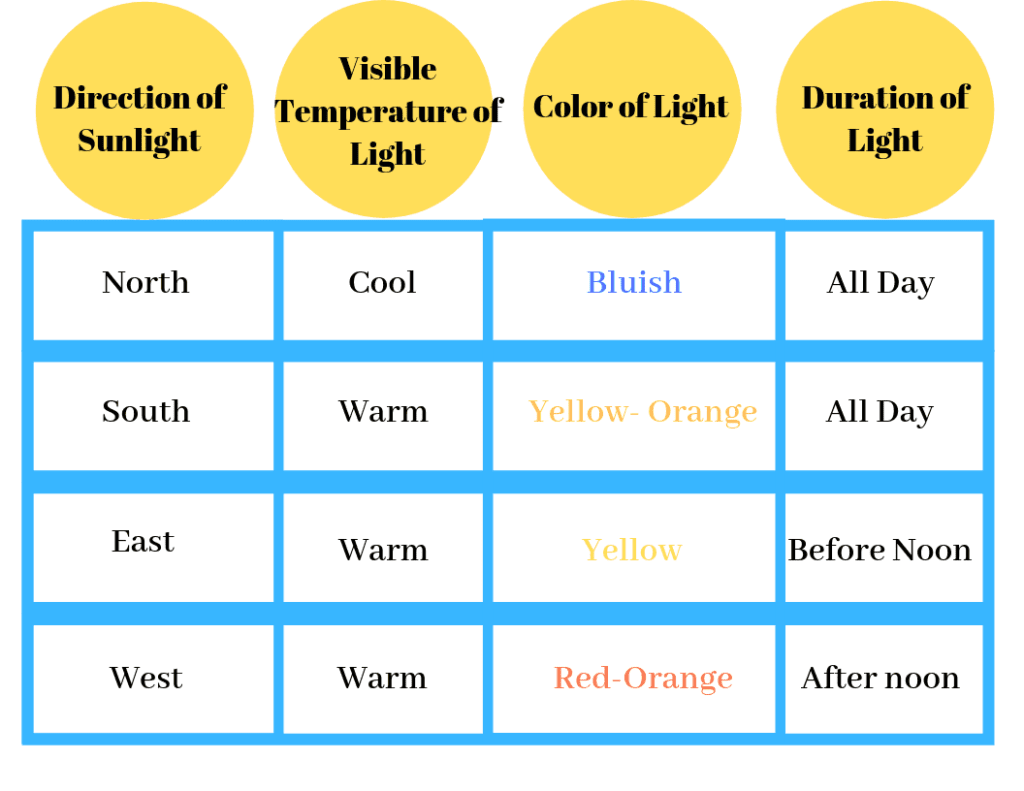 NORTH-FACING ROOMS – Light in North-facing rooms comes off cooler and somewhat bluish. Lighter colors will appear more muted, while bolder colors will show up, or appear sounder.
SOUTH-FACING ROOMS – In South-facing rooms, there tends to be a consistently bright light throughout the day. Warm and cool tones work with south-facing light, This light intensifies colors, so darker colors will seem a bit brighter while softer colors will appear to look like they are gleaming.
EAST-FACING ROOMS – East-facing rooms have the brightest light in the mornings, with a yellow-orange tone. If an east-facing room will be used mostly in the evenings, going with a warm palette will help balance the lack of natural light.
WEST-FACING ROOMS – Early evening is when West-facing rooms have the most favorable light. Warmer tones might seem overwhelming because of the red-orange the light gives off. However, if the main use for the room is in the mornings, the colors won't appear as strong as they would in the evening.
Moonshine would be a perfect color for a West-facing room. It has just enough of a coolness to it to balance out those warm light tones.
WHAT ARE THE BEST LIGHT BULBS TO USE?
Just as natural light affects paint colors so does artificial lighting.
The color of the light bulbs you use will influence how a paint color will look in a room. And unfortunately, it's a detail that is often overlooked.
With the variety of light bulbs available and it can become overwhelmingly confusing. How on earth can you know which bulb will make Greek Villa look the best?
It becomes easy once you know a little bit about light bulbs.
For reference, light color or light appearance is measured on the Kelvin (K)temperature scale. Lower Kelvin numbers mean more yellow light; the higher the Kelvin number the whiter or bluer light
Say it with me, Lower Kelvin (K) numbers = yellow light, Higher Kelvin (K) numbers = white/blueish light
I always recommend using this type of light bulb.
And be wary of the light bulb names like "daylight" or warm light". advise against picking a light bulb by the name of it. Instead, always check the package for actual facts. This allows you to choose the best bulb for you.

Don't forget, as much as lighting plays a major part in how a paint color will look at times, there are other determinants to be aware of. For instance, decor, furniture, fixtures, cabinetry, and floors. These are all elements that can affect and/or influence the way a paint color will look in your room.
WHAT IS THE BEST TRIM COLOR FOR BM MOONSHINE?
Moonshine looks fabulous with bright white trim like BM Chantilly Lace. It provides a beautiful contrast and really lets Moony shine and be the star of the "show". But of course, you are certainly not limited to only using a white color for the trim.
It's also a beautiful paint color to go with honey oak trim and dark wood elements.
The beauty of decorating is that there are no set-in-stone rules you must follow. I mean it is your home, you decorate it the way you desire.
READ MORE: THE BEST WHITE PAINT COLORS FOR TRIM
WHERE TO USE MOONSHINE?
I have to say Moony is well-suited to be used just about anywhere. First of all, it's a neutral gray and secondly, it's so dang pretty.
LIVING ROOM
KITCHEN
CABINETS
BASEMENT
BEDROOM
BATHROOM
DINING ROOM
LIVING ROOM
Paint the walls in your living room with BM Moonshine. This is the perfect place to use a neutral paint color. It gives you the freedom to use bolder, more colorful decor pieces and furniture in the space.
Clauzier @clauzier on Instagram used Moony on her walls and let us just say the proof is in the photo. Everything about this photo makes me happy. The gorgeous tones of the wood table against Moonshine., it's a match made in heaven.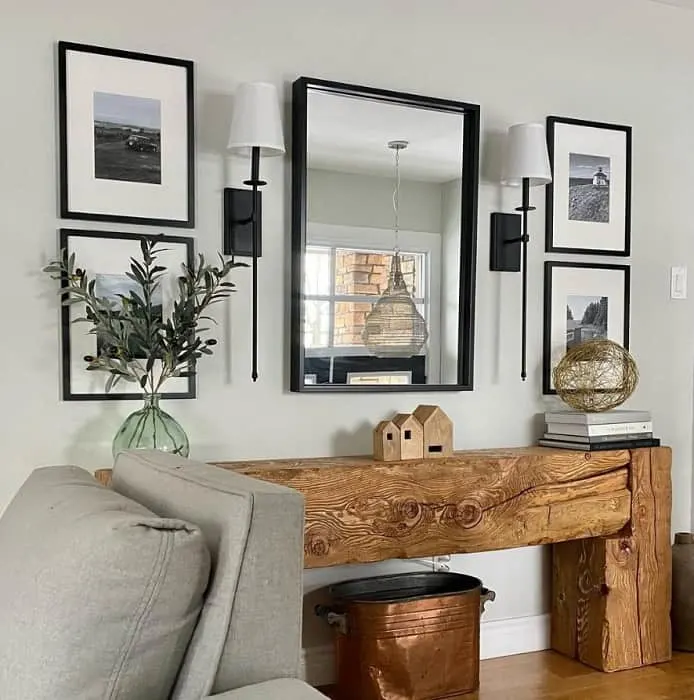 BEDROOM
I think the bedroom is another fantastic place to use Moonshine. Again, it's a neutral gray paint color so it allows you to play with color elsewhere. Also, it is a cool-toned paint color and cool tones are known for promoting more of a relaxing, peaceful atmosphere. The bedroom is exactly where you need a restful, chill vibe, right?
BASEMENT
Basements can be tricky to find the right paint color. For the most part, they tend to be darker with little to no natural light and they may have lower ceilings. Two quite challenging factors to work around. However, I am here to tell you good old Benjamin Moore Moony works on the basement walls.
I paint my basement walls with Moonshine. For reference, there are two small windows with a porch deck covering them. So there is basically no natural light. There are however high hats providing artificial light.
The color comes off on the cooler side. I tend to see more of a green/blue in the gray. But it is not too dark of a color for the space. I find it to be the perfect fit for my basement.
IS MOONSHINE A GOOD EXTERIOR COLOR?
Light, near neutrals like Moonshine, may not be your best choice for an exterior paint color. Being that the color will be on the exterior, in direct sunlight, it has the potential to look very washed out. You will basically lose all sense of the color and it will end up looking white.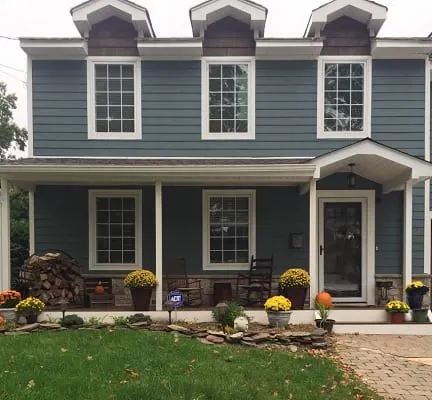 LOOKING FOR MORE EXTERIOR PAINT COLORS? CHECK THESE OUT:
WHAT'S THE BEST WAY TO SAMPLE MOONSHINE?
Quickly, let's talk about testing paint colors.
Instead of physically going to your nearest paint store to grab your samples, you need to try Samplize Peel & Stick paint samples.
Why should you try Samplize?
Super affordable
Mess-free
Non-damaging
Made with real manufacturer paint
Displays color just like a wall
Environmental friendly
Reusable
These peel & stick paint samples are super affordable and allow you to test a paint color in all different areas of a room without the mess of a traditional paint sample!
You know how I feel about testing paint colors, it's a must!
Don't create more work for yourself. Order Samplize now and have them shipped directly to you. No-fuss, no mess! Check them out for yourself, you won't be disappointed.
WHAT IS THE SHERWIN WILLIAMS EQUIVALENT TO MOONSHINE?
There isn't an SW color that is quite comparable to Benjamin Moore Moonshine. The closest Sherwin Williams paint color that I found, going solely off of spectral data is:
SW 9628 WINTER WALK – Sherwin-Williams Emerald Designer Edition
LRV 66
Now comparing them side by side they don't look too much alike. SW Winter Walk is has a hue family or yellow-green and is a bit warmer in tone.
The one color I found to be comparable is:
If you were thinking of color-matching between paint brands, I highly recommend purchasing a sample beforehand. Sometimes when you color match between paint manufacturers, the colors don't come out accurately. This is because each brand uses different formulas to create its paint colors.
The best option is to choose within the brand's paint color lines. This way you know what you are getting.
COORDINATING COLORS
Neutral paint colors tend to be the most effortless to find complementary colors for, especially grays. However, it's inherent to be aware of any undertones the color has. When talking about Benjamin Moore Moonshine, there are blue/green undertones that can show up. In knowing this information you can either do one of two things,
work with colors to enhance those tones
work with colors to dilute those tones
For fun, I'll give you some colors that do both.
Cloud Cover 855
WATER'S EDGE 1635
ARCTIC SHADOWS 1559
SUPER WHITE PM-1
Desert Twilight 2137-40
Onondaga Clay 1204
Black Bean Soup 2130-10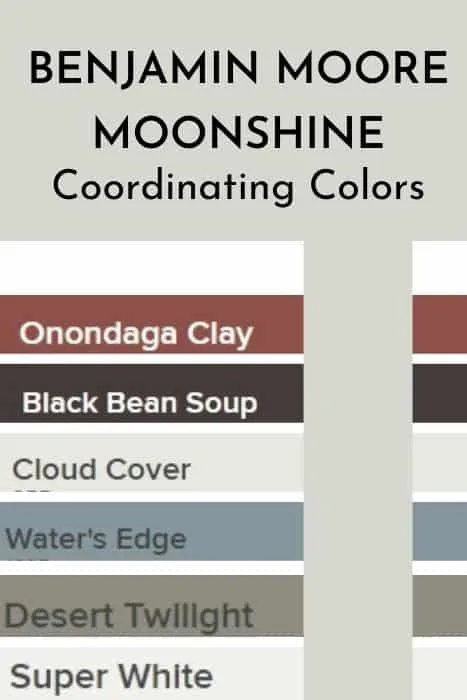 COLOR COMPARISONS
As I mentioned before, comparing colors is a helpful way to see if a color is warm or cool, etc. I collected a few popular paint colors to compare Moonshine against. Let's see how they stack up.
MOONSHINE VS SILVER SATIN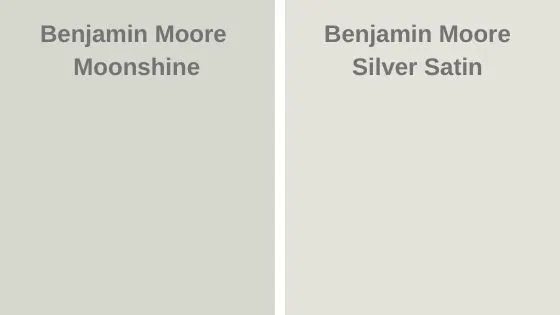 Silver Satin has an LRV of 76.35
Both colors are a part of Benjamin Moore's Off-White Collection.
Silver Satin is the lighter color of the two.
Both are gray paint colors.
Silver Satin has more purple-ish undertones, whereas Moony has blue/green
I wouldn't say these two colors are close in color. There are both beautiful in their own ways.
READ MORE: FULL REVIEW ON SILVER SATIN
MOONSHINE VS CLASSIC GRAY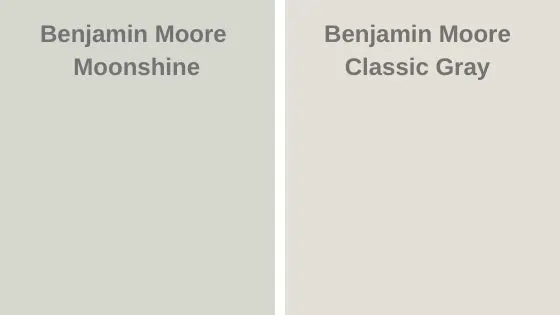 Classic Gray has an LRV of 74.78.
Both colors are a part of Benjamin Moore's Off-White Collection.
Classic Gray is a warm-toned gray.
As for undertones, Classic Gray has purple undertones.
Moonshine is darker than Classic Gray
Classic Gray will pull quite cool in North-facing rooms
READ MORE: CLASSIC GRAY PAINT COLOR REVIEW
MOONSHINE VS GRAY OWL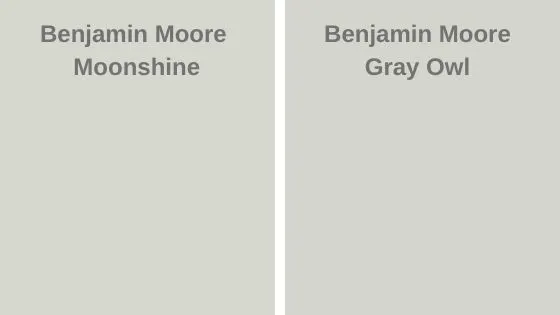 Moony has an LRV of 68.28 which is a hair higher than Gray Owl's 65.77.
These are very similar.
Gray Owl is a darker paint color.
Both are cooler-toned grays.
Both Gray Owl and Moonshine have blue/green undertones.
I find Moonshine to pull a bit more green/blue.
Gray Owl can look a bit more of a neutral gray in the right situation.
READ MORE: GRAY OWL COLOR REVIEW
MOONSHINE VS HORIZON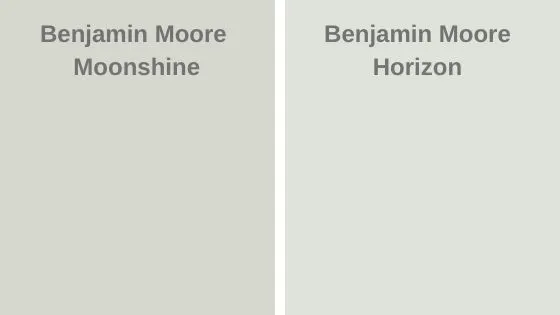 Horizon has an LRV of 73.96
Both are a part of Benjamin Moore's Off-White Collection.
Horizon has blue and green undertones, leaning more towards green.
Horizon is the lighter of the two colors.
Both are cool toned.
MOONSHINE VS AGREEABLE GRAY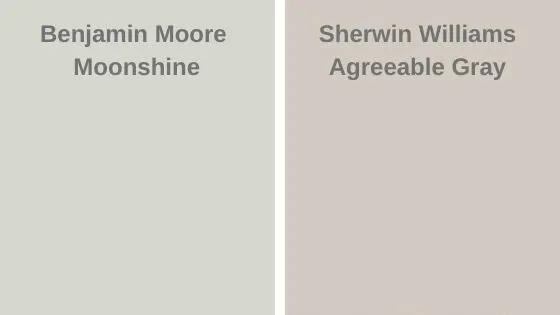 Sherwin Williams Agreeable Gray has an LRV of 60, lower than Moony at 68.28
Of the two colors, Agreeable Gray is the warmer gray.
Agreeable Gray is a very versatile warm gray /greige paint color.
Agreeable Gray also has a green undertone that can be seen in certain instances.
READ MORE: AGREEABLE GRAY- IS IT THE BEST GREIGE OUT THERE?
MOONSHINE VS REVERE PEWTER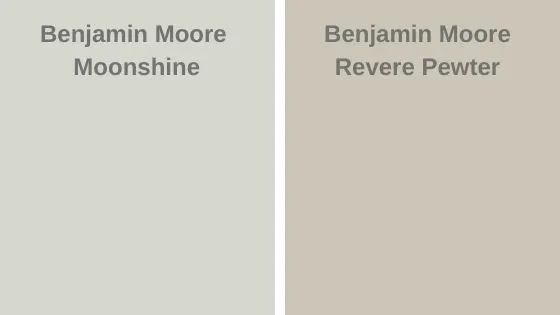 Benjamin Moore Revere Pewter has an LRV of 55.51
Compared to Moony, Revere Pewter is the warmer gray / greige.
Moonshine has more of a clean, crisp feel to it.
Revere Pewter green undertone that can show up. And can be considered a "muddy" color.
Revere Pewter works well as a transitional color.
READ MORE: BM REVERE PEWTER – STILL A FAVORITE?
CREATE YOUR OWN PAINT SAMPLE BOARDS
RECAP
Here's a quick review of what we learned about Benjamin Moore Moonshine OC-56.
it's a soft gray paint color
it is cool-toned- but not icy
has an LRV of 68.28
looks great in a West-facing room as its cool tones balance out the warm light
can be used in just about any room of your home
may not be the best option for the exterior since it has the potential to washout in direct sunlight
looks amazing with a bright white trim
coordinates well with man colors.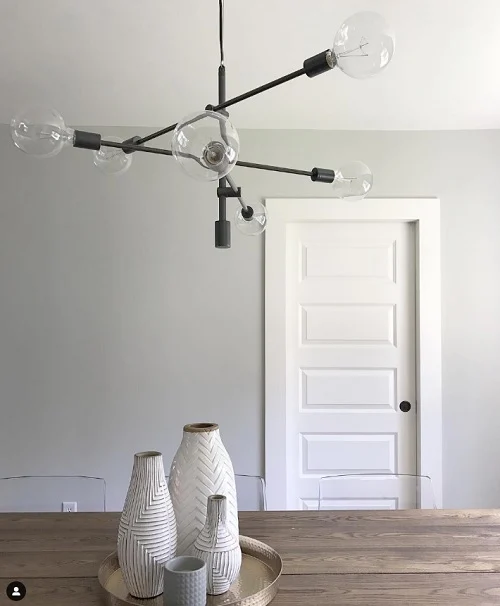 FINAL THOUGHTS
If I have to describe this color, what comes to mind is Refined, timeless, and classic. There is a certain elegance that it processes which is why it is a favorite hue amount designers and DIYers alike.
The attraction of this cool-toned gray paint color is that it's reasonably versatile, which makes it a suitable option for a wall color in just about any room.
What more is there to say?
This is one of those paint colors that (in my eyes) will never go out of style. It is truly timeless. It's so soft and beautiful and will make any space feel elegant.
The subtle blue/green undertone is not overbearing at all. It adds to the sophistication of the color. If you are ok with a lovely cool undertone then you will absolutely fall for Moonshine.
However, if you aren't a fan of any cool blue-green undertones, you may want to explore a paint color that is slightly warmer, like Edgecomb Gray, Repose Gray. or SW Agreeable Gray.
Finally, keep in mind that the colors you see on a computer screen aren't a true representation of the paint colors spoken about. It is important to swatch and test the paint colors to see the true color.
SUBSCRIBE TO MY EMAIL LIST AND GET A FREE COPY OF MY INTERIOR PAINTING CHECKLIST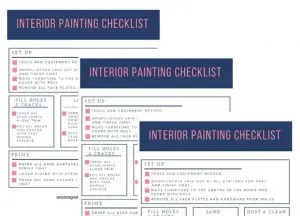 RECENT ARTICLES: