I may earn money or products from the companies mentioned in this post. Please click my Disclosure Policy to learn more
Benjamin Moore Caldwell Green HC-124 is a fantastic green paint color. It's a soft green that works well to create both dynamic and elegant spaces.
Welcome friends! I'm so happy you are here today, As promised, I'm bringing you a non-neutral paint color to talk about today and it's a good one.
This color came about mainly because I really love it and I wanted to share it with the world. Plus I said I would find a paint color that wasn't gray to chat about. So here we are.
A bonus to all of this is that this color and varieties of it are quite trendy at the moment.
Let me introduce you to your new favorite green paint color…….
BENJAMIN MOORE CALDWELL GREEN HC-124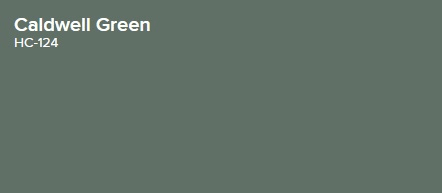 As always let's start off with some stats on his beauty.
STATS
HUE FAMILY: Green – 46.972 7.157 158.186°
LRV – 14.67
COLOR COLLECTIONS: Historic Color Collection
The Historical Color Collection is
A collection of 191 time-honored hues comprises our most popular palette. Steeped in tradition, the refined, elegant colors of the Historical Collection deliver timeless color that can be used in traditional as well as contemporary spaces

Benjamin Moore
Caldwell Green has a low LRV being that it is a darker color. So you can expect it to absorb more light than it reflects. By the way, if you are wondering what LRV is, I'll explain what that means.
LRV or Light Reflectance Value is a measurement commonly used by design professionals. It measures the amount of light reflected from and absorbed by a surface. LRVs range from 0 -100, with 100 being pure white and 0 being absolute black. A great article to read to learn more about LRV is Light Reflectance Value: What Do Those Numbers Mean?
Knowing the hue family a color is from is helpful in understanding the color a bit more. This is more useful with near-neutral paint colors however, it is still a valuable piece of knowledge when looking at any color.
Doing some painting yourself? Make sure you pick up this essential painting tool!
WHAT COLOR IS CALDWELL GREEN?
This is one of the easier questions to answer. BM Caldwell Green is a green paint color. Of course, ya'll didn't need me to tell you that though. But, if you want to dive a little deeper, Caldwell isn't the typical green grass green you think of.
It has a softness to it that gives it an elegant appearance. It defiantly is not a harsh or overbearing green. It's more of a muted, grayed-down green. It is beautiful both as an accent color and an overall wall color.
READ MORE: 14 AWESOME GREEN PAINT COLORS
WHAT UNDERTONES DOES CALDWELL GREEN HAVE?
Undertones are merely perspective, so if you have an imbalanced lighting situation, you may see Caldwell Green has a blue-green undertone. But if you have daylight/lighting which is rather evenly balanced in all lightwaves, it will appear just as a grayed green color.
I always suggest sampling a paint color in the room you plan on using it. That is the only way to see how the light will affect the color.
IS CALDWELL GREEN A WARM OR COOL PAINT COLOR?
Depending on what you compare Caldwell Green to, it can look either cool or warm-toned.
A great way to identify if a paint color is warm or cool-toned is to compare it to another paint color.
For instance, let's place Caldwell Green side by side with Benjamin Moore Misted Fern. You can clearly see how Misted Fern is more of a yellow-green and is the warmer of the two paint colors.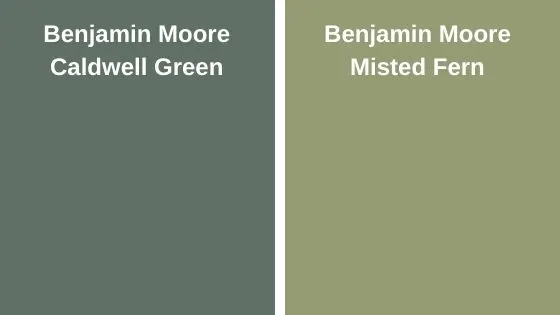 BEST TRIM COLOR FOR CALDWELL GREEN?
I have to say Caldwell Green looks absolutely amazing with a classic white trim color. You can use a bright white like BM Chantilly Lace for a clean crisp look. Or you can use a color like BM White Dove or Swiss Coffee to add a touch of warmth. Either way looks beautiful.
READ MORE: THE BEST WHITE PAINT COLORS FOR TRIM
That being said, painting your trim white isn't the only option you have. Greens inherently look beautiful with wood tones. So, if you are adding trim to the space consider keeping it the natural wood tone.
READ MORE: PAINT COLORS FOR HONEY OAK WOOD
You can also go with a monochromatic look and use Caldwell Green on both walls and trim. You can slightly change the look of the trim by choosing a different sheen or finish. By doing so you will get a slight differentiation between the two.
WHERE TO USE BM CALDWELL GREEN?
You can use Caldwell Green wherever you like. The beauty of decorating and painting is that there are no rules and if you like it that's all that matters. That being said there are a few places in particular where Caldwell truly shines.
KITCHEN CABINETS
BATHROOM
BOARD AND BATTEN
LIVING ROOM
BEDROOM
HOME OFFICE
KITCHEN CABINETS
If you are looking to have a showstopper of a kitchen, paint your cabinets Benjamin Moore Caldwell Green.
Emma @rosecottage.dublin on Instagram used this gorgeous green on her kitchen cabinets and all I can say is wow.
READ MORE: HOW TO PAINT KITCHEN CABINETS
---
---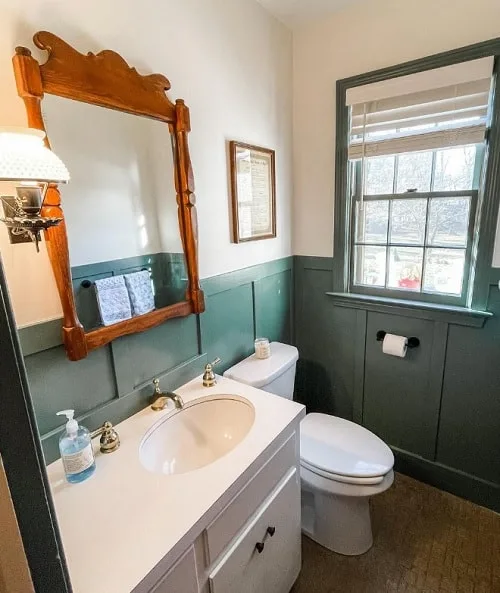 BATHROOM
The bathroom is another spectacular place to use Caldwell Green.
You can use it as a wall color or you can use it on paneling, like Christina @ourbouldlife on Instagram did.
I love that it adds a pop of color without being too much. It looks absolutely perfect in her bathroom.
KEEP TRACK OF YOUR PAINT COLORS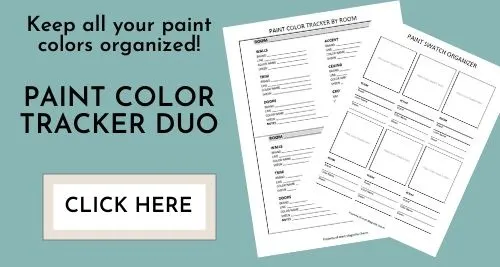 BOARD AND BATTEN
Alone board and batten is quite stunning and impactful. But add a fantastic paint color like Caldwell Green and you have a true masterpiece.
I used Caldwell on the DIY board and batten I did in my guest bedroom and boy did it make all the difference. It truthfully transformed the room from boring to wow-worthy.
It's honestly remarkable how a color can transform a space.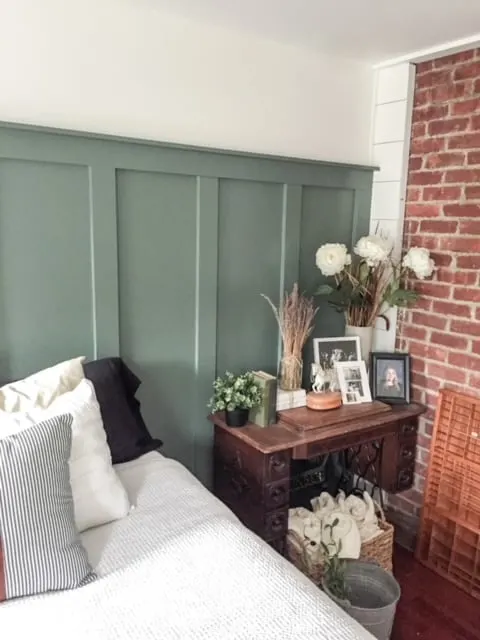 Don't start painting until you have the right tools!

SHOP MUST HAVE PAINTING TOOLS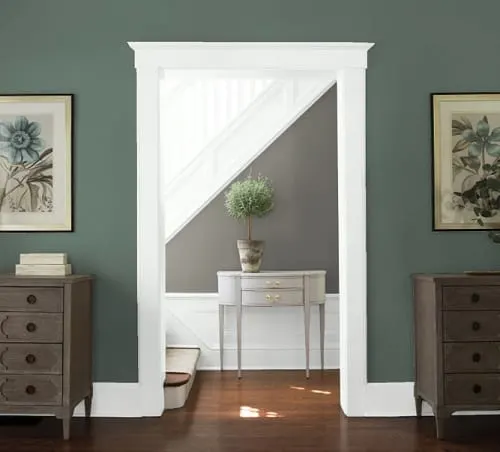 LIVING ROOM
Try painting your living room walls with BM Caldwell Green. This lovely green will provide the space with a sense of calmness and elegance,
IS CALDWELL GREEN HC-124 A GOOD EXTERIOR PAINT COLOR?
Yes, It is 100% a good paint color to use on the exterior of your home. The reason being is that it has a good amount of depth to it to hold up to the direct sunlight. Paint colors used on the exterior tend to lighten up in the sunlight so Caldwell Green is a good shade to combat that.
My home is painted Sherwin Williams Riverway, which is very similar in depth and it holds up beautifully in the direct sunlight. There is no doubt in my mind that Caldwell Green will do the same on the exterior.
---
Find a Little More Exterior Paint Color Inspiration:
---
WHAT IS THE BEST WAY TO SAMPLE BENJAMIN MOORE CALDWELL GREEN?
I know I sound like a broken record but testing paint samples is the only true way to see how a paint color will act in your home. That is why you absolutely must sample your paint colors!
Although you may think it is a pain to do, there is a much simpler way to sample paint colors.
Quickly, let's talk about testing paint colors.
Instead of physically going to your nearest paint store to grab your samples, you need to try Samplize Peel & Stick paint samples.
Why should you try Samplize?
Super affordable
Mess-free
Non-damaging
Made with real manufacturer paint
Displays color just like a wall
Environmental friendly
Reusable
These peel & stick paint samples are super affordable and allow you to test a paint color in all different areas of a room without the mess of a traditional paint sample!
You know how I feel about testing paint colors, it's a must!
Don't create more work for yourself. Order Samplize now and have them shipped directly to you. No-fuss, no mess! Check them out for yourself, you won't be disappointed.
SHERWIN WILLIAMS EQUIVALENT
Upon doing a little research, I found one color that is pretty a pretty close Caldwell Green Sherwin Williams match and that color is: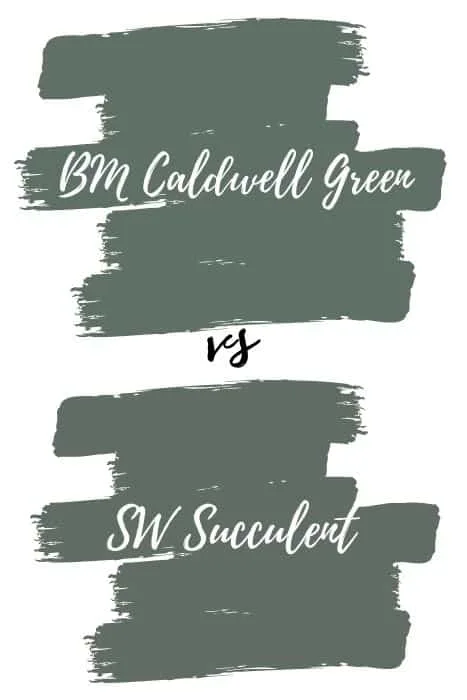 SW 9650 SUCCULENT Sherwin-Williams Emerald Designer Edition
LRV: 14
Hue Family: Green
47.871 5.413 155.420°
These two are not dupes. Yes, they are similar but they are not the same paint color. Sherwin Williams Succulent is a hair darker and has a bit more gray in it.
They are both gorgeous colors but they aren't interchangeable.
If you were considering color-matching between paint brands, I highly recommend purchasing a sample beforehand. Sometimes when you color match between paint manufacturers, the colors don't come out accurately. This is because each brand uses different formulas to create its paint colors.
The best option is to choose within the brand's paint color lines. This way you know what you are getting.
COORDINATING COLORS
Finding coordinating paint colors can sometimes be a challenge. But there are a few tips you can use when it comes to figuring out a color scheme.
The complementary color to green is red on the color wheel. This is a color combination that gives you options for playing with tone and saturation. For example, explore soft reds or blush colors for a bold color palette.
For something a bit less lively, think monochromatic. Use different shades, tints, and tones of green to create a dynamic color scheme.
Some colors that work well with Caldwell are:
Gray Sky 2131-70
Mayonnaise 2152-70
Silvery Moon 1604
Castle Walls 1573
Black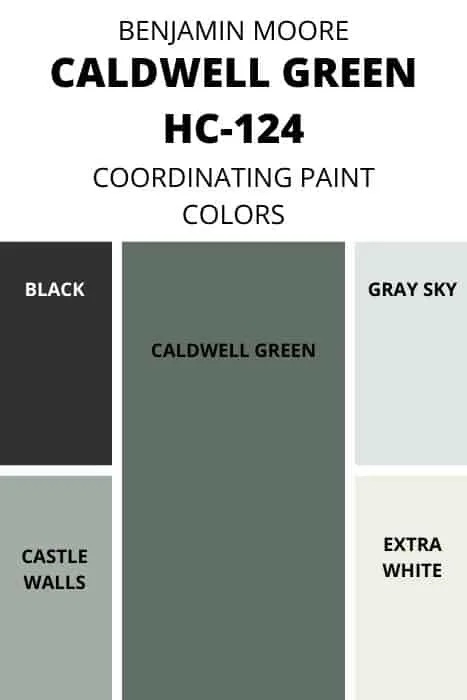 Don't start painting until you have the right tools!

SHOP MUST HAVE PAINTING TOOLS
COLOR COMPARISONS
Comparing paint colors to one another is a great way to identify the colors a bit further. It can help you distinguish undertones, tones, etc. So let's compare a few colors to Benjamin Moore's Caldwell Green.
CALDWELL GREEN VS CUSHING GREEN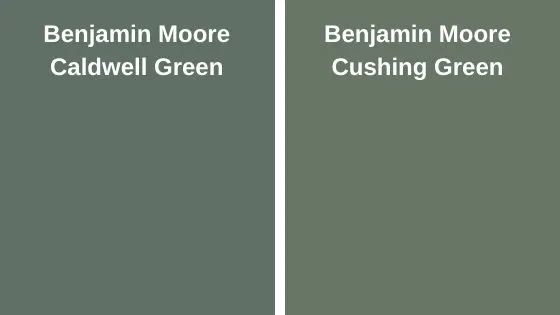 Cushing Green is a part of the Green-Yellow hue family – 49.177 9.913 144.291°
Cushing Green has an LRV of 16.23 which is a tad bit higher than CG LRV of 14.67
Caldwell Green has a bit more gray in it.
Cushing Green is a bit more yellow-green
CALDWELL GREEN VS SW PEWTER GREEN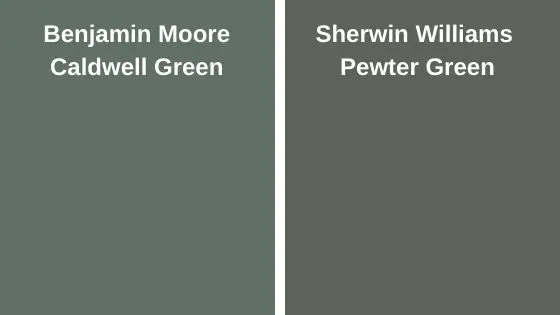 Sherwin Williams Pewter Green is from the Green-Yellow hue family 45.229 5.270 135.086°
Pewter Green has an LRV of 12, a bit lower than Caldwell
Pewter Green has more gray in it, making it more muted of a green.
Caldwell is more saturated between the two.
RECAP
LRV – 14.67
HUE FAMILY: Green – 46.972 7.157 158.186°
COLOR COLLECTIONS: Historic Color Collection
Caldwell Green is a muted, grayed-down green
In unbalanced lighting, it can potentially look a bit like a blue-green
It looks beautiful with a bright white trim
Can be used just about anywhere
Makes a great kitchen cabinet color and accent color
Pairs well with wood tones and neutrals
The closest Sherwin Williams color match is SW 9650 SUCCULENT from the Emerald Designer Edition
The best way to sample Caldwell is with SAMPLIZE Peel & Stick Paint Samples
FINAL THOUGHTS
Benjamin Moore Caldwell Green HC-124 is an absolute beauty. I have to admit I am so smitten with this color. I tend to not gravitate towards green paint colors but there is something so appealing about Caldwell.
This muted, grayed-down gray is an excellent option to create both lively, dynamic, or calm, elegant atmospheres.
With green being on-trend right now, I say you cannot go wrong with Benjamin Moore Caldwell Green. It's absolutely worth grabbing a sample.
Follow these helpful painting tips and avoid these mistakes to get the job done right!
Looking for more color options? Grab your own Benjamin Moore fan deck


Looking for more color options? Grab your own Sherwin Williams fan deck.

Are you planning on tackling a painting project on your own? Use these tips to help you paint your room like a pro.
Do you want to paint like a pro?
Get the painting tools the pros use.
Drop cloths are a must for any painting project. Paint is messy! Save yourself the hassle of unnecessary cleanup by using drop cloths. You'll be happy you did.
A high-quality paint brush will go a long way. The same goes for paint rollers. You want to use tools that will work with you, making your painting job more manageable.
SUBSCRIBE TO MY EMAIL LIST AND GET A FREE COPY OF MY INTERIOR PAINTING CHECKLIST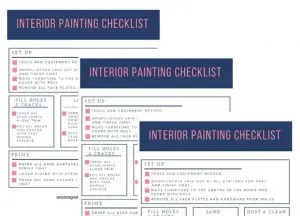 RECENT ARTICLES: