I may earn money or products from the companies mentioned in this post. Please click my Disclosure Policy to learn more
Benjamin Moore Swiss Coffee OC-45 is a wildly popular creamy/ off-white paint color. It is casual yet elegant and highly versatile. This soft, off-white has just the right amount of warmth that adds a level of depth to a space. Swiss Coffee is a lovely neutral that allows you to decorate around easily.
Welcome, welcome, welcome! I'm so happy you decided to drop by.
I have a great paint color review for you today. This actually an interesting one if I do say so myself.
Lately, I have been going through some of the most popular and hyped-up paint colors on the internet and doing a bit of a deep dive as to why they are so hyped.
I came across a very well-known Benjamin Moore paint color and knew that it had to be my next color review.
Let me end your suspense and get on into it.
BENJAMIN MOORE SWISS COFFEE OC-45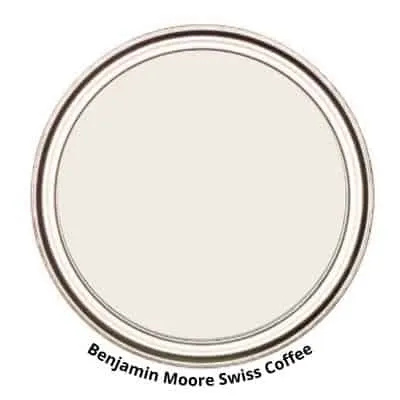 Yup, we are talking about the one, the only Benjamin Moore Swiss Coffee OC-45.
We are going to really get into what makes this paint color such a favorite. And if it is really worth all the hype it gets.
I mean Studio McGee used Swiss Coffee at 75% on the walls throughout their home so it has to be good right? We'll see….
Grab a snack, this is going to be a long one.
STATS
LRV:83.93
HUE FAMILY: YELLOW
COLOR COLLECTIONS: Off-White Collection
In the world of paint colors, knowing and understanding what LRV is can be super beneficial when choosing a paint color.
Don't stress, if you are unfamiliar with LRV, I'm going to give you a very quick summary of what it is.
LRV stands for Light Reflectance Value. It is a measurement commonly used by design professionals that measures the amount of light reflected from and absorbed by a surface. LRVs range from 0-100, with 100 being pure white and 0 being absolute black.
A great article to read to learn more about LRV is Light Reflectance Value: What Do Those Numbers Mean?
Basically, The higher the LRV the more light the paint color will reflect.
BM Swiss Coffee has an LRV of 83.93, which is on the higher side when it comes to LRV. It will reflect a fair amount of light. Whereas a color such as BM Revere Pewter with an LRV of 55.51 will not reflect a ton of light.
One of the lesser talked about stats is the hue family of a paint color. The hue family is based on the origins of the colors we can see. For example, red, blue, green, yellow, etc.
Swiss Coffee is from the yellow hue family.
Overall, the hue family allows you to understand the paint color's origin.
To close out this stats section, let's talk color collections.
All a color collection really is is it's a curated group of paint colors. Some are created by paint color experts, others are grouped by color.
Swiss Coffee is from the Off-White Color Collection.
KEEP TRACK OF YOUR PAINT COLORS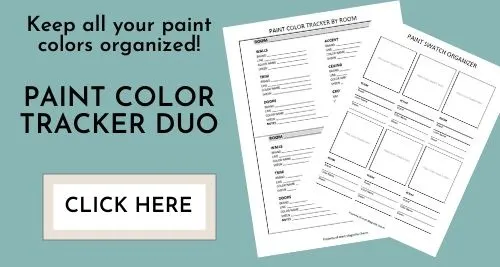 WHAT COLOR IS BENJAMIN MOORE SWISS COFFEE?
Benjamin Moore Swiss Coffee is categorized as an off-white paint color. Of course, there is a bit more to it than that. But simply put, it's an off-white paint color.
The Benjamin Moore website describes it:
An essential white with just the right amount of warmth.

Benjamin Moore
I feel like their description is spot on. It's 100% a soft, versatile white with the perfect amount of warmth. There is some gray to it that keeps it from looking yellow. I'd even say it has a slight beige-feel to it.
Warm, delicate tones give this neutral a lasting, effortless quality.
WHAT UNDERTONES DOES SWISS COFFEE HAVE?
Swiss Coffee has a few different undertones or colors that can show, gray, yellow, and green.
The important thing to remember is that not everyone that uses Swiss Coffee on their walls will see these colors.
I've heard that some designers never see any undertones and they find it to be the ultimate neutral warm white paint color.
I have also personally seen Swiss Coffee look a bit on the yellow side.
Undertones are subjective and not the same for everyone. This is something that really isn't shared enough and it's why I push sampling paint colors so much, almost to an annoying point.
If you are wondering what undertones may appear while using Swiss Coffee in your home, you need to grab a paint sample and test it in your home. It's the best way to get an accurate representation of how the paint color will look.
DOES SWISS COFFEE LOOK YELLOW?
Swiss Coffee has the potential to look or show a tiny bit of beige yellow in certain lighting.
It is not going to look like a full-on yellow because, but more so a very very slight hint. There is a tad of gray in the color that keeps it from looking like a yellow paint color.
Again, whether or not you see any yellow is highly dependent on the situation and lighting of the room.
If you don't want any yellow surprises with Swiss Coffee, grab a paint sample to see what you are going to get in your home.
IS SWISS COFFEE A WARM PAINT COLOR?
Yes, Swiss Coffee is a warm white paint color. Yet it still provides a light and clean overall feel.
Often, people describe it as a neutral warm white paint color.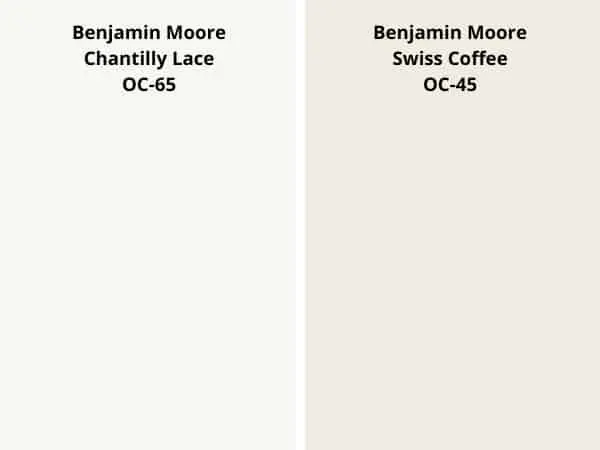 A fantastic way to help you figure out the tone of a paint color is by comparing it to another color. For example, let's compare BM Swiss Coffee to BM Chantilly Lace. When compared to Chantilly Lace you can see that Swiss Coffee, is warmer in tone.
If you are ever struggling to determine the tone of a paint color try comparing it to a color you are familiar with. It just may help you figure it out.
Explore More Warm-Toned Paint Colors:
CARDINAL DIRECTIONS AND LIGHTING
Let's talk about lighting, cardinal directions, and how they are significant in how Swiss Coffee will read in a home.
The lighting in your space will affect how your paint color looks. There's no denying it. Is it the sole factor? No, but it's high up on the list.
That being said, being mindful of how the lighting in your home is and in which direction your rooms sit, will ultimately help with your paint color selection.
The Cardinal directions are North, South, East, and West.
For reference, here is a cheat sheet of how light appears in different directions.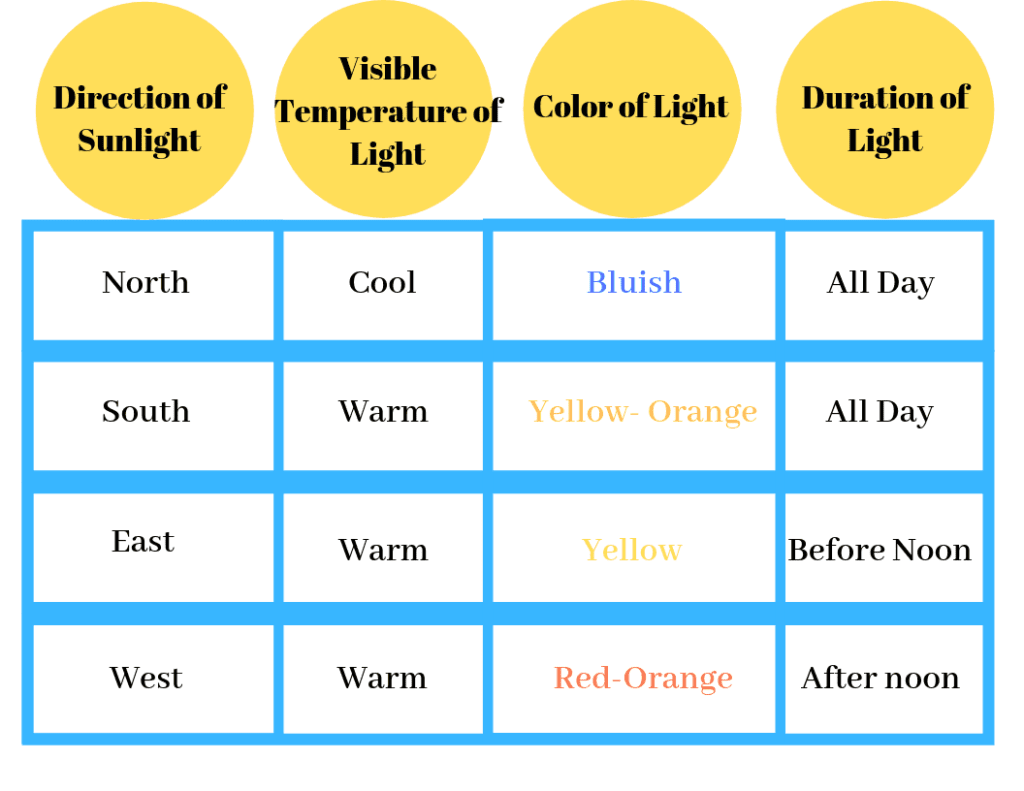 NORTH-FACING ROOMS – Light in North-facing rooms comes off cooler and somewhat bluish. Lighter colors will appear more muted or grayed down, while bolder colors will show up, or appear sounder.
SOUTH-FACING ROOMS – In South-facing rooms, there tends to be a consistently bright light throughout the day. Warm and cool tones work with south-facing light, This light intensifies colors, so darker colors will seem a bit brighter while softer colors will appear to look like they are gleaming.
EAST-FACING ROOMS – East-facing rooms have the brightest light in the mornings, with a yellow-orange tone. If an east-facing room will be used mostly in the evenings, going with a warm palette will help balance the lack of natural light.
WEST-FACING ROOMS – Early evening is when West-facing rooms have the most favorable light. Warmer tones might seem overwhelming because of the red-orange the light gives off. However, if the main use for the room is in the mornings, the colors won't appear as strong as they would in the evening.
WHAT ARE THE BEST LIGHT BULBS TO USE?
Just as natural light affects paint colors so does artificial lighting.
The color of the light bulbs you use will influence how a paint color will look in a room. And unfortunately, it's an important detail that is often overlooked.
With the variety of light bulbs available and it can become overwhelmingly confusing. I mean what really soft white and bright white?
Thankfully, it becomes easier once you know a little bit about light bulbs.
For reference, light color or light appearance is measured on the Kelvin (K)temperature scale. Lower Kelvin numbers mean more yellow light; the higher the Kelvin number the whiter or bluer light.
Remember, lower Kelvin (K) numbers = yellow light, Higher Kelvin (K) numbers = white/blueish light
I always recommend using this type of light bulb.
Be cautious of the light bulb names such as "daylight" or warm light". I'd advise against picking a light bulb by its name.
Instead, always check the package for actual facts. This allows you to choose the best bulb for you.
Don't forget, as much as lighting plays a major part in how a paint color will look at times, there are other determinants to be aware of. For instance, decor, furniture, fixtures, cabinetry, and floors. These are all elements that can affect and/or influence the way a paint color will look in your room.
BEST WAY TO SAMPLE?
Not sampling paint colors is one of the biggest painting mistakes you can make! If you skip it, you run the risk of a paint color failing to look the way you hoped it would. This is not only disappointing but costly!
This is why I always say sample those paint colors!
Want to know the best and easiest way you can sample BM Swiss Coffee?
SAMPLIZE PEEL & STICK PAINT SAMPLES!
Instead of physically going to your nearest paint store to grab your samples, you need to try Samplize Peel & Stick paint samples.
Why should you try Samplize?
Super affordable
Mess-free
Non-damaging
Made with real manufacturer paint
Displays color just like a wall
Environmental friendly
Reusable
These peel & stick paint samples are super affordable and allow you to test a paint color in all different areas of a room without the mess of a traditional paint sample!
You know how I feel about testing paint colors. It's a must!
Don't create more work for yourself. Order Samplize now and have them shipped directly to you. No fuss, no mess! Check them out for yourself. You won't be disappointed.
Get $5 off your first Samplize order using the code "FIRSTFIVE"
WHAT'S THE BEST TRIM COLOR FOR SWISS COFFEE?
White is by far the most popular color choice for trim. That being said, not all whites work with all paint colors, including Benjamin Moore Swiss Coffee.
Trying to find white paint colors to work together can sometimes be challenging. If you choose incorrectly, there is a chance that one of the white colors can look dirty. And this is another prime example of why sampling paint colors is a crucial step to take.
I have a few white paint colors that I have found to work nicely with Swiss Coffee, they are Benjamin Moore Super White, Cloud White, and Decorator's White.
READ MORE: THE BEST WHITE PAINT COLORS FOR TRIM.
If you want to altogether eliminate the hassle of finding a white to work with SC, paint your trim in Swiss Coffee but in a different sheen.
For example, use a flat finish on your walls, and then use a semi-gloss on the trim. This provides a slight variation in how the color reflects light and in turn, makes the color look a bit different. on the walls and trim.
IS BENJAMIN MOORE SWISS COFFEE OC-45 A GOOD TRIM COLOR?
Yup, it definitely is.
If you are working with a warmer wall color and want a white that has a touch of earth to it, BM Swiss Coffee could be the paint color you are looking for.
Sometimes a stark bright white is not what everyone wants, so a color like SW is a fantastic non-stark option.
It's also a great trim paint color option for dark floors.
WHERE TO USE SWISS COFFEE?
Swiss Coffee is a perfect white paint color to use virtually anywhere. Its versatility lends itself to being an optimal choice. The subtle warmth of the color will provide a warm and welcoming vibe while still feeling clean and airy.
If you have an open floor plan and are looking for a paint color that is a pleasing and unobtrusive backdrop for the art on the walls and the color in the decor, I say take a look at Swiss Coffee.
Another reason this is such a versatile paint color is that it can create an intimate elegant space or it can open up a space with an open and airy feel.
Some great examples of where to use this fantastic white are as follows.
KITCHEN CABINETS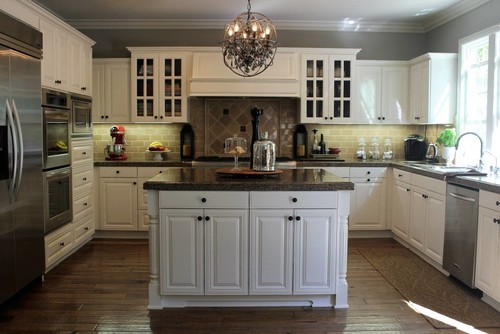 White is a timeless paint color that is perfect for kitchen cabinets. Of course, Swiss Coffee is an amazing option! The slight warmth of the color will keep the kitchen from feeling overly stark or cold. Rather it will make it more welcoming,
LIVING ROOM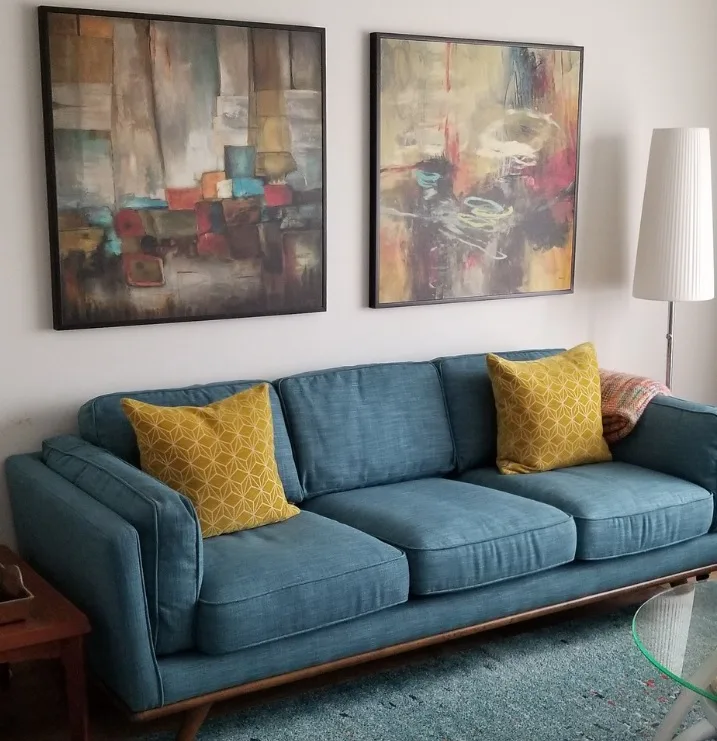 Swiss Coffee is perfect to use on living room walls. It goes amazing with all art and pops of color that you have in your decor.
Here's another example of Swiss Coffee used in a living room.
As you can see in the picture, the color blends seamlessly with the earthy tones in the decor of this living room.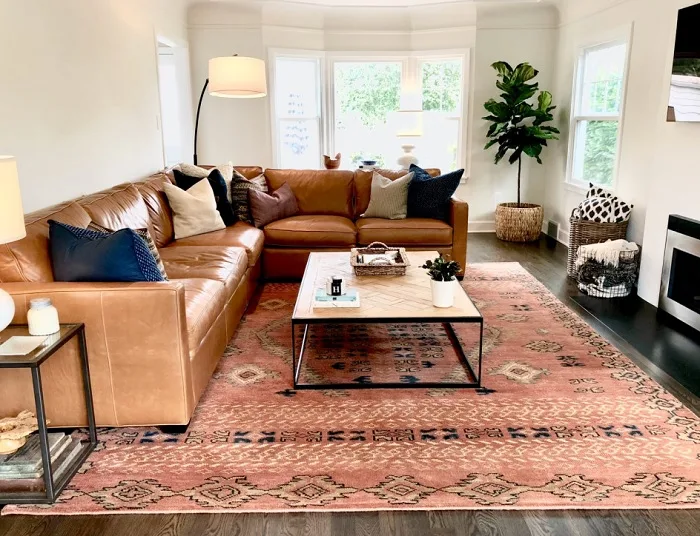 IS BENJAMIN MOORE SWISS COFFEE GOOD EXTERIOR PAINT COLOR?
Yes, I think Benjamin Moore Swiss Coffee is a good exterior paint color, as long as you know what you are getting with the color.
Let me explain.
Paint Colors in direct sunlight have the tendency to appear lighter and sometimes even wash out. This is because most light paint colors don't have enough depth to them to hold up to the sunlight.
In the case of white paint colors such as Swiss Coffee, they often look brighter and you can't always see the warmth the color has.
If you are aware of all this then I think you will be happy with it looking like a white paint color.
But as always, test your paint colors with samples before you decide on a color!
---
CHECK OUT SOME OF THESE EXTERIOR PAINT COLOR OPTIONS
---
WHAT PAINT COLORS GO WITH BM SWISS COFFEE
At this point I am aware I am repeating myself however, I think it's totally worth doing so. Swiss Coffee is a versatile white paint color and that means it's easy to find coordinating colors.
Swiss Coffee works beautifully with earthy tones like browns and tans but it also works well with blues and greens.
Some examples of complementary paint colors that look lovely with SC are:
Nightfall
Mt. Rainier Gray
Nickel
Senora Gray
Use these colors as inspiration for creating your own color palette or use some of the colors suggested. Remember, you have to like the colors, you will be the one living with them.
WHAT IS THE SHERWIN WILLIAMS EQUIVALENT TO SWISS COFFEE OC-45?
This is a question I often hear, whether there is a paint color equivalent in another paint brand.
The answer is no, there is not.
There are colors that are very similar to one another, but I have yet to find an exact dupe.
Often colors are so similar that they are nearly indistinguishable once they are painted on the walls.
But I understand why people ask about equivalents. Sometimes we don't have access to certain brands and if you fall in love with a paint color from that brand you want to find it elsewhere.
So for the curious, I have found two Sherwin Williams paint colors that are comparable to BM Swiss Coffee.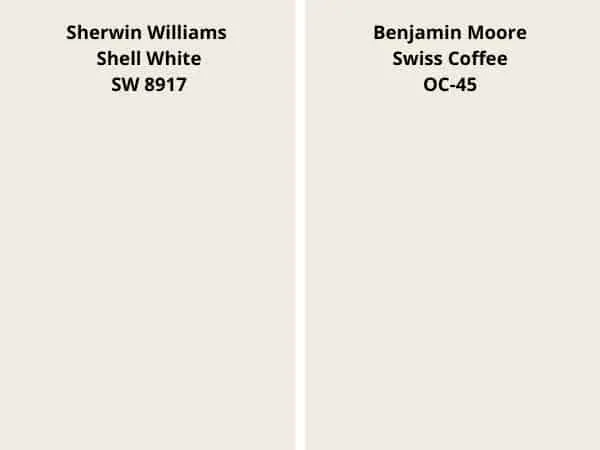 WHAT ABOUT COLOR MATCHING?
I wouldn't say you should, but you certainly can if you want.
If you are considering color matching between brands do it with a bit of caution.
Brands formulate paint colors differently. This means that if they mix a paint color that isn't theirs, it has the potential of being slightly off.
If you still want to take a chance, I highly recommend starting with a sample of the color to start. This way you can see if the color is the same and if you like it.
COLOR COMPARISONS
It's time to talk about a few color comparisons.
A ton of paint brands have a color named Swiss Coffee. I thought it would be fun to go through and compare them and a few other popular colors to the Benjamin Moore SC.
Let's see how these colors stack up against Benjamin Moore.
Reminder* The colors you view on a computer screen are not an actual representation of the paint colors themselves. To see the true color, always swatch your paint samples.
SWISS COFFEE VS WHITE DOVE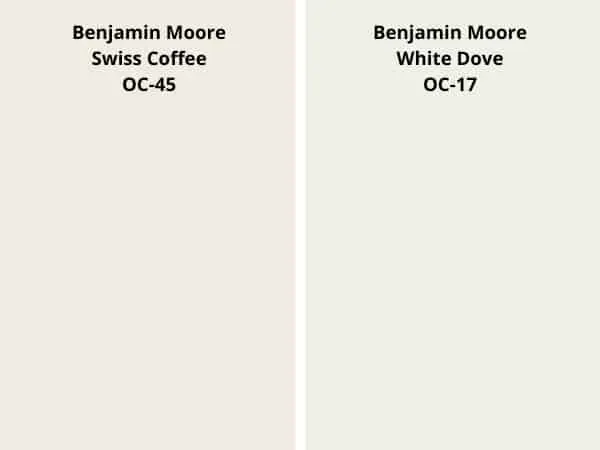 White Dove has an LRV of 85.38 which is a bit higher than Swiss's LRV of 83.93
White Dove is also a part of Benjamin Moore's Off-White Collection.
Swiss is warmer and creamier than White Dove.
White Dove is a tiny bit more white.
Swiss has the potential to show a green undertone, but White Dove does not.
Both Benjamin Moore Paint Colors are amazing off-white colors.
It comes down to whether or not you are looking for a white paint color that has more warmth and creaminess to it or if you want something a bit more white.
READ MORE: BENJAMIN MOORE WHITE DOVE FULL REVIEW
Dunn Edwards swiss coffee vs benjamin Moore swiss coffee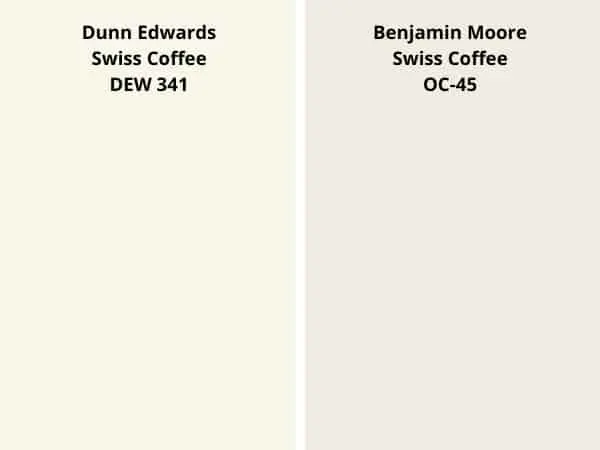 Dunn Edwards Swiss has an LRV of 83, quite similar to Benjamin Moore's Swiss LRV of 83.93
Dunn Edwards is a more creamy color and is also warmer
Both are off-white and can have moments of green showing up.
Dunn Edwards has a bit more color or chroma to it
Valspar swiss coffee vs benjamin Moore swiss coffee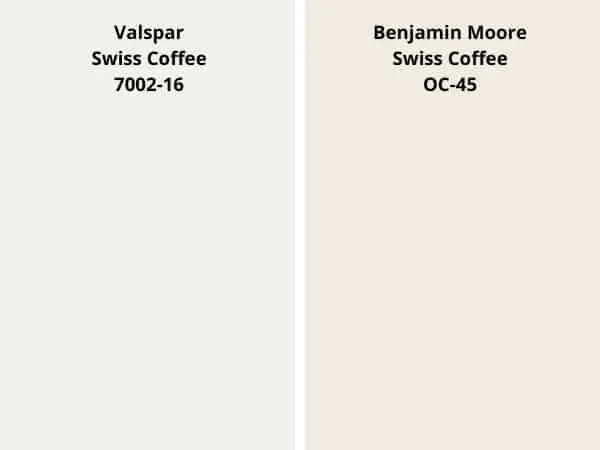 Valspar Swiss has an LRV of 86.152, which is a bit higher than BM's Swiss LRV of 83.93
Both colors are warm whites but Benjamin Moore OC-45 has a bit more warmth.
Valspar is more on the neutral white side
RECAP
Alright, as usual, this was a long one so let me go through a quick review of all the information that I shared.
LRV:83.9
HUE FAMILY: YELLOW
COLOR COLLECTIONS: Off-White Color Collection
has undertones of yellow, a bit of gray, and green
has a slight off-white very faint beigey feel
works beautifully in both large light-filled and smaller intimate spaces.
is a warm off-white
works well with all decor styles
coordinates amazingly with all different colors
is a great trim paint color
best way to sample is with Samplize Peel & Stick Paint Samples
looks good with Benjamin Moore Super White, Cloud White, and Decorator's White
Sherwin Williams Alabaster and Shell White are very comparable paint colors
can be used just about anywhere: exterior, kitchen cabinets, shiplap, living rooms, etc.
FINAL THOUGHTS- IS BENJAMIN MOORE SWISS COFFEE WORTH THE HYPE?
What do you think? Is Benjamin Moore Swiss Coffee deserve all the hype it gets?
Personally. I get the hype. It's a gorgeous warm off-white. It's naturally sophisticated and endlessly versatile. It's a suitable color that works with almost any decor style imaginable.
This is a color that adds just the right amount of warmth while still feeling neutral and crisp. What's not to like?
Then again, I'm not sure if it's worth all the hype it gets.
They are a number of other white paint colors that are very comparable and are, dare I say, a bit better.
But this is all my personal opinion.
Paint colors are very personal. It's not one size fits all. We are all allowed to like what we like. And if you like what you heard about Benjamin Moore Swiss Coffee, then I say grab a swatch and test that baby out.
Overall, I do think Swiss Coffee is outstanding and quite beautiful.
RECENT ARTICLES: