I may earn money or products from the companies mentioned in this post. Please click my Disclosure Policy to learn more
Manchester Tan HC-81 is one of Benjamin Moore's best-selling paint colors. This soft neutral gives a fresh, sophisticated take on the color tan.
Hello friends. Thank you so much for stopping by.
I hope you are excited about this paint color review because we all know I am.
I was looking through all my paint color reviews, and I was shocked and a bit confused when I didn't see today's color there.
I was positive I had reviewed this color already. But I didn't.
So here were are today, reviewing the very well-known and well-loved paint color.
MANCHESTER TAN HC-81 BENJAMIN MOORE
STATS
Let's start off strong with a few stats about Manchester Tan.
LRV – 63.24
Hue Family – YELLOW
Color Collections – Best-Selling Colors, Historical Colors • Colors for Vinyl
AKA 955
LRV, what is it, and what do we care about it?
LRV, or Light Reflectance Value, is a measurement typically used by design professionals. It measures the amount of light reflected from and absorbed by a surface. LRVs range from 0 -100, with 100 being pure white and 0 being absolute black.
A fantastic article to read to learn more about LRV is Light Reflectance Value: What Do Those Numbers Mean?
With an LRV of 63.24, Manchester Tan is a bit above mid-range. Meaning it will reflect a decent amount of light.
I like to share what hue family a paint color is from because it lets you know the root of a color. It can give you a clearer sense of the color. It's particularly beneficial with neutral paint colors like Manchester Tan, which is from the yellow hue family.
As for sharing the color collections, I always like to see how a paint color is categorized. This is more of a fun little bit of information.
KEEP TRACK OF YOUR PAINT COLORS
WHAT COLOR IS MANCHESTER TAN?
Benjamin Moore Manchester Tan is precisely as the name says, a tan-beige paint color.
Benjamin Moore says
A fresh, sophisticated beige that conjures stately sandstone façades.

Benjamin Moore
Their description is spot on. Manchester Tan is a sophisticated beige-tan color that does have a certain amount of freshness to it.
It is a bit of a chameleon color. It tends to pick up on the colors that are around it. If you're using bulbs with yellow tint then it may look a bit more yellow. Or if you have a ton of green decor in the room, the color will pick up the green tones.
It's important to keep in mind that the color of paint can be affected by the surrounding lighting and other elements. To avoid any surprises, I recommend trying out paint samples to see how they will appear in your home. This way, you can get an accurate idea of what the color will look like and avoid any uncertainty.
IS MANCHESTER TAN WARM OR COOL?
BM Manchester Tan is a warm-toned paint color.
As I mentioned earlier, it comes from the yellow hue family. This is where the warmth of this paint color comes from.
The paint color may not feel overly warm, and it definitely doesn't appear to be. Some other colors can be hard to interpret, but this one is relatively easy to read.
If you are struggling with the tone of a paint color, I recommend comparing it to a color you are familiar with.
WHAT ARE THE UNDERTONES OF MANCHESTER TAN?
Benjamin Moore Manchester Tan has yellow undertones or colors that may be seen. There is also a teensy bit of green that may show up, which is caused by unbalanced lighting.
In perfect lighting, Manchester Tan, for the most part, will look like a neutral beige tan. But in less-than-perfect lighting, there is a possibility the pinch of green can show up, or it can look a bit warmer.
Don't write Manchester Tan off yet.
I know undertones can be frustrating, but there is a way you can be sure of what colors you will see from a paint color.
That is by testing a paint sample in your home. It is honestly the easiest way to see how a color will perform for you. It will also take all the guesswork out of the paint color selection process.
Use Samplize Peel & Stick Paint Samples for a mess-free way to test paint colors!
MANCHESTER TAN, LIGHTING, & CARDINAL DIRECTIONS
Lighting plays a definitive role in the way a paint color looks. It's not the only factor, but it's a big part of it. That being said, I think it's important to understand how natural light looks in specific directions throughout the day.
Having this bit of knowledge will help you decide whether or not Benjamin Moore Manchester Tan will be a good paint color for your home.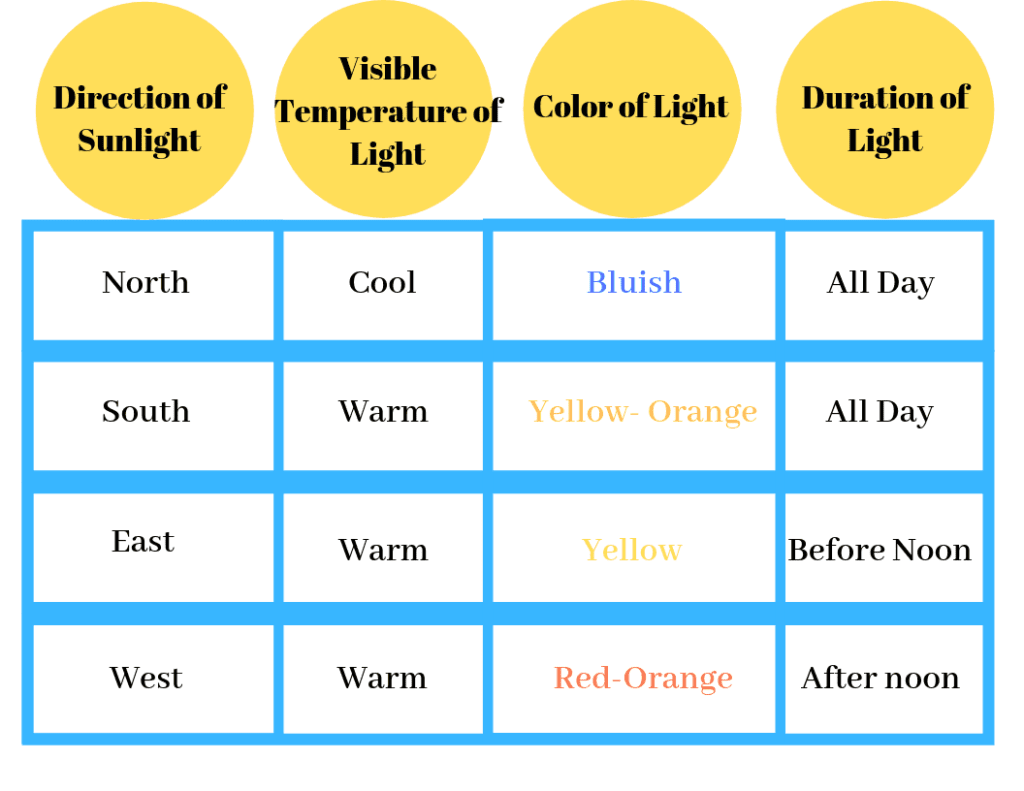 North-facing rooms – Light in North-facing rooms comes off cooler and sometimes somewhat bluish. Lighter colors appear more muted, while bolder colors will show up or appear better. North-facing light can cool down warmer colors.
South-facing rooms– In South-facing rooms, there tends to be a consistently bright light throughout the day. Warm and cool tones work with south-facing light. This light intensifies colors, so darker colors will seem more vivid, while softer colors will almost look like they are radiating.
East-facing rooms– East-facing rooms have the brightest light in the mornings, with a yellow-orange tone. If an east-facing room will be used regularly in the evenings, going with a warm palette will help to offset the lack of natural light.
West-facing rooms– Early evening is when West-facing rooms have the most favorable light. Warmer tones might seem a bit strong because of the red-orange tones the light gives off. However, if the main use of the room is in the mornings, the colors won't seem as intense.
When choosing a paint color, don't forget to factor in lighting. However, it's also important to consider other elements that affect how the color appears, such as fixed features like cabinets, flooring, and tiles, as well as the colors of your home decor.
WHAT ARE THE BEST LIGHT BULBS TO USE?
All lighting affects your paint color regardless of whether it is natural or artificial. But with artificial lighting, it can somewhat be doctored, and that's with the color of the light bulb you use.
The color of the light bulbs you use will influence how a paint color will look in a room. And unfortunately, it's an important detail that is often overlooked.
With the variety of light bulbs available and it can become overwhelmingly confusing. I mean, what really soft white and bright white?
Thankfully, it becomes easier once you know a little bit about light bulbs.
For reference, light color or light appearance is measured on the Kelvin (K)temperature scale. Lower Kelvin numbers mean more yellow light; the higher the Kelvin number the whiter or bluer light.
Remember, lower Kelvin (K) numbers = yellow light, Higher Kelvin (K) numbers = white/blueish light
I always recommend using this type of light bulb.
Be cautious of the light bulb names such as "daylight" or warm light." I'd advise against picking a light bulb by its name.
Instead, always check the package for actual facts. This allows you to choose the best bulb for you.
Don't forget, as much as lighting plays a major part in how a paint color will look at times. There are other determinants to be aware of. For instance, decor, furniture, fixtures, cabinetry, and floors. These are all elements that can affect and/or influence the way a paint color will look in your room.
THE BEST WAY TO SAMPLE
One of the biggest paint mistakes I see people make is not testing their paint colors. If you want to be sure a paint color will look great in your house, you must test your paint samples. I promise this is a step you do not want to skip.
The best and easiest way to test paint samples is by using SAMPLIZE.
WHERE CAN YOU USE MANCHESTER TAN HC-81?
Feel free to use this color wherever you like.
When trying out a paint color in your home, if you're satisfied with how it appears both during the day and at night, go ahead and use it! Remember, you're decorating for your own personal tastes, not for the approval of others. Therefore, if you absolutely adore a particular paint color, that's a clear sign that it's the right choice for you.
With that said, I love to share examples of how others have used it in their homes.
HALLWAY
BATHROOM WALLS
IS MANCHESTER TAN A GOOD EXTERIOR PAINT COLOR?
Yes, Benjamin Moore Manchester Tan can be a good exterior paint color.
You need to keep in mind that paint colors tend to look lighter and brighter in the sunlight.
If a paint color doesn't have enough depth to stand up to the sun, it can look a bit washed out.
This happens a lot with near neutrals like Soft Chamois.
Does that mean it won't look good painted on the exterior? Absolutely not. As long as you go about the paint sampling process and test it on the exterior first. If you like how the color looks, then it's perfect for you.
WHAT TRIM COLORS WORK WITH MANCHESTER TAN?
When it comes to choosing trim colors, white is typically the most favored option.
I personally love a crisp white paint color on the trim. I feel like it always makes the paint color pop.
Crisp white paint colors that look great with BM Manchester Tan are BM Chantilly Lace, BM White Heron, Super White, or SW Extra White. If you prefer a white paint color with a bit more warmth to it, take a look at BM White Dove.
If you want to keep it simple and monochromatic, you can use Manchester Tan on both walls and trim. But in different sheens. This will keep things cohesive.
Trim is usually painted in semi-gloss, so go for satin, eggshell, or flat for the walls. The difference in sheen will give you enough contrast, plus you know it will 100% match!
READ MORE: THE BEST WHITE TRIM PAINT COLORS
WAIT! Before you start painting make sure you have the best painting tools to make your job easier. It will take hours off your painting time!
SHERWIN WILLIAMS EQUIVALENT TO MANCHESTER TAN
There isn't a Sherwin Williams color that is quite comparable to Benjamin Moore Manchester Tan. The two closest SW paint colors that I discovered, going solely off of spectral data, are:
WHAT ABOUT COLOR MATCHING?
I wouldn't say you should, but you certainly can if you want.
If you are considering color matching between brands, do it with a bit of caution.
Brands formulate paint colors differently. This means that if they mix a paint color that isn't theirs, it has the potential of being slightly off.
If you still want to take a chance, I strongly recommend starting with a sample of the color to start. This way, you can see if the color is what you were expecting and if you like it.
COORDINATING PAINT COLORS
Sometimes, creating a color scheme can be a daunting task for some individuals. That's why I always like to give you a few colors that work well with the paint color I'm reviewing. This way, you have an idea of what works, and you can build your own color palette.
Winds breath
Olympic mountains
Muskoka Trail
Paris Rain
Sweet Spring
Knoxville gray
DOES MANCHESTER TAN GO WITH HONEY OAK?
Yes, it does.
If you use a bit of color theory you see that Analogous colors are any three colors that sit side by side on a color wheel. Usually, one of the three colors prevails over the others.
As for honey oak, the colors side by side would be Red, orange, and yellow.
And we know that Manchester Tan comes from the yellow hue family.
Remember that you should always swatch your paint colors where you plan on using them. This will give you peace of mind whether or now that color works in that space.
READ MORE: PAINT COLOR OPTIONS FOR HONEY OAK CABINETS
CONSTANTLY FORGETTING WHAT PAINT COLORS YOU USED IN YOUR HOME? KEEP TRACK OF THEM ALL WITH THIS HANDY PAINT COLOR KEEPER
COLOR COMPARISONS
Reminder* The colors you view on a computer screen do not represent the paint colors themselves. To see the actual color, always swatch your paint samples.
Let's move on to something more entertaining – comparing colors. As I previously mentioned, this is a fantastic way to identify the properties of each color, such as whether it's warm or cool, lighter or darker, and more.
I've compiled a few colors to compare against Manchester Tan. Let's see how comparable they are.
MANCHESTER TAN VS NATURAL LINEN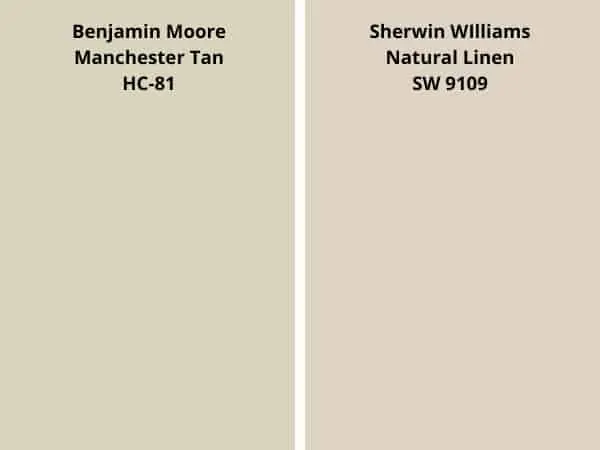 Sherwin Williams Natural Linen has an LRV of 66, a bit higher than MT's 63.24
SW Natural Linen is the lighter paint color.
Both colors are from the yellow hue family
MT has a tiny bit more saturation to it.
MANCHESTER TAN VS EDGECOMB GRAY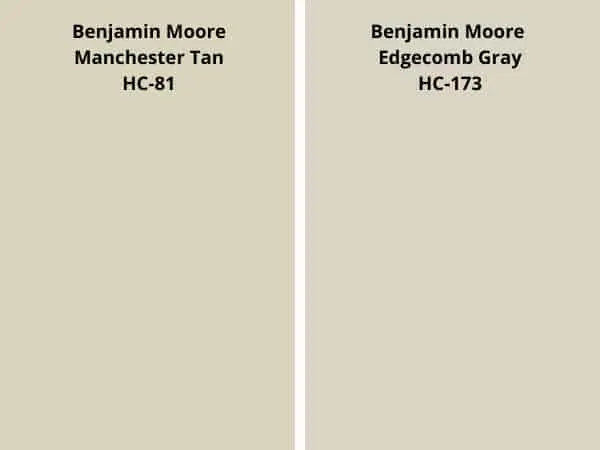 Edgecomb Gray has an LRV of 63.09, which is awfully close to MT's 63.24
Both paint colors are basically equal in lightness.
Edgecomb Gray is a bit more grayed down and has less saturation.
Both neutrals are from the yellow hue family.
READ MORE: FULL PAINT COLOR REVIEW EDGECOMB GRAY
MANCHESTER TAN VS MUSLN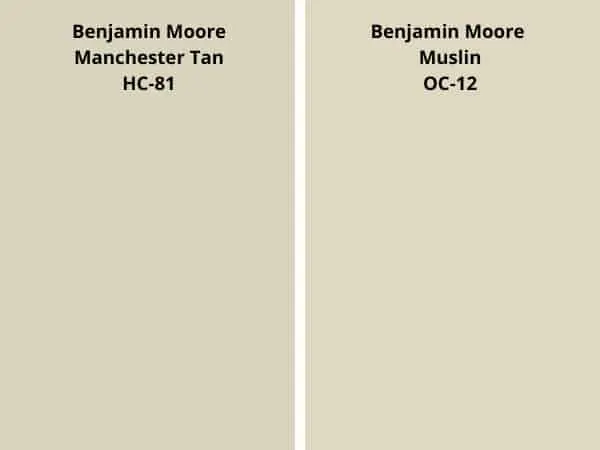 BM Muslin has an LRV of 66.54, which is only slightly higher than MT's 63.24
Both paint colors are from the yellow hue family.
BM Muslin is a bit lighter.
MT has a tad more saturation or colorfulness to it.
These two colors are very similar.
MANCHESTER TAN VS ACCESSIBLE BEIGE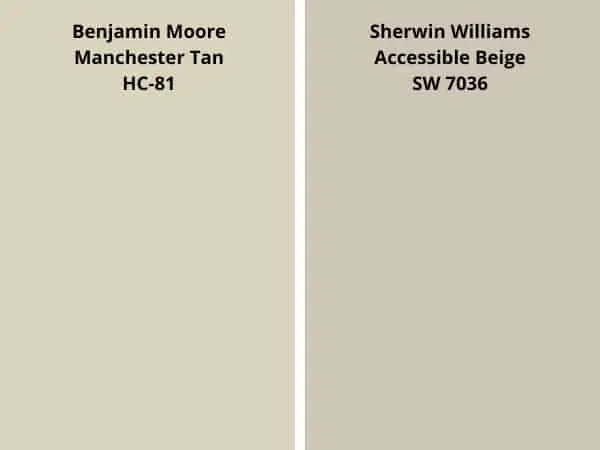 Accessible Beige has an LRV of 58, a bit lower than MT's 63.24.
Manchester Tan is the lighter paint color of the two.
Both are from the yellow hue family.
MT is more saturated than Accessible Beige.
Sherwin Williams Accessible Beige has a bit more gray to it.
READ MORE: ACCESSIBLE BEIGE PAINT COLOR REVIEW
Doing some painting yourself? Make sure you pick up this essential painting tool!
RECAP
That was a lot of information I shared, I know. So because of that, I like to give a brief recap of some of the key points that were discussed.
LRV:63.24
Hue Family – YELLOW
Color Collections – Best-Selling Colors, Historical Colors • Colors for Vinyl
AKA 955
it is a neutral beige/tan color
warm toned
has yellow undertones or colors that can be seen
Green is a tone that may also be seen in this color, depending on light, fixed elements, etc.
In cool Northern lighting, Manchester Tan can look a bit more grayed down
Warmer Southern light can cause MT to look more beige.
SAMPLIZE PEEL & STICK Paint Samples are the best way to swatch
It looks good with a white trim
can be used anywhere as long as you are happy with the way it looks.
FINAL THOUGHTS
To be truthful, I tend to prefer neutral paint colors that have a tinge of gray in them. However, there's just something about Benjamin Moore Manchester Tan that I find intriguing.
It's such a unique tan/beige color, not the typical yellow beige. It is a warm and comforting paint color, but it also carries an elegance to it. It's genuinely a paint color that has so many fabulous qualities to it.
Do I recommend Manchester Tan? Without a doubt! As I mentioned earlier, it's a stunning warm neutral beige color for paint. If that's what you're looking for, I highly suggest giving it a try.
But as always, get a sample of it first. The colors you see on the computer screen are not an accurate representation of the true paint color itself.
In general, Manchester Tan HC-81 is an excellent paint color. If you prefer warm neutrals, I don't think you will be disappointed with this one.