I may earn money or products from the companies mentioned in this post. Please click my Disclosure Policy to learn more
Snowbound SW 7004 by Sherwin Williams is a widely loved white paint color. It's soft and lends itself well to any decor style.
Another day, another fantastic paint color to share with you all.
Yes, it is indeed a fantastic paint color.
Let me start by saying it's a white paint color, but not any old white color. This color has a little more to it that makes it worthy of sharing.
We are doing a full-on deep dive on
SHERWIN WILLIAMS SNOWBOUND SW 7004
STATS
First things first. Let me share a few stats on SW Snowbound.
LRV – 83
HUE FAMILY – Yellow
COLOR COLLECTIONS – Color ID (Minimalist), Living Well (Reflect), Top 50 Colors, Pottery Barn (Fall/Winter), Finest Whites & Neutrals (Finest Whites), Colormix Forecast 2024 (a Study in Delicate Tints)
What is LRV?
LRV, or Light Reflectance Value, is a measurement commonly used by design professionals that measures the amount of light reflected from or absorbed into a surface. LRVs range from 0-100, with 100 being pure white and 0 being pure black.
A great article to read to learn more about LRV is Light Reflectance Value: What Do Those Numbers Mean?
With an LRV of 83, Snowbound is certainly going to reflect a good amount of light.
Snowbound is from the yellow hue family. Having knowledge about paint colors can be very helpful as it allows you to understand them better. This understanding can help you anticipate how a color may appear or shift in different lighting conditions.
As for the color collections, Snowbound is part of a few different Sherwin Williams Collections. This doesn't exactly provide a lot of information about the color itself. Nonetheless, it is intriguing and allows you to identify other colors that accompany it.
KEEP TRACK OF YOUR PAINT COLORS
WHAT COLOR IS SNOWBOUND
Sherwin Williams Snowbound is a white paint color.
Of course, that is the simple answer. Sherwin Williams says,
With its slight gray undertone, this versatile cool white pairs well with other gray-influenced colors. Like stepping into a snowy glade.

Sherwin Williams
The thing about Snowbound is that it is pretty neutral. It doesn't lean too warm or too cool. Of course, in the perfect lighting conditions, it appears as a gorgeous neutral white paint color.
Keep in mind that lighting influences the way paint colors appear. It's important to know the lighting situation of the space.
DOES SNOWOUND LOOK YELLOW?
No, Snowbound doesn't look yellow.
Again, I have to mention that lighting, fixed elements, and decor all come into play with how a paint color will present itself.
For example, if you have all yellow decor, fixed elements with yellow-based finishes, and warm artificial lighting, chances are you will see your Snowbound walls appear a bit yellow.
If you are unsure about how a paint color will look in your home, grab a paint sample of the color. This is how you can see a true representation of how the color will look.
READ MORE: HOW TO TEST PAINT SAMPLES IN YOUR HOME
WHAT UNDERTONES DOES SNOWBOUND HAVE?
OK, let's talk about undertones or colors that can possibly be seen. Snowbound is a neutral white with some gray to it. That's because it has a chroma (how saturated a color is) that is less than 0.55 and a value (how light or dark a color is) between 9.12 and 10.00.
It's crucial to keep in mind that undertones are subjective. Different people may perceive a paint color differently. Therefore, if you're choosing a paint color based on its undertones, it's best to stop and reconsider.
That being said, Snowbound can appear to show a bit of tapuish / pink tones. Of course, the color you see is all dependent on lighting as well as other factors in the room.
The appearance of a paint color can vary depending on its surroundings, particularly for white shades such as Snowbound. For instance, if the room has numerous windows with lush greenery outside, Snowbound may sometimes appear to have a green moment.
To accurately preview how a paint color will appear in your room, it is essential to consider all elements in the space, such as flooring, cabinets, and furniture color. Once these factors are taken into account, obtaining a paint sample and observing it in the room is the best way to determine its appearance.
IS SNOWBOUND A WARM OR COOL WHITE?
Sherwin Williams Snowbound is a cool-toned white paint color. Though in certain lighting conditions, it can look a bit warm-toned.
When it comes to the tone of a paint color, I find that with some colors, it is much more obvious than others. White paint colors can be a bit more on the tricky side.
If you're having trouble interpreting tones, simply compare the paint color to another color you are familiar with to help you out.
If you're feeling unsure about a paint color's warmth or coolness, use the comparison method to help you decide. However, it's important to remember that testing the paint colors is the most foolproof method.
INTERESTED IN WARM PAINT COLORS? CHECK THESE OUT:
SNOWBOUND, LIGHTING, & CARDINAL DIRECTIONS
I'd love to now discuss lighting with you! When the lighting is ideal around midday, you can observe a paint color as it truly is. Yet, in uneven lighting, that's when you'll notice a change in the paint color.
The way a paint color appears is greatly influenced by the lighting in a room. Although not the only factor, it plays a significant role. Therefore, it's crucial to have an understanding of how natural light changes throughout the day in different directions.
Knowing this information can assist you in deciding if Sherwin Williams Snowbound would make a suitable paint color for your home.
When selecting a paint color, it's crucial to keep lighting in mind. However, it's also essential not to overlook other factors that can impact how the color appears. These factors include fixed elements such as cabinetry, flooring, and tiles, as well as the colors of your home decor.
WHAT ARE THE BEST LIGHT BULBS TO USE?
All lighting affects your paint color regardless of whether it is natural or artificial. But with artificial lighting, it can somewhat be doctored, and that's with the color of the light bulb you use.
The color of the light bulbs you use will influence how a paint color will look in a room. And unfortunately, it's an important detail that is often overlooked.
With the variety of light bulbs available and it can become overwhelmingly confusing. I mean, what really soft white and bright white?
Thankfully, it becomes easier once you know a little bit about light bulbs.
For reference, light color or light appearance is measured on the Kelvin (K)temperature scale. Lower Kelvin numbers mean more yellow light; the higher the Kelvin number, the whiter or bluer light.
Remember, lower Kelvin (K) numbers = yellow light, Higher Kelvin (K) numbers = white/blueish light
I always recommend using this type of light bulb.
Be cautious of the light bulb names such as "daylight" or warm light." I'd advise against picking a light bulb by its name.
Instead, always check the package for actual facts. This allows you to choose the best bulb for you.
It's important to keep in mind that while lighting is a key factor in how a paint color appears, there are other factors to consider as well. Elements such as decor, furniture, fixtures, cabinetry, and flooring can all impact the way a paint color looks in a room. It's important to be aware of these influences when choosing a color for your space.
WHERE CAN YOU USE SHERWIN WILLIAMS SNOWBOUND?
There are no set rules on where you can use particular paint colors. Of course, some paint colors are only meant for the interior, which is noted on the paint chip. But when it comes to what colors you should paint your living room, for example, you are free to choose.
That what my very roundabout way of saying if you like and sample a paint color, use it.
But for the purpose of inspiration and seeing how Snowbound looks in different places, I want to share a few examples.
IS SNOWBOUND A GOOD EXTERIOR PAINT COLOR?
Yes, Snowbound SW 7004 is a great white paint color to use on the exterior of a home.
Paint colors used on the exterior will always appear lighter in the sun. Some near-neutral paint colors may even wash out.
Snowbound is a good exterior white paint color. It will look bright, clean, and crisp. If you are looking for a white with a little more warmth, you may want to go with a color like SW Natural Choice. It holds more warmth as well as depth.
If you are still unsure, do yourself a favor a sample the color on the exterior of your home to make sure you love it.
Find More Exterior Paint Color Inspiration:
IS SW SNOWBOUND A GOOD TRIM COLOR?
Yes, Sherwin Williams Snowbound can be a fantastic trim paint color.
The thing to keep in mind is that you'll want to make sure Snowbound complements the wall paint color you have.
WHAT'S THE BEST TRIM COLOR FOR SW SNOWBOUND SW 7004?
Many people tend to go for white as their preferred trim paint color. However, it's important to note that not all white paint colors are the same.
It can be difficult to find white paint colors that complement each other. Picking two whites that don't blend well can make them appear dirty and dingy.
This is yet another excellent example of why sampling paint colors is a crucial step to take.
My go-to time paint color for Snowbound is Sherwin Williams Extra White or High Reflective White.
READ MORE: THE BEST WHITE PAINT COLORS FOR TRIM.
To make it easier to work with Snowbound, consider painting your trim in the same color but with a different sheen. This will help eliminate any difficulties in finding a matching white.
One helpful tip is to apply a flat finish to your walls and a semi-gloss finish to your trim. This will create a subtle difference in how the color reflects light, resulting in a slightly different appearance on the walls and trim.
Don't start painting until you have the right tools!

SHOP MUST HAVE PAINTING TOOLS
WHAT COLORS DOES SNOWBOUND COORDINATE WITH?
Creating a paint color palette can send some into a tizzy. And I get it, though. It's frustrating. But the good news here is that Snowbound is easy to coordinate with.
I have found a few colors to share that work well with SW Snowbound.
Colonnade Gray SW 7641
Ellie Gray SW 7650
Gauntlet Gray SW 7019
Soulmate SW 6270
Canvas Tan SW
COLOR COMPARISONS
As I mentioned earlier, comparing is helpful in determining the tone of paint colors. It's also a good way to weed out colors that you just don't like.
Color comparing can also be fun when you put popular paint colors up against one another. You can see how different or similar they are.
With that said, I have a few colors to compare Sherwin Williams Snowbound to.
SW SNOWBOUND VS ALABASTER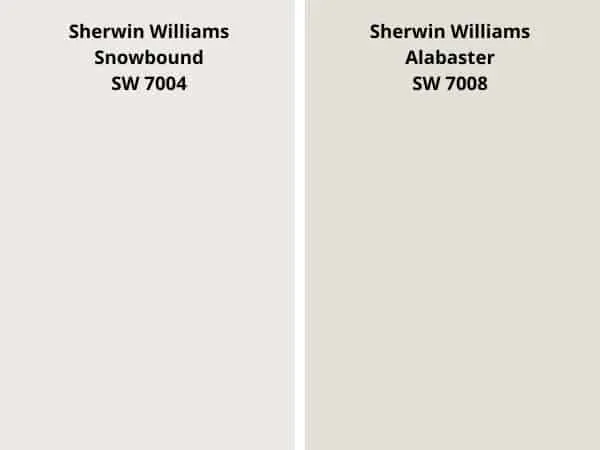 AGREEABLE GRAY VS SNOWBOUND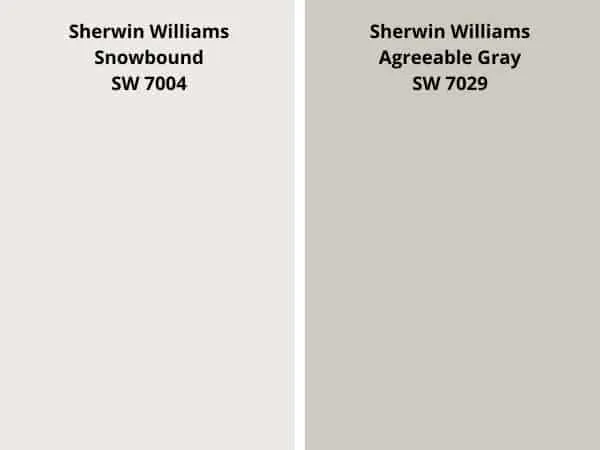 SNOWBOUND VS PURE WHITE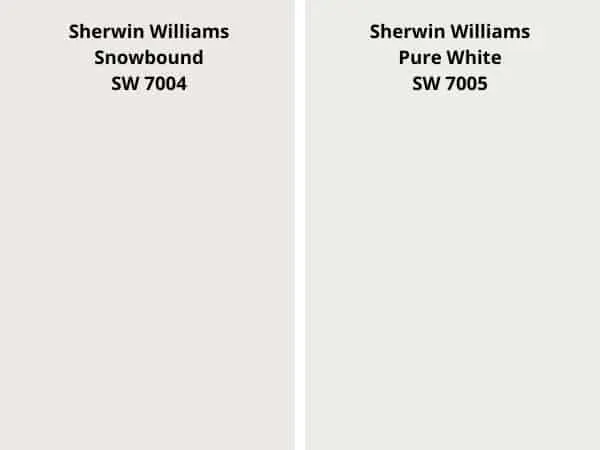 SNOWBOUND VS WHITE DOVE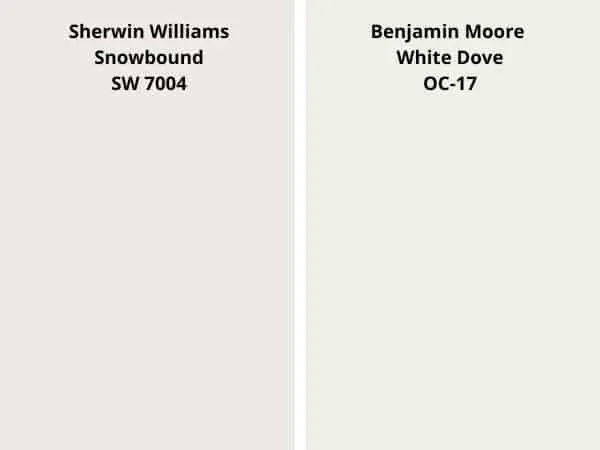 SNOWBOUND VS EXTRA WHITE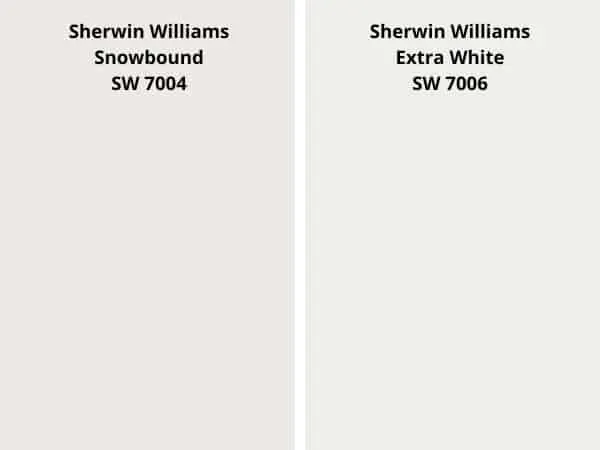 WHAT IS THE BENJAMIN MOORE EQUIVALENT TO SW SNOWBOUND?
This is a question I often hear, whether there is a paint color equivalent in another paint brand.
The answer is no. There isn't.
Some colors closely resemble each other, but I have not found an exact match.
Frequently, colors appear to be almost identical once they have been painted on the walls, making them difficult to distinguish.
I understand why people are curious about finding an equivalent.
At times, you may find it difficult to get hold of a particular brand of paint. This could be because of various reasons, such as your loyalty to a particular brand, your painter's preference for a specific type, or simply because you live far away from a particular store.
The closest Benjamin Moore equivalent to Snowbound is AF-10 GARDENIA.
SHOULD I COLOR MATCH?
If you are considering color matching between brands, I'd think twice.
Different brands formulate paint colors in their unique way. This implies that mixing a paint color that is not from the same brand may result in a slight variation in the color.
If you still want to take a chance, I highly recommend starting with a sample of the color to start. This way, you can see if the color looks how you expect it to look.
WAIT! Before you start painting make sure you have the best painting tools to make your job easier. It will take hours off your painting time!
RECAP
LRV – 83
HUE FAMILY – Yellow
COLOR COLLECTIONS – Color ID (Minimalist), Living Well (Reflect), Top 50 Colors, Pottery Barn (Fall/Winter), Finest Whites & Neutrals (Finest Whites), Colormix Forecast 2024 (a Study in Delicate Tints)
cool-tone but in certain situations, can lean towards warm
can flash undertones or tones of pink or taupe in unbalanced lighting
the best way to Sample is with SAMPLIZE PEEL & STICK PAINT SAMPLES
it works as an exterior paint color
looks good with an array of colors
FINAL THOUGHTS
OK, so what do I really think of Sherwin WIlliams Snowbound SW 7004?
I like it. I think It's a stunning white paint color. Honestly, there aren't many colors I dislike.
I guess the thing here is that if you are looking for a white that is bare bones, with no surprises, you may not like Snowbound.
Why? Because if you have unbalanced light, it may appear to show some taupe or pick colors. And if that's not what you are looking for, you'll be disappointed.
I said it before, and I'll say it again and again. You need to get a sample of the paint color and test it in your home. It's truly the most accurate way to see how a paint color will look in your home.
Sampling will save you frustration, time, and money.