I may earn money or products from the companies mentioned in this post. Please click my Disclosure Policy to learn more
Sherwin Williams Pure White SW 7005 is a gorgeous and versatile white paint color. Without any glaringly obvious undertones, Pure White is an optimal white paint color to use just about anywhere.
Hello friends, welcome to another edition of Cate goes on and on and on about one paint color.
Ah, yes, here we are again. I don't know about you, but I'm happy to be back talking, and boy I have a fantastic color to share with you all today.
I just recently added a bathroom to my home, and I'm thrilled with it for sure. I was torn about what to do for a paint color. I did what you are supposed to, grabbed a few paint samples, and swatched those babies. Among the swatches, there was one clear winner, and that's the paint color we are talking about today.
The winner, by overwhelming ….
SHERWIN WILLIAMS PURE WHITE SW 7005

WHAT COLOR IS SHERWIN WILLIAMS PURE WHITE?
SW Pure White is indeed a white paint color. OK, we already knew that, so I guess the real question here is, what type of white is it? The best way I can describe Pure White is a soft, clean, not overly stark white. It's neither cold and icy nor is it warm and creamy. Pure white is kind of smack in the middle of both.
STATS
R:237G:236B:230
Hex Value:#edece6
LRV:84
*Quick Reminder* What is LRV?
LRV, or Light Reflectance Value, is a measurement commonly used by design professionals that measures the amount of light reflected from or absorbed into a surface. LRVs range from 0-100, with 100 being pure white and 0 being pure black.
Basically, the higher the LRV of a paint color, the more light it will reflect. So, with an LRV of 84, you know Pure White is reflecting a good amount of light.
COLOR COLLECTIONS
Trendsetter
Dreamer,
Living Well – Unwind,
Timeless White,
2020 Play,
Pottery Barn – Spring/Summer 2021,
Pottery Barn Kids – Spring/Summer 2021,
Pottery Barn Teen – Spring/Summer 2021,
Acute Care Cool Foundations,
ABC's and 123's,
Inbe Tweens,
Teen Space,
2021 Sanctuary
DOES SW PURE WHITE LOOK YELLOW?
I don't believe Pure White will look like a straight-up yellow paint color on your walls. However, in south-facing rooms, it will come off a bit warmer. Rooms facing north tend to pull cooler. That being said, If you have a ton of yellow accents in your room, like furniture and decor, you can expect to see that reflected on your white walls at times.
Also if you have yellow light bulbs, that will cast a yellow light.
How do you paint like a pro? By using the right tools and supplies! Check out the Ultimate Painting Tools List for everything you need to paint a room.
WHAT UNDERTONES DOES PURE WHITE HAVE?
The thing that I love about SW Pure White is that there aren't any glaringly obvious undertones. It has a mainly neutral base. With that said, Pure W does have some yellow and a touch of black in it. The yellow gives it that very very slight warmth you can sometimes see. And the black is what keeps it from going too warm and looking creamy or yellowish.
Want to know one of the best ways to see a color's undertone? Comparison. It is always so helpful to see two colors side by side. It allows your eye to pick up on some undertones you normally wouldn't see if you were looking at it by itself.
IS SHERWIN WILLIAMS PURE WHITE A WARM OR COOL WHITE?
SW Pure white is considered to be a warm white. Compared to other white paint colors such as SW Ceiling Bright White, yes, it's certainly a warmer white. However, when you compare PW to SW Dover White, SW Creamy, or BM Swiss Coffee, you can see how it is the cool white color of the two.
Honestly, I find it to have the perfect balance of both warm and cool tones.
LIGHTING & SW PURE WHITE
Lighting is definitely a contributing factor in how paint colors will look in your home.
Lighting plays a large role in how you will perceive a color. For this reason, it's a good idea to be familiar with the lighting situation of the room you are choosing the right paint color for.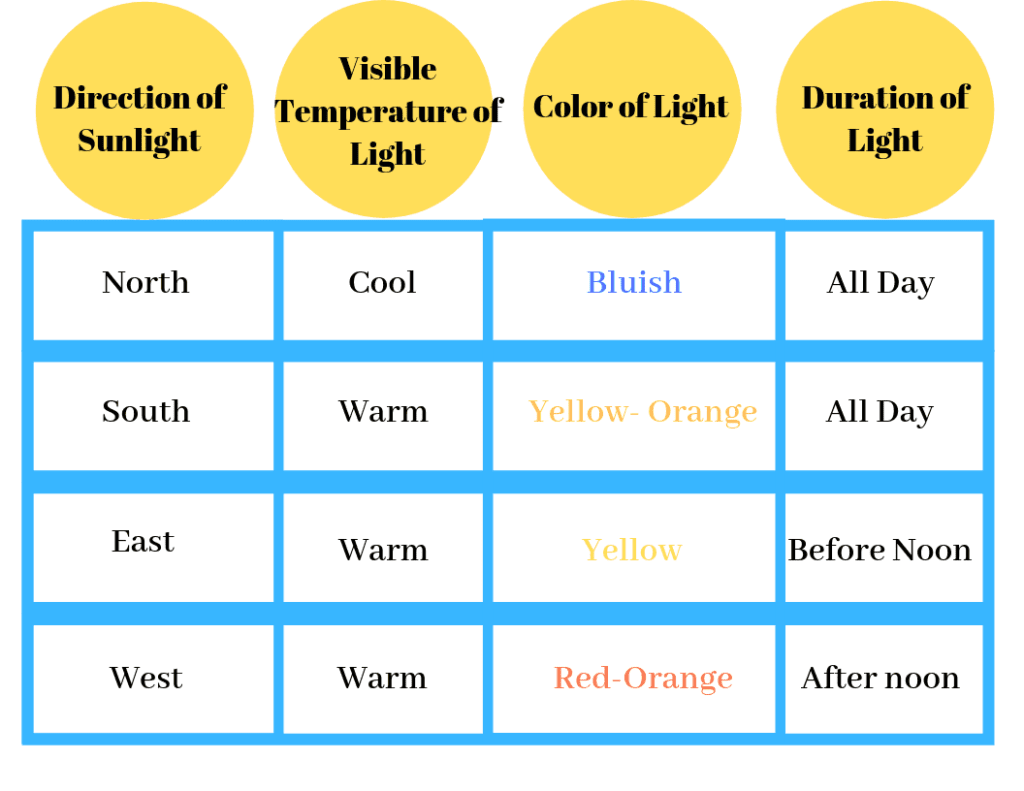 NORTH-FACING ROOMS – Light in North-facing rooms comes off cooler and somewhat bluish. Lighter colors will appear more muted, while bolder colors will show up, or appear sounder.
A North-facing room is where you will see Pure White look closer to a true white.
SOUTH-FACING ROOMS – In South-facing rooms, there tends to be a consistently bright light throughout the day. Warm and cool tones work with south-facing light, This light intensifies colors, so darker colors will seem a bit brighter while softer colors will appear to look like they are gleaming.
Pure White is most likely going to show its warmth in a south-facing room.
EAST-FACING ROOMS – East facing rooms have the brightest light in the mornings, with a yellow-orange tone. If an east-facing room will be used mostly in the evenings, going with a warm palette will help balance the lack of natural light.
WEST-FACING ROOMS – Early evening is when West-facing rooms have the most favorable light. Warmer tones might seem overwhelming because of the red-orange the light gives off. However, if the main use for the room is in the mornings, the colors won't appear as strong as they would in the evening.
Don't forget about your light bulbs! This is commonly overlooked but it can affect the way a paint color will look.
WHERE CAN YOU USE SHERWIN WILLIAMS PURE WHITE?
The beauty of Pure White SW 7005 is that it can be used anywhere.
KITCHEN/KITCHEN CABINETS
BATHROOM
LIVING ROOM
BEDROOMS
EXTERIOR
SHIPLAP
CEILINGS
TRIM/BASEBOARDS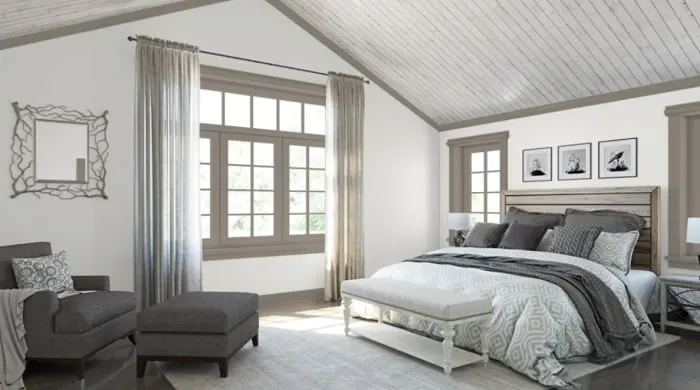 KITCHEN CABINETS
If you are considering painting your kitchen cabinets white, I say grab a sample of SW Pure White. Its neutral base makes it a very versatile white paint color. It tends to look good with a number of different styles.
Selena @sayrenas on Instagram painted her kitchen cabinets using Pure White and I must say they look amazing!
You can also see how beautiful it looks with the accent green paint color.
READ MORE: HOW TO PAINT KITCHEN CABINETS
BATHROOM
Of course, the bathroom is the perfect place to use Pure White. You already know that I painted my new bathroom with PW and it looks amazing. It works perfectly with all the finishes I choose.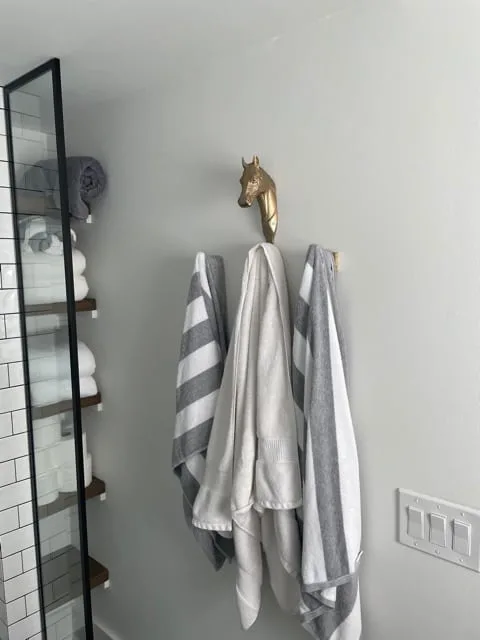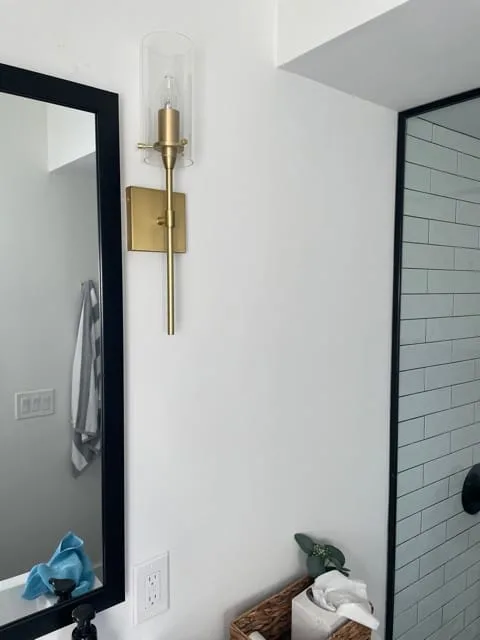 As you will see in the photos, it looks pretty much white. You are not seeing any undertones and for reference, these photos were taken in north-facing natural early morning light.
READ MORE: THE BEST PAINT COLORS TO CREATE A SPA-LIKE BATHROOM
SHIPLAP
Yes, Yes Yes! Use Pure White on shiplap. The majority of the time we shiplap, it's a white color. So why wouldn't you consider painting your shiplap with this gorgeous white paint color?
Leslee @lesleefalk on Instagram used Pure White to paint her gorgeous shiplap. You can see how beautifully PW coordinates with another favorite paint color of mine, Light French Gray.
Thinking about adding shiplap to your home? DIY shiplap is an inexpensive alternative to the real thing.
READ MORE: HOW TO PAINT SHIPLAP
EXTERIOR
There is something about a classic white exterior of a home, am I right? And I do believe SW Pure white is an amazing option. I like PW as an exterior white color because it is not that super stark white. It has that great balance of warm and cool tones that keeps it from looking that way.
A picture says a thousand words. You can see how beautiful Pure White looks in the picture below. Lasun's Painting out of Northwest Arkansas used Pure White to update and brighten up this brick house. They did an amazing job!
ARE YOU LOOKING FOR MORE PAINT COLORS FOR THE EXTERIOR?
---
WAIT! Before you start painting make sure you have the best painting tools to make your job easier. It will take hours off your painting time!
---

IS SHERWIN WILLIAMS PURE WHITE A GOOD TRIM COLOR?
It most certainly is. Painting trim with Pure White is a great idea. The reason I believe it works is because of how neutral of a white it is. It has a really nice balance of tones in it, so it tends to work with both warm and cool paint colors.
PW coordinates well with so many different colors, which makes it an optimal trim color. I just recently published a post around eight of the best white paint colors for trim, and spoiler alert: Pure White made the list.
It's also an amazing color to paint interior doors with.
WHAT IS A GOOD TRIM COLOR FOR SW PURE WHITE?
If you have Pure White walls, paint your trim and baseboards Pure White as well. I know it sounds boring and it seems like there will be no distinction from the walls to the trim. However, that's certainly not the case here.
The way to use the same white paint color on your walls and trim is by using different sheens /finishes. Let's say you painted your walls with Sherwin Williams Pure White in a flat/matte finish. Use Pure White in a semi-gloss finish on the trim.
The two finishes handle light differently. A flat or matte sheen will diffuse light, whereas a semi-gloss will reflect the light. The different sheen allows the same paint color to look further.
I also recommend using the same white paint color on the ceilings. Mixing whites is a challenging task and if you get it wrong, it will be very wrong. Keep your life simple and stay with one white paint color for walls trim, baseboards, and ceilings. Break up the look by using different sheens.
SAMPLING PURE WHITE SW 7005
Quickly, let's talk about testing paint colors.
Instead of physically going to your nearest paint store to grab your samples, you need to try Samplize Peel & Stick paint samples.
Why should you try Samplize?
Super affordable
Mess-free
Non-damaging
Made with real manufacturer paint
Displays color just like a wall
Environmental friendly
Reusable
These peel & stick paint samples are super affordable and allow you to test a paint color in all different areas of a room without the mess of a traditional paint sample!
You know how I feel about testing paint colors, it's a must!
Don't create more work for yourself. Order Samplize now and have them shipped directly to you. No-fuss, no mess! Check them out for yourself, you won't be disappointed.
WHAT COLORS DOES PURE WHITE COORDINATE WITH?
This is an easy question because Pure White works with just about any color.
Seriously though, since it is such a neutral white, it can work with just about any color. Let's explore a few favorites.
And, of course, you can never go wrong with pairing PW with a black paint color like SW Tricorn Black for a classic, timeless color combo.
COLOR COMPARISONS
Let's chat about different very popular Sherwin Williams and Benjamin Moore white paint colors and how they compare with Pure White.
SW PURE WHITE VS ALABASTER SW 7008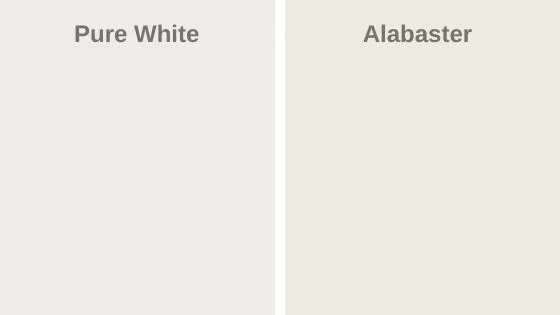 SW Pure White has an LRV of 84. It's lighter than Alabaster, which again has an LRV of 82.
Alabaster is warmer and creamier of the two. Pure White is not creamy; however, it is still a soft white.
Pure white only has a very small amount of yellow in it, giving it the tiniest amount of warmth.
Alabaster has greige untertones.
READ MOORE: SHERWIN WILLIAMS ALABASTER -THE FULL REVIEW
SHERWIN WILLIAMS HIGH REFLECTIVE WHITE VS PURE WHITE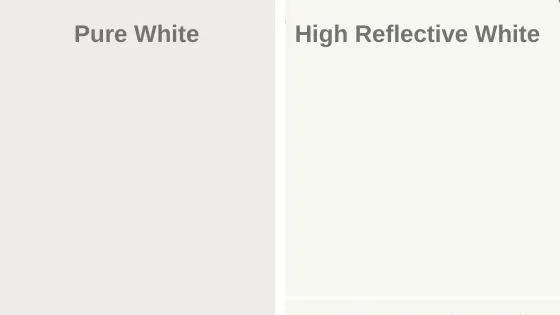 High Reflective White has an LRV of, which is higher than PW's 84.
High Reflective White has a blue undertone, which makes it a cool white paint color.
Pure White is a softer white than High Reflective.
High Reflective is closer to a true white and can sometimes look a little stark.
PURE WHITE VS BENJAMIN MOORE SIMPLY WHITE OC-117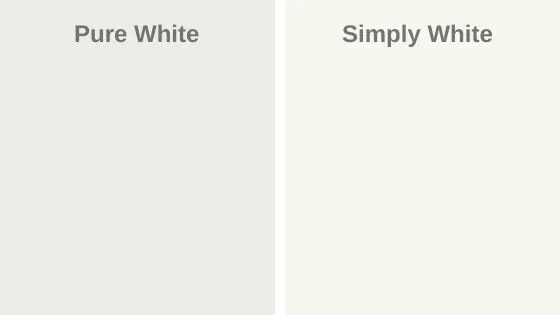 Benjamin Moore Simply White has an LRV of 91.7, that's pretty high compared to PW at 84.
Pure White's undertones are very neutral and barely noticeable,
Simply White has soft yellow undertones that are more noticeable, especially in certain lighting.
Simply White is a warm white.
SHERWIN WILLIAMS PURE WHITE VS BENJAMIN MOORE WHITE DOVE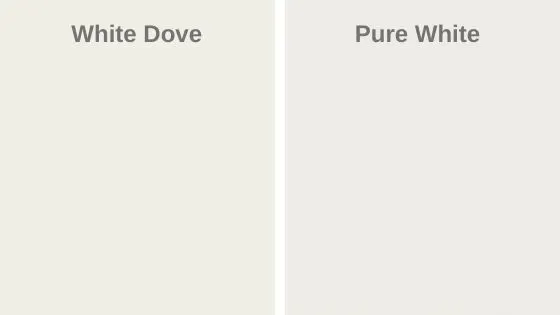 SW Pure White has an LRV of 84, which is a hair less than White Dove's LRV of 85.38.
White Dove has more warmth and is creamier. PW is a bit closer to a softer true white.
Pure white only has a minimal amount of yellow in it, which gives it the tiniest amount of warmth in it. It also has some black/gray, which helps balance out the warmth.
READ MORE: BENJAMIN MOORE WHITE DOVE REVIEW
IS SHERWIN WILLIAMS PURE WHITE THE BEST WHITE PAINT COLOR?
This question is open for interpretation. You may not agree with what I think is the best. And you know what? That's Ok. I honestly believe that paint colors choices that are very personal and dependent on the person. Do I think Sherwin Williams Pure White is the best paint color for certain spaces? Absolutely.
As we learned, Pure White is a soft white with a mainly neutral base which makes it a well-rounded white paint color. I'll say I think it is unquestionably one of the best white paint colors out there.
WHAT IS THE BENJAMIN MOORE EQUIVALENT TO SW PURE WHITE?
There is no true Benjamin Moore equivalent to Sherwin Willaims Pure White. There are multiple white colors that are considerably similar but certainly not identical. The 2 Benjamin Moore white paint colors that are slightly similar are:
Benjamin Moore White Dove
Benjamin Moore Cloud Cover
Both White Dove and Cloud Cover are warmer and creamier in comparison to SW Pure White.
If you were thinking of color matching Pure White in Benjamin Moore paint, I strongly recommend you purchase a sample of the mixed Benjamin Moore formula before buying a whole gallon.
Sometimes when you color match between paint manufacturers, the colors don't come out precisely the same. This is because each brand uses different formulas to create its paint colors.
In my honest opinion, I wouldn't try to color match between manufacturers. I feel like each brand has so many amazingly gorgeous paint colors, that there is no real need.
RECAP
Here's a quick recap of what we went over already.
Pure White is one of Sherwin Williams's best-selling paint colors.
It has an LRV of 84.
it is considered a warm paint color
the balance of warm and cool tones makes PW a very versatile white paint color.
PW has a very small amount of yellow and black/gray in it.
It can be used just about anywhere.
The trim is a fantastic place to use PW
Don't forget, when it comes to paint colors it's always a good idea to use large swatches like Samplize Peel & Stick Paint Samples where you intend to use the color. Lighting will change in the room so pay attention and be observant. You want to make sure you will love the color in every lighting situation.
FINAL THOUGHTS
What can I say? I am a huge fan of Pure White. And I am not simply saying this because I used it in my home. I honestly think it's such a well-balanced white paint color.
It's neither too cool nor too warm, which makes it perfect for a lot of spaces. It can be used on trim, walls shiplap, or wherever your heart desires.
If you are struggling to find a white paint color, take a look and grab a sample of Sherwin Williams Pure White. I don't think you will be disappointed.
SUBSCRIBE TO MY EMAIL LIST AND GET A FREE COPY OF MY INTERIOR PAINTING CHECKLIST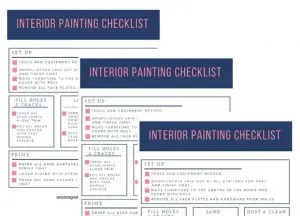 Are you planning on tackling a painting project on your own? Use these tips to help you paint your room like a pro.
Do you want to paint like a pro?
Get the painting tools the pros use.
Drop cloths are a must for any painting project. Paint is messy! Save yourself the hassle of unnecessary cleanup by using drop cloths. You'll be happy you did.
A high-quality paint brush will go a long way. The same goes for paint rollers. You want to use tools that will work with you, making your painting job more manageable.
Looking for more color options? Grab your own Benjamin Moore fan deck


Looking for more color options? Grab your own Sherwin Williams fan deck.

RECENT ARTICLES: