I may earn money or products from the companies mentioned in this post. Please click my Disclosure Policy to learn more
Today we are talking all about the of so fantastically versatile Sherwin Williams Repose Gray.
Repose Gray is the ideal nuetral gray paint color choice for almost any home. And you can take it from me, I used this fantastic gray paint color all over my home. I basically used it in every room, excluding the bedrooms.
So along with explaining why it's so fantastically versatile, I'll also fill you in on undertones, LRV, comparisons, you know all that fun stuff.
Before I get into the cold hard facts of SW Repose Gray, I want to share my story on how I came about painting almost every wall in my house this color.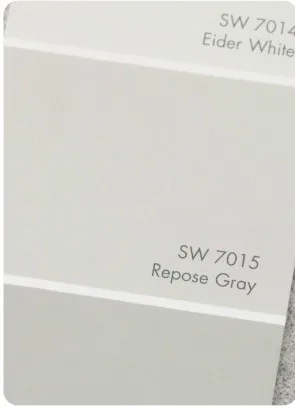 When Justin and I had first bought the house we were trying to "just get it done" so we could move in as soon as possible.
Getting all the rooms painted before we moved in was number one on our list. And we had a small budget to stick to, so it was one of those take what you can get situations.
After many trips to Home Depot and Lowes, we had scored enough cans of "Oops Paint" to get the painting done.
Finding paint at an awesome price.
Now if you don't know about "Oops Paint" then my friends you are missing out. It's a budget homeowner's best friend.
To sum it up in a few words, it's paint that had been tinted wrong and returned but marked down drastically.
Sometimes the paint color selection can be neutral, wall-friendly colors. Other times, not so much, unless you are into a hot pink wall.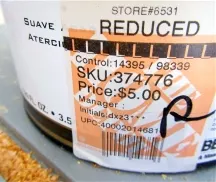 Luckily, we found a handful of neutral colored "oops Paint" we'd be able to make work.
After a few years of being in the house, I was ready to repaint everything. Our painting business was up and running at this point in my defense, so I had paint on the brain.
Which all lead me to find my holy grail gray paint color.
---
WAIT! Before you start painting make sure you have the best painting tools to make your job easier. It will take hours off your painting times!
---
Sherwin Williams
Repose Gray SW 7015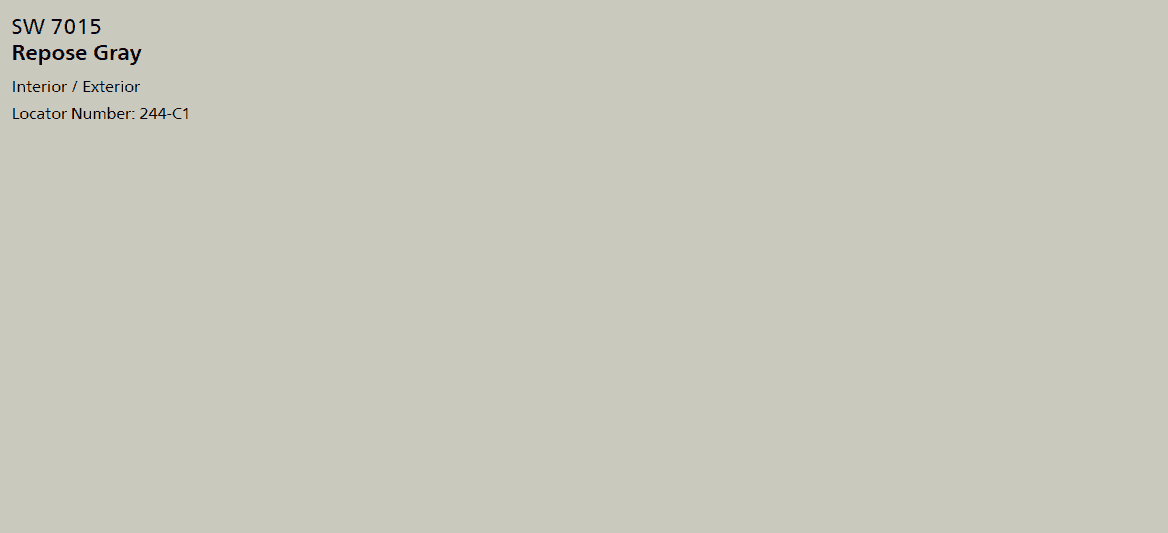 So what makes SW Repose Gray the most fantastic gray paint color?
I'd have to say it's the slight coolness this otherwise warm paint color has. I find it works beautifully with just about any decor style, making it an optimal gray paint choice. It's the gray I always and will continually recommend.
Here are the technical stats:
Repose Gray Sw 7015 has an LRV of 58. This is just a bit above the middle of the LRV scale.
R: 204 G: 201 B: 192
Hex Value: #ccc9c0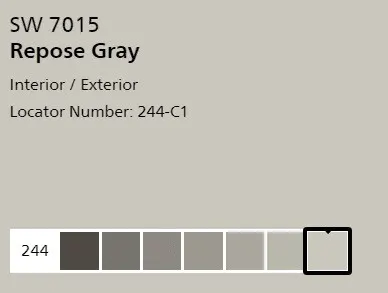 Just to remind you, LVR ( light reflectance value), is the amount of light the paint color either absorbs or reflects. So the higher on the scale the more light reflective the paint color will be. A great article to read to learn more about LRV is Light Reflectance Value: What Do Those Numbers Mean?
Repose Gray is featured in the following Sherwin Williams Color Collections:
Senior Living Cool Foundations,
Pottery Barn – Spring/Summer 2019,
Dreamer
What color is Sherwin Williams Repose Gray SW 7015?
Repose Gray is gray. I mean its name certainly doesn't give that away, does it? (sarcasm anyone?)
Yes, it is gray but it's not a full-on true gray. This gray beauty has a taupe-ish base to it. A mixture of gray, brown, greige, and a dab of purple. A very small dab though.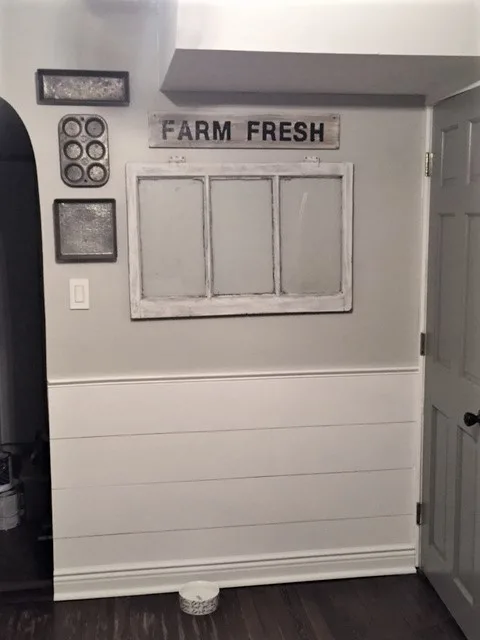 What undertones does Sherwin Williams Repose Gray have?
Repose Gray's undertones are a mix of brown, gray, and greige with a kiss of purple.
I know, I know, you hear purple and you think if you choose repose gray as your wall color you are basically going to have purple walls.
That's not the case. The hint of purple gives Repose its pizzaz. It gives it substance so this gray paint color doesn't fall flat or look dull and boring.
Is Repose Gray a warm color?
Repose by Sherwin Williams is a warm gray. However, it pulls cooler than many other gray paint colors because of that hint of purple/ blue in it.
A great color to compare it to is Sherwin Williams Worldly Gray. Worldly Gray is clearly warmer than Repose.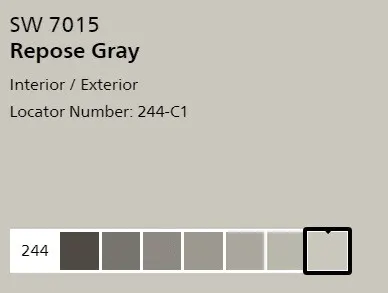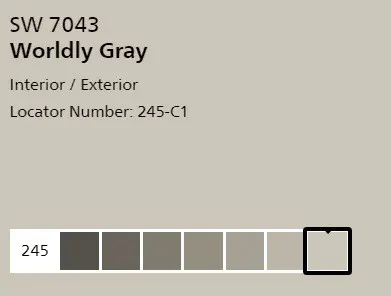 When compared side by side you can see how SW Repose Gray is cooler than SW Worldly Gray.
If you are a fan of cool colors Check out these Sherwin Williams Cool Grays.
INTERESTED IN MORE WARM PAINT COLORS? CHECK THESE OUT:
How does lighting affect Repose Gray?
The way a color is perceived is highly dependent on lighting. For example, a room with tons of natural light pouring in will look different from a room with little to no natural light.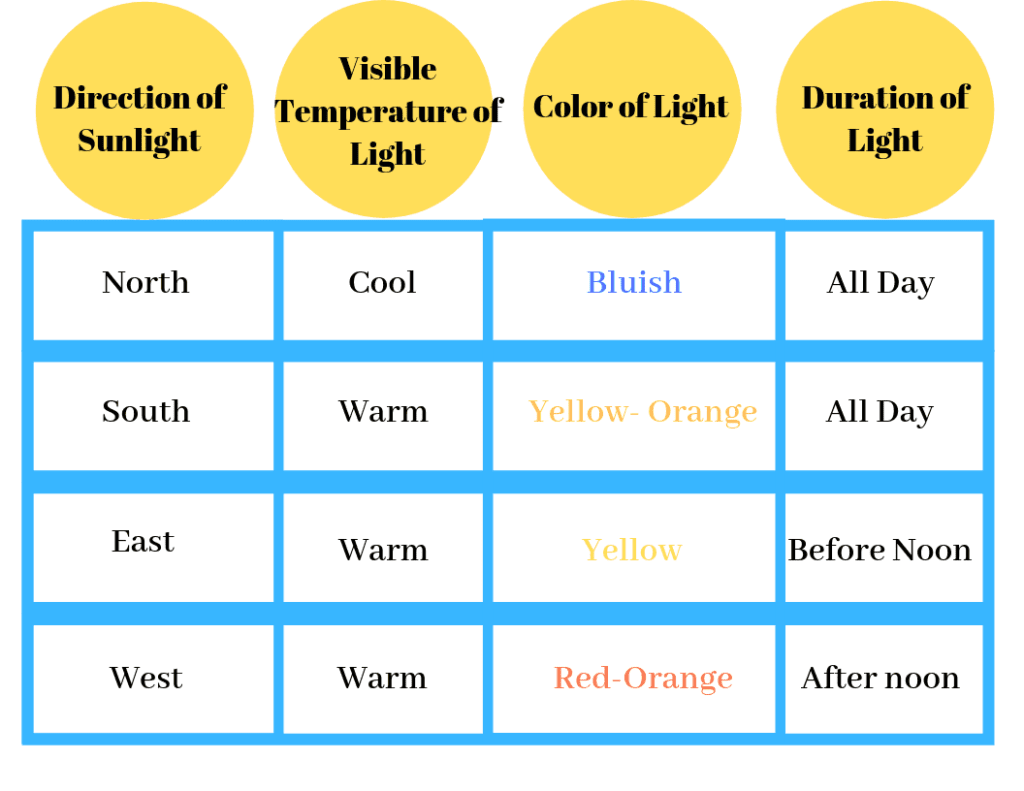 As you can see in the graphic above, if you have a North-facing room, the coolness of colors is brought out.
So in Repose Grays case, when painted in a North facing room, you will see the coolness of the color rather than its warmth.
You may also see hints of that purple/blue undertone that the color has. As I mentioned before, I have Repose in the majority of my home, and some days when I'm looking at the color on the bathroom walls, I'll notice the tiniest hint of purple. And I'm talking about the tiniest hint of purple.
This is something to keep in mind and take into consideration, especially if you are looking for a paint color with a warmer feel.
Don't start painting until you have the right tools!
Where can you use Repose Gray SW 7015?
Kitchens
Bedrooms
Bathrooms
Living Rooms
Trim & Molding
Kitchen Cabinets
Exterior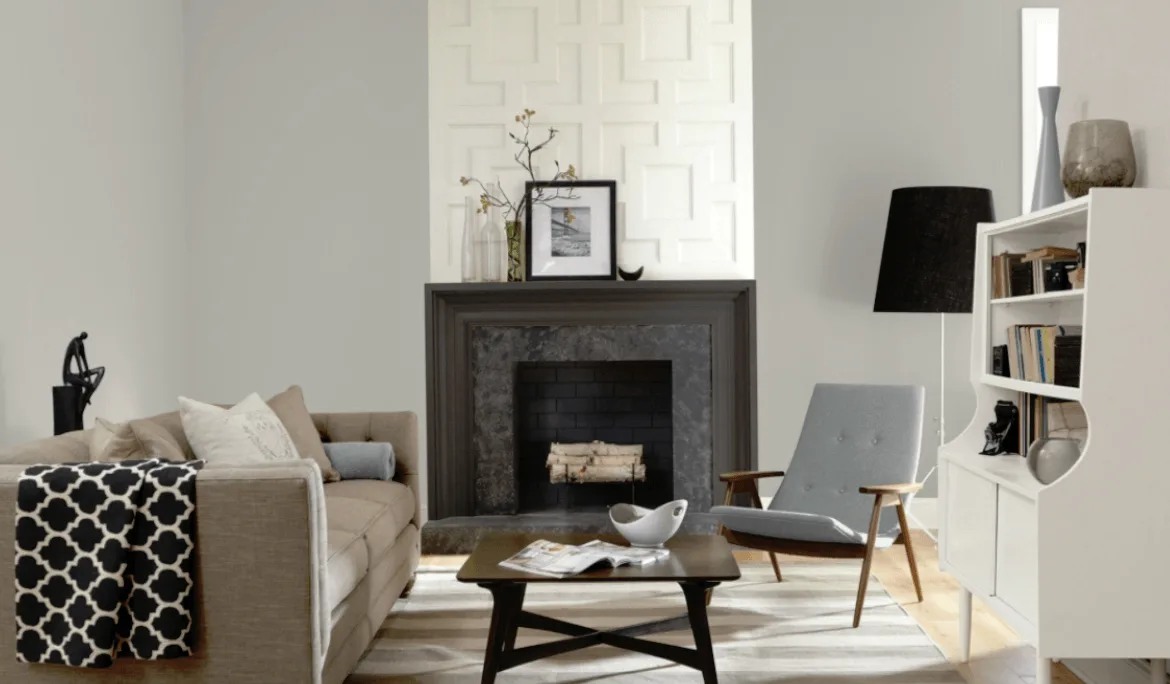 The beauty of Repose Gray is that it can be used just about anywhere. This gray is so versatile and it makes a beautiful backdrop for any decor style. As you can see in the photo below, an eclectic decor style is going on; cotton stems, vintage pieces, a farmhouse-style chair, simple picture frames, and more.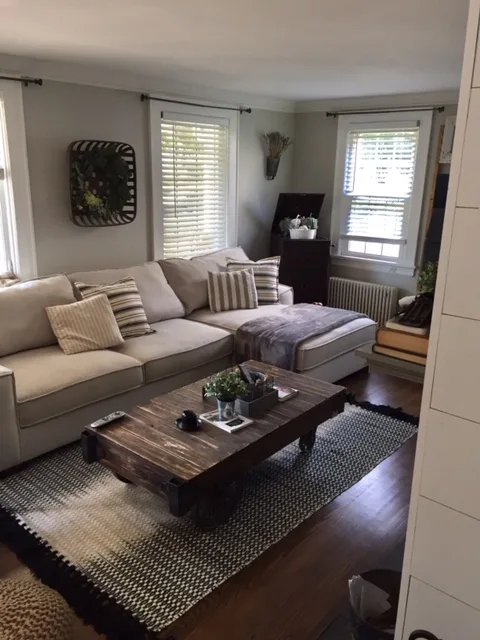 Shop This Room
1. Couch 2. Pillows 3. Tobacco Basket 4. Magnolia Wreath
How to lighten Sherwin Williams Repose Gray
A different way to use Repose is by lighting it by 50% 25% or whatever % you want. Basically, this means when mixing a color you start with your base, which is white. then to that, you add colorant to make the color of your choice.
So let's say we were adding 12 drops of blue and 12 drops of black colorant into the white base. To lighten that color you'd equally reduce the number of drops.. 12 drops now become 6 drops.
I decided to do this paint lightening method in our business office. Even though Repose is a relatively light color, I was afraid it would look a bit dark in the space since the natural light was lacking in there.
It lightened the color just enough to do the trick.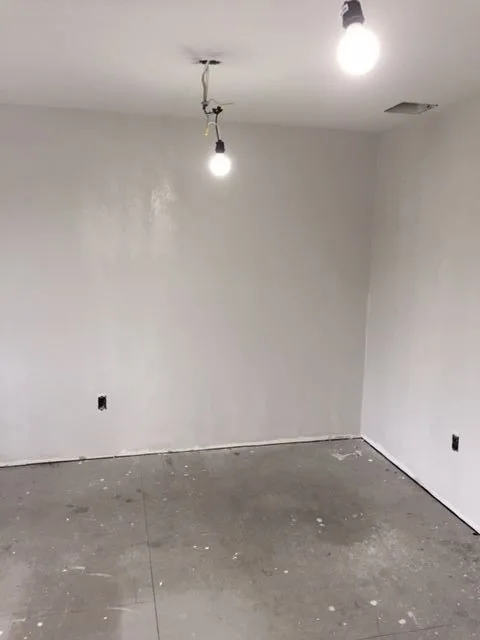 Quickly, let's talk about testing paint colors.
Instead of physically going to your nearest paint store to grab your samples, you need to try Samplize Peel & Stick paint samples.
Why should you try Samplize?
Super affordable
Mess-free
Non-damaging
Made with real manufacturer paint
Displays color just like a wall
Environmental friendly
Reusable
These peel & stick paint samples are super affordable and allow you to test a paint color in all different areas of a room without the mess of a traditional paint sample!
You know how I feel about testing paint colors, it's a must!
Don't create more work for yourself. Order Samplize now and have them shipped directly to you. No-fuss, no mess! Check them out for yourself, you won't be disappointed.
Playing with sheens.
Another way to use Repose Gray is by using it in different sheens. Let me give you an example.
Let's say you decided to paint your kitchen cabinets Repose Gray in an eggshell finish. Then on the walls, you used a flat finish.
By changing the finish or sheen, the color will look different. A higher sheen will reflect more light, making it appear lighter and a lower sheen will do the opposite and look a bit dark.
It's a great way to use a color you love in multiple ways.
---
Looking For More Paint Color Ideas?
---
Sherwin Williams Repose Gray vs. Agreeable Gray.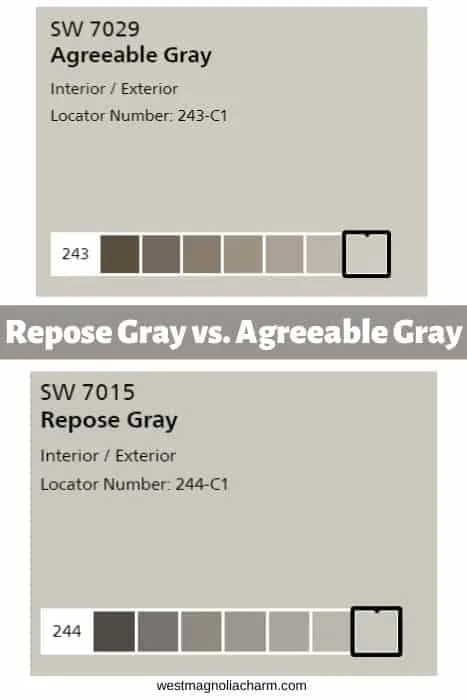 What is the difference between Repose Gray and Agreeable Gray?
Agreeable Gray has an LRV of 60, which is a hair lighter than Repose at 58.
Agreeable Gray has more warmth in it and also has taupe undertones.
When it comes to being a greige Agreeable Gray takes this one.
In a South facing room, Agreeable Gray is at its best, showing off the warm, soft greige color it truly is.
Unlike how Repose can show the purple/blue undertone it has, Agreeable Gray tends to stay docile, sticking to the greige that it is.
Repose Gray vs. Agreeable Gray, who's the winner? That's a tough question to answer. It's all about preference and lighting. Both of these gray paint colors are no-fail colors. it all comes down to whether or not you want more of a cool or warm-toned gray wall color.
Check out my full Agreeable Gray review for more information.
Sherwin Williams Repose Gray vs. Benjamin Moore Revere Pewter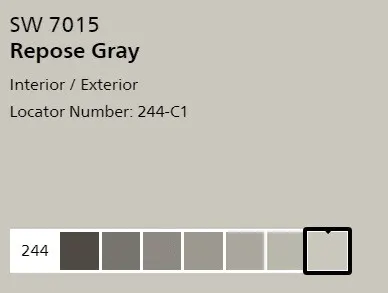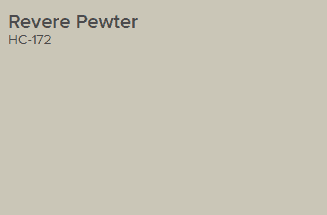 Revere Pewter has an LRV of 55.51, a bit lower than Repose and it does appear darker.
As you can see, BM Revere Pewter is certainly a warmer color.
Depending on the light, most often Revere Pewter can look green and slightly muddy.
Light French Gray vs. Repose Gray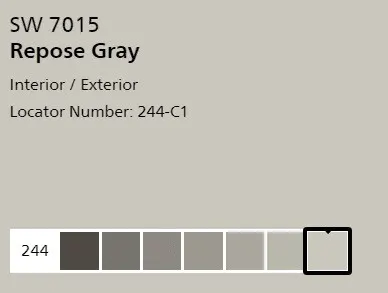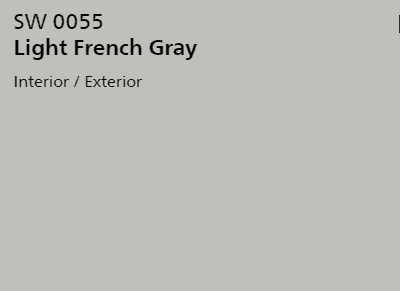 Sherwin Williams Light French Gray has an LRV of 53, which is lower than the RG
Light French grey is more cool-toned when compared to Repose.
Whereas you can see some of the undertones Repose has in different lighting, Light French Gray stands fairly neutral. Not too many surprises with that guy.
Coordinating Colors
It's not difficult to find other colors to coordinate with Repose since it works well with just about everything. Blue-gray paint colors in particular.
However, I love pairing it with SW 7014 Eider White, SW 7017 Dorian Gray, SW 7642 Pavestone, Tricorn Black, and my favorite teal, SW 6222 Riverway.
Don't forget about a trim color to pair with Repose. These white paint colors are great options.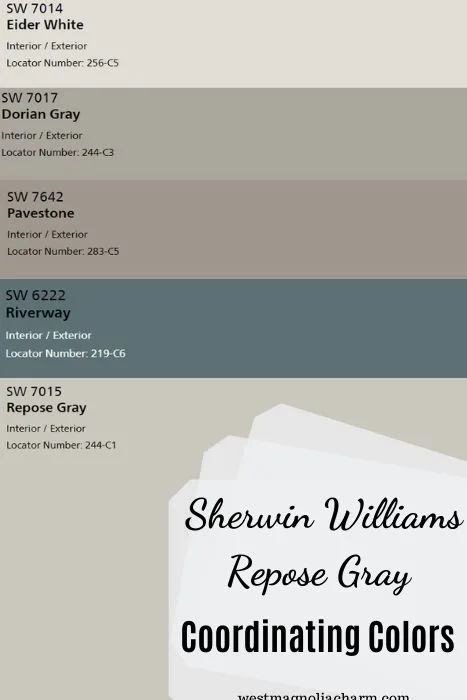 Color Recap
Repose has an LRV of 58.
It is a warm gray that does pull cool in certain lighting.
The undertones are gray, brown, greige, and an itty bitty hint of purple/blue. And this is why Repose Gray can look blue at times.
In a North facing room, Repose will look on the cooler side and in a South facing room it will pull warmer.
It looks great with a clean white trim like SW Snowbound or SW Extra White.
Use this fabulous gray anywhere your heart desires bedroom, bathroom, kitchen, exterior, you name it, you paint it.
Final Thoughts
The aspect I love about this color is that it is a good balance between warm and cool. Some grays are just too cool and usually look blue. Or they are too warm and look somewhat yellow. Repose Gray SW 7015 is the perfect mix of both.
Finally, I love how this gray adjust according to the lighting.
On a bright, beautiful, sunny day repose gray looks its best. Showing off its cooler side. Whereas, on a gloomier day the warmth comes out more, providing a cozy feel to your space.
All the reasons why I love this gray paint color and why I will continue to recommend it.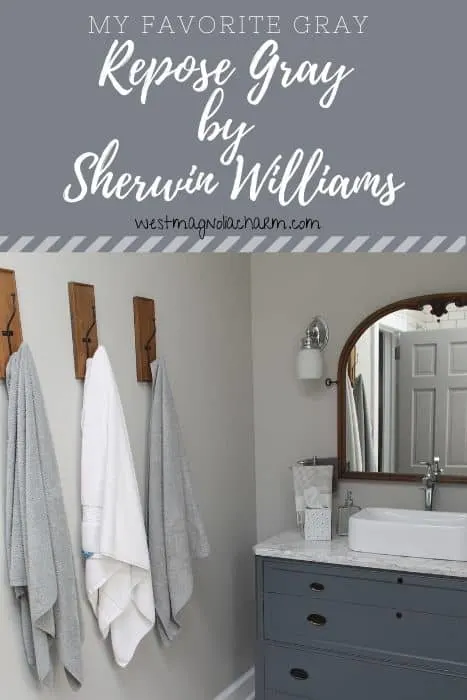 Love Repose Gray but want a shade darker? Check out Mindful Gray by Sherwin Williams or Dorian Gray. Or do you prefer a gray with a bit more of a cool tone to it? If so check out SW Passive.
Don't forget that it's always a good idea to paint large swatches where you intend to use the color when it comes to paint colors. Lighting will change in the room so pay attention and be observant. You want to make sure you will love the color in every lighting situation.
Use Samplize Peel & Stick Paint Samples for a mess-free way to test paint colors!
Do you still need a little more guidance finding a paint color?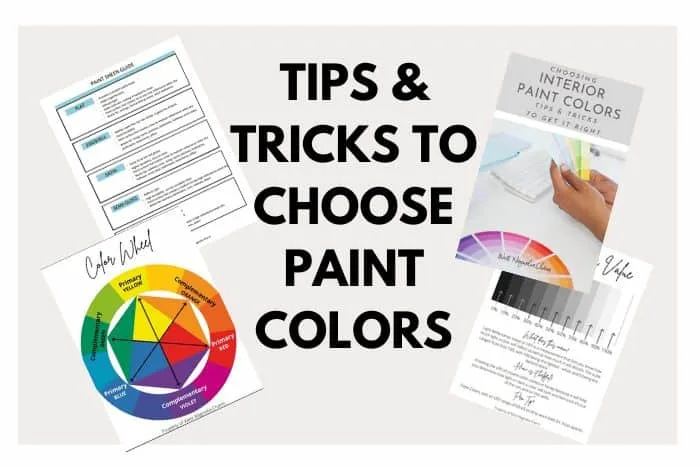 Are you planning on tackling a painting project on your own? Use these tips to help you paint your room like a pro.
Do you want to paint like a pro?
Get the painting tools the pros use.
Drop cloths are a must for any painting project. Paint is messy! Save yourself the hassle of unnecessary cleanup by using drop cloths. You'll be happy you did.
A high-quality paint brush will go a long way. The same goes for paint rollers. You want to use tools that will work with you, making your painting job more manageable.
RECENT ARTICLES: