I may earn money or products from the companies mentioned in this post. Please click my Disclosure Policy to learn more
Choosing a neutral paint color can always seem to be a daunting task. There are so many factors to consider. Lighting, size of the room, look you are going for, and that's just naming a few.
With so many neutral paint colors to choose from, it's overwhelming, and don't you think the colors seemingly start to look a lot alike after staring at them for too long. Well, I'm here to help by providing you with my "Go-To" list of the most popular Neutral Paint Colors.
I'm not sure if you know this about me, but I love painting. I mean I paint furniture for fun, I basically painted the entire interior of my home, and I'm part owner and color consultant for Wow 1 Day Painting Bergen County. So when it comes to picking paint colors or talking about them I am always so excited and willing to help.
I have a few neutral paint colors that are my go-to colors. A mixture of both Sherwin Williams and Benjamin Moore, these are colors that will work in most situations. Additionally, they are a mix of warm and cool neutrals, which makes them mesh easily with any existing decor style.
There's nothing worse than choosing a color and not having it work with the decor you own. You either have to repaint or buy all new decor. However, if you are looking for some new decor this can be the perfect excuse to go and shop your heart out, just saying.
---
Want paint like a true professional?
Check out this must-have painting tool used by our painting crew
BUY THIS PAINTING TOOL
I wanted to share my go-to neutral paint colors list today, to lend a helping hand to anyone struggling to find a no-fail color that will work for them. Now, every space is different, and there are many factors that play into the way a color will look in your space, however, this list is the perfect jumping-off point to get you started.
How to go about choosing the perfect neutral paint color.
So before we get into specific colors, let's talk about how to choose a neutral paint color.
I know what you are thinking, How hard can it be? Neutral colors are all alike.
That right there is the furthest thing from the truth! There are many factors to consider.
For starters, your existing decor. Make sure you look at the features and the fixed elements in the room you are painting. Flooring, decorative features, and your decor color scheme all are a piece of the puzzle.
Once you have a feel for what's already happening in your room, next you need to consider the different neutral paint color families.
WAIT! Before you start painting make sure you have the best painting tools to make your job easier. It will take hours off your painting times!
Neutral paint color families.
I know this may seem elaborate or just plain crazy, but breaking the neutral colors down into families will help. I promise!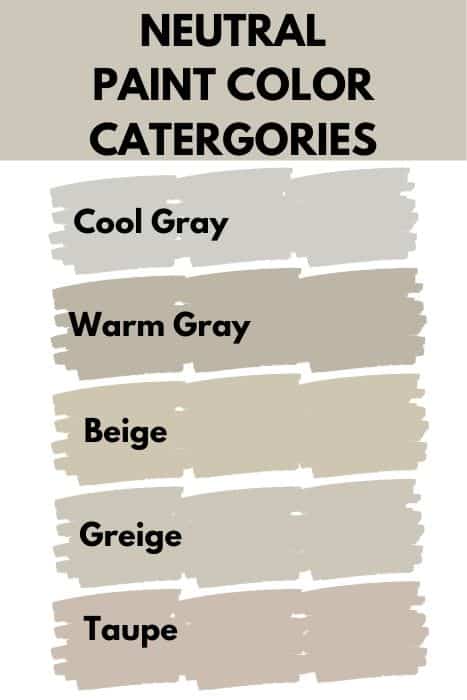 Warm Gray
Warm gray paint colors are super popular neutral paint colors. Generally speaking, all gray paint colors are excellent neutrals. But warm grays tend to be what people favor.
These neutrals work beautifully with wood tones and natural elements, such as stone. They add a sense of comfort, creating a welcoming space.
The Best Sherwin Williams Warm Gray Paint Colors
Useful Gray SW7050
Colonnade Gray SW 7641
Cool Gray
Cool gray paint colors tend to be calming and soothing. They are great neutral colors for creating tranquil and relaxing spaces. Cool gray paint colors look great with metals like brushed nickel or chrome.
Use cooler gray neutrals in bathrooms and bedrooms to promote a peaceful space.
The Best Benjamin Moore Cool Gray Paint Colors
Gray Cloud 2126-60
Alaskan Husky 1479
Silver Chain 1472
Beige
Beige paint colors were all the rage years ago. "Builders Beige" was used everywhere and to the point of enough already! But beige paint colors should not be dismissed or overlooked. There are so many beautiful beige paint colors that are far from boring or bland.
Also considered tan, buff, and khaki, beige paint colors can either have warm yellow undertones or pink undertones.
Additionally, beige paint colors can work for all different decor styles, not just traditional. They are wonderful warm neutral paint colors that make a wonderful backdrop in any style room.
The Best Benjamin Moore Beige Paint Colors
Shaker Beige HC-45
Bleeker Beige HC-80
Crisp Khaki 234
The Best Sherwin Williams Beige Paint Colors
Kilim Beige SW 6106
Sand Dollar SW 6099
Lightweight Beige SW 6092
Greige
Greige paint colors are warm neutral paint colors that are the perfect blend of gray and beige or black and brown. Essentially, greige is gray with beige in it. Now, the undertones are what make greige paint colors what they are. Since greige is a mix of gray and beige, that includes all the undertones as well.
Stay with me here.
Gray undertones are greens, blues, and purples. Beige undertones are yellows, pinks, oranges and green.
Being that greige paint colors are grayer with beige in them, they will have undertones that gray has.
The Best Benjamin Moore Greige Paint Colors
Revere Pewter HC-172
Balboa Mist OC-27
The Best Sherwin Williams Greige Paint Colors
Versatile Gray SW 6072
Realist Beige SW 6078
Accessible Greige SW 7036
Taupe
Taupe paint colors are very similar to greige paint colors as they are warm neutral paint colors that are a blend of beige and gray or brown and black. The makeup of taupe is beige with gray in it.
Just like greige, taupe paint colors include al the undertones of beige and gray. The difference is taupe has more beige undertones in it.
Remember gray has green, blue and purple undertones and beige has yellow, orange, pink and green.
The Best Benjamin Moore Taupe Paint Colors
Smokey Taupe 983
Alphano Beige 989
Hampshire Taupe 990
The Best Sherwin Williams Taupe Paint Colors
Unfussy Beige SW 6043
Artistic Taupe SW 6030
Angora SW 6036
Don't forget to pick up these amazing painting tools! They will only make your life easier!
Popular Neutral Paint Colors
The following eight colors are a few of my favorite and most popular neutral paint colors.
Repose Gray – Sherwin Williams 7015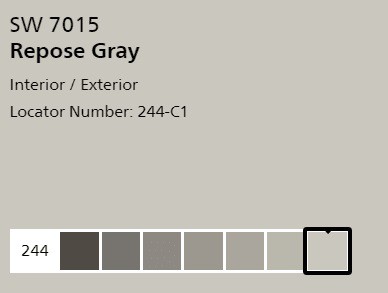 I may be biased but, Repose Gray is my favorite color. I painted the entire downstairs interior of my home in this color.
Repose Gray is a fantastic neutral. I find it to be the perfect balance of warm and cool tones, not too warm and not too cool. This perfect neutral paint color is also a regular on Fixer Upper.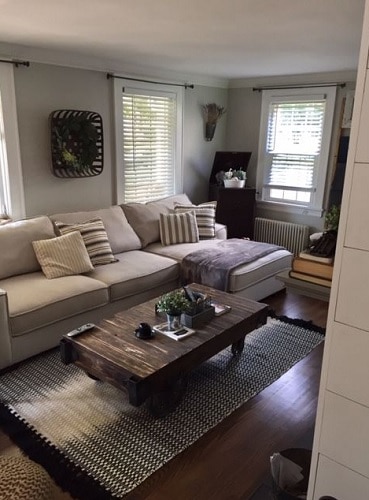 Agreeable Gray – Sherwin Williams 7029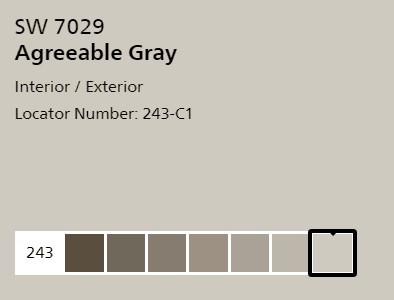 This is one of the warmer grays. Right now, the most popular warm neutral paint color. With a very slight hint of brownish beige in it, that's what makes it on the warmer side. Agreeable Gray has a green-gray undertone. As the perfect greige, this color is an effortless neutral that brightens a space providing warmth and blending seamlessly with almost any color palette. Agreeable Gray is one of the most popular grays. A definite go-to neutral paint color.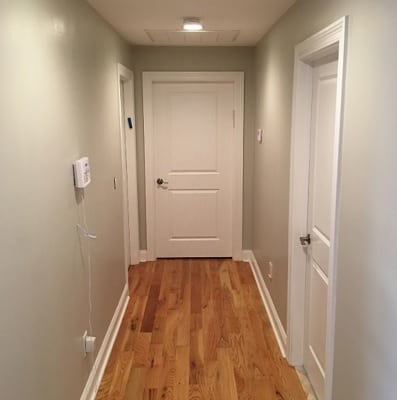 Finding the right lighting can enhance the neutral paint colors you choose.
Revere Pewter – Benjamin Moore HC-172

This soft, mid-toned gray is a popular neutral greige paint color.  It's a warmer gray, leaning more towards the greige side. In a room that is not particularly bright, this color can feel a bit heavier. Muddy" Revere Pewter is undoubtedly one of the most popular gray paint colors.  Check this post for more popular gray Benjamin Moore paint colors. Some may consider this as a"Muddy" color, but in the best way possible. It's also a fantastic neutral paint color to use on the exterior of a home.
Check out more Benjamin Moore Exterior Paint Colors.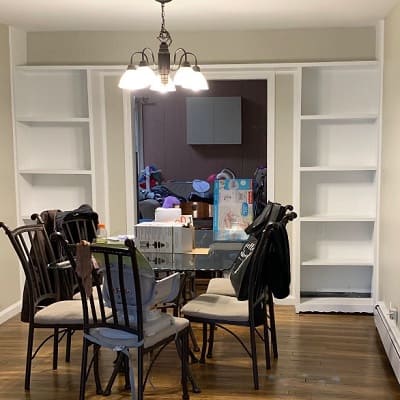 Big Chill – Sherwin Williams 7648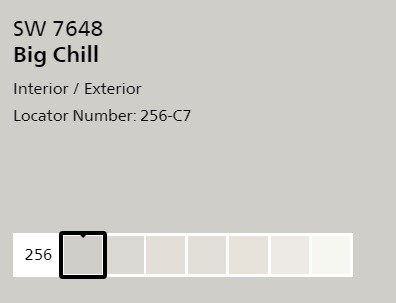 Big Chill is one of the best Sherwin Williams cool neutral paint colors. It is a cooler toned gray, hence the name. This color has a blue undertone to it, yet is very subtle. As close as you can get to a "true" gray. Crisp fresh feel to it. Works beautifully in kitchens, on walls as well as cabinets.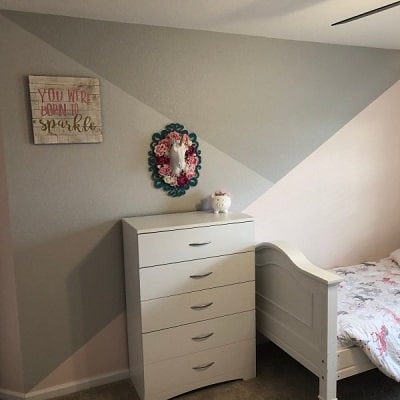 Save time! Get the best painting supplies available!
Alabaster – Sherwin Williams 7008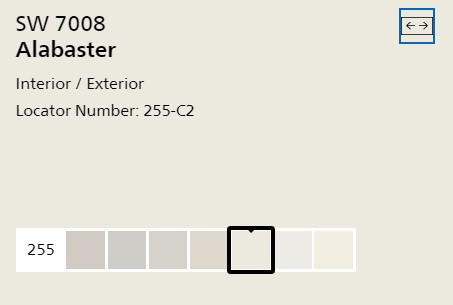 Alabaster is more of a warm off-white rather than a neutral paint color. But it's too perfect of a paint color not to mention!
The subtle undertones give it warmth, making it the perfect option when you want white yet, not stark white. It's an outstanding paint color for molding and trim as well as exteriors and interior walls. Basically, it's a great neutral to use anywhere. Also, fun fact,   SW Alabaster is the color used in Joanna Gaines's kitchen.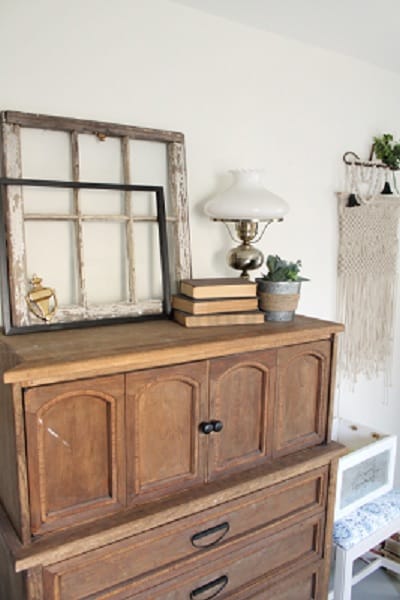 Gray Owl – Benjamin Moore 2137-60

Another uber-popular neutral paint color in the painting world is Gray Owl. With its subtle undertones of blue and green. it's a lighter soft paint color. This color gives a bright fresh and airy feel to a room. Gray Owl has just the right balance of warm and cool undertones that makes it such a dependable color. Keep in mind though, when going with a light warm gray such as Gray Owl, the more natural light in a space, the cooler the color will appear.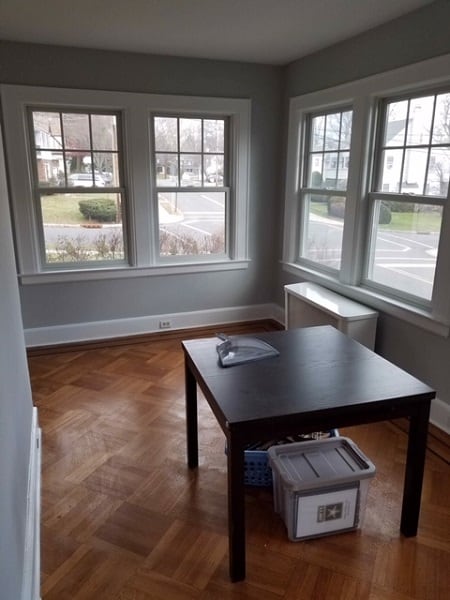 Don't start painting until you have the right tools!

SHOP MUST HAVE PAINTING TOOLS
Silver Satin – Benjamin Moore OC-26

Silver Satin is a very light neutral paint color, it can almost be considered in the off-white category however, it is gray. It's a warm gray neutral that has a slight purple undertone.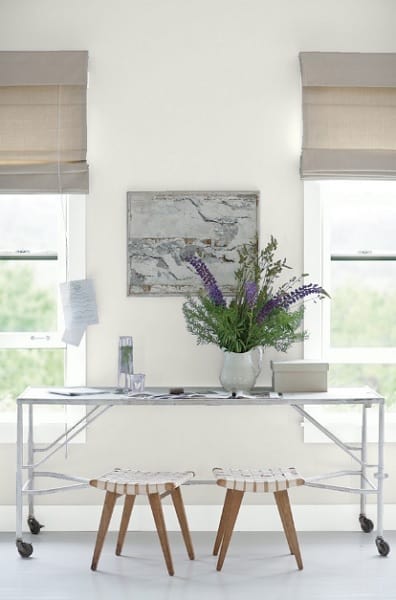 Don't forget to pick up these amazing painting tools! They will only make your life easier!
Edgecomb Gray – Benjamin Moore HC-173

This is what we call a greige. Edgecomb Gray is one of those colors that can look different depending on the lighting situation in a room. The brighter a room, the grayer it tends to look and the darker a room, the more beige it will look.
This creamy color has a beautiful softness to it making it a great neutral to play with. This is another one of the neutral paint colors that can also be considered as a"Muddy" color, again in a good way.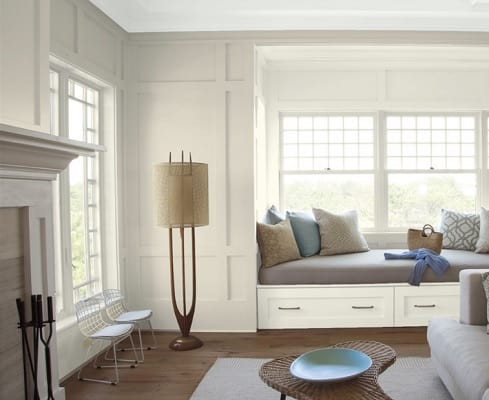 Recap – Neutral Paint Colors
Neutral paint colors are amazing. They work with many different design styles providing a neutral backdrop for your decor.
Breaking them down into color families helps with choosing a neutral color that will work in your space.

Warm Gray
Cool Gray
Beige
Greige
Taupe

I also provided a few examples of some of the best Sherwin Williams neutral paint colors and some of the best Benjamin Moore neutral paint colors.
These neutral paint colors also work perfectly for living rooms!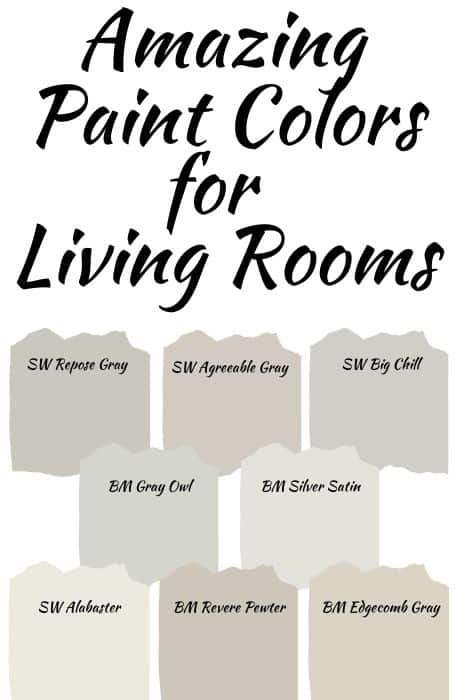 A Few Things to Remember
Every space is different. My biggest recommendation is to pick no more than 3 or 4 neutral paint colors you are drawn to, get samples, and paint swatches on white poster board. Move them around in the rooms you want to paint. Don't paint small dinky swatches either. I'm talking big, large, monster swatches so you can actually see the color. Then live with them for a few days, checking the swatches in different lighting. You want to make sure you are covering all bases before choosing your perfect neutral color.
Be prepared to swatch! Grab yourself some chippy brushes.
Use Samplize Peel & Stick Paint Samples for a mess-free way to test paint colors!
---
Check out some more awesome paint colors!
---
Don't forget to pick up your FREE Interior Painting Checklist. This will save you time and keep your painting project on track!