I may earn money or products from the companies mentioned in this post. Please click my Disclosure Policy to learn more
Neutral paint colors are timeless and are easy to decorate around. They are extremely versatile and provide a space with a neutral backdrop so the decor you choose can stand out and shine. Discover 20 of the best and most popular neutral paint colors from Sherwin Williams and Benjamin Moore.
Today we are chatting about the best neutral paint colors. These colors are the best of the best, most popular, and are on Sherwin Williams and Benjamin Moore's best sellers list. I'm sure you are wondering what makes these neutral colors the best? It's a very valid question and I have a great answer for it. It's because these neutrals work in virtually any space and they are the easiest to decorate around.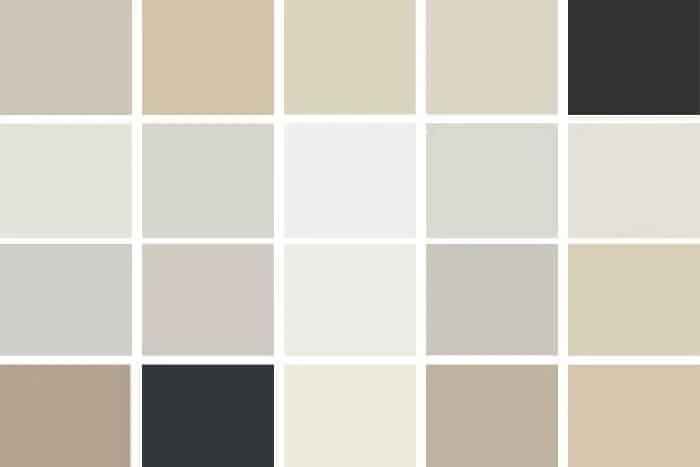 To some, neutral paint colors may seem boring, dull, or a "safe choice". Now yes, there are some paint colors that are exactly that. However, some of the best neutral paint colors come alive when decor and furniture are introduced in a room. Don't immediately write off a neutral paint color without examining its full potential.
I am going to share the 20 best neutral paint colors today, to lend a helping hand to anyone struggling to find a stylish neutral paint color that will work for their space.
Now we need to remember, everyone's space is different and there are many factors that play into the way a color will look. This is when using a product like Samplize Peel & Stick Paint Samples comes into play. It's an easy, mess-free way to sample paint colors. Sampling your paint colors is an absolute must and is the best way to see if those paint colors will work in your home.
There's nothing worse than choosing a color and not having it work with the decor you own. You either have to repaint or buy all-new decor. However, if you are looking for some new decor this can be the perfect excuse to go and shop your heart out, just putting it out there.
---
Want to paint like a true professional?
Check out this must-have painting tool used by our painting crew
BUY THIS PAINTING TOOL
---
HOW TO CHOOSE THE BEST NEUTRAL PAINT COLOR.
So before we get into the best neutral colors, let's quickly talk about how to choose a neutral paint color.
I know what you are thinking, how hard can it be? Aren't neutral colors all alike? That right there is the furthest thing from the truth! There are so many factors to consider when you are looking for a color that will work for your space.
For starters, know the tones of your existing decor. Make sure you look at the features as well as all fixed elements in the room you are painting. Flooring, decorative features, and your decor color scheme all are a piece of the puzzle.
Now, what tones are in your space?
For example, do you have more warm tones like yellows and golds or cool tones like blues? Knowing what tones you have will greatly help you choose the best neutral paint color.
A good rule of thumb is you want to have the undertone of your home interior elements match the undertone of the neutral paint color you choose.
Knowing your undertone will help you in picking out the best neutral shade.
WAIT! Before you start painting make sure you have the best painting tools to make your job easier. It will take hours off your painting time!
NEUTRAL PAINT COLOR FAMILIES.
I know this may seem elaborate, extra, or just plain crazy, but breaking the colors down and grouping them into families will help in choosing a neutral paint color for your home. I promise!
You can break neutral paint colors down into 7 different categories:
Black
White
Cool Gray
Warm Gray
Beige
Greige
Taupe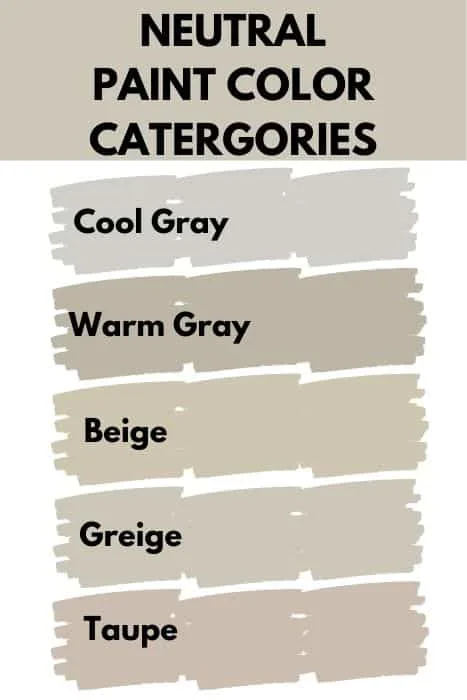 WHITE
White is probably an obvious neutral. White paint colors, just like every other neutral, have undertones. These undertones are what give them their warmth or coolness.
BLACK
Black Is another neutral that sometimes is forgotten as a neutral if that makes sense. Just like White paint colors, black also has undertones. They range from green, blue, red, etc.
WARM GRAY
Warm gray paint colors are super popular neutral paint colors. Generally speaking, all gray paint colors are excellent neutrals. But warm neutrals like Useful Gray and Agreeable Gray tend to be what people favor. Warm grays tend to have a yellow or brown base.
These neutrals work beautifully with wood tones and natural elements, such as stone. They add a sense of comfort, creating a welcoming space.
COOL GRAY
Cool gray paint colors tend to be calming and soothing. They are great neutral colors for creating tranquil and relaxing spaces. Cool gray neutral paint colors look great with metals like brushed nickel or chrome.
Use cooler gray neutrals such as Sherwin Williams Big Chill or Benjamin Moore Silver Chain in bathrooms and bedrooms to promote a peaceful space.
BEIGE
Beige neutral paint colors were all the rage years ago. "Builders Beige" was used everywhere and it eventually got to the point of enough already! But beige paint colors should not be dismissed or overlooked. There are so many beautiful beige paint colors that are far from boring or bland.
These neutral can also be considered tan, buff, and khaki. Beige neutrals can either have yellow undertones like Benjamin Moore Shaker Beige or pink undertones like Sherwin Williams Lightweight Beige has.
Additionally, beige paint colors can work for all different decor styles, not just traditional. They are wonderful warm neutral paint colors that make a wonderful backdrop in any style room.
GREIGE
Greige paint colors are warm neutral paint colors that are the perfect blend of gray and beige or black and brown. Essentially, greige is gray with beige in it. Now, the undertones are what make greige paint colors what they are. Since greige is a mix of gray and beige, that includes all the undertones as well.
Stay with me here.
Gray undertones are greens, blues, and purples. Beige undertones are yellows, pinks, oranges, and green.
Being that greige paint colors are grayer with beige in them, they will have undertones that gray has.
TAUPE
Taupe paint colors are very similar to greige paint colors as they are warm neutral paint colors that blend beige and gray or brown and black. The makeup of taupe is beige with gray in it.
Just like greige, taupe paint colors include all the undertones of beige and gray. The difference is taupe has more beige undertones in it.
Remember gray has green, blue, and purple undertones and beige has yellow, orange, pink, and green.
---
Don't forget to pick up these amazing painting tools! They will only make your life easier!
---
20 BEST NEUTRAL PAINT COLORS
Now that we have an understanding of all the neutral paint color categories, let's get into the absolute best neutral paint colors.
I have 20 awesome color options to blab on about, so grab a snack, this may take a while.
REPOSE GRAY SW 7015 – SHERWIN WILLIAMS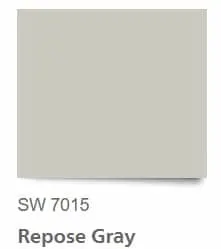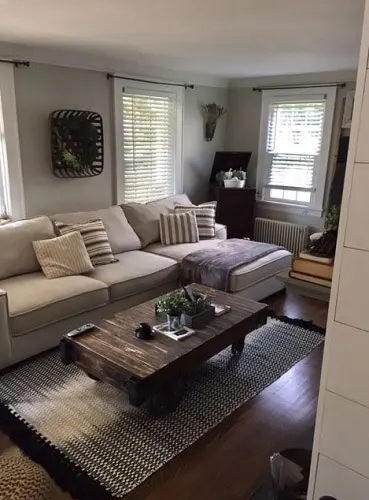 I may be biased but, Repose Gray is my favorite gray paint color. I painted the entire downstairs interior of my home in this color.
Repose Gray is a fantastic neutral. I find it to be the perfect balance of warm and cool tones, not too warm and not too cool. This perfect neutral paint color is also a regular on Fixer Upper.
If you need a dark gray to pair with Repose, try SW Dovetail. It's a slightly warm dark gray.
KILIM BEIGE SW 6106- SHERWIN WILLIAMS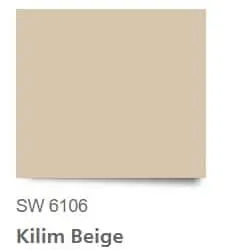 Sherwin Williams Kilim Beige is an excellent creamy beige neutral. It has an LRV of Kilim is the perfect neutral beige paint color to use when you have a lot of elements in your home with a pink undertone. How does it work with these elements? Because Kilim Beige has pink/orange undertones in it.
AGREEABLE GRAY SW 7029 SHERWIN WILLIAMS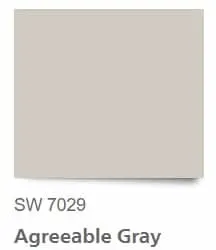 This is one of the warmer grays. Right now, the most popular warm neutral paint color. With a very slight hint of brownish beige in it, that's what makes it on the warmer side. Agreeable Gray has a green-gray undertone. As the perfect greige, this color is an effortless neutral that brightens a space providing warmth and blending seamlessly with almost any color palette. Agreeable Gray is one of the most popular grays. A definite go-to neutral paint color.
BALANCED BEIGE SW 7037 – SHERWIN WILLIAMS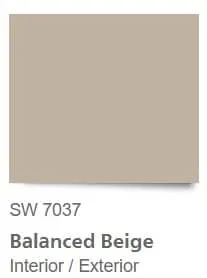 Balanced Beige by Sherwin Williams is another very useful neutral paint color. This neutral has an LRV 46, which makes it more of a mid-toned color. Balanced Beige has a taupe-ish base. It has a slight red undertone that gives it just the right amount of warmth. Taupe colors have an appeal as being cooler than beige but warmer than grey. It can also be considered a mushroom paint color. Balanced Beige doesn't read overly warm and won't look pink. Balanced Beige is an excellent exterior color.
TONY TAUPE SW 7038 – SHERWIN WILLIAMS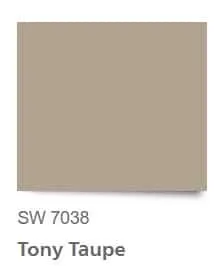 Sherwin Wiliams Tony Taupe is a super timeless neutral paint color. This looker has an LRV of 37. It's definitely one of the darker neutrals on this list. Why is Tony Taupe one of the best neutrals? Because it is a valuable color for homes that have a lot of fixed elements that have taupe in them. Darker taupes work particularly well on exteriors with stonework.
WOOL SKEIN SW 6148 – SHERWIN WILLIAMS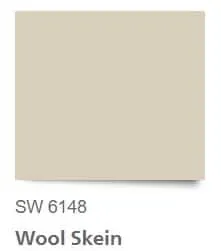 Wool Skein by Sherwin Williams is a great neutral transition color. It has an LRV of 63, slightly lighter than a mid-toned color. Wool Skein has yellow undertones as well as a tiny bit of green. This is one of the best neutral paint colors to update Tuscan decor styles.
READ MORE: AMAZING GREEN PAINT COLORS
PURE WHITE SW 7005 – SHERWIN WILLIAMS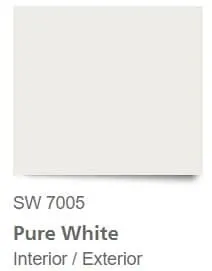 Sherwin Williams Pure White is an excellent neutral white paint color. With an LRV of a whopping 84, this baby is a true light reflector. Pure White is a fantastic white because its undertones are very neutral, there are no glaring yellow or blue undertones. It has a bit of gray in it which makes it less of a blinding, stark white. This is a great white to use for walls, trim, or anything, you name it.
READ MORE: A FULL REVIEW ON SHERWIN WILLIAMS PURE WHITE
INKWELL SW 6992 – SHERWIN WILLIAMS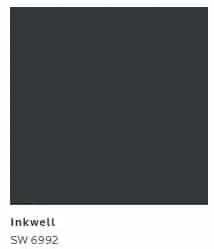 Inkwell by Sherwin Williams is a fantastic black paint color. It's so saturated and bold and will truly make a statement. This bold beauty has an LRV 4, which we all could have guessed. Inkwell has a blue undertone so this is more of a cool blue-black neutral. There are times it will look black and other times it can look like a very, very dark navy blue. I find it to be a beautiful dark neutral option when you are looking for a hint of color.
Looking for a black paint color that has no undertones? Try SW Tricorn Black.
BIG CHILL SW 7648 – SHERWIN WILLIAMS
Big Chill is one of the best Sherwin Williams cool neutral paint colors. It is a cooler toned gray, hence the name. This color has a blue undertone to it, yet is very subtle. As close as you can get to a "true" gray. It has a crisp fresh feel to it. It works beautifully in kitchens, on walls as well as cabinets. It's one of the best grays from SW and is very underrated.
If you like a little bit more of a cool tone to your gray check out SW Passive or SW Lazy Gray. It's a beautiful gray paint color that may satisfy your cool tone needs.
ALABASTER SW 7008 – SHERWIN WILLIAMS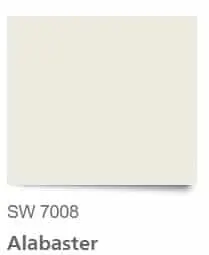 Alabaster is more of a warm off-white neutral paint color. The subtle yellow undertones give it warmth, making it the perfect option when you want white yet, not stark white. It's an outstanding paint color for molding and trim as well as exteriors and interior walls. Basically, it's a great neutral to use anywhere. Also, a fun fact, SW Alabaster is the color used in Joanna Gaines's kitchen.
REVERE PEWTER – BENJAMIN MOORE HC-172

Revere Pewter is undoubtedly one of the most popular gray paint colors. It's a soft, mid-toned gray. It's a warmer gray, leaning more towards the greige side. In a room that is not particularly bright, this pewter color can feel a bit heavier.
Some may consider this as a"Muddy" color, but in the best way possible. It's also a fantastic neutral paint color to use on the exterior of a home.
READ MORE: Benjamin Moore Exterior Paint Colors.
GRAY OWL – BENJAMIN MOORE 2137-60
Another uber-popular neutral paint color in the painting world is Gray Owl. With its subtle undertones of blue and green. it's a lighter soft paint color. This color gives a bright fresh and airy feel to a room. Gray Owl has just the right balance of warm and cool undertones that makes it such a dependable color. Keep in mind though, when going with a light warm gray such as Gray Owl, if there is a ton of natural light in a space, there is a bigger chance that color can possibly wash out.
Don't start painting until you have the right tools!
SHOP MUST HAVE PAINTING TOOLS
SILVER SATIN – BENJAMIN MOORE OC-26
Silver Satin is a very light neutral paint color, it can almost be recognized as an off-white paint color however, it is gray. Silver Satin has a nice balance between warm and cool tones. It does have a slight purple undertone to it, so it's something to consider if you are not a fan of purple.
READ MOORE: SILVER SATIN FULL REVIEW
If you want a light color that has a tad bit more warmth to it, check out BM Pale Oak.
EDGECOMB GRAY – BENJAMIN MOORE HC-173

This is what we call a greige. Edgecomb Gray is one of those colors that can look different depending on the lighting situation in a room. The brighter a room, the grayer it tends to look and the darker a room, the more beige it will look.
This creamy color has a beautiful softness to it making it a great neutral to play with. This is another one of the neutral paint colors that can also be considered as a"Muddy" color, again in a good way.
MANCHESTER TAN HC-81 BENJAMIN MOORE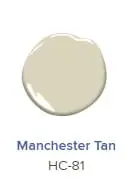 Manchester Tan by Benjamin Moore is a fantastic tan neutral. This Tan has an LRV of 64.41. At 64.41, it is reflecting a decent amount of light. Manchester is a warm neutral paint color. It is more of a muted beige with some green undertones. It's not overly yellow or gold. Manchester can often look like linen. It's a great warm color to use in homes you are looking to update that have a lot of gold, browns, and reds. It makes for a great transition color.
Don't forget to pick up these amazing painting tools! They will only make your life easier!
CLASSIC GRAY OC- 23 BENJAMIN MOORE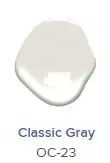 Benjamin Moore Classic Gray is a very light warm, almost off-white color. With an LRV of 74.78, this sophisticated color will enhance any space it's used in. Classic Gray is an extremely useful paint color for rooms that you want to paint white when white is not the best option. To clarify, Classic Gray will have the looks of a warm, soft white in rooms that aren't full of natural light. This very light gray has a slight purple undertone to it. No, it's not glaringly purple, but if you have an aversion to purple it is something you should consider.
If you need a Sherwin WIlliams alternative for Classic Gray try Drift of MIst.
MOONSHINE OC-56 BENJAMIN MOORE

Moonshine by Benjamin Moore is one of the best neutral paint colors. This fabulous paint color has an LRV of 68.28, which is perfect, not too light, and not dark at all. Moonshine is a very light, cool gray that has subtle green/blue undertones. I personally used Moonshine as my basement color, and I find it to look gray with a hint of green/blue. But I only see the green/blue at certain times. Generally, this color looks like a neutral cool gray.
Are you a fan of paint colors with a cool tone? If you are you will love BM Stonington Gray.
SHAKER BEIGE HC-45 – BENJAMIN MOORE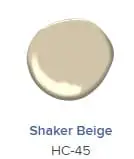 Benjamin Moore Shaker Beige is a super stylish beige, This neutral paint color has an LRV of 54.61, so it's not the light beige out there. Shaker Beige isn't like a lot of beiges out there. It has a warm undertone that leans towards orange. It's a saturated color that gives a space a very warm and cozy feel.
BLACK 2132-10 BENJAMIN MOORE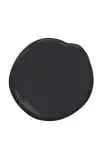 Black by Benjamin Moore is 100% black. This is the color you go to when you what nothing more than a neutral black paint color. Black has an LRV of surprise surprise, 2.48. This color is a sophisticated, elegant, and timeless beauty. You may recognize this color from an episode of Windy City Rehab. Allison Victoria chose Benjamin Moore Black for the exterior of the home she was renovating, and it was nothing short of perfection.
If black is just a bit too dark for what you are looking for, I highly suggest looking at a dark gray like SW Peppercorn.
READ MORE: THE BEST BLACK PAINT COLORS
WHITE DIAMOND OC-61 BENJAMIN MOORE

Benjamin Moore White Diamond is a beautiful and sophisticated white paint color. It has an LRV of 84.75, which is to be expected. This particular white has a very subtle blue undertone. That blue undertone gives it the ideal amount of coolness, making it a fabulous cool-toned white. White Diamond works splendidly as a trim color, especially with walls that are already painted white.
READ MORE: CHANTILLY LACE- THE PERFECT BENJAMIN MOREE WHITE
---
Quickly, let's talk about testing paint colors.
Instead of physically going to your nearest paint store to grab your samples, you need to try Samplize Peel & Stick paint samples.
Why should you try Samplize?
Super affordable
Mess-free
Non-damaging
Made with real manufacturer paint
Displays color just like a wall
Environmental friendly
Reusable
These peel & stick paint samples are super affordable and allow you to test a paint color in all different areas of a room without the mess of a traditional paint sample!
You know how I feel about testing paint colors, it's a must!
Don't create more work for yourself. Order Samplize now and have them shipped directly to you. No-fuss, no mess! Check them out for yourself, you won't be disappointed.
---
THE BEST NEUTRAL PAINT COLORS – SHERWIN WILLIAMS
ALABASTER
REPOSE GRAY
AGREEABLE GRAY
BIG CHILL
INKWELL
PURE WHITE
KILIM BEIGE
BALANCE BEIGE
TONY TAUPE
WOOL SKEIN
THE BEST NEUTRAL PAINT COLORS – BENJAMIN MOORE
REVERE PEWTER
EDGECOMB GRAY
BLACK
WHITE DIAMOND
SILVER SATIN
MANCHESTER TAN
SHAKER BEIGE
MOONSHINE
CLASSIC GRAY
GRAY OWL
RECAP – THE BEST NEUTRAL PAINT COLORS
Neutral paint colors are amazing. They work with many different design styles providing a clean blank canvas for your decor. They are sophisticated, timeless, and will never go out of style.
Breaking them down into color families helps with choosing a neutral paint color that will work in your space.

Black
White
Warm Gray
Cool Gray
Beige
Greige
Taupe

I also provided a few examples of some of the best Sherwin Williams neutral paint colors and some of the best Benjamin Moore neutral paint colors.
These neutral paint colors also work perfectly for living rooms, kitchens, bedrooms, bathrooms, exteriors, and basically everywhere!
FINAL THOUGHTS – 20 BEST NEUTRAL PAINT COLORS
It's safe to say there are a ton of fantastic popular neutral paint colors available. Whether you favor warmer beige colors or cool-toned gray neutrals, there is a neutral out there for everyone.
Don't Forget
Every space is different. My biggest recommendation is to pick no more than 3 or 4 neutral paint colors you are drawn to, get samples, and paint swatches on poster board. Move them around in the rooms you want to paint. Don't paint small dinky swatches either. I'm talking big, large monster swatches so you can actually see the color. Then live with them for a few days, checking the swatches in different lighting. You want to make sure you are covering all bases before choosing your perfect neutral color.
Be prepared to swatch! Don't forget to grab yourself some chippy brushes.
If you don't want to be bothered with traditional paint samples use Use Samplize Peel & Stick Paint Samples for a mess-free way to test paint colors!
---
Are you tackling the painting yourself? Avoid these painting mistakes and make sure you have all the best painting tools the pros use.
---
Check out a few more awesome paint colors!
---