I may earn money or products from the companies mentioned in this post. Please click my Disclosure Policy to learn more
Choosing a Benjamin Moore gray paint color may seem a bit intimidating with the number of options they carry. Knowing a few useful bits of information will help you easily find the perfect shade of gray for your walls.
---
Want to paint like a true professional?
Check out this must-have painting tool used by our painting crew.
---
A few tips to know before we get into the best Benjamin Moore gray paint colors.
Paint colors are often created by using two or more colors. An undertone is created when there is a higher percentage of one color over the other.
Want to figure out what undertone you should go with?
•Pick up a few gray color chips your like. Stack them on top of one another to see brightness levels and undertones.
•Use gray color chips and layer them on your home furnishings. This can help you see what undertone will work best in your room.
•Buy gray paint samples and paint large swatches on walls in different lighting conditions. Or use Samplize Peel & Stick Paint Samples. They are super easy to use and mess-free!
Now the question of a warm or cool gray paint?
Warm grays, or brown-gray—or the ever so popular "greige"—are very welcoming, while cooler gray paint colors like green-gray and blue-gray, have more of a modern feel.
Light exposure plays a large role in the gray's undertone.
Opt for a warmer gray paint color if your room has north-facing light. The reason is, northern light reveals more of the gray paint's blue and green undertones.
The more flattering south-facing light gives you the opportunity to a variety of gray paint colors you can use in your room.
Find more information on how light affects paint colors here
Doing the painting yourself? Grab this essential painting tool to help you along the way.
Top 10 Benjamin Moore Gray Paint Colors
I decided to share a few gray paint colors that are underrated in my opinion. People tend to go to the most popular colors by default and you can't blame them those colors are popular for good reason. However, there are so many grays Benjamin Moore carries that are just as gorgeous as the popular grays.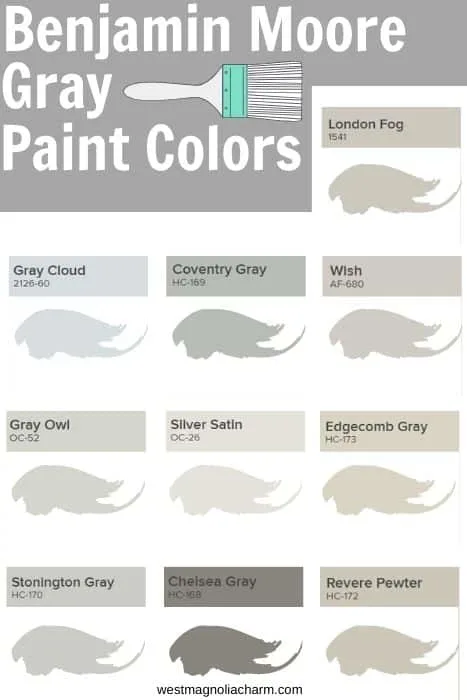 Let me start with the lighter gray paint colors first. Lighter grays are by far more popular and are always requested by customers. I have some great light warm gray options as well as light cool gray options to share with you.
Benjamin Moore Light Gray Paint Colors
Silver Satin
Gray Cloud
Gray Owl
Silver Satin – Benjamin Moore OC-26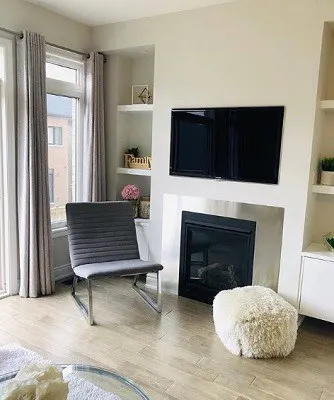 Silver Satin is a much lighter gray paint color. It can almost be considered an off-white. Silver Satin is a warm gray that has a slight purple undertone. This would be a great home office paint color option.
LRV 75.35
Gray Cloud – Benjamin Moore 2126-60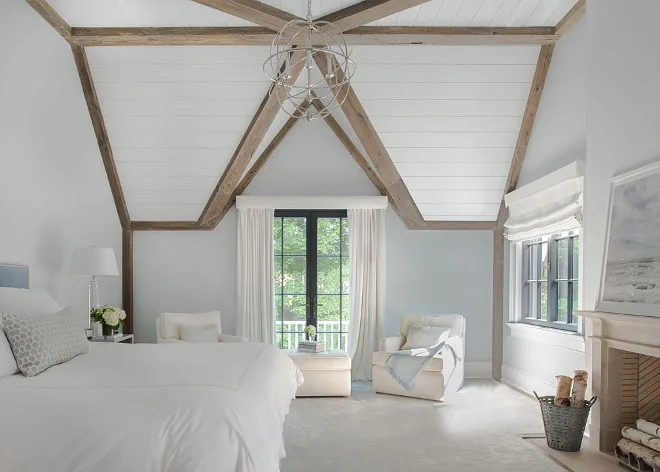 Gray Cloud is a Benjamin Moore gray that is on the cool side. This cool-toned gray paint color can look almost like an icy blue in certain lighting. It can also be considered a blue gray paint color.
If you are into blue paint colors you may want o give BM Beach Glass a try,
For instance in north-facing rooms. The visible temperature in north-facing rooms is cool and the color of the light is bluish. So if you decide to go with BM Gray Cloud in a north-facing room you can expect to see the blue tones come out.
If you are looking for a gray paint color with a cool undertone, Benjamin Moore Gray Cloud is a fantastic option.
LRV 71.27
Gray Owl – Benjamin Moore OC-52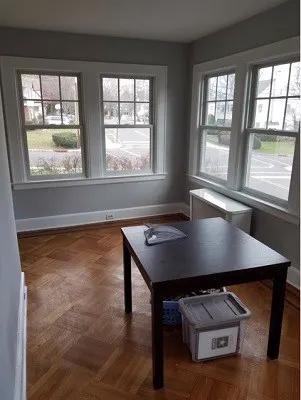 Gray Owl is a Benjamin Moore gray that is very versatile. It's a light gray with a nice balance between cool and warm tones. Gray Owl works best in rooms that have little natural light. The more natural light a room has the cooler this Benjamin Moore gray will look.
If you like Gray Owl you may also like BM Moonshine.
LRV 65.77
Edgecomb Gray – Benjamin Moore HC-173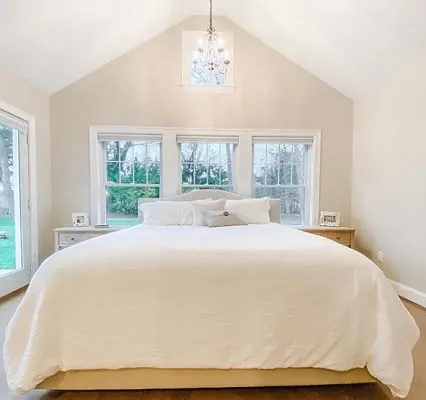 Edgecomb Gray is another Benjamin Moore gray that has a warm undertone. Edgecomb gray is slightly lighter than Revere pewter, yet still light enough to work well in any room. Pair it with a warm white like BM Swiss Coffee to make it really pop.
LRV 63.88
Don't forget to pick up these amazing painting tools! They will only make your life easier!
Mid-Toned Benjamin Moore Gray Paint Colors
Stonington Gray – Benjamin Moore HC-170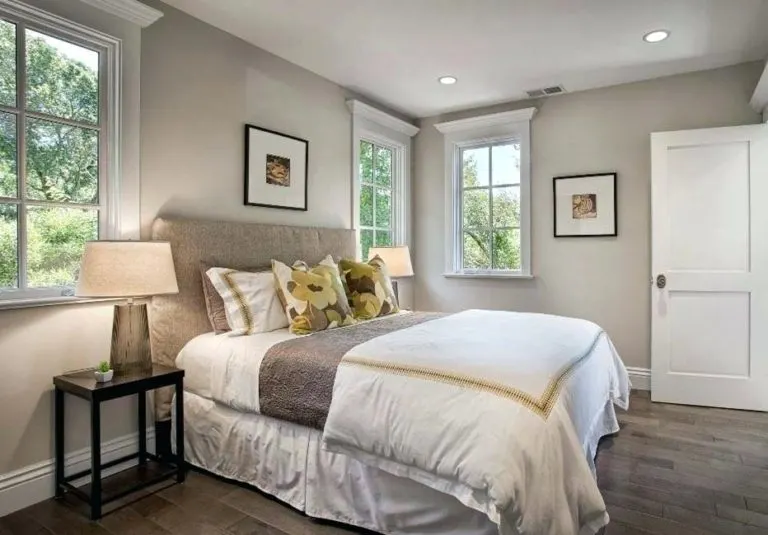 Photo Credit: Mobby.Me
Stonington Gray is a gray that has a bluish earthy undertone. The undertone is definitely more on the cool side, so if you are looking for a grayish-blue color, this may be for you. It would also be an amazing option to paint your kitchen cabinets.
LRV 59.75
Wish – Benjamin Moore AF-680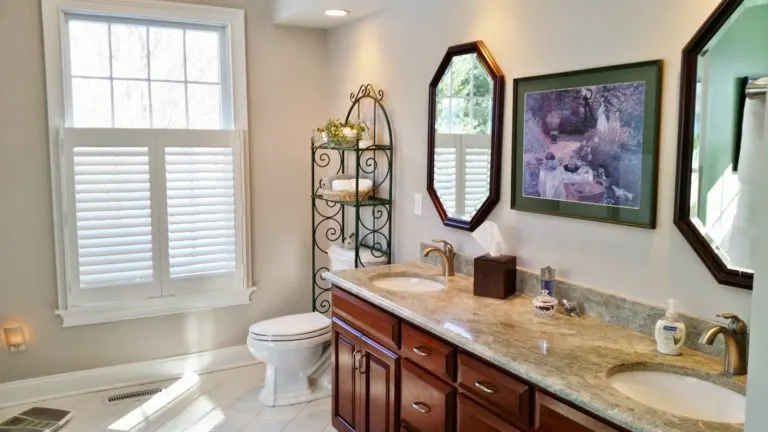 Wish is a Benjamin Moore Gray that is fairly light. Wish is a warm-toned gray paint color that is quite neutral. It can be considered a greige because of the yellow and gray it has in it.
Since Benjamin Moore Wish has yellow undertones it will look more beige in a south-facing room.
BM Wish is such a versatile paint color, it will work beautifully in any type of design.
Wish is also a part of Benjamin Moores Affinity Color Collection. If you are interested in another great paint color from the Affinity Collection, BM Thunder is one to check out.
LRV 59.7
London Fog – Benjamin Moore 1541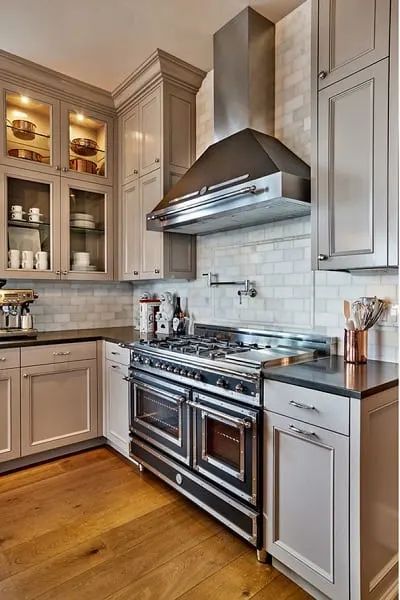 Photo Credit: Home Bunch
London Fog is a gray paint color that is on the lighter side in terms of mid-toned grays. Its undertone is brown and in daylight, London fog can look more taupe.
I absolutely love how London Fog looks on Kitchen Cabinets.
LRV 57.23
---
Let's take a quick break to talk about testing paint samples.
Instead of physically going to your nearest paint store to grab your samples, you need to try Samplize Peel & Stick paint samples.
Why should you try Samplize?
Super affordable
Mess-free
Non-damaging
Made with real manufacturer paint
Displays color just like a wall
Environmental friendly
Reusable
These peel & stick paint samples are super affordable and allow you to test a paint color in all different areas of a room without the mess of a traditional paint sample!
You know how I feel about testing paint colors, it's a must!
Don't create more work for yourself. Order Samplize now and have them shipped directly to you. No-fuss, no mess! Check them out for yourself, you won't be disappointed.
---
Revere Pewter – Benjamin Moore HC-172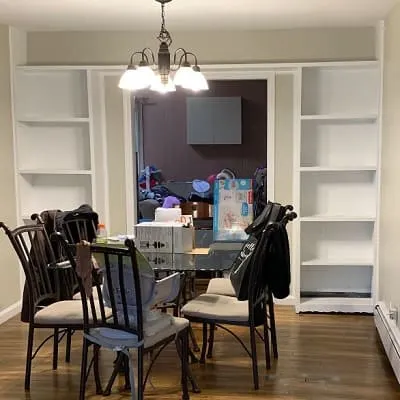 Revere Pewter is a gray that is highly popular. It's a warmer gray that is on the lighter side. BM Revere Pewter is an exceptional gray that will create unity in your room.
LRV 55.51
Need a trim color? Check out the 8 Best White Paint Colors for Trim
Coventry Gray – Benjamin Moore HC-169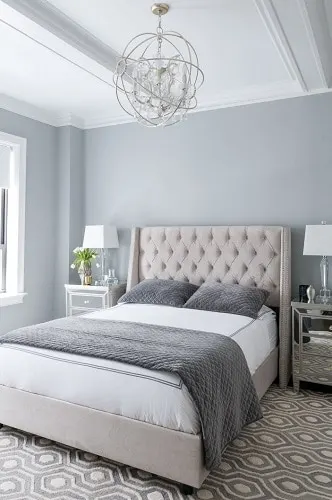 Coventry Gray is a gray that's sort of a chameleon. It's a mid-toned gray that can look cool in a lot of natural light, while in little natural light, it will pull warmer. Coventry gray is a beautiful gray paint color that has gained popularity over the years.
LRV 48.35
WAIT! Before you start painting make sure you have the best painting tools to make your job easier. It will take hours off your painting times!
Dark Benjamin Moore Gray Paint Colors
Chelsea Gray – Benjamin Moore HC-168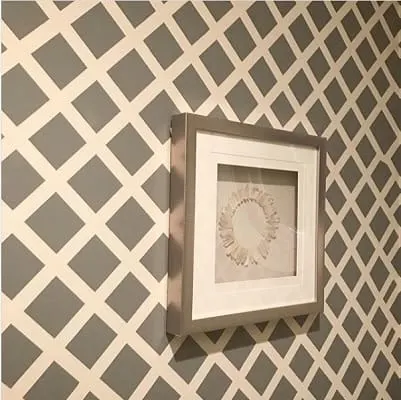 Chelsea Gray is a Benjamin Moore gray that is darker than most of the gray paint colors in this list. Chelsea Gray is neutral, so it doesn't pull too like or too cool. It is an excellent option if you are looking for a dark gray paint color. If you are looking to really make Chelsea Gray pop, try pairing it with BM Chantilly Lace.
LRV 22.16
Don't forget about your exterior!
Gray is a popular choice for not only the interior of your home but also the exterior of your home. Benjamin Moore's gray paint colors will complement most roof colors, as well as brick. Gray paint on doors, trim, or shutters provides the perfect balance to a home of any color.
READ MORE: 20 Awesome Benjamin Moore Exterior Paint Colors
There is an irrefutable sophistication to gray paint. You can pair it with almost any other color of paint, from rust orange to bright magenta, and it will provide you with an overall balance.
Equal parts stylish and sensible, a gray paint color is a design favorite.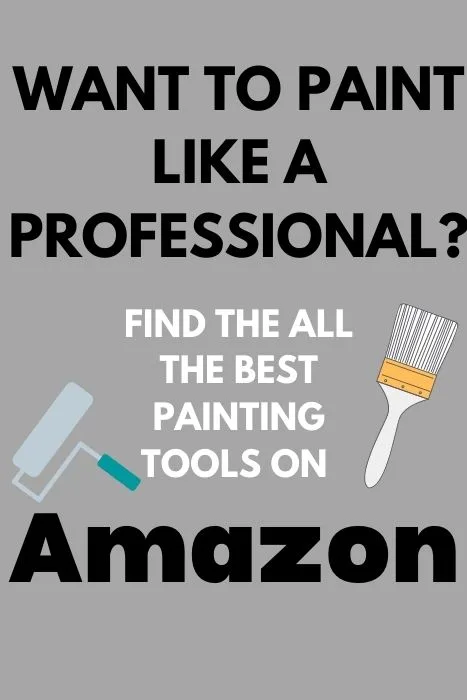 LOOKING FOR MORE COLOR INSPIRATION?
SUBSCRIBE TO MY EMAIL LIST AND GET A FREE COPY OF MY INTERIOR PAINTING CHECKLIST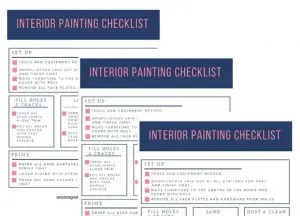 RECENT ARTICLES: