I may earn money or products from the companies mentioned in this post. Please click my Disclosure Policy to learn more
What are the most popular kitchen cabinet paint colors?
This is a question I see quite often. It's no surprise though, kitchen cabinets are a major part of a kitchen and you of course want them to look the best they can. I get it! I've been there.
Painting your outdated kitchen cabinets is a fantastic way to give them a new life. If they are in good shape, why not? Painting your cabinets is the best way to update your kitchen without taking on a full renovation.
So you know you want to paint your kitchen cabinets, but what paint color should you choose?
Who better to ask about the most popular kitchen cabinet paint colors than non-other than the cabinet painting experts? At WOW 1 Day Painting, we do paint our fair share of cabinets and I am going to share the most popular paint colors customers go for. However, I wanted to talk with someone who exclusively paints kitchen cabinets, a true expert in the matter.
I decided to reach out to the very talented, expert cabinet painter, Bethany from My Reclaimed Cottage to find out what paint colors are most popular among her clients.
As expected, white paint colors topped the list, however, there were a handful of non-white paint colors that also made it. It's a true mixed bag of paint colors.
Before I dive into the actual paint colors there are a few tips to remember when you are choosing a kitchen cabinet paint color.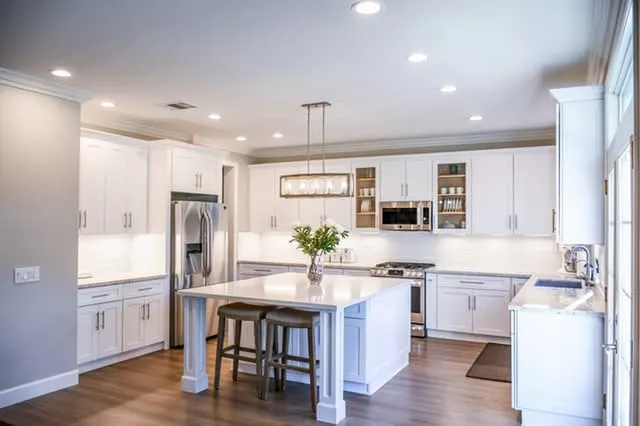 HOW TO CHOOSE THE BEST KITCHEN CABINET PAINT COLOR
So when you start thinking about a paint color make sure you take into account your walls, counters, backsplash, floor, and appliances. You want everything to be in balance and play nicely with one another.
Consider the following:
Cabinet style
Kitchen size
Decor style
Lighting – natural and artificial
Countertop color
Backsplash
Floor color
Appliances
Do your paint color research.
All that being said, it's a good idea to do some research before diving right in with a paint color for your kitchen cabinets. You want to make sure it's the best choice, and you'll enjoy it for years to come.
Here are some helpful tips:
Do a Google search for the paint color you are thinking about. You'll be able to find great articles and pictures of what the color looks like.
I have a ton of in-depth posts about all different paint colors. For example, a few of my most recent paint color posts were the ever so popular Sherwin Williams Agreeable Gray, Benjamin Moore Edgecomb Gray, BM Caldwell Green, and Benjamin Moore Balboa Mist.
Go to Pinterest. Just like Google, you'll be able to find several helpful pictures of the paint colors in question.
I am browsing and posting on Pinterest all the time. Check out my Pinterest page for some inspiration.
Talk to a professional. Sometimes, scheduling a color consultation and getting help from someone who knows about paint colors can be a tremendous help.
This is something I do all the time for clients. A lot of the time, people know what they want, but they just need a little help making the final decision.
Sure, painting your cabinets is much cheaper than replacing them, but if you choose the wrong color, you'll end up repainting them. Not only is this more time but it's also more money.
---
13 MOST POPULAR KITCHEN CABINET PAINT COLORS
Choosing a paint color for interior walls is undoubtedly difficult. We know it's no easy task. And choosing a paint color for kitchen cabinets is no different. No one wants to deal with the frustration and headache that can come from picking the wrong paint color.
Some of the most popular kitchen cabinet paint colors are whites and grays. But as of lately, some cabinet colors that have been trending are darker colors and blues.
So, today, I'm sharing with you the 13 best and most popular kitchen cabinet paint colors.
PURE WHITE SW 7005 SHERWIN WILLIAMS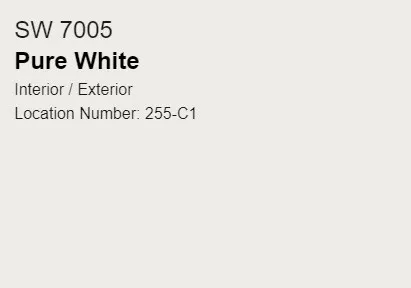 LRV 84
Sherwin Williams Pure White is such an all-around beautiful white paint color. What makes this particular white such a popular color for kitchen cabinets? It's because Pure White has, in my opinion, the absolute perfect balance of undertones. Some whites can have a loud blue or yellow undertone that pushes them to the warmer or cooler side. Whereas Pure White is right smack in the middle not leaning one way or the other. It's an amazing white kitchen cabinet color for sure.
ALABASTER SW 7008 SHERWIN WILLIAMS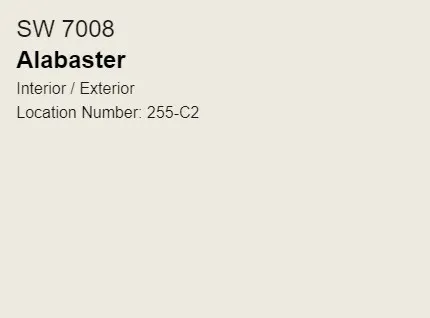 LRV 82
It's no surprise that Sherwin Williams Alabaster made it to the popular kitchen cabinet paint colors list. It's a fantastic off-white paint color. It's a great option for kitchen finishes that have some warm tones in them. Being that Alabaster isn't a stark white, rather it's more on the creamy side. It just works well.
REPOSE GRAY SW 7015 SHERWIN WILLIAMS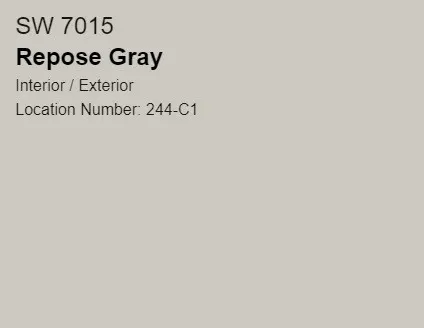 LRV 58
Surprise, surprise, Sherwin Williams Repose Gray made it to the popular list. Actually, no surprise at all! Repose Gray is my favorite gray paint color. I think it's the best Sherwin Williams gray paint color for kitchen cabinets. It works well on cabinets because it has some depth to it. Repose is not too light of a gray, it's just dark enough.
ALPACA SW 7022 SHERWIN WILLIAMS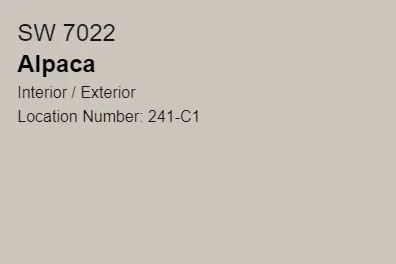 LRV 57
This one I was surprised about. Sherwin Williams Alpaca is a warm, greige/taupe paint color. It's warmer than Repose Gray. I think Alpaca is a popular kitchen cabinet paint color for the fact that it is a warmer taupe-ish color. Taupe paint colors work well with fixed elements like tile, with pink undertones. So the slight taupish feel of Alpaca makes it an extremely useful color for kitchen cabinets.
IRON ORE SW 7069 SHERWIN WILLIAMS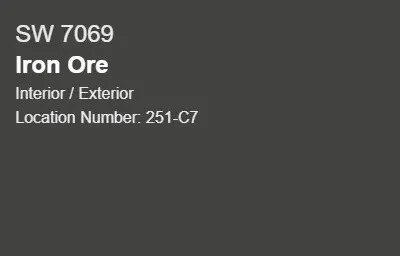 LRV 6
Dark kitchen cabinets are making a comeback. I'm seeing them everywhere. Need proof? Iron Ore from Sherwin Williams made the popular list. Iron Ore is such a requested cabinet color because it's dark and moody, yet it's not quite a black color like SW Tricorn Black.
PEPPERCORN SW 7674 SHERWIN WILLIAMS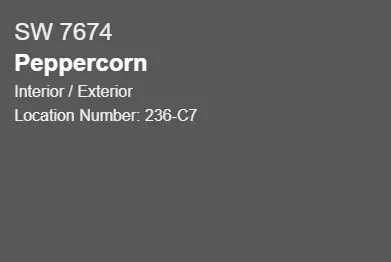 LRV 10
Sherwin Williams Peppercorn is a fantastic dark gray paint color. Just like Iron Ore, Peppercorn is a dark, bold gray however, it's a bit lighter and grayer. Peppercorn is a great option for kitchen cabinets.
NEED AN EASY WAY TO REMEMBER WHAT PAINT COLORS YOU USED IN YOUR HOME?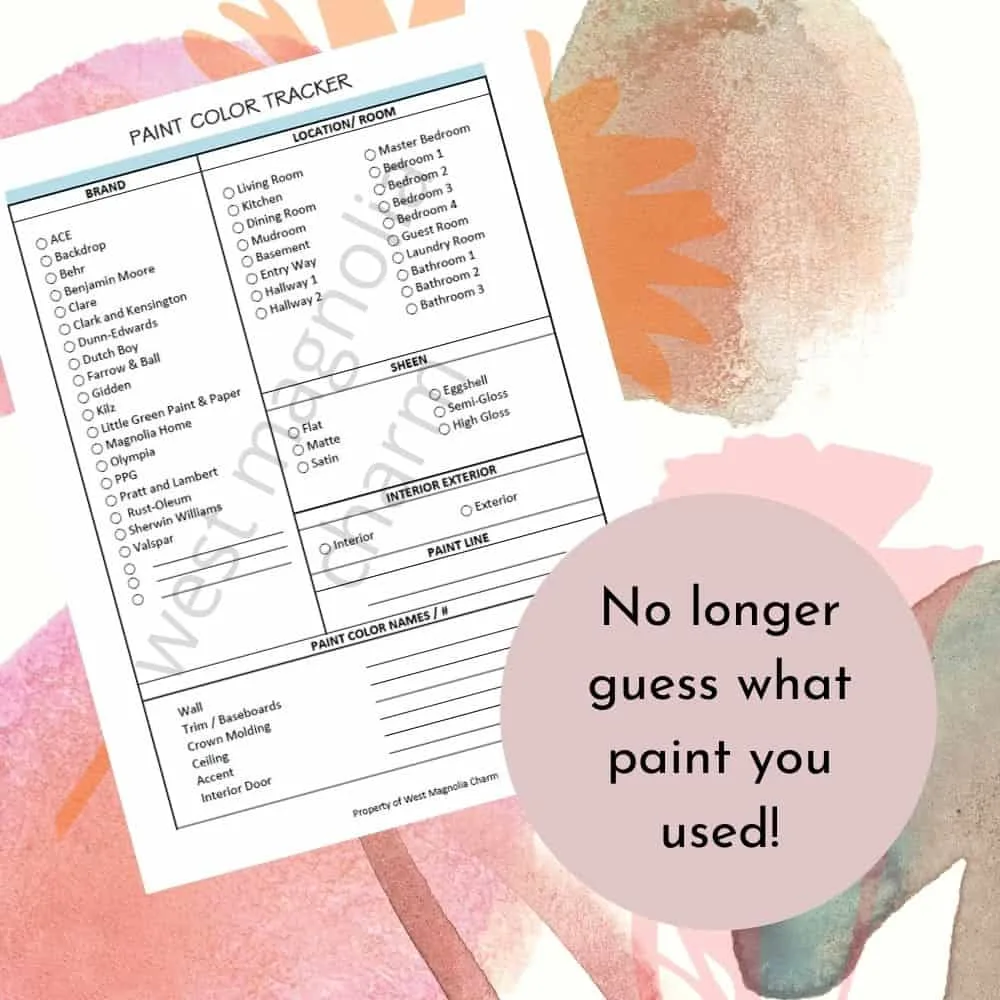 CHECK OUT THIS PRINTABLE PAINT COLOR TRACKER!
CHANTILLY LACE OC-65 BENJAMIN MOORE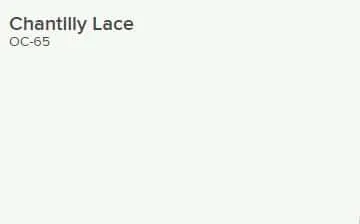 LRV 92.2
Chantilly Lace is the best Benjamin Moore white paint color for kitchen cabinets when you want a true white. There are no surprises with this gorgeous Benjamin Moore white. Chantilly Lace is a crisp and clean white. It's a favorite among designers and homeowners alike. It's no wonder it's one of the most popular cabinet colors.
WATER'S EDGE 1635 BENJAMIN MOORE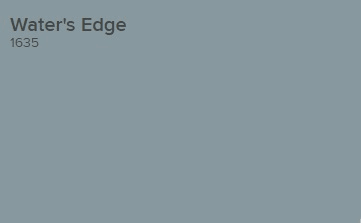 LRV 30.42. Also known as James River Gray AC-23
I am genuinely so happy to see Benjamin Moore Water's Edge make it to the popular list. Why do you ask? Because blue kitchen cabinets are so beautiful! They make a bold statement without being too bold. Water's Edge is the perfect blue-gray kitchen cabinet color. Blue-gray paint colors tend to be a bit more neutral than straight-up blues which makes them easier to use.
BLUE NOTE 2129-30 BENJAMIN MOORE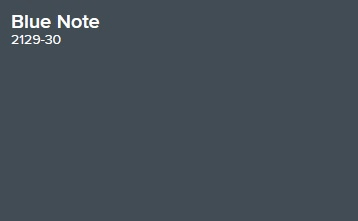 LRV 7.14
Blue Note by Benjamin Moore is another fantastic kitchen cabinet paint color. Not only is it a darker color, but it's also another blue on the popular list. This is a bold color that will make a statement in your kitchen. Whether you use Blue Note on all your cabinets or as an accent on your island, this color will truly shine. Try pairing it with brass cabinet pulls to complete the kitchen's look.
WHITE DOVE OC-17 BENJAMIN MOORE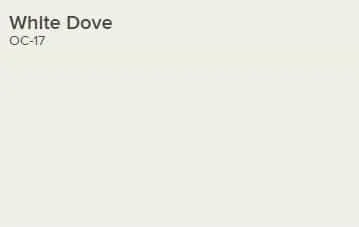 LRV 85.38
Yet another beautiful off-white paint color to add to the popular list. Benjamin Moore White Dove is truly one of the best white paint colors for kitchen cabinets. Like SW Alabaster, it's not a bright, stark white. There is a tiny bit of warmth to it that makes it easy to use with the fixed element in your kitchen.
DORIAN GRAY SW 7017 SHERWIN WILLIAMS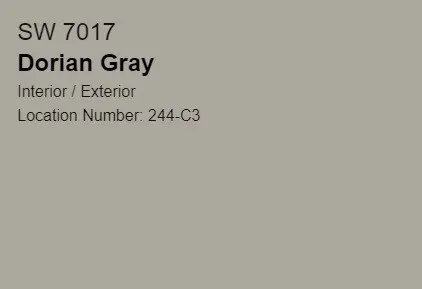 LRV 39
Are you still wondering if gray is a popular kitchen cabinet paint color? Wonder no more. It still is. Dorian Gray by Sherwin Williams is a darker, more mid-toned gray paint color. It works well on kitchen cabinets because it has greige undertones. The balance of undertones makes it effortless to pair with the fixed elements of a kitchen.
NAVAL SW 6244 SHERWIN WILLIAMS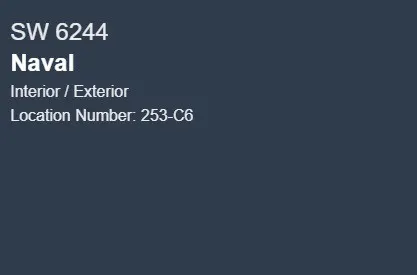 LRV 4
Not only is Sherwin Willaims Naval an overall fan favorite but it's also on the popular kitchen cabinet paint color list. Honestly, I knew Naval would make the list. It can be considered a navy blue but with a bit more saturation to it. In my experience, Naval is often used as an accent color, with a two-toned kitchen cabinet look or on an island.
SIMPLY WHITE 2143-70 BENJAMIN MOORE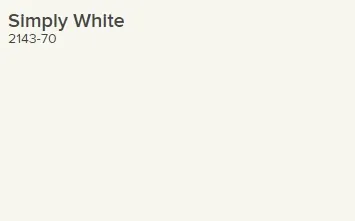 LRV 91.7
Guess white, I mean what? We have another popular white kitchen cabinet paint color on the list. You saw it coming, I did say that white paint colors topped the list. So, Benjamin Moore Simply White is a warm white with a touch of yellow in it. It's a great update option for kitchens that have warmer tones in them.
---
Let's take a quick break to talk about TESTING PAINT SAMPLES!
Quickly, let's talk about testing paint colors.
Instead of physically going to your nearest paint store to grab your samples, you need to try Samplize Peel & Stick paint samples.
Why should you try Samplize?
Super affordable
Mess-free
Non-damaging
Made with real manufacturer paint
Displays color just like a wall
Environmental friendly
Reusable
These peel & stick paint samples are super affordable and allow you to test a paint color in all different areas of a room without the mess of a traditional paint sample!
You know how I feel about testing paint colors, it's a must!
Don't create more work for yourself. Order Samplize now and have them shipped directly to you. No-fuss, no mess! Check them out for yourself, you won't be disappointed.
---
POPULAR KITCHEN CABINET PAINT COLORS RECAP
Some of the most popular paint colors on this list are what you would expect. But I do think that people are exploring different options other than white and the proof is on this list. There are dark as well as light gray. Then there are also different shades of blue. It's a well-rounded mix of colors and I believe they are all amazing paint color options for kitchen cabinets.
THE BEST SHERWIN WILLIAMS KITCHEN CABINET PAINT COLORS
PURE WHITE
ALABASTER
REPOSE GRAY
ALPACA
IRON ORE
PEPPERCORN
DORIAN GRAY
NAVAL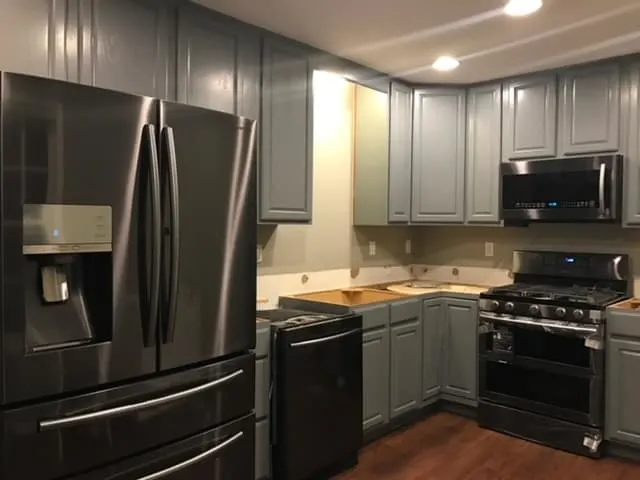 READ MORE: THE BEST SHERWIN WILLIAMS GRAY PAINT COLORS
THE BEST BENJAMIN MOORE KITCHEN CABINET PAINT COLORS
CHANTILLY LACE
WATER'S EDGE
BLUE NOTE
WHITE DOVE
SIMPLY WHITE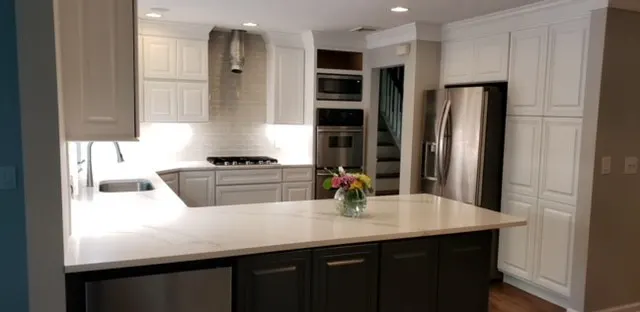 READ MORE: THE BEST BENJAMIN MOORE GRAY PAINT COLORS
---
Don't start painting until you have the right tools!

SHOP MUST HAVE PAINTING TOOLS
---
FINAL THOUGHTS – POPULAR KITCHEN CABINET PAINT COLORS
Painting your kitchen cabinets is a great way to update your kitchen. Paint can truly transform the space. Not only is it a more budget-friendly way to renovate your kitchen, but it's also a project you can DIY.
READ MORE: HOW TO PAINT KITCHEN CABINETS
When it comes to choosing a kitchen cabinet paint color, don't forget to take into account things like the lighting or design features in the room. You want to make sure the kitchen is well-balanced.
Don't forget to swatch the paint color you choose. If you read my paint color posts, you'll see I'm adamant about this.
Be prepared to swatch! Grab yourself some chippy brushes.
Swatching the paint colors will allow you to get a real feel of how they look once they are up on the cabinets.
Use Samplize Peel & Stick Paint Samples for a mess-free way to test paint colors!
Finally, take your time and go through the appropriate steps when choosing the perfect cabinet color. Using this advice will save you time, money, and aggravation in the long run.
---
SUBSCRIBE TO MY EMAIL LIST AND GET A FREE COPY OF MY INTERIOR PAINTING CHECKLIST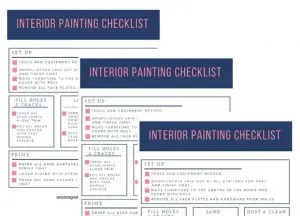 ---
YOU MAY ALSO BE INTERESTED IN: