I may earn money or products from the companies mentioned in this post. Please click my Disclosure Policy to learn more
Last Updated on
Today I am sharing 10 kitchen update ideas you can do to your kitchen without getting involved in a full scale renovation. . Sometimes your kitchen just needs a little update to get it into tip top shape.
We all know kitchen renovations are expensive. Even if you haven't personally been through one, you've seen them on HGTV show like Flip or Flop and Fixer Upper. Every time they mention  the kitchen renovation budget, it's never less then $15000. However I feel like depending on how in depth the renovation really is, most full scale projects can be $30,000 or more. Yikes!
Not only is money a factor when it comes to taking on a kitchen update but, the time it takes to do all these updates is another key component.  For most people they don't have the luxury to move out of their house while a renovation is being completed. So with that being said the time line they are working with is usually tight. Can you imagine trying to renovate a kitchen with a full house? That seems like it what just add to the stress of an already stressful renovation situation. 
A full kitchen renovation requires more then time and money . It also requires  great amount of planning to make sure the  vision of your dream kitchen is achieved.  In the meantime, there a few things you can do to update your kitchen while you are saving and planning for your future full scale renovation.  
10 Kitchen Update Ideas to Transform Your Kitchen
Kitchen Update 1. Updating your kitchen cabinet doors 
Updating your kitchen cabinet doors is not the most inexpensive fix you can do. However, if you aren't in need of a full scale kitchen renovation updating your doors can make a big impact on your kitchens look as well as it's style. 
When I first moved into my home I knew there were kitchen updates I wanted to tackle. Fortunately, the kitchen had good bones and a workable layout. The one thing I couldn't get passed though were the cabinet doors. They were a traditional style, box store, builder grade cabinet.  Knowing replacing the entire set of cabinets was out of the question, merely updating the doors would make a world of a difference. I choose an unfinished  shaker front style and painted them all white. Choosing the unfinished door not only saved money, it also let me personalize the doors to the color I wanted. 
Kitchen Update 2. Painting your cabinets.
To piggyback off of the first kitchen update, painting your cabinets is one of the easiest ways to make an impactful- budget friendly, change to your kitchen. 
For the DIYers it's the cost of a can of paint and maybe a pizza to bribe a friend or 2 to help. For the non DIYers. you can hire a reputable company like WOW 1 Day Painting to come and tackle the job for you, quickly and professionally. It's amazing how paint can change the look of your entire kitchen.
Like I mentioned before, I painted my cabinet doors white. But the color possibilities are endless when using paint to update your cabinets, you can basically chose any color you desire.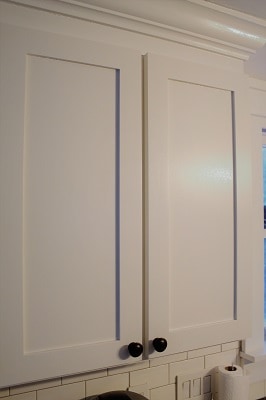 Just recently I helped my sister with her kitchen update. We painted her lower cabinets  Blue Peacock  Sherwin Williams, which is a gorgeous , statement making teal color. To compliment the lower cabinets, for the uppers we went with Olympus White by Sherwin Williams, a very light, almost white gray. I'm telling you, it transformed the kitchen.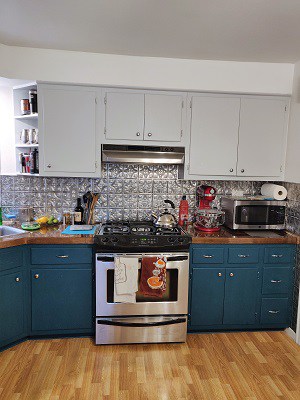 Kitchen Update 3. Updating your cabinet hardware.
One of the quickest and easiest kitchen updates you can do is updating the hardware on your cabinets. Now is this going to transform your kitchen? Not necessarily but, it will update it enough to give your kitchen a fresh look. 
I opted for matte black finish hardware to continue my kitchen update.  Build.com has a number of beautiful options in every price range. From traditional to modern, the options are endless.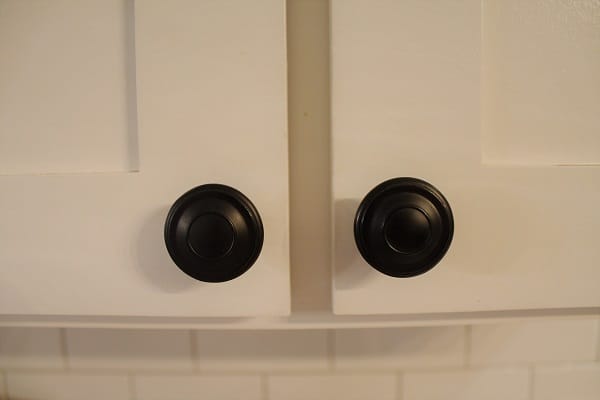 Of course Amazon is an excellent option for affordable hardware as well. They also sell this handy mounting template to ensure your are mounting all your hardware in the right spot.
Kitchen Update 4. Switching out your faucet.
Switching out your current kitchen faucet for a new and improved one is another fantastic kitchen update that is both functional and visual. 
Just by simply updating your faucet, your kitchen will automatically feel newer.  This along with some of the other smaller options are a great starting point for your kitchen update.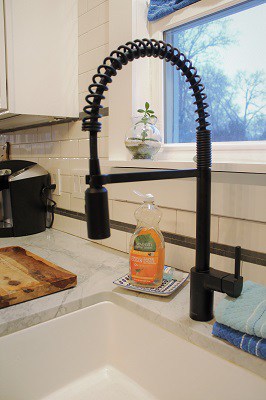 Kitchen Update 5. Changing out old light fixtures.
Swapping out those old out dated light fixtures is another inexpensive kitchen update that is both easy and impactful. Getting your lighting right is a guaranteed way to help your kitchen along in the update process. 
Sometimes it could be the size of the light fixtures that make the impact, which happened to be my case. The pendant light fixtures that came with the house were extremely too small for the space. Simply swapping them out for a more size appropriate pendants made a world of a difference.
Kitchen Update 6. Create an accent wall.
Creating an accent wall is a fun way to put your creative touch in your kitchen update. An accent wall can be as simple as painting it a different color to installing shiplap. Check out how I created my own shiplap here.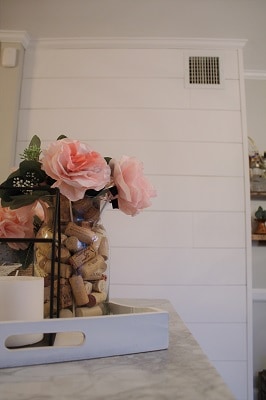 This is a great time to put your creativity to work, especially if you are working within a budget. Stenciling, wallpaper and even faux brick are other ways to add something unexpected in your kitchen. 
Kitchen Update 7. Updating your backslash
Changing your backsplash is a kitchen update that will definitely make an impact. Depending upon what your current backsplash situation is,  this can range in price
If you do not currently have any backsplash, one inexpensive way to make an update is using a fun stencil like this one. This will give you the look of an elaborate tile without the cost.
You can also opt to install a tile of your choice. With tile being available in all different price ranges, it will be easy to find one you love. 
Find your tile here
.
Have an existing tile? Consider painting it.  Not into painting your tile? Think about installing tin tiles
like these tin tiles
over the existing backsplash. They are mid-range in relation to cost but they are extremely easy to install   This is how my sister updated her backsplash and what a statement it made!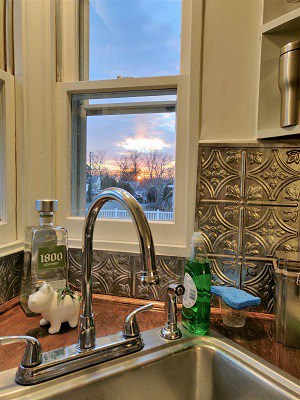 Kitchen Update 8. Appliance updates
If you love everything about your kitchen except the appliances than this is the perfect kitchen update for your. Is it a cheap update? No,not quiet. But if it's the only update needed you are still saving in comparison to a full scale kitchen renovation.  
Buying appliances in a package deal is a fantastic way to coordinate your look as well as save money. 
Sometimes it's not the big appliances that need the update. Smaller appliances make a difference too. Consider treating yourself to a fun colored KitchenAid mixer to add a pop of color. Find more KitchenAid mixer colors here
Kitchen Update 9. Updating your sink.
Updating your kitchen sink will not only be beautiful but it will also be functional. 
When I updated my kitchen i opted to go with a white farmhouse sink. Not only was it the style that drew me in, but the functionality of it as well.  Sure it's fun to have a "pretty" kitchen, but additionally, it needs to be a working kitchen too. Consider
this show-stopping farmhouse sink
to really add some wow to your kitchen.
Kitchen update 10. Countertop update.
The last, but certainly not the least kitchen update- countertops. You may think that the only way to update your counters is to completely replace them. This isn't true. If you have laminate and aren't a fan of the color, paint them. Rust-Oleum  makes this Specialty Light Base Satin Countertop Resurfacing Kit that you can find at Lowes. There is also the Giani Countertop Paint Kit that is very highly rated on Amazon.
Another countertop option for your kitchen update is butcher block. It's less expensive than granite or stone and it will still make an impact on your kitchen. Ikea has great butcher block options.
Like I mentioned earlier, I helped  my sister update her kitchen. Being on a budget we had to get creative for her countertops. Originally the kitchen had a tiled top, so painting it was out and the butcher block was a little over budget.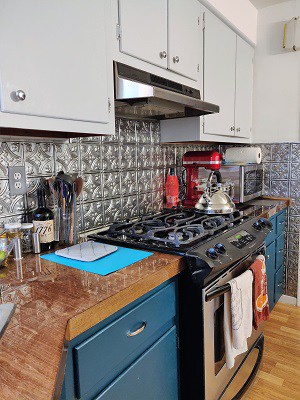 We decided to make our own bar style counters out of plywood and this Epoxy Resin Coating.  They came out amazing and were budget friendly. Win, Win.
If you do have the budget for a stone countertop It will most certainly make an immense impact on your kitchen.
Before you start demoing your entire kitchen , stop and really evaluate what your wants and needs are for the kitchen. Not all kitchens need to be fully renovated. Using these kitchen update ideas will save you time, money and aggravation in the long run.
Get Full Access to my Freebies Library!