I may earn money or products from the companies mentioned in this post. Please click my Disclosure Policy to learn more
Last Updated on
Riveryway by Sherwin Williams is the perfect blue almost teal paint color. More subtle than a true teal, Riverway is lighter with a softer appearance. 
Let me talk about my favorite colors. Teal and Turquoise. I have loved these shades of blue for as long as I can remember. Sure I loved purple when I was a young gal. But I have since then, moved on to my big girl favorite colors. 
So back to the colors. I want everything in my life to be teal and turquoise. It was one of my wedding colors, I  used this gorgeous damask wallpaper in my first home, and I try to paint all the furniture I save one of these colors. As you can tell, my love is strong.
Since I'm only a tiny bit obsessed with these colors I figured I'd share the perfect blue/teal paint color I have found. 
Riverway by Sherwin Williams.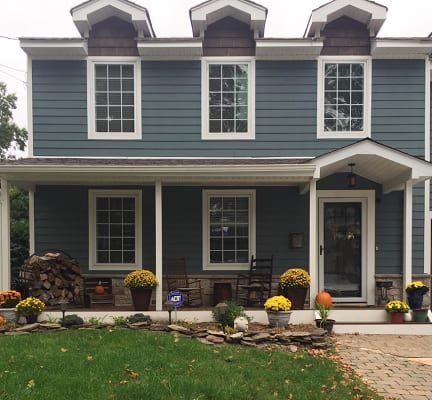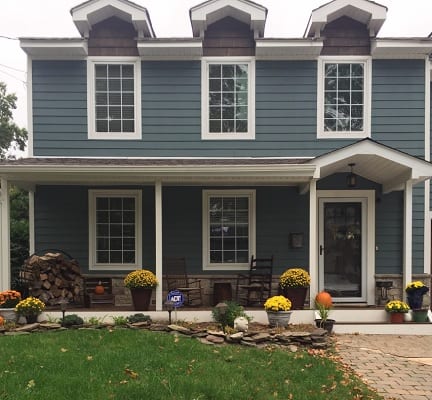 I picked all different paint color options: Grays, Blues, Whites, just to see what would work best for the house. Your favorite color can be lime green, but is that really the best fit for a home? Maybe if you were living on a  tropical island, but not in the suburbs of good old New Jersey.
Basically, a shade of blue or a gray was going to be the best fit for our home. We picked three shades, Riverway being one of them, and painted them on the front of the house (in massive switches of course).
The swatches stayed on the house for longer then I'd like to admit. I'm indecisive, remember? Also, We received some helpful feedback from many of our neighbors, which is a good thing because they all would be looking at the paint colors too. Luckily, Riverway was the favorite of almost everyone. 
 In the end, Riverway was the teal paint color that was chosen winner. The grays seems too boring and I really wanted something a little different. I'd being lying if I said I wasn't repeating to myself, What Would Joanna Gaines Do. WWJGD 
The teal paint color looks awesome on the house. It's funny though, sometimes it looks real teal and others it's looks so blue. Amazing how lighting affects paint colors right?
Facts on the perfect teal paint color, Riverway by Sherwin Williams.
Lets's start with the basics.
SW Riverway RGB color values are R93, G114, B116. 
RGB (red, green, and blue) refers to a system for representing the colors to be used on a computer display. Red, green, and blue can be combined in various proportions to obtain any color in the visible spectrum. Levels of R, G, and B can each range from 0 to 100 percent of full intensity. Each level is represented by the range of decimal numbers from 0 to 255 (256 levels for each color), equivalent to the range of binary numbers from 00000000 to 11111111, or hexadecimal 00 to FF. The total number of available colors is 256 x 256 x 256, or 16,777,216 possible colors. 
To sum that up, the higher the number the lighter the color will be and the more of one of the RGB elements will sway what the end color is. 
SW Riverway has a LRV of 16. 
The LRV ( light reflectance value), meaning the amount of light the paint color either absorbs or reflects. So the higher on the scale the more light it reflective the paint color will be.
As you can see SW Riverway is low on the LRV scale ,so this bad boy isn't reflecting too much light. This really isn't much of a concern for the exterior though.
Look at me being one step ahead of the game.
It's also featured in the Sherwin Williams color collections 2015 Voyage and Neutral Nuance.
Where to use this perfect teal paint color, SW Riverway
Everywhere. OK, maybe not everywhere but just about. 
As you can see, SW Riverway is the perfect home exterior paint color. It's not terribly dark, yet it's definitely not light, I think it falls right smack in the middle on the color scale. 
Use SW Riverway, your perfect paint color, as your interior door paint colors as well, for a little something unexpected. 
Try this teal paint color on an accent wall. With SW Riverway having an LRV of 16, it will not be reflecting much light. Using it in a full room may be too dark and heavy for some rooms. However, as an accent wall, you can keep the majority of the room light and airy with a lighter gray complementary color.
If you are feeling bold and have a larger room with a lot of natural light, I say paint the whole room SW Riverway. It's such a gorgeous teal paint color that will really have your guest talking.
Feeling bold? Use SW Riverway on your kitchen cabinets. If you are one who loves the teal colored cabinet look, but don't want the color to be too powerful, then SW Riverway is the teal paint color for you.  The subtle teal-ness this color has makes it pack a punch, just not in the face. 
SW Riverways Coordinating Colors
I'm sure you already know what I'm going to say about SW Riverway. Eh, it's ok. J/K It's perfect and I love it!  (I've been watching a lot of Parks and Rec and in my head, I said that like Leslie Knope. Also, if you don't watch that show stop what you are doing and go binge watch on Netflix!)
If you love the color teal, you will not be disappointed with SW Riverway. This teal paint color gets the teal point across, without being too bright and bold. I cannot say enough good about it and I highly recommend it if you are in the market for a beautiful teal paint color!
Finally, as I say in all my paint color posts, make sure you swatch the paint colors you are thinking about using. The colors you see on the computer look differently than a swatch on your home.  So choose a few colors you want to try and swatch those babies. LARGE swatches too! 
Check out my review on Samplize, it's an easier, mess-free way to swatch!
Trust me choosing the wrong paint color is an expensive mistake you do not want to make.
Don't start painting until you have the right tools! 
Looking for More Color Inspiration?
Before you go, Grab your FREE Interior Painting Checklist!