I may earn money or products from the companies mentioned in this post. Please click my Disclosure Policy to learn more
Sherwin Williams Dovetail SW 7018 is the perfect mid-tone / day gray paint color. It's elegant yet also has a masculine feel. It's the perfect gray paint color for anything from kitchen cabinets to the exterior of your home.
Welcome back everybody, and if you are new here hello, I'm so happy to have you. You are obviously here because you are interested in learning about the paint color I'm reviewing. And I don't blame you because this color, it's chefs kiss.
I'll admit I've probably should have done a review on this paint color a while ago because is kind of perfect, but I got distracted with other paint colors.
Anyway, I rediscovered this color when I had to paint a door in my house and when my mom asked for a dark gray paint color for her kitchen cabinets.
I realized that this color is truly the perfect dark gray paint color.
The one the only……
Sherwin Williams Dovetail SW 7018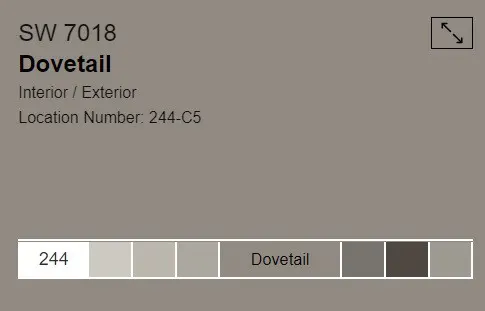 I'm really excited to get into this one so let's just jump right into it.
STATS
LRV:26
HUE FAMILY – YELLOW
COLOR COLLECTIONS: High Voltage, Cool Neutrals, Top 50 Colors
Being that it is a darker color, Dovetail has a low LRV of 26. So you can expect it to absorb more light than it reflects. By the way, if you are wondering what LRV is, I'll clarify what that means.
LRV or Light Reflectance Value is a measurement commonly used by design professionals. It measures the amount of light reflected from and absorbed by a surface. LRVs range from 0 -100, with 100 being pure white and 0 being absolute black. A great article to read to learn more about LRV is Light Reflectance Value: What Do Those Numbers Mean?
Dovetail comes from the yellow hue family, Knowing the hue family of a paint color is beneficial in understanding the color better. This is especially useful with near-neutral paint colors such as Dovetail. However, it is nevertheless a valuable piece of knowledge when deciding on a color.
WHAT COLOR IS SHERWIN WILLIAMS DOVETAIL?
Sherwin Williams Dovetail is a mid to dark-toned gray paint color. It is a dark slightly masculine color that also has a softness to it. There is a sophistication to the color that makes it quite appealing and unique.
Don't start painting until you have the right tools!

SHOP MUST HAVE PAINTING TOOLS
IS DOVETAIL GRAY?
Yes, Dovetail is a gray paint color. There is no denying that. But depending on the lighting, fixed elements, and decor in your home, it has the potential to look more like a warmer or cooler gray. It's all relative to what is going on around it.
LIKE GRAY PAINT COLORS? TRY THESE:
IS IT A WARM OR COOL PAINT COLOR?
SW Dovetail is described as a warm greige paint color.
When you are trying to figure out whether a paint color is warm or cool, I find comparing it to another color will allow you to see the tone better.
That being said, depending on what color you compare Dovetail to, it potentially can look cooler or warmer in tone.
For instance, let's place SW Dovetail side by side with Sherwin Williams Ellie Gray. You can see that Ellie Gray is the cooler of the two paint colors.
READ MORE: THE BEST SW GRAYS
While comparing colors is truly helpful, It is best to know the conditions of the place you are painting. Meaning, if you have a North-facing room, Dovetail may potentially come off cooler-toned. This is because North facing light is blueish.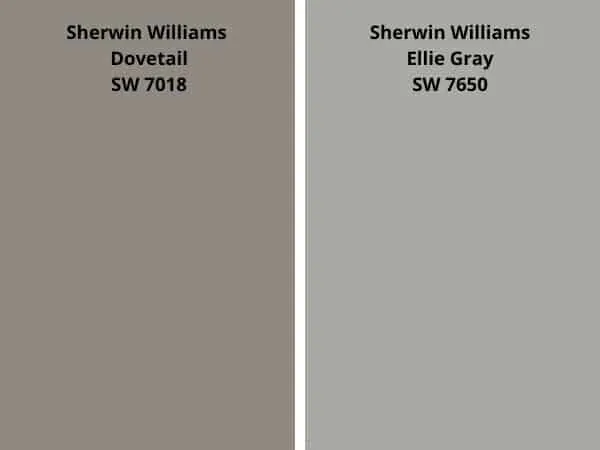 My suggestion is to sample the color in your room so you can accurately see how the color will act.
WHAT UNDERTONES DOES DOVETAIL HAVE?
Dovetail has a gray undertone, but the top tone is brown, so it reads as a warm color.
Keep in mind, though, that undertones are merely perspectives. So, if you have an imbalanced lighting situation, you may see Dovetail look more like a brown-gray. But if you have daylight/lighting which is rather evenly balanced in all lightwaves, it will appear just as a warm greige.
I consistently suggest sampling a paint color in the room you plan on using it. That is the only way to see how the light will affect the color.
Learn how to properly swatch your paint colors by using the paint sampling worksheet. It shows you the steps to take to properly sample your paint colors.
Follow these helpful painting tips and avoid these mistakes to get the job done right!
WHAT IS THE BEST TRIM COLOR FOR SW DOVETAIL?
Dovetail looks absolutely fantastic with a classic white trim color. A bright white like SW Extra White is the perfect option if you are looking for a clean, crisp look. Or you can use a color like BM White Dove or SW Alabaster to add a touch of warmth. Either way, it looks beautiful.
READ MORE: THE BEST WHITE PAINT COLORS FOR TRIM
Don't think white is the only option for trim. You can also go with a monochromatic look and use Dovetail on both walls and trim. You can slightly change the look of the trim by choosing a different sheen or finish. By doing so, you will get a slight variation between the two.
Dovetail is also a paint color that looks absolutely beautiful with light wood trim.
DOVETAIL AND LIGHTING
Lighting is unquestionably a contributing factor in how paint colors will look in your home.
It plays a large role in how you will perceive a color. For this reason, it's a good idea to be familiar with the lighting situation of the room you are choosing the right paint color for.
For reference, here is how light appears in different directions
NORTH-FACING ROOMS – Light in North-facing rooms comes off cooler and somewhat bluish. Lighter colors will appear more muted, while bolder colors will show up, or appear sounder.
SOUTH-FACING ROOMS – In South-facing rooms, there tends to be a consistently bright light throughout the day. Warm and cool tones work with south-facing light, This light intensifies colors, so darker colors will seem a bit brighter while softer colors will appear to look like they are gleaming.
EAST-FACING ROOMS – East-facing rooms have the brightest light in the mornings, with a yellow-orange tone. If an east-facing room will be used mostly in the evenings, going with a warm palette will help balance the lack of natural light.
WEST-FACING ROOMS – Early evening is when West-facing rooms have the most favorable light. Warmer tones might seem overwhelming because of the red-orange the light gives off. However, if the main use for the room is in the mornings, the colors won't appear as strong as they would in the evening.
WHAT ARE THE BEST LIGHT BULBS TO USE?
All lighting affects your paint color regardless of whether it is natural or artificial. But with artificial lighting, it can somewhat be doctored and that's with the color of the light bulb you use.
The color of the light bulbs you use will influence how a paint color will look in a room. And unfortunately, it's an important detail that is often overlooked.
With the variety of light bulbs available and it can become overwhelmingly confusing. I mean what really soft white and bright white?
Thankfully, it becomes easier once you know a little bit about light bulbs.
For reference, light color or light appearance is measured on the Kelvin (K)temperature scale. Lower Kelvin numbers mean more yellow light; the higher the Kelvin number the whiter or bluer light.
Remember, lower Kelvin (K) numbers = yellow light, Higher Kelvin (K) numbers = white/blueish light
I always recommend using this type of light bulb.

Be cautious of the light bulb names such as "daylight" or warm light". I'd advise against picking a light bulb by its name.
Instead, always check the package for actual facts. This allows you to choose the best bulb for you.
Don't forget, as much as lighting plays a major part in how a paint color will look at times. There are other determinants to be aware of. For instance, decor, furniture, fixtures, cabinetry, and floors. These are all elements that can affect and/or influence the way a paint color will look in your room.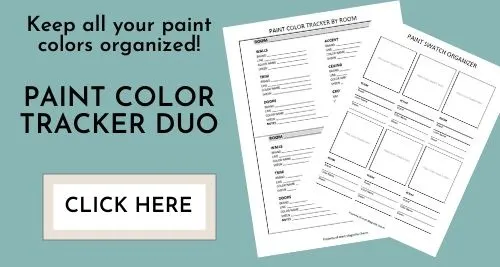 USE IT IN DIFFERENT SHEENS
Another way to use Sherwin Williams Dovetail is to use it in various sheens. Here's an example.
Let's say you decided to paint your kitchen cabinets with a satin finish. You can then use a flat finish on the walls.
By varying the sheen or finish, the color will look different. Using a higher sheen, like gloss, will reflect more light, making it appear lighter, and a lower sheen, like flat, will do the opposite.
WHERE TO USE BENJAMIN MOORE DOVETAIL?
You can certainly use Dovetail just about anywhere. It is a neutral gray paint color. Need I say more? Honestly, though, it is a versatile warm gray that works well in many different applications.
Kitchen Cabinets
Doors
Shiplap
Bedrooms
Bathrooms
Exteriors
Living Rooms
DOORS
If you want to spice up the interior doors in your home, try painting them Dovetail. That's exactly what I did, and I have zero regrets. This dark gray is the perfect complement to my wall color, which is Repose Gray.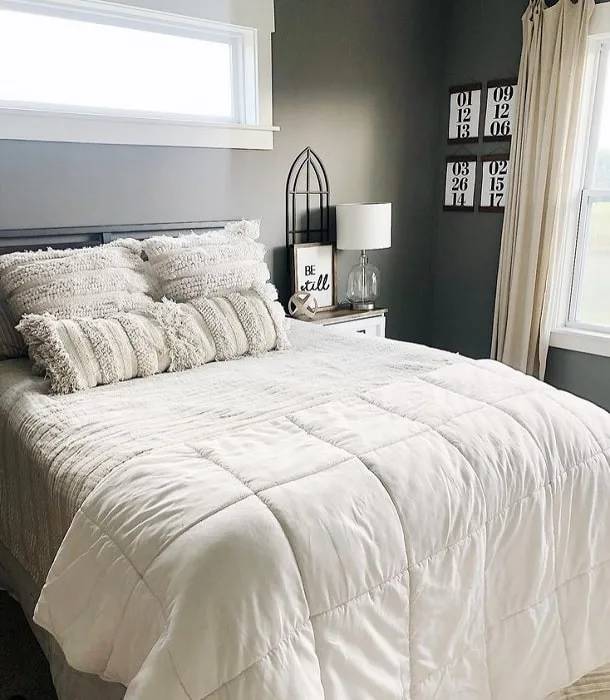 BEDROOM WALLS
Bedroom walls are a great place to use Dovetail. This color will create a warm and cozy space.
Amanda @west_and_co on Instagram painted her bedroom walls with Dovetail and it looks amazing.
IS DOVETAIL SW 7018 A GOOD EXTERIOR PAINT COLOR?
Yes, It is 100% a good paint color to use on the exterior of your home. The reason is that it has a good amount of depth to it to hold up to direct sunlight. Paint colors used on the exterior tend to look lighter in the sunlight so Dovetail is a great shade to combat that.
DOES DOVETAIL SW 7018 LOOK GOOD WITH RED BRICK?
Absolutely! Dovetail looks great with red brick. Since it has that warmth in it, it works well with the warm tones of red brick. Additionally, pair it with Tricorn Black shutters to complete the look.
---
Find a Little More Exterior Paint Color Inspiration:
---
WHAT IS THE BEST WAY TO SAMPLE SHERWIN WILLIAMS DOVETAIL?
I know I sound like a broken record but testing paint samples is the only true way to see how a paint color will act in your home. That is why you absolutely must sample your paint colors!
Although you may think it is a pain to do, there is a much simpler way to sample paint colors.
Instead of physically going to your nearest paint store to grab your samples, you need to try Samplize Peel & Stick paint samples.
Why should you try Samplize?
Super affordable
Mess-free
Non-damaging
Made with real manufacturer paint
Displays color just like a wall
Environmental friendly
Reusable
These peel & stick paint samples are super affordable and allow you to test a paint color in all different areas of a room without the mess of a traditional paint sample!
You know how I feel about testing paint colors. It's a must!
Don't create more work for yourself. Order Samplize now and have them shipped directly to you. No fuss, no mess! Check them out for yourself. You won't be disappointed.
Get $5 off your first Samplize order using the code "FIRSTFIVE"
BENJAMIN MOORE EQUIVALENT TO SHERWIN WILLIAMS DOVETAIL
There are times or situations when you may not be able to access a certain paint brand. This can be due to multiple reasons, brand loyalty, your painter only using one type or you just don't live near one or the other. These reasons are why people often ask about paint color equivalents.
As for the Benjamin Moore equivalent to Sherwin Williams Dovetail, there is one color I found to be somewhat similar.
CC-546 METROPOLIS – Benjamin Moore Designer Classics –TRY IT
Are they the same? No. But they have similar specs and if you like the one you may like the other.
If you were considering color matching a paint color, I firmly advise you to purchase a sample of the mixed Benjamin Moore formula before moving forward.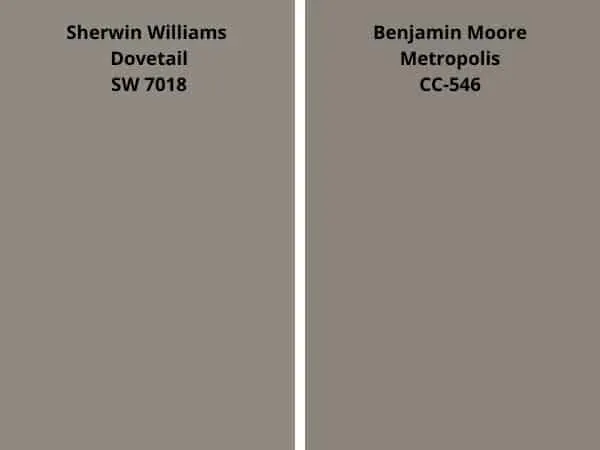 Often when you attempt to color match between paint manufacturers, the colors don't match. This is because each brand uses different formulas to create its paint colors.
My advice here is to find a color within the brand itself that you like.
During my search for a similar Benjamin Moore color, I stumbled across MAG141 BEFORE & AFTER – Kilz Magnolia Home. It is very similar to Dovetail.
DOVETAIL COLOR STRIP
In my eyes, Dovetail lives among one of the best color strips in the Sherwin Williams paint deck. It has every gray you could possibly need not to mention my absolute favorite Repose gray. But I do believe these colors have a healthy mix of warm and cool to them.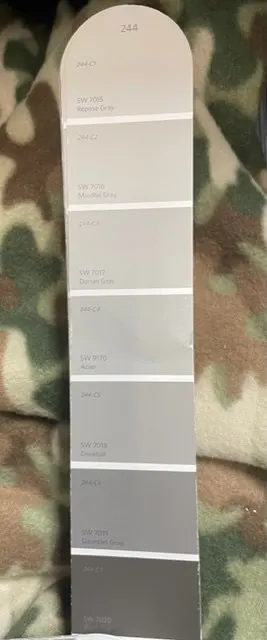 ACIER
DOVETAIL
GAUNTLET GRAY
BLACK FOX
WHAT COLORS GO WITH DOVETAIL?
There are tons of colors that will work with Dovetail. I mean it is a dark neutral gray. But a few that come to mind are as follows:
REPOSE GRAY
SERIOUS GRAY
MINDFUL GRAY
SKYLINE STEEL
INKY BLUE
JASPER STONE
DOVETAIL VS GAUNTLET GRAY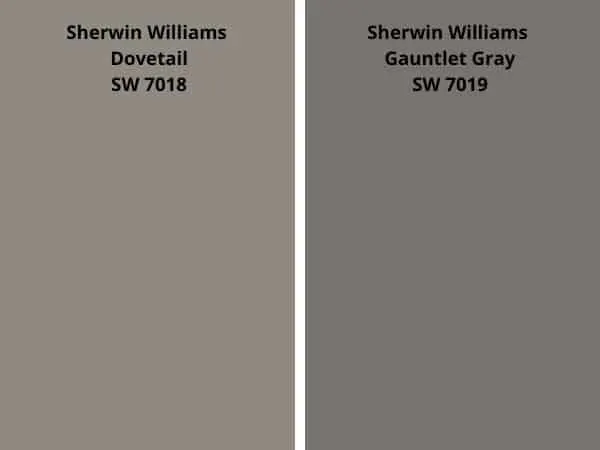 Gauntlet Gray is on the same color strip in the SW paint deck
Gauntlet Gray is darker than Dovetail and has an LRV of
Both colors are from the yellow hue family
Gauntlet Gray has more of the Charcoal color look and feel to it
Dovetail is the warmer color of the two
DOVETAIL VS BM CHELSEA GRAY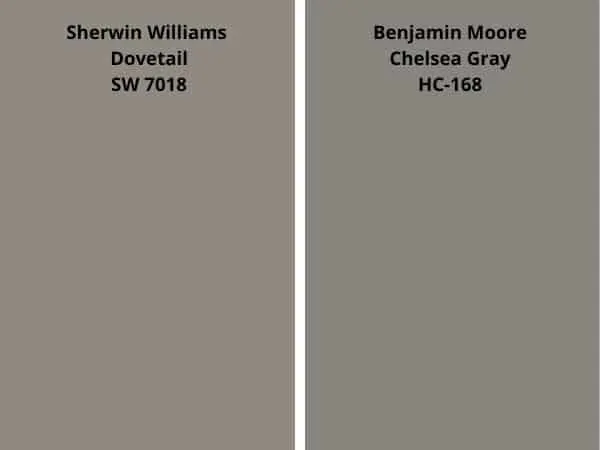 BM Chelsea Gray has a similar LRV at 22.16
Chelsea Grays Hue family is yellow but leaning towards green-yellow
Dovetail is a tiny bit lighter than Chelsea Gray
Chelsea Gray is almost a charcoal gray while Dovetail can have a greige feel to it
SW DORIAN GRAY VS DOVETAIL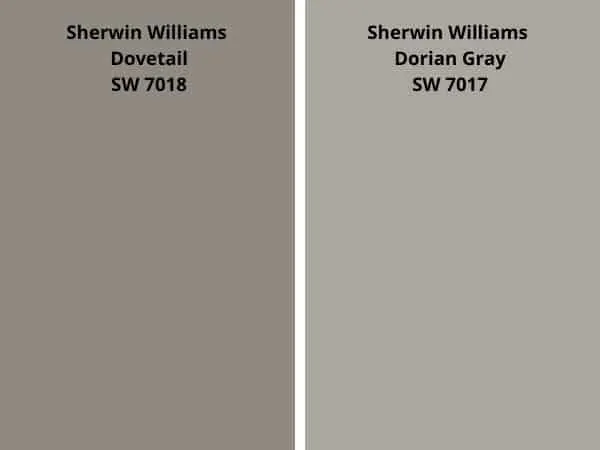 Dorian Gray is from the yellow hue family same as Dovetail
Dorian Gray is the lighter color with an LRV of 39
Both colors are on the same color strip in the SW paint deck
These colors complement each other nicely
Both colors are also on Sherwin Williams Top 50 Colors.
ACIER VS DOVETAIL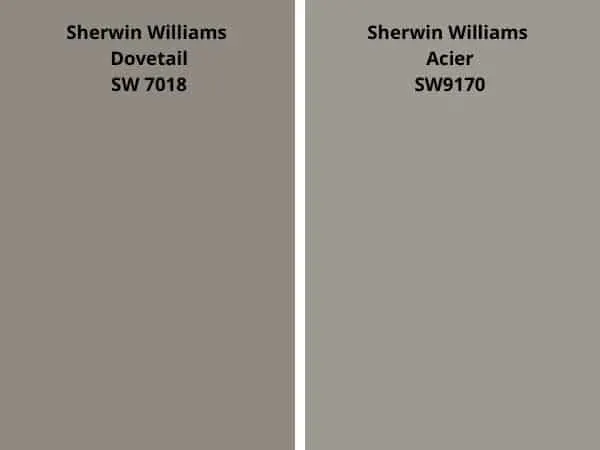 Acier is from the Yellow hue family
Acier is the lighter paint color and has an LRV of 32
Dovetail has a tiny bit more saturation to it
Acier is the cooler color of the two.
RECAP
I just threw a ton of information at you. So let me give you a brief overview or recap of Sherwin Williams Dovetail
it is from the yellow hue family
has an LRV of 26
is considered a warm gray/greige paint color
is a darker gray
has undertones of brown
it's on Sherwin Williams Top 50 Colors List
it has a good amount of depth which makes it a great exterior paint color
works well will many other colors
looks fantastic with a bright white trim
it lives on one of the best Sherwin Williams color strips in the paint deck (in my opinion)
has a masculine feel to it yet it is still elegant and sophisticated
FINAL THOUGHTS
I think Dovetail is an incredible dark gray paint color. It's sophisticated and has a sort of refined elegance all the while having a slightly masculine feel to it. It's versatile which makes for a beautiful backdrop in any space.
Don't be afraid of darker colors. If you have a room with little to no natural light and no views, a light paint color will never bring the room to life.
Instead of a light paint color try a darker and somewhat moody color like Dovetail. Then add texture to the space with your decor for example. throw pillows, rugs, and blankets. Doing this will create a warm inviting space.
Of course, Dovetail won't be the perfect gray paint color for everyone. However, if you think it may be a color that will work in your home and want to see it it will perform, I say go for it and grab a sample.
You must sample this (and every) paint color to see if it will work in your home. I know you are probably 100% over me saying this but it's the honest truth.
Never take someone's word as to how a color will perform on your walls. They don't live in your home, with your lighting and decor. You need to see it with your own eyes and sampling is the only way to do so.
Across the board, I really do enjoy Dovetail. I surely wouldn't have painted all the interior doors in my home if I wasn't a fan.
It's a great dark gray paint color option and it's worth checking out.
Are you planning on tackling a painting project on your own? Use these tips to help you paint your room like a pro.
Do you want to paint like a pro?
Get the painting tools the pros use.
Drop cloths are a must for any painting project. Paint is messy! Save yourself the hassle of unnecessary cleanup by using drop cloths. You'll be happy you did.
A high-quality paint brush will go a long way. The same goes for paint rollers. You want to use tools that will work with you, making your painting job more manageable.
SUBSCRIBE TO MY EMAIL LIST AND GET A FREE COPY OF MY INTERIOR PAINTING CHECKLIST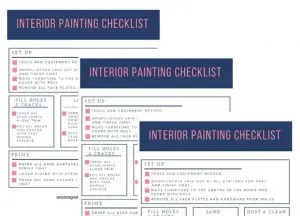 RECENT ARTICLES: