I may earn money or products from the companies mentioned in this post. Please click my Disclosure Policy to learn more
Choosing the right paint color for your home can be intimidating. No one wants to take the time and energy to paint a room only to realize the color is completely wrong. Not only is this a time-waster, but also, if you have hired a painting company to do the work, it can turn into one expensive mistake.
So now you ask yourself, How do I choose paint colors for my house?
Here are 4 tips on choosing a paint color for your home.
lighting
undertones
paint finish
impact of other colors in the room.
Save yourself from wasting money and time by reading along to understand how these 4 tips on how to pick a paint color will help the process.
Don't forget to pick up these amazing painting tools! They will only make your life easier!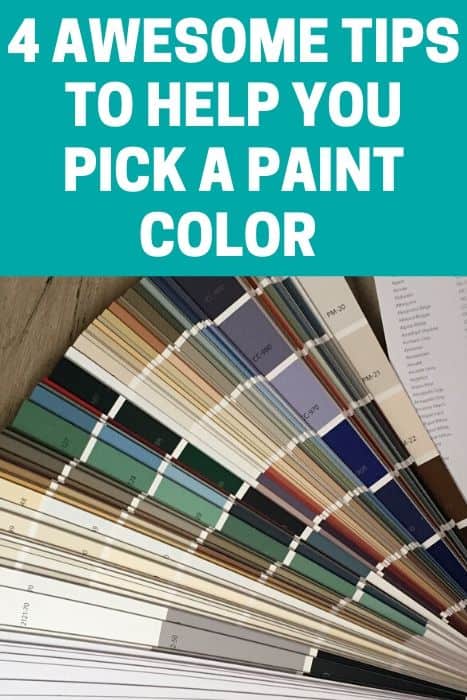 1. When choosing a paint color, know the undertone.
Lets' start with understanding what an undertone is.
Paint colors are often created by using two or more colors. If there is a higher percentage of one color over the other, that creates an undertone.
All colors have two undertones: cool and warm.
Warm colors typically have undertones that are orange, yellow, or red, and they promote a cozy, welcoming space. Where as,cool colors have undertones that are green, blue, or purple and they tend to make your space feel crisp and fresh.
Knowing a paint colors undertone can help you tremendously when deciding on a paint color. It helps you narrow down the list of paint colors that will work in the space you are painting.
Don't start painting until you have the right tools!

SHOP MUST HAVE PAINTING TOOLS
2. How do you decide between choosing a warm or cool paint color?
Look at the fixtures, cabinetry, floors, and the trim in the home. If you want to emphasize the undertone for example, A brushed nickel faucet pairs well with a paint color with a cooler undertone such as Gray Cloud by Benjamin Moore. Whereas, a red brick fireplace is complemented beautifully by a paint color with a warm undertone, an example being Neutral Ground by Sherwin Williams.
If you are looking more along the lines to balance the warmth or coolness, go with the opposite undertone from your fixtures or cabinetry. One example would be choosing a cooler paint color to balance out warm wood trim.
A good rule of thumb is to choose the undertone of your paint color by the mood you are trying to achieve. Either match interior elements to the undertone of the paint color or choose the opposite undertone to achieve a sense of balance.
Knowing your undertone will help you in choosing the right paint color for your home.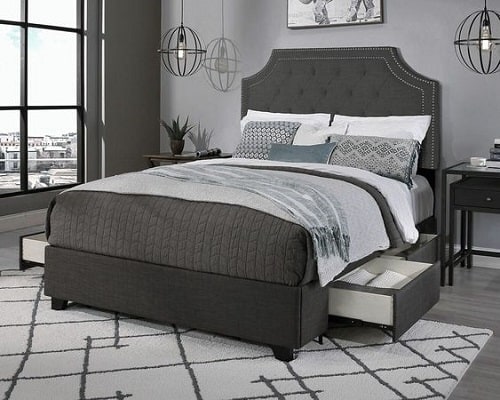 Shop This Cool Toned Bedroom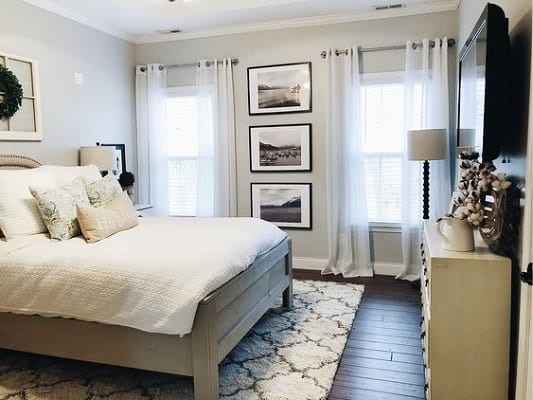 Shop This Warm Toned Bedroom

3. Consider your light situation when choosing the right paint color for your home.
Light plays an important role in the way a paint color looks. It can change the appearance of virtually any color. For this reason, it's a good idea to become familiar with the lighting situation of the room you are choosing the paint color for. That's to be said for natural sunlight as well as artificial light.
Natural sunlight
In terms of natural sunlight, as the day progresses, the lighting intensity changes, creating changes in the appearance of colors. This is very important to remember when you are deciding on a paint color.
At sunrise , the sunlight is warmer because it's lower to the horizon. As a result, the sun gives off a warm yellowish cast. As the day proceeds to midday and the sun rises, producing more of a bluish, cooler cast. At midday, in direct sunlight, colors will appear to be a bit washed out. Finally, as the day concludes to evening, the warmth is back, but now giving rooms more of a reddish cast.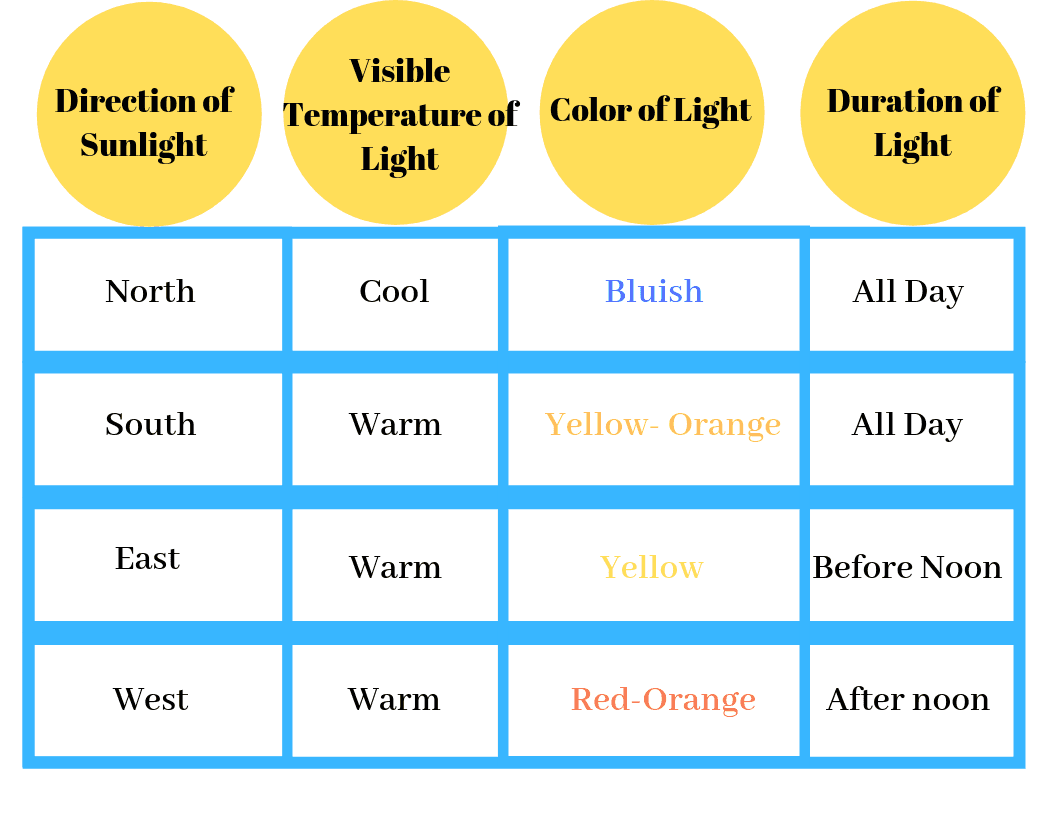 North-facing rooms – Light in north-facing rooms comes off cooler and somewhat bluish. Lighter colors appear more muted, while bolder colors will show up, or appear better.
Paint Color Recommendation: Linen White, Benjamin Moore or Sherwin Williams Mindful Gray
South-facing rooms– In South facing rooms, there tends to be a consistently bright light throughout the day. Warm and cool tones work with south facing light, This light intensifies colors, so darker colors will seem brighter while, softer colors will
Paint Color Recommendation: Gray Screen, Sherwin Williams Agreeable Gray or SW Ligh French Gray
East-facing rooms– East facing rooms have the brightest light in the mornings, with a yellow-orange tone. If a east facing room will be used mostly in the evenings, going with a warm palette will help balance the lack of natural light.
Paint Color Recommendation: Latte, Sherwin Williams
West-facing rooms- Early evening is when West-facing rooms have the best light. Warmer tones might seem overwhelming because of the red -orange the light gives off. However, if the main use for the room is in the mornings, the colors won't appear as intense.
Paint Color Recommendation: Smoke, Benjamin Moore
Artificial Lighting
Like sunlight, artificial lighting largely affects the appearance of a paint color you choose. Depending on the type of light bulb you choose, the color of your paint will look different.
Check out the list below. Before you pick your paint color, decide what light bulbs you will be using.

If you are looking for a paint color to set the mood to a warm and cozy space opt for warmer light bulbs such as the incandescent bulbs. These will also compliment warm wood tones and darker colors.
Would you rather have a cool, crisp feel to your room? If so, go for LEDs in bright white, or CFLs. Additionally, these types of bulbs will make brighter colors pop.
Light fixtures
Not only does the type of lighting effect the paint color but also, so does the type of lighting fixture.
Lampshade– A lampshade will affect the strength of the light bulb it holds. Being that most lampshades are solid, the amount of light produced is diminished a bit. White, off-white and ivory shades give off the brightest light. While darker shades give off less light and mute the appearance of surrounding colors. If you have a lampshade in a warmer color, the light will come off in a warmer hue, creating warmth to everything else in the room.
Pendants /Down Pointed Lights– Down pointed lighting is directed down and illuminates floors. Pendants direct light down making them ideal for workspaces, such as kitchen islands. As a result, the down-pointing light can usually make ceilings feel darker or unlit.
Sconces / Up Pointed Lights– Sconces and lights pointing upward, direct light towards the ceiling, which in turn illuminates the ceiling and upper portion of your walls.
LRV – Light Reflectance Value
The LRV ( light reflectance value), is the amount of light a paint color either absorbs or reflects. LRVs range from 0-100, with 100 being pure white and 0 being absolute black. So the higher on the LRV scale, the more light-reflective the paint color will be.
LRV is very a very important factor consider when you are trying to pick a paint color for your home.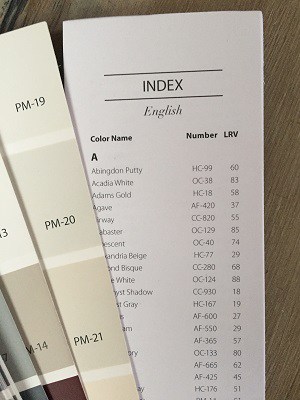 Let's take Repose Gray by Sherwin Williams. The LRV is 58, which is almost smack in the middle of the scale. Agreeable gray is slightly higher on the scale, so this paint color will reflect more light than a color with an LRV of 39 like Dorian Gray by Sherwin Williams.
It's always good to check the LRV when choosing the right paint color. It will help you when you are dealing with rooms that don't receive a lot of natural light. For example, for a smaller office with only one window, you'd want to opt for a color such as Pale Oak by Benjamin Moore, which has an LRV of 69.89. The high LRV of this paint color will be able to reflect the little natural light the room has, giving the room an airy feel.
4. Don't forget Paint Sheen when picking a paint color.
Paint sheen plays a role in the way a color looks as well. This is one aspect that is often overlooked.
The higher the gloss level of a paint color, the more light it will reflect and the brighter the color will appear. While a paint color with a matte finish will not be reflective and will give the paint color a truer appearance.
Finally thoughts on picking a paint color
The 4 Key elements you should keep in mind when choosing a paint color for your interior are:
lighting
undertones
paint finish
impact of other colors in the room.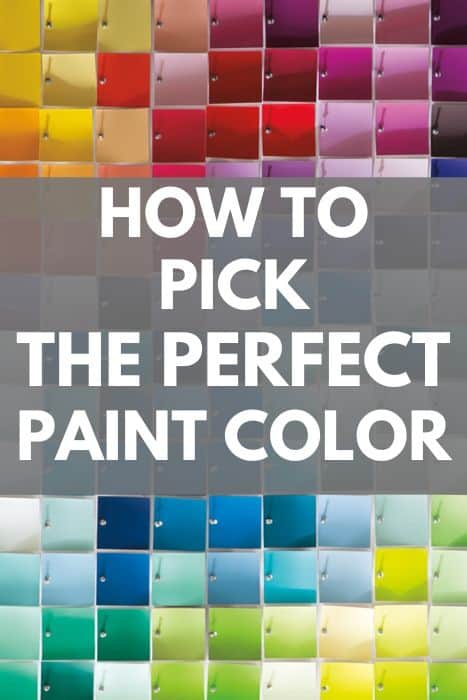 Finally, my biggest recommendation when it comes to choosing the right paint color for your home is to pick 3 or 4 colors you are drawn to, get samples, and paint swatches in the rooms you want to paint.
Be prepared to swatch! Grab yourself some chippy brushes.
Don't paint small dinky swatches either. I'm talking big, large, monster swatches so you can actually see the color. Then just live with the swatches for a few days, checking them throughout the day, in different lighting, natural and artificial.
Want to try a mess-free way to test paint colors? Check out Samplize Peel & Stick Paint Samples.
You want to make sure you are covering all bases before choosing the right paint color for your home.
You Might Also Be Interested in: