I may earn money or products from the companies mentioned in this post. Please click my Disclosure Policy to learn more
Pendant lighting comes in a variety of shapes, colors and sizes. Because of this, choosing the right pendant type for your space can be somewhat tricky. Don't let this stop you from finding the perfect pendant lights for your home. Follow the tips from this guide to ensure you choose the right pendant for your space.
What is pendant lighting?
Wikipedia defines it as:
A pendant light, sometimes called a drop or suspender, is a lone light fixture that hangs from the ceiling usually suspended by a cord, chain, or metal rod.[1]Pendant lights are often used in multiples, hung in a straight line over kitchen countertops and dinette sets or sometimes in bathrooms. Pendants come in a huge variety of sizes and vary in materials from metal to glass or concrete and plastic. Many modern pendants are energy-saving low voltage models and some use halogen or fluorescent bulbs.

A billiard or island light is a longer pendant fixture, usually with long fluorescent or multiple incandescent bulbs, used over kitchen islands and billiard tables. They are sometimes considered a type of chandelier.
To sum it up, pendant lighting is basically the simpler version of a chandelier with only one light.
Pendant lighting comes in a variety of shapes, colors and sizes. Whether you are looking for large pendant lighting for your porch or small pendant lighting for over your kitchen sink, there is a pendant for you.
When it comes to the purpose of pendant lighting, it all depends on the shade type. For example, a fabric covered shade throws off ambient lighting, which would work perfectly in your bedroom, above your night stands. Where as, an enameled metal focuses the light downward, making it a good option for kitchen islands.
Where to use pendant lights?
The most common place pendant lighting is used is above a kitchen island. However, you can use pendant lighting just about anywhere. Some examples are below.
Bar Lighting
Bedroom Lighting
Dining Room Table Lighting
Entryway Lighting
Bathroom Lighting
Types of Pendant Lights
Pendant lighting is probably the most popular type of ceiling light fixtures. Reasons being, these fixtures come in a variety of types, styles and sizes, which in turn allows new designs to become available.
Drum Shade
The drum shade creates more of an ambient setting, with the drum blocking most the light. The light is directed towards the top and the bottom of the fixture which makes it an excellent option for intimate settings.
Bowl Pendant
Bowl pendant lights are the lighting fixtures with a small bowl attached to the bottom of a center rod. The bowl can also be held by three of four short chains or bars attached to the main pendant.
Mini Pendants
Mini pendant lights are perfect task lighting. These lights also work well in groups because of there small size.
Glass Pendants
Glass pendants can be used anywhere and are a popular choice among homeowners and designers alike. Light is typically directed down however, the clear glass lets more light shine through the sides of the fixture.
Lantern Pendants
Lantern pendants are a generally a metal cage surrounded with glass. This type of pendant lighting is typically seen in entryways, hallways, and outdoor porches.
Linear Pendants
Typically used above kitchen islands, the linear pendants are the perfect choice when you want more light from one light fixture.
Pendant Light Styles
Pendant lighting comes in a wide variety of styles. No matter what your taste is, there is a pendant light out there to fit it.
Some of the notable pendant lighting styles are:
How to choose the right pendant lighting size?
Choosing the right pendant lighting size can be a challenge. You want to make sure the lighting isn't too big and overpowering for the room. In the same respect, you don't want the light fixture to be too small, not providing enough light for your room.
There are a few factors to keep in mind when choosing the perfect pendant lighting for your space. Using the following tips below will help you along the way.
Ceiling Height
Choosing your pendant lighting first starts with the height of your ceiling. This will help you determine if pendant lighting will work for your space or if a flush mount or semi flush mount light fixture would be a more suitable choice. Check out these great flush mount lighting options.
Go with a flush mount or a semi flush mount light fixture if your ceiling is 8 feet or less.
For ceilings that are higher than 8 feet, pendant lighting or a chandelier would work perfectly.
Fixture Diameter
To find the ideal size diameter light fixture for your space you will want to take note of your room's height, length and width.
Add the length and the width of your room (in feet) together. From there take the total and switch it to inches. So 10 feet is now 10 inches. The sum, now in inches, is your ideal diameter for your light fixture. Use this calculation for living room, bedroom or foyer light fixtures.
Calculation
Length + Width = Diameter
Feet → Inches
Example
Height 9′ Length 11′ Width 12′
L 11'+W 12′ =22′
22 feet → 22 inches
Fixture Height
Starting at your ceiling, Multiply the height by 2.5″-3″ per foot. Now take that value and switch it to inches. You now have the range for the perfect height of your light fixture.
Calculation
Height x 2.5″ – 3″
Feet → Inches
Example
Height 12′
12″ x 2.5″ – 3″ = 30″ – 36″
Pendant Lighting or Chandelier over an Island?
The absolute perfect place for pendant lighting is over a kitchen island. To determine the best size as well as how many pendants to use, follow the steps below.
Measure the island or bar in inches to determine your width.
Use that number and subtract 12 inches.
The maximum diameter of the pendant lighting will be that number you get in step 2.
When spacing the pendant lighting, consider the length of the island and use about 16″ in-between lights.
Calculation
Surface Width x 12″ = Maximum Diameter
Example
Surface Width 30″
30″ – 12″ = 18″ = Maximum Diameter
Pendant Lighting or Chandelier over a Table?
When it comes to lighting over a table, you first want to center the light fixture directly over the table.
Secondly, the diameter of the light fixture should measure about 1 foot less than the width of the table.
Finally, you want the fixture to hang approximately 30 to 34 inches above the table.
What type of light bulb should be used in a pendant light?
Let's talk about a few light bulb facts, before we get into what bulbs you should be using in your pendant lights. Knowing some science of lighting will help you choose the most appropriate and flattering lighting for your home.
Incandescent Bulbs
Incandescent bulbs use a filament that's heated to the point of glowing. The glowing filament produces the bulb's light.
Congress passed the Energy Independence and Security Act in 2007. This Act requires new energy-efficient standards for basic light bulbs. They are phasing out as well as no longer producing all standard 100-, 75-, 60- and 40-watt incandescent bulbs. However, many specialty incandescent bulbs, for example, chandelier bulbs, will still be available.
• last about 1 year.
• do not contain mercury.
• can be used with a dimmer switch.
Compact Fluorescent Lamp (CFL)
Compact Fluorescent Light Bulbs give off light when a mixture of three phosphors are exposed to ultraviolet light from mercury atoms. CFLs were designed to replace incandescent lamps. CFLs use approximately one-fifth to one-third the electric power compared to an incandescent bulb. As well as lasting about 10 times longer.
•do contain mercury
Light Emitting Diode (LED)
LED bulbs use an electrical current passed through semiconductor material to illuminate the tiny diodes called LEDs. The heat produced is absorbed into a heat sink, keeping the bulbs cool to the touch.
•most energy efficient option
•uses less energy while producing the same amount of light
•can last about 20 years
•do not contain mercury
Halogen
Halogen bulbs use a filament that's heated to the point of glowing, the same as incandescent bulbs, but they use less energy.
• last on average 1 year.
• do not contain mercury.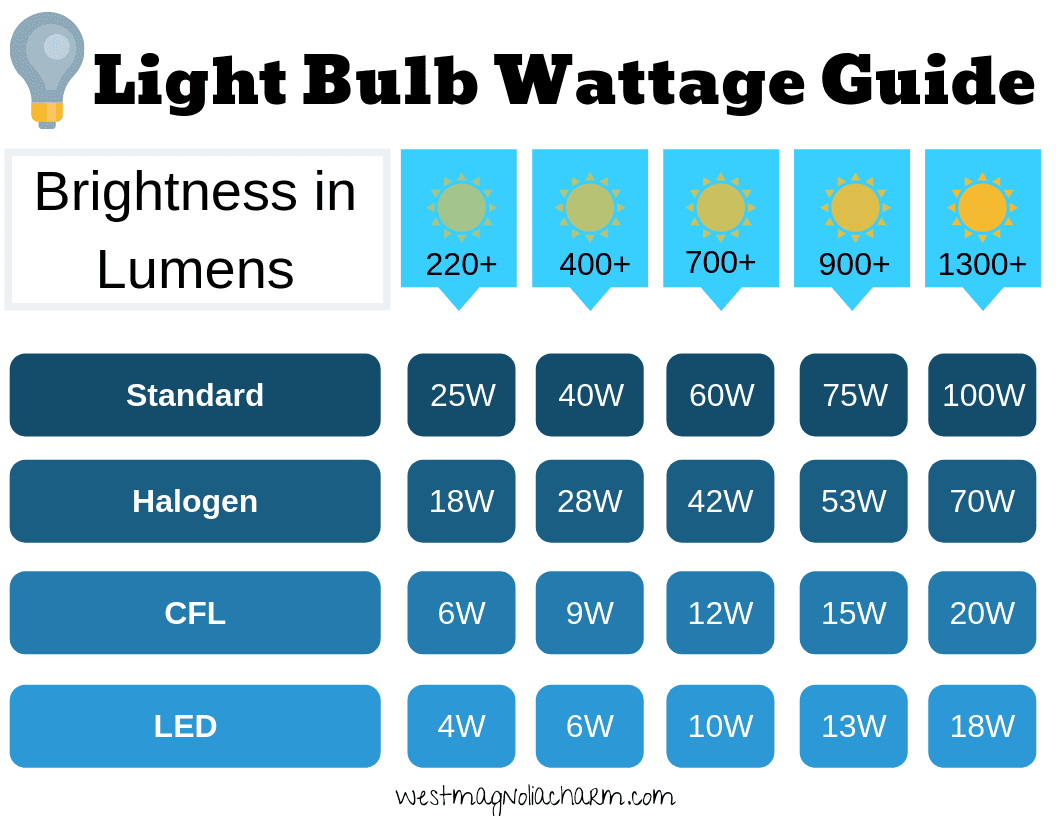 Lumens
Lumens are the amount of light emitted from a light bulb. The more lumens a bulb has, the brighter the light. Similarly, the fewer lumens a bulb has, the dimmer the light. A standard 100-watt bulbs produce about 1600 lumens.
Watts
Watts are the amount of energy a light bulb uses. The lower the watts in a bulb, the lower your electric bill will be. CFLs and LEDs have a lower wattage than incandescent bulbs, but emit the same light output.
Light Color

Light color or light appearance is measured on the Kelvin (K) temperature scale. Lower Kelvin numbers means more yellow light; the higher the Kelvin number the whiter or bluer light.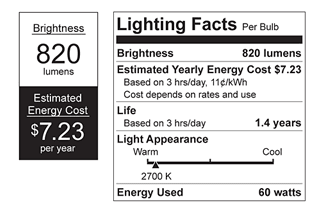 Lighting Facts Label
By reading the lighting facts label, it will help you determine which bulb you will get the most out of. It's now required by the U.S Federal Trade Commission to appear on light bulb packaging.
How bright of a light bulb to use in a pendant light?
When it comes to the brightness of your bulb consider where your pendant lighting is hanging. If you are going for more of an ambient feel and using an incandescent bulb, a good rule of thumb is 2 watts per square foot. That would be 200 watts for a 10 x 10 foot room.
If your room is painted a darker more saturated color, with darker furniture and decor, you'll want to double the wattage of your bulb.
LED light bulbs are not the top choice for pendants because of how bright they are, especially with clear glass shades.
One thing to remember, never exceed the recommended wattage your fixture suggests.
Pendant Lighting Recommendations
I was recently on the hunt for some pendant lighting for my new office space. As I Searched, I found so many affordable options. Not to mention, a few more on the high end side as well. Take a look at some of my favorites I came across during my search and let me know which one is your favorite.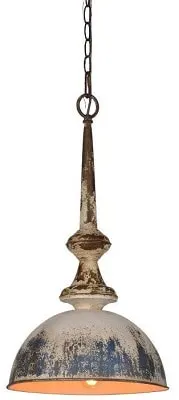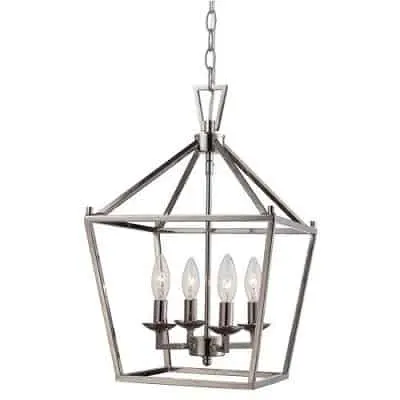 Carmen 4-Light Lantern Pendant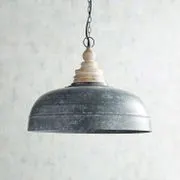 Galvanized & Wooden Bell Pendant Light – Pier 1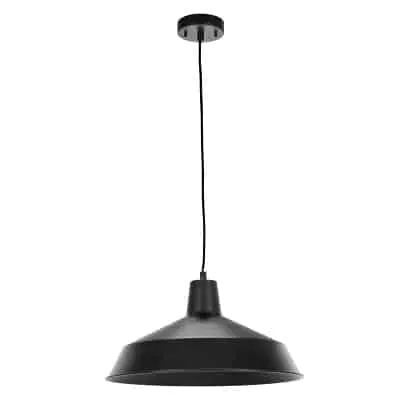 Globe Electric 65155 Pendant Lighting 16 inch Matte Black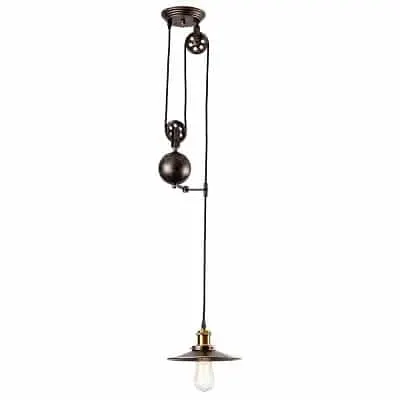 Pendant Light Industrial Pulley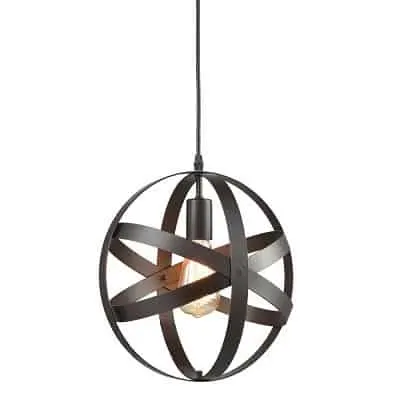 Truelite Industrial Metal Spherical Pendant Displays Changeable Hanging Lighting Fixture

Emliviar 1-Light Farmhouse Pendant Light

FINAL THOUGHTS
Renovating and decorating may not come naturally for many people. If you are able to hire an interior designer to help you out, I say go for it. But if you are not in the situation to do so, you can follow the tips and suggestions I provided to help you through the process of finding the perfect pendants for your home.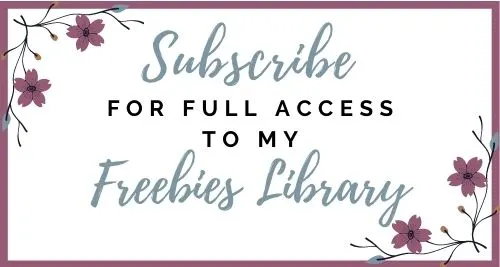 Recent Articles: