I may earn money or products from the companies mentioned in this post. Please click my Disclosure Policy to learn more
Choosing paint colors can be pretty stressful. That's why sampling the colors before you make a final decision is always recommended.
However, the problem is that the small paint chip samples are way too small and they are dyed to match the paint color. So they aren't true to color.
Then, if you decide to buy the paint samples, you are left with having to store them or throw them in the trash when you are done with them.
There has to be a better way to test paint samples, and there is, Samplize peel and stick paint samples.
Today I want to give you my full Samplize peel and stick paint sample review. I'll give you everything thing you need to know and if these peel-and-stick paint samples are worth trying out.
Every time I'd log on to Pinterest, I'd inevitably see an ad for Samplize. It was always popping up. I'd ignore it and move along until one day I accidentally clicked on the ad and it took me to the site. Instead of immediately closing the window, I decided to see what it was all about.
I ended up purchasing a few paint samples and decided why not do a Samplize review.
What is Samplize?
Samplize is a company that was founded by Taylor Thomas and prominent designer Amber Thomas. Amber knew she needed a pre-painted solution to sampling color with her clients, and that became Taylor's project. And so Samplize was born.
Samplize are peel and stick paint samples that can be used multiple times. They are 12×12 inch sheets that are painted with two coats of the paint color your order.
According to the company website, each sample is hand-painted using two coats of the specific paint color you request. They go on to say that they use a roller to apply the paint to get an accurate account of the paint's color and texture. This is unique because the traditional paint samples you pick up at your paint stores are dyed to match the paint color, which means they aren't 100% true to color.
So with Samplize, if you order a sample of Repose Gray by Sherwin Williams you are getting that exact manufacturer paint color.
Currently, paint samples are offered in lines from Sherwin Williams, Benjamin Moore, and Farrow & Ball.
Benefits of using Samplize
So what are the benefits of using Samplize peel and stick paint samples?
First off, it's mess-free! That means no painting and no dirty paintbrushes to clean. That's a win-win in my book.
Secondly, they are super simple to use. You peel, you stick and then you decide. Easy peasy.
Thirdly, these peel and stick paint samples are incredibly versatile. So if you want to wrap it around a corner, you can. Or if you are thinking about painting an old dresser, just slap the sample right on it.
Fourthly, they are reusable. The specially formulated adhesive was made to be non-damaging and repositionable. So you can test it out in multiple locations with the peace of mind that it won't ruin your wall.
Finally, there is no wasted material. If you were to buy a small sample container of paint you are stuck with it or it gets tossed in the trash. With Samplize you won't have to worry about storage or waste.
Ordering Samplize
Ordering the samplize samples is so easy. The peel and stick paint samples are only available in 12×12 and the cost of one sample is $5.95. So you don't have to worry about what options to choose. Simply choose the colors you want and add them to your cart.
2 important things to note when you are ordering.
Free shipping is also available on orders over $15.
And if you sign up for the newsletter, you receive a coupon for $5 off your first order.
My Samplize Review.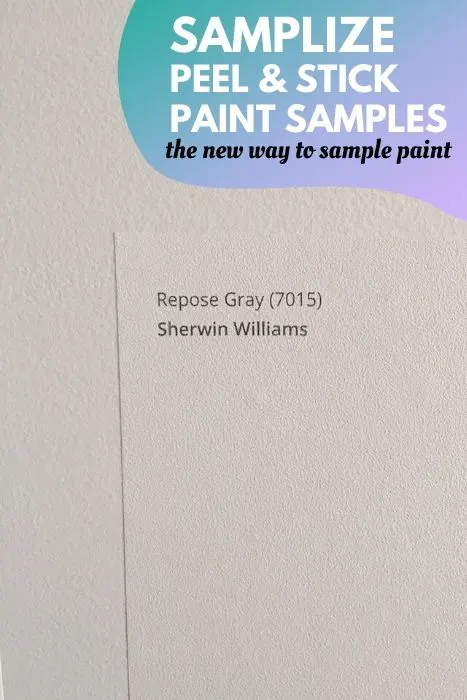 Of course, I was curious to see if the paint colors on the painted decals were the same as the actual paint color. so I decided to order SW Repose Gray which is on most of the walls in my home. I also ordered Sherwin Alabaster, SW Agreeable Gray, and Ben Moore Revere Pewter.
I went with popular colors that I often suggest to customers. I figured I can use them if I ended up liking them. (more on that later).
Samplize Price, Shipping, and Packaging
As I just mentioned, I ordered 4 samples. At $5.95 a sample, this made my order eligible for free shipping.
I also signed up for their newsletter giving me a coupon for 5 dollars off my first order.
So all in all, the total of my order came to $18.80.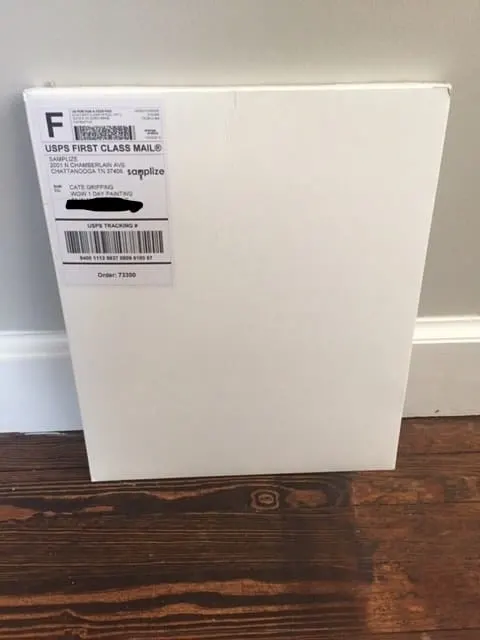 The Samplize samples were shipped first class mail and I was impressed with the shipping time. It took about 3 days from the day I placed my order to the day it arrived at my home.
The peel and stick samples were packaged well. They came in a flat envelope and inside, the samples were stacked on top of one another in a plastic bag. There was also a piece of tissue paper-like material separating and protecting the samples from one another.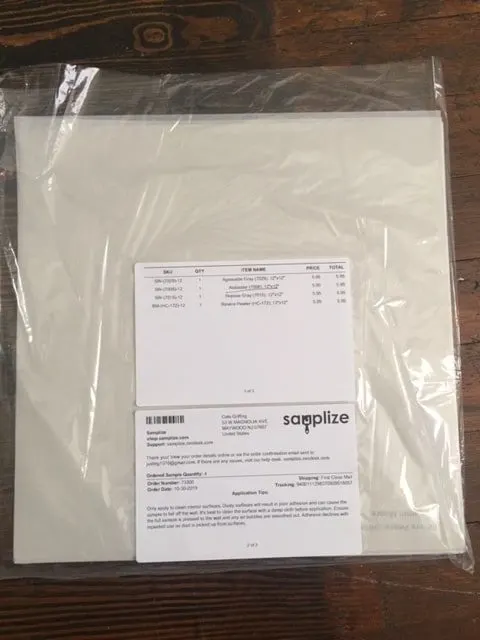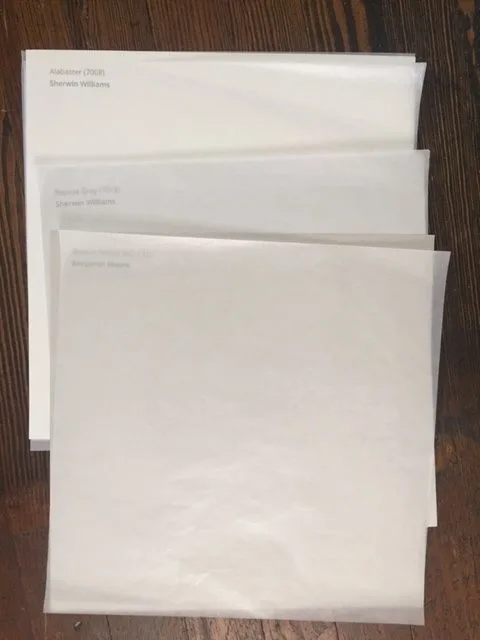 Applying and Removing Samplize Peel and Stick paint swatches.
The peel and stick paint swatches were incredibly easy to use. All you do is peel the backing off the sample then stick the sample to the wall. Easy enough right?
Right.
However, I do want to mention Samplize includes application tips to get the most out of your samples.
It says:
Only apply to clean interior surfaces.Dusty surfaces will result in poor adhesion and can cause the sample to fall off the wall. It's best to clean the surface with a damp cloth before application. Ensure the full sample is pressed to the wall and any air bubble are smoothed out. Adhesion declines with repeated use as dust is picked up from surfaces.
When it came to applying my Samplize paint samples, I followed the application tips and made sure my wall was clean and dust-free.
Now, I was a bit worried about peeling the backing off the samples. I was expecting it to be a pain in the you know what. However, I was pleasantly surprised by how easy it was.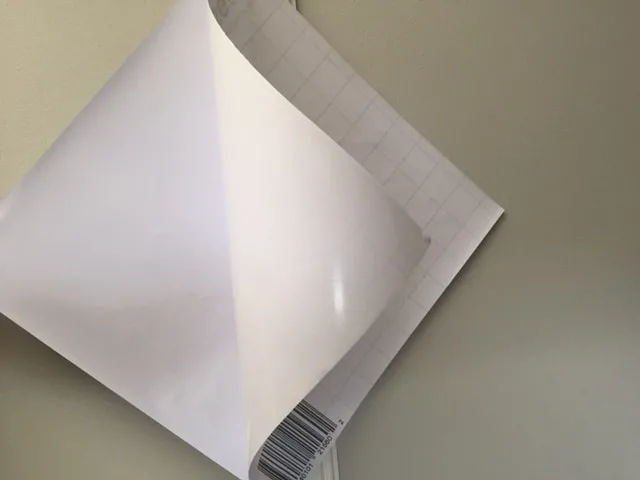 Applying the paint sample to the wall was a breeze. The adhesion was good and the sample stayed in place and didn't move.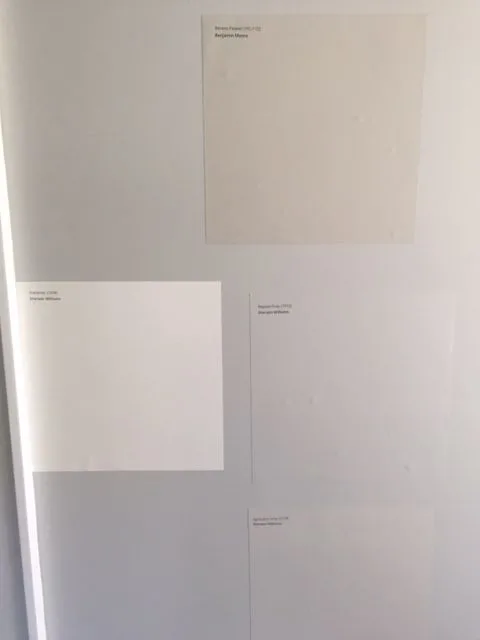 My first attempt at removing the paint sample was challenging. I had a hard time getting a hold of the sample to remove it from the wall.
I eventually got it started and for the next samples, I didn't press the edges down so it would be easier to remove.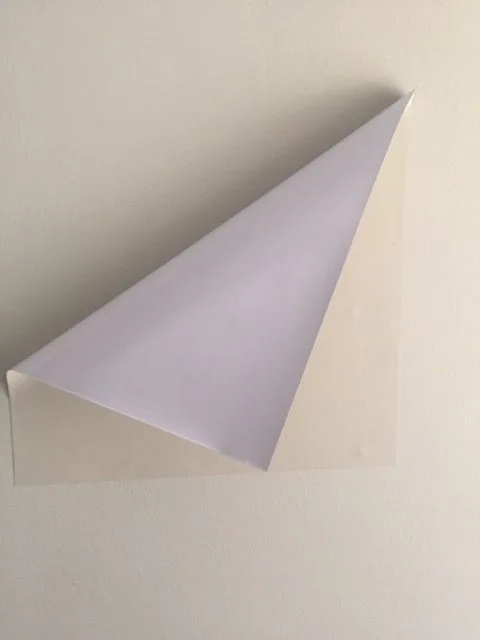 Another slight issue I encountered was when it came to putting the backing on the paint samples.
I'm guessing the samples aren't all the same size because I struggled with getting them to line up.
One way to avoid this problem is to write the name of the paint color on the backing. This will keep you from guessing what goes where.
Recap- Samplize Peel and Stick Paint Samples.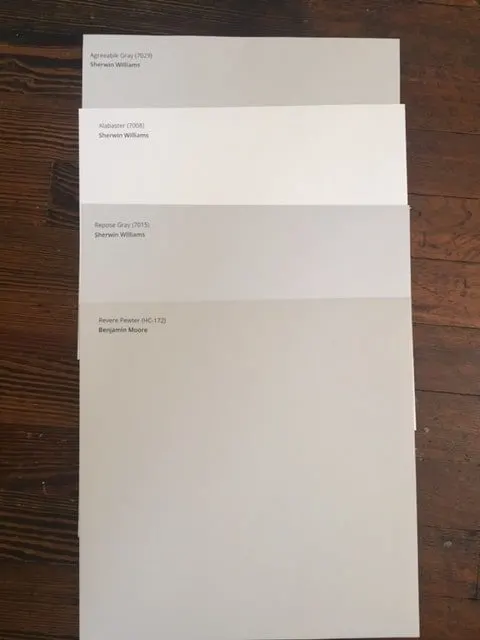 Samplize Pros:
the samples are reusable
they are easy to use
you can use scissors to cut them
they are paintable
non-damaging to your walls
painted with 2 coats of the manufacturer's paint color you choose.
affordable price, at $5.95 per sample
mess-free
paint samples offered by Sherwin Williams, Benjamin Moore, and Farrow & Ball
ordering from the website is a breeze.
Samplize Cons:
they are only offered in paint samples by 3 paint manufacturers.
only one paint finish available.
Final Thoughts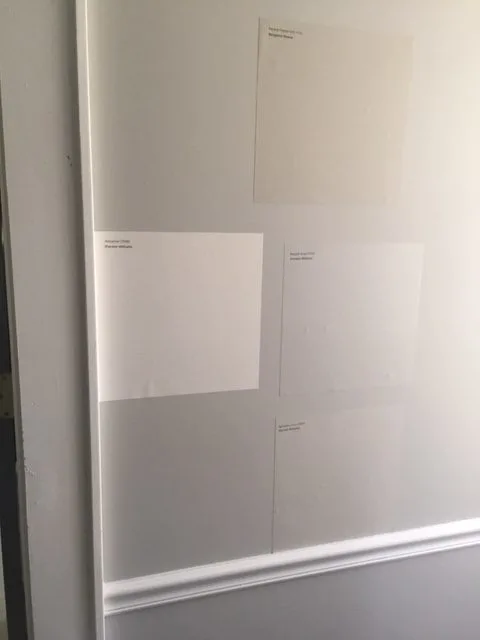 To sum it up, I am a fan of the Samplize peel and stick samples. I like them and I think they are convenient, easy to use, and mess-free. They make it super easy for you to avoid the painting mistake of not testing paint colors.
When it comes to color accuracy I feel like it's spot on. The Repose gray sample blended right in with the Repose gray painted wall.
All in all, I think this is a great product. I'll 100 percent recommend Samplize to my customers and anyone looking to test out paint colors.
---
Need a little color inspiration?
---
Don't start painting until you have the right tools!

SHOP MUST HAVE PAINTING TOOLS
Don't forget to subscribe to get access to my freebies library. In there, you'll find the Interior Painting Checklist, Paint Color Tracker, and much more!
Get Full Access to my Freebies Library!