I may earn money or products from the companies mentioned in this post. Please click my Disclosure Policy to learn more
Benjamin Moore Thunder AF-685 is a soft neutral gray paint color that will add sophistication to any space.
I know what you are thinking, another gray paint color.
But, this is not a gray off the list of the usual cast of characters. This gray, in my humble opinion, does not get the love it deserves.
That's why for today's post I want to turn the spotlight on and give this fantastic gray it's moment to shine.
Allow me to introduce,
Benjamin Moore Thunder AF-685

So what is it about BM Thunder that is so fantastic? Where do I begin?
For starters it is in the Color trends Palette for 2020. So that is kind of a big deal.
It's also a part of the Affinity Color Collection by Benjamin Moore.
What is the Affinity Color Collection by Benjamin Moore? I'm glad you asked.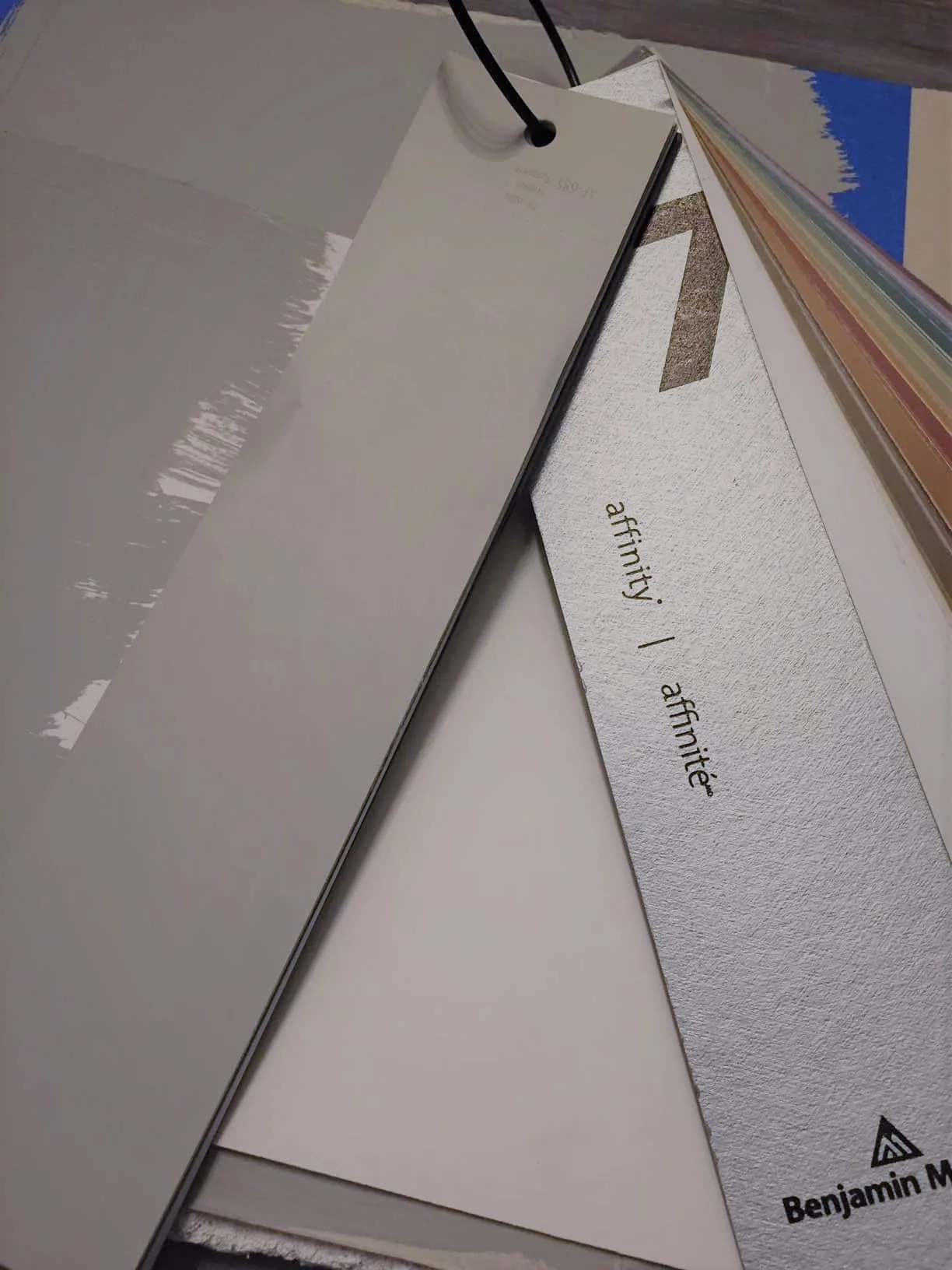 A sophisticated palette of harmonious hues designed to express your color vision with confidence. Our most recent introduction of 144 beautiful colors was designed expressly so that each color works seamlessly on its own or in combination with any other color in the Affinity palette.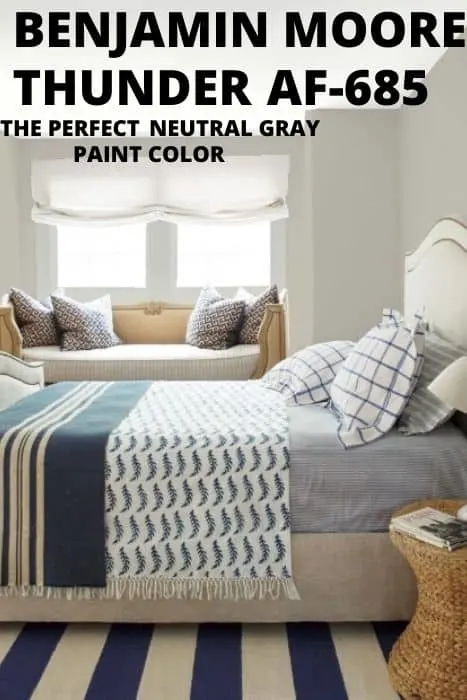 Another reason I sing such high praises of this gray is that it's pretty dang neutral in terms of gray paint colors. However, like all grays, some sneaky undertones can show up in certain lighting, but I'll get to that in a little bit.
Let's get a little technical with Thunder Benjamin Moore before going anything further. By technical I mean LRV. I guess I could have just said that, to begin with.
Thunder has an LRV of 48.05.
As a reminder, LRV, as defined on the Benjamin Moore Website, is
a measurement commonly used by design professionals—such as architects and interior designers—that expresses the percentage of light reflected from a surface. LRVs range from 0-100, with 100 being pure white and 0 being absolute black.
So, the higher on the LRV scale the more light that paint color will be reflecting. With an LRV of 48.05, Thunder is sitting pretty almost smack in the middle of the scale.
What Color is Benjamin Moore Thunder?
Ben Moore Thunder is a soft and sophisticated gray. It's not too dark yet, it's not too light, you can say it is the middle of the road. If you compare it to BM Edgecomb Gray, you can see it's much darker. Then if you compare it to BM Sparrow, it is lighter.
There are also no incredibly strong undertones pulling it one way or another as you see in some other gray paint colors. Yes, some undertones will show in certain light situations. However, Thunder is a great versatile gray paint color that stays fairly neutral.
Let me add, BM Thunder is best suited for a space that is well lit. I'd say the more light the better for this guy.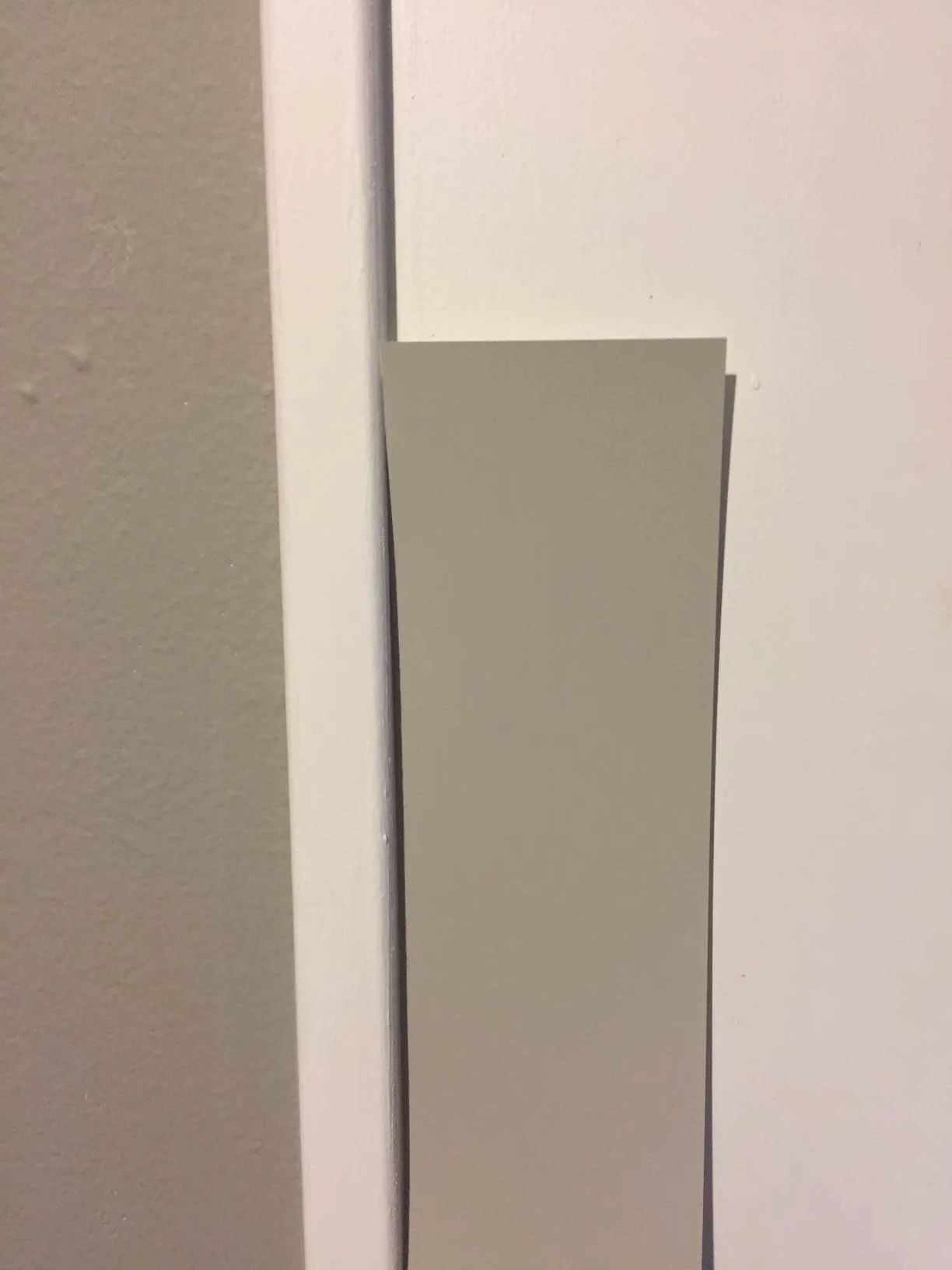 This picture was taken in a dimly lit hallway. You can see how the color on the paint chip appears to be dark.
For reference, the color on the wall next to the white trim is Sherwin Williams Repose Gray. You can see that the tone of these two colors is close. Thunder is a tad bit darker than Repose Gray. But that's only comparing off the paint chip sample.
Is Thunder Considered Greige?
Thunder can be considered a greige. But, in different lighting situations, it can look more gray than greige once it's painted on the wall. If you were to look at the paint chip you get from Benjamin Moore, it does, however, look a bit more beige.
WANT A COLOR THAT'S MORE BEIGE? CHECK OUT SW KILIM BEIGE
That's the problem with those small paint ship samples. They aren't fully accurate. Always test swatch the actual paint color or use Samplize peel & stick paint samples to test out paint colors. Check out my full review on Samplize Peel & Stick Paint Samples.
Don't forget to pick up these amazing painting tools! They will only make your life easier!
Is Thunder Warm or Cool?
Now, when you look at the paint strip, Thunder looks very warm when compared to the cooler Benjamin Moore Metropolitan. But, that's because you are seeing it next to other colors. When you take Thunder on its own, you will see it's not that warm of a paint color. Yes, there is warmth in it because of its undertones but. it is not overwhelming.
In my opinion, BM Thunder strikes a beautiful balance between warm and cool.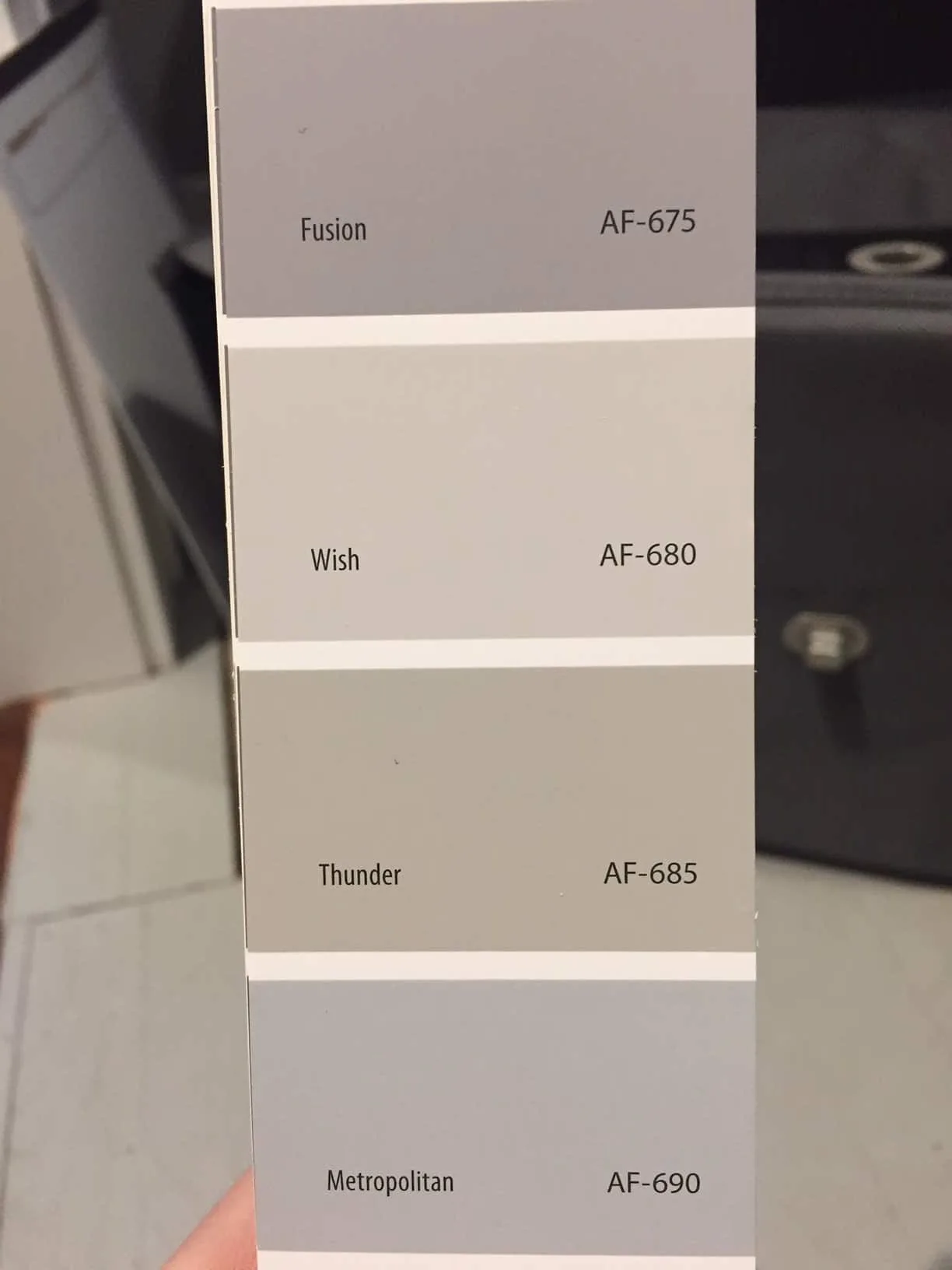 Benjamin Moore Thunder's Undertones
Now we are getting into the good stuff, Thunder's undertones.
Undertones are what make a color. Thunder has subtle greige undertones. It also has a tiny bit of purple in there. The undertones are not too cool, yet not too warm. Basically, it's the perfect balance of both warm and cool.
Benjamin Moore Thunder and Lighting
North-facing rooms – Light in North-facing rooms comes off cooler and somewhat bluish. Lighter colors appear more muted, while bolder colors will show up, or appear better. Thunder in a north-facing room has the potential to appear cooler and even show that slight purple undertone it has,
South-facing rooms– In South-facing rooms, there tends to be a consistently bright light throughout the day. Warm and cool tones work with south-facing light, This light intensifies colors, so darker colors will seem brighter while, softer colors will almost look like they are glowing. Benjamin Moore Thunder will look its best in a south-facing room.
East-facing rooms– East-facing rooms have the brightest light in the mornings, with a yellow-orange tone. If an east-facing room will be used mostly in the evenings, going with a warm palette will help balance the lack of natural light. Thunders warmer tones may come out more in the morning in an East-facing room.
West-facing rooms- Early evening is when West-facing rooms have the best light. Warmer tones might seem overwhelming because of the red-orange the light gives off. However, if the main use for the room is in the mornings, the colors won't appear as intense. Thunder in a west-facing room will look warmer because of the red-orange light.
WAIT! Before you start painting make sure you have the best painting tools to make your job easier. It will take hours off your painting time!
Where can you use Thunder BM AF-685?
Considering Benjamin Moore Thunder is such a versatile gray, it can be used anywhere.
Use it on the Exterior of a home.
The exterior of a home is the perfect spot to use Thunder. This soft gray will look absolutely stunning. But remember because it is on the exterior, Thunder will surely look lighter because of the full exposure to natural light.
Pair Thunder with a soft white like Sherwin Williams Pure White to really make it shine. Or use a bold black paint color like SW Tricorn Black to make a dramatic statement.
See More Benjamin Moore Exterior paint color options.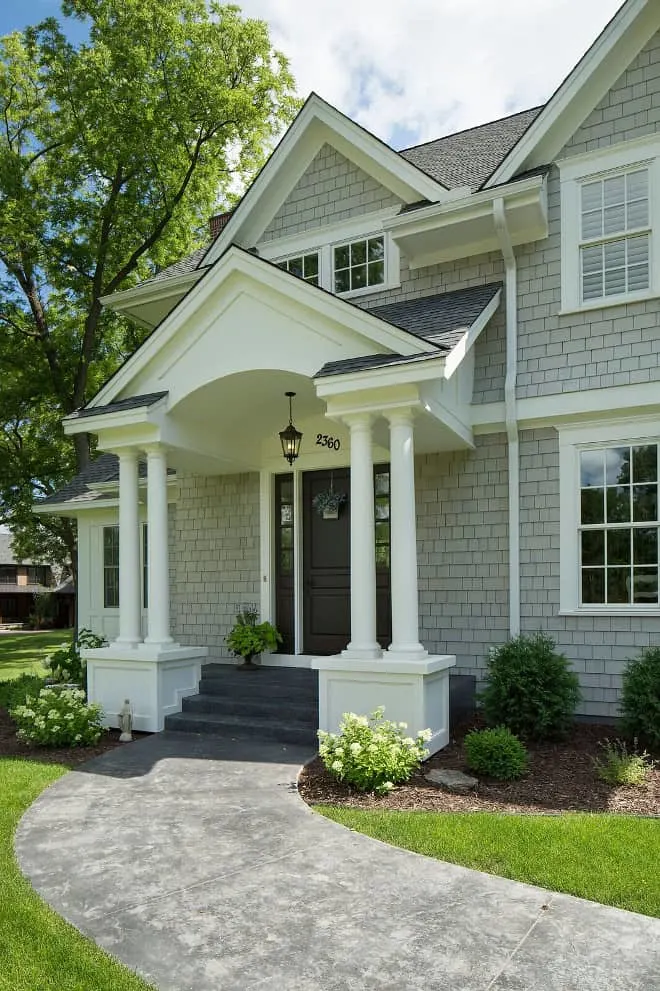 Kitchen Cabinets
Another fantastic opportunity to use BM Thunder is on your kitchen cabinets. Gray cabinets are a great way to add character to a kitchen and using a neutral gray paint color such as Thunder will make them stand out.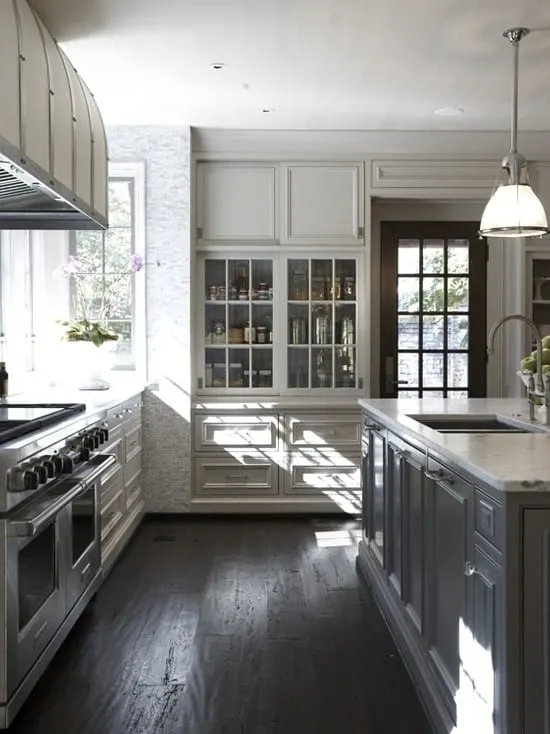 Walls
Walls are the most obvious place to use BM Thunder. It creates the perfect canvas for furnishings and decor because of how neutral it is.
Rooms with a ton of natural light are the ideal space to use Benjamin Moore Thunder. The natural light will keep this gorgeous gray looking its best and not dark, dull, or drab.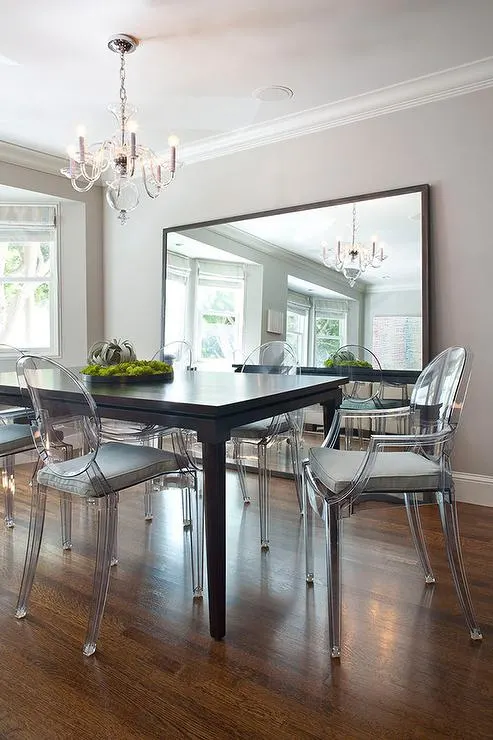 Don't start painting until you have the right tools!

SHOP MUST HAVE PAINTING TOOLS
Colors similar to Ben Moore Thunder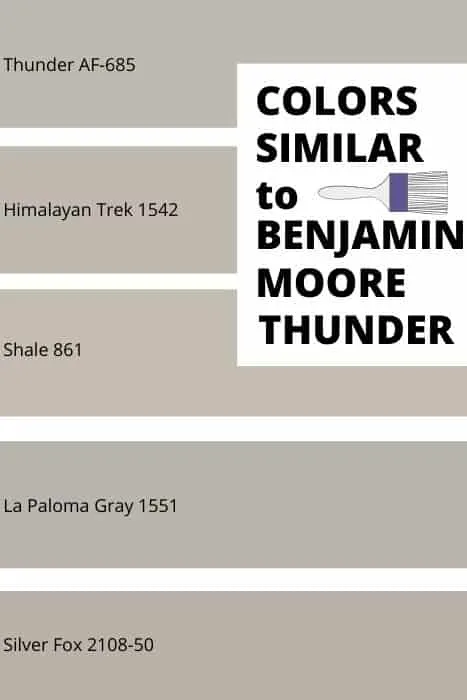 A few colors that are very similar to Benjamin Moore Thunder are:
Himalayan Trek 1542
Shale 861
La Paloma Gray 1551
Silver Fox 2108-50
Colors that coordinate with Thunder
We know Thunder is a great neutral gray paint color and its versatility allows it to coordinate nicely with many paint colors especially, colors from the Affinity Color Collection.
The Affinity Color Collection was created so that all the colors work in combination with one another.
A few colors from the palette Thunder works especially well with are Dragonfly AF-510, Serenata AF-535, and Mascarpone AF-20.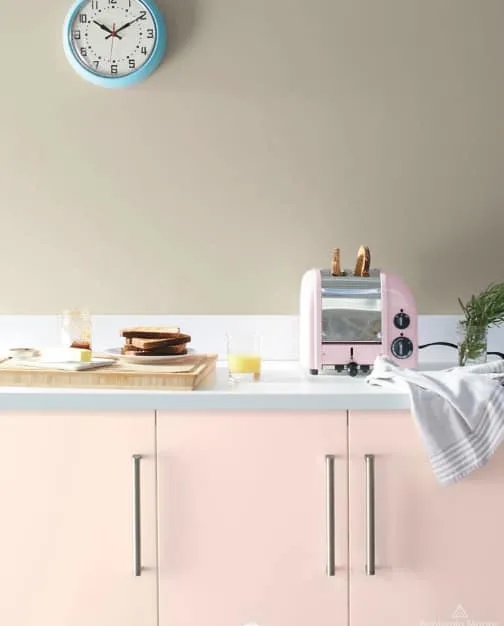 As I mentioned earlier, BM Thunder is also in the Color Trends Palette for 2020. Some additional paint colors it will coordinate with from that palette are:
First Light 2102-70 ( Benjamin Moores's 2020 Color of the year)
White Heron OC-57
Buxton Blue HC-Blue

Looking for a trim paint color to coordinate with Thunder? Try one of these amazing white trim colors.
Thunder vs. Revere Pewter
Benjamin Moore Thunder and Revere Pewter are both fantastic gray paint colors, but how do they compare?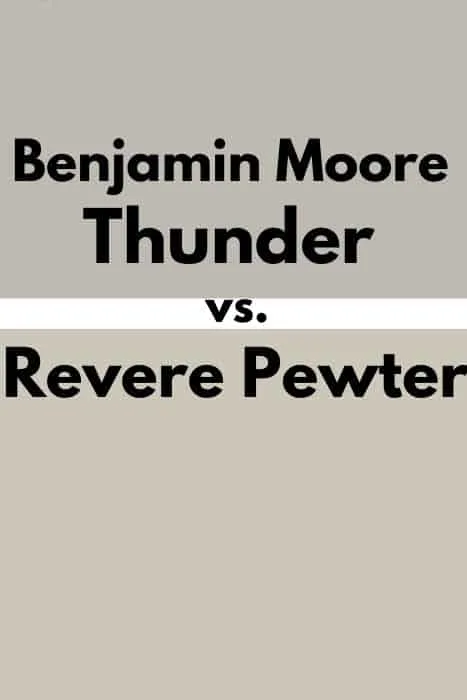 Revere Pewter has an LRV of 55.51 which is a tad higher than Thunder's 48.05
Thunder is more of a neutral gray. whereas Revere Pewter is more of a greige.
Revere can sometimes look a little muddy or earthy.
Thunder has the tiniest bit of purple in it and Revere has a touch of green in it.
Thunder is well balanced between warm and cool tones.
Revere Pewter has warm tones.
Who is the winner of this paint color battle? I don't think there is a winner or loser here. Both Benjamin Moore Thunder and Revere Pewter are fabulous gray/greige paint colors. It depends on whether you are looking for a warm or more neutral paint color.
In my opinion, I gravitate towards Thunder.
---
Add the FreeForm Grip-Free Paintbrush to your painting tools kit. It eliminates hand pain while painting. It's a pain-free way to paint.
---
Benjamin Moore Thunder Recap
Thunder by Benjamin Moore is a mid-toned greige paint color.
It doesn't have any overwhelming undertones coming through.
There is however a slight purple undertone that can be seen in certain lighting situations.
Thunder is a part of the Affinity Color Collection.
BM Thunder is in the Color Trends 2020 Palette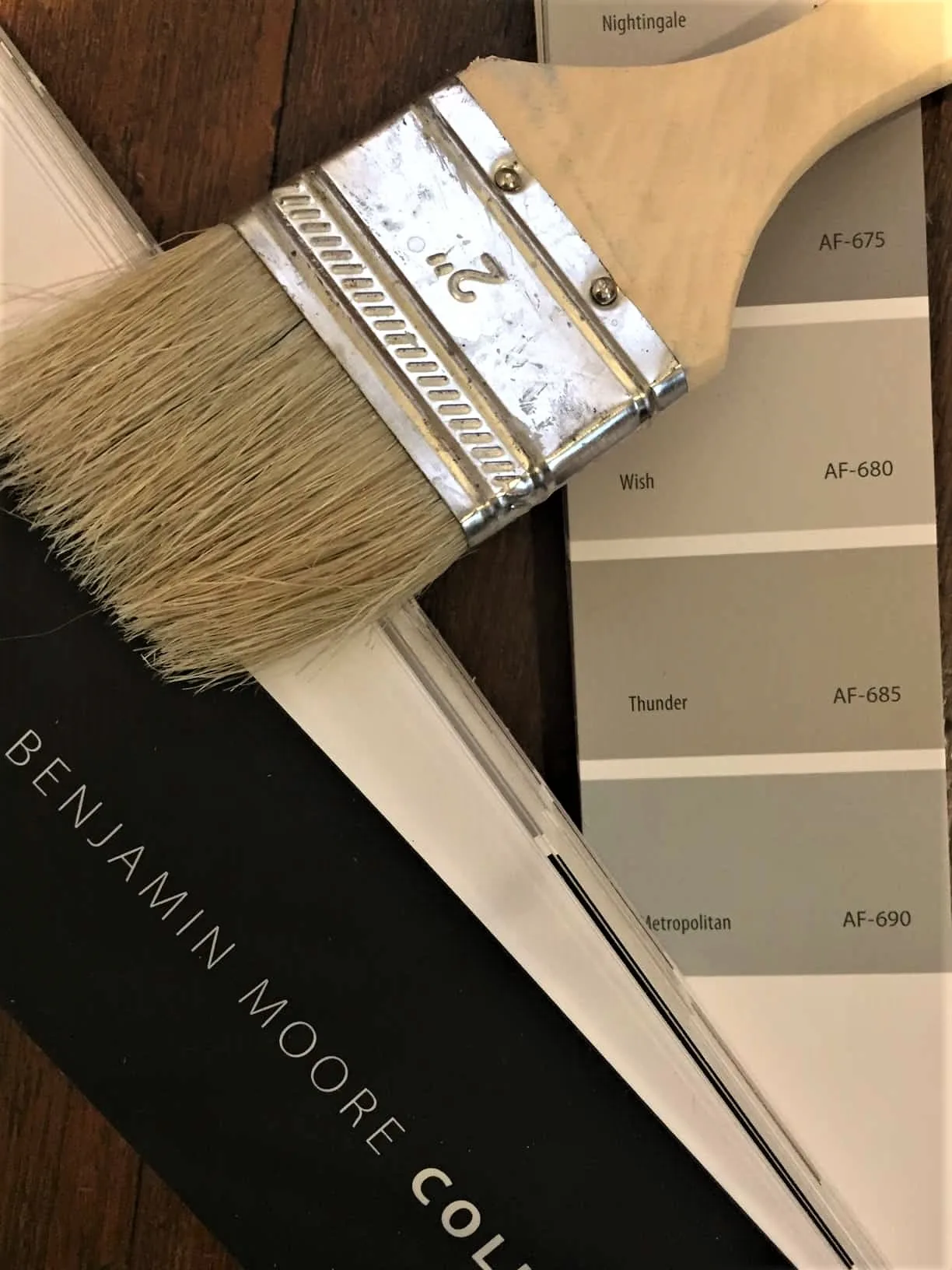 Final Thoughts
I think Benjamin Moore Thunder is an outstanding gray paint color that has a soft and sophisticated look to it. This mid-toned gray provides a beautiful neutral backdrop for a well-lit room with lots of natural light.
I think this color has been under the radar for too long. But now that it's on the Color Trends Palette for 2020, I think it will get the recognition it deserves.
---
Interested in More Paint Colors?
---
Remember, every space is different. And lighting, furnishings, and decor all affect how a paint color will look. A north-facing room with little natural light that's painted with Thunder will look differently than BM Thunder painted on the exterior of a home.
It's best to swatch the color in the space you are considering using it and observe it throughout the day. By doing this will give you a good idea of how it will look morning, noon, and night.
Be prepared to swatch! Grab yourself some chippy brushes.
Looking for an easier way to swatch paint colors? Try Samplize Peel & Stick paint samples. These peel & stick paint samples let you test a paint color in all different areas of a room. You know how I feel about testing paint colors in all lighting situations. And the best part about Samplize? They are mess-free! Check them out for yourself, you won't be disappointed.
SUBSCRIBE TO MY EMAIL LIST AND GET A FREE COPY OF MY INTERIOR PAINTING CHECKLIST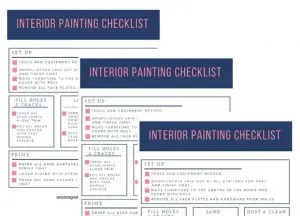 RECENT ARTICLES: