I may earn money or products from the companies mentioned in this post. Please click my Disclosure Policy to learn more
Accessible Beige SW 7036 is one of Sherwin Williams's top-rated neutral paint colors that is loved by both interior designers and homeowners alike. Don't be fooled by this paint color's name. This is not a traditional builder beige you may be thinking of. It has more of a complexity to it making it much more versatile than some other neutral paint colors out there.
Oh, today is a good day. Why do you ask? Well because we are talking about paint colors again. One particularly special paint color to be exact.
Let's give a warm welcoming hello to our dear new friend ……
Sherwin Williams Accessible Beige SW 7036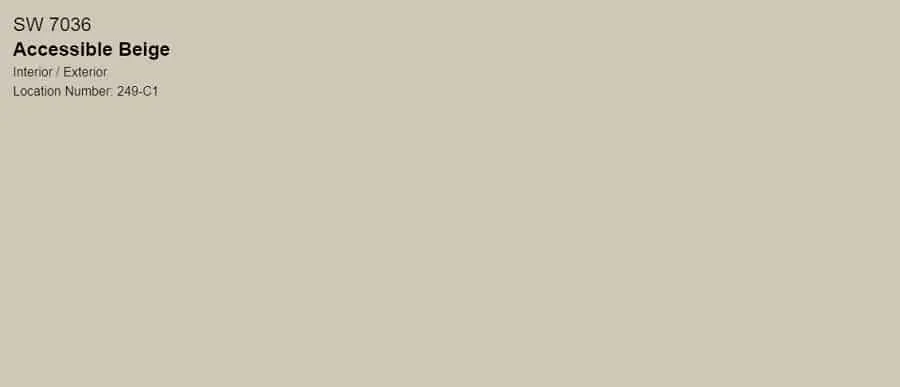 If you have ever been on the market for a new paint color it's quite possible you come across this beige beauty. She's pretty popular among the masses and there is a good reason for that.
I know what you are thinking, Beige, really? I know I know. You think of beige and you picture the typical "builders beige" and you want to go running for the hills. Don't run though! Trust me Accessible Beige is not a "builders beige" by any means.
Not convinced yet? I don't blame you. I haven't even begun explaining why Accessible is an amazing neutral paint color. Trust me, you want to stick around for this one.
Let's start with the stats on SW Accessible Beige SW 7036.
R:209G:199B:184
Hex Value:#d1c7b8
Color Collections: Bold Invention
LRV: 58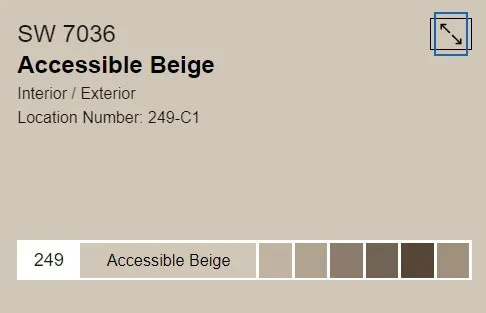 I know what you are thinking … again. (mind reader over here), What the heck is LRV? Here's a quick refresher on LRV if you are unfamiliar with it.
LRV, or Light Reflectance Value, is a measurement commonly used by design professionals that measures the amount of light reflected from a surface. LRVs range from 0-100, with 100 being pure white and 0 being absolute black.
To sum it up, higher numbers reflect more light and lower numbers do the opposite. So with an LRV of 58, SW Accessible Beige is just about in the middle of the scale.
Check this out, Accessible Beige is featured in this quick video from Pottery Barn sharing Sherwin Williams's top ten neutrals.
What Color is Accessible Beige?
It may seem like there is a simple answer to this question being that BEIGE is in the name of the paint color. However, there is quite a bit more to it.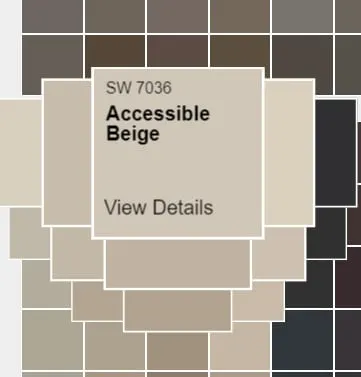 Accessible Beige is a light warm greige paint color. Unlike a lot of beige paint colors, it has some gray in it which allows it to be part of the greige family. It is more beige than gray however, there isn't enough yellow in it to make it a beige-y beige. Makes sense right?
Accessible tends to look different depending on the exposure. When it's in a north and east facing room, it will look more on the gray side. Whereas, in a south or west facing room, it holds true to the greige it is.
Even though it's a beige, this color may be exactly what you are looking for if you are one who likes warm gray/greige paint colors. Why? Well, Accessible Beige often grays itself out just enough in the cooler light of a north-facing room without falling flat and feeling too cold.
Is Sherwin Williams Accessible Beige a Warm or Cool Color?
Accessible Beige is certainly a warm paint neutral paint color.
AB is noticeably warmer and more yellow than the other greige paint colors with a bit of gray and green in them. In the same respect, it doesn't have enough yellow in it to consider it a true beige. These characteristics make it a great option when you need a paint color to update earthier color schemes.
When it comes to describing whether a paint color is warm or cool, you can generally look at it and tell. However, there are some cases where you need to compare it to another paint color to describe it. I find that comparing paint colors is a useful way to determine the characteristics of colors you are unsure of.
In the case of Accessible, if you were to compare it to Agreeable Gray, you can see how Agreeable is grayer and a bit cooler. If you were to compare Accessible to Kilim Beige, you would see that Kilim Beige is the warmer paint color of the two. I'll go into this comparison in more detail a little later.
What are the Undertones of Accessible Beige?
Accessible Beige like all neutral colors, has undertones, some more sneaky than others. The undertones in AB that are noticeable are the yellow ones. I know you are bursting at the seems to find out what the sneaky one is. Any guesses?
If you guessed green, you are right.
Most often, if that green undertone comes out it's in southern exposure. Now that doesn't mean it's turning Kermit the Frog green, more so a very slight hint of green. Another thing to keep in mind is if you have a lot of green outside your windows, that will reflect onto the paint color.
READ MORE: 14 STELLAR GREEN PAINT COLORS
Where can you use Sherwin Williams Accessible Beige?
Short answer? Anywhere. Yup, anywhere. Accessible is such a fantastic versatile neutral that it can be used in all different spaces.
Some of the places you can use AB are:
bedroom
bathroom
kitchen
cabinets
house exterior
entryway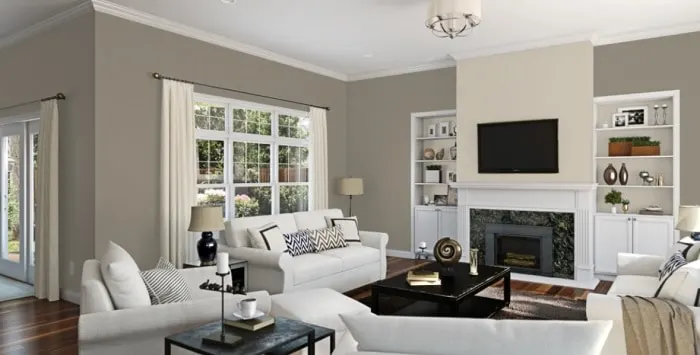 You can use AB as an accent color. I know you are probably used to seeing accent colors in darker shades. However, sometimes a room with a darker paint color needs a lighter color to balance things off. Accessible works well as an accent because it's super neutral and works well with all different colors.
Use Accessible Beige on the House Exterior
The exterior of your home is the perfect place to use AB. You can use it as an all-over color or as a trim color.
If you are looking for a light and soft paint color that isn't white Accessible is a great choice. On the exterior, it will look like it's the palest creamy limestone.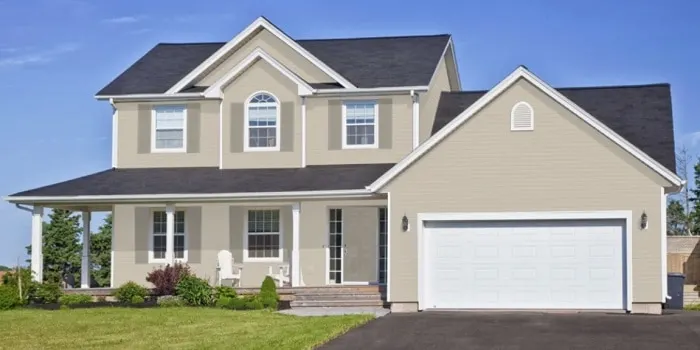 How do you paint like a pro? By using the right tools and supplies! Check out the Ultimate Painting Tools List for everything you need to paint a room.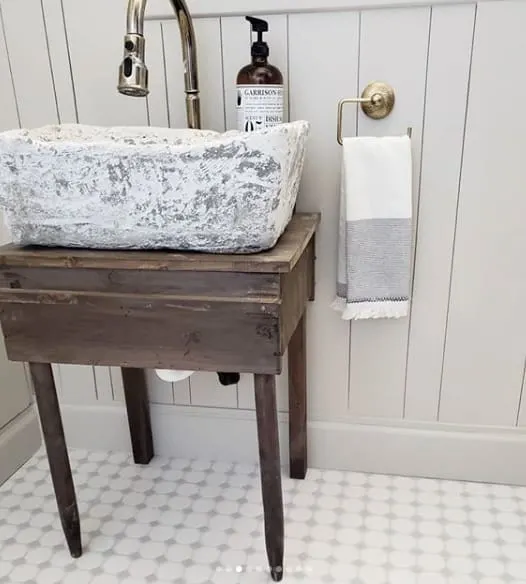 Accessible Beige in the bathroom works just as well as in any other place. As I mentioned earlier, AB works well with warmer finishes and browns. So, it would be an excellent option for a bathroom that needs a bit of an update that has these finishes.
As you can see in the photo, AB also looks stunning with wood tones and whites.
Can we also take a moment to admire this unbelievably amazing sink? It's a DIY by the way. Check out Becca @beccashomestudio on Instagram for some serious DIY and home decor inspiration.
WAIT! Before you start painting make sure you have the best painting tools to make your job easier. It will take hours off your painting time!
What's the Best Trim Color to use with Accessible Beige?
You may think finding a trim color to use with Accessible Beige is challenging, however, it is not. AB works wonderfully with off-whites such as SW Alabaster or SW Greek Villa which have a slight creaminess to them. If you are interested in creating a cleaner, more crisp look, SW Pure White is an excellent option. Another great color you can use with AB is Sherwin Williams Aesthetic White.
READ MORE: The Best White Trim Colors
Accessible Beige Complementary Colors
The amazing thing about neutral paint colors is that it is easy to find other colors to complement them. In regards to the beautiful Accessible Beige, it's no different. There are so many colors that will work with AB but for the purpose of not keeping you here reading for hours, I'm only going to share a few of my favorites.
I do need to mention that while Accessible plays well with many, you do want to avoid colors that are similar in tone and LRV. Some of the best colors to compliment Accessible are earth-toned ones with browns and grays in them. But it also looks fantastic with blues and greens, for example, BM Beach Glass.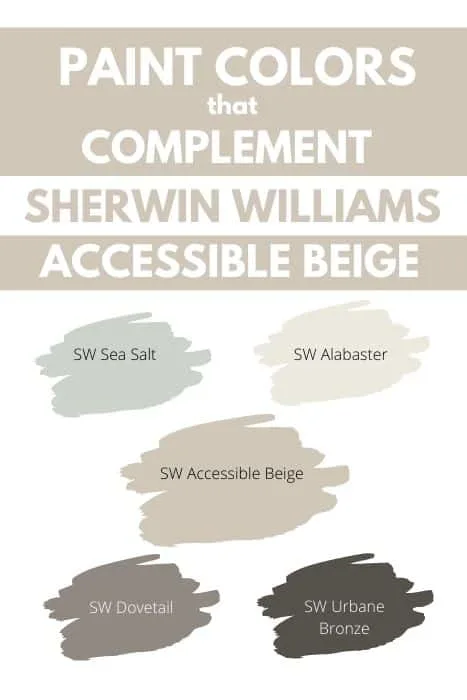 ---
Follow these helpful painting tips and avoid these mistakes to get the job done right!
---
Accessible Beige vs Agreeable Gray
If you have read my Agreeable Gray post you know this is a pairing that often comes up with clients. Everyone always wants to see how Agreeable Gray vs. Accessible Beige SW 7036 compares to one another.
What are the differences between Accessible Beige by Sherwin Williams and Agreeable Gray?
AB is more warm-toned than Agreeable Gray
The LRV of Accessible Beige is 58 which is slightly lower than Agreeable Gray's 60.
Accessible Beige is more of a beige with some gray in it whereas Agreeable Gray is a gray with beige in it.
Both AG and AB have some green in them which can possibly show up in certain lighting situations.
Accessible Beige's name is pretty accurate. The beige is really showing through.
Comparing these 2 colors side by side you can see that Ab is warmer and AG is grayer.
Agreeable Gray looks like a greige in lots of natural light and grayer in lower light.
Accessible Beige vs Agreeable Gray, which paint color is better?
So, which color is better? It's not really a question of which is better, it's more so which color is better suited for your specific space. Both Accessible and Agreeable are gorgeous neutral paint colors.
Sherwin Williams Accessible Beige vs. Benjamin Moore Revere Pewter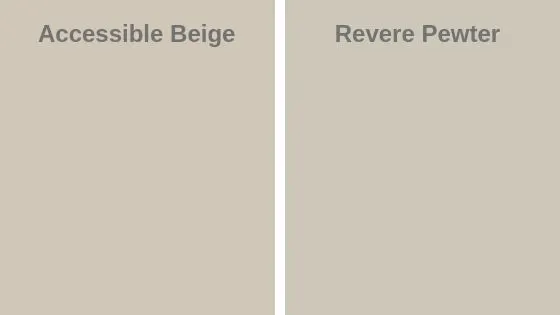 I often get asked if Revere Pewter and AB are the same color. When you look at Accessible Beige and Revere Pewter side by side you can see that they aren't.
What are the differences between Accessible Beige by Sherwin Williams and Benjamin Moore's Revere Pewter?
Accessible is more warm-toned than Revere Pewter.
Accessible Beige has an LRV of 58, slightly higher than RP 55.51
Accessible Beige is more of a beige color with gray undertones.
Both Accessible Gray and Revere have that hint of green in them.
Comparing these two, you can see that Revere Pewter looks a bit grayer, whereas AB looks beige.
Accessible Beige vs Revere Pewter, Who won this battle?
I can't declare who's the winner here because they are both awesome greige paint colors. And once again it strictly comes down to which paint color will work better for your space. If you are looking for a bit more warmth, Accessible Beige is a great choice. Even though Revere is a warm paint color, Accessible has a bit more to it.
We are all winners here, with trophies all around.
Accessible Beige vs Balanced Beige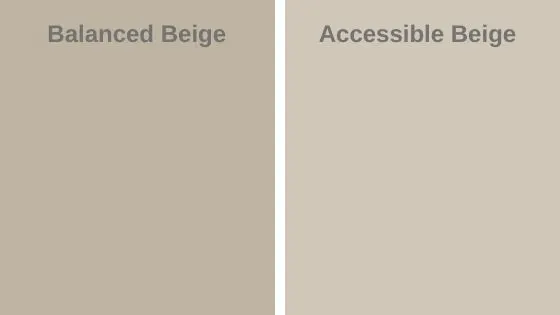 Balanced Beige and AB are other pairs that a lot of people compare to one another. They are both on the same color strip in the Sherwin Williams paint deck so that may be why. Regardless, I'm going to show you how these two beige paint colors compare.
Balanced Beige has an LRV of 46, whereas AB's LRV is 58. Both considered light paint colors.
Accessible Beige is noticeably lighter than Balanced Beige.
Balanced Beige has a taupe undertone.
Both colors have some gray in them
Basically, Balanced Beige is a darker version of Accessible.
---
Let's take a quick break and talk about SAMPLING your paint colors!
You know sampling your paint colors before moving forward with a project is the best way for you to get an accurate account of how that specific paint color will look in your space.
Choosing to not test paint colors is one of the biggest paint mistakes you can make.
I know people like to skip sampling because the paint sample cans are not cheap and they can get messy.
I have good news! There is an easier way to now sample your paint colors.
Instead of physically going to your nearest paint store to grab your samples, you need to try Samplize Peel & Stick paint samples.
Why should you try Samplize?
Super affordable
Mess-free
Non-damaging
Made with real manufacturer paint
Displays color just like a wall
Environmental friendly
Reusable
These peel & stick paint samples are super affordable and allow you to test a paint color in all different areas of a room without the mess of a traditional paint sample!
You know how I feel about testing paint colors, it's a must!
Don't create more work for yourself. Order Samplize now and have them shipped directly to you. No-fuss, no mess! Check them out for yourself, you won't be disappointed.
---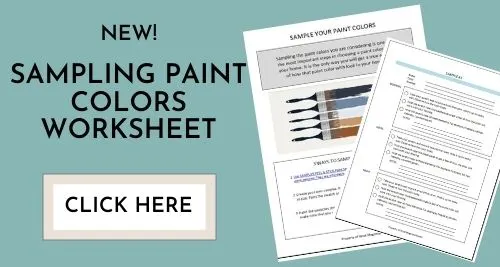 Recap
Here are all the need-to-know facts about Sherwin Williams Accessible Beige.
AB is not a builder beige paint color
It's considered a greige paint color.
it has a green undertone in it that may come out in certain situations
AB has an LRV of 58
Works as a great transition color for earthy colors schemes that need an update
Tends to wash out in direct light
works for both the interior and exterior of the home.
Looks great with many different colors, including white and black paint colors
Final Thoughts
After going through all the facts, the proof is in the pudding. Sherwin Williams Accessible Beige SW 7036 is 100 percent an excellent neutral greige paint color. It plays well with other colors, works in numerous settings, and it fits into any decor style.
Don't be scared by its name. This is by no means a "builders beige". There's much more to this awesome paint color than just beige. It's soft and subtle and could be the paint color you have been searching for. I'd say Sherwin Williams' Accessible Beige is worthy of a Samplize swatch.
Remember, The colors you see on the computer monitor aren't rendering true. This is why it's so extremely important to sample your paint colors beforehand!
Related Articles: