I may earn money or products from the companies mentioned in this post. Please click my Disclosure Policy to learn more
Sherwin Williams Greek Villa is a beautiful neutral paint color that is truly versatile.
Hello friends!
Here we go again, another day, another super fabulous paint color.
Can you feel the excitement?
Today we are chatting about a color that I recently got a question about. I went to pull up the post I wrote about it in and to my horror, there was no post in existence.
I was so sure I wrote an article about this paint color already because it's such an amazing color, but nope, nothing.
Obviously, today we are talking about that color, yes a neutral, but everyone loves a neutral paint color. Am I right?
Let me get to it and formally introduce you to the stunning,
SHERWIN WILLIAMS GREEK VILLA SW 7551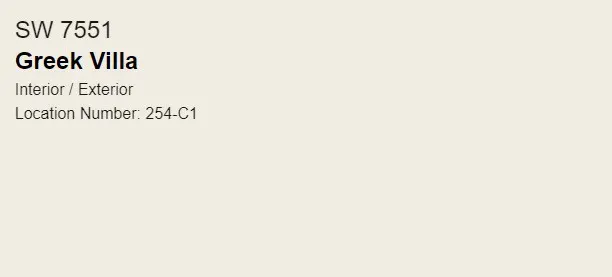 STATS
Hue Family – Yellow, Green-Yellow
Color Collections: Free Spirit, Living Well, Top 50 Colors, Timeless White, 2021 Tapestry, Rejuvenation – Spring/Summer 2021
LRV: 84
For those of you wondering what LRV or Light Reflectance Value is, it's a measurement commonly used by design professionals that measures the amount of light reflected from or absorbed into a surface. LRVs range from 0-100, with 100 being pure white and 0 being pure black.
So why is LRV important though?
Knowing the LRV or a paint color comes in handy when you are trying to decide whether a color may or may not be too dark for a space.
Essentially, the higher the LRV of a paint color, the more reflective the color will be. In the case of SW Greek Villa, its LRV is 84, which means it's going to reflect a fair amount of light.
But let's not forget that you also need to take into account the other elements of the space you are painting. For example, the amount of light, type of lighting, and the fixed and decor elements. These as well as LRV all play a part in how a paint color will look in your room.
Doing some painting yourself? Make sure you pick up this essential painting tool!
WHAT UNDERTONES DOES GREEK VILLA HAVE?
SW Greek Villa has mild yellowish-beige undertones. The undertones can come off almost beige-ish at times. But of course, the way the color will look all depends on the particular elements and lighting in a space.
The undertones are quite soft and subtle. They provide the color with a gorgeous delicate warmth.
IS GREEK VILLA SW7551 A WARM OR COOL COLOR?
Greek Villa is considered to be a warm paint color. With the hue family leaning more towards the yellow side, that's where it gets its warmth from.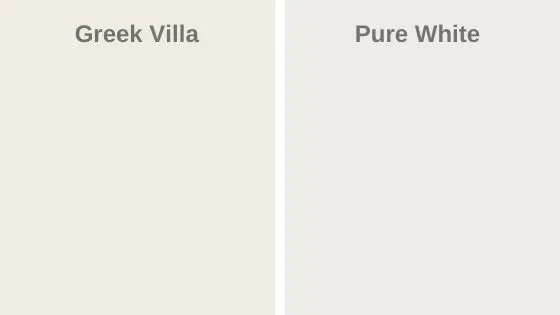 A great way to identify if a paint color is warm or cool-toned is to compare it to another paint color. For instance, let's place GV side by side with Sherwin Williams Pure White. You can clearly see how Greek Villa is the warmer of the two paint colors.
LIKE WARM PAINT COLORS? TRY THESE:
IS GREEK VILLA A WARM WHITE?
Yes, Sherwin Williams Greek Villa is deemed a warm white paint color. Is it the warmest white you will find? No, but when you start comparing GV to other whites like SW Extra White, You will be able to recognize it is a warm white.
DOES SHERWIN WILLIAMS GREEK VILLA LOOK TOO YELLOW?
I don't think it looks too yellow. In certain situations, for example, if you primarily have cool tones throughout a room and then incorporate GV, the cool tones will enhance the warmth of the paint color leading to a possible yellow tinge.
Also with certain lighting, it may possibly look too warm for your particular preference. However, it all depends on what you are looking to get out of the color.
I painted my home office with Sherwin Willams Greek Villa. I find that overall the paint color performs like a soft warm white. For reference, the room receives north-facing sunlight.
IS GREEK VILLA TOO WHITE?
Nope, Greek Villa SW 7551 is certainly not too white. Nor is it really a clean white paint color.
It's a warmer white color so you can expect it to never look stark or cold.
WAIT! Before you start painting make sure you have the best painting tools to make your job easier. It will take hours off your painting time!
GV and Lighting
Light plays an influential role in the way a color looks and can change the appearance of essentially any color. For this reason, it's a good idea to be familiar with the lighting condition of the room you are choosing the right paint color for.
North-facing rooms – Light in North-facing rooms comes off cooler and sometimes somewhat bluish. Lighter colors appear more muted, while bolder colors will show up, or appear better.
South-facing rooms– In South-facing rooms, there tends to be a consistently bright light throughout the day. Warm and cool tones work with south-facing light. This light intensifies colors, so darker colors will seem more vivid while softer colors will almost look like they are radiating.
East-facing rooms– East-facing rooms have the brightest light in the mornings, with a yellow-orange tone. If an east-facing room will be used regularly in the evenings, going with a warm palette will help to offset the lack of natural light.
West-facing rooms- Early evening is when West-facing rooms have the most favorable light. Warmer tones might seem a bit strong because of the red-orange tones the light gives off. However, if the main use of the room is in the mornings, the colors won't seem as intense.
WHAT IS THE BEST TRIM COLOR FOR GREEK VILLA?
The best trim color for Greek Villa is Greek Villa. I'll explain.
This is one of the most asked questions in regard to using white paint colors on the walls. What is the best trim color to use?
When it comes to using white paint colors, my motto is to keep it simple.
Say you are using SW Greek Villa on the walls, stick with it for the trim as well. But the trick is to use the color in different sheens of finishes
For the walls, a popular paint finish is eggshell or flat. And for the trim, use a durable finish like a semi-gloss.
Using Greek Villa in different finishes will give you enough of a difference between the walls and the trim without it looking all one flat color.
I find that when you start to introduce multiple white paint colors it becomes tricky and it can throw everything off.
Keep your life simple and stay with one white paint color for walls, trim, baseboards, and ceilings. Break up the look by using different sheens.
READ MORE: THE BEST WHITE PAINT COLORS FOR TRIM
WHERE TO USE GREEK VILLA SW 7551
This is an easy answer. Everywhere.
Greek Villa is perfect for trim, walls, cabinets, shiplap, exterior, etc. Basically, if you can paint it, Greek Villa will work.
SHERWIN WILLIAMS GREEK VILLA ON KITCHEN CABINETS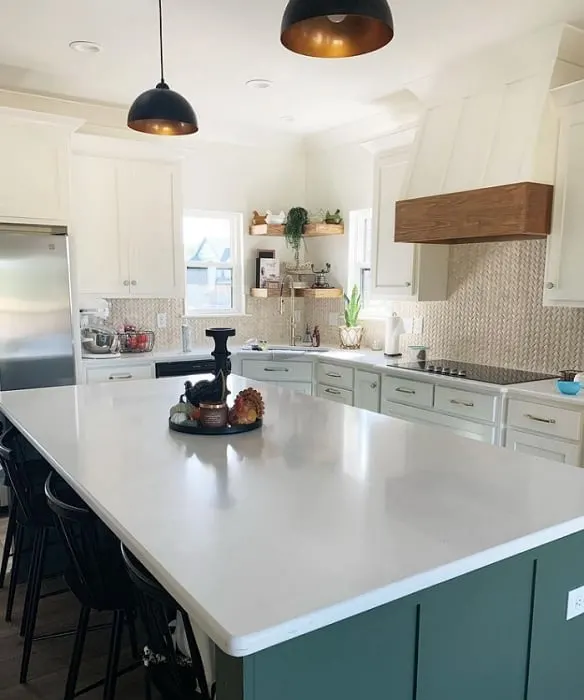 The kitchen cabinets are an amazing place to use Greek Villa. @holthomestead on Instagram paint her gorgeous cabinets using SW Greek Villa.
The color looks like the perfect white for her cabinets.
And I mean come on, does it not look like a dream kitchen? Especially with that island, that green paint color is amazing!
@holthomestead also painted her home office using Sherwin Williams Greek Villa. The tones of the flooring paired with the subtle warmth of GV are a match made in heaven.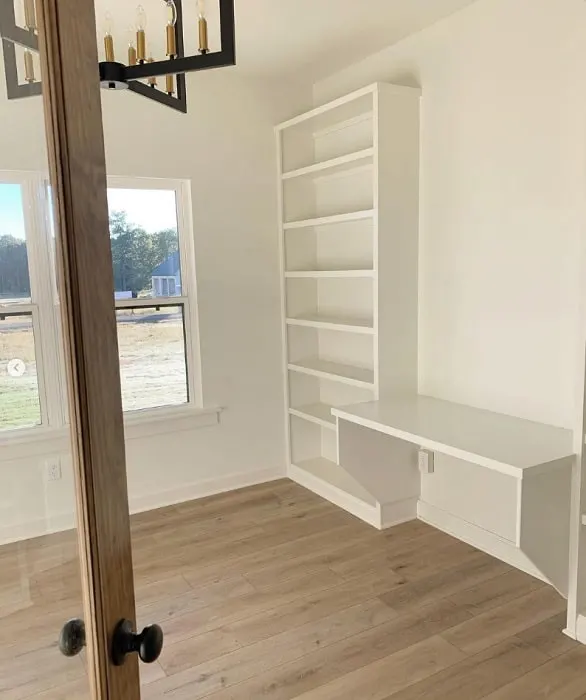 GREEK VILLA EXTERIOR
Greek Villa SW 7551 is an excellent exterior paint color choice. The color has enough warmth in it to keep it from looking like a very stark white. Ultimately, it will end up looking like a beautiful soft white on your home's exterior.
But keep in mind that every color that is used on the exterior lightens up. This means that GV will not have the same warmth as it would if used on an interior wall.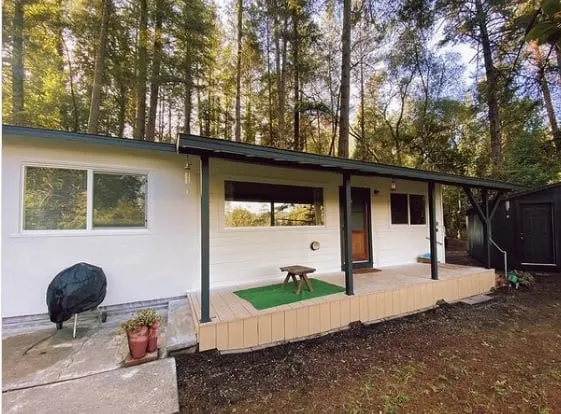 You can use Greek Villa on the body of your home or as the trim color, it works everywhere.
Ashlyn @coconutbunch on Instagram used GV on the exterior body of her home and it looks like a lovely soft white.
ARE YOU LOOKING FOR MORE PAINT COLORS FOR THE EXTERIOR?
WHAT'S THE BEST WAY TO SAMPLE?
As you may already know, I am an avid believer that testing a paint sample is the best possible way to see how the paint color Greek Villa, will look in your home. If you don't sample the paint color, you are essentially guessing how the paint color will look.
READ MORE: HOW TO TEST PAINT SAMPLES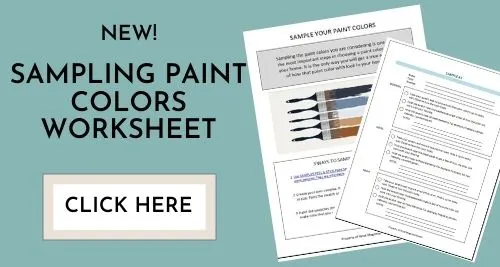 There are a few different methods you can use to test paint samples however there is one I favor over the others.
Samplize Peel & stick paint samples!
Instead of physically going to your nearest paint store to grab your samples, you need to try Samplize Peel & Stick paint samples.
Why should you try Samplize?
Super affordable
Mess-free
Non-damaging
Made with real manufacturer paint
Displays color just like a wall
Environmental friendly
Reusable
These peel & stick paint samples are super affordable and allow you to test a paint color in all different areas of a room without the mess of a traditional paint sample!
You know how I feel about testing paint colors, it's a must!
Don't create more work for yourself. Order Samplize now and have them shipped directly to you. No-fuss, no mess! Check them out for yourself, you won't be disappointed.
THE BEST LIGHT BLUBS TO USE
Yes, light bulbs will influence how a paint color will look in a room. And unfortunately, it's a detail that is often overlooked.
With the variety of light bulbs available and it can become overwhelmingly confusing. How on earth can you know which bulb will make Greek Villa look the best?
It becomes easy once you know a little bit about light bulbs.
For reference, light color or light appearance is measured on the Kelvin (K)temperature scale. Lower Kelvin numbers mean more yellow light; the higher the Kelvin number the whiter or bluer light
Say it with me, Lower Kelvin (K) numbers = yellow light, Higher Kelvin (K) numbers = white/blueish light
I always recommend using this type of light bulb.
And be wary of the light bulb names like "daylight" or warm light". advise against picking a light bulb by its name of it. Instead, always check the package for actual facts. This allows you to choose the best bulb for you.
Don't forget, as much as lighting plays a major part in how a paint color like Greek Villa will look at times, there are other determinants to be aware of. For example, decor, furniture, fixtures, cabinetry, and floors. These are all elements that can affect and or influence the way a paint color will look in your room.

WHAT IS THE BENJAMIN MOORE EQUIVALENT TO GREEK VILLA?
There is no true equivalent to GV but there are two Benjamin Moore Paint colors that are comparable.
CC-40 CLOUD WHITE Benjamin Moore Designer Classics
CW-10 CAPITOL WHITE Benjamin Moore Williamsburg Color Collection
They are similar but not the same. When it comes to color matching between paint brands, I tend to steer clear. Each brand uses different formulas and the color you are requesting may not be an exact dupe.
Play it safe, and find a color from the actual brand you like.
COORDINATING COLORS
Even though Greek Villa is a neutral paint color, it can sometimes be confusing to create a coordinating color palette. That's why I love to share a few colors that will harmonize well with Greek Villa.
Illusive Green SW 9164
In The Navy SW 9178
Rosemary SW 6187
Hopsack SW 6109
Little Blue Box SW 9044
Sashay Sand SW 6051
Black Fox SW 7020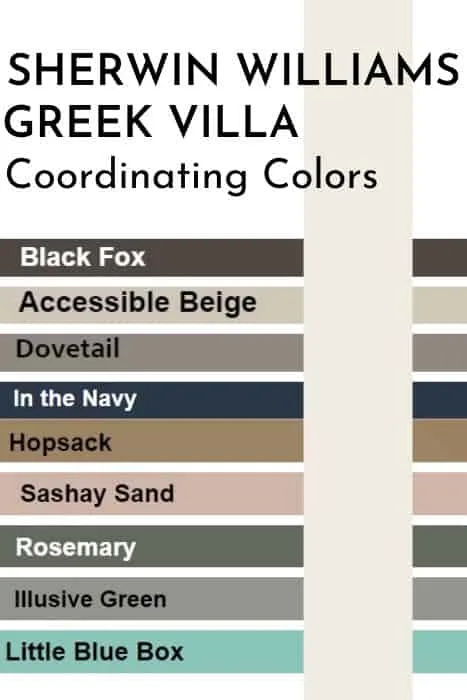 COLOR COMPARISONS
Comparing colors is a fantastic way to decipher the undertones and tone of paint colors. It can also help you determine if you like a color or not. So let's see how a few popular colors compare to GV.
GREEK VILLA VS ALABASTER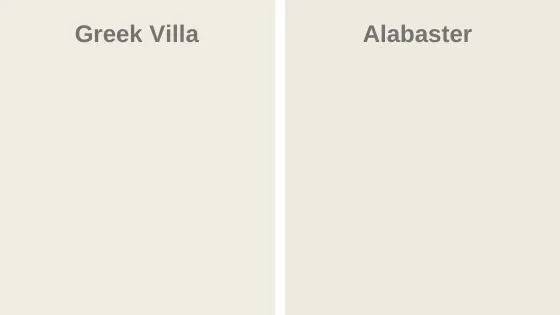 I often get questions about how GV compares to the very popular Sherwin Williams Alabaster. Here are some of the questions:
Is Greek Villa or Alabaster more white? Alabaster, by a hair
Is Greek Villa whiter than Alabaster? No
Is Greek villa lighter than Alabaster? Yes
These 2 colors are similar. They are both warm white paint colors with a hue family of Green/yellow closer to yellow.
Alabaster has an LRV of 82 and GV has an LRV of 84
Alabaster has some yellow undertones but also a bit of gray as well.
GR comes off a bit more of a creamy white compared to Alabaster
READ MORE: SHERWIN WILLIAMS ALABASTER REVIEW
GREEK VILLA VS PURE WHITE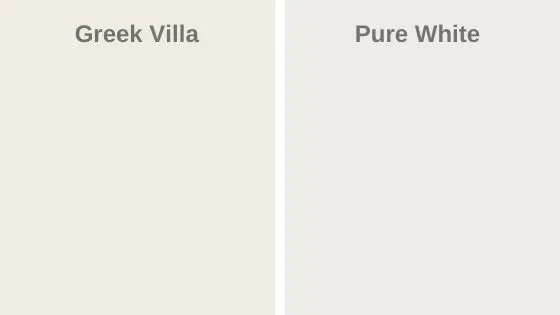 Pure White is a hair lighter and has an LRV of 84
Pure White is the cleaner or whiter color of the two
Both paint colors have some yellow in them but Pure White has some gray/black in it to give it a cleaner look.
A question I hear come up often is:
Does Greek Villa go with Pure White?
There's not a straightforward yes or no answer. It honestly depends on your home and how the 2 colors will look paired together in the space. I do believe there is potential for them to live harmoniously together, but again, this is something you need to test out in your home.
READ MORE: SHERWIN WILLIAMS PURE WHITE REVIEW
SW GREEK VILLA VS BENJAMIN MOORE WHITE DOVE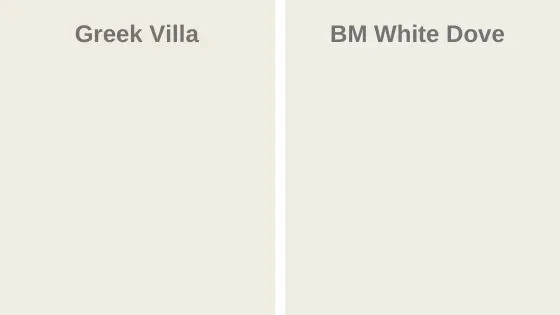 BM White Dove is the cleaner/more white of the two paint colors
White Dove has an LRV of 85.38
Greek Villa is the lighter of the two colors
GV is more creamy compared to White Dove
Both are considered off-whites
READ MORE: BENJAMIN MOORE WHITE DOVE REVIEW
GREEK VILLA VS SWISS COFFEE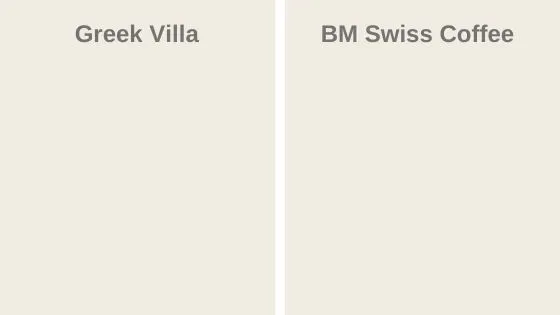 GV is in fact, the lighter of the two paint colors. (only by a hair)
both are considered warm paint colors
they both come from the same hue family green/yellow closer to yellow
Swiss Coffee has an LRV of 83.93, very close to GV's 84
Swiss Coffee is also a part of Benjamin Moore's Off-White Collection.
GV is more white when compared to Swiss Coffee.
READ MORE: BM SWISS COFFEE FULL REVIEW
KEEP TRACK OF YOUR PAINT COLORS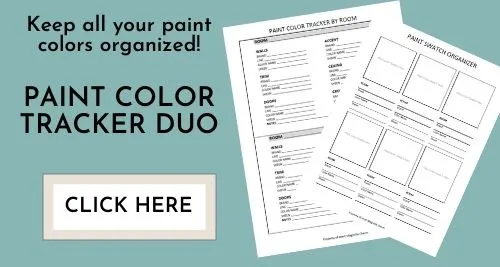 SHERWIN WILLIAMS GREEK VILLA REVIEW
Let me do a quick review of what we learned about this fabulous paint color.
Is one of Sherwin Williams best selling paint colors
is a part of the Color Collections: Free Spirit, Living Well, Top 50 Colors, Timeless White, 2021 Tapestry, Rejuvenation – Spring/Summer 2021
Has an LRV of 84
comes from the yellow of Green/yellow closer to the yellow hue family
has yellow almost beige-ish undertones
it's a warm white paint color
looks great just about anywhere
FINAL THOUGHTS
I think Sherwin Williams Greek Vill SW 7551 is a beautiful off-white paint color. There's no doubt as to why it's on Sherwin Williams's top 50 best-sellers list.
Some may say "it's just another off-white" but I wholeheartedly disagree. Sure there are similar paint colors out there however with Greek V there is something special. It could be the hint of warmth it has or it could be that it reminds me of the exterior of an actual Greek Villa on the coast of Greece. Regardless, I am a superfan.
Another thing to note is that this neutral warm off-white paint color is the ideal backdrop to highlight any decor style. It grants the decor to stand out as the star of the show, also allowing you to easily shift your decor without limitations.
The versatility of this color is just so appealing. I highly recommend giving this one a swatch.
---
SUBSCRIBE TO MY EMAIL LIST AND GET A FREE COPY OF MY INTERIOR PAINTING CHECKLIST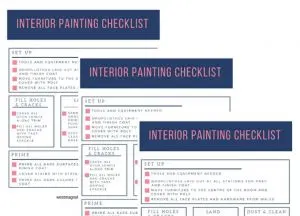 ---
Are you planning on tackling a painting project on your own? Use these tips to help you paint your room like a pro.
Do you want to paint like a pro?
Get the painting tools the pros use.
Drop cloths are a must for any painting project. Paint is messy! Save yourself the hassle of unnecessary cleanup by using drop cloths. You'll be happy you did.
A high-quality paint brush will go a long way. The same goes for paint rollers. You want to use tools that will work with you, making your painting job more manageable.
RECENT ARTICLES