I may earn money or products from the companies mentioned in this post. Please click my Disclosure Policy to learn more
Shutters are an easy and cost-effective way to update your homes curb appeal. Not only do they add character to your home they also add charm. Don't be intimated by selecting a shutter color. Use these tips to easily learn how to pick shutter colors that are perfect for your home.
Back in the day windows shutters were used mainly to protect windows from the outside elements.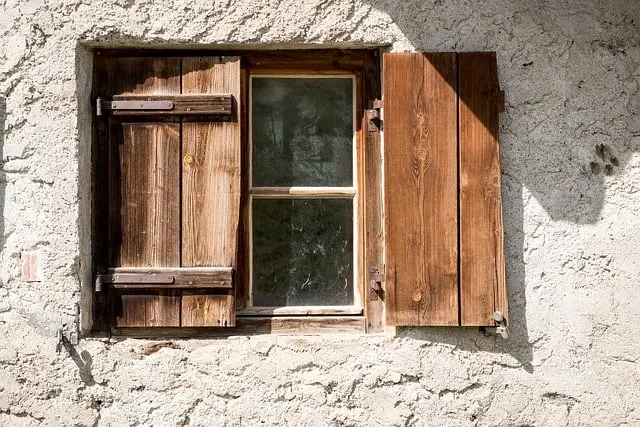 Image by Pezibear from Pixabay
They provided an extra layer of protection from rain, snow, high winds, basically whatever mother nature threw at them. But today, shutters are almost purely for decor purposes. They are like jewelry to the home.
Many homeowners use shutters as a design aesthetic to personalize and boost their home's exterior curb appeal. Shutters additionally work great with all different types of home styles; modern, farmhouse, colonial, etc, and when it comes to selecting a shutter color there are a few tips to keep in mind.
Things to consider when picking a shutter color.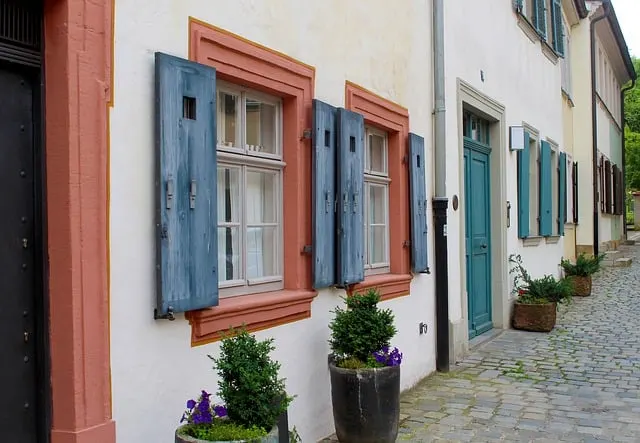 Image by Birgit Böllinger from Pixabay
Your Homes Exterior Colors
Your home usually consists of 3 color components, the base, trim, and accents, shutters being an accent. They are the three things that make up your exterior color scheme.
Shutter color should not compete with the existing colors of your home, rather it should complement them. Being an accent the shutter can provide a pop of color or it can be the piece to complete the look of the home.
Keeping the exterior colors in mind will help you in the choice of a shutter color.
Your Homes Exterior Style
The style of your home is a big factor when picking a shutter color. Some home styles look better with certain colors than others. For example, a home with more of a contemporary style will look great with bolder or more vibrant colors.
The Window Trim Color
The color of the window trim is an important element. Being that the shutters bump up next to the trim, you want to make sure the color won't clash with one another.
A great way to make your windows look larger is to choose the same shutter color as the trim. Choosing matching colors will make the window and shutters look like one piece.
Neighbors Homes
Look around your neighborhood to get a feel of some of your neighbor's exterior color schemes. Are the homes similar to yours? If so, you can use them as inspiration to choose a shutter color suitable for your home.
Try to stick to colors that are consistent with the neighborhood avoiding colors that will clash or stand out. This is especially important if you are planning on selling your home shortly.
Lighting
Since the shutters are on the exterior of the home, we know they will be seeing a tone of natural light. Generally, colors will look lighter in the sun. So that is something you want to keep in mind when you are picking a shutter color.
Why is shutter color important?
There are a few reasons why shutter color is important. As I mentioned before, your home's color palette consists of three components: base, trim and accent.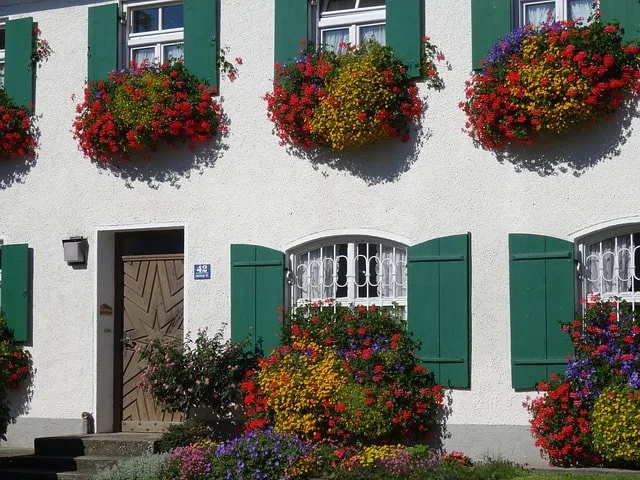 Image by Peter Wolf from Pixabay
Base– The majority of the home's exterior walls is the base. The base can be anything from painted vinyl to unpainted brick. It covers the most real estate on the exterior of your home.
Check out Popular Exterior Paint Colors for the base for your home and the best paint colors to pair with brick.
Trim– The trim is what outlines the base and windows. Trim ranges in paint colors, whites like BM Chantilly Lace being an extremely popular choice. However, I am now seeing trim ranging in all different colors.
Accents– The accents are typically the front door, shutters, and other details. Since the accents are generally easier and the most inexpensive to change, it's a great opportunity to explore color. This is where you can get as creative as you want.
READ MORE: THE BEST WHITE PAINT COLORS FOR TRIM
Now to answer the question, why is shutter color so important? It's because the shutters are the home's accent and the accent is what makes your home stand out. It is the perfect chance to add charm and personality to your home. Remember, shutters are the jewelry on your home.
FAQs on How to pick shutter colors.
The following questions are the most frequently asked questions we receive regarding selecting window shutter colors.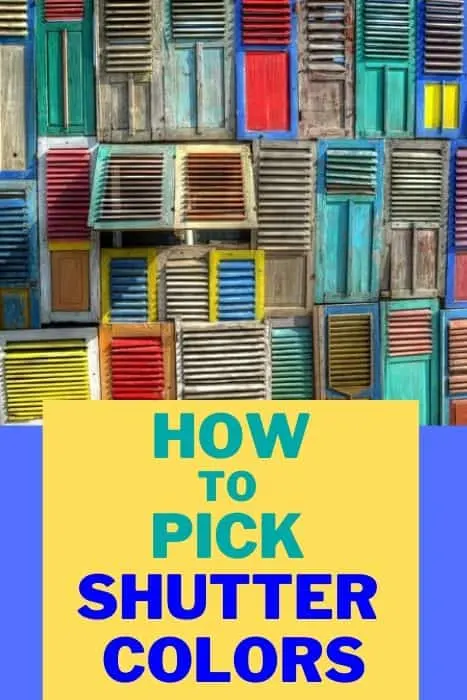 Should shutters match the front door?
This is probably the question that is asked most often. Do the shutters have to match the front door? The simple answer, is no.
The front door of the home is where you can play with color. That's not to say you cannot play with color on the shutters however, the front door is the focal point of the home. You want the focal point to stand out and be eye-catching. A bold color on the front door will do that.
That being said if you want the front door to be a focal point, the shutters should be a different, neutral color.
Now if you want the shutters to be the focal point, use a bold color there and a neutral color on the front door.
The moral of the story here is that the shutters do not have to match the front door.
Do shutters have to match trim?
The trim on your home is one of the three components that make up the exterior's color palette. Being that the shutters are considered an accent, you don't have to match the two. For the most part, they should be different from one another. However, it certainly doesn't mean they cannot match.
If you like a monochromatic look, choose different shades of one color. The different shades will add dimension and prevent your home from falling flat.
What color should I paint my shutters?
This is another question that is always asked. What color should I paint my shutters? I'll suggest going through the following list:
Look at your home's exterior colors
What is the style of your home
do you want your windows to appear larger?
what are the homes in your neighborhood like?
what are your favorite colors? (Everyone has a favorite color)
lighter colors will make things appear larger and darker colors will add contrast and definition.
Going through this list will help you narrow down the paint color choices for your shutters.
Now as helpful as this list is some people still have trouble selecting a shutter paint color. When that happens, I have suggestions for homes painted in certain colors.
Shutter colors for a brick house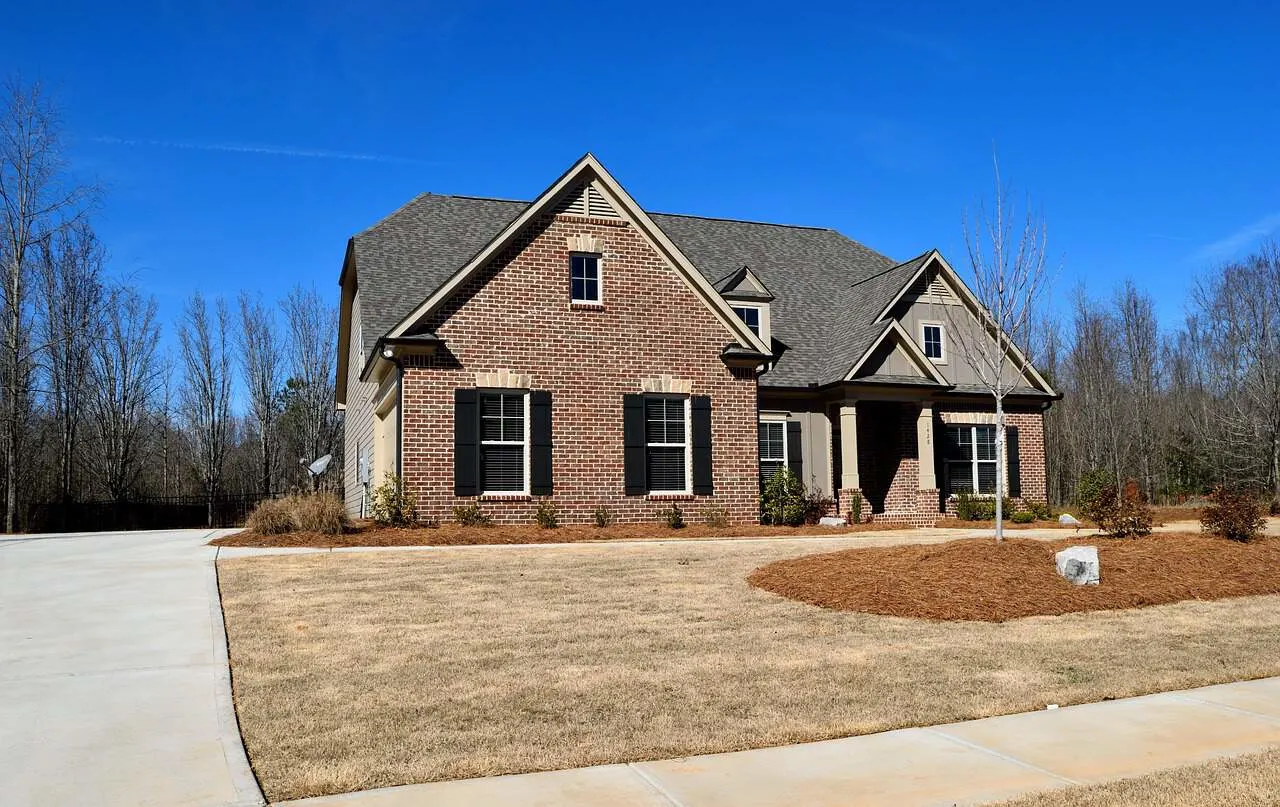 Black shutters on a brick home add a bit of elegance to the home. They always look great on brick homes.
Along with black, there are several other great colors to pair with brick homes. Natural and neutral colors with warm tones like SW Agreeable Gray also work well with a brick home.
Whether you have a red brick ranch or cape cod home, these colors will work beautifully.
EXPLORE WARM-TONED PAINT COLORS:
Shutter colors for a tan house
Tan homes look great when they are paired with natural tones. However, if you are looking for more of a pop of color blue is a great choice. Any shade of blue will look great.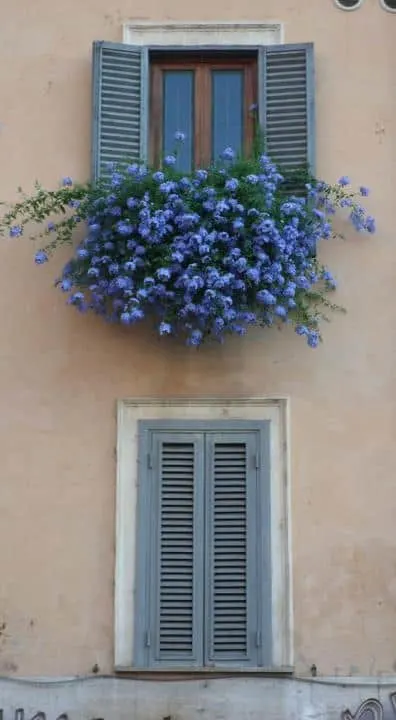 Shutter colors for a cream house
For a home that is a cream or creamy white like the color SW Alabaster, there are several options to shutter paint color options.
Painted black shutters on a cream home are timeless. Warmer gray paint colors also look fantastic when paired with a cream home.
A color like Riverway from Sherwin Williams painted on the shutters of a cream home would add a beautiful pop of color.
Green paint colors are also a great option for a tan home.
What are the most popular exterior shutter colors?
With so many shutter colors to choose from, there are bound to be a few more popular colors than others. Two of the most popular exterior shutter colors are black and white. These two colors work with any home exterior. Two fantastic black and white paint colors are SW Tricorn Black and SW Pure White.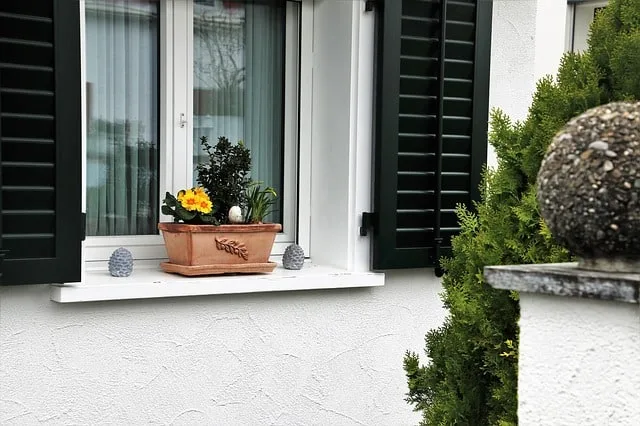 Image by pasja1000 from Pixabay
In addition to black and white, navy blue shutters are popular. I consider navy to be a neutral color and I think it works with many other colors. It makes a beautiful shutter color when you want color, just not too much color.
Gray shutters are popping up more and more lately. Again, another neutral so they work well with a lot of homes.
RECAP: How to pick shutter colors.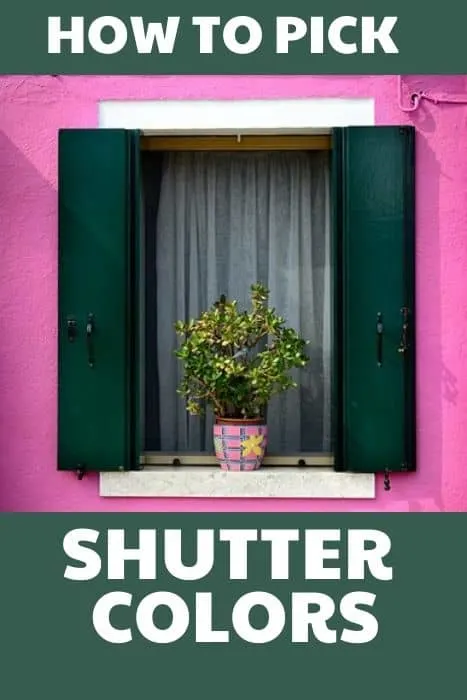 To make your windows appear larger, match the shutter color to the trim.
The shutter color does not have to match the other elements of your home, i.e. front door or trim.
Choose an exterior shutter color that complements your home. Look at your home base, trim, and accent colors to help you narrow down your choice.
Don't forget to factor in how the shutter color will work in combination with landscaping, roofing, or stonework on your home.
The sun makes colors appear lighter, so make sure you look at your paint swatches outdoors.
Don't forget about your neighbor's homes. Take a look around your neighborhood and see what the color scheme is like.
Final thoughts: Choosing an exterior shutter color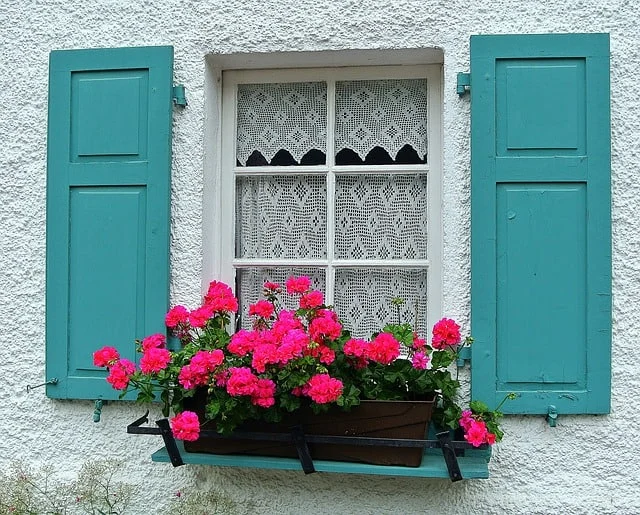 Image by Matthias Böckel from Pixabay
There are no rules on how to pick shutter colors, just advice and suggestions. At the end of the day, it's your home and you can pick a shutter color of your choice.
Finally, if you are still struggling to pick shutter colors, take a look at the color wheel. It will give you all the colors that complement one another and take the guessing out of it.
Don't Forget to Swatch!
Be prepared to swatch! Grab yourself some chippy brushes.
Finally, as I say in all my paint color posts, make sure you swatch the paint colors you are thinking about using. The colors you see on the computer look different than a swatch on your home. So choose a few colors you want to try and swatch those babies. LARGE swatches too!
Trust me choosing the wrong paint color is an expensive mistake you do not want to make.
Check out my review on Samplize, it's an easier, mess-free way to swatch!
TRY SAMPLIZE NOW
Looking for more color options? Grab your own Benjamin Moore fan deck


Looking for more color options? Grab your own Sherwin Williams fan deck.

Need paint color inspiration? Check these out!