I may earn money or products from the companies mentioned in this post. Please click my Disclosure Policy to learn more
Tricorn Black is one of Sherwin Williams's most popular black paint colors. This deep dark black paint color will bring drama and pure elegance to any space it is used.
Hello again! Welcome to an extraordinary paint color post!
Why is it extraordinary?
I'm so glad you asked!
Because we are talking about one of my favorites from Sherwin Williams. This is a color that I have used in my home and in other homes countless times. It's a color that never disappoints and always manages to wow me.
If you are looking for a moody, dark, dramatic, bold, full-bodied, classic, and timeless paint color you have come to the right place!
It's extremely fitting that I decided to review this color during the Halloween season. It's almost like I planned it. (Almost, we all know it was a happy coincidence.)
So in the spirit of Halloween, let me introduce you to the dark, mysterious, and enchanting
SHERWIN WILLIAMS TRICORN BLACK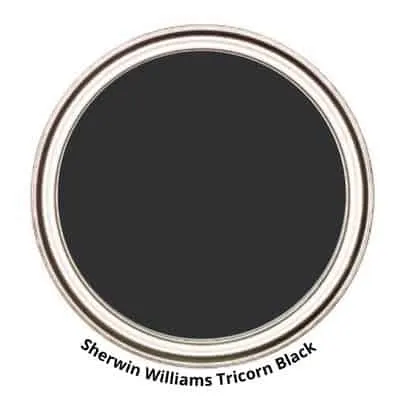 STATS
Let's just jump right in with a few fun statistics about Tricorn Black.
LRV: 3
HUE FAMILY: Purple Blue
Color Collections: Reasoned, Trendsetter, Top 50 Colors, West Elm, 2021 Tapestry, Rejuvenation – Spring/Summer 2022
Tricorn Black has an LRV of 3. Ok, that s great but what does LRV mean?
LRV is a very commonly used term you hear when it comes to paint colors. And it can be very helpful in choosing a paint color. But a lot of people don't know what it is or why it's useful. And for a homeowner that's completely normal!
Don't worry though, if you are unfamiliar with LRV, I'm going to give you a very brief overview of what it is.
LRV stands for Light Reflectance Value. It is a measurement commonly used by design professionals that measures the amount of light reflected from and absorbed by a surface. LRVs range from 0-100, with 100 being pure white and 0 being absolute black.
A great article to read to learn more about LRV is Light Reflectance Value: What Do Those Numbers Mean?
Now having an idea of what LRV means, you could have guessed that Tricorn would have a super low LRV being that it is so dark of a color.
One of the lesser known or talked about stats is the hue family of a paint color. The hue family is based on the origins of the colors we can see. For example, red, blue, green, yellow, etc.
SW Tricorn Black is from the purple-blue hue family.
Overall, the hue family allows you to understand the paint color's origin and it gives you some insight into how the color may or may not act.
Finally, to finish off this stats section, let's talk about color collections.
All a color collection truthfully means is it's a curated group of paint colors. Some are created by paint color experts, others are grouped by color. But that basically all it is.
Tricorn Black is part of a few different color collections, most notably Sherwin Williams Top 50 Colors.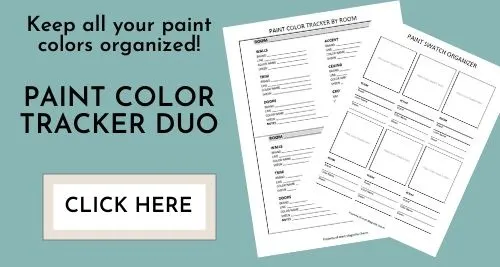 WHAT COLOR IS TRICORN?
This may seem like a super silly question but hey, I'm going to answer anyway.
Tricorn Black is a black paint color. Plain and simple.
WHAT UNDERTONES DOES TRICORN BLACK HAVE?
Tricorn Black doesn't have any notable undertones.
Let me dive a little deeper into this question.
Undertones are merely subjective. You may see an undertone show up in a paint color that someone else doesn't see. But how is that possible?
The way a color acts in a space is highly influenced by the lighting as well as the surroundings in it. Lighting plays a significant role in the way a paint color looks.
WAIT! Before you start painting make sure you have the best painting tools to make your job easier. It will take hours off your painting time!
IS TRICORN BLACK A WARM OR COOL PAINT COLOR?
Tricorn Black doesn't really lean warm or cool. In my experience, this is a color that stays pretty dang neutral.
If you are wondering how you can determine whether or not a paint color is warm or cool in tone, all you need to do is compare it to another paint color. I find comparing it to another color will allow you to see the tone better.
That being said depending on what color you compare it to, it may potentially look cooler or warmer in tone.
Let me show you what I mean and compare Tricorn Black to Black Fox. As you can see, Black Fox when placed next to Tricorn Black is clearly the warmer paint color of the two.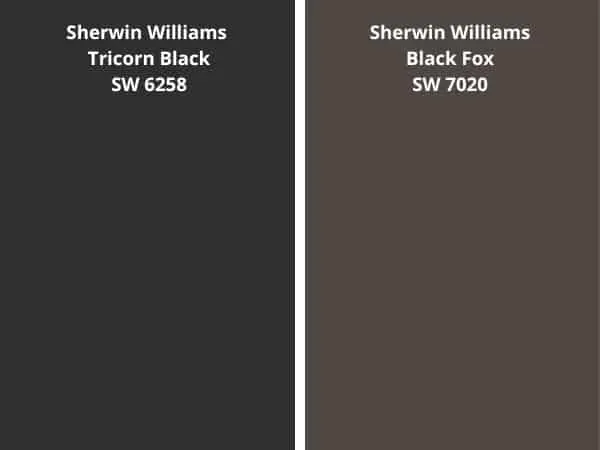 Explore More Warm-Toned Paint Colors:
IS TRICORN BLACK A TRUE BLACK?
Going solely off of spectral data, Sherwin Williams Tricorn Black is pretty dang close to true black paint color. Instead of referring to it as a true black, I like to say it's a no-nonsense black paint color.
This is a great black paint color to use if you are worried about it showing any unwanted colors. Tricorn Black is a very neutral black that for the most part is a true black.
Tricorn Black (SW 6258). "Our most popular black — the truest of true blacks,

Jackie Jordan, director of color marketing for Sherwin-Williams,
IS SHERWIN WILLIAMS TRICORN BLACK THE BLACKEST BLACK?
Yes, Tricorn Black is Sherwin Williams's blackest black. Jacie Jordan, the director of Sherwin Williams color marketing confirmed it. She said,
"definitely our blackest black, a really rich, deep perfect black."

Jackie Jordan, director of color marketing for Sherwin-Williams
Now, is it the blackest black paint color among all brands? Honestly, I'm not sure. I haven't researched that just yet.
But overall, if you want a true black paint color, Tricorn Black is it.
LIGHTING AND CARDINAL DIRECTIONS
Let's talk about lighting, cardinal directions, and how they influence the way paint colors look.
The lighting in your space will affect how your paint color looks. There's no denying it. Is it the only factor? No, but it's kind of a big deal.
That being said, being aware of how the lighting in your home is and in which direction your rooms sit, will ultimately assist with your paint color selection.
The Cardinal directions are North, South, East, and West.
For reference, here is a cheat sheet of light appearing in different directions.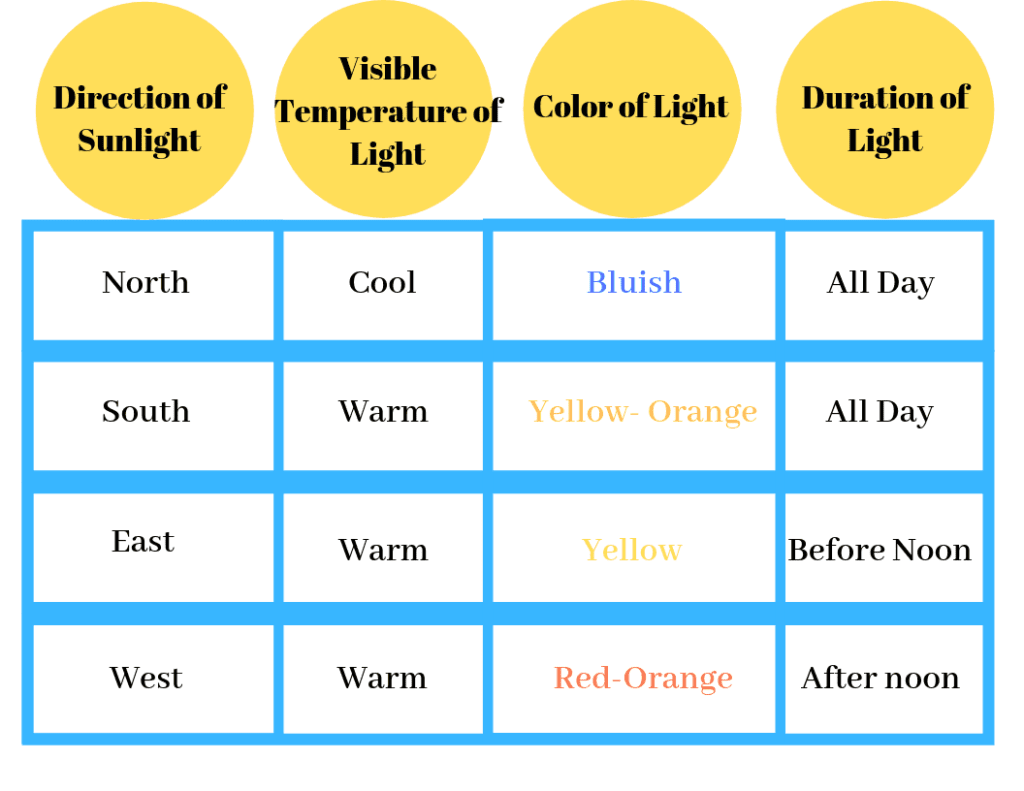 NORTH-FACING ROOMS – Light in North-facing rooms comes off cooler and somewhat bluish. Lighter colors will appear more muted or grayed down, while bolder colors will show up, or appear sounder.
SOUTH-FACING ROOMS – In South-facing rooms, there tends to be a consistently bright light throughout the day. Warm and cool tones work with south-facing light, This light intensifies colors, so darker colors will seem a bit brighter while softer colors will appear to look like they are gleaming.
EAST-FACING ROOMS – East-facing rooms have the brightest light in the mornings, with a yellow-orange tone. If an east-facing room will be used mostly in the evenings, going with a warm palette will help balance the lack of natural light.
WEST-FACING ROOMS – Early evening is when West-facing rooms have the most favorable light. Warmer tones might seem overwhelming because of the red-orange the light gives off. However, if the main use for the room is in the mornings, the colors won't appear as strong as they would in the evening.
WHAT ARE THE BEST LIGHT BULBS TO USE?
Just as natural light affects paint colors so does artificial lighting.
The color of the light bulbs you use will influence how a paint color will look in a room. And unfortunately, it's an important detail that is often overlooked.
With the variety of light bulbs available and it can become overwhelmingly confusing. I mean what really soft white and bright white?
Thankfully, it becomes easier once you know a little bit about light bulbs.
For reference, light color or light appearance is measured on the Kelvin (K)temperature scale. Lower Kelvin numbers mean more yellow light; the higher the Kelvin number the whiter or bluer light.
Remember, lower Kelvin (K) numbers = yellow light, Higher Kelvin (K) numbers = white/blueish light
I always recommend using this type of light bulb.
Be cautious of the light bulb names such as "daylight" or warm light". I'd advise against picking a light bulb by its name.
Instead, always check the package for actual facts. This allows you to choose the best bulb for you.
Don't forget, as much as lighting plays a major part in how a paint color will look at times, there are other determinants to be aware of. For instance, decor, furniture, fixtures, cabinetry, and floors. These are all elements that can affect and/or influence the way a paint color will look in your room.
Follow these helpful painting tips and avoid these mistakes to get the job done right!
WHAT IS THE BEST WAY TO SAMPLE TRICORN BLACK?
Not sampling paint colors is one of the biggest painting mistakes you can make! If you skip it, you run the risk of a paint color failing to look the way you hoped it would. This is not only disappointing but costly!
---
LEARN HOW TO SAMPLE PAINT COLORS THE RIGHT WAY!
GRAB A COPY OF MY PAINT SAMPLING WORKSHEET TO GET THE MOST OUT OF YOUR PAINT SAMPLES!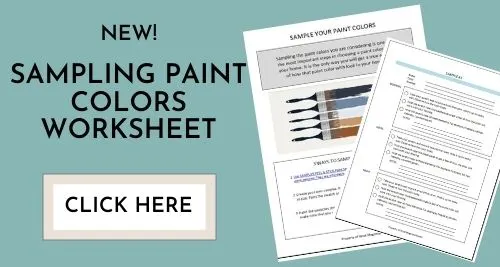 ---
This is why I always say sample those paint colors!
Want to know the best and easiest way you can sample SW Tricorn Black?
SAMPLIZE PEEL & STICK PAINT SAMPLES!
Quickly, let's talk about testing paint colors.
Instead of physically going to your nearest paint store to grab your samples, you need to try Samplize Peel & Stick paint samples.
Why should you try Samplize?
Super affordable
Mess-free
Non-damaging
Made with real manufacturer paint
Displays color just like a wall
Environmental friendly
Reusable
These peel & stick paint samples are super affordable and allow you to test a paint color in all different areas of a room without the mess of a traditional paint sample!
You know how I feel about testing paint colors, it's a must!
Don't create more work for yourself. Order Samplize now and have them shipped directly to you. No-fuss, no mess! Check them out for yourself, you won't be disappointed.
WHAT IS THE BENJAMIN MOORE EQUIVALENT TO SHERWIN WILLIAMS TRICORN BLACK?
According to scientific data, there was one color that came fairly close to the specs of Sherwin Tricorn,
2126-10 BLACK TAR
LRV 3.63
Are these two paint colors identical? No. They have a few minor differences. For example, Benjamin Moore Black Tar is a bit lighter and not as black.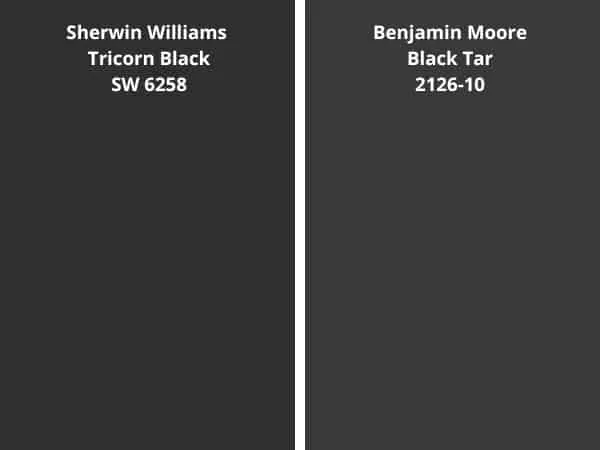 A color I have used that I find to be quite comparable to Tricorn is Benjamin Moore Black. They are both very similar in darkness and they are both very neutral.
COLOR MATCHING, SHOULD YOU DO IT?
For the most part, I don't like to color match. This is because brands have their own ways of formulating the paint colors. There is no guarantee that a paint color will be matched accurately.
If you still want to proceed with color matching, I highly recommend getting a sample of the color beforehand. This way you can make sure the color is what you intended it to be.
WHERE TO USE TRICORN BLACK
The use of dark and black paint colors is so ever-present these days. I'm seeing it everywhere and I am loving every bit of it. Bold black paint colors like Tricorn are more flexible than you realize. They are ultimately the little black dress, they work with everything!
Where should your use Tricorn Black? The possibilities are endless! Use it on the walls, fireplace, kitchen cabinets, and furniture, I'm serious, use it anywhere.
KITCHEN CABINETS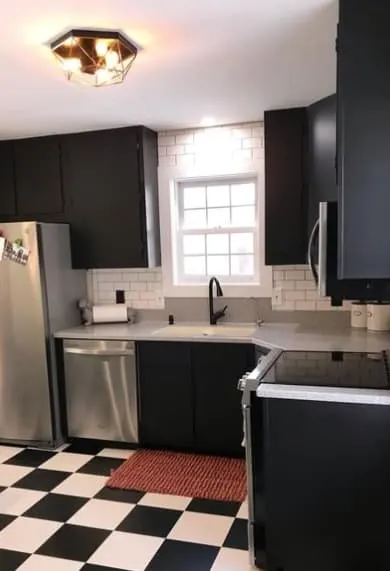 Paint your kitchen cabinets black!
Emily @stumpsaltboxreno on Instagram painted her kitchen cabinets using Tricorn Black.
Her cabinets look so sleek. They don't look too overpowering or heavy in her kitchen either. She created such a timeless and classic kitchen, I'm in love!
Tricorn Black is the perfect accent color for shiplap or a fireplace.
I built this fireplace in my master bedroom using my DIY shiplap and then painted it with SW Tricorn Black.
Going with black made the fireplace stand out, in a fantastic way!
READ MORE: HOW TO PAINT SHIPLAP
BEDROOM WALL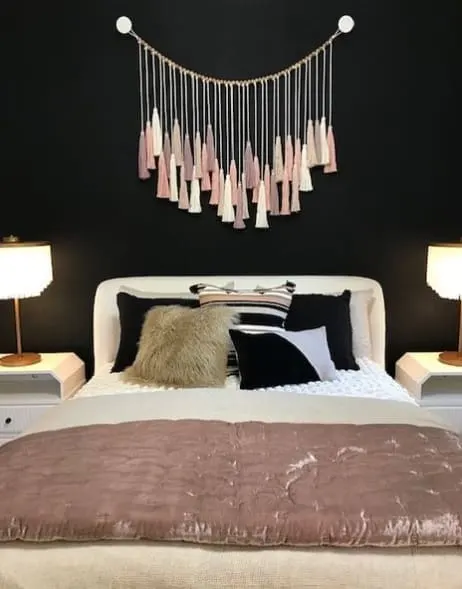 Use TB as a bedroom wall color. I know what you are thinking, black walls, won't that be too heavy for the room?
Holly owner of H Interiors painted the wall behind the bed using Tricorn Black. I have to say it is a statement-maker!
The room doesn't look dark or weighed down, rather it looks classical and extremely elegant.
INTERIOR DOORS
Paint your interior doors black! This is a trend I have seen lately and to be honest, I love it!
BLN Home used Tricorn black to paint the interior doors. They look fantastic and it's such a refreshing shift from the ordinary white doors.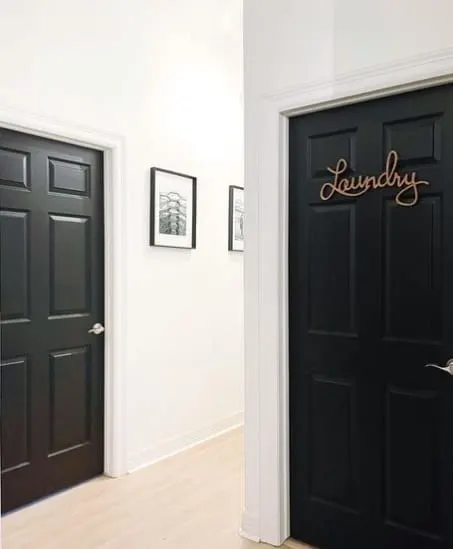 IS SW TRICORN BLACK A GOOD EXTERIOR PAINT COLOR?
Yes, I do think it will work on the exterior of a home, not only as a base color but for shutters, doors, trim, etc.
Whether or not you have thought about painting the exterior of your home black, It is more common than you think and it can make a very strong visual statement.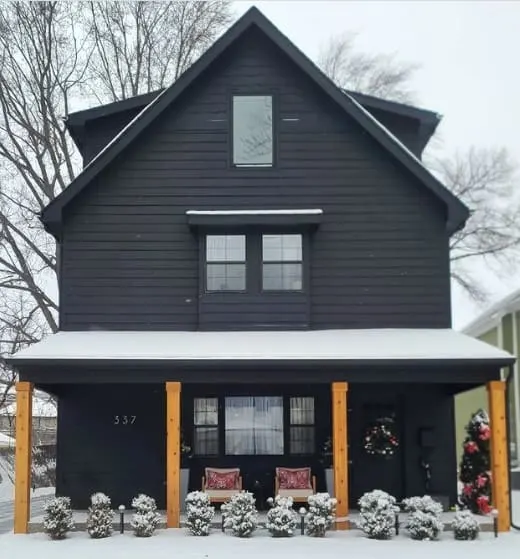 Tricorn Black on the exterior will add a tremendous amount of drama and depth to your home. It will also give your home a modern feel.
Not a fan of a whole black exterior? Consider using Tricorn as a front door color or highlighting any architectural designs of your home.
A thing you need to know before you use black on the exterior is that it will fade faster than a lighter paint color. Darker colors always fade more in the sun.
EXPLORE MORE EXTERIOR PAINT COLORS:
WHAT WHITE GOES WITH TRICORN BLACK?
The beauty of Tricorn Black is that it is so neutral that it will work with any white paint color. I have paired it with so many different white paint colors and every time it looks amazing.
Whether you are looking for a white paint color to complement TB for the trim or for the walls, it won't be an arduous task at all.
In my master bedroom, I used Benjamin Moore White Dove on the walls and Tricorn Black on the fireplace I built. I wasn't worried about the two being used together. The neutralness of Tricorn blended amazingly with the slight warmth of White Dove. It's such a lovely combination.
Since you honestly cannot go wrong with any white paint color, I wanted to share a few of my favorites.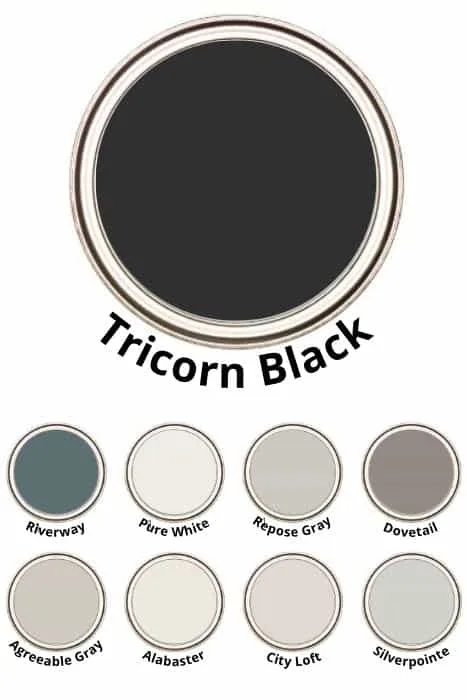 TRICORN BLACK COLOR PALETTE
Creating a color palette for Tricorn Black is like a walk in the park. Why? Because this is a black paint color that is basically a true neutral black without any undertones.
This is one of those super adaptable colors that will work with any color you pair it with. It really is such a joy to work with.
As usual, I am going to give you a sample color palette. I like to do this because it can give you a bit of insight as to what colors will work. It's great to get you inspired to find colors that you like and enjoy.
Some colors like to coordinate Tricorn Black with are:
COLOR COMPARISONS
Let's talk about a few color comparisons. I'm a big fan of comparing colors. It makes it easier to see certain aspects of a color that you may not see by looking at one color alone. For example, placing two colors side by side may allow you to see which color is warm or cool toned.
I have a few popular black paint colors to compare against Tricorn Black. We can see how similar or different they are.
TRICORN BLACK VS BLACK MAGIC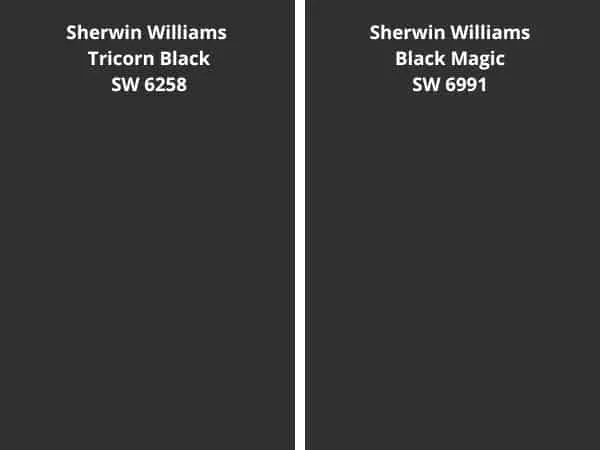 Black Magic has an LRV of 3, which is the same as Tricorn Black.
TB is from the purple-blue hue family, and Black Magic is from the red/red-purple hue family.
Black Magic is a bit lighter.
Black Magic has a bit of warmth that can come through, whereas TB is relatively neutral.
Overall, the major difference between the two is that Sherwin Williams Black Magic has that small amount of warmth that can be seen in certain lighting. And As we learned about Triconr Black, it stays neutral.
TRICORN BLACK VS IRON ORE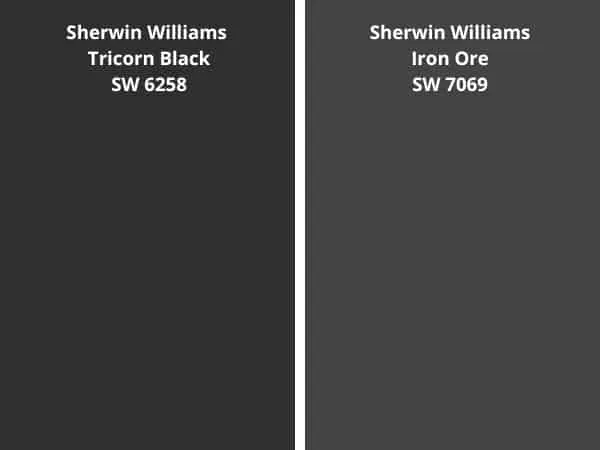 Sherwin Williams Iron Ore has an LRV of 6, high than TB's LRV of 3

TB is from the purple-blue hue family, and Iron Ore is from the green/yellow hue family.
Iron Ore is lighter and is more of an off-black/ charcoal gray color
With this comparison, it's apparent that they are not similar colors. Iron Ore is an off-black paint color, AKA dark charcoal gray. It's a softer version of black, yet, it still has a dark and moody feel to it.
TRICORN BLACK VS CAVIAR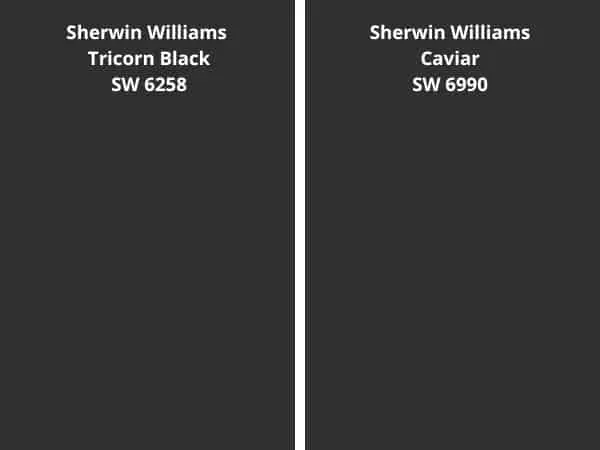 Sherwin Williams Caviar has an LRV of 3, the same as TB.
TB is from the purple-blue hue family, and Caviar is from the purple/purple-red hue family.
Caviar is slightly lighter than TB
Caviar has the potential to look a bit warmer
These two are similar in how dark they are. But where they differ is the warmth. Tricorn is again very neutral, and Caviar has that bit of warmth to it that can show through.
RECAP
I just dropped a ton of information about this amazing black paint color so I think it's only fair if I go through a brief recap to refresh your memories of what was talked about.
LRV: 3
HUE FAMILY: Purple Blue
Color Collections: Reasoned, Trendsetter, Top 50 Colors, West Elm, 2021 Tapestry, Rejuvenation – Spring/Summer 2022
is Sherwin Williams's most popular black paint color
it's as close as you can get to true black paint color
has no notable undertones or colors to it
it's a very neutral black
looks great with any white paint color
can easily be coordinated with any paint colors
it can be used in many different spaces, including walls, cabinets, furniture, and exterior
2126-10 BLACK TAR and Black are similar Benjamin Moore black paint colors.
FINAL THOUGHTS – WHY IS TRICORN BLACK SO POPULAR?
It's evident to me why Sherwin Williams Tricorn Black is so popular.
To sum it up, this is a black paint color that is super reliable. You know exactly what you are getting when you use it, a neutral black paint color.
Tricorn Black is so popular because it's so versatile. It meshes well with every style and with anything you pair it with. It is truly a classic go-to black paint color that will stand the test of time.
The thought of black paint may seem quite frightening to many people. You may think shades of black seem dark and unwelcoming. Consequently, this is so far from the truth. When used accurately, Tricorn Black can feel inviting, spacious, and sophisticated.
If you are ready and willing to embrace the dark side, I highly suggest exploring the absolutely fabulous SW Tricorn Black.
Do you still need a little more guidance finding a paint color?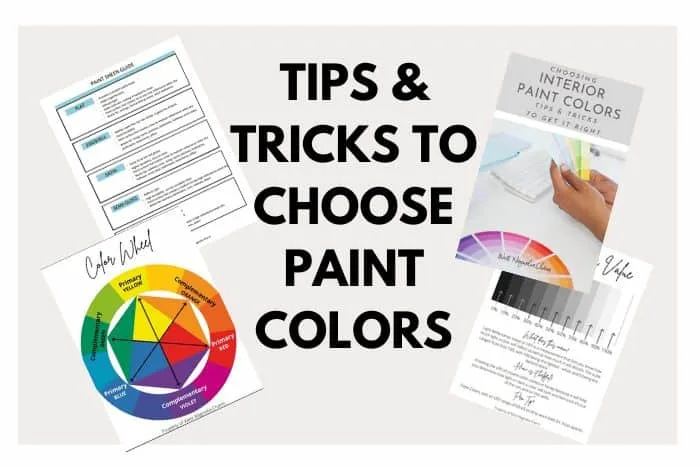 RECENT ARTICLES: