I may earn money or products from the companies mentioned in this post. Please click my Disclosure Policy to learn more
Creating a DIY faux shiplap wall is an inexpensive way to add the coveted farmhouse character to your home. It's a great alternative to real authentic shiplap which is quite expensive. If you are a lover of all things farmhouse, like myself, you will love the look of budget-friendly DIY shiplap.
Shiplap, you know it, you love it, and most of you you want it in your home. It's kind of a big deal if you are into the farmhouse style. I mean it's in almost every home that has been featured on Fixer Upper.
The problem with the shiplap you see in those homes is that it's real and has been in those homes from when they were built. Authentic shiplap is beautiful and what's better than the real thing? However, the cost of shiplap is expensive and on top of that, there is the shiplap installation cost. It's a hefty price to pay for what basically is a wood plank wall.
If you aren't willing to pay the price and buy authentic shiplap boards as well as the shiplap installation cost, fear not, there is an alternative.
You can make your own budget-friendly DIY shiplap or faux shiplap. Whatever you want to call it, it is your world honey.
Creating DIY shiplap is simpler than you would think. I should know! I used this DIY shiplap hack in my kitchen, master bedroom, guest bedroom and the fireplace surround in my living room. It is basically all over my house and I love it.
HOW TO CREATE BUDGET-FRIENDLY DIY SHIPLAP
DIY SHIPLAP MATERIALS
Before I get into the actual constructing of the cheap shiplap wall, we need to talk about the materials needed to get this plank wall project started.
These are the tools and supplies I decided to use.
Make note:
Firstly, there are all different types of wood to choose from to create faux shiplap. Being that this is all about creating DIY SHiplap on a budget, opt for less expensive wood like plywood. Plywood can either have a rustic look or a smoother cleaner look to it. It comes in a variety of options ranging in price. It all depends on budget and preference. In my opinion, plywood underlayment would be the best wood for this DIY shiplap It's a fantastic affordable budget-friendly option.
For my shiplap wood, I used a 1/8th inch plywood underlayment. It comes in 4×8 sheets and runs for around $14. Again, you can use any type of wood to create your DIY shiplap boards. If you are trying to stick to a budget, plywood is a great choice. I was personally looking for the most inexpensive route and plywood was it.
Secondly, some Lowes and Home Depot stores will cut the plywood into planks of shiplap boards for you. Unfortunately, I think it depends on the employees and if they feel like doing it for you.
When I went to buy plywood, I asked an employee if he would be able to cut it into planks for me. He told me the machine wasn't meant to do that. He then said if the machine was able to cut the plywood it would take well over an hour. I only had 2 sheets of plywood! I took it as he didn't want to be bothered.
HOW TO MAKE FAUX SHIPLAP BOARDS ON A BUDGET
1. Cut the plywood underlayment into boards
Since the lovely Lowes employee wasn't willing to help a girl out, I had to cut the plywood into shiplap boards myself.
Using the table saw, I (meaning Justin and my dad) cut the plywood into 8 inches wide by 8 feet long boards. This made 6 boards out of each sheet.
I wanted the wall to have staggered seams throughout, so I had them cut some of the boards at 2ft, 4ft, and 6ft long.
The thing about cutting the plywood on the table saw is that it's a 2 man job. Since the plywood was only 1/8th inches thick, it was pretty flimsy. Having 2 people allows one person to cut and one to hold the sheet steady.
If you can, I suggest getting the sheets cut at the store. It may cost a little more but if you are working alone it is worth it.
2. Sand the DIY Shiplap boards.
Once the plywood was cut into faux shiplap boards, I took my palm sander and sanded all the edges, as well as the fronts of all the cut plywood boards. I 100% advise sanding the boards to avoid splinters and to create a smooth canvas for when you are ready to paint.
HOW TO INSTALL DIY SHIPLAP TO THE WALL
1. Find the wall studs.
If you are installing your budget-friendly shiplap over drywall, you need to find your wall studs and mark them.
What's a wall stud?
Studs are vertical boards that function as framing elements in your home. They are what support the walls. They run between the floor and ceiling and are usually spaced 16 or 24 inches from center to center, along the wall.
Knowing where the studs are important because you want to make sure your shiplap boards will be secured properly to the wall. If you were to place your nails anywhere, you run the risk of not hitting a stud. Resulting in an unsteady wall.
The easy way to find a wall stud is by using a stud finder tool. If you don't have one, alternatively you can use a flashlight to examine your wall for irregularities or imperfections. This is generally where nails and screws securing the drywall to the studs are located.
2. Nail the DIY shiplap boards to the wall.
Now that you have found and marked the wall studs, you can safely start securing the boards to the wall. You'll want to start at the top of the wall. If you are using the staggered seams method, begin with the longest board you have. Make sure to use your level and attach the board to the wall. Depending on how long your wall is you may need to use another plywood shiplap board to complete the first row. (you may have to make additional cuts to the boards to complete the rows as you move along.)
Moving down to the next row, you'll want to have space in between the boards. You can use just about anything although I found that the ideal spacing for the shiplap boards was a width of a nickel. You can also tile spaces in place of nickels, but we are trying to create DIY shiplap on a budget, nickels are most likely something you already have on hand.
Now, continue moving down the wall attaching your boards, staggering and spacing as you go. Once you get going, you'll get into a groove, and installing the boards will fly by.
3. Make the outlet cutouts in the boards.
As you are installing your DIY shiplap you may come across a few outlets or light switches that you have to workaround. Don't let this scare you.
To make your outlet and light switch cuts there are a couple of ways to get it done.
1. Use a tape measure and measure its distance from either the start of the wall or the end of the last shiplap board. Take that measurement and apply it to your board and mark it there.
2. Hold the piece of shiplap board up in front of the outlet and mark it using your eye.
To make the outlet and light switch cuts, use the outlet faceplate as a template and trace it where the outlet landed on the board. You don't want to cut on the traced line. If you do the hole might be too big for the outlet cover. You'll want to cut about a quarter inch in from the traced line.
To complete your cut, drill a pilot hole large enough to fit the blade of either a jigsaw or a Dremel into to complete the cut.
A word of advice, measure twice and cut once. Or, measure 3 or four times and cut once. This is key in keeping this DIY Shiplap on a budget!
4. Finishing off the DIY shiplap wall
To finish and complete the wall with the last shiplap board, you may get lucky and have it fit perfectly without having to make any cuts. If you aren't that lucky, you'll have to measure the width that is left and cut the board accordingly. Don't forget to sand the edges of the cut piece.
Once the board is cut, nail that bad boy into place to complete your budget-friendly DIY Shiplap wall.
HOW TO HANDLE SHIPLAP CORNERS
Shiplap corners can seem a bit daunting. They aren't that scary, trust me!
I'm not going to lie, I was a bit worried about how to hide the shiplap corners. Being that I am not perfect (shocking, I know!) I had a feeling that where the shiplap boards were going to meet, would be a challenge for me. Luckily, I found the perfect solution to hide the outside shiplap corners.
Before I give away my (not so )secret solution, let's discuss the corners you may have to deal with while shiplapping. First, there are 2 types of shiplap corners:
inside shiplap corner
outside shiplap corners
Next, there are a few ways to finish off the shiplap corners:
You can miter the edges of the DIY shiplap boards to create a sharp edge.
You can butt joint them and choose what side has the exposed edge.
Both of these are great ways to complete the look. They are also better for your budget. However, for beginner woodworkers, it may be a bit on the advanced side because of the different types of cutting involved.
As a beginner, I opted for the easiest option to hide the shiplap corner. I used an edging piece I found at Lowes. All I had to do was cut the corner edge piece to length and nail it up. The awesome thing about this edging piece is that it works for both the inside and outside shiplap corners.
This edging piece saved my sanity and gave all the shiplap corners a beautiful completed look.
FILLING THE NAILS HOLES IN THE DIY SHIPLAP WALL
This step is up to you whether you want to do it or not. I decided to use wood filler to fill all nail holes on the boards. Filling the holes gives the shiplap wall a cleaner look. For a more rustic shiplap look, leave the nail holes exposed.
Once the nail holes are all filled, let the wood filler dry completely. After it's dried, sand the filled holes smooth using 100 grit sandpaper.
Don't forget to clean your DIY shiplap wall after sanding. I just used a wet rag to wipe it down and remove the sanding dust.
PAINTING THE DIY FAUX SHIPLAP WALL
The final step in this DIY Shiplap wall journey was painting it. There are a few ways to go about painting shiplap. If you are curious, I dedicated a full article on how to paint shiplap.
As for what color to paint the DIY shiplap wall, the options are endless. I wanted a clean crisp white so I used Sherwin Williams Extra White in a flat finish.
There are no rules when it comes to what color to paint your faux shiplap wall. You can use any paint color you like. Joanna Gaines used Sherwin Williams Alabaster on the shiplap in her home and it looks amazing. Darker shiplap is a total trend now and I am here for it. A black DIY shiplap wall? Talk about adding drama!.
Photo by Beechwood Homes – More bedroom photos
DIY SHIPLAP ON A BUDGET RECAP:
Purchase you supplies
cut the plywood into boards if you didn't have the store do it for you
sand your plywood boards
find and mark your wall studs
nail your boards starting at the top of the wall
use nickels to space your shiplap boards
make any outlet or light switch cuts. REMEMBER measure twice, cut once!
use the corner edging for an easy way to finish off the shiplap corners
fill and sand the nail holes (if applicable)
paint your shiplap wall (SW Alabaster, BM White Dove, and BM Chantilly Lace are popular color choices)
Sit back and admire the beautiful new DIY faux shiplap wall you created on a budget!
FINAL THOUGHTS
As you can see, creating a budget-friendly DIY faux shiplap wall isn't terribly hard. Having the right tools, materials, and maybe a friend or two to help you out will make the job considerably easier. Sure, I would have loved to have authentic shiplap, but at the end of the day, the DIY version gives me the farmhouse look at a fraction of the cost. Just remember to measure twice and cut once!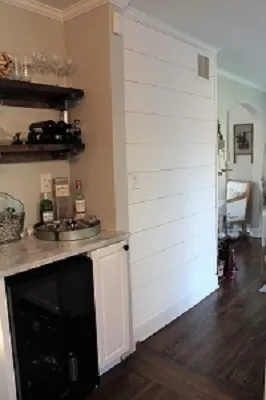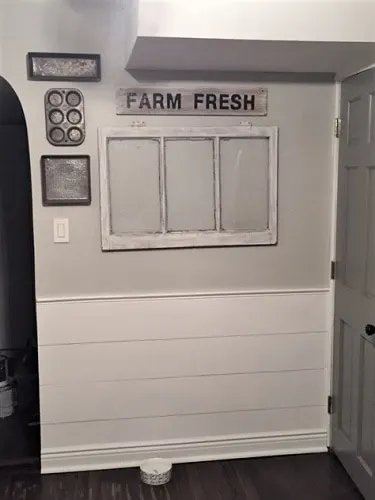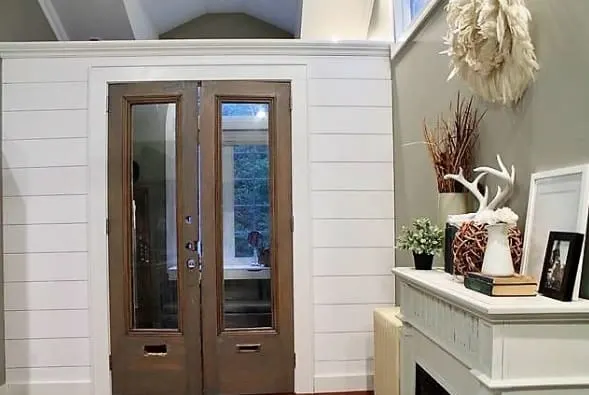 RECENT ARTICLES: