I may earn money or products from the companies mentioned in this post. Please click my Disclosure Policy to learn more
Last Updated on
Creating a faux shiplap wall is an inexpensive way to add character to your home. It's a great alternative to real shiplap which is quite expensive. If you are a lover of all things farmhouse, like myself, you will love the look of DIY shiplap.
Shiplap, you know it, you love it, you want it. It's kind of a big deal in the farmhouse world. I mean it's in almost every home that has been featured on Fixer Upper.  
The problem with the shiplap you see in those homes is that it's real and real shiplap is real expensive. 
It's ok though, there's a solution.
DIY shiplap or faux shiplap. Whatever you want to call it, it is your world honey.
So creating DIY shiplap is simpler than you would think. I should know! I used this DIY shiplap hack in my kitchen, master bedroom, guest bedroom and the fireplace surround in my living room. It is basically all over my house and I love it.
Let's talk about how to create a faux shiplap wall for cheap!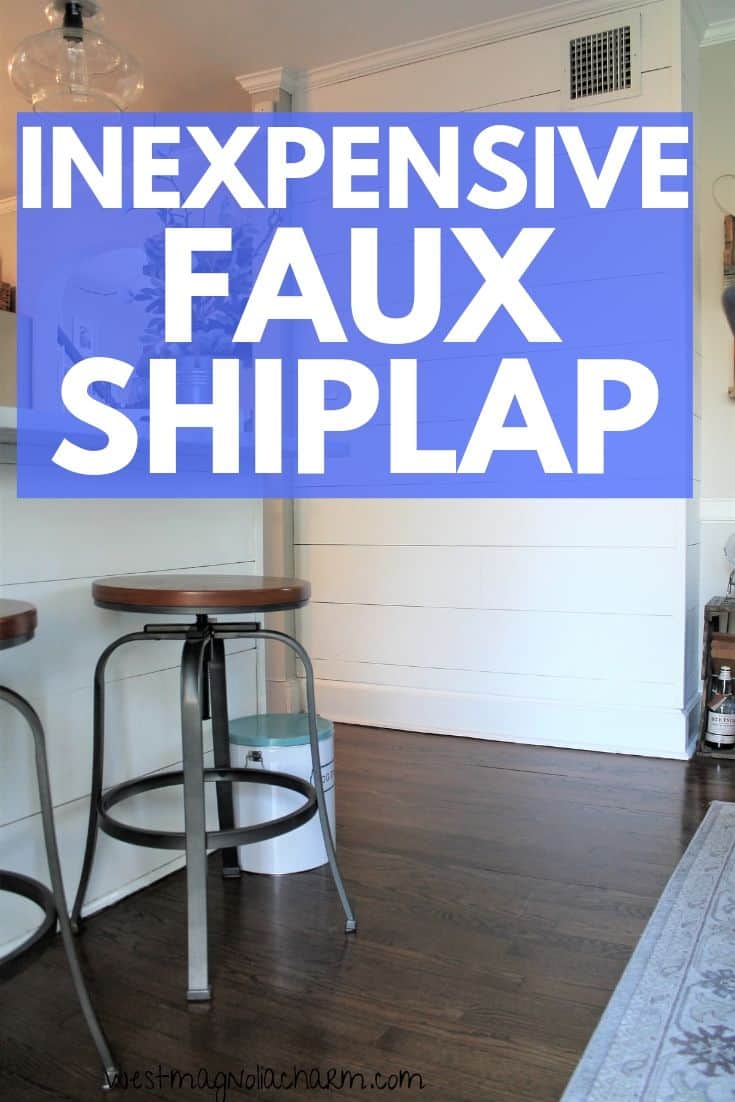 Materials to make DIY shiplap
Before I get into the actual constructing of the faux shiplap wall, we need to talk materials.
These are the tools and supplies I decided to use. 
Make note:
Firstly, there are all different types of wood to choose from to create faux shiplap.  Plywood can either have a rustic look or a smoother cleaner look to it. It comes in a variety of options ranging in price.  It all depends on budget and preference. Plywood for shiplap that you are DIYing is probably the most popular choice.
I used a 1/8th inch plywood underlayment. It comes in 4x 8 sheets and runs around $14. What you use to create your DIY shiplap boards is personal preference. I was looking for the most inexpensive route and this was it.
Secondly, some Lowes and Home Depot stores will cut the plywood into planks for you. Unfortunately, I think it depends on the employees and if they feel like doing it for you.
When I went to buy plywood, I asked an employee if he would be able to cut it into planks for me. He told me the machine wasn't meant to do that. He then said if the machine was able to cut the plywood it would take well over an hour. I only had 2 sheets of plywood!  I took it as he didn't want to be bothered.
How to make faux shiplap boards.
Cut the plywood into boards.
Since the lovely Lowes employee wasn't willing to help a girl out, I had to cut the plywood into shiplap boards myself.
Using the table saw, I (meaning Justin and my dad)  cut the plywood into 8 inches wide by 8 feet long boards. This made 6 boards out of each sheet.  
I wanted to have staggered seams so I had them cut some of the boards, 2ft 4ft, and 6ft.
The thing about cutting the plywood on the table saw is that it's a 2 man job. Since the plywood was only 1/8th inches thick, it was pretty flimsy. Having 2 people allows one person to cut and one to hold the sheet steady.
If you can, I suggest getting the sheets cut at the store. It may cost a little more but if you are working alone it is worth it.
Once all the faux shiplap boards were cut, I took my
palm sander
and sanded all the edges as well as the front of the board. I advise sanding the boards to avoid splinters and to create a smooth canvas for your paint.
How to install you faux shiplap wall.
If you are installing shiplap over drywall, you need to find your wall studs and mark them. Knowing where the studs are will ensure that you nail into them to secure the boards in place.
Starting at the top of the wall, I took a full-length board leveled it and nailed it into the studs. I then continued down the wall staggering the boards as I went. I used good old nickles as my spacers, you can, of course, use tile spaces as well.
Once that first board was up nailing the rest of the boards flew by. 
Depending on where you are installing your DIY shiplap, you'll need to make an outlet cut or two.  
For my outlet cut, I measured on the board where the outlet landed used the outlet faceplate as a template then cut it out with the Dremel.  
Finishing you DIY shiplap wall
To finish the wall with the last board, I had to cut the board width down to 5 inches. Once it was cut, I nailed that bad boy into place to complete the wall.
For this step, you will have to measure the boards accordingly.
This was one step I was concerned about. How the heck was I going to hide the shiplap corners? 
Being that I am not perfect (shocking, I know!) I had a feeling that where the corners were going to meet, would be a challenge for me. Luckily, I found the perfect solution to hide the shiplap corners. 
To hide the edges where the corners met I used an edging piece I found at Lowes. All I had to do was cut to length and nail it up.
This edging piece saved my sanity and gave all the shiplap corners a beautiful completed look. 
This step is up to you whether you want to do it or not. I decided to use wood filler to fill the nail holes on the boards. 
You can certainly skip this step if you are looking for more of a rustic feel and if you are feeling lazy at the end of the project. 
When I was working on the faux shiplap wall in my guest bedroom, I left the nail holes exposed. 
Painting your faux shiplap wall.
The final step was painting my fabulous new shiplap wall. I wanted a true white so I used Sherwin Williams Extra White in a flat finish. 
 You can use any paint color you like. There are no rules.  Joanna Gaines used Sherwin Williams Alabaster on her shiplap and it looks amazing. 
I am also really digging a black DIY shiplap wall. Talk about adding drama!.
Painting shiplap before you nail it up on the wall is also an option. It's just personal preference.  
Purchase you supplies
cut the plywood into boards if you didn't have the store do it for you
sand your plywood boards
find your wall studs
nail your boards starting from the top
make any outlet cuts 
use the corner edging for the shiplap corners
fill the nail holes (if applicable)
paint you Shiplap (Alabaster is a popular color choice)
Sit back and admire your new faux shiplap wall.
I am still in love with the way it turned out.   
As you can see, creating a faux shiplap wall isn't terribly hard. Having the right tools, materials and maybe a friend or two will make the job considerably easier. Sure, I would have loved to have authentic shiplap but at the end of the day, the DIY version gives me the farmhouse look at a fraction of the cost. Just remember to measure twice and cut once!