I may earn money or products from the companies mentioned in this post. Please click my Disclosure Policy to learn more
Finding paint colors that go with dark wood can be an interesting task.
Having dark wood or any wood for that matter will add warmth to your home.
Whether it's on the floors, trim, or furniture, not only will it add warmth to your home but it also adds texture. And these are all elements that give a home personality.
However dark wood tones can sometimes be a bit hard or challenging to pair paint colors with.
Today I'll walk you through a few paint colors that I find to work exceptionally well with dark wood.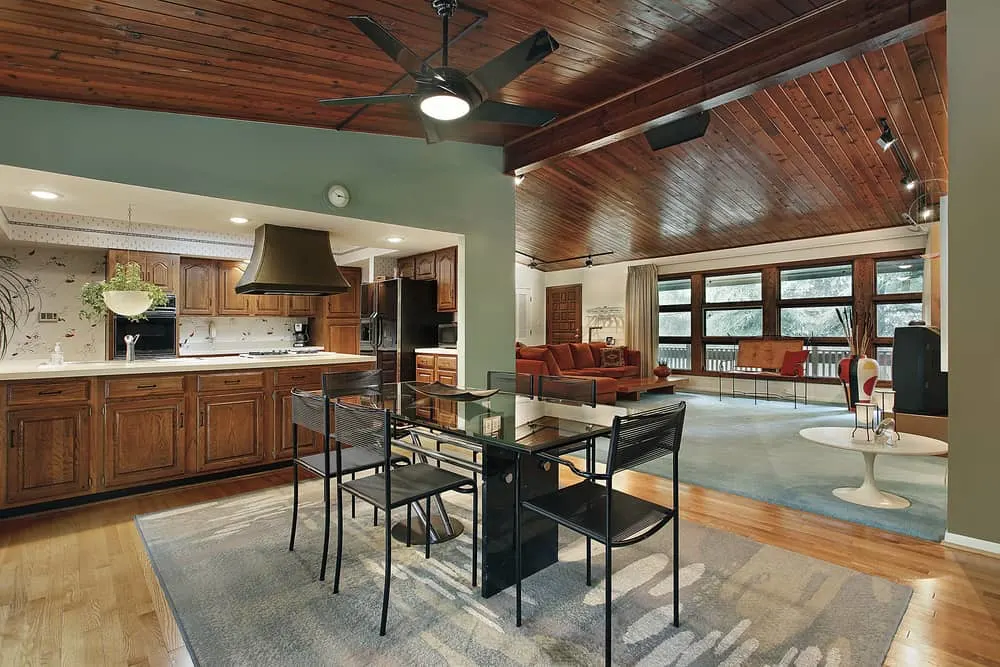 DIFFERENT TYPES OF DARK WOOD
Dark wood comes in many different types. However, for the most part, they all tend to look good with the same colors.
Some of the dark wood tone types are as follows:
Cherry
Walnut
Mahogany
Dark Walnut
Dark Oak
Ebony
Of course, there are all types of different wood stains, but these are the general wood tone bases.
WHAT COLORS GO WELL WITH DARK WOOD?
Let's start off by going over colors that work well with dark wood trim, floors, etc.
Luckily, dark wood pairs well with a lot of different colors. Which means you are not limited to using only neutrals. And I have to be honest; dark wood looks amazing with color!
white off-white
cream
gray
blue
green
red
purple
A few things to keep in mind.
When choosing a paint color to work with dark wood, do not forget about the other elements in the room. For instance, the lighting and cardinal direction of the room and the decor style you are decorating in.
These things still have a prevalence and shouldn't be overlooked.
PAINT COLORS THAT GO WITH DARK WOOD TRIM, FLOORS & CABINETS
Let's get to the paint colors!
I have found a ton of Benjamin Moore and Sherwin Williams paint colors that work beautifully with dark wood tones. I found a variety of neutrals and colors. All equally fabulous.
This a quick reminder before I start spewing off paint colors. Not all dark wood is the same. There are different tones and color varieties so you need to make sure the paint color you choose will work with your type of dark wood.
You need to sample the paint color against the wood to see how the colors work together. Sampling is a surefire way of knowing whether or not a paint color is right for your room.
Back to the paint colors, use these as inspiration to get you started with finding the perfect paint color to go with the dark wood trim, floors, or cabinets in your home.
BENJAMIN MOORE GENTLE GRAY 1626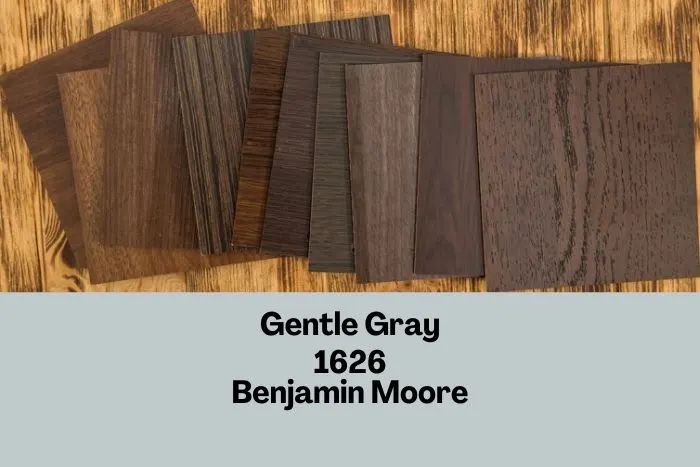 LRV-57.2
Benjamin Moore Gentle Gray is a fantastic "gentle" blue-gray paint color. This is a soft blue with some gray in it to keep it on the more neutral side.
This cooler-toned blue-gray will look lovely with both warm and cool-toned dark wood.
BENJAMIN MOORE HEALING ALOE 1562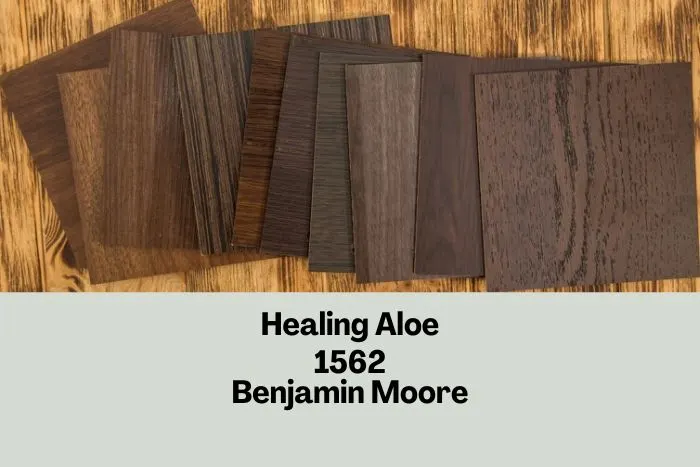 LRV – 68.25
Healing Aloe by Benjamin Moore is an absolutely stunning light blue-green. It also has a splash of gray in it to keep it grounded.
I love cool colors like this beautiful blue-green. I find it to be a perfect fit to work with darker wood.
BM LIGHT PEWTER 1464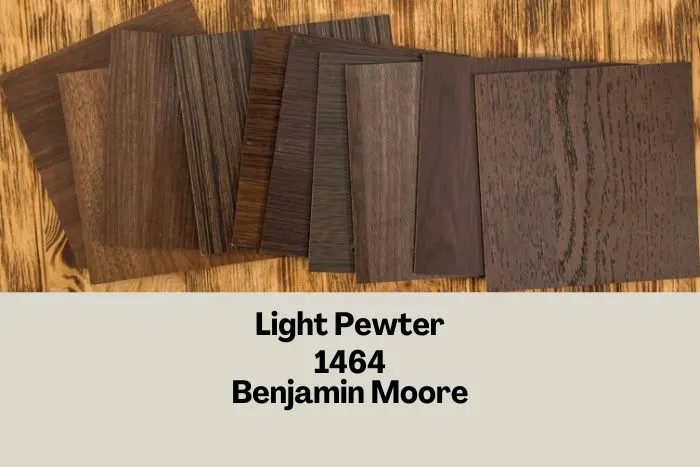 LRV – 67.52
Benjamin Moore Light Pewter is a spectacular pewter paint color. This is a lighter paint color and one of the neutrals on this list.
Light Pewter is a light gray that has some beige in it which gives it some warmth. There is a healthy mix of warm and cool tones, which most greiges have.
If you are looking for a neutral paint color to go with the dark wood in your home, Light Pewter is a fantastic option.
If you are into pewter paint colors Revere Pewter is another fantastic option. It's a bit darker but is along the same lines as the greige color.
BENJAMIN MOORE CLARKSVILLE GRAY HC-102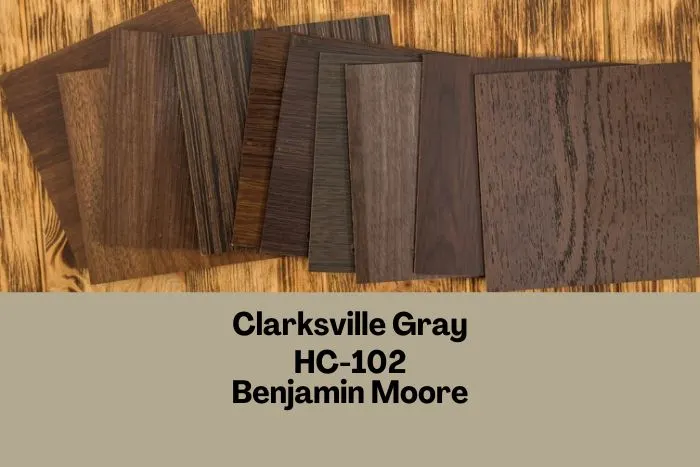 LRV – 39.57
Clarksville Gray by Benjamin Moore is a more or a mid-toned paint color. It's a neutral warm greenish-gray color. This one can lean a bit more green depending on lighting and such.
I think Clarksville Gray would be a perfect fit if you are looking for a traditional, warm, and welcoming color.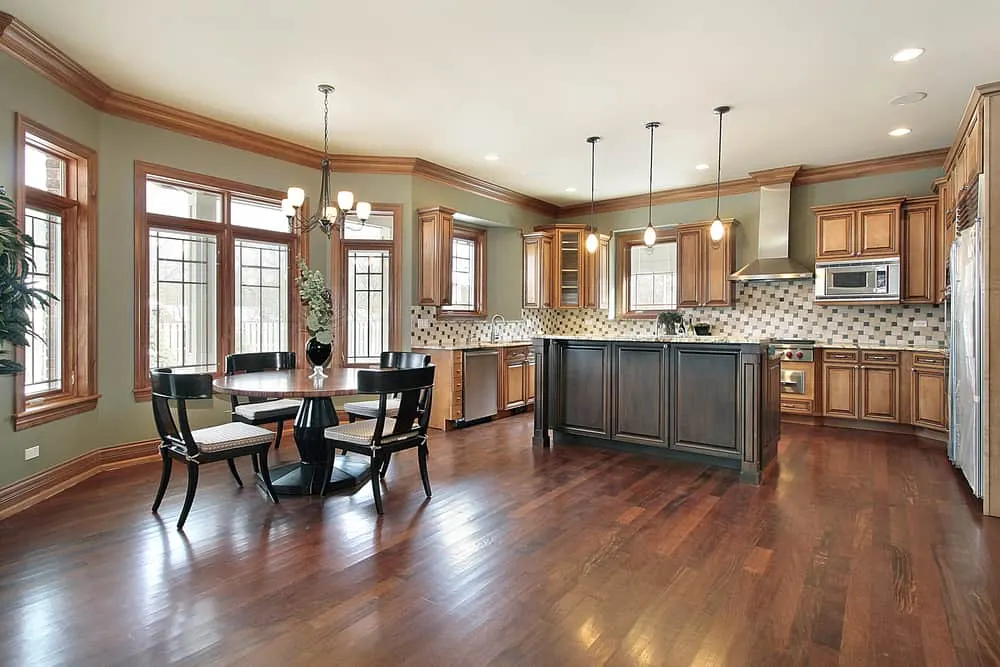 CONSTANTLY FORGETTING WHAT PAINT COLORS YOU USED IN YOUR HOME? KEEP TRACK OF THEM ALL WITH THIS HANDY PAINT COLOR KEEPER
BENJAMIN MOORE SAYBROOK SAGE HC-114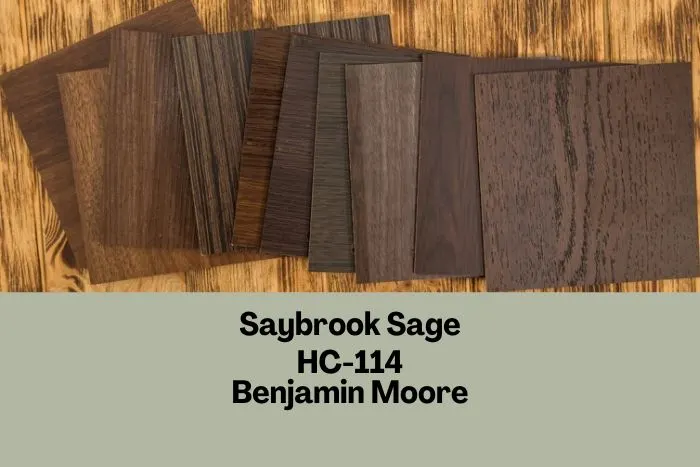 LRV – 45.46
Saybrook Sage by Benjamin Moore is a stunning soft sage green paint color. Green is a very nature-inspired color and can really accentuate the tones in the dark wood.
Softer greens like Saybrook Sage will bring in those subtle nature vibes.
BENJAMIN MOORE SPANISH WHITE OC-35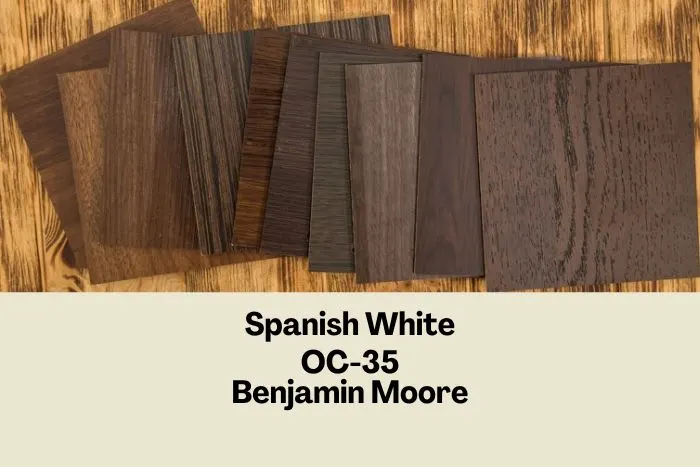 LRV – 76.28
Benjamin Moore Spanish White is a beautiful warm white paint color. It does have a touch of gray in it that keeps it from pulling too warm. There is a soft cream appearance to it that gives it sophisticated old-world elegance.
I think Spanish White is a great light color to provide a good contrast against dark wood trim.
BENJAMIN MOORE DILL PICKLE 2147-40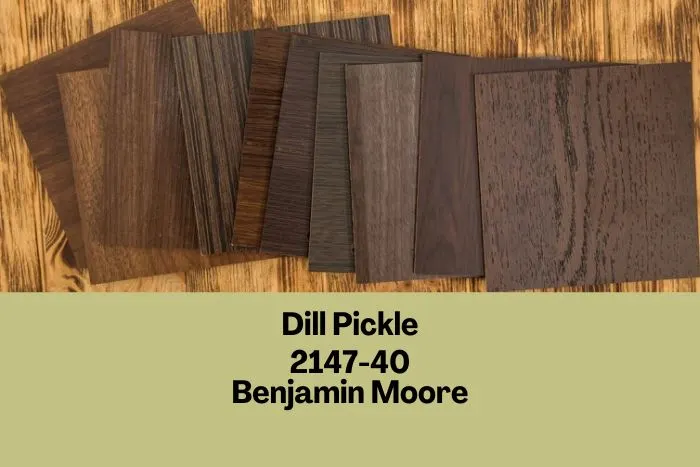 LRV – 50.02
Dill Pickle by Benjamin Moore is one of the more colorful paint colors I'm sharing. Now before you say anything, Let me tell you about this gorgeous Green-yellow color.
BM Dill Pickle is a green color with some yellow in it. It's colorful but it's still more of a muted green.
This color won't work with all wood tones however I think it's unbelievable when paired with a gorgeous rich dark oak or walnut.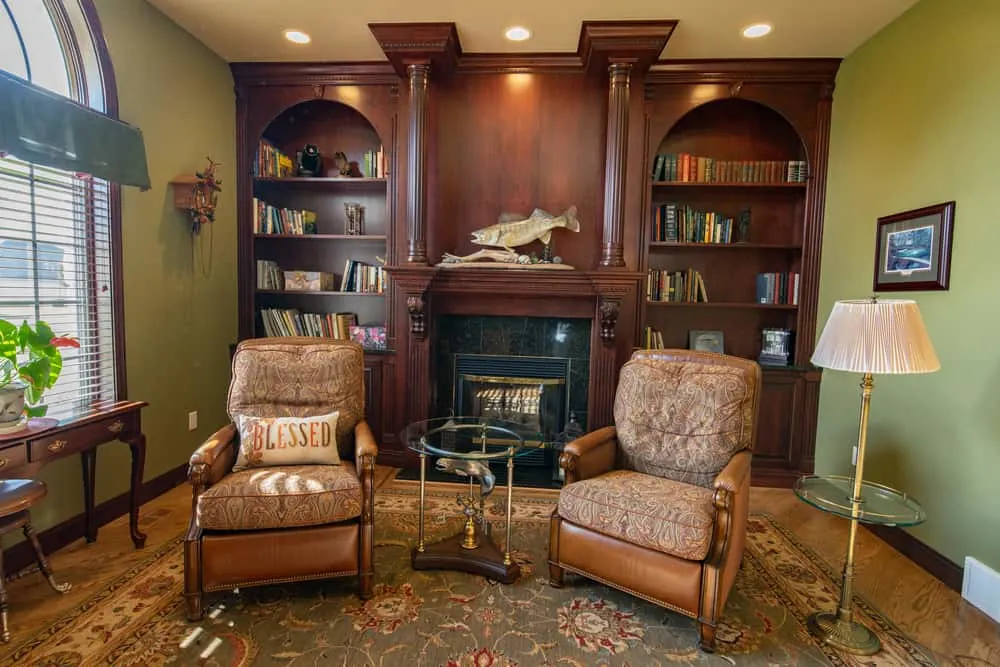 WAIT! Before you start painting make sure you have the best painting tools to make your job easier. It will take hours off your painting time!
BENJAMIN MOORE ROCKY COAST 1595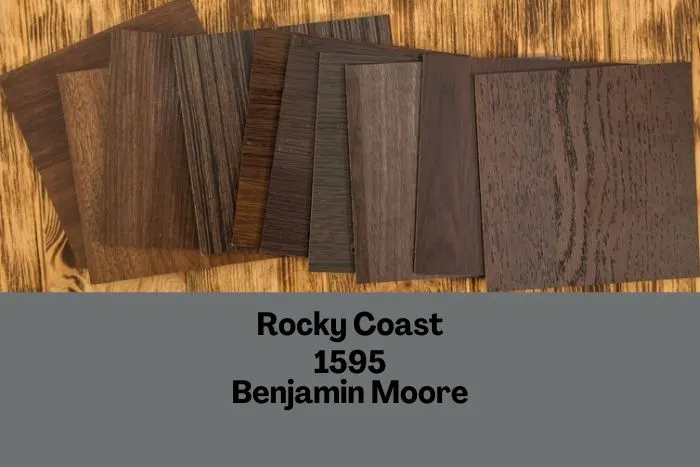 LRV – 17.28
Rocky Coast by Benjamin Moore is a stormy dark blue paint color. If you picture a storm rolling through a rocky coastline at night, this is the color it is.
This is certainly a dark paint color but its blue tones complement dark wood so beautifully. You won't get a distinct contrast with Rocky Coast but the overall effect of the pairing is to die for.
BENJAMIN MOORE WILLIAMSBURG WYTHE BLUE CW590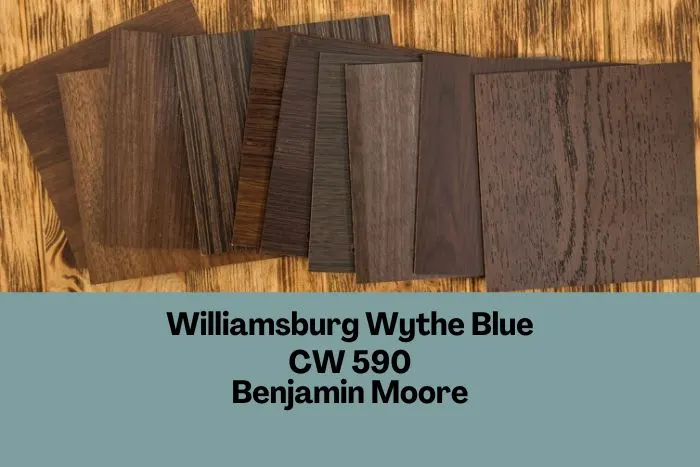 LRV – 33.4
Benjamin Moore's Williamsburg Wythe Blue is possibly my favorite paint color on this list. Of course, I am known to love all shades of the color blue but still.
Williamsburg Wythe Blue is a blue paint color with some green but it has a gray base. This is another more colorful paint on the list but it works swimmingly well with dark wood floors trim and cabinets.
BENJAMIN MOORE FAIRMONT GREEN HC-127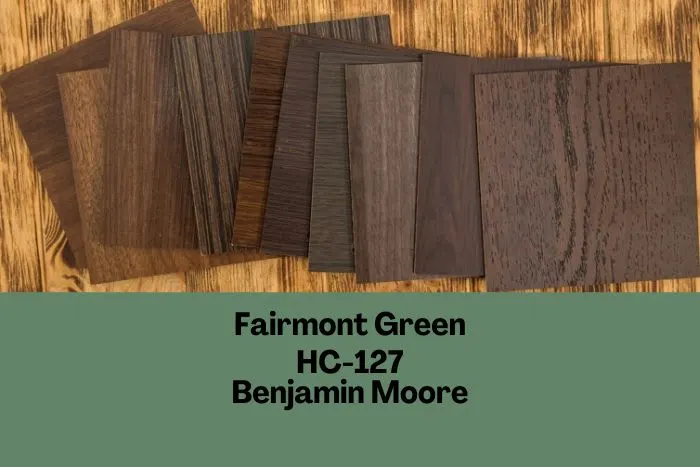 LRV – 21.08
I absolutely love how green and dark wood pair together, Benjamin Moore Fairmont Green is a green paint color. It's a saturated color and is not going to be a color for everyone. Though it's quite lovely when used correctly.
The key to using more saturated colors like this one is sampling them first to confirm they will work for the space. Also, pairing it with complimentary decor will truly allow Fairmont green to shine.
BENJAMIN MOORE AZORES AF 495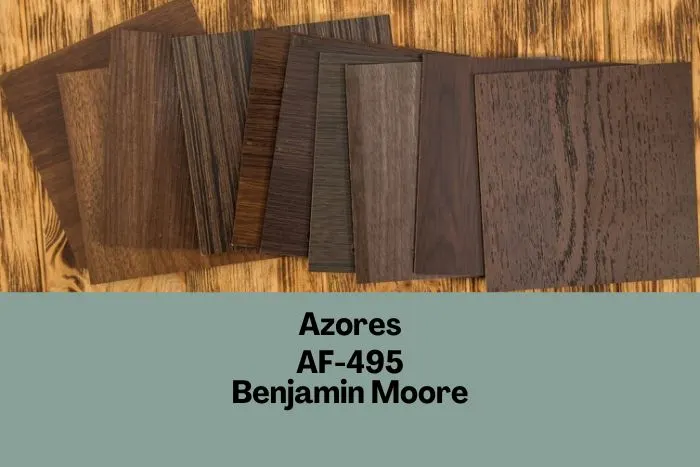 LRV – 33.61
Continuing on with more color, Benjamin Moore Azores does not disappoint in this area.
Azores is a mid to dark-toned greenish-blue almost teal paint color. While this color is more saturated it still has a softness to it.
Again I think colors that have green and blue tones to them just stand out when used alongside dark wood trim, floors, or cabinets.
If you like the looks of Azores, you will most likely be into SW Riverway, which is another amazing option.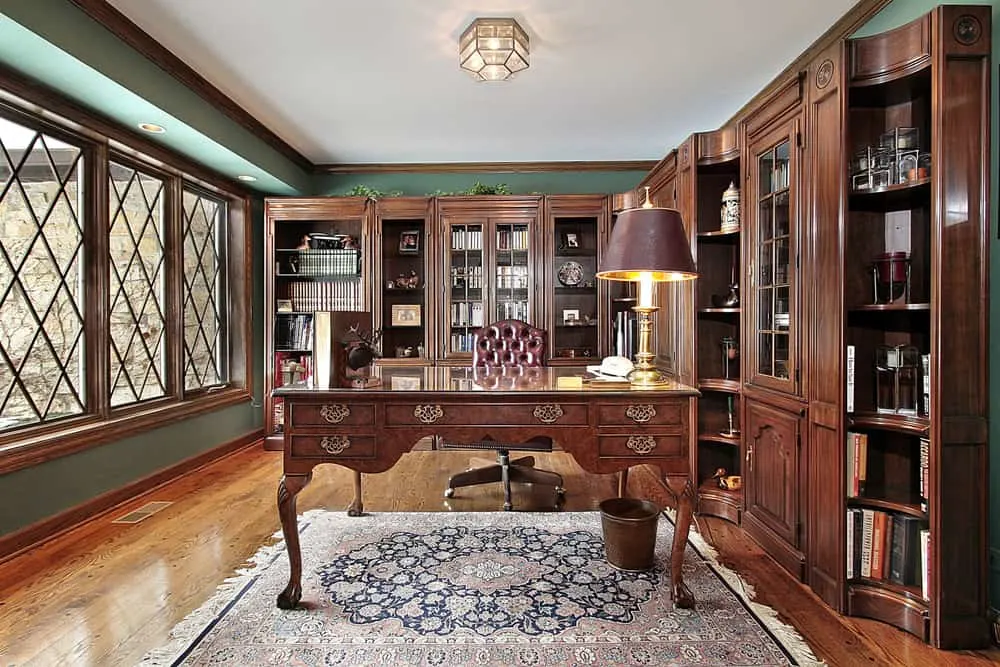 Doing some painting yourself? Make sure you pick up this essential painting tool!
BENJAMIN MOORE JACK PINE 692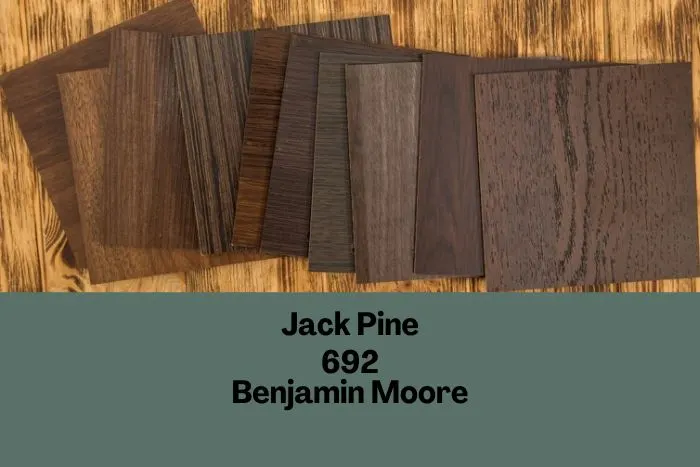 LRV – 16.45
I'm going to make a bold statement here and say that I think Benjamin Moore Jack Pine is one of the best green paint colors available. Of course, we are all allowed to have our own opinions but let me brief you on why I like this one so much.
Jack Pine isn't a straight-up green paint color. It's more of a hunter-green with a splash of blue in it. Not exactly a teal but a distance cousin perhaps.
I've already said it but these green/blue paint colors are so pretty with wood tones, dark or light.
BENJAMIN MOORE COLLECTORS ITEM AF-45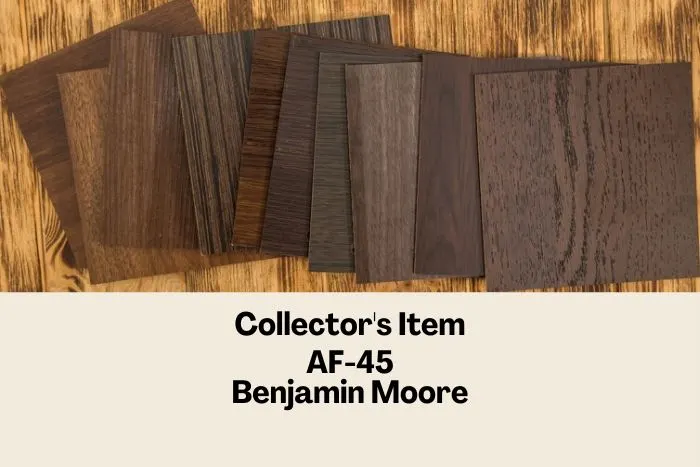 LRV – 81.27
Let's chat about a lighter neutral that is quite versatile making it a very suitable option to go with dark wood, Benjamin Moore Collector's Item.
Collector's Item is an off-white with creamy pink undertones. Depending on the lighting and other elements in your space, the pink tones can either be prevalent or can take a back seat.
This welcoming color complements darker wood tones and many different decor styles.
You also might like Atrium White or for a bit less pink undertone, try Ballet White.
BENJAMIN MOORE KNOXVILLE GRAY HC- 160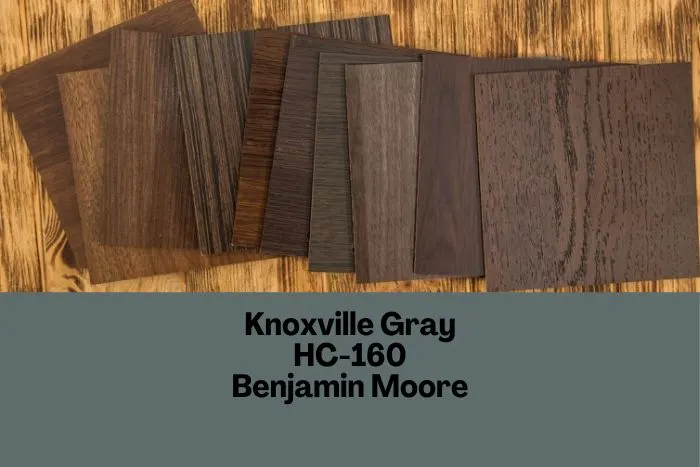 LRV – 15.68
If you are into darker paint colors, listen up! Benjamin Moore Knoxville Gray is a true stunner. It's a dark gray that has some blue and green in it. There is so much depth to this paint color.
Again with the blue/green tones, I know but they work so well with dark wood floors, trim, and cabinets.
I can just picture kitchen cabinets painted in Knoxville Gray complemented by dark walnut floors. A match made in heaven if you ask me.
Like a color that is more on the blue side? You will love BM Hale Navy.
HOW CAN I SAMPLE THESE PAINT COLORS THAT GO WITH DARK WOOD TRIM, CABINETS, AND FLOORING?
If you have read any other paint color reviews I've done, thank you! But you will know my thoughts regarding testing paint color samples. It is a must!
Sampling a paint color in the place you plan on painting is the only way your will 100% know how the paint color with react. Trust me, choosing a paint color without swatching can lead to an expensive heartbreak.
This is why I so adamantly advise sampling your paint colors.
The best way to do this is by using Samplize!
Instead of physically going to your nearest paint store to grab your samples, you need to try Samplize Peel & Stick paint samples.
Why should you try Samplize?
Super affordable
Mess-free
Non-damaging
Made with real manufacturer paint
Displays color just like a wall
Environmental friendly
Reusable
These peel & stick paint samples are super affordable and allow you to test a paint color in all different areas of a room without the mess of a traditional paint sample!
You know how I feel about testing paint colors. It's a must!
Don't create more work for yourself. Order Samplize now and have them shipped directly to you. No fuss, no mess! Check them out for yourself. You won't be disappointed.
Get $5 off your first Samplize order using the code "FIRSTFIVE"
SHERWIN WILLIAMS BALANCED BEIGE SW 7037
LRV – 46
Let's talk about another fantastic neutral paint color that is not only a lovely color to go with dark wood but an overall fabulous paint color.
Sherwin Williams Balanced Beige is a mid-toned beige paint color that has the ideal balance of warm and cool tones. This is no doubt a warm paint color but the cool tones in it keep it from pulling to yellow-y of a beige.
I like Balanced Beige with dark wood because, whether you have warm or cool tones in the wood, this color will suit them both.
SHERWIN WILLIAMS WHITE DUCK SW 7010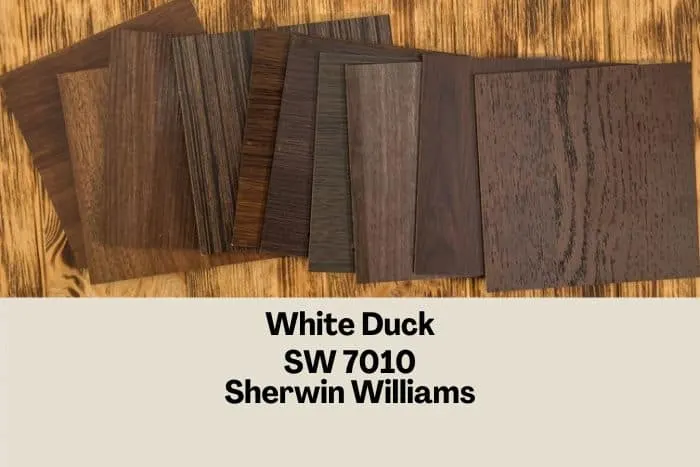 LRV – 74
Sherwin Williams White Duck is a bit underrated. Though it is a popular paint color I feel like it deserves a bit more love.
I like White Duck as an option to coordinate with dark wood because it's not really a white paint color. It's more of a slightly creamy off-white that has some yellow and gray to it. It truly has an off-white greige feel to it.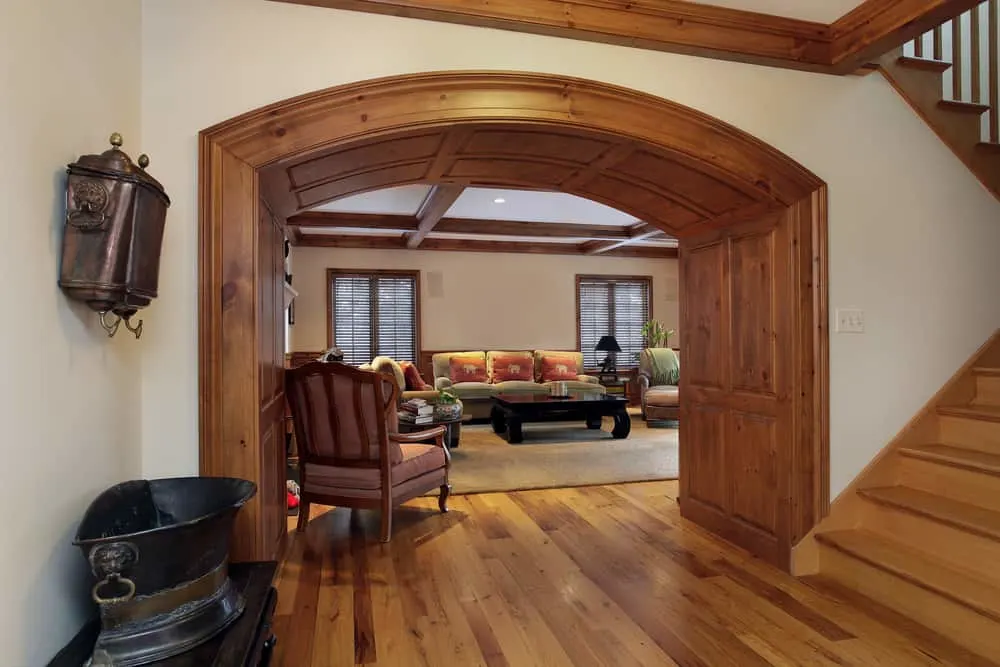 Follow these helpful painting tips and avoid these mistakes to get the job done right!
SHERWIN WILLIAMS PRIVILEGE GREEN SW 6193
LRV – 23
Overall Sherwin Williams Privileg Green is a phenomenal pant color but when used in conjunction with dark wood trim, floors, or cabinets, it's next level. And no I am not being dramatic. (maybe a little)
Privilege Green is a dark deep green with blue and gray undertones to it. This cool-toned green has such depth and dimension to it that it makes it such an appealing paint color.
If you like Privilege Green, you may also like BM Caldwell Green.
SHERWIN WILLIAMS CITYSCAPE SW 7067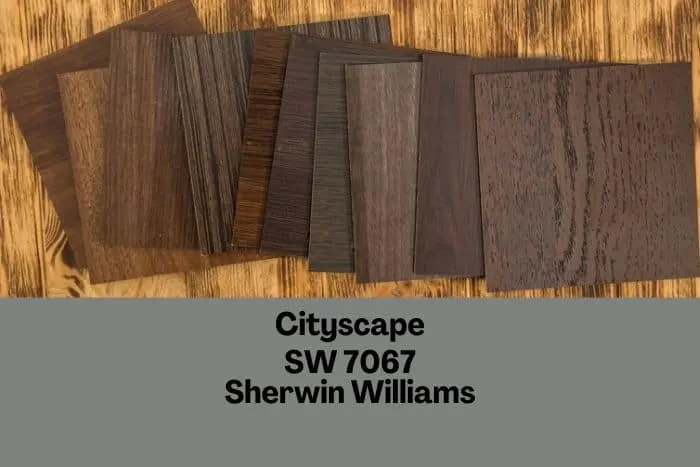 LRV – 22
Another gorgeous dark neutral paint color that looks good with dark wood is Sherwin Williams Cityscape. This is a fantastic color because it is quite neutral allowing it to easily go with other colors.
Cityscape is a cool-toned dark neutral gray paint color that has a ton of depth to it. Colors like this are also referred to as charcoal colors.
SHERWIN WILLIAMS SNOWBOUND SW 7004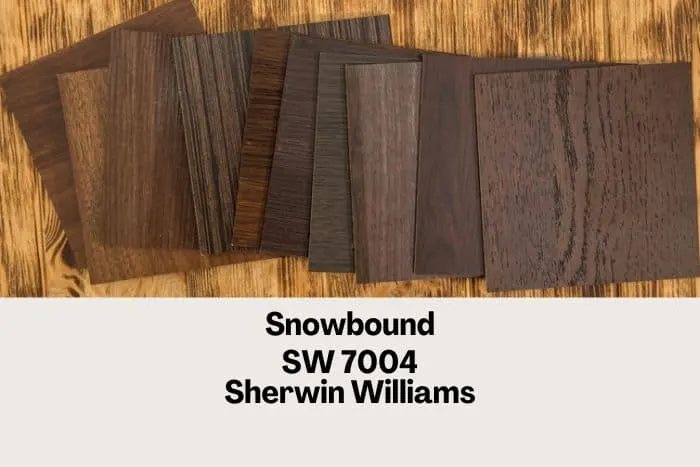 LRV – 83
Let's now take about and color that is on the lighter side, Sherwin Williams Snowbound. This white paint color has some gray in it, which keeps it from looking too stark of a white. There is also a hint of pink that can come out in certain lighting situations.
Snowbound is a great white paint color that goes well with dark wood. It has a mix of warm and cool tones and can lean one way or another depending on the conditions.
If you want an off-white paint color with more warmth to coordinate with your darker wood tones, you may like SW Alabaster a bit more.
SHERWIN WILLIAMS RAINWASHED SW 6211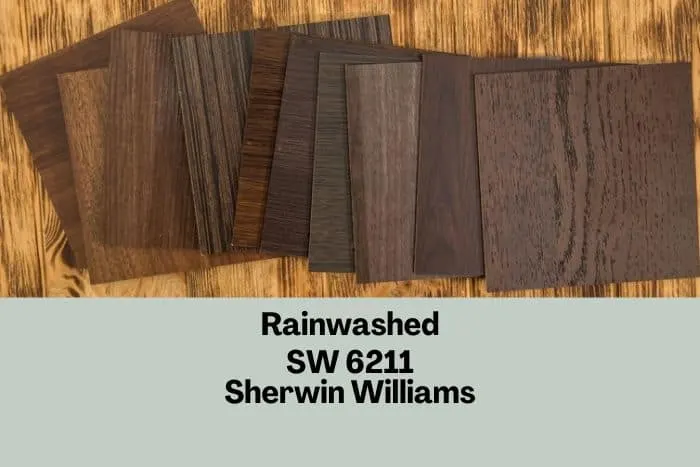 LRV – 59
Let's get back to some color by introducing Sherwin Williams Rainwashed. This is an amazing mid-toned bluish-green paint color.
Even though this is more of a medium-toned pant color, it still has a light and airy feel to it, which is the perfect companion for dark wood tones. This is a great serene paint color to use to keep your room from feeling heavy or weighed down.
If you like the looks of Rainwashed, Sea Salt is another amazing option for dark wood. It's along the same lines but a bit lighter.
SHERWIN WILLIAMS SLATE TILE SW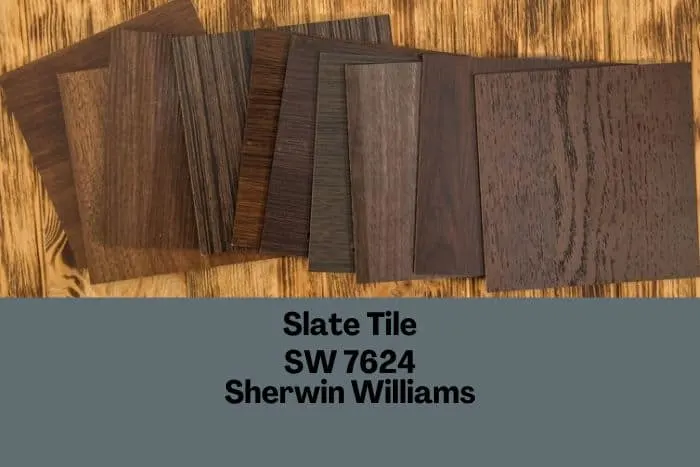 LRV – 15
Sherwin WIlliams Slate Tile is another amazing dark paint color. It's a deep slate blue that has the perfect amount of saturation, not overly blue but also not too muted.
Slate paint colors tend to work very well with darker wood tones. The cool blue tones complement the dark wood beautifully.
If you are looking to create an elegant and sophisticated room, Slate Tile will not disappoint.
SHERWIN WILLIAMS SAMOVAR SILVER SW 6233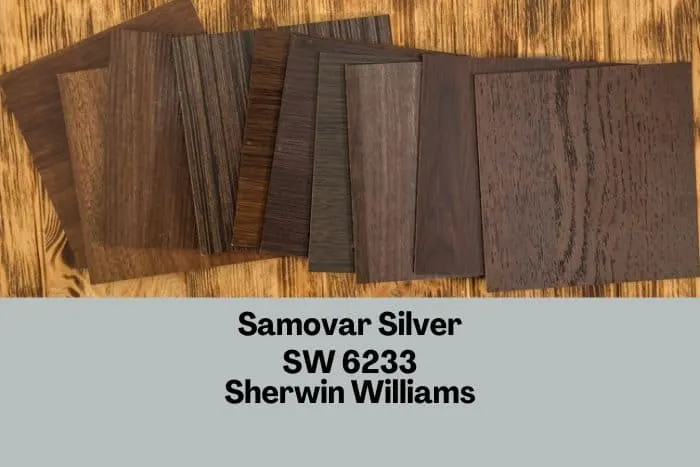 LRV – 51
Still sticking with the slate color theme but lightening things up a bit, let's talk about Sherwin Williams Samovar Silver.
This gorgeous silvery blue paint color looks amazing when used on the walls with dark wood floors, trim, or cabinets. Samovar Silver is a refreshing cool toned slate bluish color. It's not an overly saturated blue, but it's there.
If you like cooler-toned paint colors like this, you'll want to also check out SW Lazy Gray,
SHERWIN WILLIAMS JUBILEE SW 6248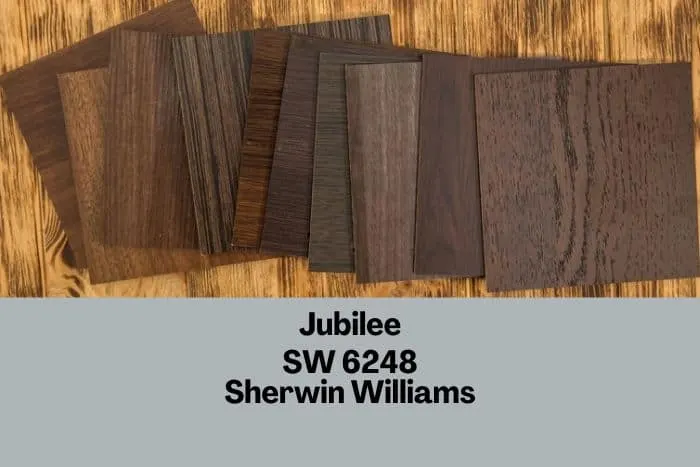 LRV – 45
Last but not least, we have Sherwin Williams Jubilee. This is another great lighter slate paint color option to go with dark wood trim, floors, or cabinets.
SW Jubilee is a light to mid-toned slate gray-blue paint color. It's neutral enough, but it has some color to it to make it interesting. There are no doubts that this cool-toned paint color won't add a sense of refinement and elegance to your room.
Doing some painting yourself? Make sure you pick up this essential painting tool!
RECAP – FANTASTIC PAINT COLORS TO GO WITH DARK WOOD TRIM, FLOORS, AND CABINETS
This was a long one. I shared a ton of paint colors, and I'm pretty sure most of you have forgotten all of them by now (I know I have).
Whether or not that's the case, I'm going to give a quick recap of all the Benjamin Moore and Sherwin Williams paint colors that go with dark wood trim, floors, and cabinets.
GENTLE GRAY 1626
HEALING ALOE 1562
LIGHT PEWTER 1464
CLARKSVILLE GRAY HC-102
SAYBROOK SAGE HC-114
SPANISH WHITE OC-35
DILL PICKLE 2147-40
ROCKY COAST 1595
WILLIAMSBURG WYTHE BLUE CW 590
FAIRMONT GREEN HC-127
AZORES AF 495
SHADOW GRAY 2125-40
JACK PINE 692
BUXTON BLUE HC-149
KNOXVILLE GRAY HC- 160
COLLECTORS ITEM AF-45
BALANCED BEIGE
WHITE DUCK
PRIVILEGE GREEN SW 6193
CITYSCAPE SW 7067
SNOWBOUND SW 7004
RAINWASHED SW 6211
SLATE TILE SW 7624
SAMOVAR SILVER SW 6233
JUBILEE SW 6248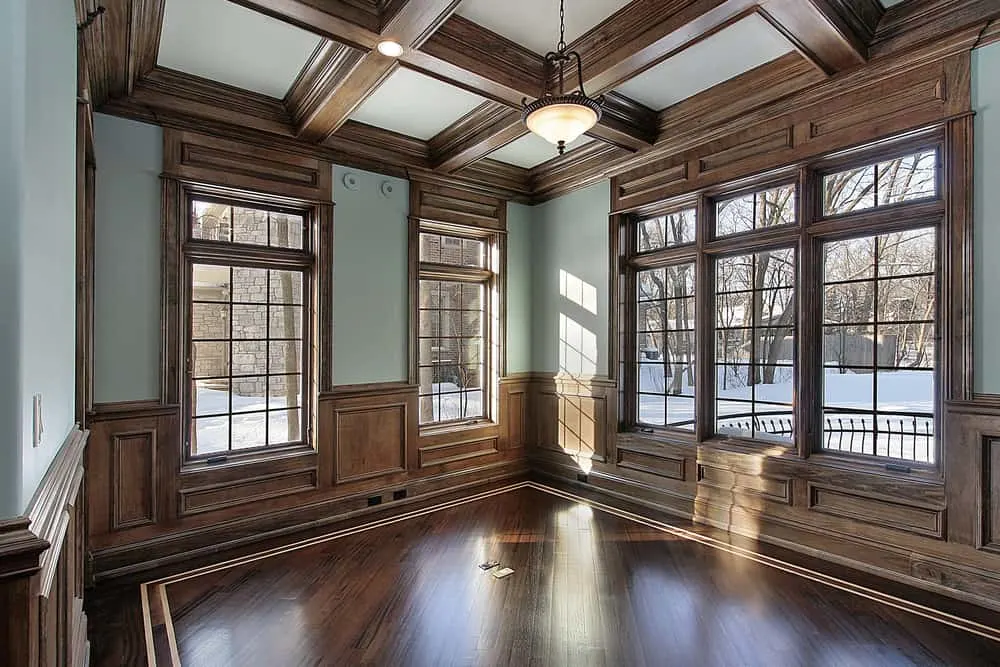 CONSTANTLY FORGETTING WHAT PAINT COLORS YOU USED IN YOUR HOME? KEEP TRACK OF THEM ALL WITH THIS HANDY PAINT COLOR KEEPER
FINAL THOUGHT- THE BEST PAINT COLORS THAT GO WITH DARK WOOD
I can go on and on about all the colors I think will work with dark wood, but I think the key points to remember here are the ways you yourself can find a paint color on your own.
I can easily say a paint color like Soft Chamois will work as a wall color for the dark trim in your home. But as I have said plenty of times in all my articles, you need to test that paint color in your space to be 100% sure it will work. Sampling a paint color in your space is the key to success.
Overall, I find dark wood relatively easy to find paint colors to coordinate with. Neutrals are always a good option, but beware of some grays because they can look a bit drab with darker wood. Blues are greens are amazing no-fail options as well.
I also want to throw this out there. These are also great paint colors for light wood.
Are you planning on tackling a painting project on your own? Use these tips to help you paint your room like a pro.
Do you want to paint like a pro?
Get the painting tools the pros use.
Drop cloths are a must for any painting project. Paint is messy! Save yourself the hassle of unnecessary cleanup by using drop cloths. You'll be happy you did.
A high-quality paint brush will go a long way. The same goes for paint rollers. You want to use tools that will work with you, making your painting job more manageable.
Do you still need a little more guidance finding a paint color?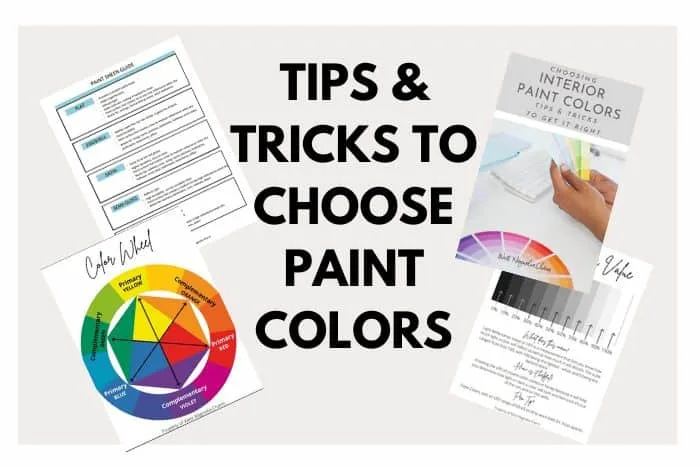 Looking for more color options? Grab your own Benjamin Moore fan deck


Looking for more color options? Grab your own Sherwin Williams fan deck.

RECENT ARTICLES: