I may earn money or products from the companies mentioned in this post. Please click my Disclosure Policy to learn more
Hale Navy by Benjamin Moore is by far one of the most popular shades of navy in the world of paint colors. It's everything you would expect and navy paint color to be, bold and beautiful.
Happy New Year!
I am kicking the new year off the best way I know how and that is with a paint color review.
This color has been on my list to review for a while now and now is finally the time.
And guess what? It is not a shade of white.
In all seriousness, this is such a fantastic color and I cannot wait to explore everything about it.
Today we are talking all things….
BENJAMIN MOORE HALE NAVY HC-154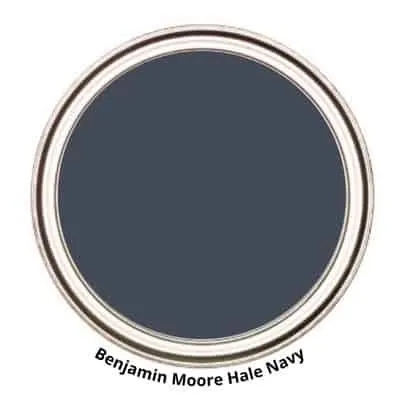 STATS
LRV: 8.36
HUE FAMILY: PB or Purple-Blue
COLOR COLLECTIONS: Best Selling Paint Colors, Historical Colors
Let me discuss with you what these stats mean.
Hale Navy has an LRV of 8.36.
That number has no meaning unless you know what LRV means. So let me tell you.
LRV or Light Reflectance Value is a scale used by design professionals to measure the amount of light that is reflected from and or absorbed by a surface. The scale range is 0 to 100 with 0 being absolute black and 100 being pure white.
A great article to read to learn more about LRV is Light Reflectance Value: What Do Those Numbers Mean?
With a low LRV of 8.36 Hale Nazy is not very light-reflective.
Hale Navy is from the purple-blue hue family. This is a very valuable piece of knowledge to have because It allows you to understand the paint color a bit more. For example, it can give you insight into what color it may shift to or show in certain qualities of light.
As for the color collections, Hale Navy is a part of a couple of color collections, The most notable one is the Best-Selling Paint Colors.
The color collections aren't truthfully telling us much about the color per se however, it's interesting and fun to see what other colors are alongside it.
Doing some painting yourself? Make sure you pick up this essential painting tool!
HALE NAVY COLOR STRIP
Buckland Blue HC-151
Whipple Blue HC-152
Marlboro Bue HC-153
Hale Navy HC-154
Newport Blue HC- 155
Van Deusen Blue HC- 156
KEEP TRACK OF YOUR PAINT COLORS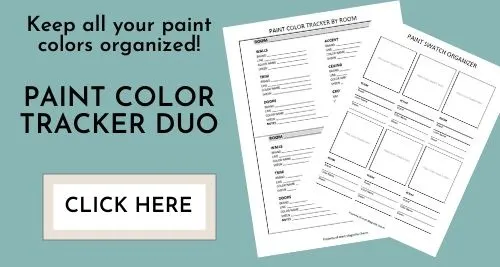 WHAT COLOR IS HALE NAVY?
Hale Navy is undoubtedly a navy blue paint color.
Benjamin Moore describes the color perfectly,
A use-anywhere shade of navy with a classic maritime feel.

Benjamin Moore
Now, don't confuse Hale Navy with Naval. Yes, they are both navy blue colors but they are two different colors by different brands. People often mix these up they think there is a Sherwin Williams Hale Navy and a Benjamin Moore Naval.
But it's the opposite, Sherwin Williams Naval and Benjamin Moore Hale Navy.
WHAT ARE THE UNDERTONES OF HALE NAVY?
Blue. There are no surprises here. Hale Navy as you would expect has blue and gray undertones.
Even though these undertones are straightforward I want to remind you that undertones are subjective and not the same for everyone. Light, fixed elements, and decor colors will have an effect on how the paint color will perform.
This is something that really isn't conveyed enough and it's why I push sampling paint colors so much, probably to the point of annoyance.
If you are wondering how Hale Navy will look, you need to grab a paint sample and test it in your home. It's the best way to get a precise representation of how the paint color will look.
IS HALE NAVY WARM OR COOL?
Benjamin Moore's Hale Navy is a cool-toned paint color.
It can sometimes be challenging to determine whether a paint color is warm or cool. Some colors you can tell right away, and some well, you are left guessing.
When you find yourself wondering what the tone of a paint color is, I have a tip that can sometimes help figure it out.
All you need to do is compare the paint color to another.
What this does is allows you to see the warmth or coolness better. Visuals always help so here's an example.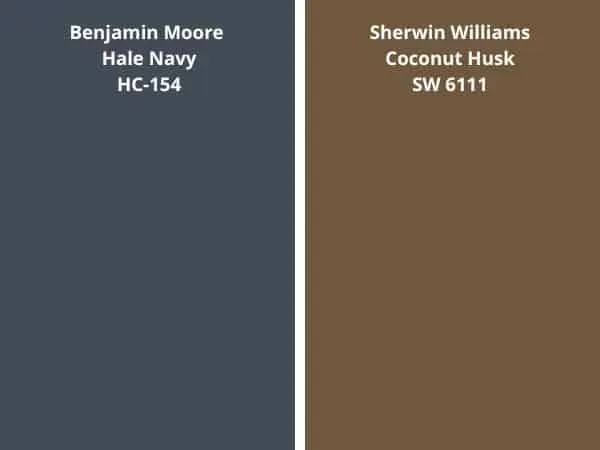 Let's Take Hale Navy and compare it to SW Coconut Husk. These are clearly two different colors but the point here is to show the tones of the color and how Hae Navy is the cooler color.
Explore More Warm-Toned Paint Colors:
DOES HALE NAVY LOOK GRAY?
No, it doesn't look gray.
The thing with BM Hale Navy is that it's blue that is not supersaturated. It has a low chroma which means there's more gray in it resulting in a less vibrant blue.
HALE NAVY, LIGHTING & CARDINAL DIRECTIONS
Lighting is one, if not the most, important factor when it comes to what a paint color will look like.
It largely affects how you will perceive a paint color. For this reason, it's a great idea to be knowledgeable about the lighting condition and the cardinal direction of the room you are choosing the right paint color for.
Below are the four cardinal directions: north, south, east, and west, with a brief description of how the light looks from each direction.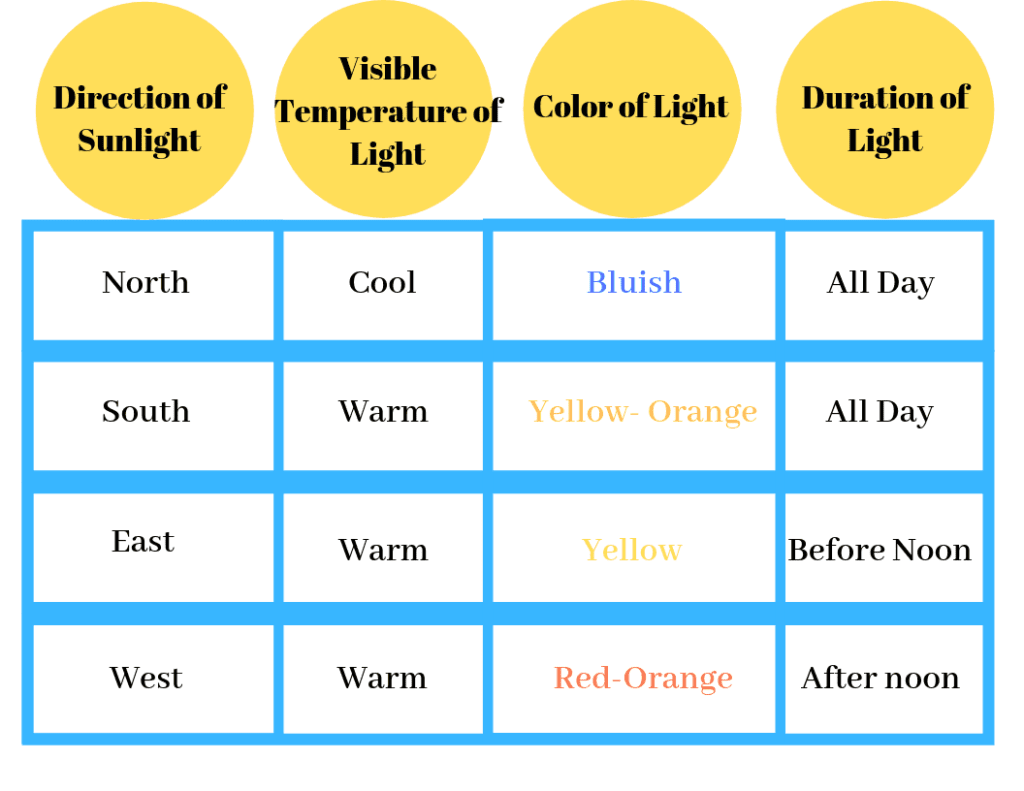 NORTH-FACING ROOMS – Light in North-facing rooms comes off cooler and somewhat bluish. Lighter colors may appear more muted, while bolder colors will show up, or appear sounder.
SOUTH-FACING ROOMS – In South-facing rooms, there tends to be a consistently bright light throughout the day. Warm and cool tones work with south-facing light, This light intensifies colors, so darker colors will seem a bit brighter while softer colors will appear to look like they are gleaming.
EAST-FACING ROOMS – East-facing rooms have the brightest light in the mornings, with a yellow-orange tone. If an east-facing room will be used mainly in the evenings, going with a warm palette will help balance the lack of natural light.
WEST-FACING ROOMS – Early evening is when West-facing rooms have the most favorable light. Warmer tones might seem overwhelming because of the red-orange the light gives off. However, if the main use for the room is in the mornings, the colors won't appear as strong as they would in the evening.
Hale Navy will look a bit more grayed down or muted in a north-facing room. And in a south-facing room, it will look a bit brighter and bluer.
It's important to remember to always take lighting into consideration while choosing a paint color. But you cannot forget about the other elements that influence how a paint color may look. This includes fixed elements like cabinetry, flooring, tiles, etc. as well as the decor colors you choose for your home.
Follow these helpful painting tips and avoid these mistakes to get the job done right!
WHAT ARE THE BEST LIGHT BULBS TO USE?
Don't forget about your light bulbs! The color of the light bulbs in your home is commonly overlooked and it can affect the way a paint color will look.
All lighting affects your paint color regardless of whether it is natural or artificial. But with artificial lighting, it can somewhat be doctored and that's with the color of the light bulb you use.
The color of the light bulbs you use will influence how a paint color will look in a room. And unfortunately, it's an important detail that is often overlooked.
With the variety of light bulbs available and it can become overwhelmingly confusing. I mean what really soft white and bright white?
Thankfully, it becomes easier once you know a little bit about light bulbs.
For reference, light color or light appearance is measured on the Kelvin (K)temperature scale. Lower Kelvin numbers mean more yellow light; the higher the Kelvin number the whiter or bluer light.
Remember, lower Kelvin (K) numbers = yellow light, Higher Kelvin (K) numbers = white/blueish light
I always recommend using this type of light bulb.
Be cautious of the light bulb names such as "daylight" or warm light". I'd advise against picking a light bulb by its name.
Instead, always check the package for actual facts. This allows you to choose the best bulb for you.

Don't forget, as much as lighting plays a major part in how a paint color will look at times, there are other determinants to be aware of. For instance, decor, furniture, fixtures, cabinetry, and floors. These are all elements that can affect and/or influence the way a paint color will look in your room.
HOW CAN I SAMPLE HALE NAVY?
I'm an advocate for testing and sampling paint colors. I wholeheartedly believe it's a legit way to see how a paint color will react in a room.
There are a few different ways you can sample paint colors. If you want to see how to get the most out of your samples. grab the sampling paint colors worksheet to help guide you.
LEARN HOW TO TEST YOUR PAINT SAMPLE THE RIGHT WAY.
GRAB A SAMPLING PAINT COLORS WORKSHEET TO LEARN HOW TO GET THE MOST OUT OF YOUR SAMPLES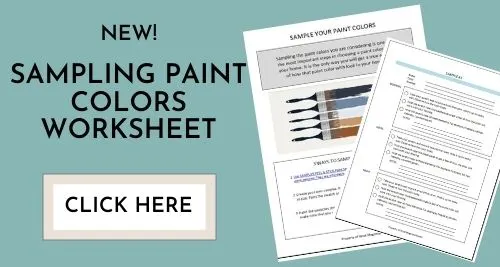 Make your life easier….
Instead of physically going to your nearest paint store to grab your samples, you need to try Samplize Peel & Stick paint samples.
Why should you try Samplize?
Super affordable
Mess-free
Non-damaging
Made with real manufacturer paint
Displays color just like a wall
Environmental friendly
Reusable
These peel & stick paint samples are super affordable and allow you to test a paint color in all different areas of a room without the mess of a traditional paint sample!
You know how I feel about testing paint colors. It's a must!
Don't create more work for yourself. Order Samplize now and have them shipped directly to you. No fuss, no mess! Check them out for yourself. You won't be disappointed.
Get $5 off your first Samplize order using the code "FIRSTFIVE"
WHAT IS THE BEST TRIM COLOR TO USE WITH BM HALE NAVY?
Some paint colors are more difficult to find a trim color for. Luckily, Hale Navy is not one of them.
As many of us know, white is the most common color for trim. And quite frankly, I absolutely love Hale Navy with a clean white trim. I find that the contrast between the two colors is unbeatable.
A few of my absolute favorite white paint colors to pair with Hale Navy are:
READ MORE: THE BEST WHITE PAINT COLORS FOR TRIM
WHERE SHOULD YOU USE BENJAMIN MOORE HALE NAVY?
Hale Navy is an awesome navy blue paint color that can be used just about anywhere. Honestly, there are no rules as to where paint colors can be used.
I say if you sample a paint color and you like how it looks in a particular space then you can use it there. At the end of the day, it's your home and you can paint can decorate it any way you see fit. If you love it, do it!
That being said I can share a few examples of where I love to see BM Hale Navy used.
KITCHEN CABINETS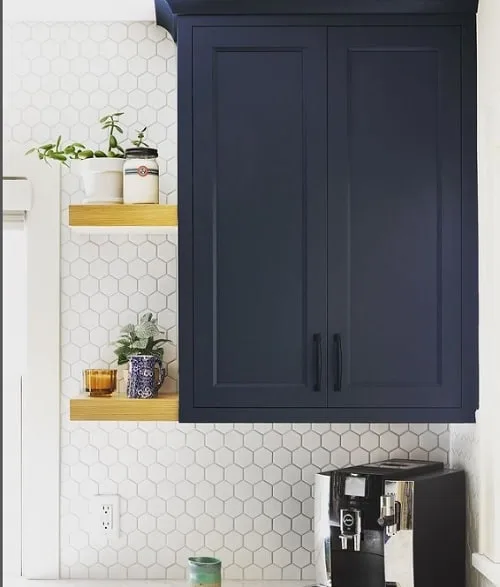 Kitchen cabinets are the perfect place for a bold blue like Hale Navy.
Zimmer design on Instagram used this gorgeous navy on the upper cabinets in a client's home. If you are looking to make a statement in your kitchen, this is the way to do it. They nailed it.
Looking for some design help? Check out Zimmer Design.
DINING ROOM
If you want to add a bit of drama to your dining room, opt to paint your walls in Benjamin Moore Hale Navy.
cutinedgepainting on Instagram painted a customer's dining room in Hale navy and it looks fantastic. Paired with the white trim, the color truly shines.
BEDROOM WALLS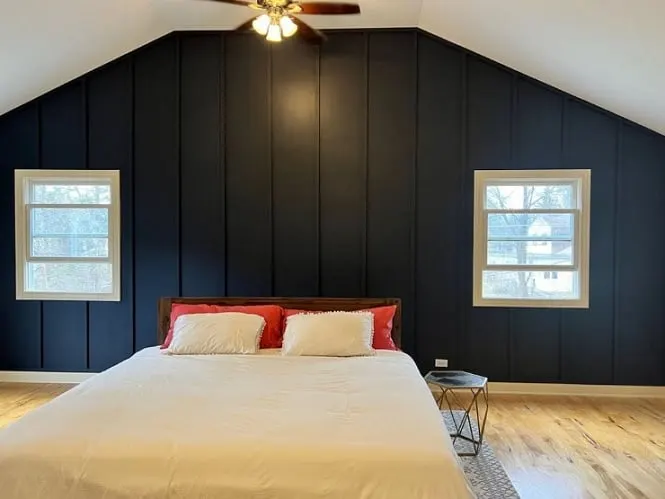 Looking for a cozy, comfortable vibe in your bedroom? Hale Navy can do that for you.
cypress__hac on Instagram created an accent wall in their bedroom by painting it in BM Hale Navy.
IS HALE NAVY A GOOD EXTERIOR PAINT COLOR
Hell to the yes, Hale Navy a good exterior paint color!
Deep, rich navy blues have been a trendy exterior paint color for a bit now. And Hale Navy fits that bill.
The reason I like HN as an exterior color (other than blue being a favorite of mine) is that it has the depth to stand up to that big, beautiful, bright sun.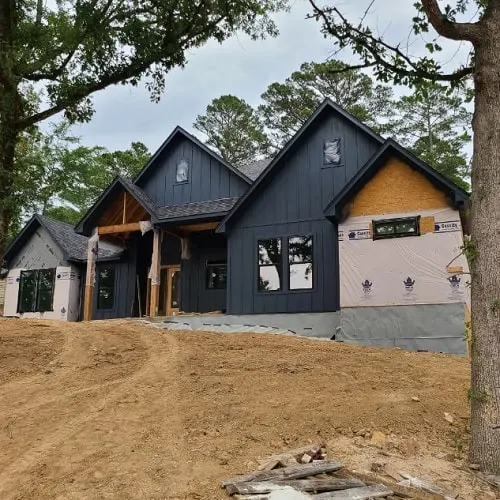 CHECK OUT SOME OF THESE EXTERIOR PAINT COLOR OPTIONS
You can use it on the body of the exterior or if you want just a pop of color, paint your front door using Hale Navy.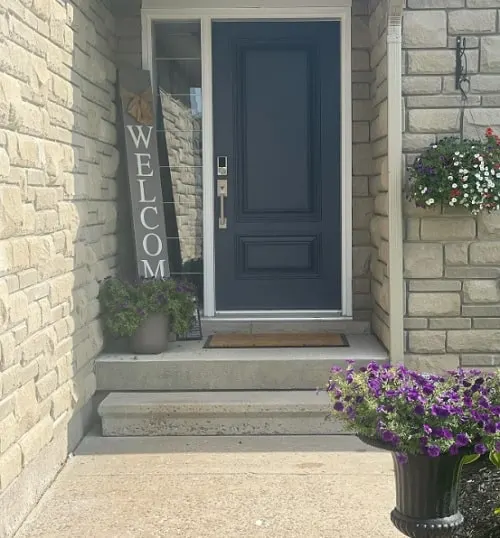 Another fantastic thing about this color as an exterior paint color is that it looks great with brick. Brick is something we tend to struggle to find a coordinating color for. So it's always helpful to hear color that will work. And Hale Navy is one of them.
READ MORE: PAINT COLORS TO GO WITH BRICK
WHAT COLORS GO BEST WITH BENJAMIN MOORE HALE NAVY?
I find blues in the realm of Hale Navy are a bit easier to find other colors to coordinate with. Even though it is a blue, I find it to be very similar to a neutral.
One of the easiest ways to find colors that coordinate is by looking at the color wheel. Colors that are directly opposite from one another are complimentary colors. In this case, the opposite of blue is orange.
Here is a great example of a complementary color to Hale Navy.
Honey Oak is a shade of orange wood. Hale Navy looks lovely with it because blue and orange are complementary colors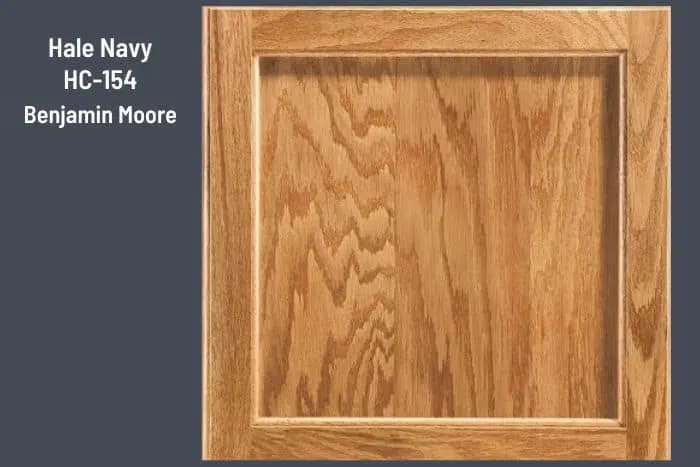 The color wheel is a very handy tool when it comes to creating color palettes.
With that said, I have a few colors in particular that BM Hale Navy pairs beautifully with.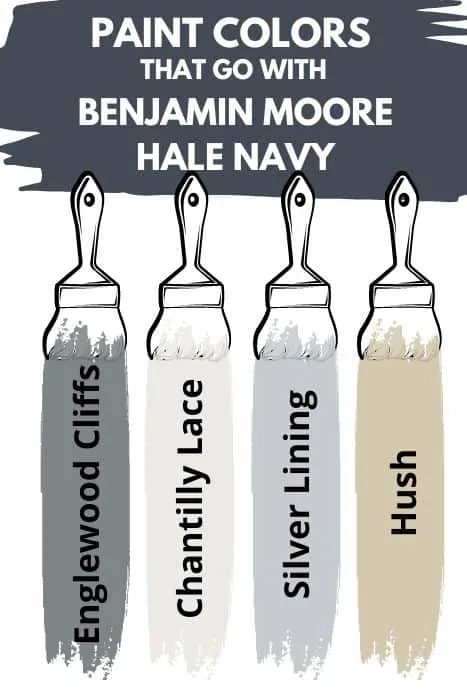 Silver Lining
Englewood Cliffs
Hush AF-95
Chantilly Lace
Monochromatic HALE NAVY COLOR PALETTE
White Diamond
Iceberg
Sheer Romance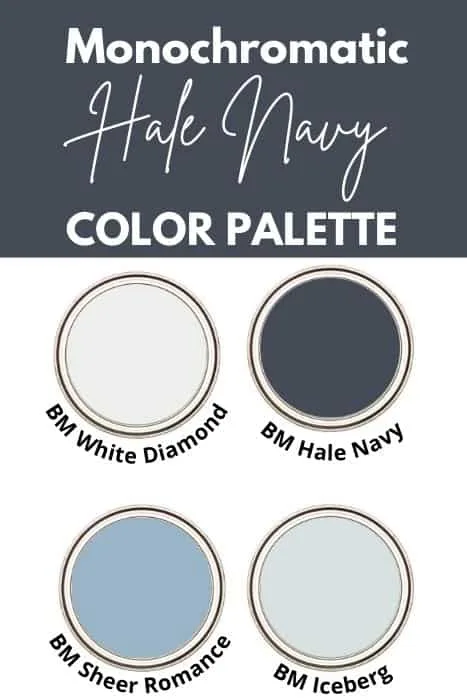 WHAT IS THE SHERWIN-WILLIAMS COLOR EQUIVALENT?
This is a question I often hear, whether there is a paint color equivalent in another paint brand.
The answer is no, there is not.
There are colors that are very similar to one another, but I have yet to find an exact dupe.
Often colors are so similar that they are nearly indistinguishable once they are painted on the walls.
But I understand why people ask about equivalents. Sometimes we don't have access to certain brands and if you fall in love with a paint color from that brand you want to find it elsewhere.
So for the curious, I have found two Sherwin-Williams paint colors comparable to BM Swiss Coffee.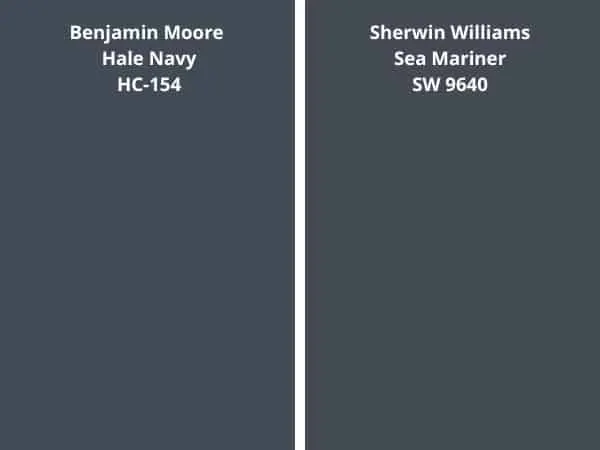 WHAT ABOUT COLOR MATCHING?
I wouldn't say you should, but you certainly can if you want.
If you are considering color matching between brands, do it with a bit of caution.
Brands formulate paint colors differently. This means that if they mix a paint color that isn't theirs, it has the potential of being slightly off.
If you still want to take a chance, I strongly recommend starting with a sample of the color to start. This way you can see if the color is what you were expecting and if you like it.
COLOR COMPARISONS
It's time to talk about a few color comparisons.
Reminder* The colors you view on a computer screen are not an actual representation of the paint colors themselves. To see the true color, always swatch your paint samples.
IS HALE NAVY OR NAVAL DARKER?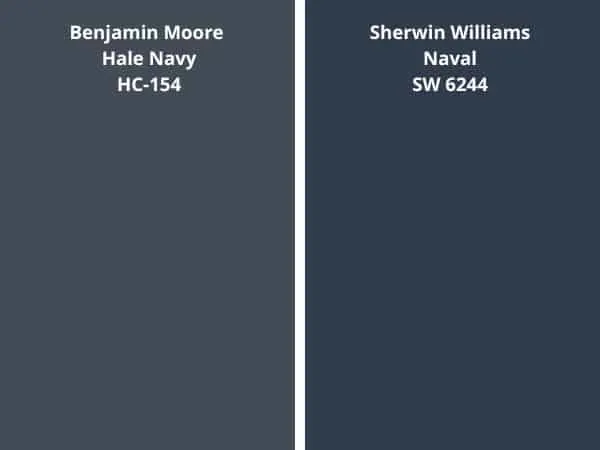 Sherwin Williams Naval has an LRV 4 which is a bit lower than Hale Navy's LRV of 8.36
Both are considered naval colors.
SW Naval has a bit more color of chroma to it whereas Hale Nazy is a bit grayed down and not as vibrant.
SW Naval is the darker paint color of the two
HALE NAVY VS POLO BLUE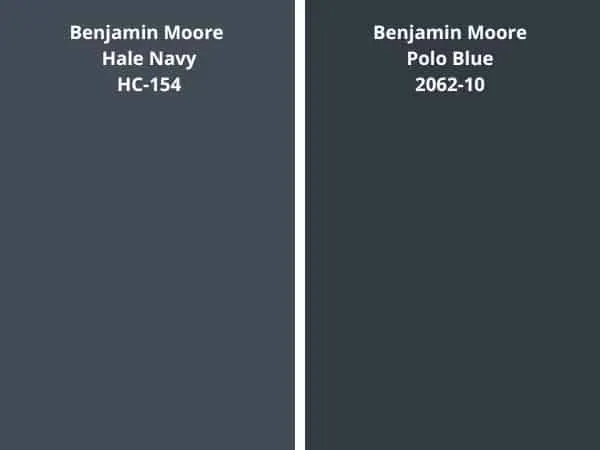 Benjamin Moore Polo Blue has an LRV of 5.67, a bit lower than HN's 8.36
BM Polo Blue is the darker of the two colors.
both are similar in colorfulness or chroma. They are both grayed down.
Polo Blue is a very dark shade of navy, moving close to black.
HALE NAVY VS OLD NAVY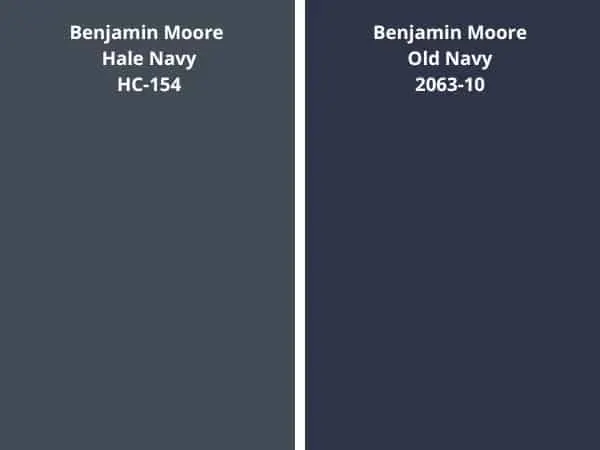 Benjamin Moore Old Navy has an LRV of 5.13, which is lower than HN's 8.36
Old Navy is the dark paint color
BM Old Navy has more chroma or colorfulness to it.
Both are solid navy paint colors
RECAP
Are you overwhelmed with the amount of information I just spewed at you? Well I am so I'm going to break it down for you (not dancing, you do not want to see that!)
Here's a condensed version of this Hale Navy paint color review.
LRV: 8.36
HUE FAMILY: PB Purple- Blue
COLLECTIONS: Best Selling Paint Colors, Historical Colors
is considered a navy paint color with a maritime feel
it's cool toned
pairs well with brick, honey oak wood, and other stones
looks great with white trim
is an excellent exterior paint color option
looks great with all different colors including both warm and cool tones.
has a bit of gray in it which makes it appealing to many
Sherwin Williams Sea Mariner and Charcoal Blue are simial colors
SW Naval is a darker paint color.
WAIT! Before you start painting make sure you have the best painting tools to make your job easier. It will take hours off your painting time!
FINAL THOUGHTS
Let me start off by saying I love the color blue so it's to be expected that I love Benjamin Moore Hale Navy. And guess what? I do love it!
Why is Hale Navy so popular?
That's easy to answer, this is a paint color that has it all. It has depth, it's not too vibrant, not too dark, It works with all decor styles, etc. It truly is phenomenal.
If you are into darker paint colors and a lover of blue, I can't see you not loving this color.
As usual, if you are thinking about using Hale Navy, make sure you swatch it first. Testing paint colors in your home with save you from possibly making a big mistake.
By sampling paint colors, you get to see how the paint color truly looks in your home. It's the only way to accurately see the paint color in your space.
Are you planning on tackling a painting project on your own? Use these tips to help you paint your room like a pro.
Do you want to paint like a pro?
Get the painting tools the pros use.
Drop cloths are a must for any painting project. Paint is messy! Save yourself the hassle of unnecessary cleanup by using drop cloths. You'll be happy you did.
A high-quality paint brush will go a long way. The same goes for paint rollers. You want to use tools that will work with you, making your painting job more manageable.
LOOKING FOR MORE PAINT COLOR OPTIONS?
Grab your own Benjamin Moore fan deck


Grab your own Sherwin Williams fan deck.

RECENT ARTICLES: