I may earn money or products from the companies mentioned in this post. Please click my Disclosure Policy to learn more
Worldly Gray by Sherwin Williams is a part of the neutral paint colors collection and is classified as a gray paint color. This is a beautiful paint color that will provide an amazing neutral backdrop to any space.
Hello, hello friends! We are at it again. Another day another paint color.
Today we are exploring a fantastic paint color.
Do I say that about every paint color?
Yes.
Will I continue to say it?
You bet I will.
Assuming you have been around here before, you probably won't be too surprised by this paint color. Because, well it's neutral. I know, I know! ANOTHER neutral? But, I am asked about these paint colors all the time. So I feel it's my duty to give the people what they want.
And the people want neutrals!
Ok, so today is the day we are doing a deep dive into the wonderful world of
SHERWIN WILLIAMS WORLDLY GRAY SW 7043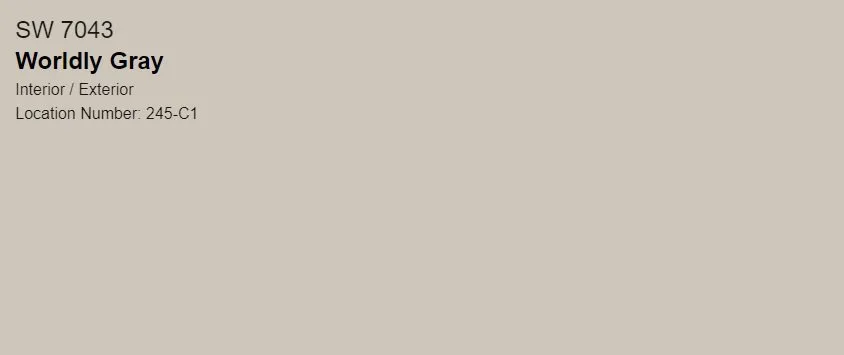 Isn't she a beauty? You may think that Wordly looks like every other neutral paint color, but it is not. This gorgeous neutral has qualities and characteristics that make it special and one of a kind.
Let's get in to it already!
STATS
Let's start with a few quick stats on Worldly Gray.
R:206G:198B:187
Hex Value:#cec6bb
LRV:57
With an LRV of 57, Worldly isn't the lightest neutral paint color you will find however, it's certainly not the darkest either.
To refresh your memories, LVR ( light reflectance value), is the amount of light the paint color either absorbs or reflects, is slightly higher on the scale. So the higher on the scale the more light it reflective the paint color will be. A great article to read to learn more about LRV is Light Reflectance Value: What Do Those Numbers Mean?
COLOR COLLECTIONS
WHAT COLOR IS WORLDLY GRAY?
Worldly Gray is a gray paint color. It can also be considered a greige paint color. It's the lighter version of SW Amazing Gray.
A great way I like to describe it is as a soft neutral gray paint color.
READ MORE: A FABULOUS SHERWIN WILLIAMS NEUTRAL
IS WORLDLY GRAY WARM OR COOL?
Worldly Gray is a warm gray paint color. At a glance, you can tell it favors the warmer side. Now if you were to start comparing other paint colors to Worldly Gray, it may look warmer or cooler compared to the contrasting color.
A good example would be comparing Worldly Gray to SW Kilim Beige. You can clearly see how Kilim Beige is the warmer paint color of the two. Worldly Gray is cooler in comparison.
If you were to compare Worldly Gray to SW Passive, WG is the warmer color of the two.
I find comparing paint colors is a fantastic way to help you in your paint color search.
IS SHERWIN WILLIAMS WORLDLY GRAY CONSIDERED A GREIGE?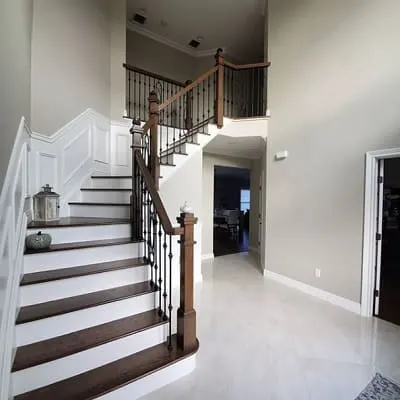 Yes, SW Worldly Gray can be considered a greige paint color. Depending on what's going on in a room like lighting, direction, and elements, it can look either more or less greige.
WHAT UNDERTONES DOES WORLDLY GRAY HAVE?
Worldly Gray has undertones that are mainly green with a tiny sprinkling of violet. Now here's what can be frustrating about undertones, depending on what is going on in your space, those undertones will or will not show up.
When I say "what's going on in your space" I mean the lighting, your decor, and the fixed elements in the room.
Oh, undertones! How you like to confuse and frustrate everyone.
WORLDLY GRAY AND LIGHTING
Lighting is definitely a contributing factor in how Worldy Gray will look in your home.
Lighting plays a large role in how you will perceive a color. For this reason, it's a good idea to be familiar with the lighting situation of the room you are choosing the right paint color for. In this case, Wordly G.
NORTH-FACING ROOMS – Light in North-facing rooms come off cooler and somewhat bluish. Lighter colors will appear more muted, while bolder colors will show up, or appear sounder.
A North-facing room is where you will see Worldly Gray look a bit cooler and most like a gray. The cooler, bluish lighting will enhance the cool tones in the color.
SOUTH-FACING ROOMS – In South facing rooms, there tends to be a consistently bright light throughout the day. Warm and cool tones work with south-facing light, This light intensifies colors, so darker colors will seem a bit brighter while softer colors will appear to look like they are gleaming.
South-facing rooms tend to have the best lighting and they really make a paint color shine. WR will look lighter, brighter and show its warmth in a south-facing room.
EAST-FACING ROOMS – East facing rooms have the brightest light in the mornings, with a yellow-orange tone. If an east-facing room will be used mostly in the evenings, going with a warm palette will help balance the lack of natural light.

WEST-FACING ROOMS – Early evening is when West-facing rooms have the most favorable light. Warmer tones might seem overwhelming because of the red-orange the light gives off. However, if the main use for the room is in the mornings, the colors won't appear as strong as they would in the evening.
Don't start painting until you have the right tools!

SHOP MUST HAVE PAINTING TOOLS
WHERE CAN YOU USE SW WORLDLY GRAY?
You can use this versatile neutral paint color virtually anywhere.
The most obvious place would be to use it is on the interior walls of your home. There are also a few other places aside from the interior walls, where Worldly Gray is shine.
KITCHEN
A great place to use SW Worldly Gray is in the kitchen. It's not only a great option for the walls but the kitchen cabinets as well. Because WG is more of a heavier gray it holds itself well making it a perfect gray for the cabinets.
READ MORE: HOW TO PAINT KITCHEN CABINETS
BATHROOM
Using Worldly Gray in the bathroom is a fantastic idea. Whether it's used on the walls or bathroom vanity, this gray is a great option.
A good thing to remember is that since most bathrooms are smaller and have less light than say a living room, WR will look darker and it may even look dull at times. This is another reason I ALWAYS suggest swatching your paint colors.
LIVING ROOM
If a large living room with a ton of natural light, Worldly Gray will be a showstopper. It's the perfect mid-toned neutral gray to use on your walls. It creates a gorgeous backdrop for all your furnishings and decor.
BEDROOM
Painting your bedroom walls with Sherwin Williams Worldly Gray is a great idea. This color will provide a beautiful warmth to the room without being overly warm. It's going to give you all the cozy vibes for sure. It's simply a fantastic neutral gray that will work with almost any decor style.
LOOKING FOR A WAY TO CREATE AN ACCENT WALL TO COMPLIMENT YOUR PAINT COLORS?
EXTERIOR
Though it's not one of the more gray popular choices to use on the full exterior of a home Worldy Gray is still a beautiful option. Just like all paint colors on the exterior, it will lighten. So you can expect Worldly Gray to look more like a white with a gray undertone to it.
It would make a great exterior trim color when paired with a darker color such as SW Anonymous or something even more bold, like Tricorn Black.
READ MORE: THE BEST SHERWIN WILLIAMS EXTERIOR PAINT COLORS
HOW TO LIGHTEN SHERWIN WILLIAMS WORLDLY GRAY
Another way to use Worldly is by lighting it by 50% 25% or whatever % you want. Basically, this means when mixing a color you start with your base, which is white. then to that, you add colorant to make the color of your choice.
So let's say we were adding 12 drops of blue and 12 drops of black colorant into the white base. To lighten that color you'd equally reduce the number of drops.. 12 drops now become 6 drops.
Bliss from @blissfureverfarmhouse used this lightning method on all the interior doors in her gorgeous home. She lightened WG by 50% and the result turned out fantastic.
WORLDLY GRAY COORDINATING COLORS
Being a neutral paint color, Worldly Gray tends to work well with a wide variety of other paint colors including timeless black paint colors. Some Sherwin Williams colors it works swimmingly well with are :
Naval
Urbane Bronze
Anonymous
I particularly like how WG looks with navy blue, blue-gray, and green paint colors.
Don't forget about a trim color to pair with WG. These white paint colors are great options. Also, it's a great paint color to go with honey oak wood.
SAMPLE COLOR PALETTE FOR WORLDLY GRAY
I know that creating a color palette for your home can be a bit confusing or even terrifying for some.
Don't worry about it, I got you!
I created a few sample color palettes for Worldy Gray so you don't have to even think about it.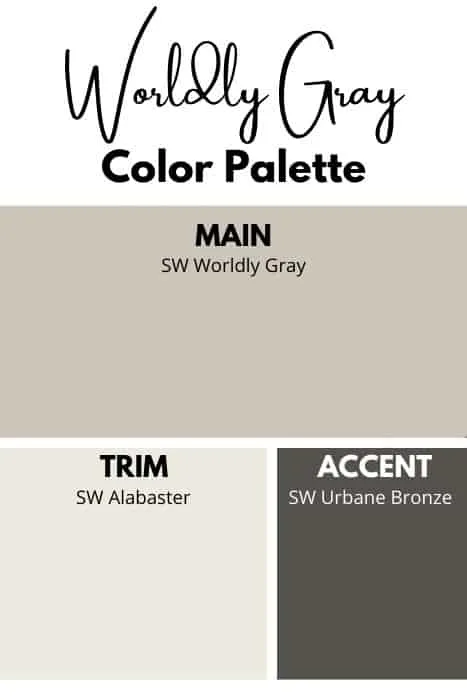 Want a little more inspiration? Check out how interior designer Holly Bellomy incorporated Wordly G with bold colors in this office.
Colors used:
Worldly Gray SW 7043
Exuberant Pink SW 6840
Salty Dog SW 9177
SIMILAR COLORS TO WORLDLY GRAY
With the number of paint colors out there, there are bound to be a few colors that look almost identical or very very similar to one another. Obviously, no two colors from the same brand are the same. That would be silly. But there are a few paint colors that come pretty close.
Here are some colors that are comparable to Worldly Gray:
Popular Gray SW 6071
Skyline Steel SW 1015
WHAT IS THE BENJAMIN MOORE EQUIVALENT TO WORLDLY GRAY?
There is no true Benjamin Moore equivalent to Sherwin Williams Worldly Gray. There are several colors that are quite similar but surely not identical. The one Benjamin Moore color that is a fairly close match is:
As I said not identical but close.
If you were thinking of color matching Worldly Gray in Benjamin Moore paint, I highly recommend you purchase a sample beforehand. Sometimes when you color match between paint manufacturers, the colors don't come out exactly. This is because each brand uses different formulas to create its paint colors.
READ MORE: THE BEST BENJAMIN MOORE GRAYS
HOW SHOULD YOU SAMPLE YOUR PAINT COLORS?
Before we get into a few color comparisons, I want to talk about how important sampling your paint colors are.
The colors you see on the computer screen as well as the small sample chips are not true to the paint color that comes directly from the paint can. This is why I ALWAYS recommend buying a sample of any paint color you are considering.
Quickly, let's talk about testing paint colors.
Instead of physically going to your nearest paint store to grab your samples, you need to try Samplize Peel & Stick paint samples.
Why should you try Samplize?
Super affordable
Mess-free
Non-damaging
Made with real manufacturer paint
Displays color just like a wall
Environmental friendly
Reusable
These peel & stick paint samples are super affordable and allow you to test a paint color in all different areas of a room without the mess of a traditional paint sample!
You know how I feel about testing paint colors, it's a must!
Don't create more work for yourself. Order Samplize now and have them shipped directly to you. No-fuss, no mess! Check them out for yourself, you won't be disappointed.
WORLDLY GRAY VS AGREEABLE GRAY
Let's examine the difference between the extremely popular Sherwin Williams Agreeable Gray and Worldly Gray. These two are pretty dang similar however, there are a few differences that make them the colors they are.
Agreeable Gray has an LRV of 60 which is a bit higher than WG LRV of 57.
Agreeable Gray is also a warm gray or greige paint color.
Both Worldly Gray and Agreeable Gray have a predominantly mild green undertone. However, it's a possibility for Worldy to flash a violet undertone at times.
Both gray paint colors are very versatile to use throughout your home.
WG is a hair cooler and softer of a paint color than Agreeable Gray.
WORLDLY GRAY VS REPOSE GRAY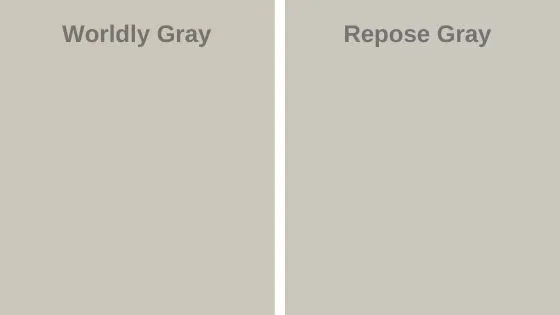 Let's talk about how Repose Gray, another very popular Sherwin Williams gray compares to Worldly Gray.
Repose Gray has an LRV of 58 which is quite close to Worldly's 57.
Repose Gray is the cooler of the two grays.
As for undertones, Worldly favors green. Whereas Repose Gray can lean more towards violet or blue.
In terms of being a greige paint color, Worldly is the winner here.
WORLDLY GRAY VS REVERE PEWTER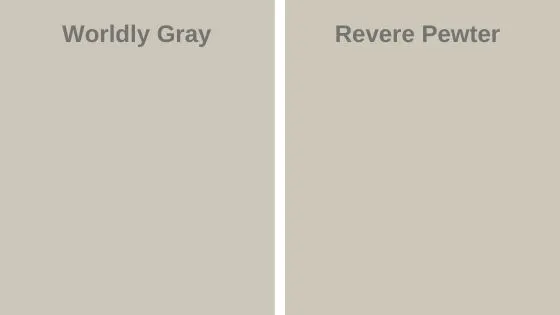 Here's a color comparison that comes up quite often. Worldly Gray vs BM Revere Pewter.
Revere Pewter has an LRV of 55.51. That's a smidge lower than Worldly G's LRV of 57.
Revere Pewter is a touch more warmth to it, but only a touch.
Both WG and Revere Pewter have that hint of green in them.
Comparing these two, you can see that Revere Pewter how similar they are.
Revere Peter can sometimes look a bit muddy.
WORLDLY GRAY COLOR STRIP
Sherwin Williams has a fan deck that shows all of their paint colors. Most people do not have these fan decks but if you are curious about the colors that are on the same color strip as WR in the fan deck here they are:
Worldly Gray SW7043
Amazing Gray SW 7044
Intellectual Gray SW 7045
Felted Wool SW 9171
Anonymous SW 7046
Porpoise SW 7047
Urbane Bronze SW 7048
Want your own Sherwin Williams fan deck?
RECAP
It's recap time! Let's go over what we have learned about Sherwin William's Worldly Gray.
WG has an LRV of 57.
Is a gray paint color that leans more towards the warm side.
Can be considered a greige paint color.
Is in the Top 50 Popular Sherwin Williams Paint Colors Collection.
Has a mild green undertone.
Looks great with a wide variety of other paint colors.
It's a shade lighter than SW Amazing Gray.
It's an all-around versatile gray paint color for the home.
FINAL THOUGHTS
We have made it to the end, are you ready for my final thoughts on this paint color?
Quite frankly, I think Worldly Gray is a fantastic gray paint color. It's gray, it's neutral and it is gorgeous. It's just a great all-around paint color.
Now it's not the lightest gray and it can look a little dull or dingy in smaller rooms with little to no lighting. But in rooms with enough light, I think WR is a great option.
If you are looking for a soft gray with a bit of warmth to it I highly suggest grabbing a sample of Sherwin Williams Worldly Gray!
---
SUBSCRIBE TO MY EMAIL LIST AND GET A FREE COPY OF MY INTERIOR PAINTING CHECKLIST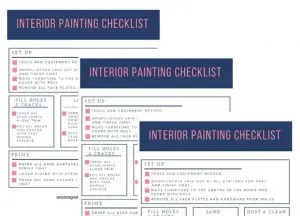 ---
Recent Articles: