I may earn money or products from the companies mentioned in this post. Please click my Disclosure Policy to learn more
Stonington Gray HC-170 is one of Benjamin Moore's most popular neutral paint colors. this gray paint color is elegant and refined. It's a soft gray paint color that brings elegance to any room it is in.
Welcome, welcome friends!! Today is a good day.
Why, you ask?
Because we are going to be chatting about another super fabulous paint color.
The other day, while I was rummaging through the paint samples in my garage, I came across one color that I somewhat forgot about. Not because it's a bad color or anything of that sort, but because there are so many paint colors out there. I'm bound to forget about some here and there.
Anyway, when I saw the sample, I immediately pulled it and set it aside because I knew I had to talk about it. It's too good not to.
Without further ado, may I introduce to you the one, the only…..
BENJAMIN MOORE STONINGTON GRAY HC-170

STATS
Let's start with the technical stuff.
According to Encycolorpedia.com
The hexadecimal color code #cbccc6 is a light shade of yellow-green. In the RGB color model #cbccc6 is comprised of 79.61% red, 80% green and 77.65% blue. In the HSL color space #cbccc6 has a hue of 70° (degrees), 6% saturation and 79% lightness. This color has an approximate wavelength of 568.13 nm.

Encycolorpedia.com
Stonington Gray has an LRV of 59.75.
I know what you are thinking: what the heck is LRV? Here's a quick rundown of what LRV is if you are unfamiliar with it.
LRV, or Light Reflectance Value, is a measurement commonly used by design professionals that measures the amount of light reflected from or absorbed into a surface. LRVs range from 0-100, with 100 being pure white and 0 being pure black.
Basically, the higher the LRV of a paint color, the more light it will reflect. So, with an LRV of 59.75, Stonington Gray sits a little above the middle of the scale.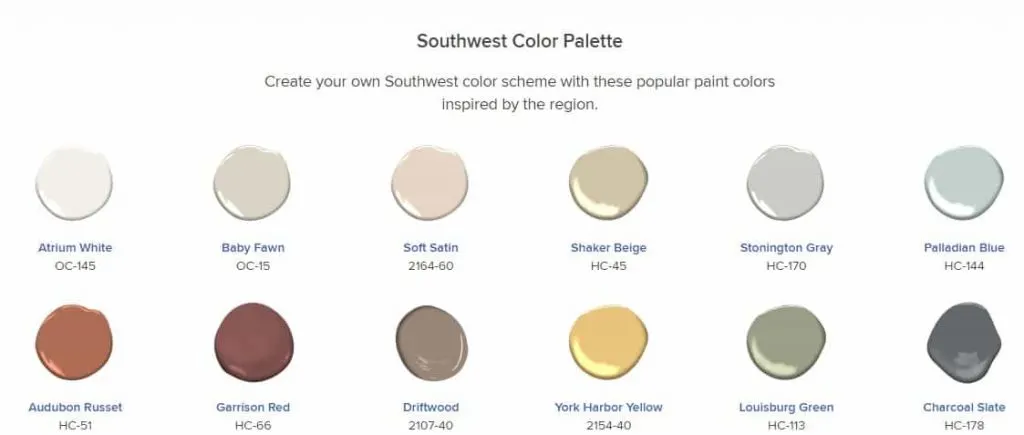 Finally, Stonington is a part of the Benjamin Moore Historic Color Collection, which is Benjamin Moore's most popular color collection. It's also a part of the Southwest Color Palette.
WHAT COLOR IS BENJAMIN MOORE STONINGTON GRAY?
If you haven't already guessed, Stonington Gray is gray.
But wait! There's more!
To further elaborate, Stonington Gray is a cool-toned medium gray. It's not an icy cool gray, rather it's soft and refined.
---
DON'T START PAINTING UNTIL YOU HAVE THE RIGHT TOOLS!
SHOP MUST HAVE PAINTING TOOLS
---
IS STONINGTON GRAY A WARM OR COOL COLOR?
Stonington Gray is a cool-toned paint color. Generally, cool-toned paint colors will have undertones that are blue, purple, and green. Whereas, warm-toned paint colors have undertones of red, orange, and yellow.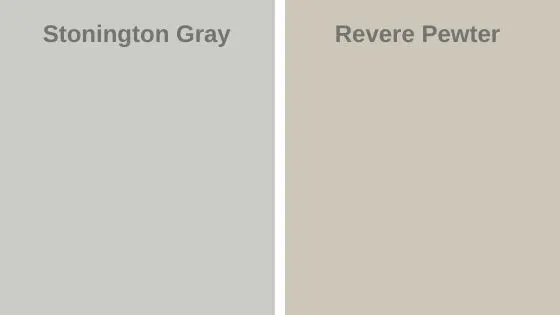 A fantastic way to understand if a paint color is warm or cool-toned is by comparison. For example, let's put Stonington Gray side by side with Revere Pewter. You can see how Stonington Gray is the cooler of the two paint colors.
WHAT UNDERTONES DOES STONINGTON GRAY HAVE?
We know Stonington Gray is a cool-toned color. So that means it has blue, purple, and green undertones. Now. the main undertone that stands out is blue. For the most part, SG will look like a gray, however, in the perfect conditions that blue undertone will show.
What do I mean by perfect conditions?
That refers to what is happening in the room, lighting (natural and artificial), decor, fixed elements, etc.
LIKE WARM-TONED PAINT COLORS? CHECK THESE OUT
STONINGTON AND LIGHTING
We know that lighting is one of the main factors contributing to how a paint color will look. It can virtually change the appearance of any color. That's a big deal when you are trying to choose the right paint color. So, it's best you are familiar with the lighting situation of the room you are finding a paint color for.
North-facing rooms – North-facing rooms tend to have light that comes off cooler and even somewhat blueish in tone. Paint colors that are on the lighter side will appear a bit muted whereas bolder dark colors will pop and embrace that cooler light.
South-facing rooms– In South-facing rooms, there tends to be a consistent warm light throughout the day. Warm and cool tones work nicely with south-facing light. This light intensifies colors, so darker colors will seem brighter while, softer colors will look like they are gleaming. BM Stonington looks great in South-facing light.
West-facing rooms- Light is cooler in the morning and warmer or brighter in the afternoon/ early evening. Early evening is when West-facing rooms have the best light. Warmer tones might seem overwhelming because of the red-orange the light gives off. However, if the main use for the room is in the mornings, the colors won't appear as intense because of that cooler light. Stonington Gray in a west-facing room will look cooler-toned in the mornings.
East-facing rooms– Light is warmer or brighter in the mornings and cooler in the afternoon/evenings. An East facing room's bright morning light is more yellow-orange toned. Going with a warm palette will help balance the lack of natural light in the evening. Benjamin Moore SG will look will show cooler in the evening of an east-facing room.
Let's not forget about our light bulbs! They also have an influence on how your paint color will look.
As much as lighting plays a major part in how a paint color can look at times, there are other factors you should not forget about.
For example, decor furniture, fixtures, cabinetry, and floors. These are all elements that can affect the way a paint color will look in your room.
---
---
WHAT'S THE BEST WAY TO SAMPLE BENJAMIN MOORE STONINGTON GRAY?
If you have read some of my paint color reviews, you know that the one thing I ALWAYS mention is to sample your paint colors. Sampling your paint colors is the only way you will see how that particular color, or in this case, Stonington, will look in your space.
Yes, I know, you saw your favorite Influencer post a picture of her beautiful gray walls, and it's the color you want. But her home is not the same as your home. You may have more light than she does. She may have shades of blue throughout her room, whereas you have different shades of red. These are all things that matter when choosing a paint color.
So, what's the best way to sample paint colors?
Samplize Peel & Stick Paint samples!
Quickly, let's talk about testing paint colors.
Instead of physically going to your nearest paint store to grab your samples, you need to try Samplize Peel & Stick paint samples.
Why should you try Samplize?
Super affordable
Mess-free
Non-damaging
Made with real manufacturer paint
Displays color just like a wall
Environmental friendly
Reusable
These peel & stick paint samples are super affordable and allow you to test a paint color in all different areas of a room without the mess of a traditional paint sample!
You know how I feel about testing paint colors, it's a must!
Don't create more work for yourself. Order Samplize now and have them shipped directly to you. No-fuss, no mess! Check them out for yourself, you won't be disappointed.
WHERE TO USE STONINGTON GRAY
I say use Stonington Gray anywhere your heart desires. There are no rules here! SG is such a beautiful soft gray that it looks good in so many different applications.
Kitchen
Bathroom
Exterior
Living Room
Basement
Cabinets
Trim
Ceilings
IN THE LIVING ROOM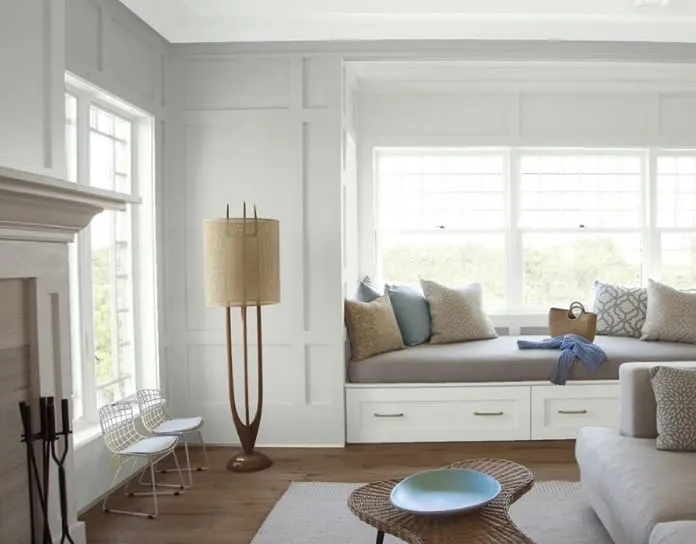 I love painting living room walls with Stonington Gray. This cool-toned gray will give the space a clean and classic look.
Use your decor pieces to really make SG shine. Try an area rug, and some throw pillows with blue tones in them to really complement this fabulous paint color.
KITCHEN CABINETS
Why is Stonington Gray an absolutely amazing paint color for kitchen cabinets? Well, because it is not too light and not too dark. It's a color that won't weigh down your cabinets, and at the same time, it won't be so light that you can't tell it's a gray.
READ MORE: HOW TO PAINT KITCHEN CABINETS
USE STONINGTON IN THE BATHROOM
Cool-tone colors are great options to use in the bathroom. They give off a sense of calmness and relaxation. And they are perfect to use when you want to create a spa-like environment.
Using a soft and elegant paint color like Stonington Gray will help you capture the spa vibes you want in your bathroom. Complete your bathroom look with luxurious crisp white bath towels.
USE SG ON THE EXTERIOR
The home's exterior is another place where you can use Stonington Gray. Remember, though, paint colors will always look lighter on an exterior because of all the sunlight. So a lot of lighter paint colors tend to wash out and look like shades of white.
Since SG is more of a mid-toned gray paint color, it will most likely look like a light gray on the exterior.
This is why we ALWAYS swatch and test our paint colors before moving forward with a project.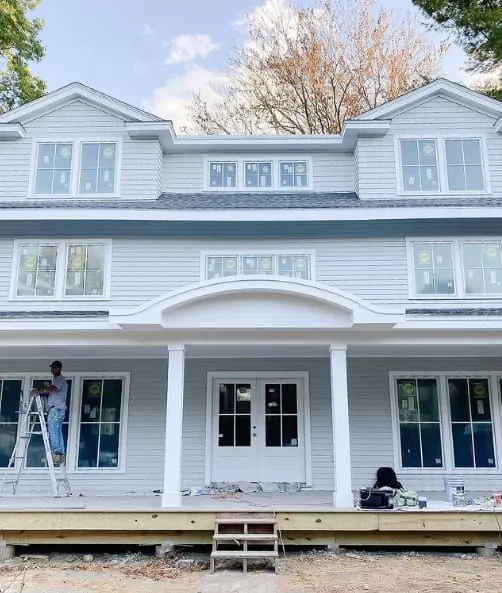 READ MORE: THE BEST BENJAMIN MOORE EXTERIOR COLORS
---
WAIT! Before you start painting make sure you have the best painting tools to make your job easier. It will take hours off your painting time!
---
BEST TRIM COLOR FOR STONINGTON
I have to say Stonington looks absolutely stunning with a crisp white trim. Try a white like Chantilly Lace or White Heron. If you want a bit more of a monotone look, try using a dark gray like Coventry Gray. Finally, if you are feeling bold, try a black paint color like Tricorn Black.
It's also important to say that it's a wonderful paint color to go with dark wood tones.
READ MORE: THE 8 BEST WHITE PAINT COLORS FOR TRIM & BASEBOARDS
COLORS SIMILAR TO STONINGTON GRAY
There is no denying that many colors are similar to one another. I mean, there are so many different paint colors out there. How could there not be?
But what about the comparable colors to Stonington Gray?
I looked through a bunch of Benjamin Moore colors, and these are the few that I found to have a slight resemblance.
Silver Chain 1472
Cliffside Gray HC-180
Nimbus 1465
LOOKING FOR A WAY TO CREATE AN ACCENT WALL TO COMPLIMENT YOUR PAINT COLORS?
STONINGTON GRAY SHERWIN WILLIAMS COLOR EQUIVALENT
There is no true Sherwin Williams equivalent to Benjamin Moore Stonington Gray. There are various colors that are considerably similar but surely not identical. The 2 Sherwin Williams paint colors that are somewhat close matches are:
Sherwin Williams Tinsmith
Both colors are similar in tone as well as undertones. As I said not identical but related.
If you were thinking of color-matching Stonington Gray in Sherwin Williams paint, I strongly recommend you purchase a sample of the mixed Sherwin Williams formula before purchasing a full gallon.
Sometimes, when you color match between paint manufacturers, the colors don't come out exactly the same. This is because each brand uses different formulas to create its paint colors.
READ MORE: THE BEST SHERWIN WILLIAMS GRAYS
STONINGTON GRAY COORDINATING COLORS

Neutral paint colors like Stonington work well with a lot of other colors. But what colors coordinate best with this gray beauty?
As you can see in the example picture above, Stonington is complemented by BM Horizon and BM Boothbay Gray. These 2 colors are also cool-toned and on the lighter side. Beach Glass is also a great complement to SG. It's a beautiful blue-green that has a good amount of depth to it.
For a darker color to pair with Stonington Gray, try:
Amherst Gray HC-167
Newburg Green HC-158
Black HC-190
Coventry Gray HC-169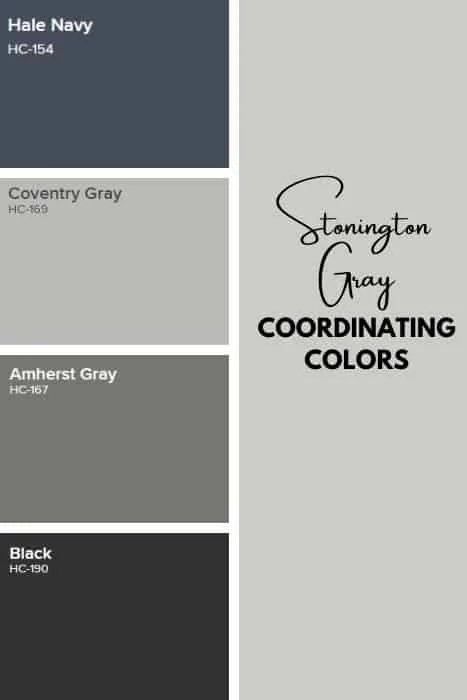 ---
---
STONINGTON COLOR SCHEME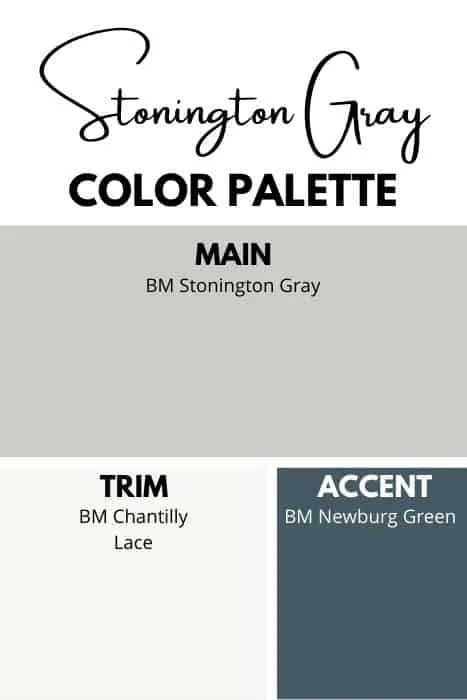 Need a little inspiration for a Stonington Gray color scheme?
Try this sample palette.
Walls – Stonington Gray
Trim/Baseboards/Crown Molding – Chantilly Lace
Accent Wall – Newburg Green
COLOR COMPARISONS
Everyone loves a good comparison (with paint colors, of course). As I've mentioned before, comparing paint colors is a fantastic way to help you see undertones and whether it's a warm or cool color.
Let's see how some popular paint colors compare to Stonington Gray.
STONINGTON GRAY VS GRAY OWL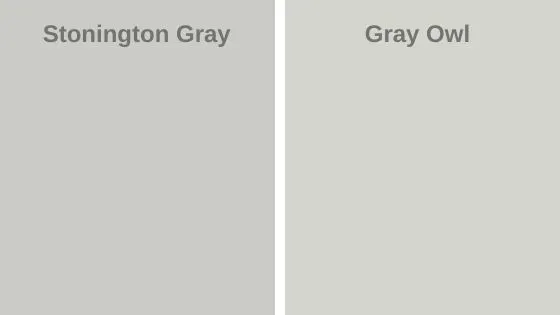 Gray Owl is a bit lighter than Stonington Gray,
Stonington has an LRV of 59.75, and Gray Owl has an LRV of 65.77
Gray Owl's predominant undertone is green.
Stonington Gray is a bit cooler than Gray Owl
STONINGTON GRAY VS COVENTRY GRAY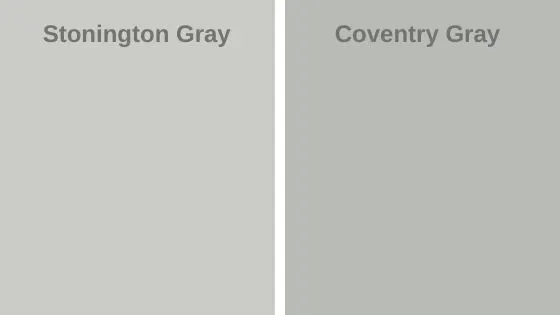 Coventry Gray is a shade darker than SG.
Coventry Gray has an LRV of 46.35 which is lower than SG's LRV of 59.75
Both paint colors are cool paint colors and are similar in tone.
Both Coventry and Stonington are softer grays.
READ MORE: FULL PAINT COLOR REVIEW OF BM COVENTRY GRAY
STONINGTON GRAY VS REVERE PEWTER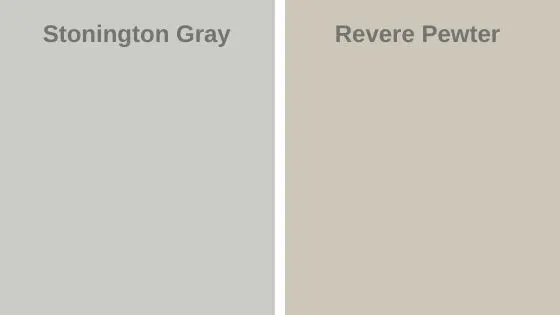 Revere Pewter and SG are both medium-toned paint colors.
Stonington Gray has an LRV of 59.75, which is slightly higher than Revere at 55.51.
Revere Pewter is a warm gray or greige paint color.
Stonington is a cool gray paint color.
In certain lighting, Revere Pewter can show hints of green in its undertone, whereas with SG you may see undertones of blue.
STONINGTON GRAY VS REPOSE GRAY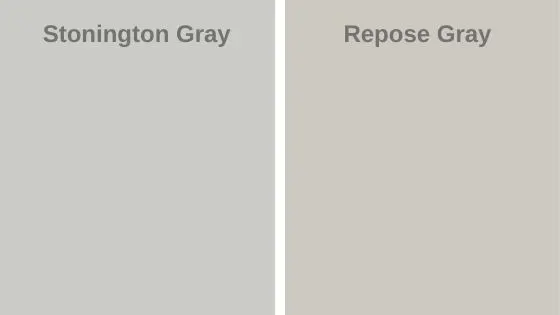 Stonington has an LRV of 59.75, which is a hair lighter than Repose Gray at 58.
Repose Gray has more warmth in it and can also be considered a greige.
Stonington is more cool-toned than Repose Gray.
Repose Gray can sometimes flash or show a purple undertone, whereas SG has blue undertones that may show through.
If you are interested, check out my full color review on Repose Gray. I provide you with all the facts, and I give you my thoughts on the color.
---
---
COLOR RECAP
Let's go over what we have learned about SG.
It's part of the Benjamin Moore Historical Collection.
It's one of Benjamin Moore's most popular gray paint colors.
Has an LRV of 59.75
100% a cool-toned paint color.
Has undertones that are blue.
Look great just about anywhere, especially kitchen cabinets.
Works well with many different paint colors, Including Hale Nay and Horizon.
It's a soft, mid-toned gray.
North-facing rooms will enhance the cool tones.
FINAL THOUGHTS
Refined, timeless, and classic. That's what Stonington Gray is. The beauty of this cool-toned gray paint color is that it's reasonably versatile, which makes it suitable for many different places.
What more is there to say?
This is one of those paint colors that will never go out of style. It is truly timeless. It's so soft and beautiful and will make a space feel elegant.
The subtle blue undertone is not overbearing at all but it is there. If you are ok with a chance of blue showing up then you will absolutely love Stonington Gray. However, if you aren't a fan of any blue undertones, you may want to try a warm gray paint color like Edgecomb Gray, Thunder. or SW Agreeable Gray.
Overall, I think SG is a winner and I highly recommend it.
---
SUBSCRIBE TO MY EMAIL LIST AND GET A FREE COPY OF MY INTERIOR PAINTING CHECKLIST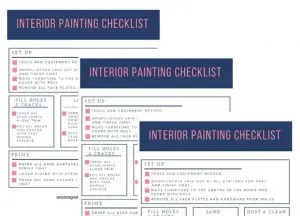 ---
Recent Articles: