I may earn money or products from the companies mentioned in this post. Please click my Disclosure Policy to learn more
Sherwin Williams Passive is a cool toned gray paint color that works well within all decor styles. This cool gray will add a calming presence to anywhere it's used.
I'm excited about today's post. Do I say that all the time? Sure but I REALLY am excited for this one. We are once again talking about paint colors! More like one particular paint color. A color that is so gorgeous and spectacular that it shines in every room it's in. A color that is in my opinion, not used often enough.
Today we are talking all about the one, the only…….
SHERWIN WILLIAMS PASSIVE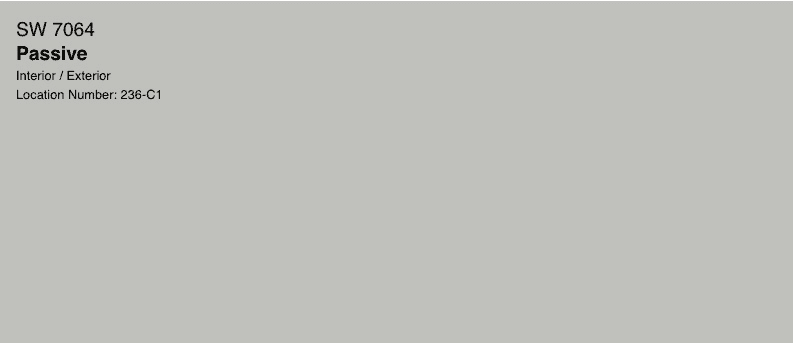 Yes, you heard right SW Passive! I absolutely love this color. I find it to be the perfect paint color for so many homes. I feel the need to share why I love this color so much.
I'm going to give you all the details, the good, the bad, the ugly (there's not really any ugly, don't worry). I'll answer all your burning questions regarding this fantastic paint color. Let's jump in, shall we?
STATS ON SW PASSIVE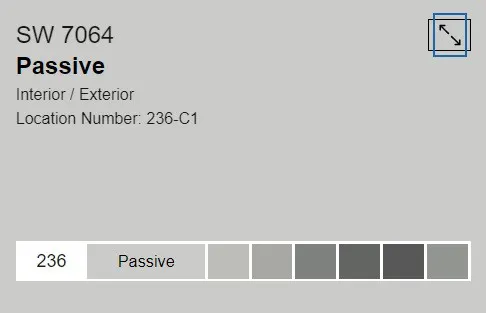 Let's start with some stats:
*Just to remind you, LVR ( light reflectance value), is the amount of light the paint color either absorbs or reflects, is slightly higher on the scale. So the higher on the scale the more light it reflective the paint color will be. A great article to read to learn more about LRV is Light Reflectance Value: What Do Those Numbers Mean?
WHAT COLOR IS PASSIVE?
Simple answer? Sherwin Williams Passive is a gray paint color.
But, there is more to it than that. Passive is like a chameleon. It's influenced by everything around it, decor, lighting, etc. So on a perfect day with just the right amount of light, Passive can look like a neutral gray paint color.
IS PASSIVE GRAY A WARM OR COOL COLOR?
Passive is a cool paint color. It's a cool gray that isn't too icy or cold. Rather it's more on the light and airy side. If your gray vibes are more on the warm and cozy side, Passive is probably the wrong shade of gray for you.
---
INTERESTED IN WARM PAINT COLORS? CHECK THESE OUT
---
WHAT UNDERTONES DOES PASSIVE HAVE?
SW Passive has undertones that are blue. But like all grays, it has purple and green in it as well. With Passive in most cases, the blue undertone is what is seen most often.
Now, of course, what undertones show all depends on your room's factors. For example, is your room large with tones of natural light spilling in through the windows, or is it dark with light to no light? Also, the fixed elements in your room will play a part as well as the direction your room faces. Even the time of day is a factor as well!
DOES PASSIVE LOOK BLUE?
Sure, sometimes it can, but Passive isn't blue. It is a stormy gray paint color that can sometimes flash blue. However, the undertones that can show up are all dependent on the room, which includes lighting and fixed and non-fixed elements.
WAIT! Before you start painting make sure you have the best painting tools to make your job easier. It will take hours off your painting time!
WHERE CAN YOU USE SHERWIN WILLIAMS PASSIVE?
Use SW Passive in:
bedroom
bathroom
kitchen
kitchen cabinets
living room
entryway
nursery
dining room
shiplap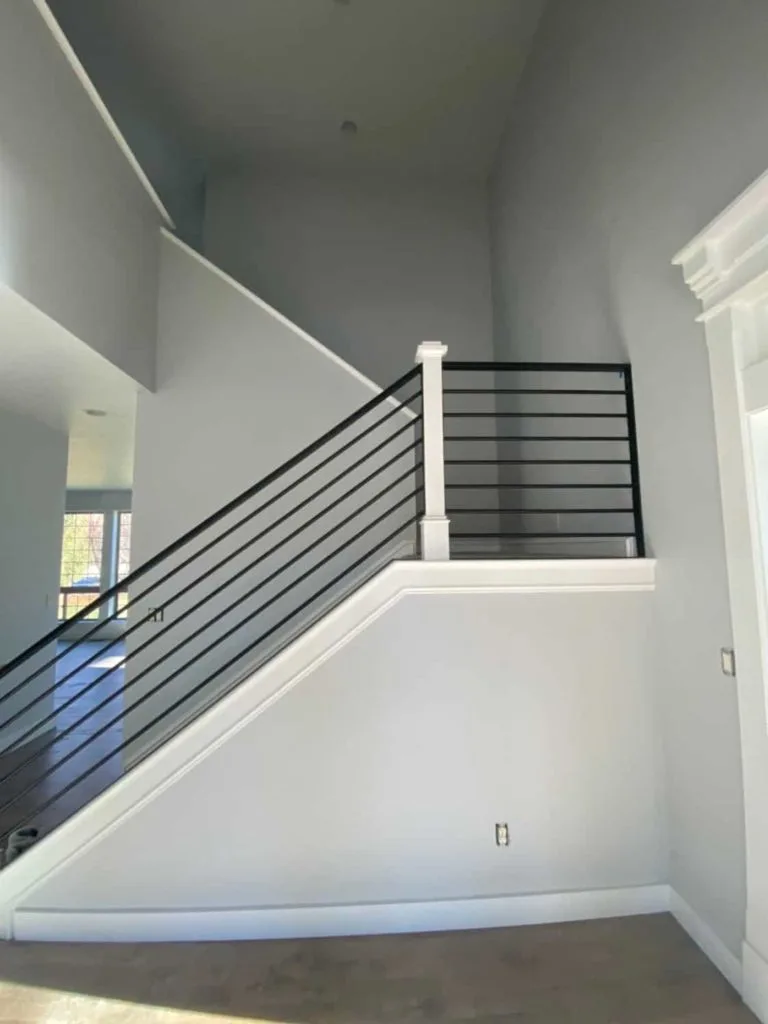 The beauty of this cool-toned gray paint color is that it's fairly versatile, which in turn makes it usable in many different places.
A GOOD PAINT COLOR FOR THE BEDROOM?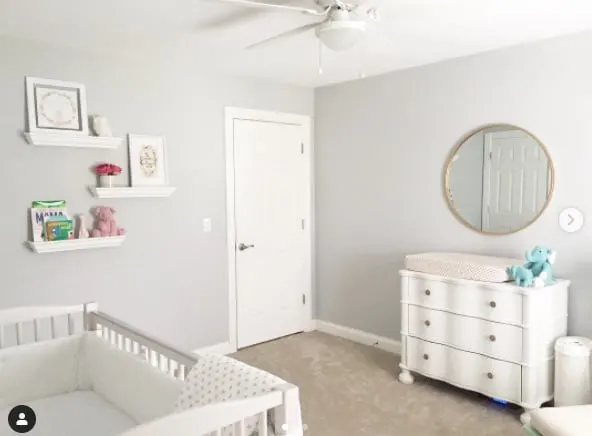 Absolutely!! Passive is cool-toned and has blue undertones so using it in a bedroom is an ideal place. Cooler tones are said to have calming properties, it's a great color to promote rest and relaxation. The bedroom is one room that needs those calming properties more than any other room.
Speaking of calming properties, I think a nursery needs all the calming and relaxing vibes it can get. And Passive is the perfect color to use.
A LIVING ROOM PAINT COLOR
The living room is a great place to use Passive. Being that it's a cool-tone neutral shade of gray, this paint color will work well with most types of decor styles.
As you can see in the photo from Allure Interiors, Passive looks like a light gray here and it complements the cooler-toned stone of the fireplace beautifully.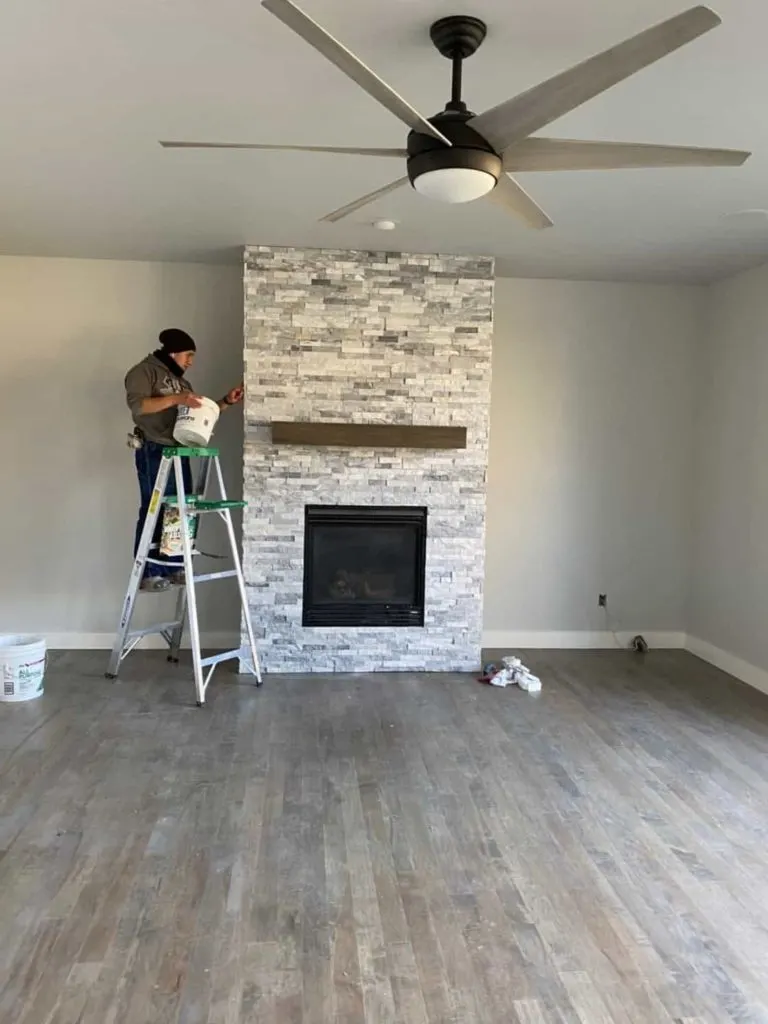 WILL IT WORK IN THE BATHROOM?
You bet it will! Painting your bathroom with Passive will make it feel very spa-like. Again Passive is a cool-toned gray and cool tones are more relaxing and soothing.
Also, it will look beautiful with cool-toned tiles like marble and white subway tile.
CAN YOU USE SHERWIN WILLIAMS PASSIVE IN THE KITCHEN?
I like the idea of using Passive in a kitchen with darker wood cabinets. The cool tones from the gray paint color will coordinate beautifully with the darker wood tones. You can also paint your kitchen cabinets using Passive.
READ MORE: HOW TO PAINT KITCHEN CABINETS
SHOULD YOU USE SHERWIN WILLIAMS PASSIVE ON THE EXTERIOR?
The exterior of your home for sure is a place to use Passive Gray. Now, you must keep in mind that all paint colors will look lighter on an exterior because of the direct sunlight. So, if you were to use Passive on the exterior, on very bright, sunny days it's possible the color will look washed out. It may even look white at times.
CAN YOU PAINT SHIPLAP SW PASSIVE?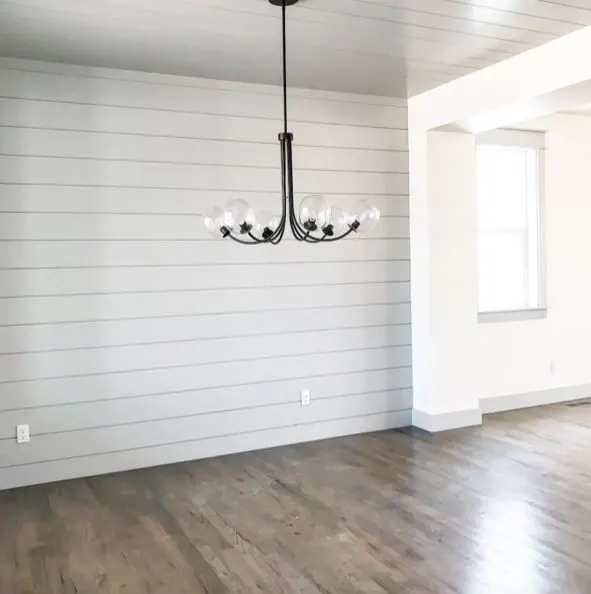 Yes, Yes, Yes!!! Paint your shiplap using Passive. Shiplap can be painted any color you want. It can be used as an accent, or just like all the other walls in your home.
READ MORE: HOW TO PAINT SHIPLAP
USE IT IN DIFFERENT SHEENS
Another way to use Sherwin Williams Passive is by using it in different sheens. Here's an example.
Let's say you decided to paint your bathroom vanity Passive in an eggshell finish. Then on the walls, you go with a flat finish.
By changing the finish or sheen, the color will look different. A higher sheen will reflect more light, making it appear lighter and a lower sheen will do the opposite and look a bit dark.
It's a great way to use a color you love in multiple ways.
Quickly, let's talk about testing paint colors.
Instead of physically going to your nearest paint store to grab your samples, you need to try Samplize Peel & Stick paint samples.
Why should you try Samplize?
Super affordable
Mess-free
Non-damaging
Made with real manufacturer paint
Displays color just like a wall
Environmental friendly
Reusable
These peel & stick paint samples are super affordable and allow you to test a paint color in all different areas of a room without the mess of a traditional paint sample!
You know how I feel about testing paint colors, it's a must!
Don't create more work for yourself. Order Samplize now and have them shipped directly to you. No-fuss, no mess! Check them out for yourself, you won't be disappointed.
EXPLORE MORE PAINT COLORS:
WHAT COLORS ARE SIMILAR TO PASSIVE?
You would think that there are a plethora of colors that are similar to Passive. But in my research, I found that it is quite a unique gray paint color.
As we already know SW Passive is a cool gray. And it tends to be influenced by its surroundings. So finding similar Sherwin Williams colors like this wasn't easy.
2 colors that I found to be similar are:
Zircon and Tinsmith are similar in lightness and they all have LRV within 5 points of one another. They are also all cool-toned. The differences I found are that the undertones are different.
When I say different I mores so mean that some undertones are more prominent than others. With Zircon, it leans slightly more towards violet and Tinsmith is blue, blue-green.
WHAT IS THE BENJAMIN MOORE EQUIVALENT TO SHERWIN WILLIAMS PASSIVE?
There is no true Benjamin Moore equivalent to SW Passive. There are a couple of colors that are very similar but not identical. The two Benjamin Moore colors that are rather close matches are:
As I said not identical but close.
If you were thinking of color matching Passive in Benjamin Moore, you should always get a sample beforehand. Sometimes when you color match between paint manufacturers, the colors don't come out exactly. This is because each brand uses different formulas.
READ MORE: THE BEST BENJAMIN MOORE GRAYS
WHAT COLORS COORDINATE WITH SW PASSIVE?
This cool-toned gray will work well with crisp whites and blue-grays a few shades darker than it. Passive also looks gorgeous with dark wood tones like walnut.
Some of the paint colors that coordinate well with Passive are:
Cityscape SW 7067
Grizzle Gray SW 7068
SHERWIN WILLIAMS PASSIVE VS REPOSE GRAY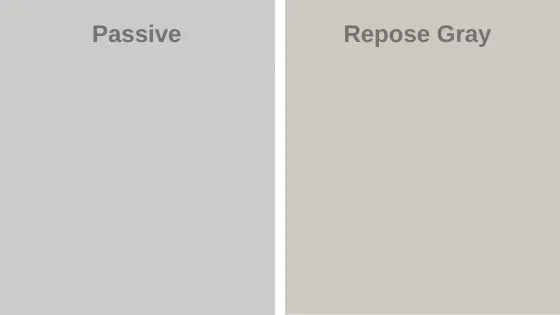 Repose Gray has an LRV of 58 which is a hair lower than Passive which sits at 60.
When compared side by side, you can see how Passive is more cool-toned and Repose Gray has more warmth to it.
Repose Gray is more on the greige side
SW PASSIVE VS REFLECTION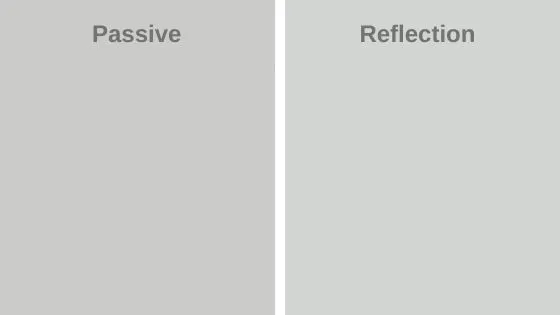 Reflection has a higher LRV at 66.
Side by side Passive looks darker and you can see the undertones in it
Like Passive, Reflection is also light bright, and airy
Reflection has more of a blue undertone to it.
SHERWIN WILLIAMS PASSIVE VS LIGHT FRENCH GRAY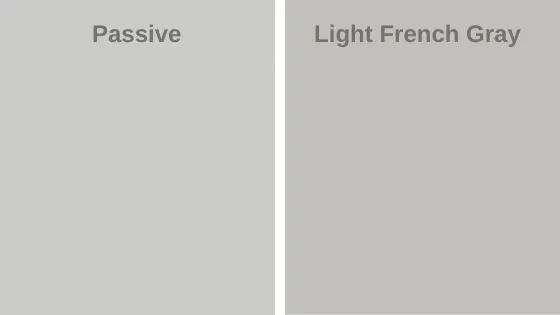 Light French Gray has an LRV of 53, which is a bit lower than Passive which is 60.
Passive is a light gray shade and LFG is more of a medium gray.
Light French Gray has a subtle blue undertone however it stays fairly neutral
SW PASSIVE VS SHERWIN WILLIAMS BIG CHILL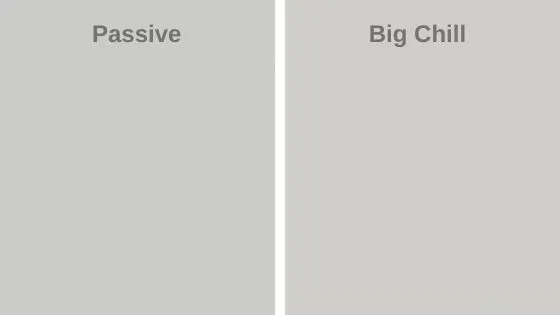 Sherwin Williams Big Chill has an LRV of 62, very close to Passive's 60
Both Big Chill and Passive are cool-toned gray paint colors.
Compared side by side Passive is the cooler gray of the two.
Big Chill has a subtle blue undertone.
SHERWIN WILLIAMS PASSIVE VS SW GRAY SCREEN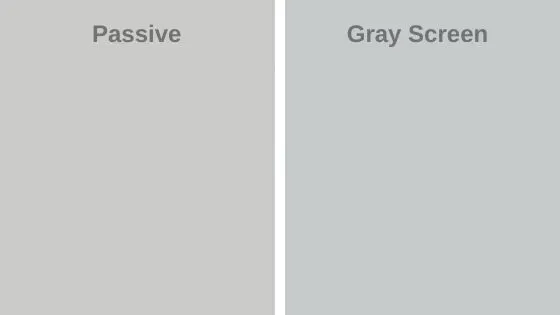 Sherwin Williams Gray Screen has an LRV of 59, a smidge lower than Passive's 60.
Gray Screen has a blue undertone.
Gray Screen can be considered a blue-gray paint color
RECAP- SHERWIN WILLIAMS PASSIVE SW 7064
I gave you a boatload of information on Passive so let's do a quick recap so you can remember all the key components.
Passive is a cool gray paint color
It has an LRV of 60
SW Passive undertones are predominantly blue. It does have green and violet as well.
The undertone you will see in Passive depends on the room you are using it in. So be sure to consider the lighting and elements, both fixed and non-fixed (decor)
You can use Sherwin Williams Passive in all different spaces, especially bedrooms, and bathrooms.
It's a clean and crisp cool gray paint color.
Passive looks its best in spaces with a lot of light.
It can look a bit flat or dull in spaces that are smaller and dark.
FINAL THOUGHTS- IS SHERWIN WILLAMS PASSIVE A GOOD PAINT COLOR?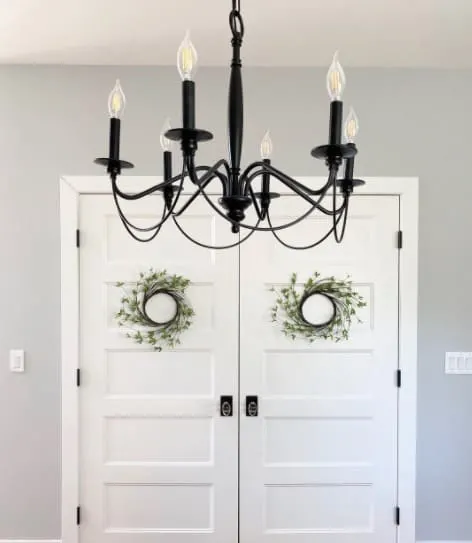 Well that's a silly question, isn't it?
Of course, SW Passive is a good color! There is a reason it is Sherwin Williams Tops 50 Paint Colors.
It's gorgeous! This versatile gray paint color is light, bright, and airy. It provides a fantastic backdrop to almost any decor style.
If you are more of a warm-toned paint color lover, you may want to pass on Passive. Instead, you should check out the ever-so-popular Sherwin Williams Agreeable Gray or Benjamin Moore Revere Pewter.
However, if you don't mind a cooler-toned gray color, this may be the paint color you have been searching for.
Check out the quick review here
---
SUBSCRIBE TO MY EMAIL LIST AND GET A FREE COPY OF MY INTERIOR PAINTING CHECKLIST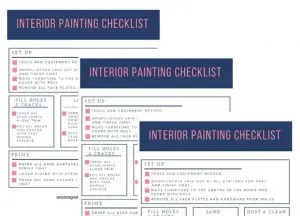 ---
LOOKING FOR A WAY TO CREATE AN ACCENT WALL TO COMPLIMENT YOUR PAINT COLORS?
RECENT POSTS: