I may earn money or products from the companies mentioned in this post. Please click my Disclosure Policy to learn more
Coffee filter flowers are not only inexpensive and easy to do DIY, but they are fun and not to mention gorgeous.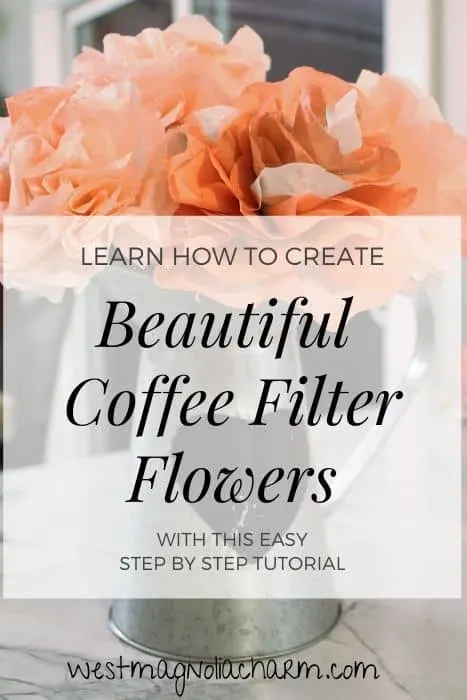 With Valentine's Day sneaking up on us and all the candy and decorations in stores already, I have been so inspired to create some DIY Valentine's projects. Of course good old Pinterest is a factor in all this as well, I mean how can you not be inspired when you are on that site? Needless to say, I have a few future DIYs that will be up on the blog before Valentines day. Keep a look out for those.
Let me actually talk about what we're doing here today. Coffee Filter Flowers. Yup, you heard me correct. Now, I had old coffee filters laying around because I switched to the reusable filters. SO these things were in the back of my cabinet for, goodness a year maybe. I saw them the other day and knew it was time, they needed to go. Being someone who hates waste, I wanted to find a way to use them and give them purpose.
After a little research I settled on coffee filter flowers. There are a bunch of different methods to creating the flowers but this one i'm sharing today seemed the easiest for me. I'm giving you a step by step tutorial so you can easily follow along and create your own.
Coffee Filter Flowers – Step by Step Tutorial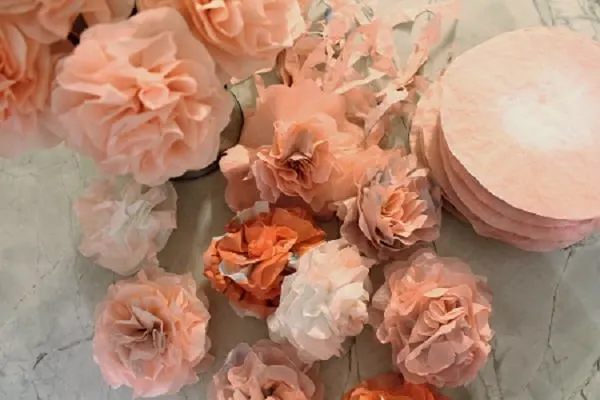 Materials Need:
Stapler
Tape
Step 1
Dye your coffee filters.
To do this, I used food coloring. Put some water in an old plastic container and add the colors desired. I followed the instructions on the food coloring box to get the pink-ish color.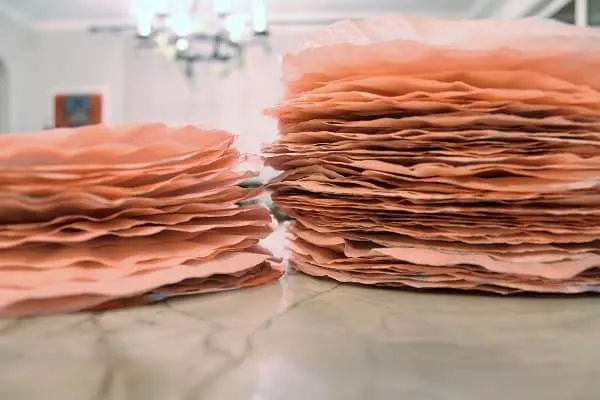 I dipped stacks in the dye at a time and just separated them the best I could so they'd be able to dry. It took about a day to dry.
Step 2 – In stacks of three, fold your filters in quarters
Take the stack and fold it in half, then fold that half in half.

Step 3 – Cut a scalloped edge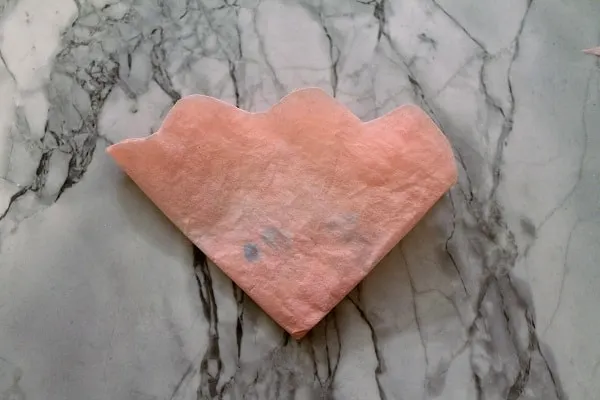 Repeat Step 2 & 3
You basically take another stack of 3 filters, fold them and cut your scalloped edges. Now you have two stacks of filters folded and cut.
Step 4 – Unfold the filters and stack one on the other.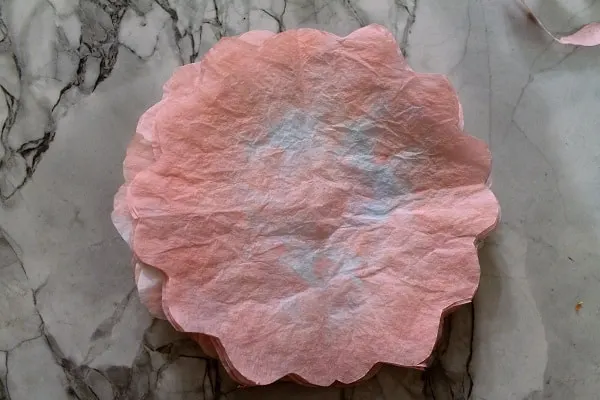 Step 5 – Make a small gathering in the center of the filters and staple to keep it in place.
Pick the filters up, and grab or pinch the middle of the filters, creating a little gathering This will be the stem. Once you have the gathering take your stapler and staple it.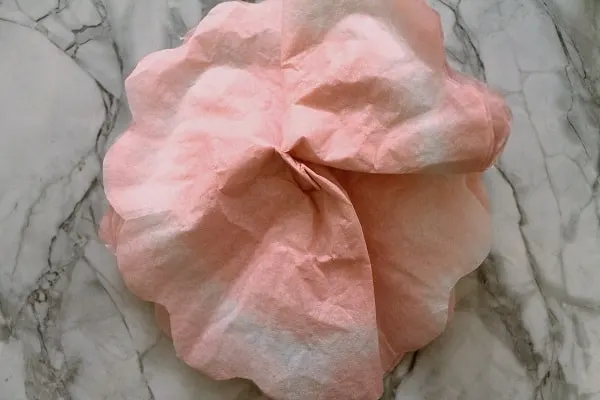 Step 6 -Start pulling and fluffing the filters starting from the top.
Flip the filters over so the staple is on the bottom. From the top, take each filter individually gathering it and keeping it fluffy. Continue on, fluffing each filter as you go.

Step 7 – Take your tape and warp the bottom gathered area.
Once your flower is fluffed, flip it over and secure the gathered area (where the staple is) with a piece of tape.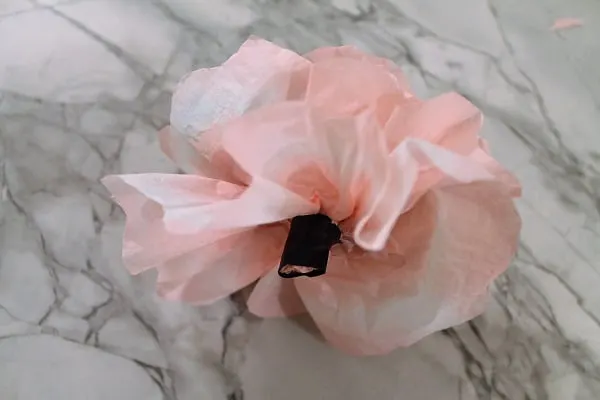 To make them stand up in the vase, I just grabbed some skewers I had and kind of stuck it in the taped stem.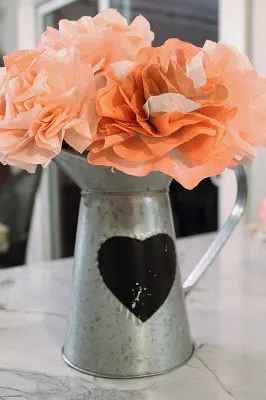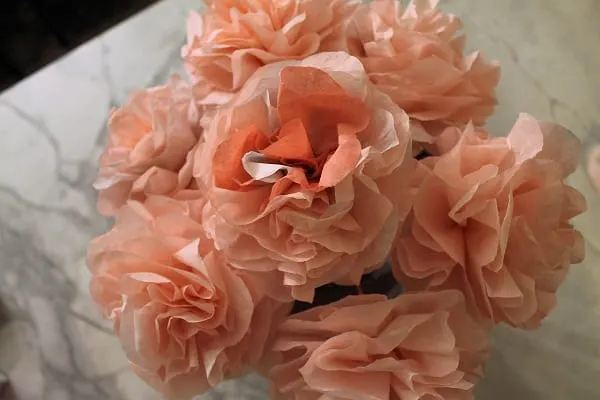 Now you can start creating your own coffee filter flowers. I hope this tutorial was easy to understand. I have also included a video tutorial down below. The quality is ok at best but for my very first video, it will due.
Coffee Filter Flower Video Tutorial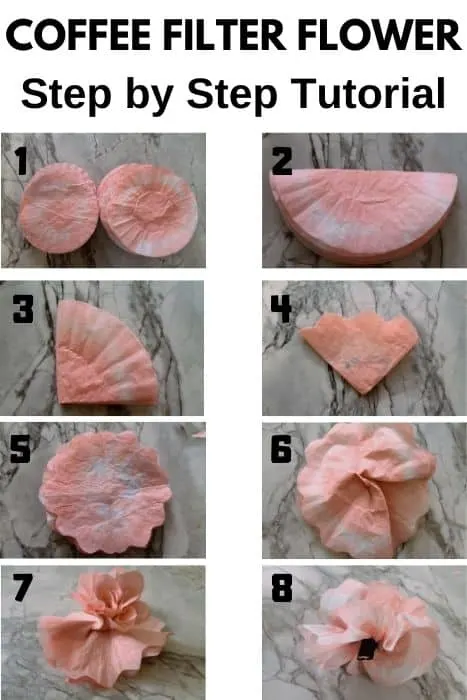 Check out some of my other easy DIYS: