I may earn money or products from the companies mentioned in this post. Please click my Disclosure Policy to learn more
Chalk Paint is my go-to when upcycling furniture. I have used it on about 90 % of the furniture pieces I have painted. It gives the furniture a gorgeous finish every time.
So when Justin found a table on the side of the road, of course, I wanted to use chalk paint on it.
This is not just any old table though, this table would eventually be used as our dining room table.
I know what you are thinking, a chalk paint dining room table?! Are you crazy?
And to answer those burning questions you have, yes a chalk paint dining room table, and yes I'm crazy. Just for a number of different reasons, not for chalk painting a table.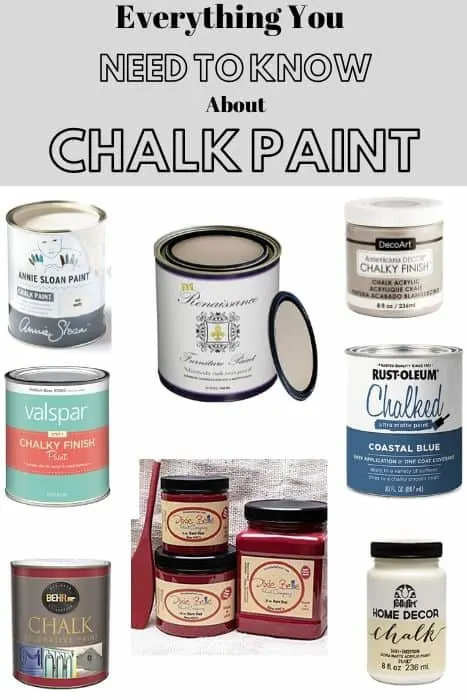 Before I dive into the nitty-gritty of my chalk paint dining room table, I want to give you some information on chalk paint. What it is, where you can buy it, how much it costs, basic information like that.
What is chalk paint?
First things first, chalk paint is actually Annie Sloan's registered trademark brand of paint. However, like everything else, there are a ton of copycats on the market.
Chalk paint is a type of paint that has a chalky, matte finish to it. One of the main characteristics of chalk paint that people are drawn to is the fact that there is little to no prep involved before painting. This means no sanding, no priming, nada!
Though most chalk paint brands say no prep, you should assess each piece you plan to paint individually. And always clean your piece of furniture before all else!
Chalk paint can be used to create pieces with that old, aged antiqued look or on pieces to give them a modern flair. The possibilities are endless!
Do you need to seal chalk paint?
Yes. Chalk Paint is most often sealed with some type of top coat to protect it. Traditionally a chalk paint sealing wax is used however, there are a ton of different top coat sealers to choose from.
One of my absolute favorite chalk paint sealers is Polyvine Clear Wax Finish Varnish. I've used it time and time again and it hasn't failed me yet.
With the chalk paint sealing wax, they are available in a couple of different colors. One of the most common is a brown wax, which adds an aged, antiqued look to whatever it is you are painting.
In addition to the brown sealing wax, there is also a white wax and a black wax.
Where can you use chalk paint?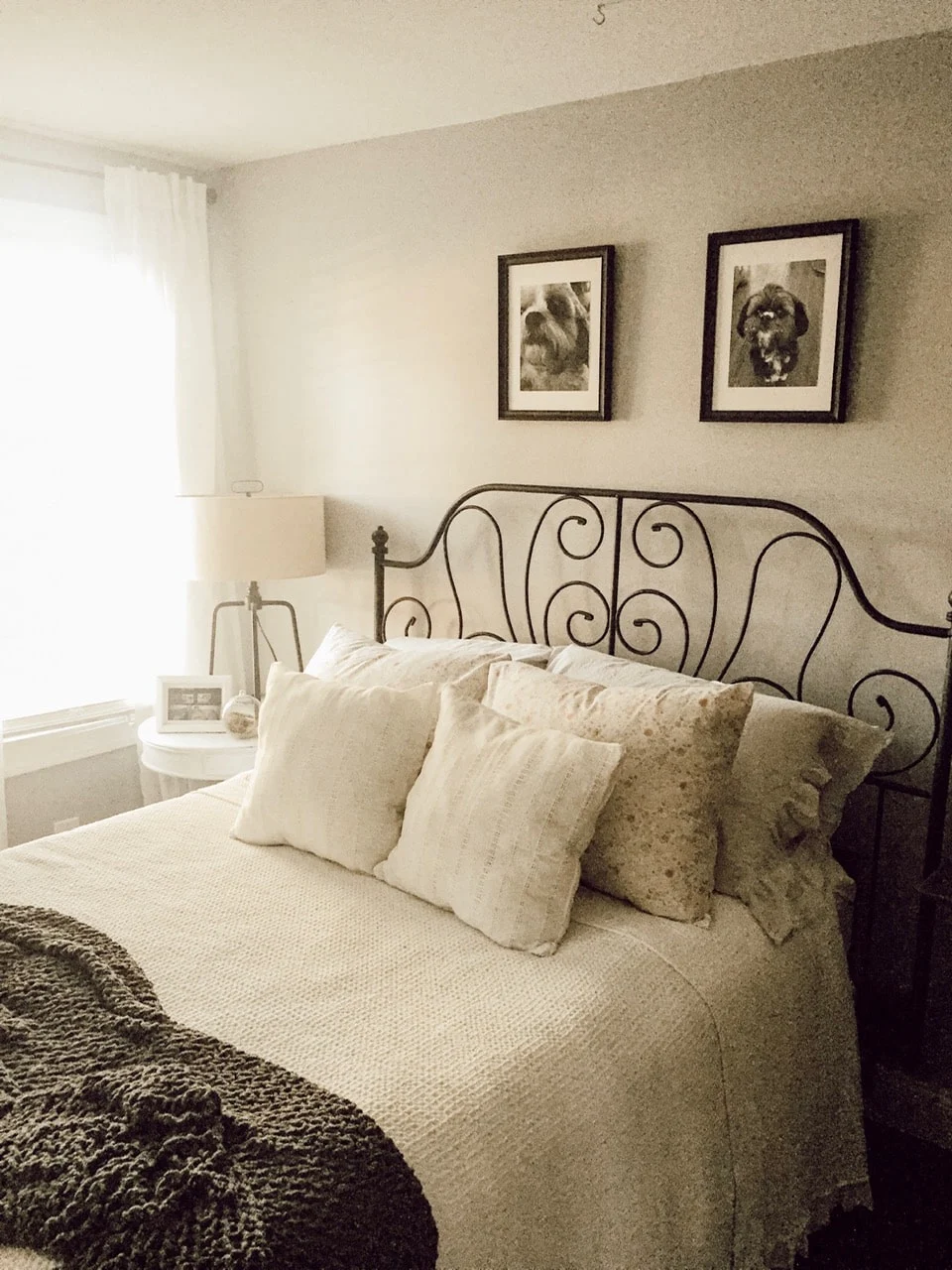 The beauty of chalk paint is that it can be used virtually anywhere. Plastic, wood, metal, brick, you name it, you can paint it.
Use it to chalk paint tables and chairs, chalk paint plastic outdoor planters, or chalk paint a metal headboard.
I have personally used chalk paint on all three of the surfaces and I'm here to say it worked beautifully on each one.
A few unexpected places you can use chalk paint are on kitchen cabinets, walls, trim, floors, and upholstery. I chalk painted my dining room chairs (fabric and all) about 2 years ago and there are still going strong to this day.
Does chalk paint come in different colors?
Why yes it most certainly does. Obviously, the colors will vary depending on the brand however, most brands have an excellent selection of chalk paint colors to choose from. And Lowes and Home Depot both carry brands that are tinted to the color of your choice.
And if you cannot find the color you want, try mixing 2 colors together or making your own DIY chalk paint.
Get Full Access to my Freebies Library!
What are some other chalk paint brands?
As I mentioned before Annie Sloan is the OG here, but the copycats are all around us. Let's talk about those copycat chalk paint brands.
How much is chalk paint?
With such side a wide variety of chalk paint brands now the cost of chalk paint varies for each brand.
A quart of Behr Decorative Chalk paint is around $18.98 while Annie Sloan is $34.95 for a liter.
Depending on what brand you choose the price of chalk paint will vary.
Where can you buy chalk paint?
Chalk paint is available in many stores now. Big-box stores such as Lowes, Home Depot, and Ace Hardware all carry it. and you can also pick The Magnolia Home Chalk Style Paint from Target.
Amazon is another great place to find chalk paint. They carry a variety of brands at different price points.
Then of course you can purchase the paint direct for the brand site itself.
DIY Chalk Paint
Sure you can easily purchase your favorite brand of chalk paint, but you can also make it yourself.
There are a few different ways to make chalk paint, some including baking soda, calcium carbonate, and plaster of paris.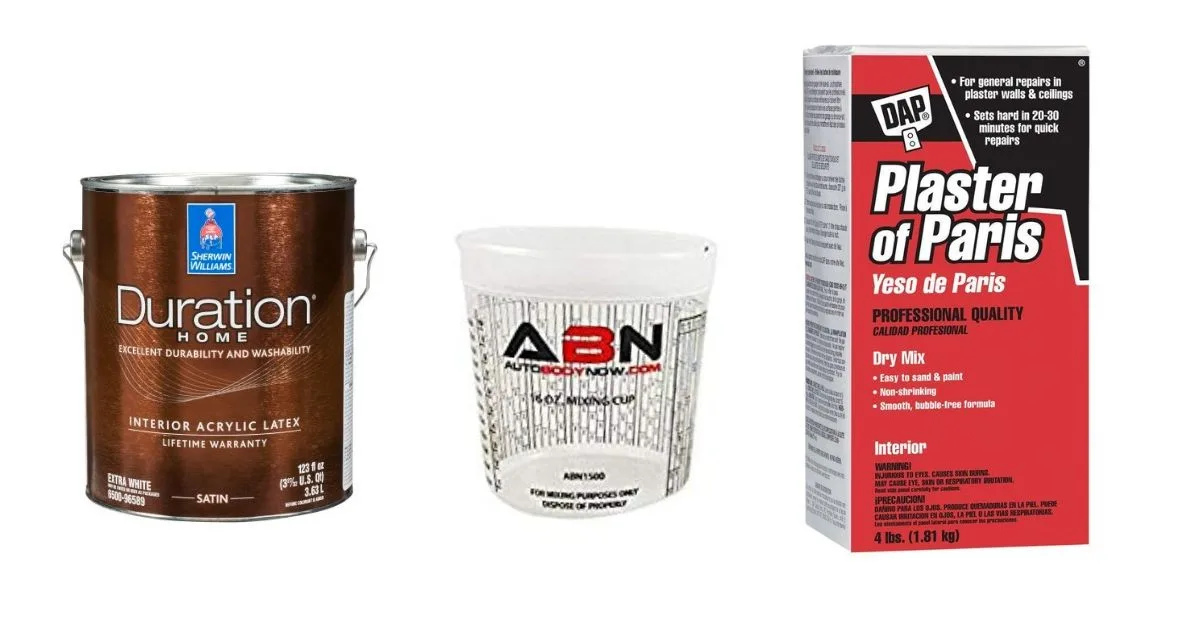 I've tried the recipes with both baking soda and plaster of paris. I personally like the results I get from the plaster of paris better.
It's the main ingredient used in my Chalk Paint Recipe.
Now that you know what chalk paint is and where to find it, I can tell you about my chalk paint dining room table.
Chalk Paint dining room table
As I mentioned at the beginning of this post, my dining room table was a side-of-the-road find.
At the time Justin and I had just bought our second home and needed a dining table. We planned on building a table from scratch since we were on a somewhat tight budget and couldn't afford to purchase a brand new table.
Luckily, Justin found the table on the side of the road and all it needed was a little TLC.
One man's trash is another man's treasure, right?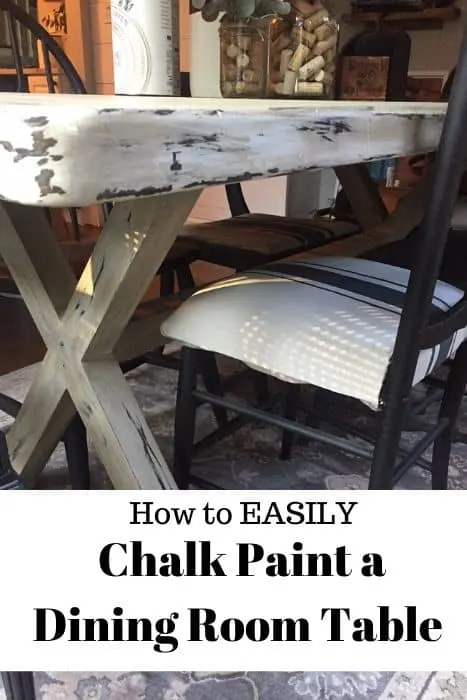 How I created my chalk paint dining room table.
Let me begin by saying I had a vision in mind of what I wanted the dining table to look like.
I went on Pinterest and searched "chalk paint farmhouse table". I found so much inspiration which helped me along with this process.
Here's how I chalk painted my dining table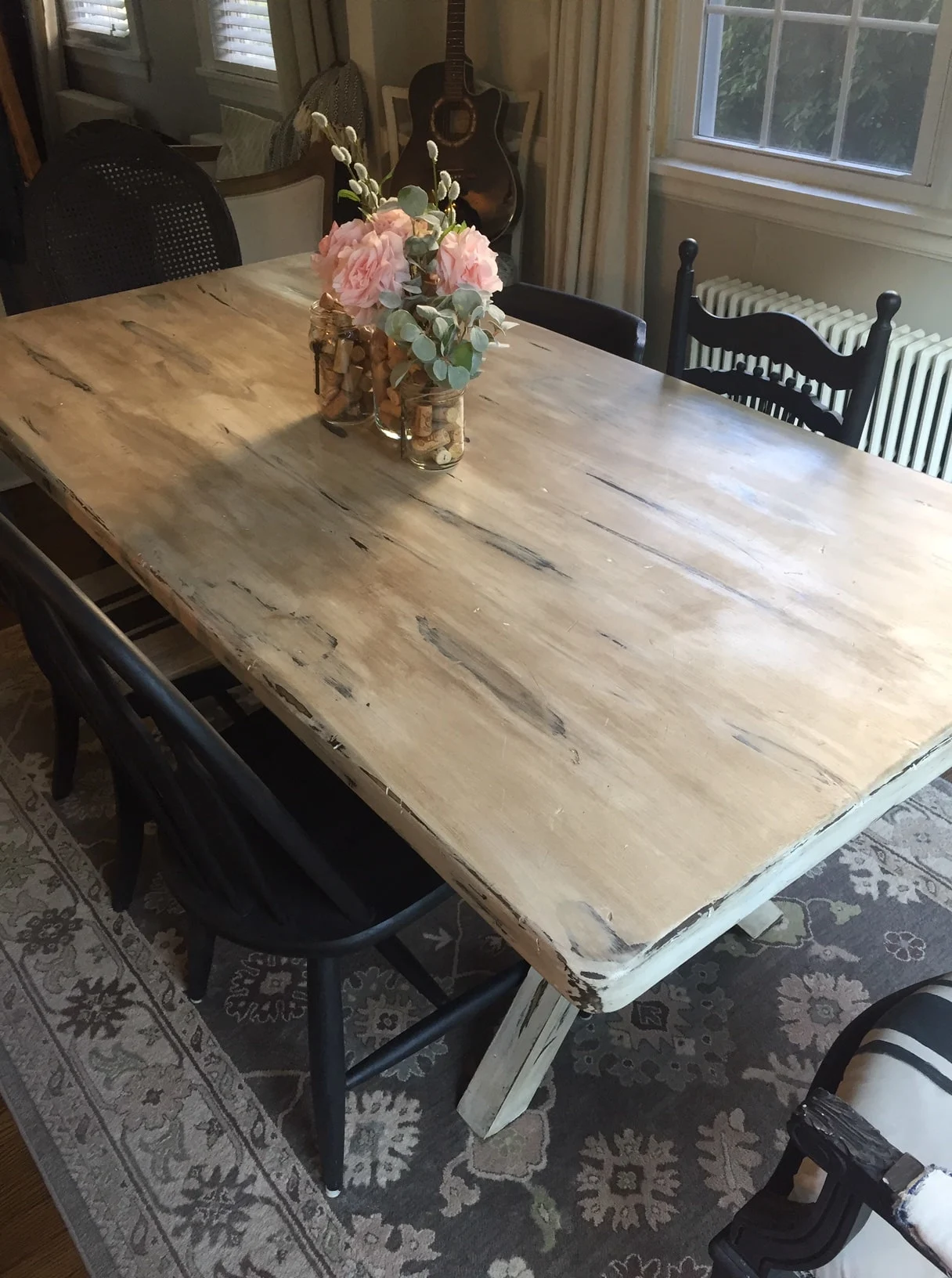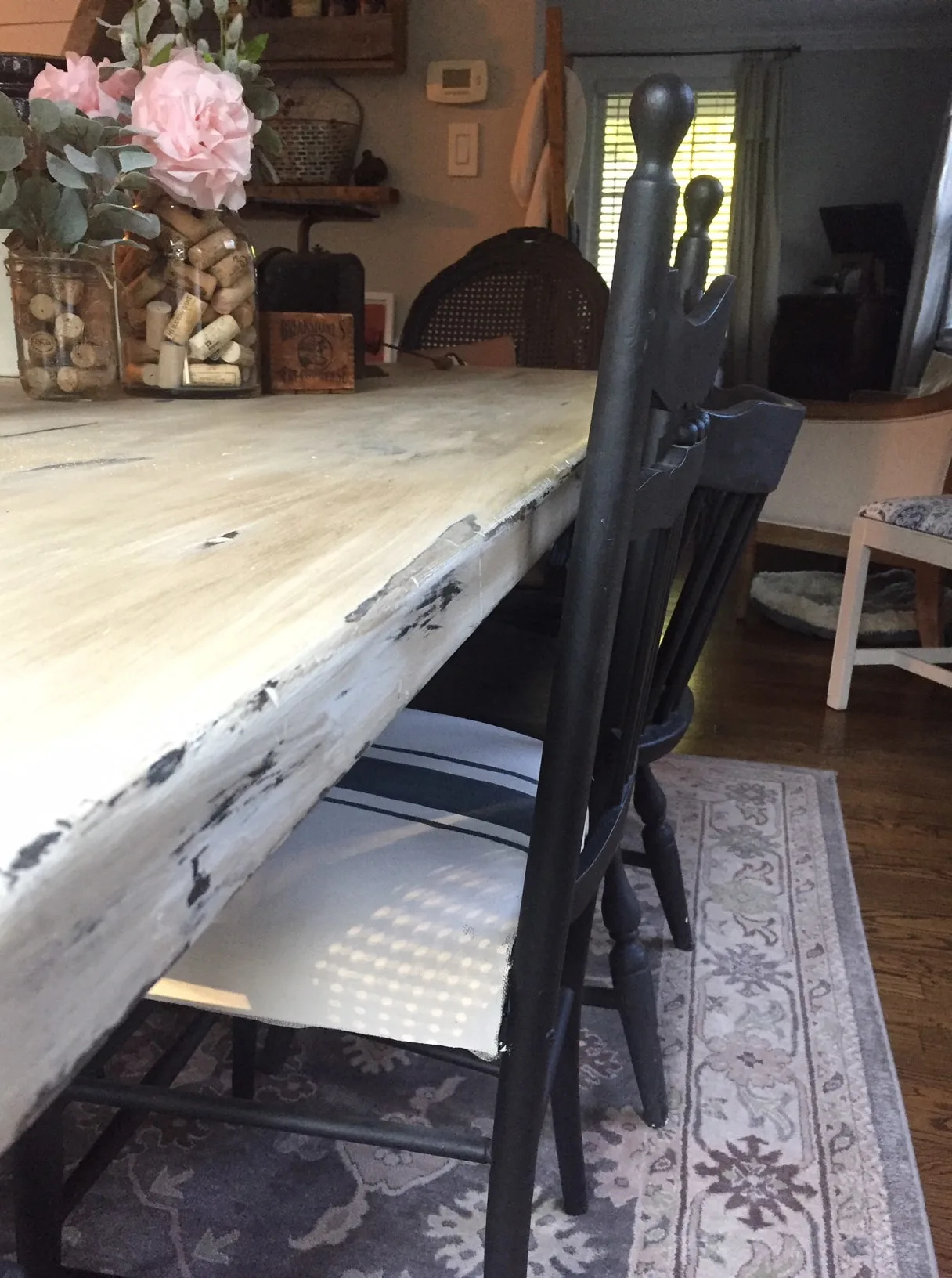 I used my DIY chalk paint recipe.
I cleaned the table, removing all gunk, grime, and dust. My side-of-the-road beauty had a lot of that.
Time to paint. I gave the table 2 layers of chalk paint. Letting the first coat fully dry before I began the second one.
Once the table was dry, I distressed it by sanding it in the areas that would be prone to natural aging and wear. For example, all the edges of the table. I really wanted a rustic farmhouse table feel so I decided to beat the table up a bit with a hammer. (this was particularly fun).
To give it an aged look and add to that rustic charm I was trying to achieve, I used a dark brown antiquing glaze over the entire chalk painted dining table.
Finally to seal the table I opted to use my favorite chalk paint sealing wax, Polyvine Clear Wax Finish Varnish
Overall, the chalk painting process was a breeze and the distressing and hammering of the table was pretty fun to boot.
NEED A PAINT COLOR? CHECK THESE OUT:
Unfortunately, I don't have a before picture of the table but, I found a similar one from Walmart. The only difference is my table was more of an espresso color.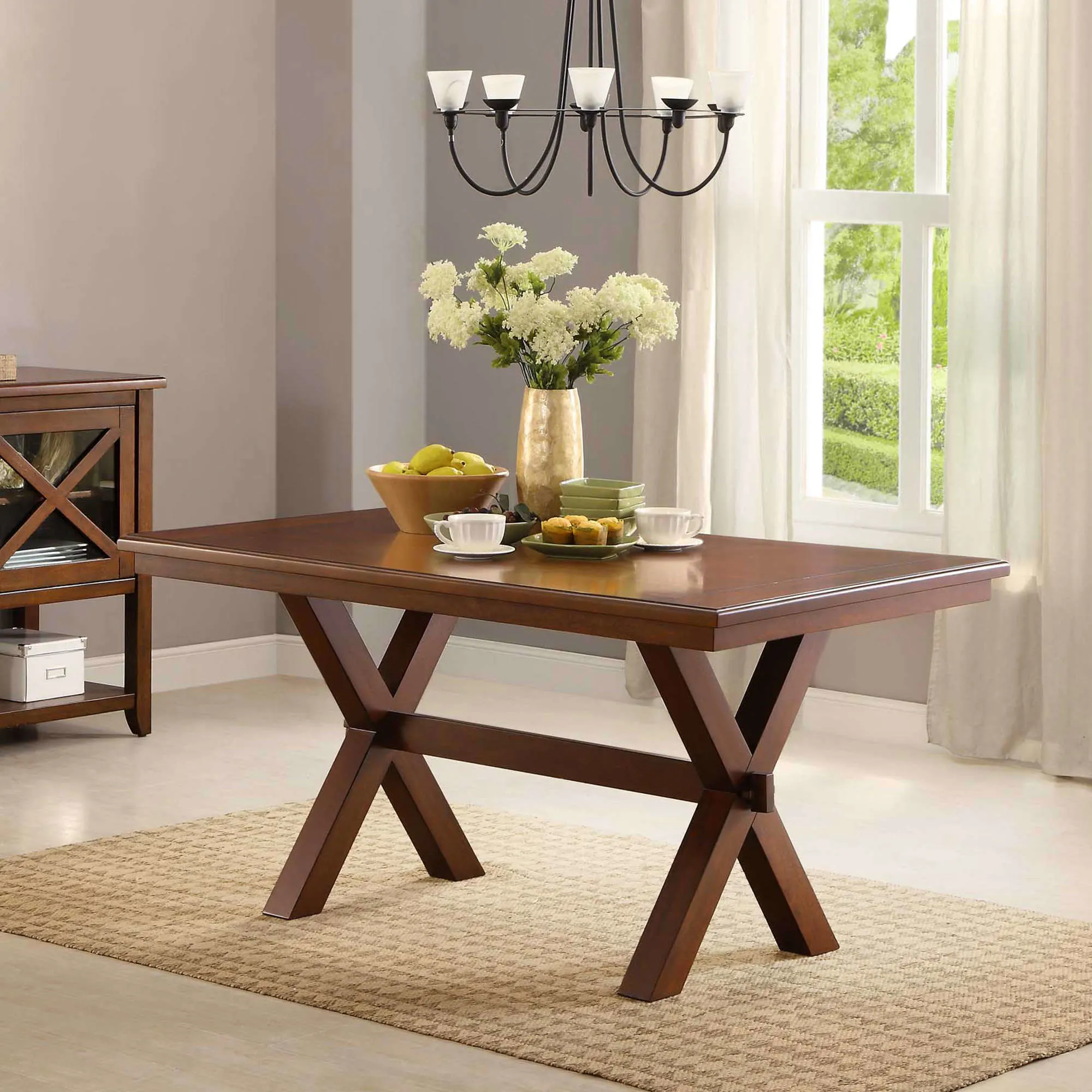 Do I recommend you chalk paint your dining room table?
In my opinion, yes! Go for it!
As long as you use a durable chalk paint sealer, you should be all set.
I have had this chalk painted table for almost 4 years now. It's held up beautifully. I do plan on resealing it though, since it's been 4 years and all. Now that leads me to my next thought.
The thing to keep in mind is that with some waxes and sealers you'll need to eventually reapply. Make sure to always read the label on the product you choose in order to get the most out of it. This ensure you are applying it correctly because not all chalk paint sealers are equal. Better safe than sorry in my book.
Is chalk paint durable for a kitchen table?
I'd say so. My same thoughts on chalk painting a dining table apply to a chalk paint kitchen table.
As long as you take the appropriate steps and read all your labels, my opinion is chalk paint is durable for a kitchen table.
Will I chalk paint a table again?
Yes, of course! Being that I chalk painted this dining table a few years ago, I have painted numerous tables since then. I actually have a smaller kitchen table in my garage that is on my chalk painting list.
Don't forget about the chalk paint brushes!
I'm a very firm believer in using the right brush will make a difference.
I have to say I have used many different brushes for my chalk painting projects, from cheap chippy brushes to expensive chalk paint specific brushes. I have used them all.
I'm here to tell you splurging on a high-quality chalk paint brush is well worth it. The ease of using a better brush and the end result you get from it is worth the higher price tag.
I'm certainly not saying less expensive brushes won't work, because they will. I have used them and I have gotten beautiful results. However, I just prefer a little bit of a higher quality chalk paint brush.
CLICK HERE FOR MORE CHALK PAINT BRUSHES
Final thoughts on chalk paint and my chalk paint dining room table.
Working with chalk paint is definitely my go to paint choice for most of the furniture projects I tackle. What can I say, I am a sucker for the limited prep work that is required when working with it.
I absolutely love my chalk paint table! It turned out beautifully and was so easy to accomplish. After 4 years of use it looks practically the same as the first day I chalk painted it. I'd say that is a win in my book.
Check out my latest furniture project involving chalk paint and some other DIY projects