I may earn money or products from the companies mentioned in this post. Please click my Disclosure Policy to learn more
There is no doubt about it, an oversized wall clock will make a bold statement in your home decor. The only problem is the bigger they are the more expensive they'll be. However, don't let your dream of owning a giant wall clock be crushed by the price, DIY it!
Creating a DIY oversized wall clock is simple to do, it only requires a few supplies and can be done on a strict budget. If you want to create your own DIY giant wall clock, follow the steps below.
Let's talk about oversized wall clocks today. You all know I'm a total sucker for the farmhouse style. I can't get enough of it. Check out the proof here, and here. And if you are also into farmhouse everything than you know oversized wall clocks are used often in this decor style.
What I'm trying to say here is that I wanted an oversized farmhouse style wall clock.
I decided to price a few out to see if buying one was even an option.
I ended up falling in love with this rustic wall clock from Kirklands. I checked Amazon and had to pry my finger off the buy now button for this retro vintage wall clock. Finally, I checked Target and found this amazing farmhouse wall clock.
These three oversized clocks were perfect with one exception, the price. Instead of dropping a ton of money on a clock that I know I'd eventually end up moving, I decided I'd try to make a DIY oversized wall clock.
Why should you make a DIY oversized wall clock?
Before I get into how to make a DIY oversized wall clock let me tell you why it's a good idea to do this project yourself.
It's much more affordable. DIY is almost always going to save you money. With this project, there are a few things you'll need to buy if you don't already have them on hand. But for the most part, your hard-earned money is going to stay in your pocket with this oversized wall clock project.
It's customizable. This is probably my favorite part of DIYing projects. A lot of times I have a vision of what I want something to look like in my head. 9 times out of 10, I never find exactly what I want. With DIY, you can create your vision exactly how you want.
These 2 reasons alone are usually all it takes to get me on board with a DIY project such as this one.
---
Interested in more DIY Projects?
---
As I mentioned earlier, there are a few ways you can create your own DIY giant wall clock.
I opted to take the most affordable route and I'll show you the steps I took to easily create the oversized wall clock with this simple DIY wall Clock Tutorial below.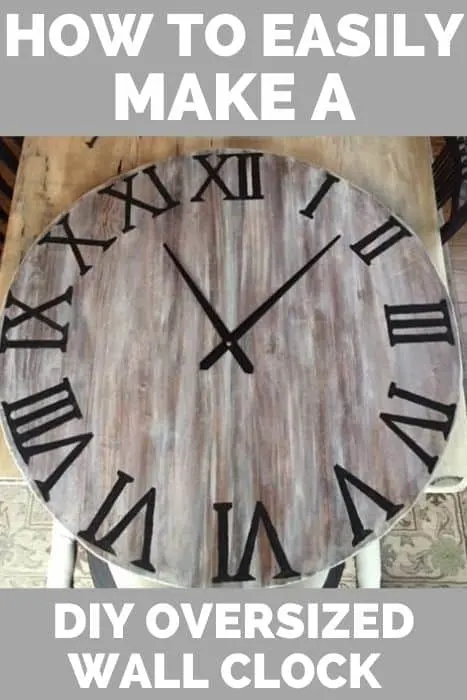 DIY Giant Wall Clock Supplies
The following supplies are what I used to create my DIY clock.
circular tabletop.
Printable roman numerals
black paint
white paint
sandpaper / orbital sander
How to make a DIY Oversized wall clock
1. Find a circular tabletop to create the oversized wall clock.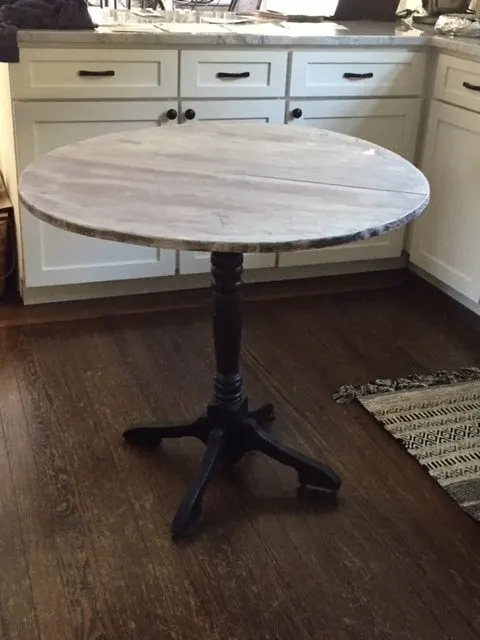 This was easy for me because I had rescued a table from the side of the road over the summer. The base was pretty wonky so the table didn't sit level.
Regardless of its wonkiness, I couldn't bear throwing it out so I painted it and stuck it in my kitchen as an "island".
After a few too many bumps into the "island" it was time to find it a new home. So I started brainstorming.
As I was watching Fixer Upper and it came to me. Use the tabletop as an oversized wall clock like the one in Joanna Gaines's home.
2. Prep the table top.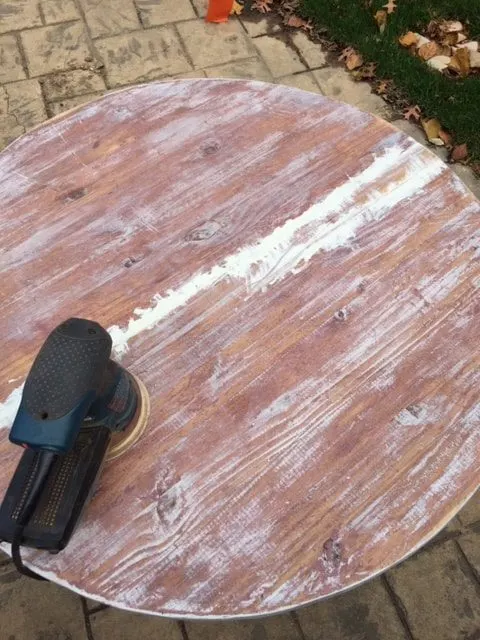 My table had already been painted but I wasn't happy with the finish. I decided to sand the top to start with a blank canvas. Also, it was being used as an island so there were a few stains on it that had to go.
I used my favorite sander to remove the old paint and stain for the tabletop. After that, I took a damp rag and cleaned the top removing all the dust.
Before I could move one to the next step, I had to fix a large crack on the table.
I grabbed some Ready Patch and filled in the crack. After letting it dry for an hour, I then sanded it smooth. To finish it off, I cleaned the table so it was dust-free.
3. Stain the tabletop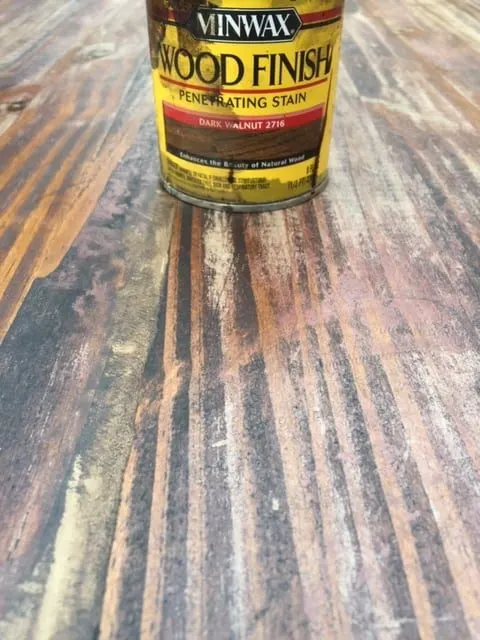 Because I was looking to give my DIY wall clock a rustic farmhouse look, I needed to stain it first.
I used 1 coat of Minwax Dark Walnut stain and let it dry for about 2 hours or so.
4. Create a distressed farm board finish.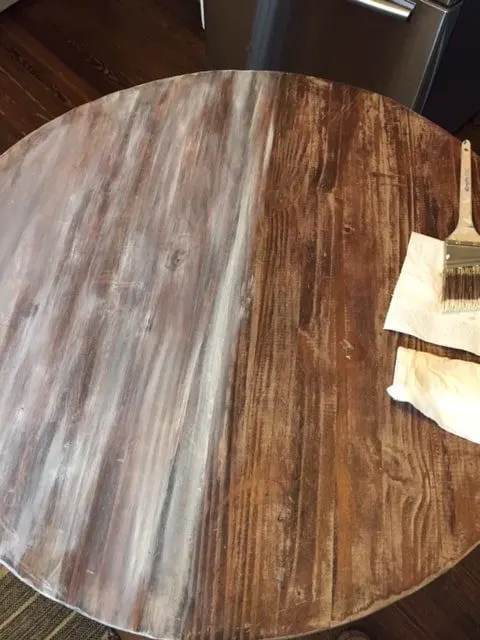 It's no secret that I love the farmhouse style. Of course, that was the style I wanted for my DIY clock.
To create the farmhouse finish, I took a white shade of paint, a paintbrush, a rag, and sandpaper.
I barely tapped my brush in the paint and brushed it on the table going in the direction of the grains. From there I used the rag to wipe off most of the paint, leaving behind just the right amount of white paint.
Once the tabletop was painted, I let it dry for about an hour and then went in with my sandpaper. I sanded the spots where the white paint was a little too heavy.
After I had my desired look, I cleaned the top so it was once again dust free.
READ MORE: THE BEST PAINTING TOOLS TO USE
5. Seal the top to protect it.
The final step in creating the perfect backdrop for the rustic DIY wall clock was to seal it.
I used one thin layer of Minwax polycrylic and let it dry overnight.
6. Print and cut out the Roman numerals.
Believe it or not, this was the most challenging part of the whole wall clock project.
I had gone back and forth with what I wanted to do here. I thought about buying these roman numerals that I found on Etsy however, I wanted to keep this project as affordable I possible.
I decided to print and cut out the Roman numerals to use as stencils.
I had the hardest time finding printouts but I made it work. For any of you thinking about going this route, to save you the hassle, I will link what I used below
*One quick note I want to mention, If you don't want to do any stenciling, you can glue the numbers directly to the clock. It would be much easier than stenciling and paint the numbers on the clock.
7. Stencil and paint the roman numerals on the giant clock.
This step is time-consuming.
I took the Roman numerals and stenciled them onto the clock face using a pencil. Once I had them all traced, I took a well-deserved break.
After a quick snack, I jumped back in and started painting the numbers that I had stenciled. To do this, I used 2 small detail paint brushes and black paint.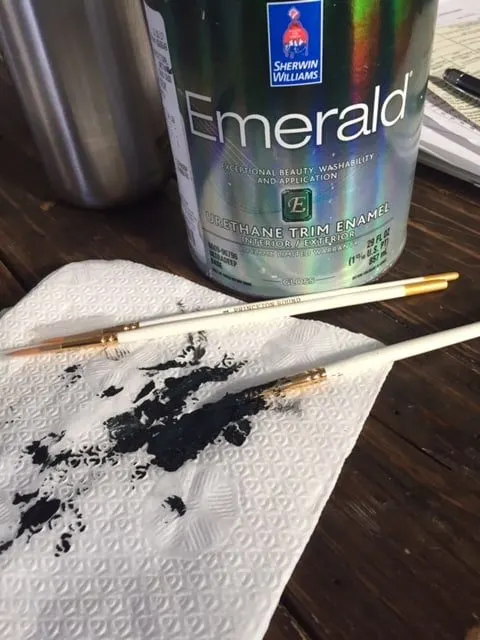 The numbers did not come out perfectly, I don't have the steadiest hand so some of the lines or wavy. I am calling it a rustic approach to painting the numbers.
If you like clean lines, I suggest tracing the numbers with a black marker to create a thicker outline. That will make it easier to fill in with pain. Just be aware if you make a mistake with the marker, it will be a paint to fix.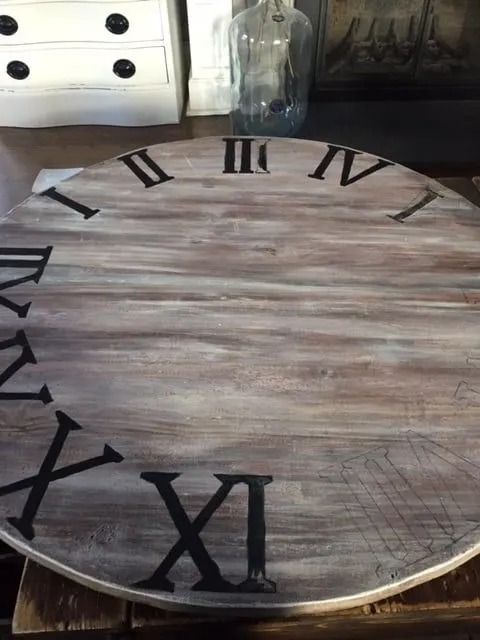 8. Add the clock hands to the giant wall clock
I didn't know if I wanted to add clock hands or not. Because I wanted to spend the least amount of money on this DIY wall clock project, going without would be the way to go. But I liked the look with the hands a little bit better.
In the end, I decided to go with the clock hands and I bought this inexpensive set.
To attach the clock hands, I used an old nailhead I had from a previous project. Another option would be to glue the clock hands in place.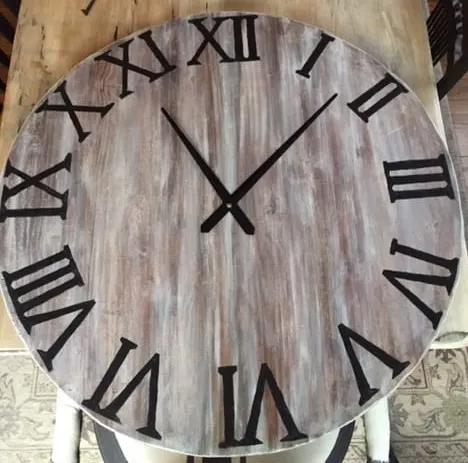 **** Yes I realized I had two 6's. We all mistakes lol****
Alternatives on how to make a large wooden clock
I know not everyone has an old table lying around but, there are ways to find one.
craigslist
facebook marketplace
thrift stores
on the side of the road.
Craigslist, Facebook Marketplace, and thrift stores are great places to look to find an old table. The table may not be free in all cases however, you will most likely get a great deal.
Sadly, people throw furniture out all the time, so keep your eyes peeled on garbage day in your neighborhood. You never know what gem you can find.
As for the numbers used in this giant wall clock tutorial, there are a ton of other options if you don't want to go that route.
Cutting Edge Stencils has a great option for the numbers. You can also purchase numbers like these and adhere them directly to the giant clock face.
Finally, the hands, if you want working clock hands, these are a great option. If you want to go hands-free, go for it! It's all up to you.
Final Thoughts
This project was a fun one to complete. It didn't require much, just a few supplies and some time. The only money I spent was on the clock hands everything else I had on hand. That's a win in my book.
If you are looking for a fun and budget-friendly project that you can customize to your style taste, this DIY oversized wall clock is for you.
Want to see all the supplies I used?
---
Get Full Access to my Freebies Library!
Subscribe to my Email List and Get Full Access to my Freebies Library!