I may earn money or products from the companies mentioned in this post. Please click my Disclosure Policy to learn more
The FreeForm grip-free paintbrush is a patented designed paintbrush that is truly revolutionary. This paintbrush is basically grip-free, which reduces fatigue and stress on your hand as well as your arm and neck.
Have you ever been in the middle of painting with a paintbrush and felt a tinge of pain in your hand resulting in you stopping to give your hand and arm a good old shake?
Yea, I've been there too. Not only is it painful, but it's annoying having to stop every so often to shake out your arm.
I love painting, I truly do but once I feel that annoying twinge I'm ready to pack it in for the day.
If you frequently hold a paintbrush to either paint trim, furniture, or whatever it is, you most likely encountered that annoying pain.
One day while scrolling Instagram, I can across and very interesting product that stopped me dead in my scroll. That's saying some because I usually only stop mid-scroll for pictures of dogs. Now I bet you need to know what was so fascinating to catch my attention.
The product that got me was The FreeForm Paint Brush.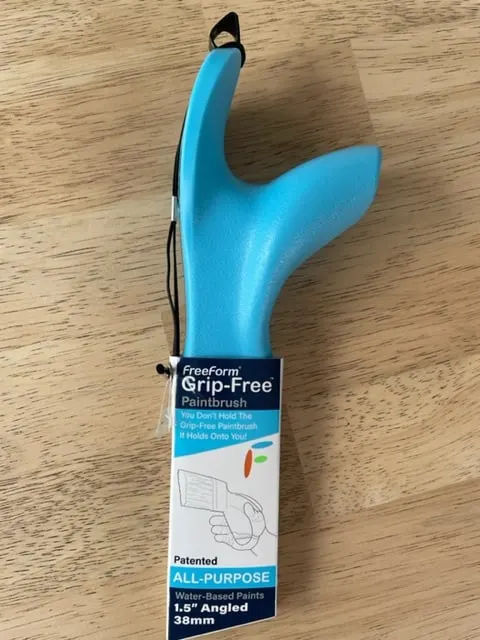 I was so intrigued that I reached out aka slid into their DM, to FreeForm to get a little more information on these very interesting paintbrushes. FreeFrom so kindly offered to send me some paintbrushes to test out for myself and boy do I have a ton of thoughts.
FREEFORM GRIP-FREE PAINTBRUSH REVIEW
I'm going to offer you my full honest thoughts and feeling on the FreeForm Grip-Free Paintbrushes. I'll go over what they are, how to use them, and where you can purchase them. Buckle up, this may be a long one.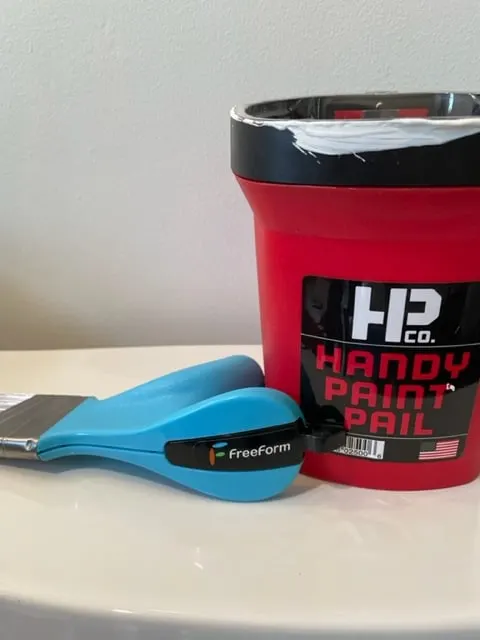 WHAT IS THE FREEFORM GRIP-FREE PAINTBRUSH?
First things first, let's talk about what the Free Form paintbrush is.
The patented design of this paintbrush places the weight on top of the hand rather than the fingers. This allows the arm to carry the weight, reducing strain and fatigue and improving accuracy by allowing the fingers to simply guide the brush.

FreeForm
Basically, this is a paintbrush with a handle that is designed to be essentially grip-free to eliminate that annoying hand pain we spoke about earlier.
WHY GO GRIP-FREE?
I think this is best explained by FreeForm themselves, this is what they say:
Why Use a Grip-Free Paintbrush?

1. Holding a conventional paintbrush with a pinch grip causes a chain-reaction of tensing muscles all the way from your fingers to your neck. It's like driving your car with the emergency brake for hours.

With a Grip-Free Paintbrush your fingers are relaxed, allowing the arm and shoulder to relax. This means a steadier hand for superior control and greatly reduced fatigue.

2. When holding a conventional paintbrush, as you apply more pressure to the work surface with the bristles, more grip pressure is required to hold the brush.

With a Grip-Free Paintbrush, as you apply more pressure to the work surface with the bristles, it locks tighter to your hand, requiring virtually no grip pressure. Ahhh, much better!

3. When holding a conventional paintbrush, your hand is right in the line of sight, requiring your to tilt your wrist, neck or back to see. This causes additional muscle strain and fatigue.

With a Grip-Free Paintbrush, the brush is elevated, providing visibility to the work surface without compensation.

4. With a conventional paintbrush you feel pain while painting.

With a Grip-Free Paintbrush the only thing you'll feel is satisfaction.

Freeformbrush.com
WHAT SIZES DO FREEFORM BRUSHES COME IN?
At the moment FreeForm brushes are available in three different sizes. They are available for sale individually or you can purchase the 3 sizes in a set.
1-½" All-Purpose Grip-Free Paintbrush
The 1-1/2″ brush is perfect for home or hobby detail work and cut-in needs in tight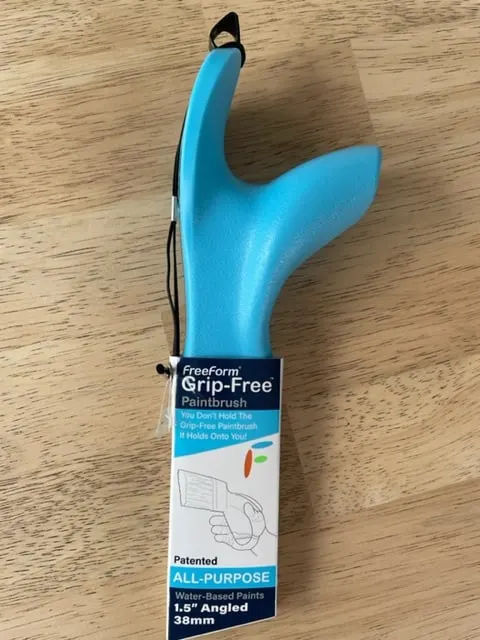 2″ All-Purpose Grip-Free Paintbrush
The 2″ brush is versatile enough for detail and cut-in work as well as broader coverage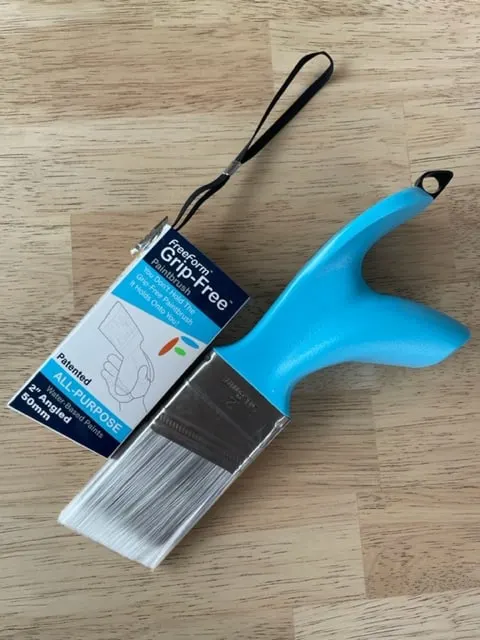 2-½" All-Purpose Grip-Free Paintbrush
The 2-1/2" brush is the preferred choice of most professionals for its ability to hold more paint and deliver consistent cut-in performance.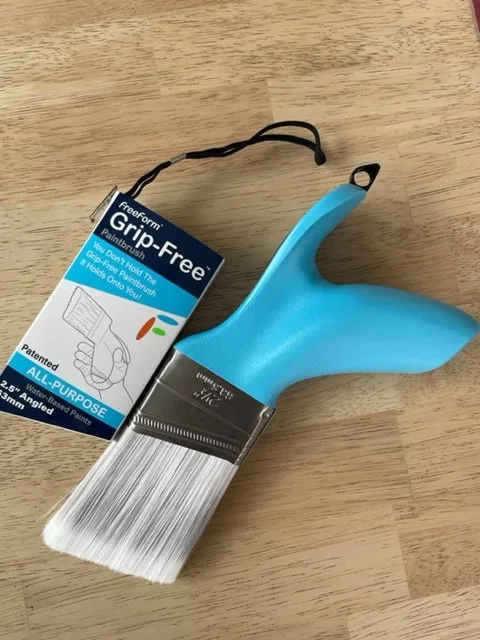 WHERE CAN YOU BUY FREEFORM PAINTBRUSHES?
Obviously, the first place you can purchase these paintbrushes are directly off the FreeForm website. They are also available for purchase from Walmart., on the Walmart website, and in select stores.
HOW MUCH DO FREEFORM GRIP-FREE PAINT BRUSHES COST?
These brushes are quite affordable which is awesome. So let me break down the pricing.
On the FreeForm website, they are only sold in 3 packs and the prices are as follows:
1-½" All-Purpose Grip-Free Paintbrush – $26.97
2″ All-Purpose Grip-Free Paintbrush – $29.97
2-½" All-Purpose Grip-Free Paintbrush – $38.97
All-Purpose Grip-Free Paintbrush Combo Pack ( One of each size) – $31.97
You can purchase the brushes individually at Walmart, the prices are as follows:
1-½" All-Purpose Grip-Free Paintbrush – $7.47
2″ All-Purpose Grip-Free Paintbrush – $7.97
2-½" All-Purpose Grip-Free Paintbrush – $8.97
MY HONEST REVIEW OF FREEFORM GRIP-FREE PAINTBRUSHES
Now it's time for me to give you a rundown of my thoughts regarding packaging, performance, and quality.
PACKAGING
Let me start with the shipping package. It was great. The brushes were neatly placed in the box with a little directional sheet as well. I like that there was no excess of bubble wrap or anything like that in the box. It makes it much more friendly to the environment. All I had to do was break down the box and put it in recycling.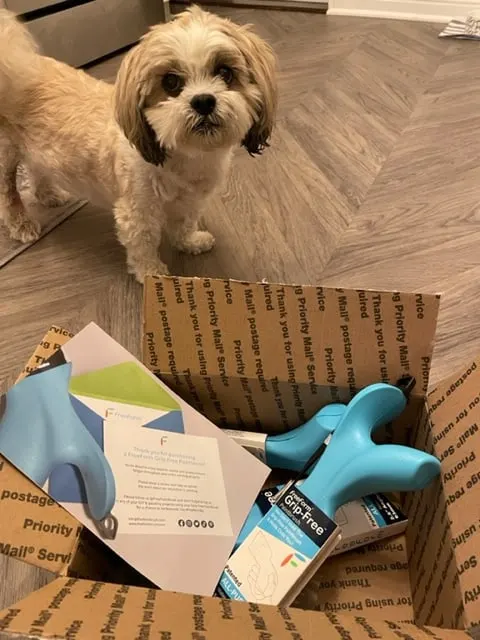 I was happy to see an instructional sheet in the box. Initially I grabbed the brush and held it completely wrong because I didn't look at the instructions. I tend to "try " to figure things out without instructions and 9 times out of 10, it doesn't end up well. So read the instructions, they are there for a reason.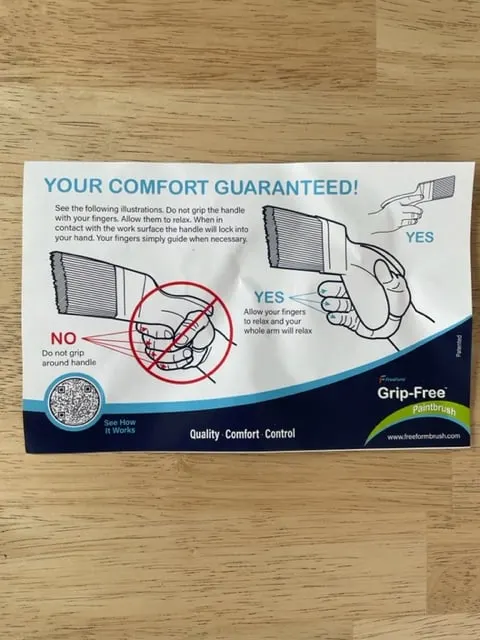 I also like that the instructions are also on the FreeForm brush cover as well. Another element I really liked about the brush cover is that there is a string attached to it which hooked to the end of the paintbrush. It's there so when you store your brushes the cover doesn't fall off. I think this as well thought to packaging for sure.
TESTING THE BRUSH
I have been wanting to paint my bathroom so what better time to test the brushes. If you are curious, I went with Sherwin Williams Dorian Gray, stay tuned for the full paint color review.
Let me start by saying I was a bit skeptical about how the FreeForm brush would perform and if it would feel bulky in my hand while painting. But once I held it (the right way) that all went away. The brush is lightweight and though it may look bucky, it definitely didn't feel that way in my hand.
I decided to test out the 2 inch FreeForm paintbrush. I find that a 2 inch brush is the most versatile, it's easy to maneuver and it covers a decent amount of surface area.
When it came time to actually test the brush I found it to be easy to use and it felt good in my hand. It performed like a regular paintbrush. So far so good.
One thing I noticed at the beginning of painting, I kept finding myself gripping the brush, which totally defeats the entire purpose of the brush. But after a few times of correcting myself, I finally got the hang of the whole grip-free thing and it was smooth sailing from there.
FREEFORM BRUSH QUALITY
I am super impressed with the quality of the FreeForm Grip-Free paintbrush. I truly didn't know what to expect. I'm used to my tried and true favorite paintbrush and let me tell you the FreeForm brush totally held its own in comparison. The quality is certainly there. it performed like a high-quality brush.
---
NEED SOME PAINT COLOR INSPIRATION? CHECK OUT SOME OF THESE POPULAR COLORS
---
OVERALL THOUGHTS ON THE FREEFORM GRIP-FREE PAINTBRUSHES
First things first, I think this is a brilliant idea.
My first thought is that it's a genius idea for those of us who have carpal tunnel. Now I do not have carpal tunnel but I know those who do and I can see the FreeForm paintbrush being a game-changer for them.
As someone who loves to paint and actually enjoys doing it, holding a regular paintbrush for too long does tend to become bothersome. And honestly, the pain that you get in your hand can affect the way you are painting.
Let's be real, once your hand starts hurting it makes you want to get finished as soon as possible. Which inevitably sacrifices the quality of your work.
With the FreeForm grip-free paintbrush I experienced zero hand pain, zero! I'm telling you I was able to paint continuously without hand pain, Highly impressed.
The only issue I came across was when I first began using the brush. I kept gripping the brush. But I did eventually get the hang of it. But other than that it performed like an ordinary paintbrush.
I also want to mention that this brush is made for both right and left-handed people. My husband, a lefty, tested it out for me.
Overall I think the design of the FreeForm paintbrush is a true gamechanger, especially for those with grip issues. I'd even boldly say this is a must-have in your painting tools kit. Of course, keep your regular paint brushes but I think the grip-free brush is an excellent addition.
I'd highly suggest trying FreeForm Paintbrushes out for yourself. You won't be disappointed
One final note, make sure to properly clean your brush after use. This will extend the life of the brush and allow you to have a beautiful paint application every time.
RECT ARTICLES