I may earn money or products from the companies mentioned in this post. Please click my Disclosure Policy to learn more
Sherwin Williams Creamy SW 7012 is a beautiful, soft, warm, off-white paint color. This versatile off-white is a great pairing option with other warm elements and paint colors.
I'm excited to share with you all today this absolutely fantastic, best-selling off-white paint color.
Let me give you what you are here for, and that is….
SHERWIN WILLIAMS CREAMY SW 7012
WHAT COLOR IS SHERWIN WILLIAMS CREAMY?
SW Creamy is a soft, warm, neutral, off-white paint color.
It's named appropriately because it does have a very creamy look to it.
Sherwin Williams describes it as,
This bright white has the softest of yellow undertones to create a subtle warmth in the room.

Sherwin Williams
It's a great, flexible off-white paint color that has a good amount of depth and pairs beautifully with warm-toned decor and fixed elements.
I love to suggest Creamy for those not interested in a bright, clean white—someone who is looking for an off-white with soft pale yellow tones to it.
But remember how the color will look for you in your home depends on the lighting, wood, and surrounding colors. This is why I always push grabbing a sample.
STATS
LRV – 81
HUE FAMILY – Yellow
92.875 7.500 96.147°
COLOR COLLECTIONS – Color ID (Naturalist), Top 50 Colors, Finest Whites & Neutrals (Finest Whites), Finest Whites & Neutrals (Cool Neutrals), Gallery Series, Top Interior Colors, Top Exterior Colors
Let me break these stats down for you guys so you can understand what the heck it all means.
LRV OF SW CREAMY
81 – LRV
LRV, or light reflectance value, is a measurement scale commonly used by design professionals.
It's used to measure the amount of light that is reflected from and or absorbed by a surface. The scale range is 0 to 100, with 0 being absolute black and 100 being pure white.
Creamy has a high LRV of 81. And for an off-white, that's pretty high. So expect to see it reflecting a decent amount of light.
A great article to read to learn more about LRV is Light Reflectance Value: What Do Those Numbers Mean?
CREAMY SW 7012 HUE FAMILY
Creamy belongs to the yellow hue family. This information is highly valuable as it helps you comprehend the paint color better. For instance, it can provide you with an idea of the color shift or how it appears in particular lighting conditions.
COLOR COLLECTIONS
Creamy is included in several color collections, the most notable being the Top 50 Paint Colors.
The color collections aren't truthfully telling us much about the color per se. However, it's exciting and fun to see what other colors are alongside it.
WHAT UNDERTONES DOES CREAMY HAVE?
Some yellow undertones exist since SW Creamy comes from the yellow hue family. You can expect those pale yellow undertones to pop up.
Now, will it look like a yellow paint color? No, but you have to be very aware of what influences how paint colors look.
Lighting, decor colors, fixed elements, and even what's outside your windows all significantly impact a paint color's appearance, especially an off-white color.
Undertones are subjective and not the same for everyone. This is something that isn't conveyed enough, and it's why I push sampling paint colors so much, almost to the point of annoyance.
If you are wondering what undertones may appear while using Sherwin WIlliams Creamy, you must grab a paint sample and test it in your home. It's the best way to represent how the paint color will look precisely.
DOES SW CREAMY LOOK YELLOW?
I feel like asking if SW Creamy looks yellow is a bit of a loaded question.
We know that it comes from the yellow hue family and that there are instances that it can show yellow undertones or tones. But will it ever look strictly yellow?
In my experience with Sherwin Creamy, I have not seen it look completely yellow. I have seen it show that slight pale yellow tone in a south-facing room.
You need to remember that everything influences how paint color looks. Lighting, decor colors, fixed elements, etc. This is very important in how a paint color will look in your space.
Will SW Creamy look like a yellow paint color? No. But there is a chance it will show a soft yellow hue.
IS SHERWIN WILLIAMS CREAMY A WARM OR COOL WHITE?
Creamy is a warm off-white paint color.
Some paint colors are more challenging to decipher the tone of than others. When you encounter a color tone you are unsure of, try comparing it to another paint color.
Sometimes, comparing paint colors can help you see the tone a bit clearer. One may stand out more.
SHERWIN WILLIAMS CREAMY, LIGHTING AND CARDINAL DIRECTIONS
Lighting is one of, if not the most important factor when it comes to how a paint color appears.
Knowing the lighting condition and cardinal direction of a room is crucial in choosing the right paint color, as it dramatically affects perception.
The table displays the four cardinal directions: North, South, East, and West, with a brief description of the light from each direction.
As a paint color consultant, I can certainly explain how the cardinal directions—north, south, east, and west—affect the way light interacts with paint colors.
Understanding these directional variations in light can help you choose the most suitable paint colors for your space. Let's explore each direction:
Remember that the direction of light is just one factor to consider when choosing paint colors.
Other elements, such as the room's size, function, and your personal preferences, also play a significant role in selecting the right color.
To make the best choice, consider obtaining paint samples and observing how they look at different times of the day in your specific space.
This will help you find the perfect paint color that complements your room's lighting conditions and creates the desired ambiance.
DO THE LIGHT BLUBS YOU USE MAKE A DIFFERENCE IN THE WAY A PAINT COLOR LOOKS?
Just as natural light affects paint colors, so does artificial lighting.
The color of the light bulbs you use will influence how a paint color will look in a room. And unfortunately, it's an important detail that is often overlooked.
With the variety of light bulbs available, it can become overwhelmingly confusing. I mean, what is the difference between soft white and bright white?
Learning a little about light bulbs can make the task easier.
For reference, light color or light appearance is measured on the Kelvin (K)temperature scale. Lower Kelvin numbers mean more yellow light; the higher the Kelvin number, the whiter or bluer light.
Remember, lower Kelvin (K) numbers = yellow light, Higher Kelvin (K) numbers = white/blueish light
I always recommend using this type of light bulb.
Be cautious of the light bulb names such as "daylight" or warm light." I'd advise against picking a light bulb by its name.
Instead, always check the package for actual facts. This allows you to choose the best bulb for you.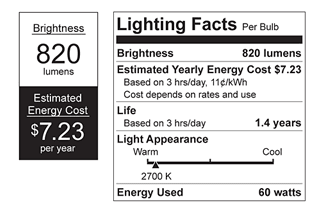 Don't forget that lighting plays a significant part in how a paint color will look at times. There are other determinants to be aware of. For instance, decor, furniture, fixtures, cabinetry, and floors. These elements can affect and/or influence how a paint color will look in your room.
THE BEST WAY TO SAMPLE
Sample Sherwin Williams Creamy with Samplize Peel & Stick Paint Samples.
As someone who values the importance of choosing the right paint color for a room, I highly recommend testing and sampling various options.
This step in the painting process is often overlooked, but it can provide a concrete idea of how the color will appear in the space. Neglecting this step seems impractical to me.
WHERE CAN YOU USE SHERWIN WILLIAMS CREAMY?
The beauty of decorating and painting is that you can do it however you want. So, wherever you feel like using the beautiful off-white SW Creamy, you can. There is no law saying you can or cannot use it somewhere.
I like to throw that in as a reminder here and there because it's important to decorate for you and what makes you happy.
That said, I like to show real-life examples of how a paint color looks in different spaces.
WAIT! Before you start painting make sure you have the best painting tools to make your job easier. It will take hours off your painting time!
IS SHERWIN WILLIAMS CREAMY A GOOD EXTERIOR PAINT COLOR?
Sherwin Williams Creamy can undoubtedly be used on the exterior of a home. Its warmth is excellent if you want a white paint color but not a stark, bright white.
But keep in mind that it may be too warm and pull too much yellow for those who are looking for some but more on the white side.
IS SW CREAMY A GOOD TRIM COLOR?
Creamy wouldn't be my first suggested trim paint color choice. But that doesn't mean it won't work or look good in your space.
WHAT IS A GOOD TRIM COLOR FOR SW CREAMY?
Off-white colors like Creamy can pose a challenge for finding a trim color. White paint colors, in general, are a pain in the you-know-what-to pair.
There needs to be cohesion, and if you paint the wrong white trim paint color with Creamy, it can lead to the colors looking dirty.
A few colors that work with SW Creamy are:
SW Alabaster
BM Cloud White
READ MORE: FANTASTIC WHITE TRIM PAINT COLORS
WHAT COLORS DOES SHERWIN WILLIAMS CREAMY COORDINATE WITH?
Sherwin Creamy works best with warm-toned paint colors. Especially ones that have the same hue family, which is yellow. But remember, if you pair it with a yellow paint color, that may bring out the yellow tones Creamy has.
That is not to say you can use it with non-warm tones ( I love it with a navy blue), but to maximize cohesion. It's easier to go with the same warm tones.
Believable Buff
Camelback
Antique White
Naval
Charcoal Blue
Quietude
Reynard
Gossamer Veil
Twilight Gray
Mink
Shiitake
IS THERE A BENJAMIN MOORE EQUIVALENT TO SHERWIN WILLIAMS CREAMY?
This is a commonly asked question about paint colors: Is there an equivalent in another brand? Unfortunately, the answer is no.
Although there are similar colors, I have yet to find an exact match.
Honestly, I think this is a good thing. Who wants a ton of the same paint colors?
I think having more choices in the world of paint colors is excellent. However, I understand why people may ask about color equivalents. At times, we may not have access to specific brands, and if we happen to fall in love with a particular paint color from that brand, we might want to find something similar elsewhere.
For those who are curious, I have found a Benjamin Moore paint color that is similar to Creamy.
While it is not an exact match, it comes close.
I understand you might be considering color matching between different paint brands.
While it is possible to do so, it is important to be careful and proceed with caution.
It is worth noting that each brand has its own unique formulation for paint colors. Therefore, if you try to match a color from one brand with another brand's paint, it may not be an exact match and could potentially be slightly different.
Basically, I wouldn't advise it unless you are getting a sample of the matched color first.
COLOR COMPARISONS
Let's compare a few popular white and off-white paint colors to SW Creamy.
This may be helpful for those of you trying to decide between colors. It may persuade you one way or another.
Even if you are not torn between colors, it's fun to see how popular paint colors compare.
I want to say a quick reminder. The swatches you see on the screen are not accurate representations of the actual paint colors. You need to get a paint sample to see a true paint color.
CREAMY VS DOVER WHITE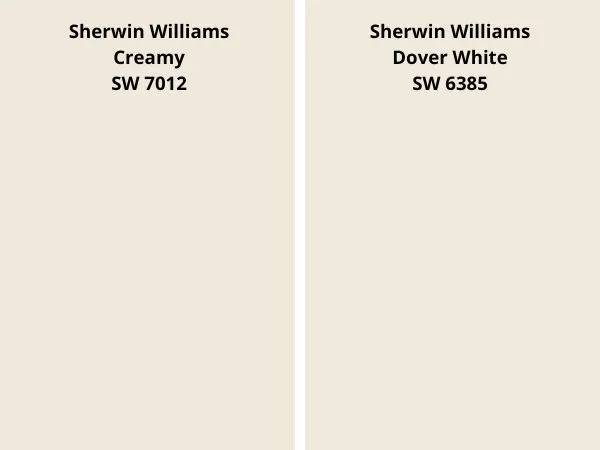 Right off the bat, the Dover White is a similar off-white paint color. Both colors are from the yellow hue family and will have those pale yellow tones.
Dover White is the lighter paint color, and it is also a bit more saturated (it has more color to it).
They also both have similar LRVs. Dover White's is 83.
Basically, Dover White is more noticeable yellow in it. Creamy is more neutral, and the yellow is toned down.
Want to try a sample of SW Dover White? Get a Samplize Sample HERE
CREAMY VS ALABASTER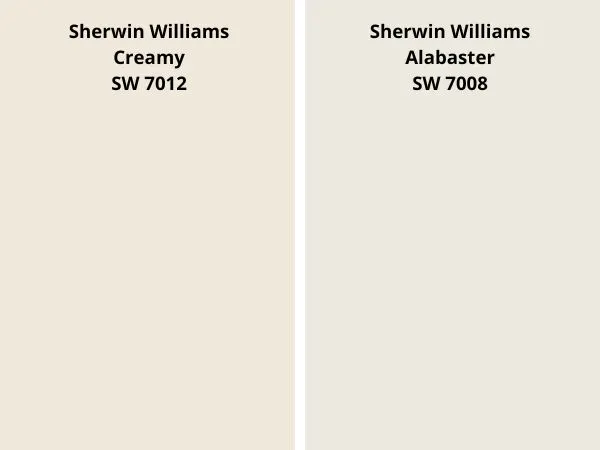 Again, these are two similar white paint colors. Both SW Alabaster and Creamy are from the yellow hue family.
Alabaster is a hint lighter and has less saturation. It's the more neutral off-white of the two.
Alabaster has an LRV of 82, which is only a point difference from Creamy's 81.
Overall, Alabaster is more neutral and has a very slight creamy feel, and in this instance, Creamy is the color with a bit more yellow.
Want to try a sample of SW Alabaster? Get a Samplize Sample HERE
CREAMY VS BM SWISS COFFEE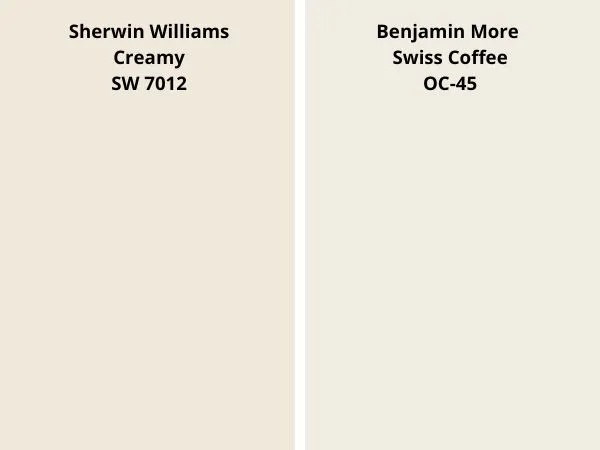 Benjamin Moore Swiss Coffee and SW Creamy are similar but not that similar.
Swiss Coffee has an LRV of 83.93. It reflects a tad bit more light. Both are also from the yellow hue family.
Creamy is the lighter paint color but by a very thin hair. They are pretty much on the same lightness level.
The difference between the two is the saturation level. Swiss Coffee is less saturated and more neutral.
If you are stuck between these two, it comes down to whether or not you want a more neutral off-white or an off-white with a hint of more warmth.
Want to try a sample of BM Swiss Coffee? Get a Samplize Sample HERE
CREAMY VS SHOJI WHITE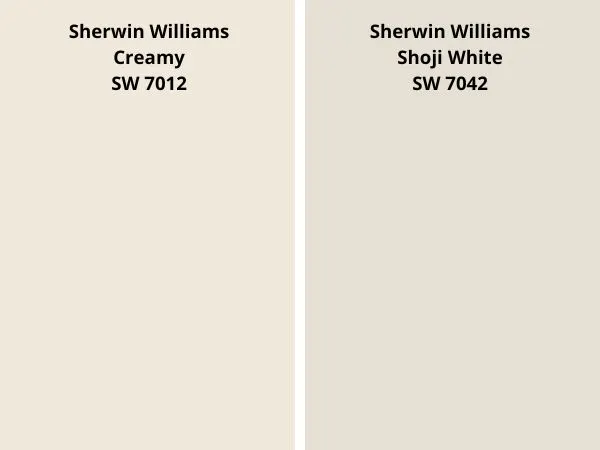 SW Shoji White is similar to Creamy, but not quite. Let me explain.
First, I want to note that these two pant colors are from the same hue family. Say it with me, yellow.
Shoji White has less saturation or color, giving it a leg up on being more neutral.
The LRV is where the differences start. Shoji White has an LRV of 74, which is more than a touch lower than Creamy's LRV of 81.
Shoji White is the darker paint color and is considered to be a near-neutral, whereas Creamy is off-white.
Want to try a sample of SW Shoji White? Get a Samplize Sample HERE
RECAP
Here are the key points that you should know about Creamy.
off- white paint color
Has soft, pale yellow undertones or tones that can show up.
LRV – 81
HUE FAMILY – Yellow
COLOR COLLECTIONS – Color ID (Naturalist), Top 50 Colors, Finest Whites & Neutrals (Finest Whites), Finest Whites & Neutrals (Cool Neutrals), Gallery Series, Top Interior Colors, Top Exterior Colors
It's a warm off-white
South-facing light will bring out the warmth.
North-facing light will make it look more of a neutral white.
It can show yellow tones and look very warm, but it won't look like a yellow paint color.
Use SAMPLIZE Paint Samples to sample the color.
It can be used anywhere from trim to walls.
Coordinates well with other warm-toned paint colors.
Ivory Lace is a comparable Benjamin Moore paint color.
Don't start painting until you have the right tools!

SHOP MUST HAVE PAINTING TOOLS
FINAL THOUGHTS
What are my thoughts on Creamy? I think it's a beautiful paint color. There's a reason it's a best seller for Sherwin Williams.
I also think it's not a paint color for everyone.
Creamy is a soft, warm-toned off-white with yellow undertones. If you don't like that sound of that, then steer clear. But if you are in the market for a warm off-white, you may love it.
Do you want to know how you will know if you like SW Creamy? You need to sample the color in your home. It is a guaranteed way for you to see the paint color accurately.
Use Samplize Peel & Stick Paint Samples for a mess-free way to test paint colors!