I may earn money or products from the companies mentioned in this post. Please click my Disclosure Policy to learn more
The front door is the focal point of your home. It's the first thing your eyes are drawn to and can have a major impact on the overall curb appeal.
If you are looking for a quick and inexpensive way to update the exterior of your home. Painting your front door a bold paint color is a perfect way to do so.
But how do you pick a front door color?
It may seem simple enough, pick a front door color you like and paint it. However, before you pick up the paintbrush you want to keep a few things in mind to ensure you choose the perfect front door paint color for your home.
I have 3 tips to help you find the front door color that will work best with your home.
1. The color scheme of your exterior.
Obviously, the color of your home will have the largest impact on the paint color choice of your front door. But, you should take into consideration the other details of your home as well. Such as; roof color, trim color, any brick or stone, landscaping, and the doors hardware.
All these things will impact your front door color. A home that is painted a neutral paint color is easier to choose a door color for. Whereas, a red door might not be the best choice for a home that's green. You want to make sure all the colors coordinate beautifully creating a seamless color palette for your home.
2. The style of your home.
The style of your home is a large factor to consider for your front door color. Whether it's a Tudor, Colonial, or Victorian. they all have different characteristics that make them unique. Some home styles just look better with certain colors. For example, a yellow front door might work beautifully with a Victorian-style home, while a yellow door on a Tudor-style home might not work as well. This rule is not set in stone by any means, it's only something to take into consideration.
3. Ask your neighbor's opinion. *
The reason I placed an * on this one is that not all neighbors are alike. I have been blessed with lovely neighbors that I value the opinions. However, if you do not have friendly neighbors, or you just don't have a relationship with them, then there is no need to get their opinion on your front door color.
Something it's nice to have an outsider's opinion. Ultimately though, you are the one with the final decision.
*Bonus Tip*
Your front door does not need to match your shutters. That being said, when choosing shutter colors, make sure you go with a color that will complement the front door.
The front door is usually the focal point of the home so why not let it shine?
Taking all these details of your home into consideration not only will make choosing a color for your front door color a breeze but also it will add to the curb appeal of your home.
So now that you have some tips on how to pick a front door color what's next?
Well, that depends on if you are going to hire professional painters to do the job for you or if you are going to paint the door yourself. If you just don't have the time to take on the project, make sure you hire a professional who knows what they are doing and uses the correct supplies for the job.
But if you are planning on tackling this project yourself use these Pro tips to help you along the way. Also, you need to make sure you use the correct paint on your front door. This is crucial.
---
Don't forget to pick up these amazing painting tools! They will only make your life easier!
---
The best exterior front door paint.
If you want to get a beautiful, professional-looking result, you need to use quality paint. With so many options available I thought I'd share a few products that are used when painting my customer's exterior front doors.
WAIT! Before you start painting make sure you have the best painting tools to make your job easier. It will take hours off your painting time!
Keep in mind though, all doors require different prep work and different paint types. For example, should you use an oil-based or water-based paint? Is there staining on your front door you need to cover? In this case, a primer may be required.
If you are unsure of what should be used, it is best to contact a professional.
The best front door paint colors to make a statement.
In the painting business, summer is one of our busiest times. Everyone is looking to update their home exteriors. So over the last few weeks, I have been coming across some of the best front door color options. I wanted to share them because picking a front door color is no easy task. Check them out below.
RED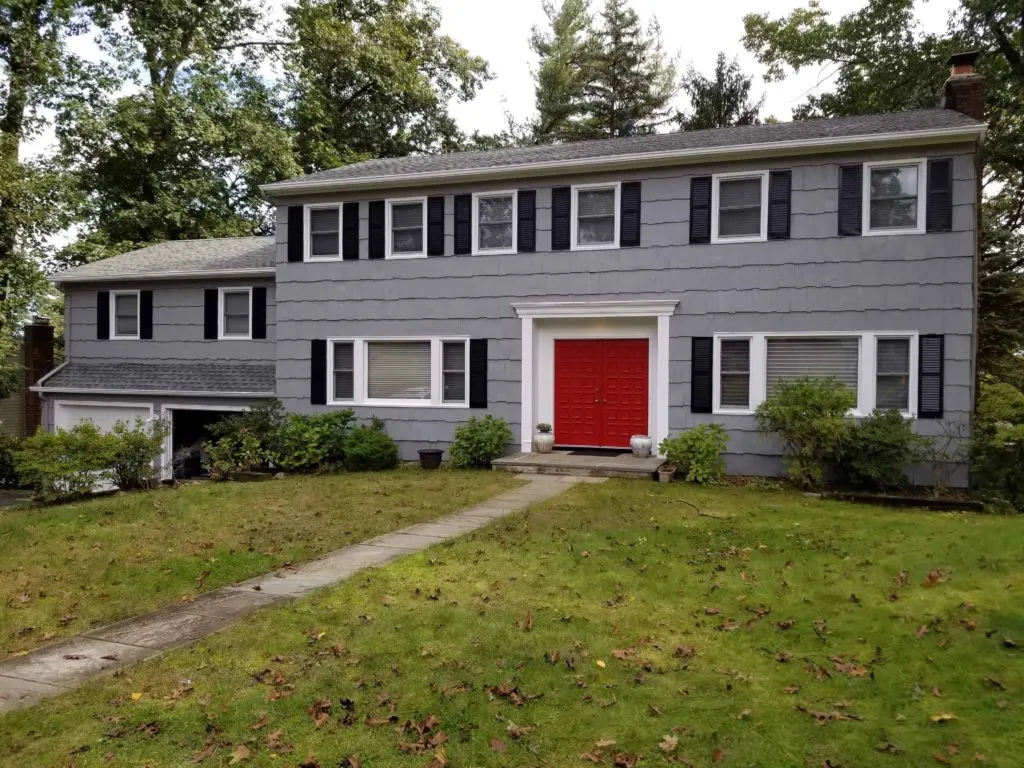 Red is a classic and popular door color choice, as it works well with many different house colors. A red door with a white home brings an elegant aesthetic to your property while pairing a red front door with a gray house makes an impressive statement. Even with the classic red brick exterior, a red door can draw the eye toward the entryway creating a monumental impact.
Make your red front door pop with the right outdoor accessories. The right welcome mat will complete your entryway.
---
Red Paint color options :
Sherwin Williams Positive Red SW 6871
Benjamin Moore Ruby Red 2001-10
Sherwin Williams Antique Red SW 7587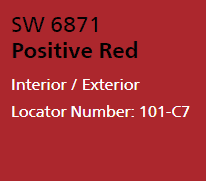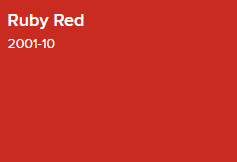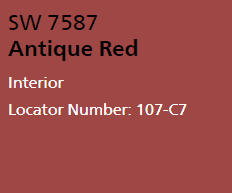 ---
YELLOW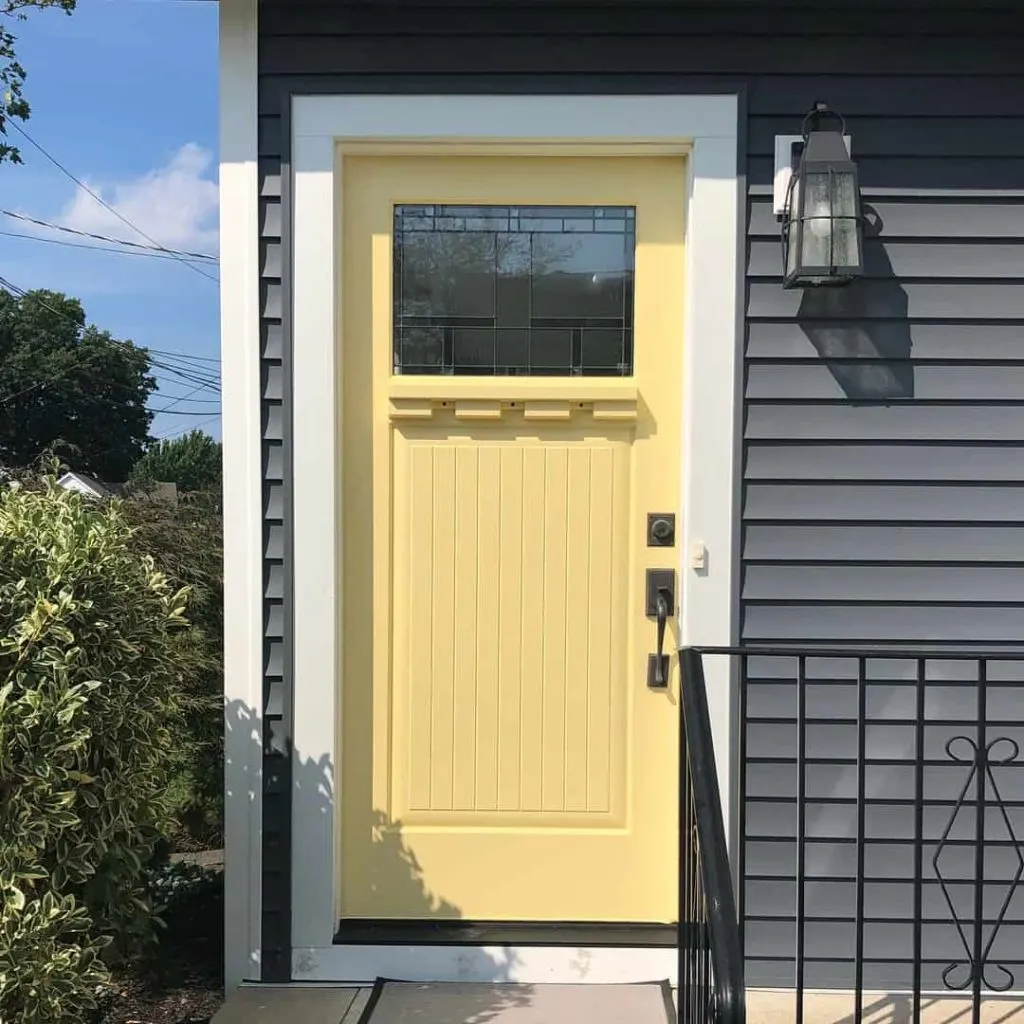 Yellow is such a cheerful color. Choosing yellow for your front door will set the tone of the whole exterior and will immediately be the first thing your eye is drawn to when looking at your home. Yellow also pairs beautifully with many house colors, including a classic gray like the above picture.
Make your yellow front door pop with the right outdoor accessories. Complete your entryway look with the perfect outdoor light.
---
Yellow Paint Color Options:
Benjamin Moore Hawthorne Yellow HC-4
Sherwin Williams Decisive Yellow 6902
Sherwin Williams Venetian Yellow SW 1666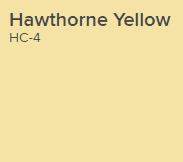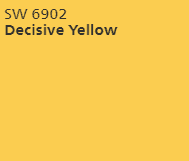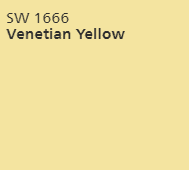 READ MORE: FANTASTIC YELLOW PAINT COLORS BY SHERWIN WILLIAMS
---
ORANGE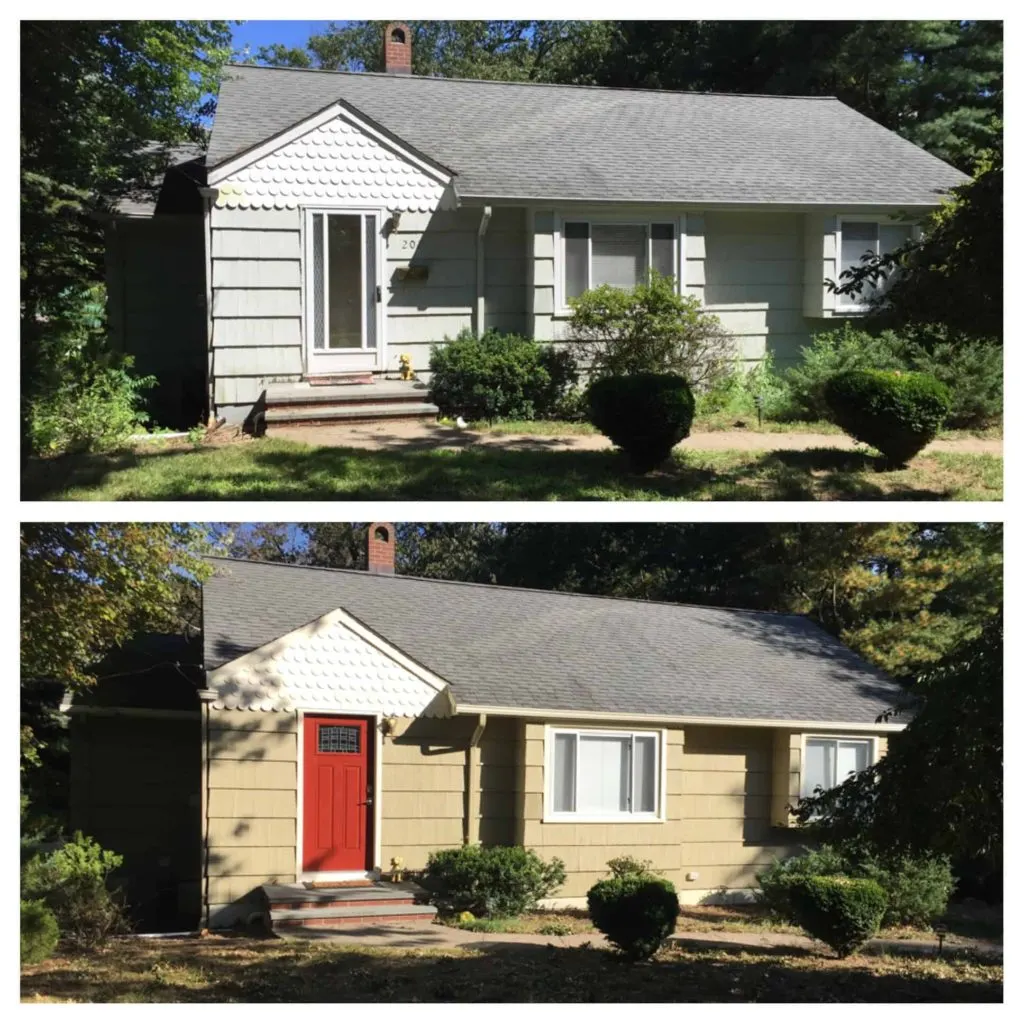 Orange front doors make a bold statement. Brighter oranges work exquisitely well with a more modern style home, whereas the deeper, more robust oranges add the perfect amount of charm to a traditional home. Orange is a perfect, stand-out front door color for a beige house. With an orange front door, it will be hard for your home not to get noticed.
Make your orange front door pop with the right outdoor accessories. Adding planters on both sides of your front door with add just the right amount of curb appeal.
---
Orange Paint Color Options:
Benjamin Moore Golden Dunes 2157-10
Sherwin Willams Knockout Orange SW 68875
Sherwin Williams Copper Harbor SW 6634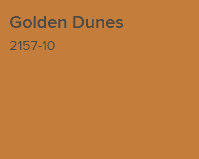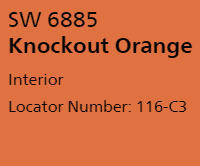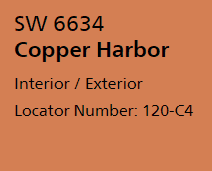 ---
SAGE GREEN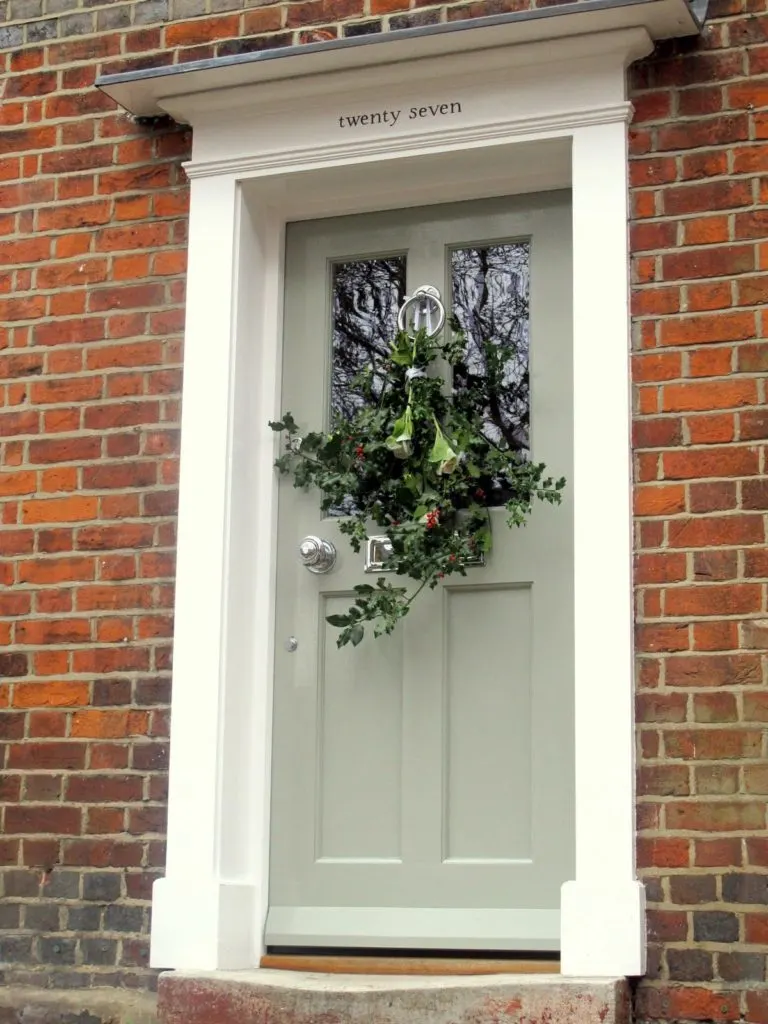 Green paint colors can be a very soothing color. A subtle sage green can be the perfect color choice when you want that pop, just with a little less pizzaz. Sage green works notably well with white, cream, putty/gray, and classic red brick homes.
Make your sage green front door pop with the right outdoor accessories. Add a playful wreath to your front door to give it an extra dose of charm.
---
Sage Green Paint Color Options:
Benjamin Moore Nob Hill Sage 450
Benjamin Moore Saybrook Sage HC-114
Sherwin Williams Sage SW 2860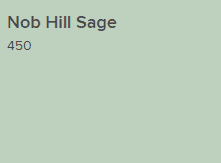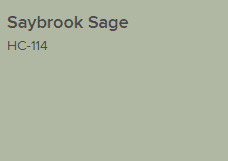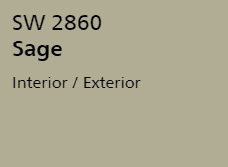 ---
BLACK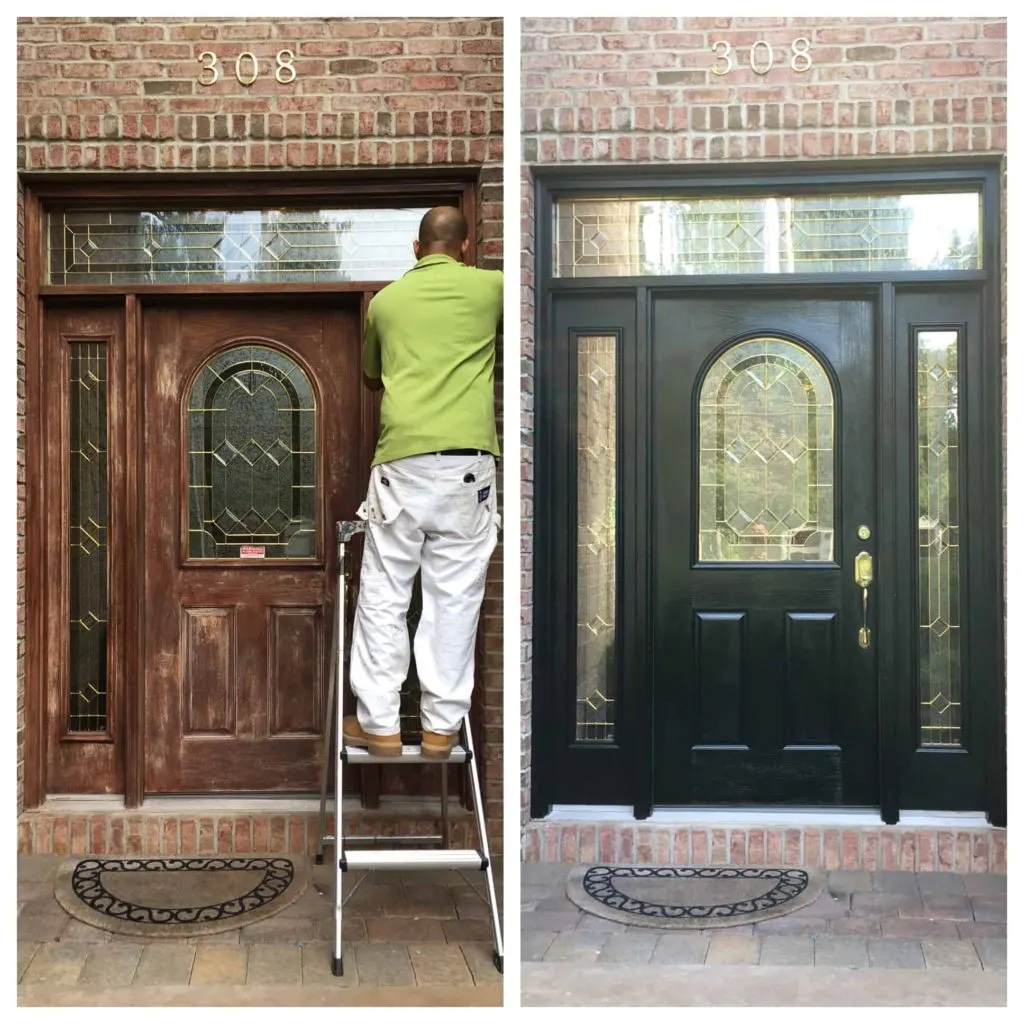 A black front door will add instant class to any home. Black is a time-honored color that pairs well with most other colors. Using a high gloss black will add a modern flair, whereas a matte black will give your home a more traditional feel. Black is also one of my favorite front door paint colors for brick houses.
Make your black front door pop with the right outdoor accessories. Update your house numbers to coordinate with your new bold front door color
---
Black Paint Color Options:
Benjamin Moore Graphite 1603
Sherwin Williams Black Magic SW 6991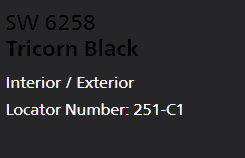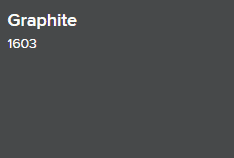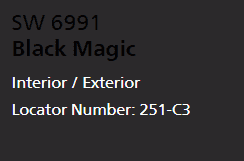 READ MORE: THE BEST BLACK PAINT COLORS
---
NAVY BLUE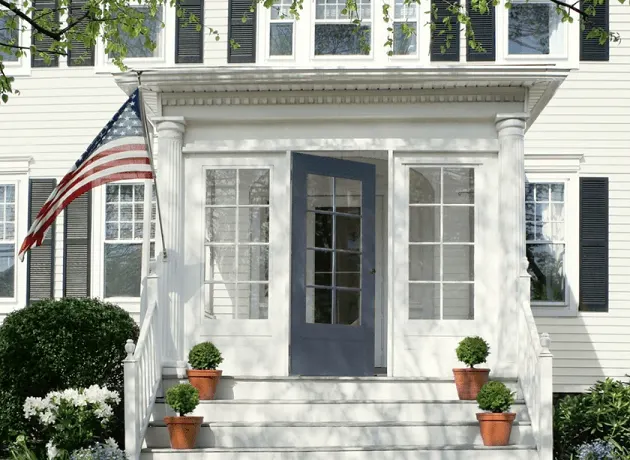 A navy blue front door is the perfect complement to a beige home. It adds just the right amount of color to create an impactful punch to your entryway. Beige is not the only home color navy front doors that work well with. A classic white home will make your navy front door the star of the show.
Make your navy blue front door pop with the right outdoor accessories. Add a few planters to create a welcoming front porch.
---
Navy Blue Paint Color Options:
Sherwin Williams Naval 6244
Benjamin Moore Evening Sky 833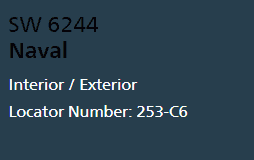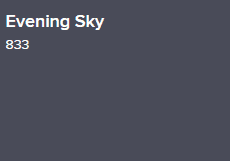 ---
Get Full Access to my Freebies Library!
Subscribe to my Email List and Get Full Access to my Freebies Library!
---
I showed you some of my favorite front door color options, but not all these colors will work with every home. Specific house colors pair better with some colors than others. Let me go through a few exterior colors and how pick the front door colors that will coordinate well with them.
Front door colors for a gray house.
A gray home is a perfect opportunity to use a fun front door color. Nearly any color will work with a gray home. Picking a front door paint color in the yellow family will give your home a modern flair. Or, for more of a classic feel, try a white paint color like SW Pure White. There is also the option of going monochromatic and using a different shade of gray for the door.
Front door colors for a tan house.
A tan home can also handle some tremendous front door colors. Depending on the style of your home and the look you are going for. Choosing a front door paint color that is sage or a muted green like BM Caldwell Green will add a sophisticated charm to your home.
Front door colors for a beige house.
On a home that's painted beige like SW Accessible Beige, I love a classic white door. There is something so simple and elegant about it. Some other front door colors for a beige house would be black, teal, or orange.
Follow the tips I gave you on how to pick a front door color along with the front door color suggestions, and you'll have your new front door paint color picked out in no time.
Regardless of the paint color you choose, refreshing your front door with a new coat of paint is a quick way to make a lasting first impression.
Don't Forget!
Finally, as I say in all my paint color posts, make sure you swatch the paint colors you are thinking about using. The colors you see on the computer look different than a swatch on your home. So choose a few colors you want to try and swatch those babies. LARGE swatches too!
Check out my review on Samplize; it's an easier, mess-free way to swatch!

TRY SAMPLIZE NOW

Trust me, choosing the wrong paint color is an expensive mistake you do not want to make.
---
You Might Also be Interested in the following: