I may earn money or products from the companies mentioned in this post. Please click my Disclosure Policy to learn more
Green paint colors are having their moment. They are versatile and can add a sense of peacefulness and sophistication to your home. They can be neutral and organic or bold and vivid. There is no wonder they are all the rage at the moment.
Today I have such a treat for you all. We are talking about the best most amazing green paint colors for the home!

If you haven't noticed, the color green has been on trend in home decor for a while now. The color is everywhere.
I have to be honest, I haven't always been a fan of the color. I tried to wear it once and my niece lovingly told me green was not my color. Now, she was only 4 or 5 at the time but kids that age don't lie. From there on out, I left the color out of my wardrobe.
I think that was the main reason I wasn't the biggest fan, but over the last few years, it has truly grown on me. I painted the board and batten in my guestroom Benjamin Moore Caldwell Green. That says it all right there.
---
---
Because of my newfound love, I have curated a list of 14 of the best green paint colors to use in all areas of your home, from Sherwin Williams and Benjamin Moore. We are talking about all different shades, ranging from sage to hunter. If there has been a certain shade you have been looking for, you can find it here.
14 OF THE BEST GREEN PAINT COLORS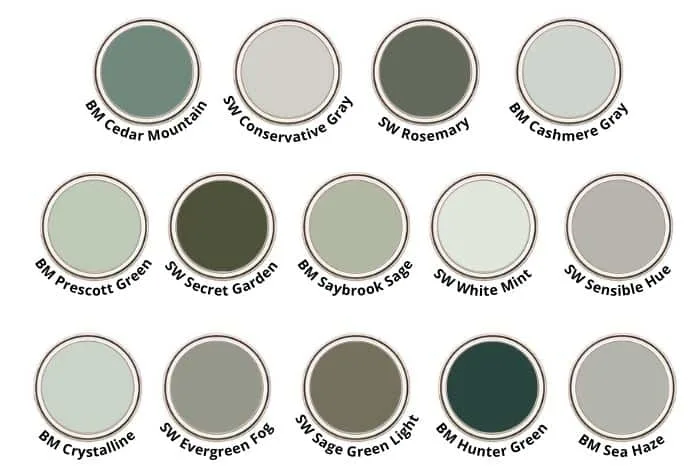 Let's talk about the 14 amazing green paint colors I found. There are all different shades, light, dark, warm, and cool., from both Sherwin Williams and Benjamin Moore.
SAYBROOK SAGE HC-114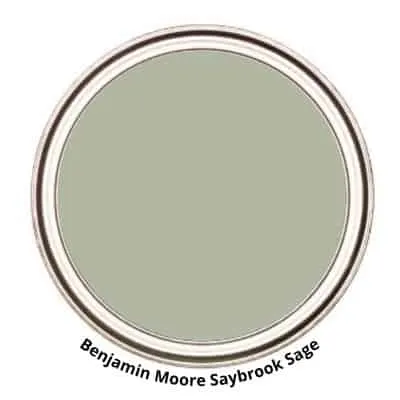 LRV:44.91
Benjamin Moore Saybrook Sage is such a fantastic green paint color. If you want the perfect sage paint color, look no further. Saybrook Sage has a bit of gray in it that gives it its sage look while keeping it on the cool side.
Saybrook Sage isn't the lightest sage green you will find. It's more of a mid-toned color. It has a decent amount of saturation. That means it has more color to it.
Sage is such a fabulous shade of green. A color like Saybrook Sage would be the perfect option to use on the front door of your home.
GRAY CASHMERE 2138-60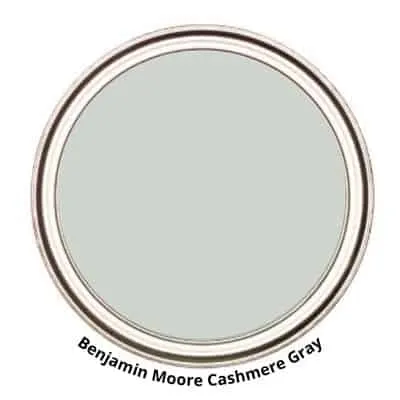 LRV:65.57
Benjamin Moore Cashmere Gray is such an amazing light green-gray paint color. This is a very soft and gentle color. It's definitely more neutral with a hint of green. It almost has a silvery look to it.
Cashmere Gray is a fantastic option for someone looking for just a hint of color. It would work gorgeously in a nursery. It's soft and subtle, with such a calming feel.
SEA HAZE 2137-50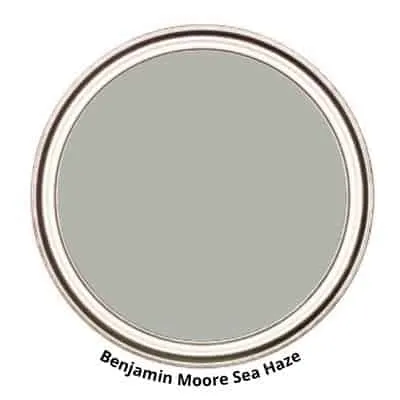 LRV:45.83
Sea Haze by Benjamin Moore is a mid-toned green. This amazing color is a bit more grayed down which means it's not going to be very colorful.
Sea Haze is versatile because it is on the more neutral side. This soft green is perfect for coastal homes. it gives off total beach vibes.
CEDAR MOUNTAINS 706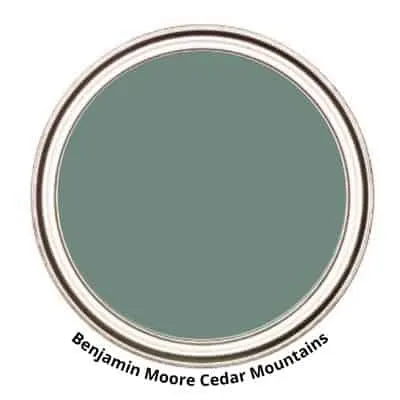 LRV:22.41
Cedar Mountains by Benjamin Moore is one of the darker green paint colors on this list. This stylish green is sophisticated and elegant. It's a beautiful shade that does have some gray in it which softens the color and gives it some versatility. It also has blue in it which gives it that stunning green-blue color.
Cedar Mountains would be amazing as an accent or all-over wall color. It will give your space a bold but not over-the-top look. Trying using it on broad and batten to really give it a punch.
CRYSTALLINE AF-485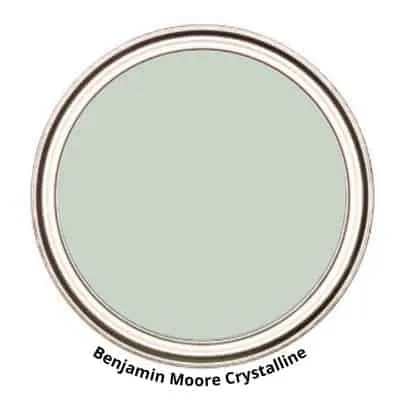 LRV: 63.78
Benjamin Moore Crystalline is a beautiful light green paint color that has a calming sophistication about it. This gorgeous shade is not overly saturated but has just enough color. It has a slightly slivery light jade feel.
Crystalline is a clean refreshing color that will freshen up any space. If you want your bedroom to feel like the ultimate tranquil space, this is a great color to achieve that.
PRESCOTT GREEN HC-140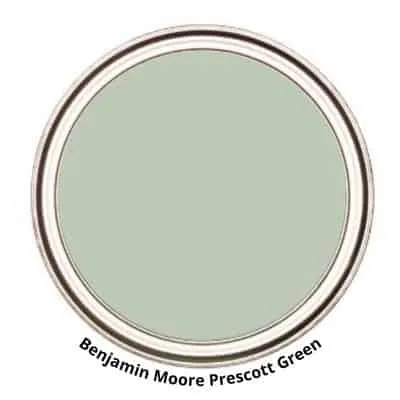 LRV:55.85
Prescott Green by Benjamin Moore is a light to mid-tone green. This beauty is clean and airy and has a calming presence. It's soft and is more saturated which makes it lean more colorful rather than neutral. This one is not quite as neutral as some of the others on this list.
Prescott Green would be beautiful nursery paint color because it has a delicate powdery look.

HUNTER GREEN 2041-10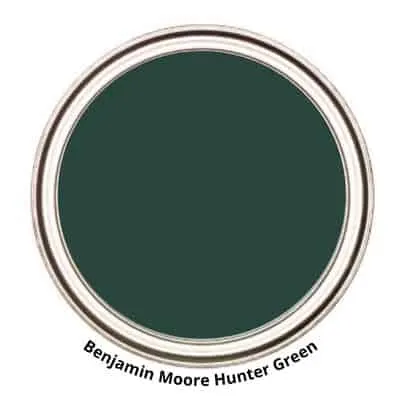 LRV:4.31
Benjamin Moore Hunter Green is a stunning dark green paint color. This color is rich and full of depth. It's perfectly named because this is what I picture when I think of hunter green. This is a dark and moody color that will add charm to wherever you use it.
Hunter Green is an amazingly timeless color that will stand the test of time. If you want to go bold think about using BM Hunter Green on your kitchen cabinets in a gloss finish. Talk about a statement!
WHAT IS THE BEST WAY TO SAMPLE GREEN PAINT COLORS?
Not sampling paint colors is one of the most significant painting mistakes you can make. In order to say how a paint color truly looks in your home, you have to sample it.
LEARN HOW TO TEST YOUR PAINT SAMPLE THE RIGHT WAY.
GRAB A SAMPLING PAINT COLORS WORKSHEET TO LEARN HOW TO GET THE MOST OUT OF YOUR SAMPLES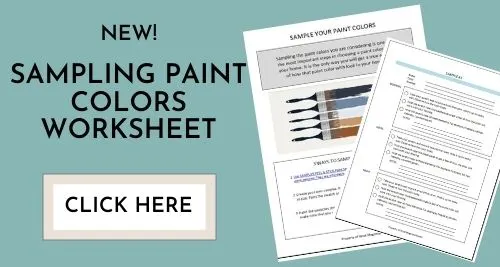 Now you know you have to sample, what's the best way to do it?
SAMPLIZE Peel & Stick Paint Samples of course!
Instead of physically going to your nearest paint store to grab your samples, you need to try Samplize Peel & Stick paint samples.
Why should you try Samplize?
Super affordable
Mess-free
Non-damaging
Made with real manufacturer paint
Displays color just like a wall
Environmental friendly
Reusable
These peel & stick paint samples are super affordable and allow you to test a paint color in all different areas of a room without the mess of a traditional paint sample!
You know how I feel about testing paint colors. It's a must!
Don't create more work for yourself. Order Samplize now and have them shipped directly to you. No fuss, no mess! Check them out for yourself. You won't be disappointed.
Get $5 off your first Samplize order using the code "FIRSTFIVE"
---
EVERGREEN FOG SW 9130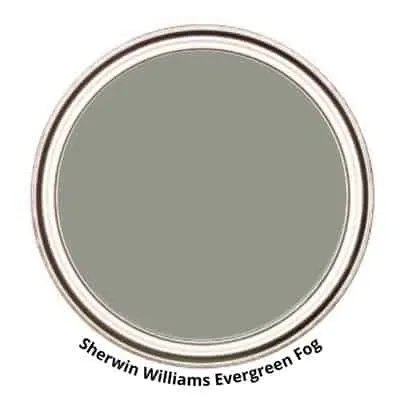 LRV:30
Sherwin Williams Evergreen Fog is a gorgeously soft green-gray paint color. This color is more on the mid-tone to dark side, but it's not overly dark. It's a very subtle shade that has a decent amount of saturation to it. It's also a cooler green compared to some of the others on this list.
Evergreen Fog is Sherwin Williams 2022 color of the year, which says it all. This one is a true favorite.
ROSEMARY SW 6187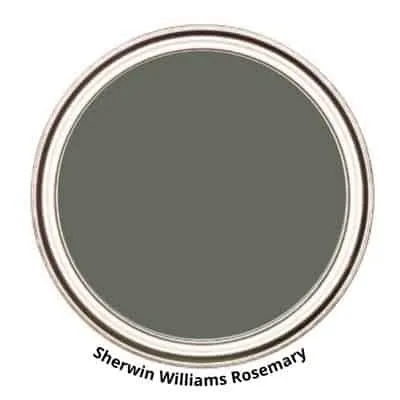 LRV:14
Rosemary by Sherwin Williams is a fantastic dark green paint color. This one has some gray in it and it's not very saturated. So you can expect Rosemary to be a bit more on the muted side. It's a warm green that really represents its name quite well, Its looks like the herb Rosemary.
I have seen SW Rosemary used as an exterior color and looked nothing less than perfect.
SENSIBLE HUE SW 6198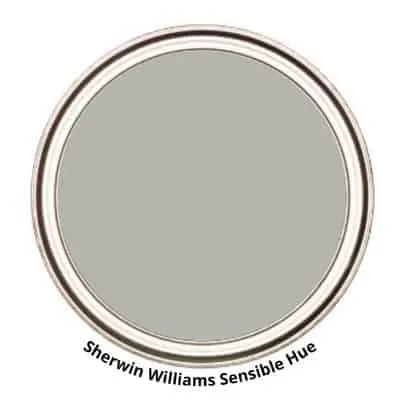 LRV:46
Sherwin Williams Sensible Hue is a very usable green paint color. What I mean is that is quite neutral because it has a good amount of gray in it. Yes, it is still considered a green paint color but it is not as saturated or colorful so is more on the approachable side.
Sensible Hue would be stunning as a living room color. It's neutral yet it has that beautiful slight green tone within it.
WHITE MINT SW 6441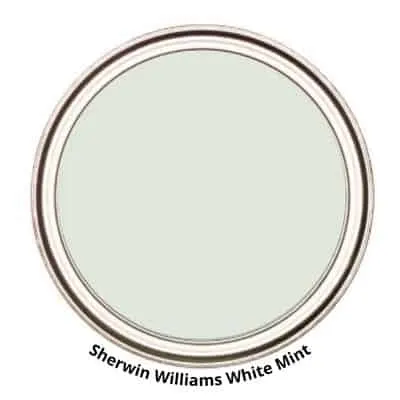 LRV:78
White Mint by Sherwin Williams is a wonderful light shade of green. This is one of the lightest paint colors on this list. It's unique because it's on the cool side and has a good amount of color to it. It holds the perfect amount of minty green to it.
SW White Mint is an amazing color to bring freshness to your space. It particularly looks amazing on cabinets.
SAGE GREEN LIGHT SW2851
LRV:16
Sage Green Light by Sherwin Williams is a darker green. It's a bit muted and not terribly saturated. This green has some yellow in it giving it a bit of warmth. It can also be considered to have an olive tone to it.
Sage Green Light is an amazing exterior paint color option. If you are working towards a historical feel for your home, Sage Green Light is a fantastic choice.
CONSERVATIVE GRAY SW 6183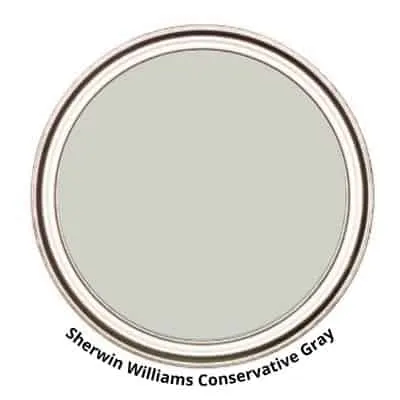 LRV:63
Conservative Gray by Sherwin Williams is a lovely light neutral gray /green option. This one is not very saturated and has a good gray base to it. Conservative Gray is one of the cooler-toned paint colors. It's fairly soft and subdued and can sometimes look particularly gray or green-blue depending on the lighting.
I love SW Conservative Gray used in dining rooms. It provides such lovely color while staying quite neutral because of that gray base.
SECRET GARDEN SW 6181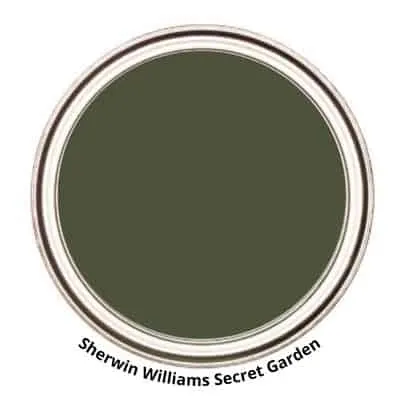 LRV:8
Sherwin Williams Secret Garden is an exquisite dark green paint color. This is not the most colorful of greens yet it has a good amount of saturation to it. This is a green that has a bit of yellow to it which makes it on the warmer side.
Secret Garden has a deep almost forest green look that works well on cabinets and exteriors.
WHY IS GREEN THE BEST COLOR?
Green is known for its natural organic look. Color experts say that the color is calming and soothing and can relax the mind. It is a refreshing color that
Green paint colors are versatile and refreshing hues. Some can be simple, while others are a bit more complex. Regardless, they are truly sophisticated and add a natural organic element to a space.
---
WHAT SHADE OF GREEN PAINT IS POPULAR?
Sage and deep hunter greens are some of the most popular shades. To be honest, most green paint colors are having their moment in time.
But as of recently, muted, earthy greens are pretty trendy. They are perfect for creating a warm and natural decor style.
I also want to mention that both Sherwin Williams and Benjamin Moore choose a shade of green as their color of the year for 2022
Sherwin Williams Evergreen Fog which is a mid-toned green/gray that has a splash of blue in it.
Benjamin Moore October Mist which is a light silvery green.
Dare I say 2022 is the year of green?
Don't start painting until you have the right tools!

SHOP MUST HAVE PAINTING TOOLS
WHAT IS THE BEST DARK GREEN PAINT COLOR?
Dark green paint colors are so captivating. They have an amazing amount of depth. They also can be so rich and luxurious feeling. This may be why people are so drawn to them.
That being said, these darker shades are my favorite.
I truthfully didn't mention too many in the list of 14 because I felt like they needed their own special section to be highlighted.
Two dark greens that you will instantly fall in love with are:
Sherwin Williams Cascades SW 7623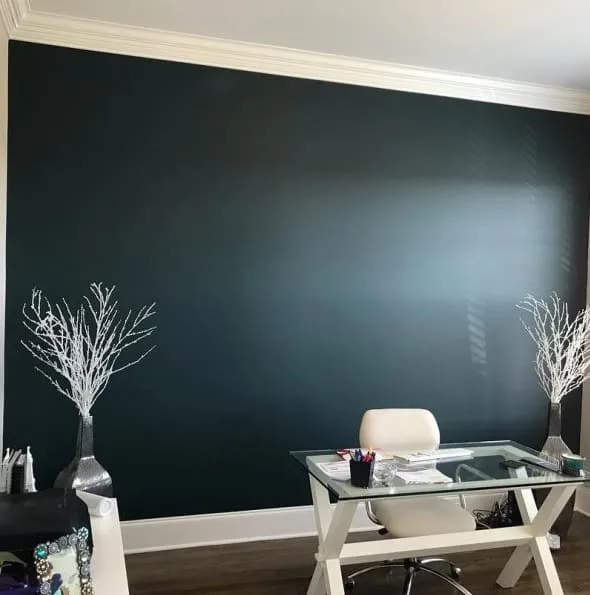 Benjamin Moore Salamander 2050-10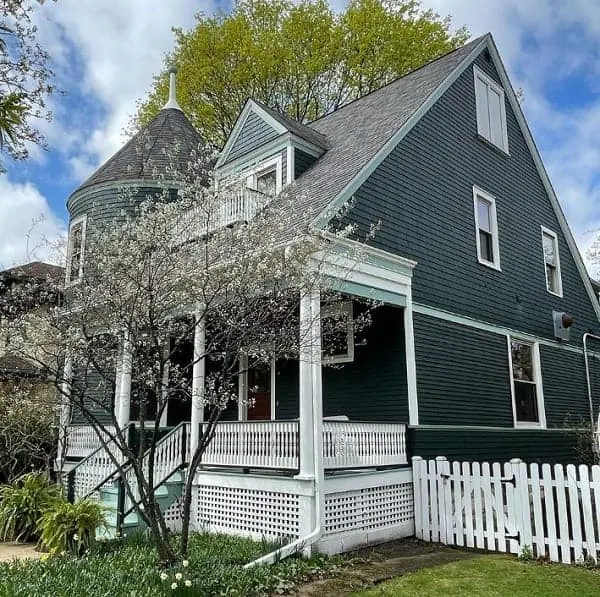 You can clearly see why dark shades are so beautiful. These pictures say it all.
WHERE IN THE HOME CAN YOU USE GREEN PAINT COLORS?
Green paint colors can virtually be used anywhere. According to color experts, it is one of the most calming and refreshing colors. So of course you want to use it wherever you can.
Some of my favorite places to use them are:
BATHROOM
Since green is a calming and relaxing color why not use it in the bathroom? Ro3llc on Instagram used Sherwin Williams White Mint in their bathroom.
This shade gives the bathroom a beautiful refreshing feel and really makes the subway tile pop.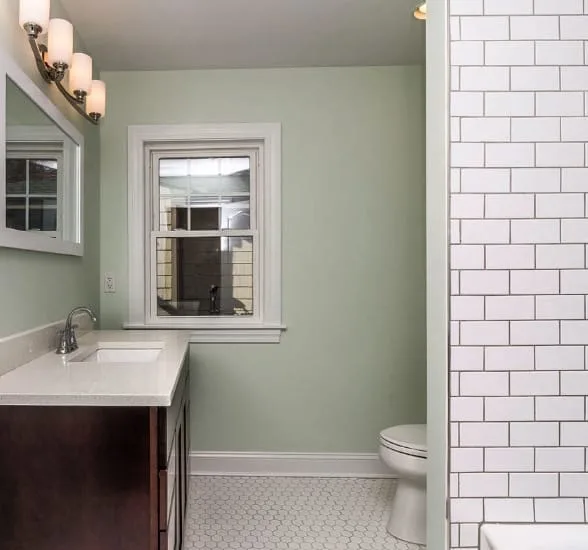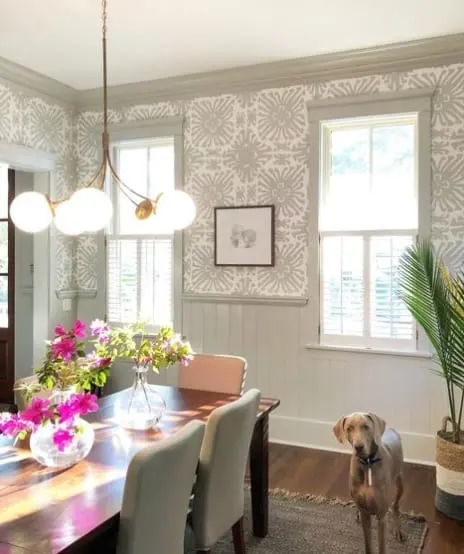 DINING ROOM
The dining room is another spectacular place to use a green paint color.
Kinielena on Instagram used Conservative Gray on the paneling, trim, and molding in her dining room.
This soft and subtle color is the perfect addition to the space.
KITCHEN CABINETS
The kitchen cabinets are a fantastic place to use a green paint shade. It adds a true pop of color without being too in your face.
gardnercreativeco on Instagram also GardnerCreativeCo on Etsy use Sherwin Williams Pewter Green on her cabinets. I think that color was made for the cabinets, absolutely stunning!
RECAP- 14 BEST GREEN PAINT COLORS
SAYBROOK SAGE HC-114
GRAY CASHMERE 2138-60
SEA HAZE 2137-50
CEDAR MOUNTAINS 706
CRYSTALLINE AF-485
PRESCOTT GREEN HC-140
HUNTER GREEN 2041-10
EVERGREEN FOG SW 9130
ROSEMARY SW 6187
SENSIBLE HUE SW 6198
WHITE MINT SW 6441
SAGE GREEN LIGHT SW2851
CONSERVATIVE GRAY SW 6183
SECRET GARDEN SW 6181
FINAL THOUGHTS- THE BEST GREEN PAINT COLORS
Having been a non-green color lover, I have to say I feel like I have missed out. I'm so impressed by these colors! Will this change the fact that I still refuse to wear the color? Maybe, but I will, however, use more green in my home.
I think the key to using green paint is finding the right shade for you. Obviously, not all greens are the same.
Some are muted, others a bit more vibrant, some are dark and some are light. Do you catch my drift?
It's all about finding the one that works best for your home.
If you want to explore the world of green paint colors, I say start by checking the 14 I mentioned. They are all gorgeous and usable shades that will add a sophisticated charm to any place you use them.
It's safe to say I have officially been converted into a fan. I think it's a great alternative to the familiar neutrals we know (and love).
If you're looking for a change, a green paint color on your walls may be what you need!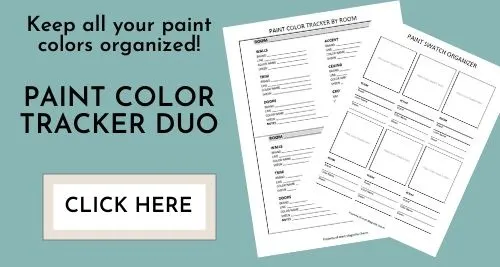 Are you planning on tackling a painting project on your own? Use these tips to help you paint your room like a pro.
Do you want to paint like a pro?
Get the painting tools the pros use.
Drop cloths are a must for any painting project. Paint is messy! Save yourself the hassle of unnecessary cleanup by using drop cloths. You'll be happy you did.
A high-quality paint brush will go a long way. The same goes for paint rollers. You want to use tools that will work with you, making your painting job more manageable.
RECENT ARTICLES: