I may earn money or products from the companies mentioned in this post. Please click my Disclosure Policy to learn more
Choosing the perfect paint color for the exterior of your home can be intimidating and downright exhausting. Don't let that stop you though. Follow along as I share 10 of the most popular Sherwin Williams exterior paint colors.
Time and time again I see people choose paint colors and once the paint color goes up, they realize the color is not what they expected. It happens more than you'd think.
Firstly, this is why I always suggest painting large swatches in different areas you'll be painting to get the feel of the paint color in different lighting situations.
Secondly, I find people tend to have an easier time choosing from paint colors that have been already tested and loved.
And finally, isn't everything easier when the choices are narrowed down for you? I mean who doesn't love a good list?
That should explain why I'm sharing these popular Sherwin Williams exterior paint colors with you today.
10 Popular Sherwin Williams Exterior Paint Colors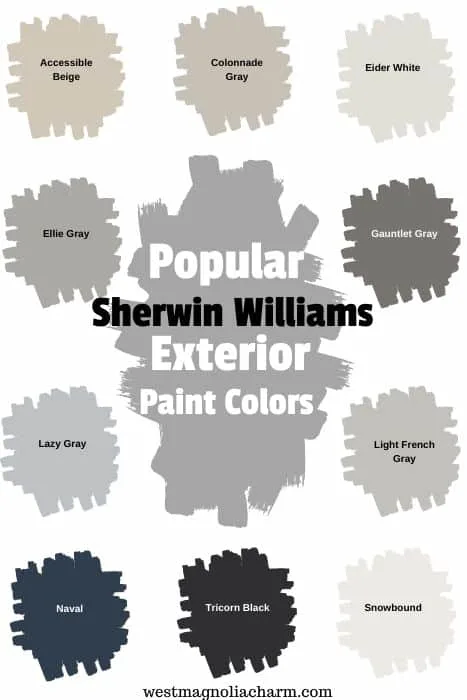 This list of Sherwin Williams exterior paint colors varies from light to dark. They are all stellar exterior paint color options you cannot go wrong with.
Sherwin Williams Light French Gray SW 0055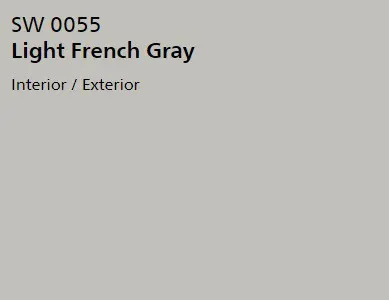 Light French Gray is an exceptional gray paint color however it's not as light as its name implies. This gray beauty is more mid-toned and it has an LRV of 53 which shows it's not reflecting a ton of light. However, used on the exterior it will look immensely lighter than being used indoors. The undertones are fairly neutral, though there are hints of blue which can make it look like a cool-toned paint color.
Light French Gray on the exterior body of a home paired with a bright white on the trim will create a gorgeous modern feel.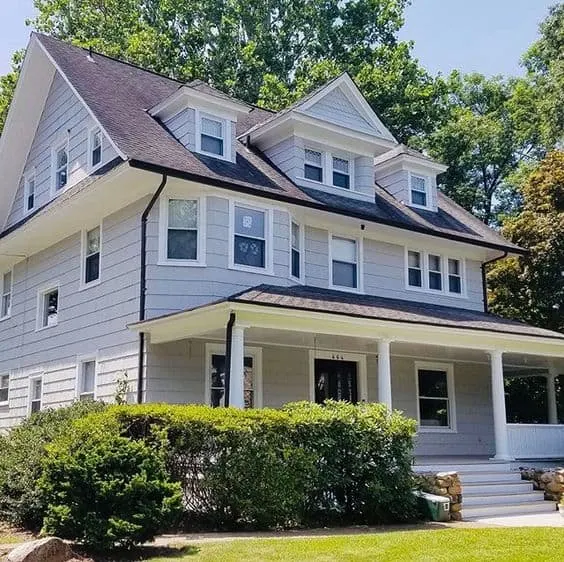 Sherwin Williams Lazy Gray SW 6254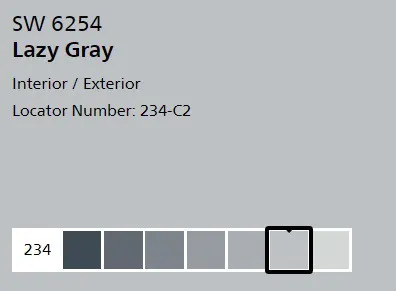 Lazy Gray, in my opinion, is not lazy at all. The gorgeous gray is working its hardest at being the perfect blue-gray color. Lazy Gray has an LRV 53, just like Light French Gray. The gray in this color helps balance the blue undertones so they don't appear too blue.
Lazy Gray is the perfect blue-gray exterior paint color.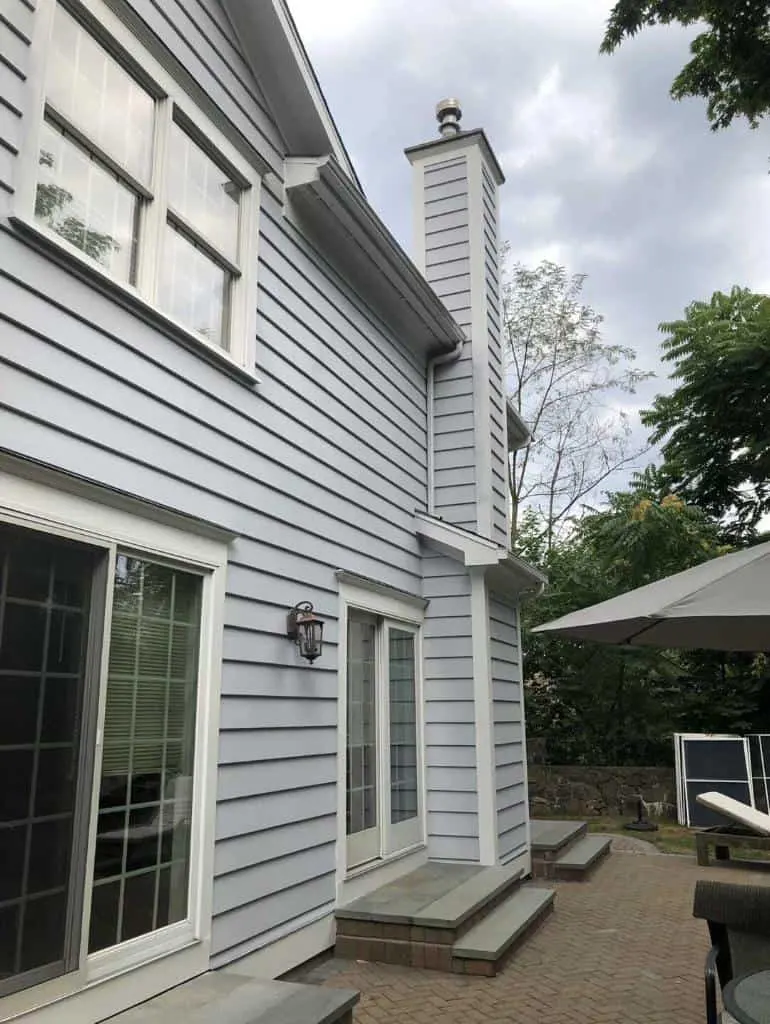 Don't forget to pick up these amazing painting tools! They will only make your life easier!
Sherwin Williams Snowbound SW 7004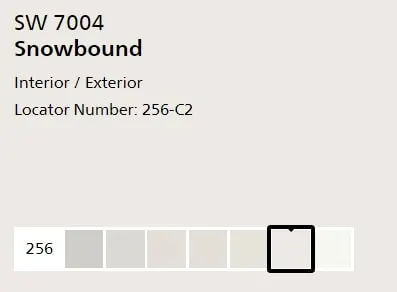 Snowbound is a beautiful crisp white paint color. Its LRV is 83, so you know it is reflecting a bunch of light as actual snow would do. Snowbound is a cool-toned paint color because of its greige undertones. Those greige undertones are what make this Sherwin Williams exterior paint color so crisp and bright.
Snowbound is stunning as the main house color along with trim in Sherwin Williams Tricorn Black.
How perfect does this modern farmhouse look with a Snowbound exterior?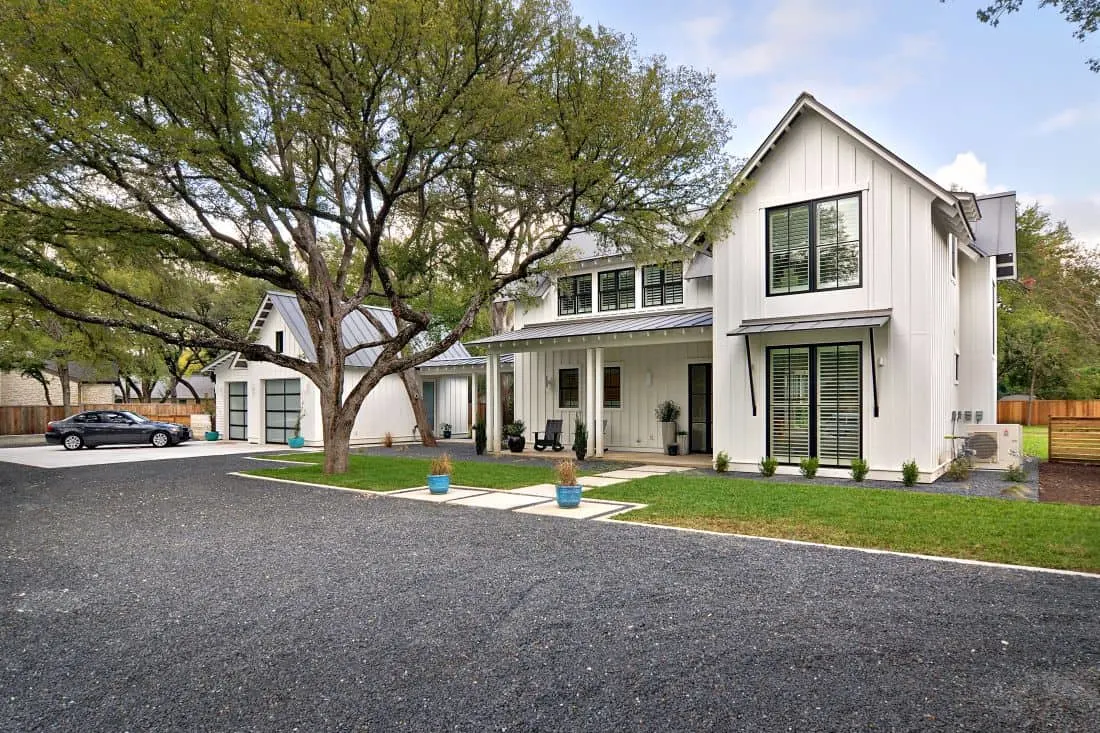 Sherwin Williams Accessible Beige SW 7036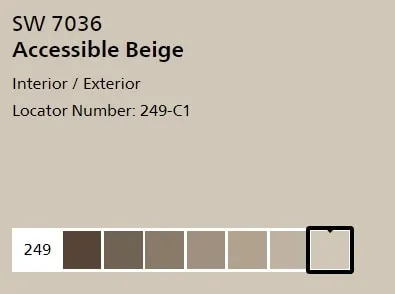 Accessible Beige is the absolute perfect color if you want a beige exterior. With an LRV of 58, Accessible Beige is on the lighter side. Now, what makes this the perfect beige? The fact that it has greige undertones, unlike typical beige undertones of yellow. The glorious greige undertones make Accessible Beige lean towards gray which is why it is the ideal neutral beige paint color for your exterior.
Accessible Beige will compliment a traditional style home, like the one in the photo below from Heather at hstinteriors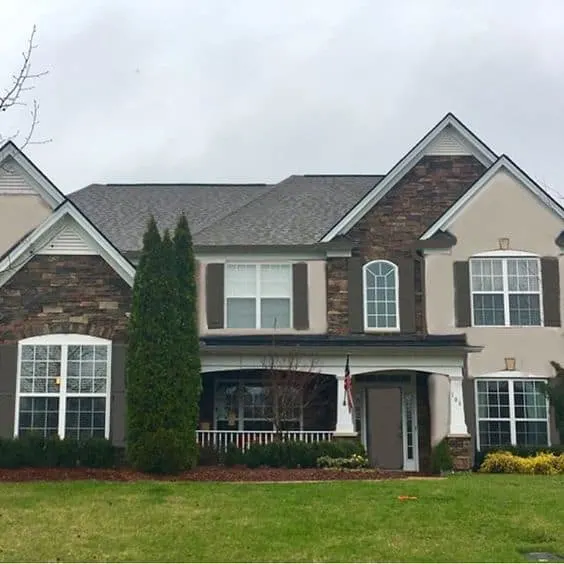 Remember to swatch your paint colors. Pick up your Samplize Peel & Stick paint samples today!
Sherwin Williams Eider White SW 7014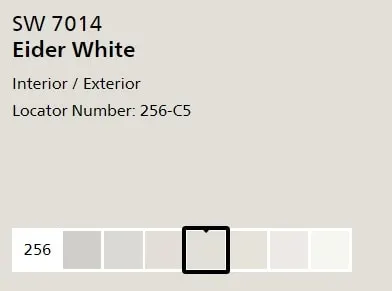 Eider White is a spectacular white paint color. The LRV is 73 which means It's fairly light-refective. Not as stark as full white, Eider White has a touch of warmth in it. It's found on my favorite paint strip along with Mindful Gray my beloved Repose Gray SW 7015, Dorian Gray, and Dovetail so it's no wonder I consider it one of the best whites for an exterior.
Not only will Eider White make your home exterior shine, but it will also add the perfect amount of charm. If you like Eider White but prefer Benjamin Moore paint, check out Silver Satin. It's similar and just as beautiful.
Photo by Artisan Custom Homes – Discover exterior home design ideas
Let's take a quick break to talk about avoiding a major painting mistake, not sampling paint colors!
Instead of physically going to your nearest paint store to grab your samples, you need to try Samplize Peel & Stick paint samples.
Why should you try Samplize?
Super affordable
Mess-free
Non-damaging
Made with real manufacturer paint
Displays color just like a wall
Environmental friendly
Reusable
These peel & stick paint samples are super affordable and allow you to test a paint color in all different areas of a room without the mess of a traditional paint sample!
You know how I feel about testing paint colors. It's a must!
Don't create more work for yourself. Order Samplize now and have them shipped directly to you. No fuss, no mess! Check them out for yourself. You won't be disappointed.
Get $5 off your first Samplize order using the code "FIRSTFIVE"
Sherwin Williams Colonnade Gray SW 7641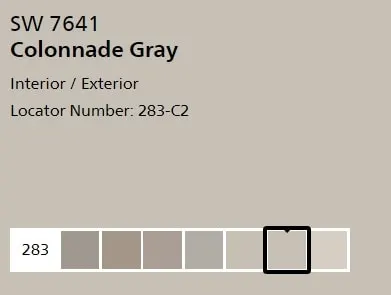 Colonnade Gray is a very interesting paint color. It has brown undertones in it which to me, gives it its warmth. However, it has the ability to look quite cool. Interesting right? The LRV is 53, just like Light French Gray and Lazy Gray. And I categorize Colonnade Gray as a mid-toned gray. If there was one way to describe this color it would be the love child of Repose Gray and SW Agreeable Gray.
Colonnade Gray is the perfect addition to any home exterior because of how wonderfully neutral it is.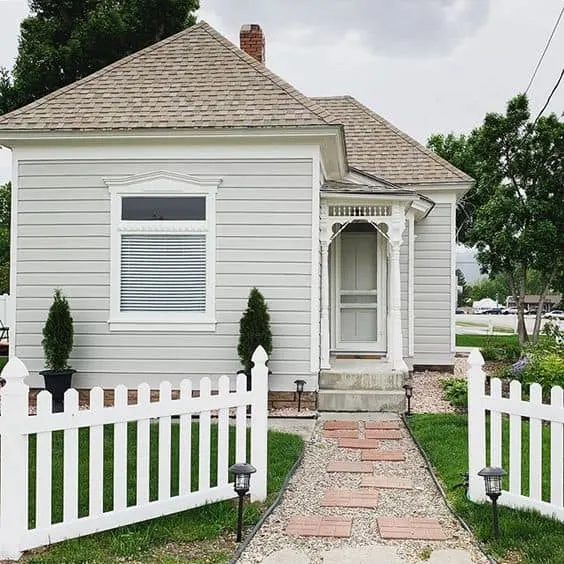 Sherwin Williams Tricorn Black SW 6258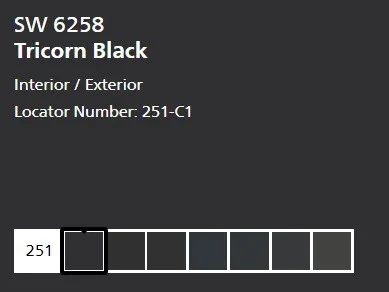 Tricorn Black is an absolute showstopper on a home exterior. This mysterious stunner only has an LRV of 3. It's not going to reflect much light, which is why it is the perfect option for the exterior of a home. Tricorn Black is the optimal black paint color because it has virtually no undertones showing. So when you think of black, Tricorn is it.
Go bold with Tricorn Black on the entire exterior of your home or add just a pop by adding it to the trim and your front door.
READ MORE: THE BEST BLACK PAINT COLORS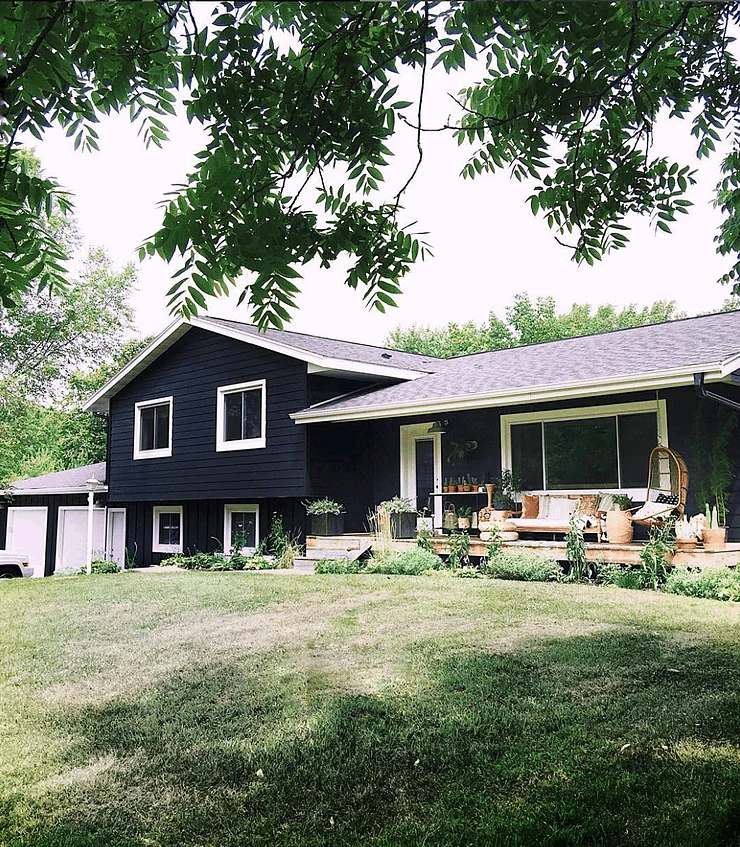 ---
Interested in More Paint Colors?
---
Sherwin Williams Naval SW 6244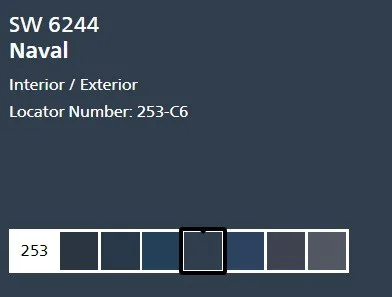 Naval is by far the closest paint color Sherwin Williams has which is a true navy blue. This blue beauty only has an LRV of 4 but on the exterior, that's not too concerning. Naval has an almost velvety look, giving it the most luxurious feel.
Using Naval on the exterior of your home will certainly turn some heads. Of course in the best possible way.
READ MORE: 12 FANTASTIC BLUE EXTERIOR PAINT COLORS
Sherwin Williams Ellie Gray SW 7650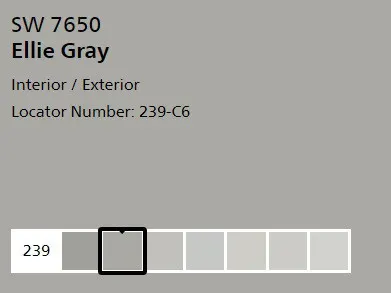 Ellie Gray is truly a beautiful gray paint color. This stunner is more of a light to mid-toned gray that has a great balance of warm and cool tones. It has an LRV of 40, which is just about in the middle of the spectrum. Ellie Gray on the exterior is the perfect option when you want a gray paint color that isn't too cool-toned.
Ellie Gray works gorgeously on homes of all different styles.
In the picture below, Ellie Gray is used as the main color along with Eider White on the trim and Gauntlet Gray on the shutters.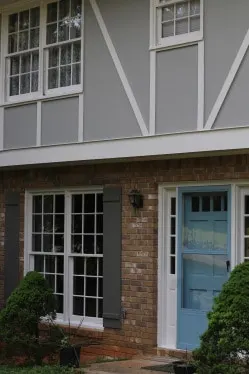 Sherwin Williams Gauntlet Gray SW 7019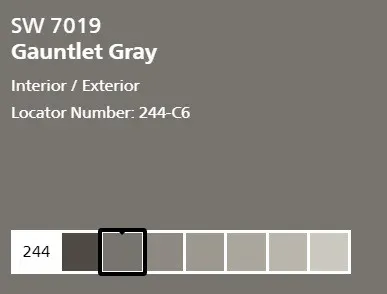 Gauntlet Gray is an outstanding paint color. This bold dark gray only has an LRV of 17. But that's nothing to worry about when you are using it on your exterior. Gauntlet Gray has undertones that are brown- taupe and it's more of a cooler toned color. If I had to describe Gauntlet Gray, I say it's the perfect charcoal paint color.
Gauntlet Gray works wonders on the exterior of a home. Pair it with bright white trim to really make it stand out.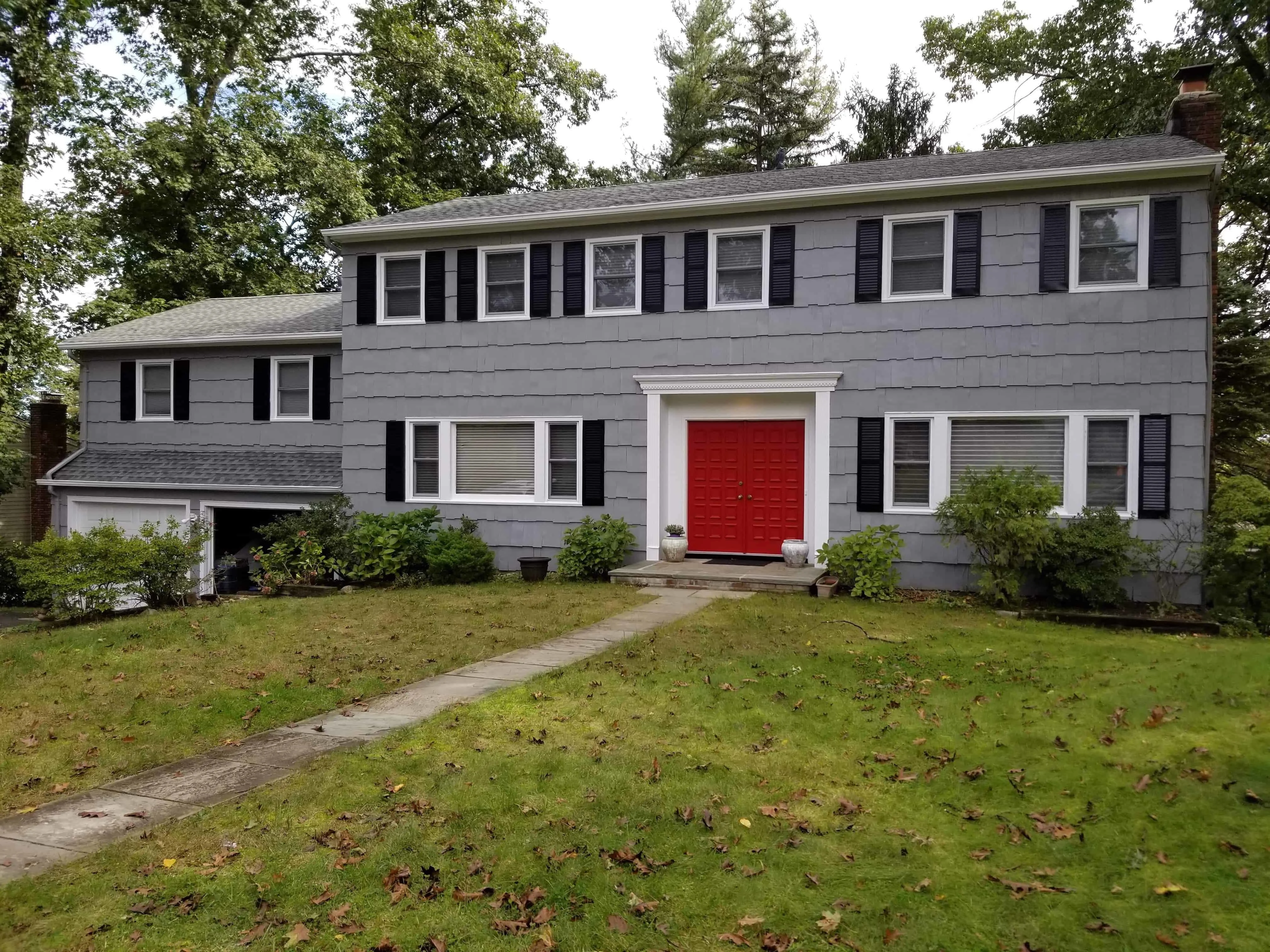 The Best Sherwin Williams Exterior Paint Colors
Check out more paint color inspiration on my Pinterest page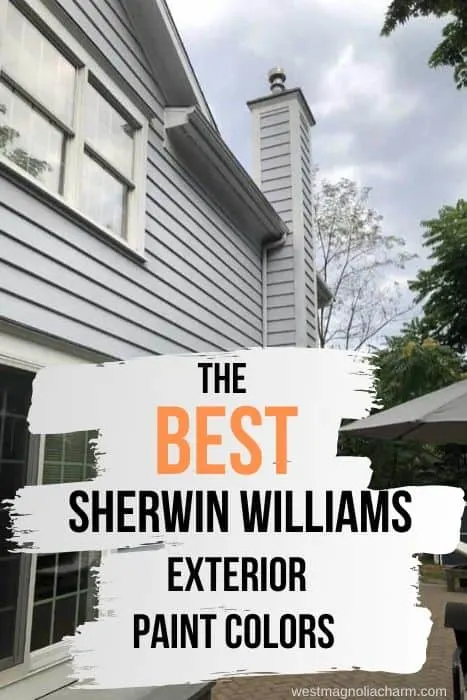 Sherwin Williams Exterior Paint Colors Honorable Mentions.
You know I couldn't go through an entire post without mentioning a few of my favorite staple paint colors from Sherwin Williams. They work beautifully both indoors and outdoors. These are the paint colors everyone knows and loves. They are also all over Pinterest and once a color is on Pinterest, you know it is a big deal.
Don't forget about your front door! I have a few awesome front door paint color options that can be paired with any one of these SW exterior paint colors.
Don't start painting until you have the right tools!

SHOP MUST HAVE PAINTING TOOLS
As I close this out, there are a few things I'd like to add regarding Sherwin Williams's Exterior Paint Colors.
First and foremost, the color you see on the computer screen will look different in a real swatch. That's why I always suggest painting swatches so you can see firsthand how the color will truly look. Choosing the wrong paint color is an expensive mistake you do not want to make.
*Try Samplize to easily test out your paint colors.
Secondly, you want to keep in mind that when you are choosing a Sherwin Williams exterior paint color, the color will look lighter on the exterior. This is because it's outside in the sunlight. So again, swatch some colors you originally like and a few that are a shade darker. You'll be surprised at how light some of the darker colors will look.
Finally, the type of siding you have determines what type of paint can be used on the exterior. Vinyl siding requires a special type of paint. Sherwin Williams carries a vinyl-safe paint line in an array of beautiful colors to choose from. This is something your painting contractor should know, and if not it's time to find someone who does!
Pick up your own Sherwin Williams paint deck.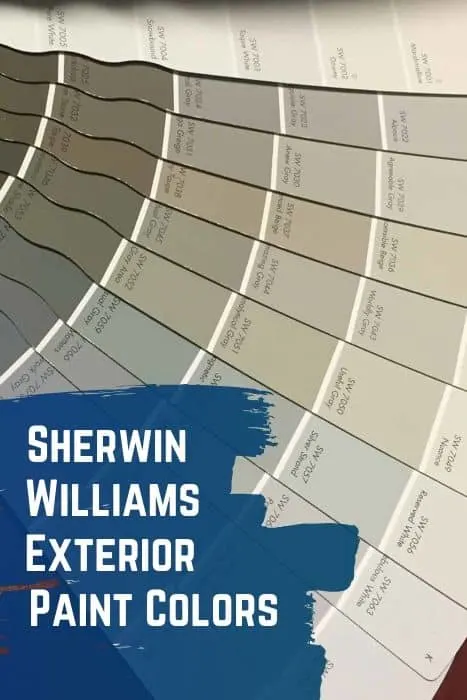 MAKE SURE YOU HAVE THE RIGHT TOOLS BEFORE YOU START PAINTING!
GET THE PAINT TOOLS THE PROS USE!
More Articles to Check Out: