I may earn money or products from the companies mentioned in this post. Please click my Disclosure Policy to learn more
Blue is one of the top paint colors for a home's exterior. It's a great option because there are so many different shades and hues of blue to choose from. Whether you are looking for a light or a dark blue, vibrant or muted, there is no doubt in my mind that you won't be happy. Blue exterior paint colors will make your home welcoming, inviting, and downright gorgeous.
Hello all!! Thanks so much for stopping by. Believe it or not, we are chatting about paint colors today. Shocking right? Not at all, but that's why you are here.
I'm switching things up a bit and I'm talking about 12 really unique blue paint colors for the exterior.
Summer is an excellent time to tackle outdoor tasks such as painting the exterior of your home. So I wanted to share a few really amazing blue colors just in case you were searching for the perfect blue for your home.
IS BLUE A POPULAR COLOR FOR THE EXTERIOR?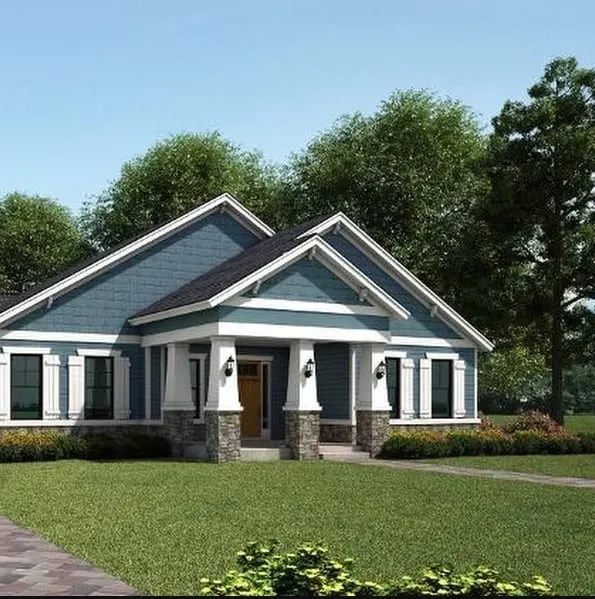 I'm going to say yes to this. Blue houses are very popular right now. Being in the painting business, I have seen blue and blue-gray become increasingly popular for the exterior. And I can see why. Blue is a calming and elegant color.
Another reason why blue is a popular paint color for the exterior is that it is easy to coordinate with. For example, blue looks stunning with both wood tones and stonework.
Choosing the right color blue can do wonders for your home's curb appeal. And like they say first impressions are everything.
WAIT! Before you start painting make sure you have the best painting tools to make your job easier. It will take hours off your painting time!
DO EXTERIOR BLUE HOUSES SELL WELL?
There is no straight answer to this question. It honestly depends. Because I sincerely was curious whether or not blue houses sell well I decided to ask a few realtors their thoughts. Here are some of the answers I received.
The answer depends on the exact color. When our daughter painted her house blue about 50 people called to get the exact paint color.

Don Baker
Lake Sinclair Specialist
location_on Eatonton, GA — Lane Realty
Independent Brokerage
I don't think they sell poorly. Compared to home in the community I'd say blue homes sell just as well as others. I can only think of one buyer who told me she doesn't like the color blue. As a matter of fact, I've had several buyers choose blue while building.

Carla Freund
Carolina Life RealEstate & Relocation 919-602-8489
They do in my hometown of San Francisco!

Thomas J. Nelson, REALTOR ® e-Pro CRS RCS-D Vets
Lots of variables. I think it would depend on the shade of blue and the type of house. BUT it certainly would sell better than pink…lol

Doug Dawes
Your Personal Realtor® Georgetown, MA — Keller Williams Realty Evolution – Topsfield, MA
That would depend on the location, style of home, etc. As we often say "one size does not fit all."

Nina Hollander, Broker
Your Greater Charlotte Realtor
location_on Charlotte, NC — Coldwell Banker Realty
Coldwell Banker Real Estate LLC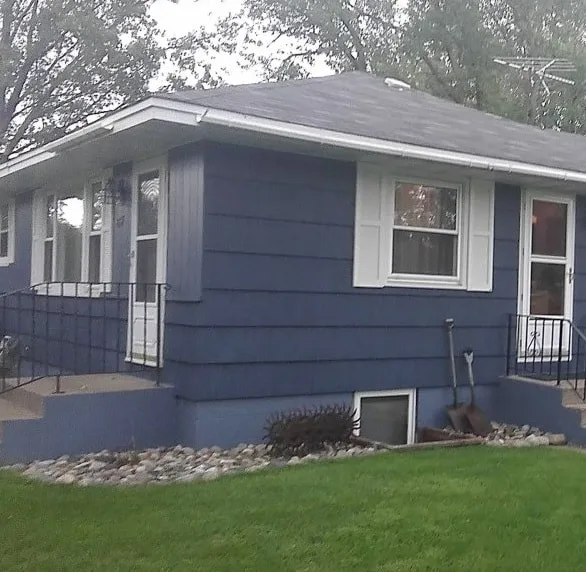 Basically whether or not a blue house will sell well depends on location, style of the home, color preference, etc.
I have noticed that in my area there has been a ton of new construction and the majority of these homes have been a shade of blue. Also, many people looking to paint their homes have requested blue colors.
I think if you are selling your home play it safe with a neutral paint color. However, if you are not and you love the color blue, go for it. It is your home and if that's what you like that's all that matters.
KEEP TRACK OF YOUR PAINT COLORS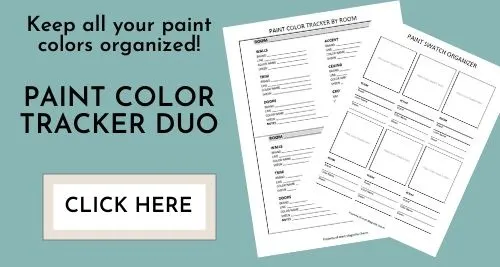 THE 12 BEST BLUE EXTERIOR PAINT COLORS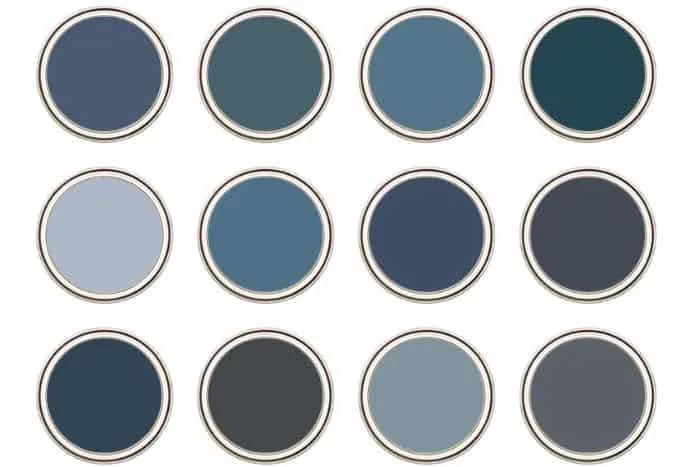 I may be biased since my favorite color is blue, but I genuinely believe these 12 paint colors are some of the best blues for a home's exterior. It was very hard to narrow the list down to only 12 however I'm happy with these blue paint colors I've settled on and I know you will be too.
There are both Benjamin Moore and Sherwin Williams paint colors on this list, a little something for everyone.
Should I just get to the actual paint colors already?
INDIGO BATIK SW 7602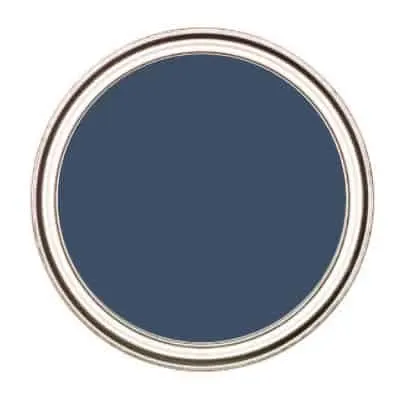 3.95 hue PB
3.72 value
2.87 chroma
Sherwin Williams Indigo Batik comes from the purple-blue hue family and has an LRV of 8.
Indigo Batik is an amazing blue paint color, especially for the exterior! It's a darker shade of blue but has a good amount of saturation to it. In other words, it definitely has colorfulness to it. It's not quite navy blue because it's a bit more colorful and not as grayed down. It has an almost nautical look to it.
Indigo Batik is a beautiful exterior blue paint color if you want to go a bit bolder than a navy blue.
RAINSTORM SW 6230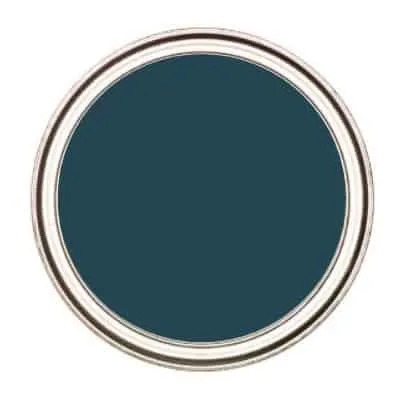 9.19 hue Blue
3.37 value
2.35 chroma
Rainstorm by Sherwin Williams comes from the blue hue family and has an LRV of 5.
If you want a gorgeous dark somewhat saturated blue paint color for your exterior Rainstorm is a worthy contender. This fantastic blue is for sure on the darker side but it has that colorfulness to it. Rainstorm is similar to Indigo Batik in that they are on the same level of darkness. Rainstorm is a smidge more saturated and leans bluer.
CYBERSPACE SW 7076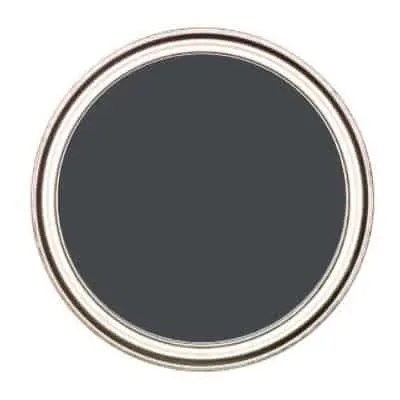 2.62 hue PB
3.62 Value
.075 chroma
Sherwin Williams Cyberspace is from the purple-blue hue family and has an LRV of 6.
Cyberspace is another fantastic color. Now, it is not the most colorful of blue. It's more like a barely there blue or a grayed blue. I wanted to add it to this list even though it's technically considered a neutral paint color. I think Cyberspace is a good exterior option for those who want a touch of blue without looking too colorful or vibrant.
Cyberspace is a great color to consider for the exterior.
GRAYS HARBOR SW 6236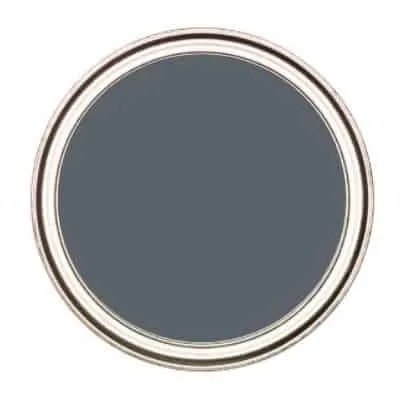 7.38 hue Blue
4.33 value
1.13 chroma
Grays Harbor by Sherwin Williams comes from the blue hue family and has an LRV of 12.
Sherwin Williams Grays Harbor is a bit lighter than the other colors that were introduced. It's also along the same lines as Cyberspace in its a bit more grayed down of a blue. It's not too colorful, more like a muted blue.
Grays Harbor is a fantastic blue exterior paint color, especially for those of you that want a little less blue.
INKY BLUE SW 1949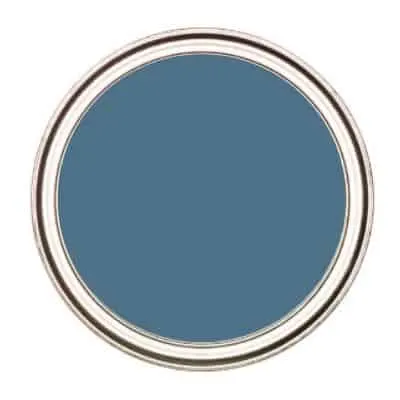 1.47 hue PB
4.62 value
4.12 chroma
Inky Blue by Sherwin Williams is from the purple-blue hue family and has an LRV of 15.
If you want a blue exterior paint color that is bold and beautiful, Inky Blue may be the paint color for you. There is no doubt that this beauty is a blue paint color. It has a significant amount of saturation to it which gives it a bit of vibrancy. It's also a bit lighter than some of the other Sherwin Williams blues on this list.
TEMPE STAR SW 6229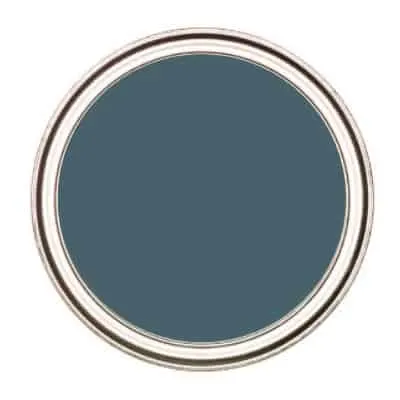 6.28 hue Blue
4.41 value
2.21 chroma
Tempe Star by Sherwin Williams is from the blue hue family and has an LRV of 11.
This is possibly one of my favorite blues from this list. Tempe Star is a very unique blue. It's not super saturated yet it's not overly grayed down. It is also one of the lighter Sherwin Williams blues mentioned here today.
There is something about Tempe Star that really pulls you in and makes you fall in love. It's the perfect shade of blue for the exterior of a home.
WHAT IS THE BEST WAY TO SAMPLE BLUE EXTERIOR PAINT COLORS?
Let's take a quick break to talk about sampling paint colors.
Not sampling paint colors is one of the biggest painting mistakes you can make. I see it happen way too often and the color you think you are getting is not the color at all.
This is why I strongly suggest you always sample a paint color.
Now, what is the best way to sample paint colors?
SAMPLIZE PEEL & STICK PAINT SAMPLES of course
Instead of physically going to your nearest paint store to grab your samples, you need to try Samplize Peel & Stick paint samples.
Why should you try Samplize?
Super affordable
Mess-free
Non-damaging
Made with real manufacturer paint
Displays color just like a wall
Environmental friendly
Reusable
These peel & stick paint samples are super affordable and allow you to test a paint color in all different areas of a room without the mess of a traditional paint sample!
You know how I feel about testing paint colors. It's a must!
Don't create more work for yourself. Order Samplize now and have them shipped directly to you. No fuss, no mess! Check them out for yourself. You won't be disappointed.
Get $5 off your first Samplize order using the code "FIRSTFIVE"
AMSTERDAM AF-550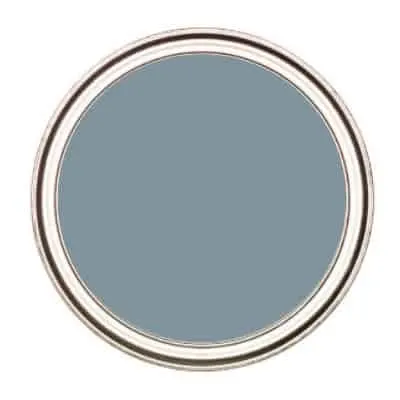 8.94 hue Blue
5.90 value
2.20 chroma
Benjamin Moore Amsterdam is from the blue hue family and has an LRV of 29.21.
Amsterdam is one of the lighter blue colors on this list. It's not super-saturated, it has more of a blue-gray feel to it. You can even consider it to be a stormy blue. I like this blue for the exterior because it's not only lighter but is also more toned down. Amsterdam isn't really an "in your face" type of blue. It is more subdued and elegant.
READ MORE: THE BEST BLUE GRAY PAINT COLORS
GENTLEMENS GRAY 2062-20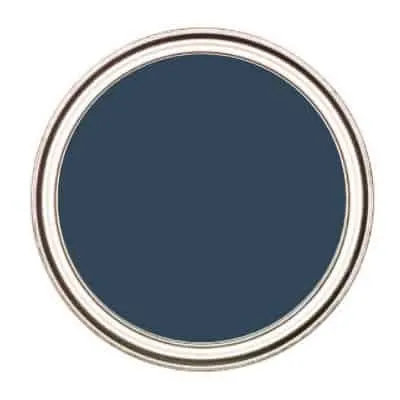 .87 hue PB
3.31 value
2.38 chroma
Gentlemens Gray by Benjamin Moore is from the purple-blue hue family and has an LRV of 7.26.
Benjamin Moore Gentlemens Gray is another spectacular dark blue paint color. This is actually the darkest blue on the list. This blue beauty doesn't have a lot of saturation but enough to come off as a blue. It's not quite a navy blue color but it's close.
NOVEMBER SKIES 2128-50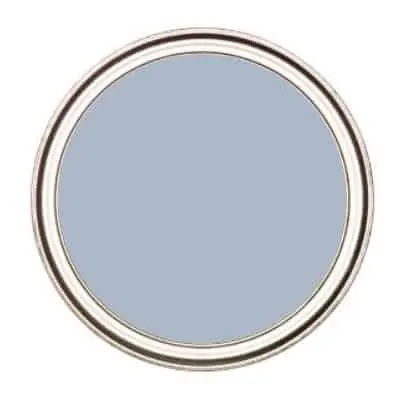 2.60 hue PB
7.31 value
2.50 chroma
Benjamin Moore November Skies is from the purple-blue hue family and has an LRV of 48.55.
November Skies is the lightest blue paint color mentioned today. This is a beautiful uplifting color that is calming and welcoming. It's not the most saturated or vibrant. It has more of a muted feel to it. The color is subtle but there. This is one exterior blue paint color that you have to check out.
HALE NAVY HC-154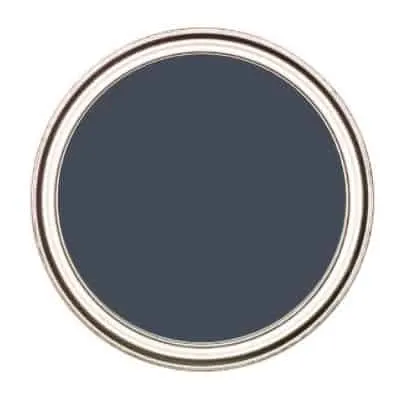 3.49 hue PB
3.44 value
1.51 chroma
Benjamin Moore Hale Navy is from the purple-blue hue family and has an LRV of 8.36.
Hale Navy is one of Benjamin Moore's most popular blue paint colors. And I see why. This blue is not a vibrant blue, definitely has more gray in it to give it more of a navy blue appearance. It's a pretty dark blue but on the exterior (like all colors) it will appear lighter in the sunlight. I feel like Hale Nave is a classic and timeless blue.
VAN DEUSEN BLUE HC-156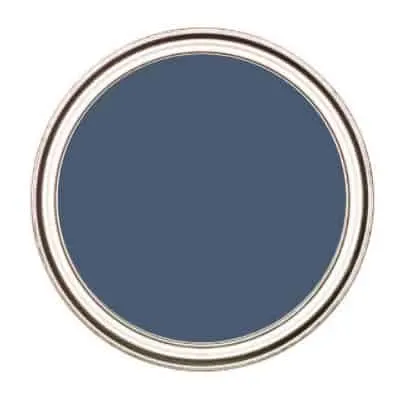 2.70 hue PB
3.88 value
3.01 chroma
Van Deusen Blue by Benjamin Moore is from the purple-blue hue family and has an LRV of 11.97.
Benjamin Moore Van Deusen Blue is a fantastic blue option for the exterior. This color is on the darker side but it has a lightness to it that doesn't make it feel too heavy. It's not an overly colorful blue. There is a good amount of gray in it to keep it from looking too vibrant. It's leaning toward the navy blue side however it's not quite there.
SCHOONER AF-520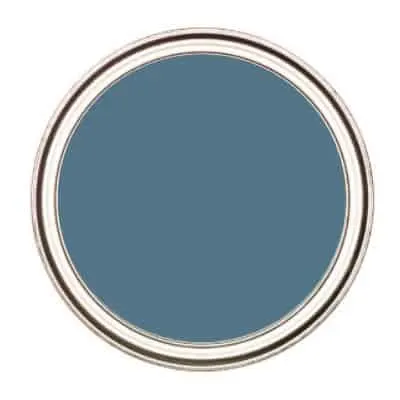 7.75 hue Blue
4.78 value
3.50 chroma
Schooner by Benjamin Moore is from the blue hue family and has an LRV of 18.13.
Benjamin Moore Schooner is such a fun blue. It's not too dark and it has a decent amount of colorfulness to allow it to be a blue paint color. I believe this blue was appropriately named because I see this color and I think of sailing. This stylish blue gives off a nautical vibe that perfectly suits its name.
Doing some painting yourself? Make sure you pick up this essential painting tool!
WHAT COLORS GO WITH A BLUE HOUSE?
Blue is really such an easy color to coordinate with. Especially the blue and blue gray paint colors mentioned in this list.
Let's start with the most obvious, white. White is the perfect complement to blue. It's a popular trim paint color choice. This includes clean crisp whites, off-whites, and warm whites. A few of my favorite white paint colors are Shoji White, Chantilly Lacy, White Dove, Alabaster, and Greek Villa.
READ MORE: THE BEST WHITE TRIM PAINT COLORS
This also may be obvious but, gray and black paint colors also work with blue. The neutrals are always a great option.
READ MORE: THE BEST BLACK PAINT COLORS
As for colors, yellows, and oranges are great options. These bolder colors are fantastic options for front doors.
Different shades of blue are also great. This will give you a monochromatic palette that is truly always pleasing.
Finally, blue works great with wood tones and stoneworks, so if you have these on your exterior test out a few blue paint colors for the exterior of your home.
RECAP- THE 12 BEST BLUE EXTERIOR PAINT COLORS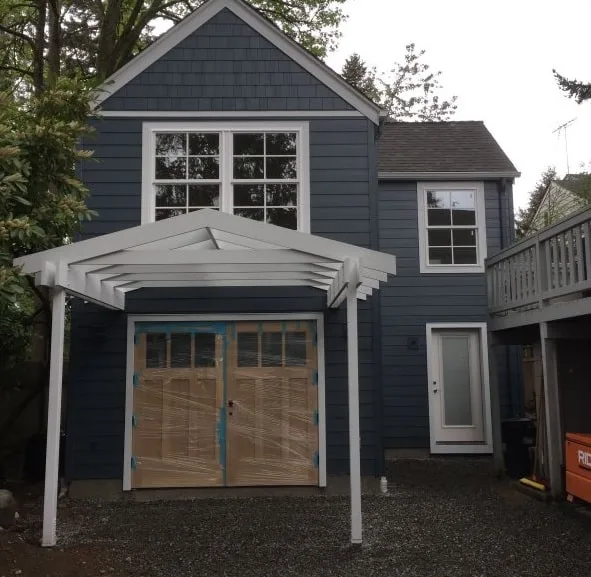 As a quick refresher, here are the 12 blue exterior paint colors that were mentioned in this article.
INDIGO BATIK SW 7602
RAINSTORM SW 6230
CYBERSPACE SW 7076
GRAYS HARBOR SW 6236
INKY BLUE SW 9149
TEMPE STAR SW 6229
AMSTERDAM AF-550
GENTELMENS GRAY 2062-20
NOVEMBER SKIES 2128-50
HALE NAVY HC-154
VAN DEUSEN BLUE HC-156
SCHOONER AF-520
FINAL THOUGHTS
I wholeheartedly love every color I mentioned today. I mean I painted my house the best teal blue paint color ever. Blue is my favorite color so that may be a factor. But I'm telling you blue houses are so beautiful.
I think blue is a form of a neutral. Let me clarify a little. Shades of blue that aren't super colorful or saturated are very similar to neutrals. They tend to work with just about any color and they aren't in your face.
Still a little unsure? Take a look at a color like SW Lazy Gray, colors like this are in the blue-gray category and lean a bit grayer.
I think if you are looking for an exterior paint color and you like the color blue, one of these 12 blue paint colors I mentioned may be the right fit for you.
Remember to sample your paint colors first! You want to be 100% positive about the color and that it will work for your home.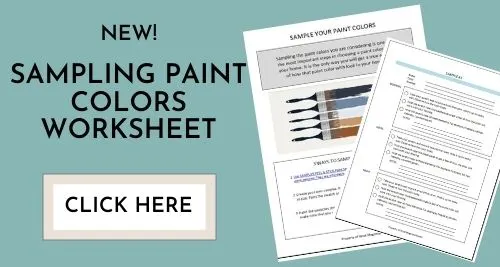 SUBSCRIBE TO MY EMAIL LIST AND GET A FREE COPY OF MY INTERIOR PAINTING CHECKLIST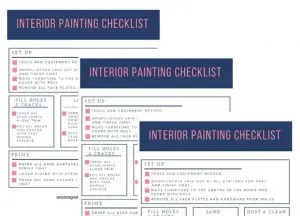 RECENT ARTICLES: