I may earn money or products from the companies mentioned in this post. Please click my Disclosure Policy to learn more
Drift of Mist SW 9166 is one of Sherwin Williams best selling paint colors. It's a light neutral gray that is well-balanced in tone and has an airy appearance to it.
Hello all! Thanks for joining me for another paint color review.
If I was clever I would have come up with a fun name for this paint color series I have unofficially started. The fact is, I am not clever and I right this moment, realized that this is a series.
Please excuse any rambling that may happen throughout this review. It's a full moon tonight and I am feeling in a weird mood.
ANYWAY, I'm here to talk about a fantastic paint color.
I picked this particular paint color because while I was composing my most recent post about Spring Inspired Paint Colors, it was one of the colors included.
It's funny because this is a popular paint color but for some reason, I always forget about it and I shouldn't because it's so wonderful.
OK today we are reviewing the absolutely stunning
DRIFT OF MIST SW 9166
STATS
I always like to start my paint color reviews with a feel stats on the paint color. Some of these things can be helpful in deciding whether or not Drift of Mist is a good option for you, and some are just for fun.
LRV: 69
Hue Family: Yellow
Color Collections: Color ID (Creative), Living Well (Renew), Top 50 Colors, Finest Whites & Neutrals (Finest Whites)
Let's start with LRV; what in the world is it, and why does it matter?
LRV, or Light Reflectance Value, is a measurement commonly used by design professionals that measures the amount of light reflected from and absorbed by a surface. LRVs range from 0 -100, with 100 being pure white and 0 being absolute black.
A great article I found that has more in-depth information about LRV is Light Reflectance Value: What Do Those Numbers Mean?
Essentially, Drift of Mist has a highish LRV of 69. So you can expect it to reflect a good amount of light.
I think it's worthwhile to know what the hue family of a paint color is. This is because it gives you a bit of insight into where the paint color derives from. It can also help you look out for what color it may shift to or show in certain qualities of light.
Drift of Mist comes from the yellow hue family.
As for the color collections, this certainly is not necessary information. Nevertheless, it's always fun to see what other colors are also in the collection.
DRIFT OF MIST COLOR STRIP
Gossamer Veil SW 9165
Drift of Mist SW 9166
Gray Clouds SW 7658
Mineral Deposit SW 7652
Gris SW 7659
Earl Gray SW 7660
Homburg Gray SW 7622
WHAT COLOR IS SHERWIN WILLIAMS DRIFT OF MIST?
Drift of Mist is a light neutral gray paint color.
Sherwin Williams describes it perfectly.
This airy, inviting gray feels just right in any space. An ideal neutral that won't appear too dark in areas lacking natural light.

Sherwin Williams
I have to agree that this is such an airy inviting gray. It is well-balanced which makes it overall a super versatile gray.
IS DRIFT OF MIST GRAY OR BEIGE?
SW Drift of Mist is a gray paint color. I can see why this question is asked because it has both warm and cool tones. Some call it a greige. But it is a gray.
IS DRIFT OF MIST A WARM OR COOL PAINT COLOR?
Drift of Mist is a warm paint color. It does however have cool tones too but it leans more towards warm.
Simply looking at the paint swatch, it looks like a light warm gray paint color.
But remember, the way a paint color looks on a small paint chip is not an accurate representation of how it will appear on your walls. The small paint chips are dyed to match the paint colors, they are not the actual paint. This is why I always say you have to sample your paint colors!
You can expect to see Drift of Mist looking a bit grayer in cooler north-facing light and a bit more greige in warmer southern-facing light.
WHAT UNDERTONES DOES DRIFT OF MIST HAVE?
This is the question we have all been anxiously awaiting, what are the undertones? SW Drift of Mist has some green undertones.
Let it be known that undertones in paint colors can really rile people up. The thing is that undertones and the colors you see a paint color present are subjective. Everyone may see something different.
This could be the cause of the lighting, the colors of the fixed elements in a space, decor colors, and even what colors are outside a window. These all play a part in how a paint color will look.
But in regards to Drift of Mist, I have seen it show some green, subtle but there.
DRIFT OF MIST LIGHTING & CARDINAL DIRECTIONS
I know I keep saying lighting plays a very large part in regards to how a paint color will look. And it is true. The lighting among other details will play a role in how a color will look painted on your walls.
As you may know, as the sun moves throughout the day, so does its intensity. So basically the position of the sun will determine what color light it will project.
Let me give you a quick rundown of the four cardinal directions and how the sunlight appears.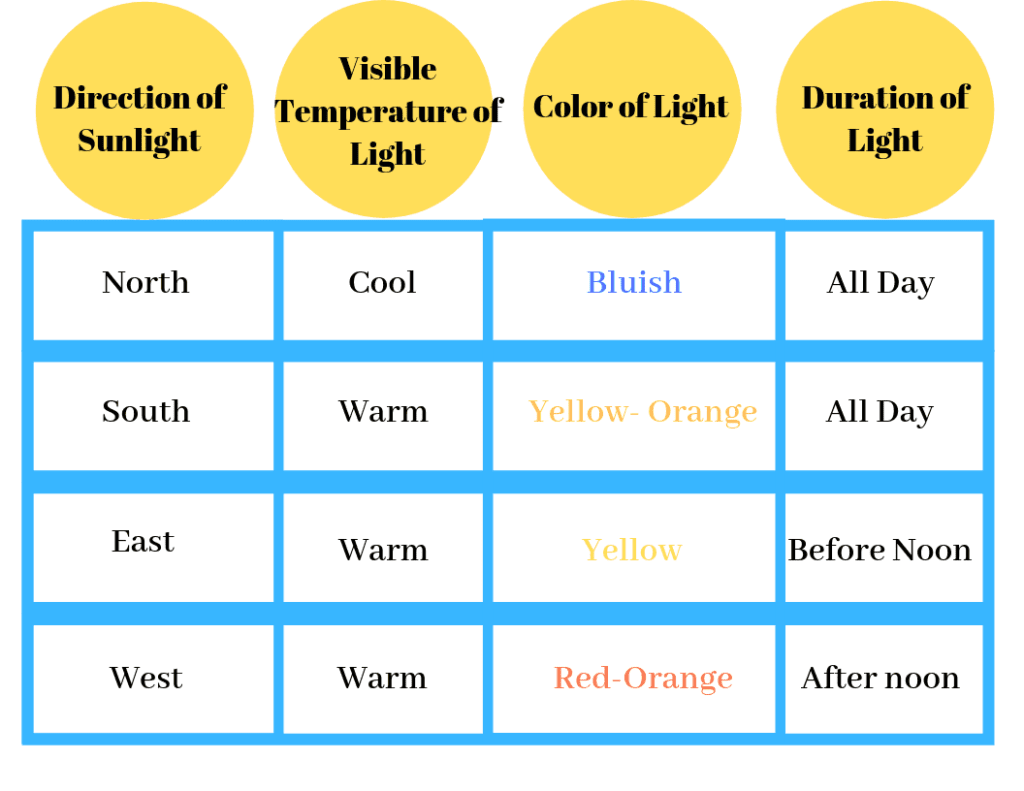 North-facing rooms – Light in North-facing rooms comes off cooler and sometimes somewhat bluish. Lighter colors appear more muted, while bolder colors will show up, or appear better. North-facing light can cool down warmer colors.
South-facing rooms– In South-facing rooms, there tends to be a consistently bright light throughout the day. Warm and cool tones work with south-facing light. This light intensifies colors, so darker colors will seem more vivid while softer colors will almost look like they are radiating.
East-facing rooms– East-facing rooms have the brightest light in the mornings, with a yellow-orange tone. If an east-facing room will be used regularly in the evenings, going with a warm palette will help to offset the lack of natural light.
West-facing rooms– Early evening is when West-facing rooms have the most favorable light. Warmer tones might seem a bit strong because of the red-orange tones the light gives off. However, if the main use of the room is in the mornings, the colors won't seem as intense.
It's important to remember to always take lighting into consideration while choosing a paint color. But you cannot forget about the other elements that influence how a paint color may look. This includes fixed elements like cabinetry, flooring, tiles, etc. as well as the decor colors you choose for your home.
WHAT ARE THE BEST LIGHT BULBS TO USE?
Natural light affects paint colors and guess what? So does artificial lighting.
The color of the light bulbs you use will affect how a paint color will look in a room. And unfortunately, it's an essential detail that is frequently overlooked.
With the variety of light bulbs available and it can become overwhelmingly confusing. I mean what really is the difference between a soft white and bright white?
Thankfully finding the right light bulbs becomes easier once you know a little bit about them.
For reference, light color or light appearance is measured on the Kelvin (K)temperature scale. Lower Kelvin numbers mean more yellow light; the higher the Kelvin number the whiter or bluer light.
Remember, lower Kelvin (K) numbers = yellow light, Higher Kelvin (K) numbers = white/blueish light
I always recommend using this type of light bulb.
Be cautious of the light bulb names such as "daylight" or warm light". I'd advise against picking a light bulb by its name.
Instead, always check the package for actual facts. This allows you to choose the best bulb for you.
Don't forget, as much as lighting plays a major part in how a paint color will look at times, there are other determinants to be aware of. For instance, decor, furniture, fixtures, cabinetry, and floors. These are all elements that can affect and/or influence the way a paint color will look in your room.
BEST WAY TO SAMPLE
Sometimes I feel like a broken record but I feel so deeply passionate (dramatic much?) about sampling paint colors. There is no better way to see how a paint color will look in your home.
LEARN HOW TO TEST YOUR PAINT SAMPLE THE RIGHT WAY.
GRAB A SAMPLING PAINT COLORS WORKSHEET TO LEARN HOW TO GET THE MOST OUT OF YOUR SAMPLES
So what's the best way to sample a paint color like Sherwin Williams Drift of Mist?
SAMPLIZE OF COURSE!!!
WHAT'S THE BEST TRIM COLOR FOR DRIFT OF MIST?
Generally, some version of white is the preferred paint color for trim. That being said there are a few white paint colors that I think look so lovely with the soft and airy Drift of Mist.
A cleaner white color like Extra White pairs beautifully with DOM. Extra White is a bit of a brighter white so it provides a fantastic contrast and it really pops.
Another great trim color would be Drift of Mist. Yes for the trim and the walls. The kicker here is to use the color in different sheens to create a subtle difference between the two.
For example, use a semi-gloss finish on the trim and a flat finish on the walls. Using different finishes will provide the distinction between the two surfaces.
READ MORE: THE BEST WHITE PAINT COLORS FOR TRIM
WHERE TO USE SW DRIFT OF MIST?
That's an easy question. Anywhere. Seriously though, if you went through the steps of testing Drift of Mist in your home and you love the way it looked, then why not paint where you like?
We (myself included) tend to get so wrapped up in what others are doing and how they are using paint colors, decor, etc. We want to replicate how our favorite influencer or celebrity is using a color.
I think it's wonderful to take inspiration from others. It sparks a sort of creativity. But when we forget to do things because we love them that's when it gets fuzzy.
All I'm saying is there are no set-in-stone rules to using a paint color or decorating how you like. If you love the way it looks that's what matters.
Guys, I told you I was in a weird rambling full moon mood, and I was not lying.
KITCHEN
WALLS
BATHROOM
IS DRIFT OF MIST A GOOD EXTERIOR PAINT COLOR?
EXPLORE MORE EXTERIOR PAINT COLORS:
BENJAMIN MOORE EQUIVALENT TO SHERWIN WILLIAMS DRIFT OF MIST
This is a question I often hear, whether there is a paint color equivalent in another paint brand.
Unfortunately, there isn't.
There are colors that are so alike that they are nearly indistinguishable once they are painted on the walls. However, I have yet to find an actual dupe.
But I totally get why people want to know if there are equivalents. Occasionally, we don't have access to certain brands, and if you fall in love with a paint color from that brand you want to find it elsewhere.
Not to mention the frustration of finally finding a paint color you love only to learn you can't use it.
So for everyone interested, I have found one Benjamin Moore paint color that is similar to SW Drift of Mist
As I said close but not exact. And remember, the colors shown on the screen are not an exact representation of the paint colors.
To see the true colors, you need to sample the paint colors with real paint in your home.
SHOULD YOU COLOR MATCH?
If you decide to try your hand at color matching, that's entirely up to you.
There is nothing wrong with it, and there is a chance the color you get is exactly what you hoped for.
The reason I am hesitant about color matching is that brands formulate paint colors differently. This means that if they mix a paint color that isn't theirs, it has the potential of being slightly off.
If you are willing to give it a shot, I highly recommend starting with a sample of the color to start. This way you can see if the color is what you were expecting.
CONSTANTLY FORGETTING WHAT PAINT COLORS YOU USED IN YOUR HOME? KEEP TRACK OF THEM ALL WITH THIS HANDY PAINT COLOR KEEPER
SHERWIN WILLIAMS DRIFT OF MIST COORDINATING PAINT COLORS
Finding and creating paint color palettes can be a challenging task. That's why want to share a few coordinating paint colors with Drift of Mist.
This is not to say these are the only paint colors that coordinate well with Drift of Mist. There are many colors that can pair gorgeously with DOM.
Use these colors as inspiration to find and create your own uniquely beautiful color palette.
WAIT! Before you start painting make sure you have the best painting tools to make your job easier. It will take hours off your painting time!
COLOR COMPARISONS
Comparison is a great way to rule out colors when you are choosing a paint color. It's also helpful when you are trying to figure out the tone of a paint color.
Because of that, I want to compare Sherwin Williams Drift of Mist to a few popular paint colors to see how they stack up.
DRIFT OF MIST VS ALABASTER
Sherwin Williams Alabaster has an LRV of 82, and Drift of Mist has an LRV of 69
Alabaster is lighter and an off-white paint color
Both paint colors are from the yellow hue family
Alabaster has a bit more saturation to it. DOM is a bit more grayed down
READ MORE: SHERWIN WILLIAMS ALABASTER PAINT COLOR REVIEW
DRIFT OF MIST VS GOSSAMER VEIL
Sherwin Williams Gossamer Veil has an LRV of 62 which is lower than DOM's 69
Both paint colors are from the yellow hue family
These two colors are located on the same paint deck page
Gossamer Veil has a bite more saturation and is darker
Both paint colors have the potential to show a bit of green in certain conditions
DRIFT OF MIST VS AGREEABLE GRAY
Sherwin Williams Agreeable Gray has an LRV of 60 which is a bit lower than DOM
Agreeable Gray is darker and a bit grayer
Agreeable Gray is also more saturated
Both colors are for the yellow hue family
Agreeable Gray is more of a greige paint color.
READ MORE: FULL REVIEW – SHERWIN WILLIAMS AGREEABLE GRAY
DRIFT OF MIST VS CLASSIC GRAY
Benjamin Moore Classic Gray has an LRV of 73.36, a tad bit higher than DOM
Both paint colors are from the yellow hue family
Classic Gray is the lighter paint color of the two.
Drift of Mist has a tiny bit more saturation
These two colors are very similar. If you like one you will probably like the other
Doing some painting yourself? Make sure you pick up this essential painting tool!
RECAP
I know that was a mess of information to take in all at once. I'm sure there's a detail here and there you may have missed. It happens.
But because of that, I am going to go through a super speedy recap of everything I talked about.
LRV: 69
Hue Family: Yellow
Color Collections: Color ID (Creative), Living Well (Renew), Top 50 Colors, Finest Whites & Neutrals (Finest Whites)
SW Drift of Mist is a beautifully soft gray paint color that is light and airy
Drift of Mist is a gray paint color but in certain lighting, it may pull a bit warmer and look like a greige color
It is a warm-toned paint color
at times it can show green undertones (dependent on lighting and other elements)
the best way to sample is by using SAMPLIZE PEEL & STICK Paint Samples
looks fantastic with a white trim
it looks good used anywhere
OC-51 INTENSE WHITE is a similar Benjamin Moore paint color
FINAL THOUGHTS
Sherwin Williams Drift of Mist is a fantastic paint color! If you are into light neutral gray leaning paint colors, then I think you would be kicking yourself if you didn't give it a chance.
I get it, there are a ton of light neutral gray-ish paint colors out there but I think there is something special about Drift of Mist.
It's airy but not to the point of a white paint color. This one has some depth to it that gives it a little bit of character.
I know my opinion is exactly that, my opinion. However, I really think DOM is a fabulously soft, perfectly balanced neutral paint color. In the right conditions, this one is a winner.
Don't forget to sample your paint colors. Lighting, room elements, decor, and even what's outside a window can affect how a paint color will look. This is why it's so important to test a paint color in your home.
It's the only way to get a true sense of how it will look in your space.
RECENT ARTICLES: