I may earn money or products from the companies mentioned in this post. Please click my Disclosure Policy to learn more
A sure-fire way to tell if a paint color will work in your home is to test paint samples. It will tell you whether or not a particularly popular color is the best fit for your home. However, before you start the paint sampling process there are a few tips you should be aware of and most importantly, mistakes to avoid.
Well, well well. I bet you saw this one coming.
Yes, an entire post dedicated to testing and sampling paint colors!
Listen, I told you I am 100% pro paint sampling and I meant it.
So, today I will be sharing everything you need to know about how to test paint samples as well as some common mistakes to avoid.
Oh, I'm excited! Let's just get into it already!
I always say sample the paint colors you are considering using. I say this (always) because it's true. There is honestly no other way you will know how a paint color will look in your home. Simple as that. You must do it.
TIPS TO TEST PAINT SAMPLES
Now that I have made it abundantly clear that you absolutely must sample your paint colors, let's get into the best ways to go about doing so.
CHOOSE YOUR FIXED ELEMENTS BEFORE PAINT
The first tip is if you are planning on a renovation or you are doing a new build. It is to pick your fixed elements before you choose a paint color.
What do I mean by fixed elements? Things like:
flooring
tile
countertops
fire place stone
Basically, it is an element in a space that cannot be moved.
It's a good idea to choose these things first because they are more or less permanent fixtures in your home. You can easily swap them out if you grow tired of them. Unlike with a wall paint color which is far less problematic if you want to change that.
You do not want to choose a paint color that's in at the moment and decorate around that particular color. 9 times out of ten, you will eventually want to refresh your space with a new paint color.
Now your choices are limited because you have to find a paint color that works with the fixed elements you choose for the old paint color.
My advice? Choose fixed elements for your home that are timeless and you know you will love forever.
DON'T TEST MORE THAN 3 PAINT COLORS
My second tip to you is to not sample more than 3 paint colors. I know, I know but you love 40 paint colors. I get it, there are so many beautiful paint colors to choose from but that doesn't mean you should sample all of them.
First of all, that's way too many colors, They are bound to all be very similar and it will probably take you longer to swatch the paint colors than paint the actual room.
Stick to sampling no more than 3 paint colors. It's much, much easier to choose from 3 rather than 6 or 10. The goal here is to make your life easier, not harder.
SAMPLE SOME OF MY FAVORITE PAINT COLORS:
CREATE YOUR OWN PAINT SAMPLE BOARDS OR USE SAMPLIZE
The third tip to sampling paint colors is to create your own paint sample boards or use Samplize Peel & Stick paint samples. I prefer using these two methods because they are easy to move around a room which is crucial when testing paint colors.
To create your own paint sample board this will require your to have some supplies: foam poster board, paint brush, and of course paint.
When making your paint sample, paint 2 coats of paint on the foam board and let it completely dry (at least 24 hours). Paint tends to look darker when it's wet so in order to see the true color you need to let it dry.
If you decide making your own sample boards is not for you, then I highly suggest using a product like Samplize.
Quickly, let's talk about testing paint colors.
Instead of physically going to your nearest paint store to grab your samples, you need to try Samplize Peel & Stick paint samples.
Why should you try Samplize?
Super affordable
Mess-free
Non-damaging
Made with real manufacturer paint
Displays color just like a wall
Environmental friendly
Reusable
These peel & stick paint samples are super affordable and allow you to test a paint color in all different areas of a room without the mess of a traditional paint sample!
You know how I feel about testing paint colors, it's a must!
Don't create more work for yourself. Order Samplize now and have them shipped directly to you. No-fuss, no mess! Check them out for yourself, you won't be disappointed.
Regardless of the method, you choose, both work for the next tip.
MOVE THE PAINT SAMPLES AROUND THE ROOM
This tip works in conjunction with the previous tip. One major key to finding the perfect paint color for your home is by moving it around in different areas of the room. For example, in darker corners of a room, near the floors, by a fireplace, etc. Being able to move the swatch around allows you to see how the paint color will look just about anywhere.
OBSERVE THE PAINT SAMPLES THROUGHOUT THE DAY
This is another important step to sampling paint color the right way. Paint colors look different when they are exposed to different lighting. A gray paint color like SW Passive may look gray in the morning, but in the evening, it can look more like a blue-gray.
Lighting changes as the sun moves so of course, the light in your home won't stay the same all day. That's why having the ability to move your paint swatches around is extremely helpful.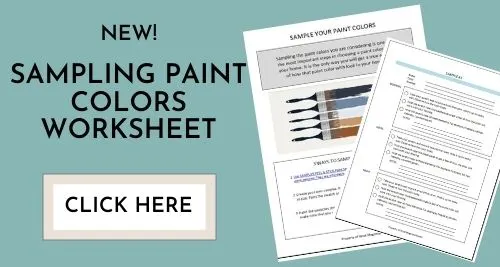 PAINT SAMPLING MISTAKES TO AVOID
With anything, mistakes can be made. Luckily for you, I'm here to tell you what not to do when you test paint samples.
DO NOT CHOOSE A PAINT COLOR IN THE STORE.
This is the first and possibly biggest mistake to avoid.
First of all the lighting in retail stores is horrendous, I should know, I worked at a Hallmark store a while back and those fluorescent lights didn't do anyone any favors.
Secondly, those small paint chips are not the true paint color. Paint chips are dyed to look like the paint color they are not the actual paint. This means it is not a true representation of the paint color. It's dang near close but not 100%.
Finally, even if the paint chip was an actual painted sample of the color, how on earth can you get a sense of how the paint color will look from that teeny tiny paint chip?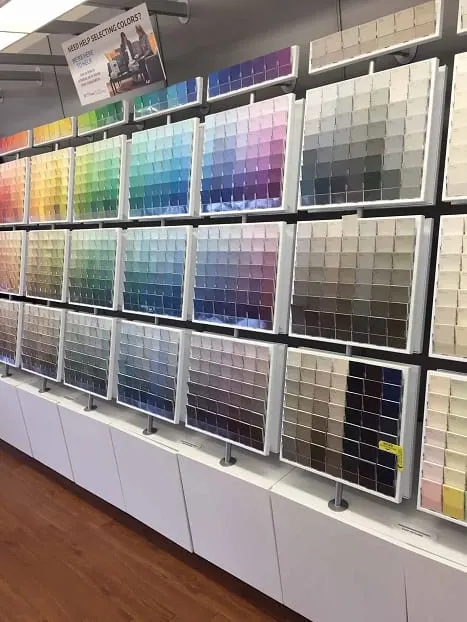 I think the paint chips are a great starting point, They are a great way to collect colors you are initially drawn to. Then from there, you move on to testing the paint samples in your home. Use the small store paint chips as a starting point to test paint colors.
DO NOT CHOOSE A PAINT COLOR FROM A PICTURE YOU FIND ON SOCIAL MEDIA
As much as I love Pinterest and Instagram, they are not how you should be choosing a paint color.
I said it before and I'll say it again, the paint color you see in the picture of other people's homes is what the color looks like in their homes. You have no clue if that paint color will look the same unless you test the paint sample color in your home.
Don't get me wrong I think being able to see the paint color in a picture is helpful for sure. It can certainly give you an idea of how the color can potentially look in your home. It's another step to choosing a paint color to test out.
SHOULD YOU TEST PAINT SAMPLE COLORS ON WALLS?
There is not a correct yes or no answer to this question. You will find a lot of designers and paint professionals divided by whether or not you should test paint samples directly on your walls.
Here's the thing, sometimes it may just work better for your to slap a sample up on the wall. Creating a sample board is admittedly more time-consuming but I do think it is the better option. And if you are buying a sample can of the paint you might as well go the extra step to create the sample board.
One of the cons that go along with testing paint colors on the walls is that your perception of the color can be skewed. Color is perceived in context, meaning it is affected by the colors next to it.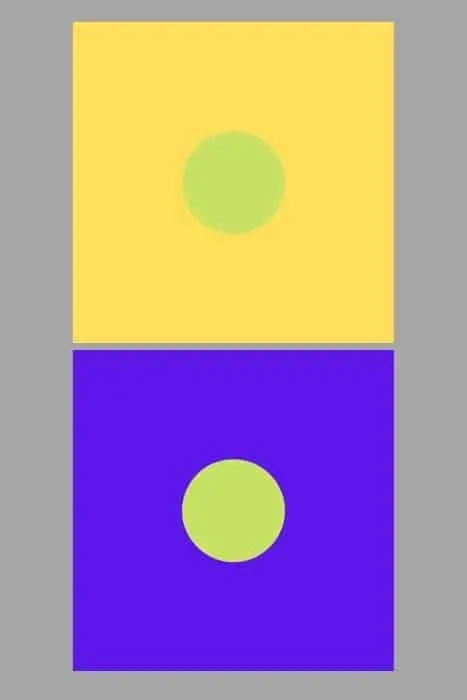 To get a better see of what I'm talking about check out the photo. There are the same green colored circles in both boxes although each with a different colored background.
The color of the circle is the same however the perception of color changes when placed against a different background.
So, if you were to put a paint swatch on a wall with an existing paint color, it will affect the way you perceive the new paint color swatch.
Another con to testing paint samples on the wall is paint build-up. Let me clarify.
When you test a paint color, it's best to use 2 to 3 coats of paint. And depending on what color you are testing you should use a primer over a vibrant color. This means you are potentially adding 4 layers of paint to one spot on the wall. It may be subtle but this can create a raised area on the wall. Once you are ready to paint the entire wall you will have a slight "bump" if you do not sand it down prior.
Simply it means it will take a lot of additional work to get rid of the swatches – sanding, cleaning priming, and applying additional coats of paint.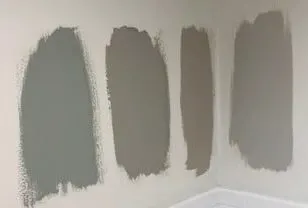 If you do decide to test paint samples on your walls beforehand then your painting project gets postponed, you are going to be stuck with paint swatches all over your walls. It's just another thing to consider.
There is a plus to testing a paint sample on the wall. And that is you get to see how the paint will look with the texture of your wall.
My take on this is to always test your paint colors. Preferably I'd recommend using Samplize or creating sample boards, however, if those are not an option sample the paint color on your wall.
HOW TO SAMPLE PAINT ON WALLS
If sampling paint on the walls is the route you choose, then use these tips to get the most out of it.
Paint large 12×12 swatches in multiple places on the wall. For example, near baseboards, stonework, tile, darker corners, and so on.
Use at least 2 – 3 coats of paint
Use a primer if you have a vibrant color currently on the wall.
Let the paint sample swatches dry for at least 24 hours.
Observe the swatches throughout the day: morning, noon, and night.
FINAL THOUGHTS – TESTING PAINT SAMPLES THE RIGHT WAY
I think it's pretty clear how I feel about testing paint colors. It is a must. It's seriously going to allow you to see what a paint color will look like in your space.
There are so many things that can affect how a paint color well looks; lighting, fixed elements, decor color scheme, and even the trees outside your windows. That being said reading about how a paint color looks truly isn't enough. You must test the paint samples!
Trust me you will be so thankful you listened to me. I've seen it way too often, someone chooses a paint color based on a picture they saw on Instagram, only to find out the hard way the color looks nothing like the picture. Now they have to 1. either live with it or 2. repaint, it's a no-win situation.
One last note, when it comes to the right way to test paint samples, I don't think there is a right or a wrong way to do so. I think the biggest takeaway here is that you should be sampling regardless of how you choose to do it. Though, I do prefer sampling with Samplize or making your own boards.
With these two methods, you can easily move the samples around the room, you can use them to compare colors for your home elements, and can even take them with you while shopping for home accessories.
I hope I have persuaded you to test the paint samples before jumping into a color. I hate to see people choosing the wrong paint color when it can easily be avoided.
---
Want a little extra help with testing paint samples?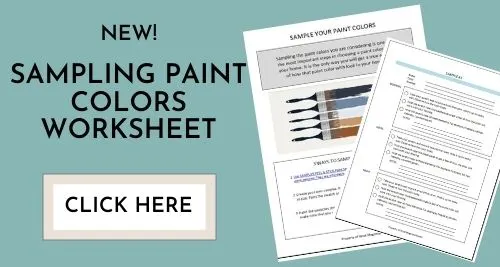 Grab the Sampling Paint Colors Checklist today!