I may earn money or products from the companies mentioned in this post. Please click my Disclosure Policy to learn more
What are the best white paint colors for trim and baseboards? Believe it or not, there is no lack of white shades in the world of paint. I can rattle off about 20 white paint colors from Sherwin Williams and Benjamin Moore off the top of my head. And I don't have the best memory so that's saying a lot.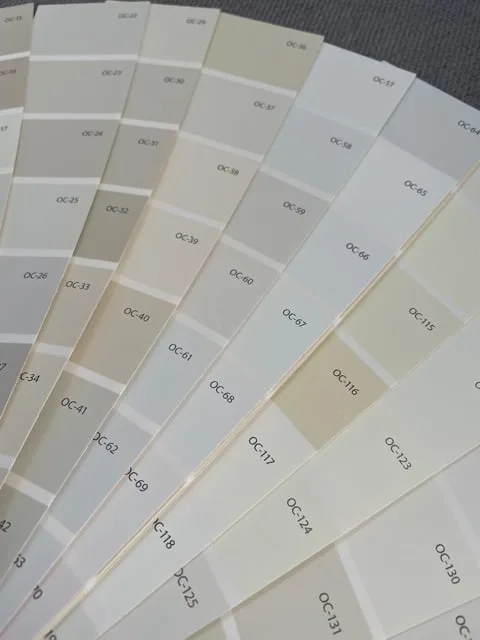 That being said, with so many options, how in the world does one choose the right white shade for the trim and baseboards in their home?
Don't worry friends, I am here to help!
Today's post has been a highly requested one. I feel like this is one of the questions I am constantly asked and with good reason too. It's about time I dedicated an entire post to it, you know?
Today is the day we are going to talk about the best white paint colors for trim, baseboards, molding, etc. (sound the air horns)! Can you tell I'm super excited to talk about this?
OK, first things first. Let me start by saying, the white paint colors I'll be sharing today are ones that I use all the time. I have used them in my home as well as my clients' homes. They are tired and true. I find that these white paint colors work well for the majority of homes. They are a fantastic place to start when you are looking for a paint color for your trim.
Without further ado,
THE 8 BEST WHITE PAINT COLORS FOR TRIM
As you already know, there are white paint colors for days. But, what are the ones for trim, baseboards, molding, etc? To ease your anxiety about choosing a paint color, I have gathered a list of the 8 best white paint colors from both Sherwin Williams and Benjamin Moore, to use on trim, doors, baseboards, molding, etc?
SHERWIN WILLIAMS EXTRA WHITE SW 7006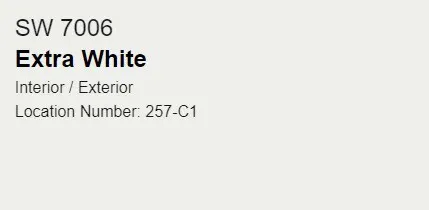 LRV: 86
Sherwin Williams Extra White is my number one favorite choice for any type of trim work. This white is considered to be a cool white. There is no warmth in it. It actually has a very slight hint of blue in it. Don't worry, you cannot see the blue at all. It's such a versatile white shade for trim because it honestly works well with all paint colors including true white and off-white walls.
I have used Extra White on the trim, baseboards, and crown molding throughout my entire home. For reference, the paint colors I used on the walls are BM White Dove, SW Repose Gray, SW Alabaster, and BM Moonshine.
If you want a clean crisp white for your trim or baseboards, SW Extra White is a great option.
BENJAMIN MOORE CHANTILLY LACE OC-65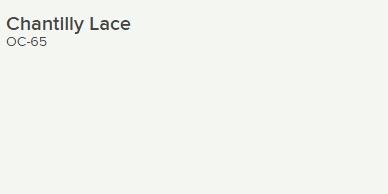 LRV: 92.2
Benjamin Moore Chantilly Lace is another favorite of mine. This is a fabulous trim paint color. Unlike SW Extra white, Chantilly Lace is more of a true white. It doesn't have any blue undertones, no warmth, it's just white. So obviously that makes it one of the best white paint options for baseboards and trim.
I find that Chantilly Lace goes with everything. It's another clean, crisp modern white that works well for trim, baseboards, doors, etc. I do believe this is one of the best Benjamin Moore trim paint color options.
READ MORE: CHANTILLY LACE PAINT COLOR REVIEW
SHERWIN WILLIAMS PURE WHITE SW 7005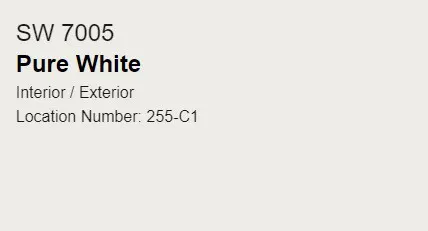 LRV: 84
Pure White by Sherwin Williams is a white paint color that I love for trim. Now, if you were to compare Pure White to Extra White and Chantilly Lace, you will see that Pure White has more of an off-white tone to it. It is a fantastic white because its undertones are very neutral, there are no glaring yellow or blue undertones. It has a bit of gray/black in it which makes it less of a blinding, stark white.
As you can see in the photo Joe & Kayla of @ournotsofarmhouse on Instagram used Pure White on the trim and board and batten. It looks beautiful and is the perfect white paint color choice.
This is a beautiful off-white trim option. It's not as bright of a white as Chantilly Lace or Extra White but it's still a clean white paint color.
READ MORE: SW PURE WHITE – FULL REVIEW
BENJAMIN MOORE WHITE DOVE OC-17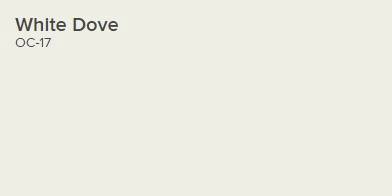 LRV: 85.38
I bet you knew this one was going to be on this list. It's both a homeowner and designer favorite. Designer Kristin Paige says "White Dove is the fabulous go-to white for my firm. Definitely. It's clean, soft and lovely; and works everywhere."
Why is White Dove a great trim paint color? Because it has a very slight pinch of warmth in it. There is a good balance of warmth and cool in this color and it gives it a soft and slightly creamy feel. The warmth White Dove has makes it a useful white trim color for homes that have warmer finishes and homes that were built during the Tuscan trend.
The subtle warmth that White Dove has makes it easy to coordinate with warmer paint colors but also helps it update the space.
READ MORE: FULL BENJAMIN MOORE WHITE DOVE REVIEW
WAIT! Before you start painting make sure you have the best painting tools to make your job easier. It will take hours off your painting time!
BENJAMIN MOORE CLOUD WHITE OC-130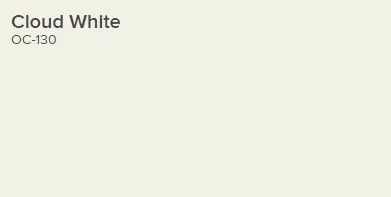 LRV: 87.35
Benjamin Moore Cloud White is a gorgeous white paint for trim and baseboards. It has an LRV of 87.35 and is described perfectly on the Benjamin Moore website as:
Lightweight and luminous, this subtle, sophisticated shade of soft white is reminiscent of vapor clouds on a clear day.

Benjamin Moore
Cloud White is one of the warmer white paint colors on this list. Tone-wise it is comparable to SW Alabaster and BM White Dove. I find Cloud White to be one of the best trim and baseboard colors because it is neither too warm nor super stark white, It sits pretty much in the middle. Depending on what other color you are comparing it to it will look warmer or cooler. For example. when you compare Cloud White to BM Muslim OC-12, Cloud White will look like a white with less warmth.
It's one of the most popular white paint colors and it is a perfect option for any trim work.
BENJAMIN MOORE DECORATOR'S WHITE OC-149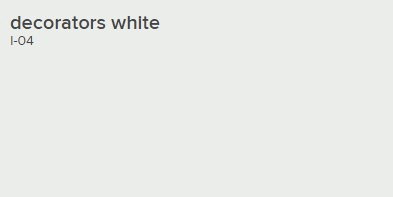 LRV: 85
Benjamin Moore Decorators White (LRV 85) is a great baseboard paint color option. Now, this white paint color is definitely on the cooler side. It has a bit of gray in it as well as a barely-there blue undertone. Decorators White works best as a trim color when you have cooler tones in your space. I wouldn't recommend it if you had a color like Benjamin Moore Manchester Tan on your walls. I feel like Decorators is a bit too cool for it.
As you can see in the photo, Jo from @mommyneedssomewine on Instagram used Decorator's White on her beautiful DIY board and batten, and it works perfectly with her BM Gray Owl Walls.
SHERWIN WILLIAMS ALABASTER SW 7008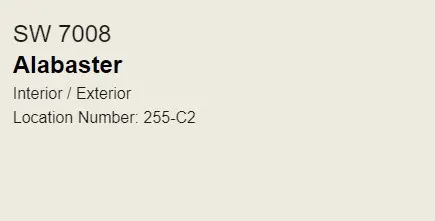 LRV: 82
Sherwin Williams Alabaster is a great trim color option to use when you want a white that is on the creamier off-white side. I like Alabaster because it has warmth but it doesn't look yellow. It's more of a soft creamy off-white. I think Alabaster is one of the best warm whites for trim.
READ MORE: SHERWIN WILLIAMS ALABASTER – PAINT COLOR REVIEW
BENJAMIN MOORE SUPER WHITE OC-152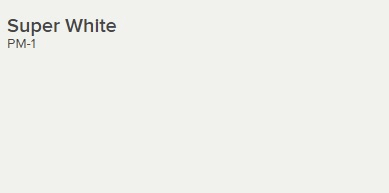 LRV: 89.09
The final white paint color that I recommend to use on trim, baseboards, moldings, etc, is Benjamin Moore Super White. This is a sparkling white. It's a clean shade that is simple yet powerful. Super White is thru and thru a suburb white paint color.
If your goal is to have a trim paint color that is crisp and fresh, I think Super White can be a contender.
---
---
Before I go any further, I need to stop to talk about sampling paint colors. If you have read any of my paint color articles then you know how strongly I feel about testing paint colors.
Quickly, let's talk about testing paint colors.
Instead of physically going to your nearest paint store to grab your samples, you need to try Samplize Peel & Stick paint samples.
Why should you try Samplize?
Super affordable
Mess-free
Non-damaging
Made with real manufacturer paint
Displays color just like a wall
Environmental friendly
Reusable
These peel & stick paint samples are super affordable and allow you to test a paint color in all different areas of a room without the mess of a traditional paint sample!
You know how I feel about testing paint colors, it's a must!
Don't create more work for yourself. Order Samplize now and have them shipped directly to you. No-fuss, no mess! Check them out for yourself, you won't be disappointed.
---
WHAT IS THE BEST PAINT TO USE ON TRIM AND BASEBOARDS?
This is another question that comes up quite often. In terms of Sherwin Williams and Benjamin Moore, I have a few I like to recommend.
Sherwin Williams Super Paint in a Semi-Gloss Finish
Benjamin Moore Regal Select in a Semi-Gloss Finish
Sherwin Williams Emerald Urethane and Enamel
Benjamin Moore Advance
When It comes to the type of paint you use on trim and baseboards, I always recommend these 4. SW Super Paint and BM Regal Select are on the lower end of the price scale and include a prime in the paint. They are both very homeowner-friendly and easy to use.
SW Emerald Urethane and Enamel and BM Advance are on the higher end of the price scale. They are a bit more expensive however, you will 100% get what you pay for here. The quality is top-notch. Not only is it the look of the paint but also the way the paint performs.
I firmly believe in investing in a top-quality paint for trim, walls, anything. The end result is gorgeous and as I said before, the ease of use is worth the money, especially if you are doing the painting yourself.
On the subject of using top quality products, I highly suggest investing in quality some high-quality paint brushes and paint rollers. Sure they are a bit more expensive but if you take care of them and clean them you will be able to use them over and over again. I promise it will make a difference in the way the paint applies and looks.
WHAT IS THE BEST FINISH TO USE ON TRIM AND BASEBOARDS?
Typically, a semi-gloss finish is used on trim and baseboards. It's the most popular finish. It is so popular that it's very easy to clean compared to a flat or matte finish. Additionally, the semi-gloss finish provides a lovely contrast to the usual wall finish which is flat or matte.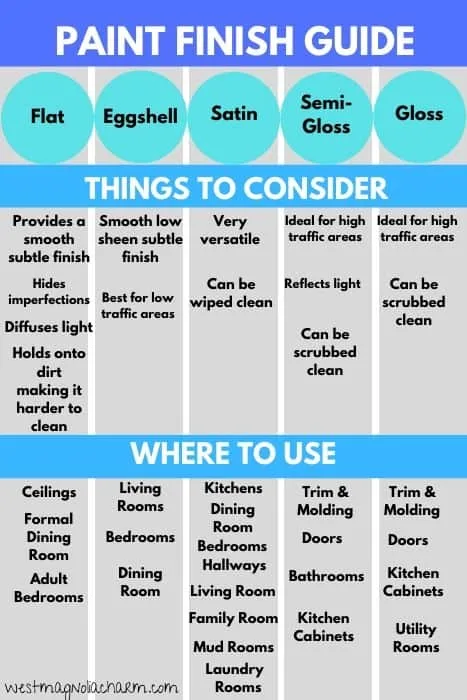 If you are further curious about what paint finish/sheen to use check out this handy paint finish guide.
CONSTANTLY FORGETTING WHAT PAINT COLORS YOU USED IN YOUR HOME? KEEP TRACK OF THEM ALL WITH THIS HANDY PAINT COLOR KEEPER
WHAT ARE THE BEST BASEBOARD COLORS FOR WHITE WALLS?
Now we get to the question "What color do I paint my baseboards and trim if I have white walls?" This is something that always throws everyone off. But it shouldn't.
If you have white walls, paint your trim and baseboards the same white color as your walls. I know it sounds boring and it seems like there will be no distinction from the walls to the trim. However, that's certainly not the case here.
The way to use the same white paint color on your walls and trim is by using different sheens /finishes. Let's say you painted your walls with Sherwin Williams Alabaster in a flat/matte finish. For the trim color, use Alabaster in a semi-gloss finish.
The two finishes handle the light differently. The flat or matte sheen will diffuse light whereas, the semi-gloss will reflect the light. The different sheen allows the same paint color to look different.
I also recommend using the same white on the ceilings as well. Mixing whites is a challenging task and if you get it wrong, it will be very wrong. Keep it simple and stick to one white paint color for walls, trim, baseboards, and ceilings.

RECAP – THE 8 BEST WHITE TRIM PAINT COLORS
Just to do a quick recap, I gave you 8 white trim colors, three from Sherwin Williams and five from Benjamin Moore. Some are cool whites and some are warm. There is a white trim paint for everyone here.
Sherwin Williams Extra White
Benjamin Moore Decorator's White
Benjamin Moore Chantilly Lace
Sherwin Williams Pure White
Benjamin Moore White Dove
Sherwin Williams Alabaster
Benjamin Moore Super White
Benjamin Moore Cloud White
The best paint types to use for trim and baseboards are:
Sherwin Williams Super Paint in a Semi-Gloss Finish
Benjamin Moore Regal Select in a Semi-Gloss Finish
Sherwin Williams Emerald Urethane and Enamel
Benjamin Moore Advance
The best paint finish/sheen for trim, and baseboards is a semi-gloss.
When It comes to choosing a trim paint color for white walls, my recommendation is to use the same white color as the wall in a different sheen/finish.
---
Need a wall color to go with your white trim? Consider one of these favorites:
---
FINAL THOUGHTS – THE BEST WHITE PAINT COLORS FOR TRIM & BASEBOARDS
When it comes to trim, baseboards, doors, moldings, etc. a white paint color is the most popular choice. It provides a beautiful contrast to the wall color, really making it pop. Not all white paint colors are created equally so before you decide on one for your trim, you need to access the situation of your room.
For example, do you have a lot of warm tone finishes and decor or are they cool toned? Knowing the tones you are working with to start will help you choose the best white paint for your trim.
I have to say I'm a sucker for a crisp and bright white trim. I feel as though a white trim paint color provides the room with a fresh and clean feel. I think that if you are looking for the best white for your trim, you should definitely consider looking at one of these 8 brilliant white paints.
As always, test your paint colors! The color you see on the computer screen is not an exact representation of the paint color in real life. Sampling paint colors is the absolute easiest way to see how the color looks in your home and it will help you avoid costly mistakes.
---
Are you planning on tackling a painting project on your own? Use these tips to help you paint your room like a pro.
Do you want to paint like a pro?
Get the painting tools the pros use.
Drop cloths are a must for any painting project. Paint is messy! Save yourself the hassle of unnecessary cleanup by using drop cloths. You'll be happy you did.
A high-quality paint brush will go a long way. The same goes for paint rollers. You want to use tools that will work with you, making your painting job more manageable.

BEFORE YOU GO!
---
SUBSCRIBE TO MY EMAIL LIST AND GET A FREE COPY OF MY INTERIOR PAINTING CHECKLIST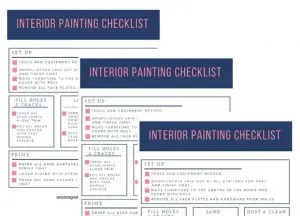 RECENT ARTICLES: