I may earn money or products from the companies mentioned in this post. Please click my Disclosure Policy to learn more
With warmer temperatures are finally here and Summer is right around the corner, what better time to spruce up your outdoor space than right now?
It has been a long long long winter. I am ready to get outside and enjoy every bit of summer I'm looking forward to finally having BBQs and nights around the fire pit with family and friends.
With that being said, my outdoor space could use a little help. So when my pals at THE INSIDE reached out to me and asked if I'd be interested in testing out their Custom Cabana Chairs, I happily obliged.
So how about we talk about these super stylish and customizable chairs?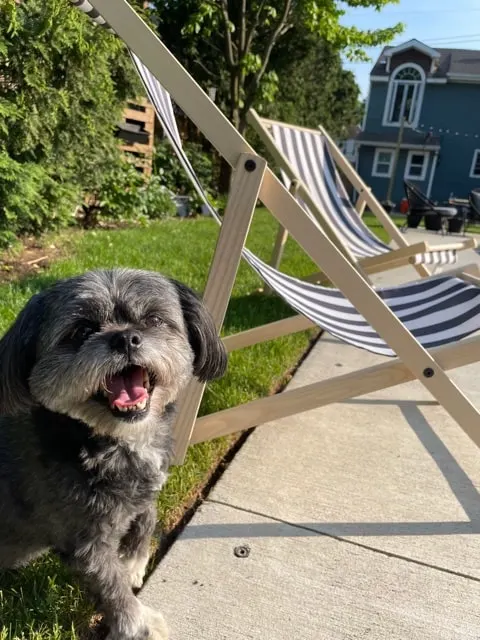 First things first, If you haven't heard of THE INSIDE here is a a quick run down.
We believe in the joy of decorating and that creating the home of your dreams while having fun doing it should be an accessible experience to everyone, not just a few. Each custom piece is handmade by experienced sewers, upholsterers, and woodworkers across North America. We're proud to work together. We're also proud of our made-on-demand process which bypasses traditional inventory waste and utilizes digital printing unlocking access and value like never before.

The Inside
Basically, they offer custom furniture pieces that are chic, stylish, and affordable. Win, Win, WIn.
THE INSIDE CUSTOM CABANA CHAIR REVIEW
When I think of a custom furniture item, the fist think that comes to my mind is expensive. However, that is not the case with the Cabana Chairs. Depending on the fabric you choose, these chairs will run you anywhere from $119 to $145.
There is no lacking in fabric choice. There are around 100 options to choose from, 100! If you are unsure of how a fabric will look in real life you can always order swatches for $1 plus free shipping. If you cannot find a fabric you like then, well I just have no words.
I decided on the Ink Cabana Stripe which retails for $129. This super durable fabric is made of 100% spun polyester. It's UV protected as well as water and mildew resistant.
I'd also like to mention they offer a 1 year warrenty and a 30 day return window.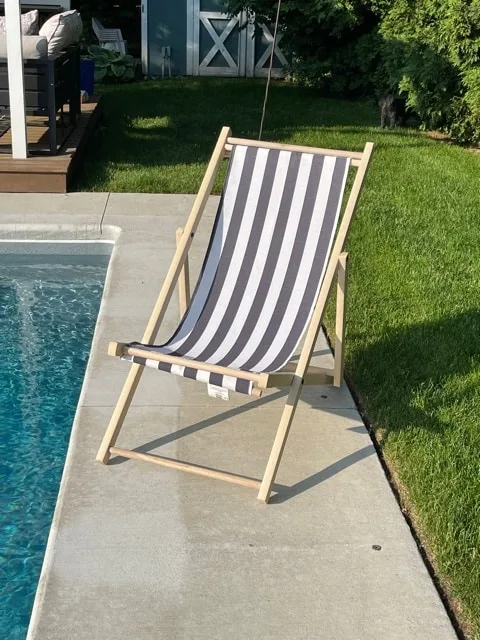 THE INSIDE CABANA CHAIR SPECIFICATIONS & DETAILS
GENERAL DIMENSIONS -39.5″H x 20.5″W x 33.5″D
WEIGHT – 9.92 lbs
WEIGHT LIMIT -225 lbs
COLOR -Neutral
MATERIALS -Construction – Hardwood and Spun Polyester
Fabric – 100% Polyester
CARE – Remove the sling from frame and rods. Machine wash cold. Do not bleach. Lay flat to dry.
We advise bringing your chair indoors after use.
Spot Clean / Dry Clean Only
BOX DIMENSIONS -53″W x 25″D x 2″H
ASSEMBLY INSTRUCTIONS – This item requires assembly. Download assembly instructions here.
SHIP METHOD– Ships FedEx/UPS, delivered to your doorstep
COUNTRY OF ORIGIN -Made by hand in the USA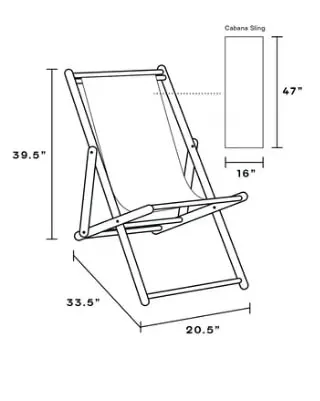 ORDERING & PACKAGING
The INSIDE'S website is pretty straightforward and easy to navigate. All you need to do is choose your fabric and add it to the cart. The hardest part of the whole process is choosing one of the many gorgeous fabrics.
Once my order was placed I'd say it took about a week to arrive.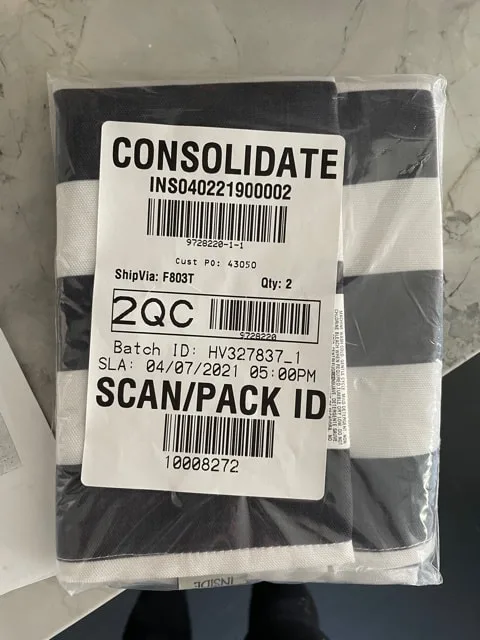 The cabana chairs were packaged in flat cardboard boxes. which was what I had expected. All the pieces were individually packaged in plastic.
I had no problems with the packaging. It worked for me.
ASSEMBLING THE INSIDE CABANA CHAIRS
I'm the weirdo that loves to assemble and put together furniture, the more involved, the better. I know, I'm a rare breed. So when it came to putting my custom cabana chairs together I was ready for whatever was thrown at me.
For those of you who despise assembling furniture, you'll be happy to know that these cabana chairs were the absolute easiest chairs to put together. three steps and you are done. Easy, breezy, lemon squeezy.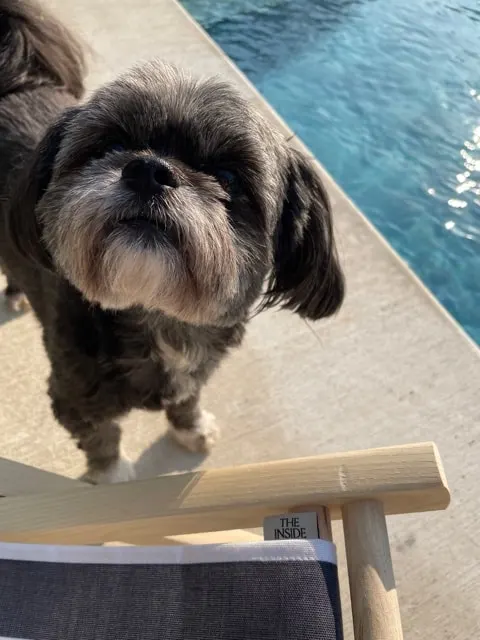 ARE THE CABANA CHAIRS COMFORTABLE?
This here is the million-dollar question, are THE INSIDE cabana chairs comfortable?
The answer is yes, absolutely. Truth be told, I was pleasantly surprised with how comfortable the chairs really were. I mean, at first glance you think, eh it's not going to be comfortable. However, once you sit your butt in the chair, it is a whole different story.
I really put the cabana chair to the test. I sat in it for about an hour while reading a book by the pool. Then I go up grabbed a snack, came back, and promptly fell asleep in it for about 45 minutes. I would have definitely slept longer but my dogs started barking at, I'm guessing were birds.
I really like these chairs because they are adjustable which allows you to read a book or lie back to take a nap.
It's safe to say, THE INSIDE Cabana Chairs are comfortable enough to nap, read a book, or just lounge in. I 100% approve.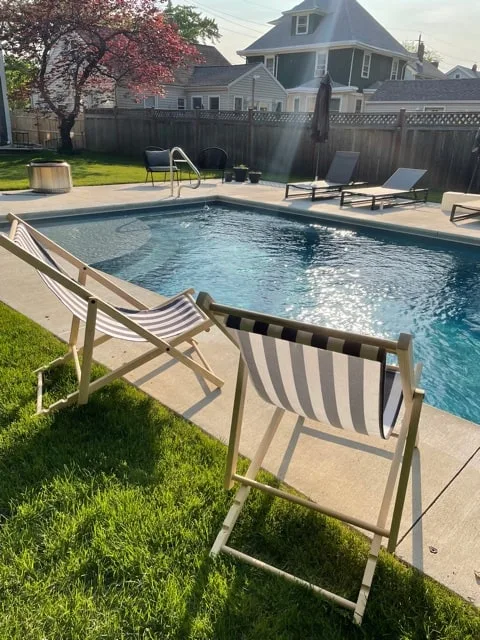 RECAP – THE INSIDE CUSTOM CABANA CHAIR REVIEW
Let me give you a quick recap of these custome cabana chairs.
Customizable, there are approximately 100 fabrics to choose from
super chic and stylish
lightweight, you can easily move them around and even take them to the beach with you
easy to assemble. You can put the chair together in about 3 steps.
adjustable, you can sit up to read a book or lay back to take a nap.
the fabric is washable
easy to store, they fold -flat
they are made in the USA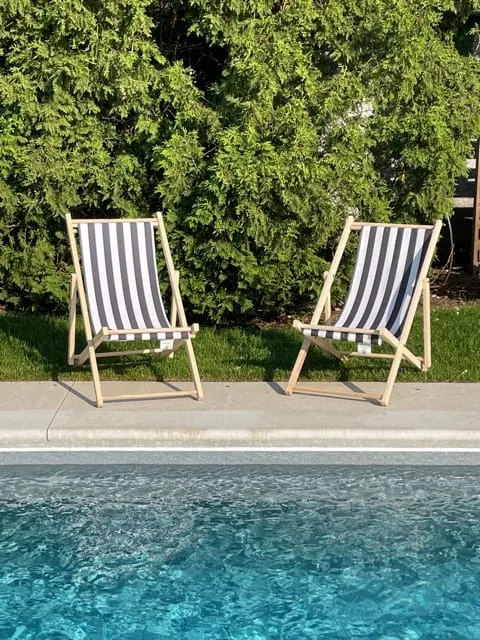 FINAL THOUGHTS ON THE INSIDE CUSTOM CABANA CHAIR
I have to say I am truly impressed with these chairs. I love how affordable and stylish they are. They have all the comfort you are looking for in an outdoor lounge chair. They will make a fantastic addition to anyone's outdoor space.
The thing I like the most about the cabana chairs is the variety of different fabrics to choose from. There absolutely is a fabric style available for everyone. I also want to mention, the fact that these cabana chairs are so lightweight makes it so easy to take them in and out of storage.
I personally store items like cushions when they aren't being used. I'd consider this chair something I'd store when not in use. I do believe it's recommended to bring the chairs indoors when not in use.
I also love that you can purchase coordinating pillows, rugs, stools, etc. to complete the look of your outdoor space. THE INSIDE is like your one-stop-shop.
Overall, I'm a huge fan of THE INSIDE Custom Cabana Chairs. I 100% recommend checking them out for yourself.
RECENT ARTICLES