I may earn money or products from the companies mentioned in this post. Please click my Disclosure Policy to learn more
Silverpointe SW 7653 by Sherwin Williams is a magnificently elegant gray paint color that works well within all decor styles. This cool gray will add a calming presence to anywhere it's used.
Happy New Year! Can you believe we are starting a new year? I'm still wondering how things are going so fast. Anywho, I'm starting the year off on the right foot. How do you ask? By blabbing on and on about paint colors of course.
You may or may not remember me promising that my next color review would be something other than a neutral. I hate to tell you but I'm breaking that promise. I know, another neutral but wait until you hear all about it, you'll be wanting to get a sample by the end of this.
Let me not delay any longer. Let's say hello to the perfect color that made me break my promise……
SILVERPOINTE SW 7653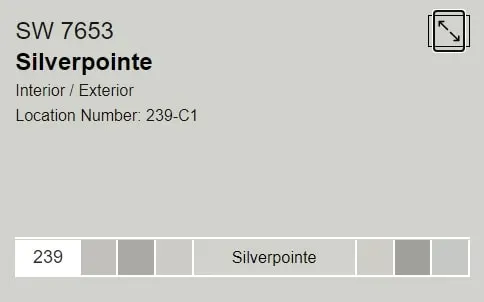 STATS
LRV – 64
HUE FAMILY

: Green – Yellow CIE-L*Ch(ab) = 83.995 3.228 121.934°

Color Collections: Minimalist, Living Well – Reflect, Cool Neutrals
Let's talk about these stats a bit further.
Silverpointe has an LRV of 64. As a quick refresher, I'll explain what that means. LRV or Light Reflectance Value is a measurement commonly used by design professionals that measures the amount of light reflected from and absorbed by a surface. LRVs range from 0 -100, with 100 being pure white and 0 being absolute black. A great article to read to learn more about LRV is Light Reflectance Value: What Do Those Numbers Mean?
Hue Family. I like to give this bit of information because it allows you to know where the color comes from. Unlike undertones which they are merely perspective, the paint color's hue family stems from scientific data. In the case of Silverpointe, its hue family is green-yellow.
Finally, color collections. I like sharing these because it's just fun to see.
Doing some painting yourself? Make sure you pick up this essential painting tool!
SILVERPOINTE COLOR STRIP
When people refer to a color strip, they mean the page or strip of the paint deck. And of course, the paint deck is the book that contains all the paint colors.
The color strip that Silverpointe is on is among some other amazing paint colors.
Silverpointe SW 7653
Lattice SW 7654
Front Porch SW 7651
Tinsmith SW 7657
Silverplate SW 7649
Ellie Gray SW 7650
Stamped Concrete SW 7655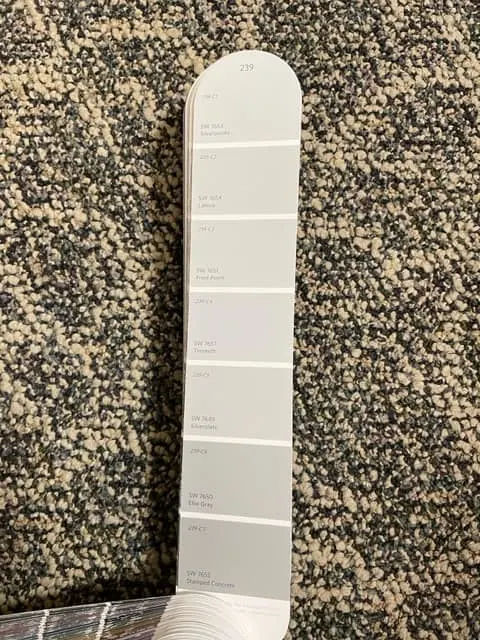 WHAT COLOR IS SILVERPOINTE?
Silverpointe is a light gray paint color. Quick and to the point right? But it is exactly that. It's a clean and crisp gray that leans a bit cooler than some other grays but not too cool where it becomes icy looking.
It has a good amount of depth which allows it to really shine.
WHAT ARE THE UNDERTONES OF SHERWIN WILLIAMS SILVERPOINTE?
Sherwin Willams Silverpointe has undertones that are green/blue. That being said, we need to remember that what a color will look like on your walls is dependent on what's around it. For instance, flooring color, decor color scheme, the amount of light, etc.
Undertones are subjective so it's always wise to sample the paint color in your home. Silverpointe may look like the perfect "true gray" in someone else's home but in yours, it can appear more green-gray.
---
KEEP TRACK OF ALL THE PAINT COLORS IN YOUR HOME WITH THE PAINT COLOR TRACKER!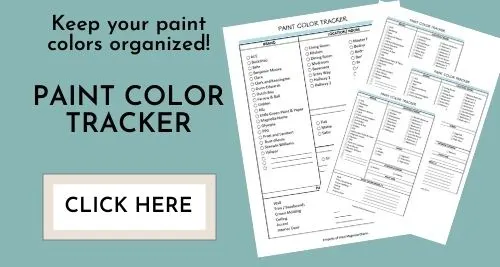 ---
IS IT A WARM OR COOL PAINT COLOR?
Silverpointe is in fact a cool paint color. It's not the coolest gray, in fact, it has a slight hint of warmth to it that makes it quite special.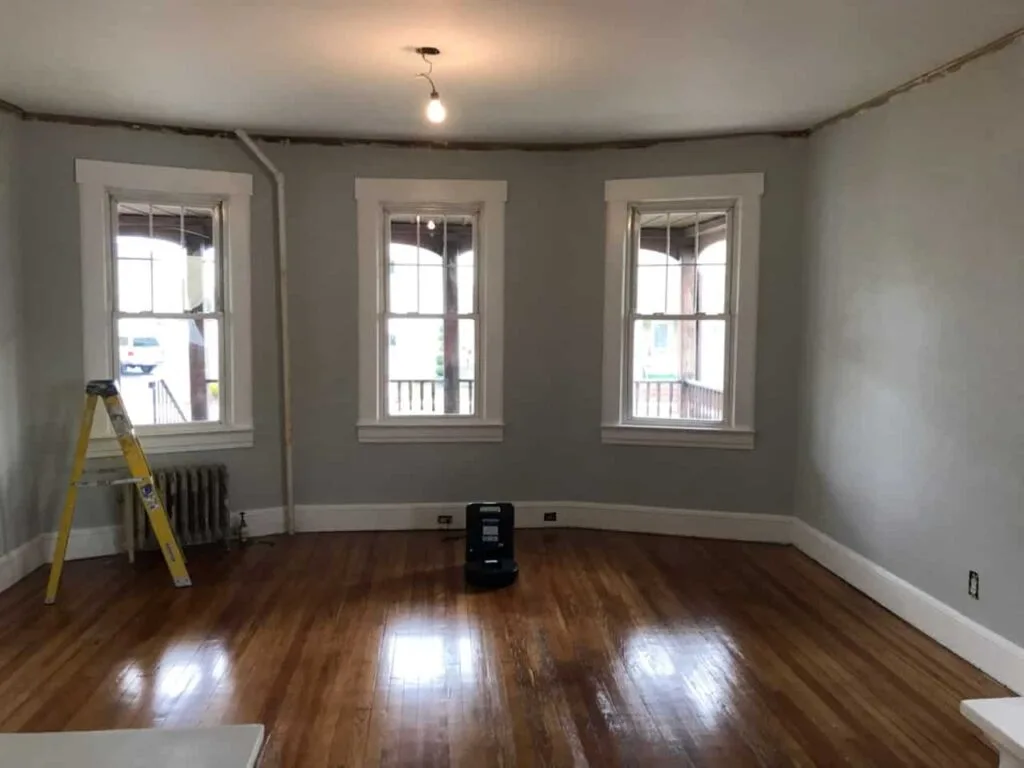 My favorite way to really see a color is by comparing it to another color that you are familiar with. To demonstrate this let's take Silverpointe and the very popular Benjamin Moore Revere Pewter.
When placed side by side you can instantly tell which of the two colors is the cooler-toned, Silverpointe.
MORE INTO WARM TONES? CHECK THESE OUT:
SILVERPOINTE AND LIGHTING
Light plays an influential role in the way a color looks and can change the appearance of essentially any color. For this reason, it's a good idea to be familiar with the lighting condition of the room you are choosing the right paint color for.
North-facing rooms – Light in North-facing rooms comes off cooler and sometimes somewhat bluish. Lighter colors appear more muted, while bolder colors will show up, or appear better.
South-facing rooms– In South-facing rooms, there tends to be a consistently bright light throughout the day. Warm and cool tones work with south-facing light. This light intensifies colors, so darker colors will seem more vivid while softer colors will almost look like they are radiating.
East-facing rooms– East-facing rooms have the brightest light in the mornings, with a yellow-orange tone. If an east-facing room will be used regularly in the evenings, going with a warm palette will help to offset the lack of natural light.
West-facing rooms- Early evening is when West-facing rooms have the most favorable light. Warmer tones might seem a bit strong because of the red-orange tones the light gives off. However, if the main use of the room is in the mornings, the colors won't seem as intense.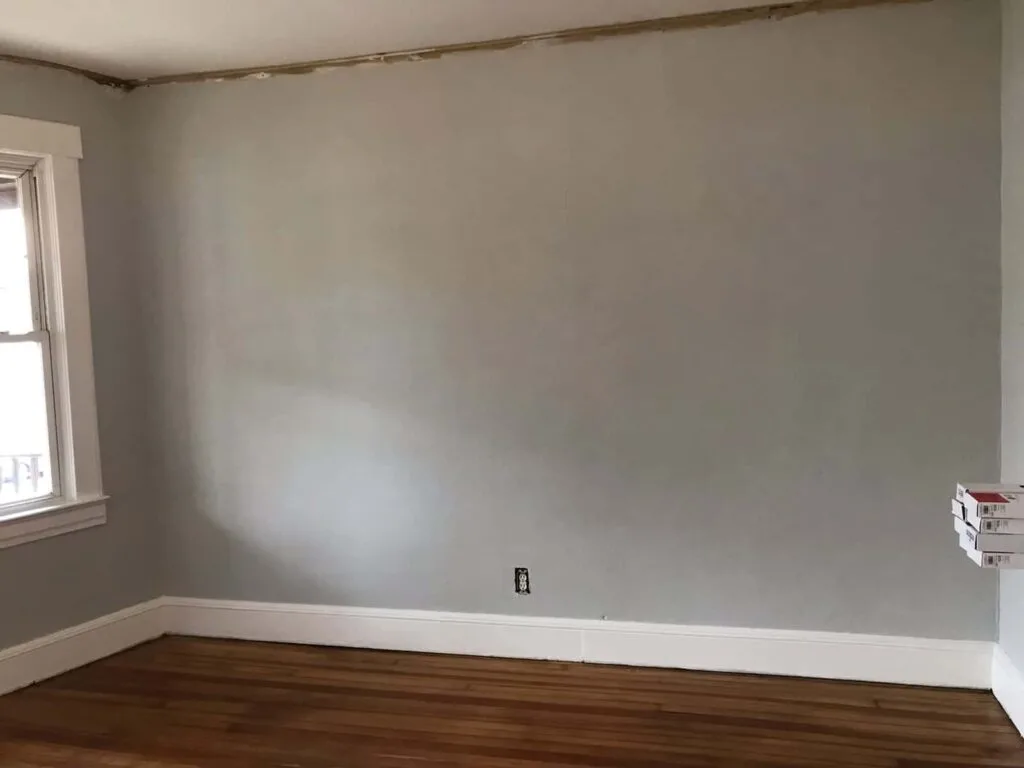 As much as lighting plays a major part in how a paint color can look at times, there are other factors you simply cannot forget about.
For example the color of your decor, furniture, fixtures, cabinetry, and floors. These are all elements that can affect the way a paint color will look in your room.
WHAT ARE THE BEST LIGHT BULBS TO USE?
Just as natural light affects paint colors so does artificial lighting.
The color of the light bulbs you use will impact how a paint color will look in a room. And unfortunately, it's an essential detail that is often overlooked.
With the variety of light bulbs available and it can become overwhelmingly confusing. I mean what really soft white and bright white?
Thankfully, it becomes easier once you know a little bit about light bulbs.
For reference, light color or light appearance is measured on the Kelvin (K)temperature scale. Lower Kelvin numbers mean more yellow light; the higher the Kelvin number the whiter or bluer light.
Remember, lower Kelvin (K) numbers = yellow light, Higher Kelvin (K) numbers = white/blueish light
I always recommend using this type of light bulb.

Be cautious of the light bulb names such as "daylight" or warm light". I'd advise against picking a light bulb by its name.
Instead, always check the package for actual facts. This allows you to choose the best bulb for you.
Don't forget, as much as lighting plays a major part in how a paint color will look at times, there are other determinants to be aware of. For instance, decor, furniture, fixtures, cabinetry, and floors. These are all elements that can affect and/or influence the way a paint color will look in your room.
WHAT IS THE BEST TRIM COLOR FOR SILVERPOINTE?
I love seeing Sherwin Williams Silverpointe paired with a bright white trim. There is such an elegant vibe it gives off. A bright white will allow Silverpointe to really pop and such how beautiful it is. My picks for bright white paint colors are SW Extra White and SW Snowbound.
READ MORE: THE BEST WHITE PAINT COLORS FOR TRIM
Even though white is the most popular choice for trim color, don't think you are only limited to it. You can go bold and choose a black paint color for your trim. Or if you want a monochromatic look, try using Silverpointe in a different sheen as a trim color. The possibilities are endless. Always find a look you love and run with it.
I'd also like to add that it's a fantastic paint color to go with dark wood trim!
WHERE TO USE SW SILVERPOINTE
Use it anywhere. The beautiful part about neutral paint colors like Silverpointe is that they tend to look good wherever you use them.
Honestly speaking, it's such a terrific paint color I can see it working anywhere. However, you still have to test the color in the space you want to paint before using it. This will ensure the color works in your space.
---
---
Some places to consider using Sherwin Williams Siverpointe:
Kitchen
Bathroom
Bedroom
Living Room
Cabinets
Shiplap
BEDROOM
Silverpointe is one of the best color options for a bedroom. Why? Because it's cool-toned and you know that cool-toned colors are known to promote calmness and relaxation. That is why they are always used in spas.
Living Room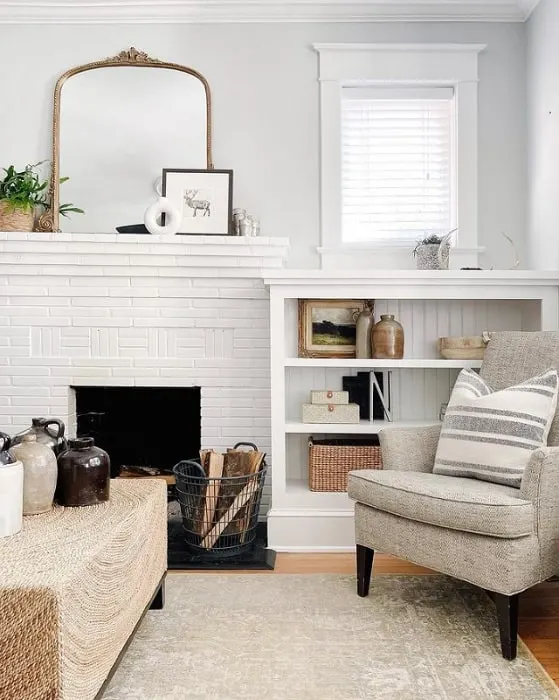 The living room is another amazing place to use Silverpointe. This gorgeous neutral makes for a beautiful backdrop for furnishing and decor.
Janene @champagneandsawdust on Instagram used SW Silverpointe in her living room, and the photo speaks for itself. It absolutely is the perfect gray in her space.
I also love the color with the light wood floors.
And can we take a moment to appreciate how beautiful her space is? Not only is Janene a talented designer, but she's also a badass builder. If you are looking for some serious inspiration, go give her a follow on Instagram.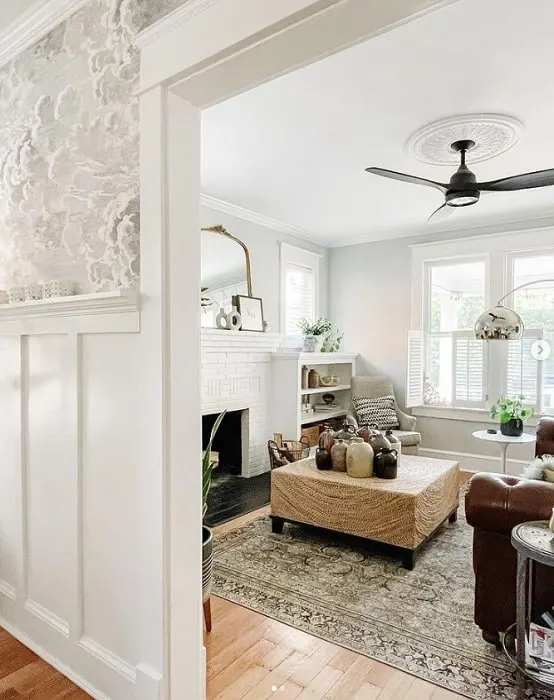 IS SW SILVERPOINTE A GOOD PAINT COLOR FOR THE EXTERIOR?
Silverpointe may not be the best option for a home's exterior, depending on what you are going for. As we know, paint colors appear lighter when they are on the exterior, of course, that is due to the direct natural sunlight. In terms of paint colors like Silverpointe with this particular depth, it may be hard for them to hold up against direct sunlight. They can tend to wash out and appear noncommital.
A mid-toned gray like Mindful Gray has a bit more depth and can stand up to on the exterior better. Looking for a gray that's a bit darker? Try Sherwin Williams Dovetail.
---
NEED A LITTLE EXTERIOR PAINT COLOR INSPIRATION? CHECK THESE OUT:
---
WHAT IS THE BEST WAY TO SAMPLE SILVERPOINTE?
I know I sound like a broken record but testing paint samples is the only true way to see how a paint color will act in your home. That is why you absolutely must sample your paint colors!
Although you may think it is a pain to do, there is a much simpler way to sample paint colors.
Instead of physically going to your nearest paint store to grab your samples, you need to try Samplize Peel & Stick paint samples.
Why should you try Samplize?
Super affordable
Mess-free
Non-damaging
Made with real manufacturer paint
Displays color just like a wall
Environmental friendly
Reusable
These peel & stick paint samples are super affordable and allow you to test a paint color in all different areas of a room without the mess of a traditional paint sample!
You know how I feel about testing paint colors. It's a must!
Don't create more work for yourself. Order Samplize now and have them shipped directly to you. No fuss, no mess! Check them out for yourself. You won't be disappointed.
Get $5 off your first Samplize order using the code "FIRSTFIVE"
---
BENJAMIN MOORE EQUIVALENT TO SILVERPOINTE
The closest Benjamin Moore equivalent to Silverpointe I found was
These two are not dupes. Yes, they are similar but they are not the same paint color. SP has a tiny bit more coolness to it. They are both beautiful but if you are trying to interchange one for the other, think again.
If you were considering color-matching between paint brands, I highly recommend purchasing a sample beforehand. Sometimes when you color match between paint manufacturers, the colors don't come out accurately. This is because each brand uses different formulas to create its paint colors.
The best option is to choose within the brand's paint color lines. This way you know what you are getting.
COORDINATING COLORS
Silverpointe coordinates well with plenty of different colors. Some colors I find that look great with it are:
Moonlit Orchid SW 9153
Cornwall Slate SW 9131
Magnetic Gray SW 7653
Extra White SW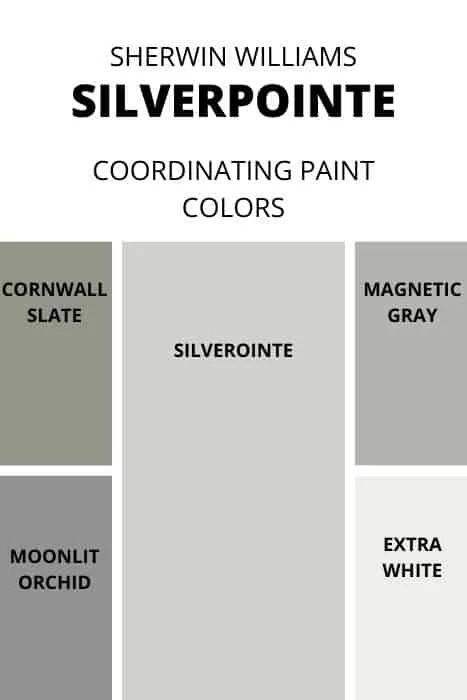 ---
---
COLOR COMPARISONS
As I mentioned before, I find that when you compare colors to one another it helps you see the colors a bit clearer. As in is it warmer or cooler than the opposing color, etc?
I went through and picked out a few popular colors to compare Silverpointe to. Let's see how they stack up against one another.
SILVERPOINTE VS AGREEABLE GRAY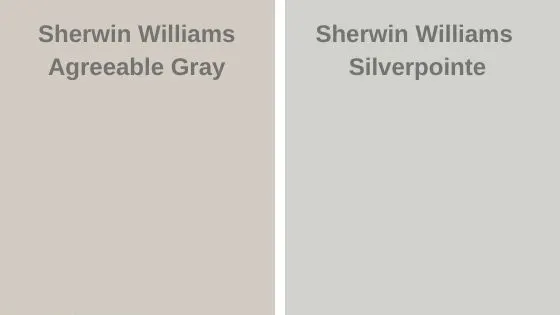 Agreeable Gray has an LRV of 60 which is a tad lower than Silverpointe at 64.
Agreeable Gray is also a warm gray or greige paint color.
SW Agreeable Gray has a predominantly mild green undertone, whereas Silverpointe has blue/green.
Both gray paint colors are very versatile to use throughout your home.
Silverpointe is cooler and crisper.
READ MORE: AGREEABLE GRAY PAINT COLOR REVIEW
SILVERPOINTE VS REPOSE GRAY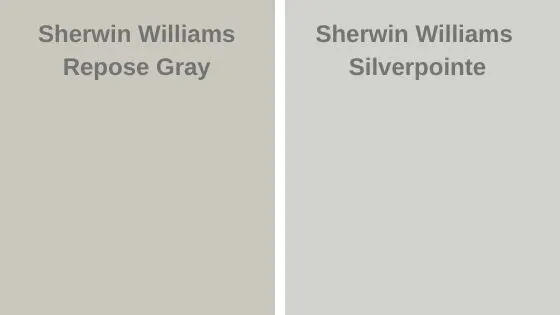 Repose Gray has an LRV of 58 which is lower than Silverpointe at 64.
Repose Gray is warmer toned and a bit darker.
As for undertones, Repose Gray can lean more towards violet or blue.
Side by side you can see how there is more warmth in Repose Gray.
READ MORE: REPOSE GRAY PAINT COLOR REVIEW
SILVERPOINTE VS SILVER STRAND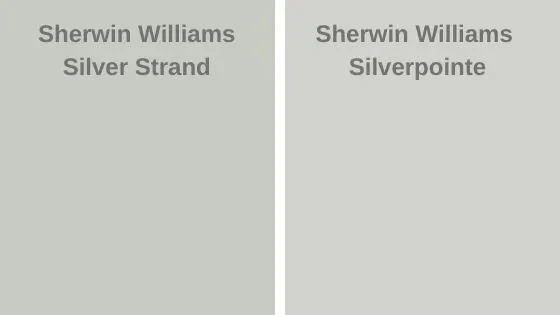 Silver Strand hue family: Green-yellow, leaning towards green
Silver Strand is a tiny bit darker and has an LRV of 59
Both colors are crisper, cleaner grays
Silver Strand leans a bit more toward green undertones
SILVERPOINT VS SILVERPLATE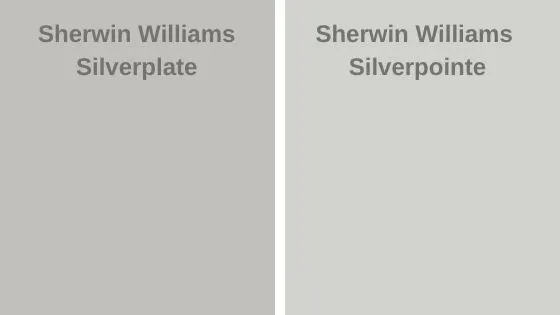 Silverplate Hue family: green-yellow, leaning closer towards yellow
SW Silverplate has and LRV of 53
Silverplate is the darker of the two
Silverplate has a little more warmth making Silverpointe the cooler and cleaner color.
SILVERPOINTE VS GRAY OWL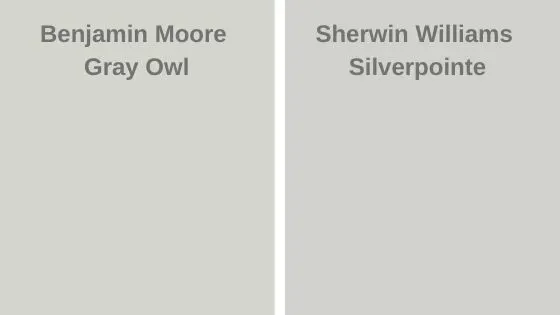 As I mentioned earlier, Gray Owl and Silverpointe are the closest in similarities between Sherwin Williams and Benjamin Moore. But they are not dupes. Here's how they differ.
Gray owl hue family: green-yellow, closer to the yellow side
Silverpointe Hue Family: green-yellow
Gray Owl is a hair lighter and I mean a hair
Silverpointe is a bit cooler-toned and can pull or show blue
Silverpointe has an LRV or 64
Gray Owl has an LRV of 65.77
READ MORE: BM GRAY OWL REVIEW
SILVERPOINTE VS LATTICE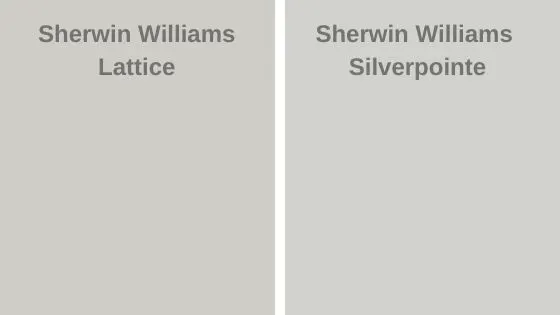 Lattice hue family: green-yellow
Lattice has an LRV of 61
Lattice is a tad darker
of the two paint colors, SP is cooler. only a touch though
Lattice has a bit more yellow which is why it is slightly warmer.
RECAP
Since I just threw a ton of information at you, I'll give you a quick Silverpointe SW 7653 color review to refresh your memory.
Silverpointe has an LRV of 64
Hue family is green-yellow
Color Collections: Minimalist, Living Well-Reflect, Cool Neutrals
has blue-leaning undertones.
is a crisp cool-toned gray
it has similarities to Benjamin Moore Gray Owl
looks amazing when paired with a bright white trim color
It can be easily coordinated with
it's the perfect paint color for a bedroom
the best way to sample is with SAMPLIZE Peel & Stick Paint Samples.
FINAL THOUGHTS
Overall, I think I may have found a new paint color to love. Sherwin Williams Silverpoint SW 7653 has it all. It's a light gray that leans a bit cool-toned. It is clean and crisp and has a beautiful presence in a room.
This is an elegant paint color that will make your room feel light and airy. It's an absolute winner in my eyes.
If you are sensitive to cooler tones and prefer a bit more warmth in your gray, Silverpointe may not be for you. But if you are willing to embrace and love a subtle cool-toned gray, I say get a sample of it right away.
One last note before you run. you cannot judge paint colors against a phone or computer screen. What you see on a screen are pixels and pixels are not paint. You need to get a sample of the paint to sufficiently evaluate your paint colors. Sampling is the only way you can see what the paint will look like in your home. Please do not skip this step! It's a common painting mistake that can easily be avoided.
Remember, color is relative, none of it stands alone in a room. Everything from flooring color to decor will affect the way the paint color looks.
---
Are you planning on tackling a painting project on your own? Use these tips to help you paint your room like a pro.
Do you want to paint like a pro?
Get the painting tools the pros use.
Drop cloths are a must for any painting project. Paint is messy! Save yourself the hassle of unnecessary cleanup by using drop cloths. You'll be happy you did.
A high-quality paint brush will go a long way. The same goes for paint rollers. You want to use tools that will work with you, making your painting job more manageable.
SUBSCRIBE TO MY EMAIL LIST AND GET A FREE COPY OF MY INTERIOR PAINTING CHECKLIST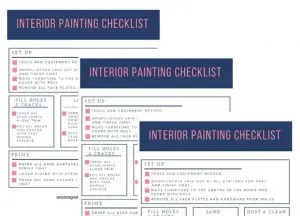 YOU ALSO MIGHT LIKE: