I may earn money or products from the companies mentioned in this post. Please click my Disclosure Policy to learn more
Shiplap is a great way to make a bold statement in your home. It adds character and can be easily personalized with the right paint color. Whether it's faux or real, the way to paint it is the same. Learn how to paint shiplap and find out what paint colors will work the best.
Today I want to talk about how to paint shiplap. On top of that, I want to share a few amazing shiplap paint color options. And yes there are some non-white colors in the mix too. A little something for everyone here.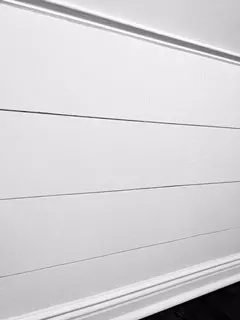 As you may already know, I have some DIY faux shiplap in my home. I love it and I plan on possibly adding some more soon. That being said, after doing it a few times I have learned a trick or two on how to paint it.
There are a few ways it can be painted, some more efficient than others.
So, I want to share 4 methods of shiplap painting, as well as a few helpful painting tips.
CHOOSE YOUR PAINT COLOR AND SHEEN
Before you start painting, you first want to choose a paint color and sheen for your shiplap. It's best to get this out of the way before starting any of the work. This way once the shiplap wall is ready to be painted, you can get right into it.
Choosing a shiplap paint color can be intimidating, like choosing any paint color. But it's not too hard if you know what look you are trying to achieve.
For example, you want to make your shiplap wall a showstopper. If that is the case, why not go for a darker paint color that will make the wall a statement piece?
Not ready to make a bold statement with a darker shiplap? Then white is the way to go. But what white paint color will look the best?
I picked 4 white paint colors that are perfect options for a shiplap wall.
WHAT ARE THE BEST SHIPLAP PAINT COLORS?
Alabaster – Sherwin Williams 7008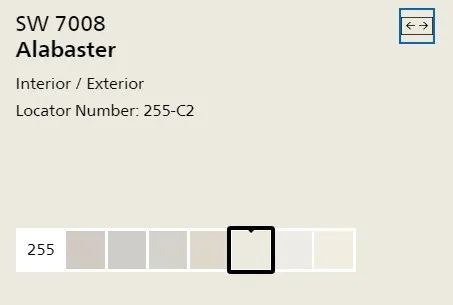 Alabaster is a highly popular paint color choice for shiplap. And you want to know why? It's the color Joanna Gaines used in her home. It must be good if the queen of shiplap herself is using it in her own home.
Aside from Joanna Gaines using it, there are other reasons why Alabaster makes a great paint color for shiplap.
It's the perfect neutral. It's not gray, it's not white, not yellow, it's Alabaster. With the perfect mix of warm and cool tones, it works beautifully in many spaces.
Pure White – Sherwin Williams 7005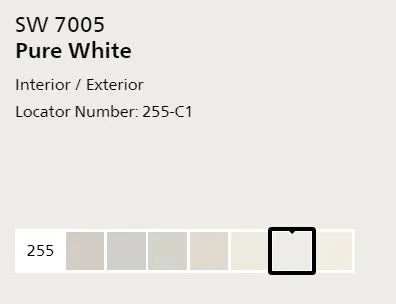 Sherwin Williams Pure White is a true stunner. It doesn't lean warm or cool. It is more of a neutral white.
Pure White is white, but what makes it different than a true stark white is that it has the smallest hint of warmth in it. And when I say small, I mean itty bitty small.
That hint of warmth takes away from the starkness of a true white making it an excellent option to use for your shiplap.
READ MORE: SHERWIN WILLIMS PURE WHITE FULL REVIEW
Simply White – Benjamin Moore OC-117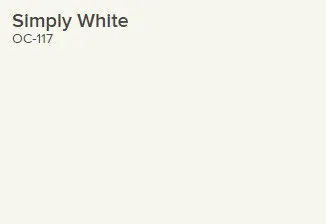 Simply White is just that, simply white. This multi-purpose paint color is clean, crisp, and bright.
Simply White is a designer favorite. Its versatility makes it perfect for trim, ceilings, and shiplap walls.
Chantilly Lace – Benjamin Moore OC- 65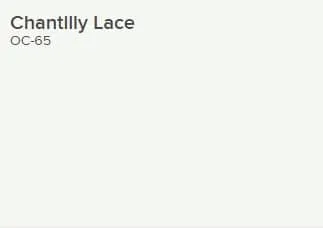 Chantilly Lace is a delicate soft white that has cool tones in it. The coolness of this white will keep it from looking yellow.
Chantilly Lace is the perfect shiplap paint color option when you want a white that isn't warm or too stark.
READ MORE: BENJAMIN MOORE CHANTILLY LACE
Gauntlet Gray – Sherwin Williams 7019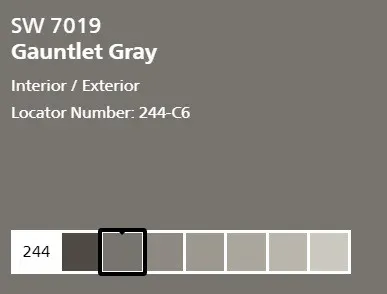 This is my favorite non-white shiplap paint color option. Gauntlet Gray is a gorgeous warm dark gray that will make a bold statement. I like Gauntlet Gray as a paint color option because it's not as dark as black, but it is still dark enough to pack a punch. It will also add a modern touch to the shiplap.
I consider Gauntlet Gray one of Sherwin Williams best gray paint colors.
If you want a really go out of the box with a shiplap paint color, try using a blue gray paint color or a cool gray color like SW Passive. This is a great option for some color but nothing too over the top.
The thing to remember is there are no rules here. Use any paint color you want. Just because shiplap is traditionally white doesn't mean you have to paint it white. If you like color, use color. However, the most popular paint colors for shiplap are in the white – off white family.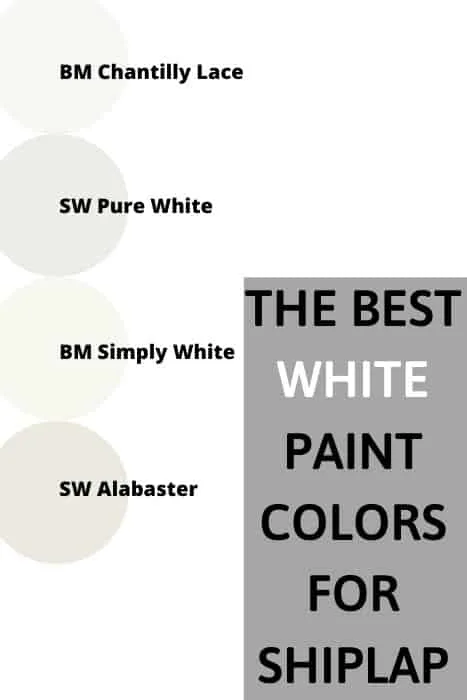 Looking for an easier way to swatch paint colors? Try Samplize Peel & Stick paint samples. These peel & stick paint samples let you test a paint color in all different areas of a room. You know how I feel about testing paint colors in all lighting situations. And the best part about Samplize? They are mess-free! Check them out for yourself, you won't be disappointed.
---
More Paint Colors to Consider
---
WHAT TYPE OF PAINT DO YOU USE ON SHIPLAP?
The best type of paint to use is paint and primer in one. What I like about it is it saves time by eliminating the use of a separate primer.
It also has great coverage which means you'll need fewer coats of paint.
The best part about an all in one paint and primer is that it will save you money.
A few great paint and primer options are:
WHAT PAINT FINISH IS BEST FOR SHIPLAP?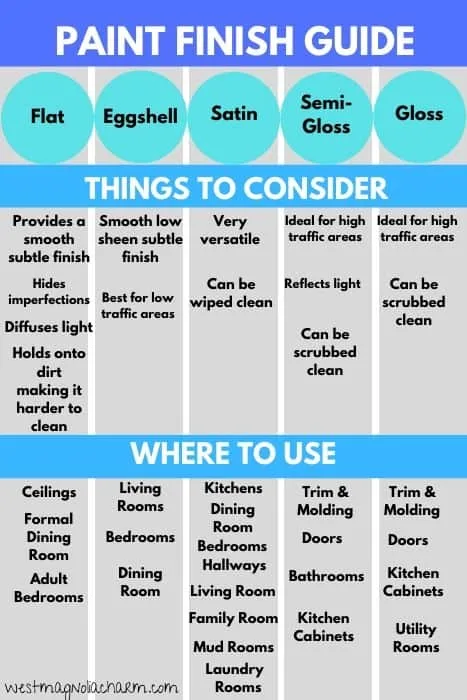 A question that is often asked is whether to use matte or semi-gloss on shiplap.
Most often shiplap is painted in a matte or flat finish. The only downside to a flat finish is it's hard to clean.
Choosing a semi-gloss would allow better cleanability, however, it will look glossy.
A good in-between sheen to use would be an eggshell or satin. This will help with cleanability while staying on the matte side.
No right or wrong answer here, it's all about what works best for you.
SHIPLAP PAINTING SUPPLY LIST
Supplies needed to complete painting shiplap.
PRE-INSTALLATION SHIPLAP PREP
Before you start installing the wall, you want to make sure you have all your boards prepped for paint. You also want to have your wall prepped for and ready for installation.
PAINT THE WALL THE SHIPLAP COLOR
To prep the wall, I suggest painting it the color of the shiplap.
It will make it easier when it comes time to paint in between the shiplap cracks.
Painting the cracks is time-consuming, so having the wall already painted will give you a leg up on the situation.
SAND THE BOARDS
To prep your boards, you will need to sand them down.
To start, take 80 grit sandpaper. Either a sheet or palm sander like this one , will work. I suggest the palm sander because it cuts the prep time in half.
Once you give the boards a thorough sanding with the 80 grit sandpaper, you'll want to switch to a higher grit to finish the boards off.
After the boards are completely sanded smooth and dust-free, you are ready to start installing them on your wall.
POST INSTALLATION SHIPLAP PREP
This step is optional. If you prefer the look of the nail holes, leave them be.
After nailing all the boards to the wall, it's time to deal with the nail holes.
Make sure all the nail holes are clean and dust-free.
Take your paintable caulk and fill in all the nail holes so they are flush with the wall. You'll want to make sure you remove any excess caulk with a rag.
Now let the caulk dry before you paint the wall.
Caulk drying time will vary so make sure you read the package.
I know caulking can sometimes be a pain, but if you have a good caulk gun it helps tremendously. I love this caulk gun. It is easy to use and makes all my caulking projects a breeze.
HOW TO PAINT A SHIPLAP WALL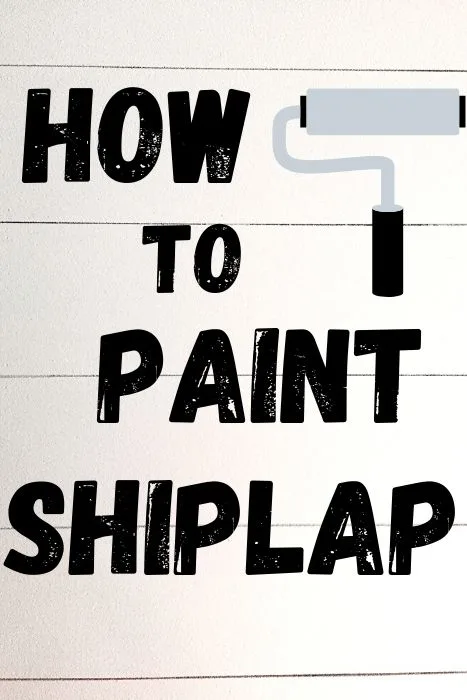 Finally, let's get into the 4 different methods of shiplap painting.
The hardest part about painting shiplap wood is getting in between the boards. It is the one thing that everyone questions.
Each method below has different options for painting the shiplap cracks.
METHOD 1
Start by using a smaller paint brush to paint in between the boards. This is the step to take your time with.
Make sure you apply a decent amount of paint to your brush and really get in the cracks of the shiplap.
Once you have in between the boards painted, take your paint roller and roll the wall as you would any other wall.
*I suggest using a 9-inch polyester knit roller with a nap of 3/4-inch.
Next, check in between the boards for paint that has gathered or pooled.
If this does occur, use a small spackle knife and run it through the cracks to remove the excess paint.
Allow the first coat of paint to dry to determine if you need a second coat or not. If you decide on a second coat, Repeat the same process.
WAIT! Before you start painting make sure you have the best painting tools to make your job easier. It will take hours off your painting times!
METHOD 2
The second option is to paint the boards before installing them on the wall.
You would do all the same steps with the pre-installation prep, then paint the boards with a brush and roller.
The best way to paint them would be to elevate them on sawhorses or whatever you have available. Keeping them elevated will help with getting all the sides painted and it will be easier on your back. (old lady problems)
Of course, if you do not have anything to prop up your boards, lay them all out on a drop cloth and paint them on the floor. This works because you only have to paint one side of the shiplap.
If you have access to a paint sprayer, you can also spray the boards. This method will save you some time for sure.
Don't forget to pick up these amazing painting tools! They will only make your life easier!
METHOD 3
The third option would be to paint the cracks of your boards as you are installing them on the wall.
So the idea behind this method is to get all the cracks in between the shiplap painted as you go.
For example, install your first board. Once it's up, take your paint brush and paint the edge of the shiplap where the space will be.
Move on to the next board, paint the bottom edge of the board then install it.
Continue that process until the wall is completed.
Then, take your paint roller and roll the wall.
Go through and check the cracks to make sure the paint hasn't pooled there. If it has, use the putty knife to run it through and remove the excess paint.
METHOD 4
The last and final method would be to use a Wagner paint sprayer that is perfect for indoor projects and spray the installed shiplap wall in place.
If you have access to and experience with a paint sprayer, this would be the quickest way to paint the wall.
With this method, you will have to make sure to fully protect the surrounding areas of the wall with canvas drop cloths and protective plastic. There will be overspray with the paint gun so it's better safe than sorry.
*Please note*
For each method, you want to use drop cloths and plastic to protect your floors and anything else that needs to be protected from paint splatter.
RECAP
To sum it up, I gave you a few amazing shiplap paint colors and provided you with 4 different methods on how to paint shiplap.
Let's start with the paint colors.
White is the most popular shiplap paint color option. However, darker non-white paint colors can make a huge impact on the wall.
The following are 4 of the best white paint colors for shiplap and 1 non-white color.
Matte or flat are 2 of the most popular paint sheen choices for shiplap. Eggshell is the finish I prefer. It's easier to clean and only has a slight sheen to it.
Prep the shiplap boards by making sure all the boards are sanded smooth for the ideal paint application.
Paint the wall with the shiplap color.
Fill the nail holes with paintable caulk if you want a seamless look.
Paint the shiplap with one of the 4 methods.
Photo by Markalunas Architecture Group – Search staircase design ideas
The main thing to remember when painting shiplap is to be patient with the process. Painting between the boards is a pain, there's no doubt about that. However, if you follow all the steps provided, you'll have a beautifully painted wall that will look amazing.
---
Check out some other awesome How-To's:
---
How do you paint like a pro? By using the right tools and supplies! Check out the Ultimate Painting Tools List for everything you need to paint a room.
Before you go, grab your free Interior Painting Checklist. It will keep your painting project organized and on track.