I may earn money or products from the companies mentioned in this post. Please click my Disclosure Policy to learn more
Blue is a classic color and it's one of the most popular color families. When mixed with gray, it creates the perfect balance of color and neutral. A blue gray paint color is the perfect storm of colors.
If you know me, you know I'm a fan of blue. I gravitate towards the color all the time. Whether it involves shopping for clothes or furniture, my eyes are almost always drawn to blue colors first. The same goes for paint colors.
Blue paint colors can be tricky to get right. Since there are so many elements that factor into what a paint color looks like on the walls, sometimes the color you pick isn't what you were expecting.
Sometimes that beautiful light blue you thought you were getting turns out to be a baby blue that you certainly didn't intend on. First, this is why I always suggest swatching paint colors, and second, rather than a full blue go for blue gray paint colors.
With that being said, I want to explore the wonderful world of blue gray paint colors. I'll talk about why they are such great paint color options, where they work best, and some of the best blue gray paint colors to use.
Blue Gray Paint Colors
But, before I dive into the world of blue gray colors, I want to hit ya with a few fun facts. I mean who doesn't love a fun fact from time to time?
According to Wikipedia,
Blue-grey (British English) is a medium bluish-gray color. Another name for this color is livid; this color name comes from the Latin color term lividus meaning "'a dull leaden-blue color', and also used to describe the color of contused flesh, leading to the English expression 'black and blue'".
There is a range of colors called livid colors that combine the colors blue and gray. Some of these colors are shown below.
Livid (blue-gray) is the opposite concept from brown. Brown colors are mainly dark orange and dark red colors—warm colors on the warm color side of the color wheel, while blue-gray (livid) colors are mainly dark blue and dark azure colors—colors on the opposite side of the color wheel—cool colors on the cool color side of the color wheel.
The first recorded use of livid as a color name in English was in 1622.
Blue-gray was a Crayola crayon color from 1958 to 1990.
Out of all these facts, the only one I knew was the crayon one. And I'm actually curious why they stopped making it in 1990. Anyone else?
What is a blue gray paint color?
To sum it up, a blue-gray paint color is gray with blue added to it. Some of these livid colors are more blue than gray and others are more gray than blue. These cool toned colors can also be considered slate colors.
The reason blue gray paint colors are great is that when they are paired with brighter colors they will act as neutrals. They also hold their own when they are used in combination with black colors, white colors, or wood tones.
These grayish blue colors are becoming increasingly popular.
It's true, we have been having many customers asking for cool gray paint colors with more of a blue undertone to it. This makes my heart so happy. I feel like so often people are terrified of color on their walls.
I understand paint colors are intimidating especially when it's a non-neutral. But, if you follow the steps on how to pick the right paint color, it can be done. And this is another reason why choosing to go with a livid color is a great option.
Now that blue gray paint colors are on the rise, why not share a few of the best ones I have found?
Where can you use them?
The beauty of blue-gray paint colors is that you can use them in just about any space, just like neutral paint colors.
Use blue-gray paint colors on the exterior of your home.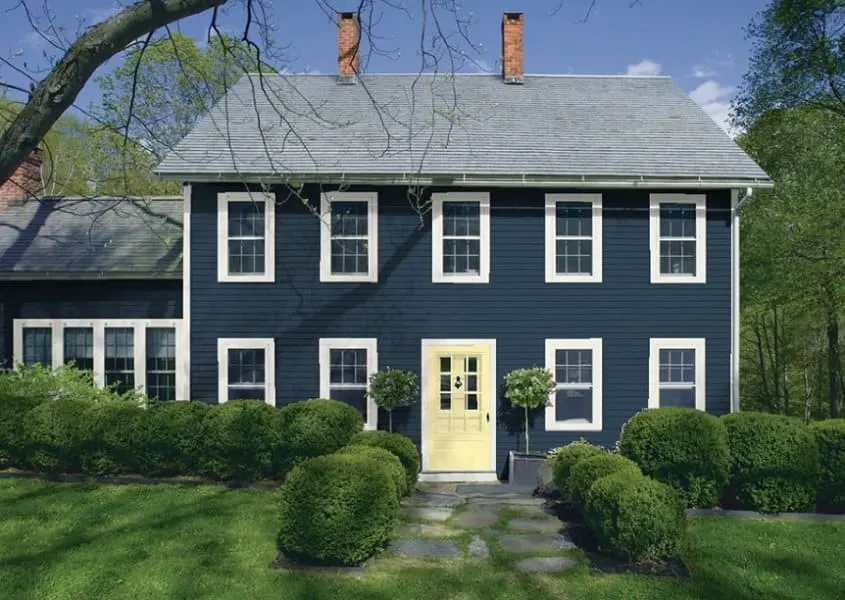 The exterior of the home is one of the best places to use a darker blue gray paint color. It will make a dramatic statement without going overboard. And because the exterior of the home is outside and has more square footage to cover, it can handle a darker shade.
Blue-gray paint colors in the bedroom.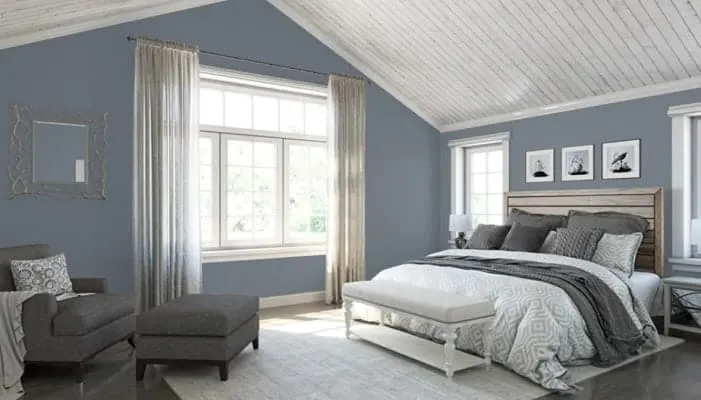 In my opinion, the bedroom is the optimal place to use these colors. Since blue promotes calmness and relaxation, it's perfect for a bedroom. Blue grays are great because they have a bit of color to them while being on the neutral side. And that makes sense for a bedroom paint color since you don't want your paint to be overly colorful or vibrant.
Another thing to note is that these beautiful paint colors go so well with dark wood tones.
Try a blue-gray in the bathroom.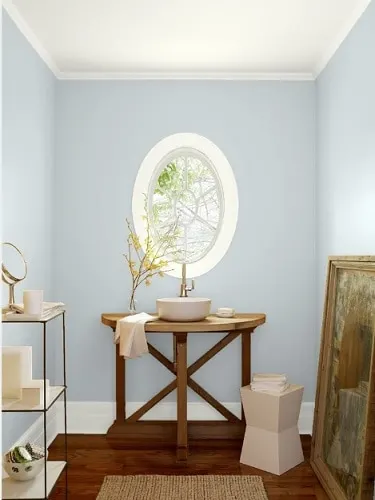 The bathroom is another room where you want to create a serene and spa-like atmosphere. Again, blue is a color that is peaceful and calming. Bringing in a lighter blue-gray paint color will add a neutral softness to the room.
What about the kitchen?
I'd think twice before painting your entire kitchen blue. According to a study published in Appetite, people tended to drink and eat more when they were using blue cups and plates. I find this fascinating.
I mean I'm not sure how relevant this is to paint colors in your kitchen. But it is still something to think about.
To be on the safe side, choose a blue-gray paint color that is on the grayer rather than the blue side for your kitchen walls. Better yet, add a pop of blue as an accent wall or on your cabinets.
Don't start painting until you have the right tools!

SHOP MUST HAVE PAINTING TOOLS
What are the most popular blue gray paint colors?
OK, so let's talk about some of the best blue gray paint colors from Sherwin Williams and Benjamin Moore. I have a lot to share, so you may want to pack a lunch and grab a snack because this may take a while.
Rock Candy SW 6231
LRV: 75
Rock Candy and Icicle are both very light blue gray colors with LRVs in the 70s. Of the 2, SW Icicle has more of a blue tint to it.
Misty, North Star, and Evening Shadow are all similar in LRV. Misty and Evening Shadow are very similar both more of the gray side of these livid colors. Whereas, North Star has a touch more blue in it.
MAKE SURE YOU HAVE THE BEST TOOLS AND SUPPLIES! GET THE PAINTING TOOLS THE PROS USE!
Getting into more of the mid-tone to darker blue grays, Gray Screen and Online are the grayest of the bunch. Krypton and Jubilee are a bit on the blue side but, Upward has the most blue of all of them.
Daphne, Bracing Blue, and Distance are all more on the blue side of the color. They have a slate-like look to them. They are great darker blue gray options.
Now, Storm Cloud and Granite Peak are the opposite, they are less blue and more gray. They also can be considered slate colors.
In this next grouping, Iceberg is the lightest and has more blue than gray in it. Breath of Fresh Air is the most blue and is a great alternative to a baby blue.
Beacon Gray, Blue Lace, and Silver Gray are all more blue than gray. Dusty blue is a great way to describe these colors.
Finally, Smoke is slightly more of a teal gray. Teal is still a shade of blue so I had to sneak it in here. You know I love my teal colors.
Pike's Peak Gray, Nickel, and Pilgrim Haze are all similar in tone. They are mid-toned and have, in my opinion, the perfect balance of blue and gray in them.
Slate Blue is the bluest out of this group. Cloudy Sky is tinkering on the teal side but is nonetheless an awesome blue gray option.
In this final bunch, Water's Edge and Amsterdam are very close in color. Both colors have more blue than gray in them.
Providence Blue is another teal-ish blue gray that has a good amount of both teal and gray in it.
Van Deusen Blue and Gentleman's Gray are the darkest blue gray paint colors, and both have more of a blue undertone to them.
The Best Bluish Gray Paint Colors from Sherwin Williams
The Best Light Blue Grays by Sherwin Williams
Rock Candy SW 6231
Misty SW 6232
North Star SW 6246
Icicle SW 6238
Evening Shadow SW 7662
Gray Screen SW 7071
Upward SW 6239
Evening Shadow SW 7662
Gray Screen SW 7071
The Best Dark Blue Grays by Sherwin Williams
Krypton SW 6247
Online SW 7072
Jubilee SW 6248
Distance SW 6243
Storm Cloud SW 6249
Bracing Blue SE 6242
Granite Peak SW 6250
Daphne SW 9151
The Best Blue Gray Paint Colors from Benjamin Moore
The Best Light Blue Gray Paint Colors from Benjamin Moore
Silver Gray BM 2131-60
Smoke 2122-40
Iceberg 2122-50
Breath of Fresh Air 806
Nickel 2119-50
Slate Blue 1648
Beacon Gray 2128-60
Blue Lace 1625
The Best Dark Blue Gray Paint Colors from Benjamin Moore
Van Deusen Blue HC-156
Water's Edge 1635
Cloudy Sky 2122-30
Providence Blue 1636
Pilgrim Haze 2132-50
Pike's Peak Gray 2127-50
Amsterdam AF-550
Gentleman's Gray 2062-20
Don't forget to test your paint colors!
Finally, as I say in all my paint color posts, do not make the common mistake of not swatching the paint colors you are thinking about using. The colors you see on the computer look different than a swatch on your home. So choose a few colors you want to try and swatch those babies. LARGE swatches too!
Check out my review on Samplize, it's an easier, mess-free way to swatch!
Trust me choosing the wrong paint color is an expensive mistake you do not want to make.
WAIT! Before you start painting make sure you have the best painting tools to make your job easier. It will take hours off your painting time!
More Paint Colors to Consider
RECENT ARTICLES: