I may earn money or products from the companies mentioned in this post. Please click my Disclosure Policy to learn more
Sherwin Williams Granite Peak is an fantastic dark blue paint color. It's a versatile color that fits into all decor styles and looks lovely almost anywhere it's used.
Hello, my paint color lovers! I'm happy to have you!
Okay, this is going to be short and sweet.
I am talking about a fantastic blue paint color today. I love blue, so of course, it's always the color family I am drawn to.
We are reviewing the gorgeous:
SHERWIN WILLIAMS GRANITE PEAK SW 6250
STATS
LRV – 15
HUE FAMILY – Blue
COLOR COLLECTIONS – Colormix Forecast 2020 (Haven), Top Interior Colors
What is LRV?
It stands for Light Reflectance Value. It is a measurement commonly used by design professionals that measures the amount of light reflected from and absorbed by a surface. LRVs range from 0 -100, with 100 being pure white and 0 being absolute black.
A great article to read to learn more about LRV is Light Reflectance Value: What Do Those Numbers Mean?
Basically, Granite Peak has an LRV of 15, which is certainly on the lower end of the scale. We can assume it is a paint color that will not reflect the most light.
Granite Peak belongs to the blue hue family, which is a useful tidbit of information. Understanding the hue family of a paint color can provide insight into its characteristics and potential color shifts in different lighting conditions.
While the color collections aren't crucial details, it's interesting to see what other colors are included.
WHAT COLOR IS SHERWIN WILLIAMS GRANITE PEAK?
Sherwin Williams Granite Peak is a dark blue paint color. Of course, there is more to it than that.
This deep blue infused with slate gray undertones evokes a mood of rocky outcrops and stormy skies.

Sherwin Williams
I think Sherwin Williams sums this color up perfectly.
This is a color that definitely has that stormy feel to it. Think of the sky when a storm is coming. This is a shade you'd see.
Though Granite Peak is blue, it's a bit grayed down with tones down the blues vibrancy. I think it leans towards a neutral blue.
Doing some painting yourself? Make sure you pick up this essential painting tool!
IS IT WARM OR COOL TONED?
Granite Peak is cool-toned. For the most part, blue paint colors are cool-toned because blue is a cool tone. That makes sense, right?
The tone of a paint color for a color like Granite Peak is more straightforward to figure out. A color like Agreeable Gray that's a bit more tricky. That's because Agreeable Gray is a near neutral.
A helpful tip you can use to figure out the tone of a paint color is to compare it to another paint color.
For example, let me compare Granite Peak to Kilim Beige. Looking at the colors side by side, each tone becomes more apparent.
INTERESTED IN WARM-TONED PAINT COLORS?
GRANITE PEAK UNDERTONES
One of the most frequent questions I'm asked is about the undertones of paint colors. I get it, people want to know if the paint color they like is going to give them a surprise.
Granite Peak has no surprises. Blue is the undertone color you see.
Undertones are subjective. a paint color presents itself differently in different spaces.
Why?
There are a few things that come into play such as lighting, fixed elements, and decor color scheme. These all play a part in the way a paint color will look in your home.
To guarantee you like the way a paint color will look, I highly suggest grabbing a paint sample. This will give you the peace of mind you need to make your paint color decision.
SW GRANITE PEAK, LIGHTING AND CARDINAL DIRECTIONS
Lighting is one of, if not the most important factor when it comes to how a paint color appears.
Knowing the lighting condition and cardinal direction of a room is crucial in choosing the right paint color, as it dramatically affects perception.
The table displays the four cardinal directions: North, South, East, and West, with a brief description of the light from each direction.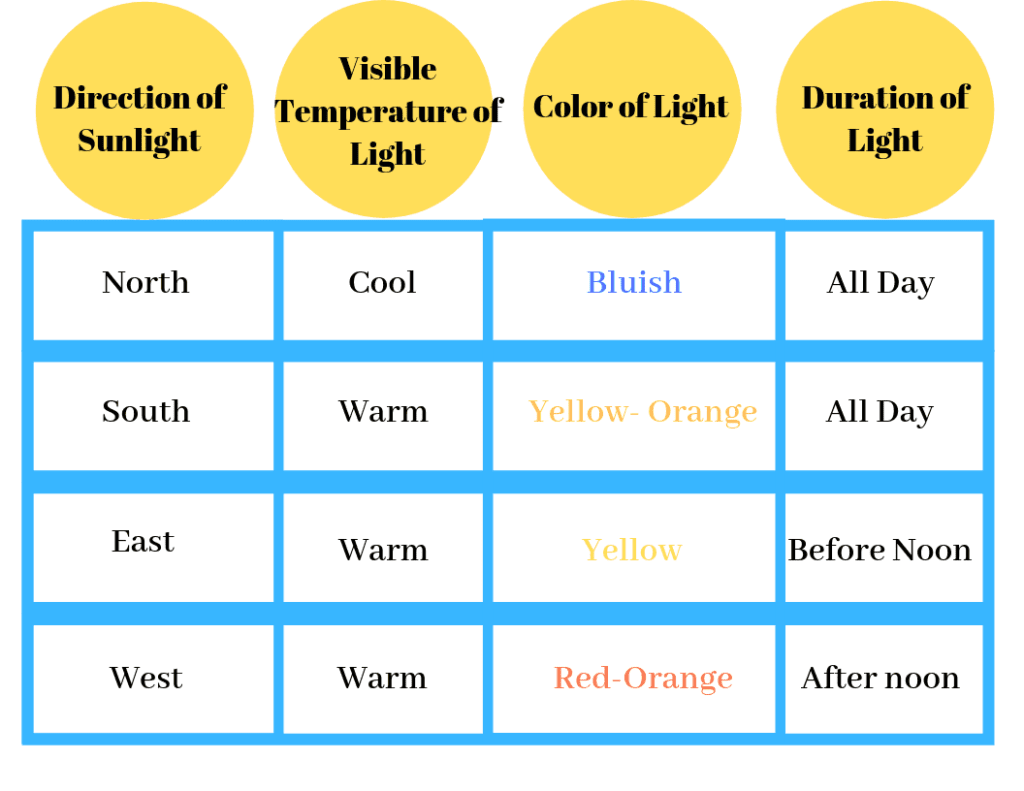 As a paint color consultant, I can certainly explain how the cardinal directions—north, south, east, and west—affect the way light interacts with paint colors.
Understanding these directional variations in light can help you choose the most suitable paint colors for your space. Let's explore each direction:
North:
North-facing rooms receive relatively cool, diffused light throughout the day.
The light in north-facing rooms tends to have a bluish or grayish quality.
To counterbalance the coolness, it's often a good idea to choose warmer paint colors. Colors with warm undertones, such as soft yellows, warm grays, or muted earthy tones, work well in north-facing rooms. These colors can make the space feel cozier and more inviting.
South:
South-facing rooms are flooded with natural light for most of the day.
The light in south-facing rooms is warm, with a yellowish or golden hue.
In rooms with ample southern exposure, you can embrace a wide range of paint colors. Both cool and warm colors can work beautifully. Consider light and airy pastels, bold and vibrant hues, or neutral shades, depending on your personal style and preferences.
East:
East-facing rooms receive morning sunlight, which is bright and cool.
The light in the morning tends to have a bluish tone, similar to north-facing rooms, but it becomes warmer as the day progresses.
In east-facing rooms, you may want to choose paint colors that can adapt to changing light conditions. Light, soft colors like pale blues, greens, or soft pinks can create a refreshing and calming atmosphere. These colors can complement the cool morning light and look equally pleasing as the light warms up during the day.
West:
West-facing rooms enjoy warm, late-afternoon sunlight.
The light in west-facing rooms is golden and intense, creating a cozy atmosphere.
When selecting paint colors for west-facing rooms, you can play with warm and rich tones. Colors like warm yellows, oranges, deep reds, and earthy browns can enhance the warm, welcoming feel of the space and create a sense of comfort.
Remember that the direction of light is just one factor to consider when choosing paint colors.
Other elements, such as the room's size, function, and your personal preferences, also play a significant role in selecting the right color.
To make the best choice, consider obtaining paint samples and observing how they look at different times of the day in your specific space.
This will help you find the perfect paint color that complements your room's lighting conditions and creates the desired ambiance.
Don't start painting until you have the right tools!

SHOP MUST HAVE PAINTING TOOLS
DO THE LIGHT BLUBS YOU USE MAKE A DIFFERENCE IN THE WAY A PAINT COLOR LOOKS?
Just as natural light affects paint colors, so does artificial lighting.
The color of the light bulbs you use will influence how a paint color will look in a room. And unfortunately, it's an important detail that is often overlooked.
With the variety of light bulbs available, it can become overwhelmingly confusing. I mean, what is the difference between soft white and bright white?
Learning a little about light bulbs can make the task easier.
For reference, light color or light appearance is measured on the Kelvin (K)temperature scale. Lower Kelvin numbers mean more yellow light; the higher the Kelvin number, the whiter or bluer light.
Remember, lower Kelvin (K) numbers = yellow light, Higher Kelvin (K) numbers = white/blueish light
I always recommend using this type of light bulb.
Be cautious of the light bulb names such as "daylight" or warm light." I'd advise against picking a light bulb by its name.
Instead, always check the package for actual facts. This allows you to choose the best bulb for you.
Don't forget that lighting plays a significant part in how a paint color will look at times. There are other determinants to be aware of. For instance, decor, furniture, fixtures, cabinetry, and floors. These are all elements that can affect and/or influence the way a paint color will look in your room.
THE BEST WAY TO SAMPLE GRANITE PEAK BY SHERWIN WILLIAMS
Sample Sherwin Williams Granite Peak with Samplize Peel & Stick Paint Samples.
As someone who values the importance of choosing the right paint color for a room, I highly recommend testing and sampling various options.
This step in the painting process is often overlooked, but it can provide a concrete idea of how the color will appear in the space. Neglecting this step seems impractical to me.
LEARN HOW TO TEST YOUR PAINT SAMPLE THE RIGHT WAY.
GRAB A SAMPLING PAINT COLORS WORKSHEET TO LEARN HOW TO GET THE MOST OUT OF YOUR SAMPLES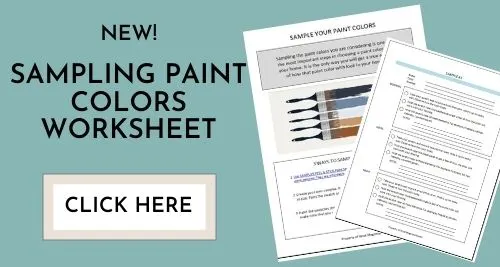 Instead of physically going to your nearest paint store to grab your samples, you need to try Samplize Peel & Stick paint samples.
Why should you try Samplize?
Super affordable
Mess-free
Non-damaging
Made with real manufacturer paint
Displays color just like a wall
Environmental friendly
Reusable
These peel & stick paint samples are super affordable and allow you to test a paint color in all different areas of a room without the mess of a traditional paint sample!
You know how I feel about testing paint colors. It's a must!
Don't create more work for yourself. Order Samplize now and have them shipped directly to you. No fuss, no mess! Check them out for yourself. You won't be disappointed.
Get $5 off your first Samplize order using the code "FIRSTFIVE"
WHAT TRIM COLOR LOOKS GOOD WITH GRANITE PEAK?
SW Granite Peak looks phenomenal with a clean white trim, in my opinion.
Traditionally, white is the most popular color choice for trim. It makes sense because it goes with everything,
But not all white paint colors are the same. Some lean warm, while others lean cool. This shouldn't be overlooked because choosing the wrong white trim color can throw off your wall color.
That being said, Granite Peak is a cool-toned blue paint color, and it looks fantastic with a cool or neutral-toned white paint color.
Some of the whites I like to use as trim colors with it are:
READ MORE: THE BEST WHITE PAINT COLOR FOR TRIM
WHERE IS THE BEST PLACE TO USE THIS SHERWIN WILLIAMS DARK BLUE PAINT COLOR?
I'm an advocate for decorating the way you want to decorate. I believe you should use colors or decor pieces that make you happy, not just because it's what is trending or what has you.
I know it's easy to get caught up on social media and see what all your favorite influencers are doing and the paint colors they are using. But it's important to remember that you are decorating for you, not an audience.
So, if you like Granite Peak as your kitchen cabinet paint color, that's awesome, and you should go for it!
I don't think you should be told where a paint color should or shouldn't be painted. However, I believe it is helpful to see real-life examples of where Granite Peak can be used.
BOARD & BATTEN
Granite Peak is a fantastic accent color. It looks gorgeous on a feature like board and batten.
littlehouseonlexington painted the board & batten of her entryway using Granite Peak.
DINING ROOM
The dining room is another fantastic example of where you can use Sherwin WIlliams Granite Peak.
love_your_nest_blog painted the upper half of her dining room walls using this pretty blue. I feel like it gives the room a formal feel.
And it looks incredible paired with the bright white trim.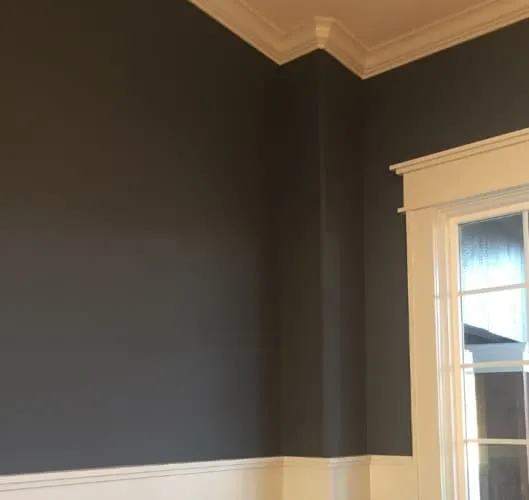 FURNITURE
Paint your old, outdated furniture with a fun color like Granite Peak.
furniture_refurbineering used GP on a piece of furniture, which was truly transformed.
The dresser is updated and modern looking, and It's now a one-of-a-kind piece.
WAIT! Before you start painting make sure you have the best painting tools to make your job easier. It will take hours off your painting time!
IS IT A GOOD PAINT COLOR FOR THE EXTERIOR?
Yes, Granite Peak by Sherwin Williams is a fantastic exterior paint color.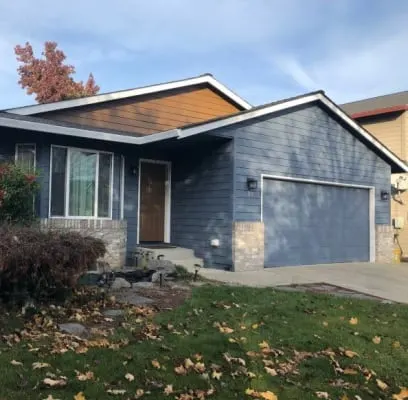 Blues have become a very popular choice for the exterior of the home. A color like GP is perfect because it has enough depth to hold up in direct sunlight.
The sun tends to wash out lighter paint colors or make them appear lighter on the exterior. That's why I like to tell clients to go for a color darker than they think for the exterior. Nine times out of 10, they are surprised by how much they like it.
Of course, you need to sample the color to see exactly how it will perform. Then, from there, you can make an informed decision.
CHECK OUT SOME OF THESE EXTERIOR PAINT COLOR OPTIONS
IS THE A BENJAMIN MOORE EQUIVALENT TO SW GRANITE PEAK?
No, there is not an exact Benjamin Moore dupe to Granite Peak
While it is true that there are times when some colors are so alike that it's hard to tell them apart once they are on the walls, I have never come across an exact match.
However, I understand why people ask about equivalents or dupes.
Sometimes, we don't have access to specific brands, and if you happen to love a particular paint color from that brand, you may want to find a similar one elsewhere.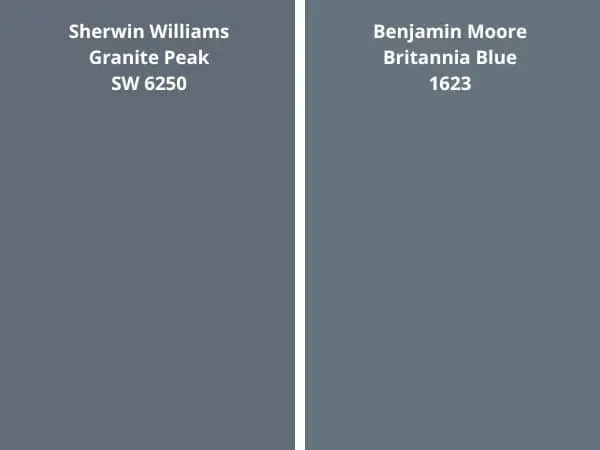 I have found that Benjamin Moore BRITANNIA BLUE 1623 is the closest, spec-wise, for those curious.
WHAT ABOUT COLOR MATCHING?
I wouldn't necessarily advise color matching between brands, but be cautious if you are considering it.
Different brands have different formulas for their paint colors. This means that if they mix a color that isn't their own, it may be slightly different.
If you still want to take a chance, I recommend starting with a sample of the color. This way, you can ensure that the color is what you expected and that you are happy with it.
WHAT PAINT COLORS LOOK GOOD WITH GRANITE PEAK?
I find that darker shades of blue, like Gale Force, are easier to work with when it comes to coordinating paint colors.
A simple and effective way to discover colors that complement each other is to consult the color wheel.
Complementary colors are the ones that are directly opposite to each other on the wheel.
For instance, orange is the complementary color of blue.
The color wheel is a handy tool for creating perfect color schemes. Below are a few paint colors that work well with Granite Peak.
Quicksilver SW 6245
Wool Skein SW 6148
Escapade Gold SW 6403
Merlot SW 2704
Pediment SW 7634
Diverse Beige SW 6079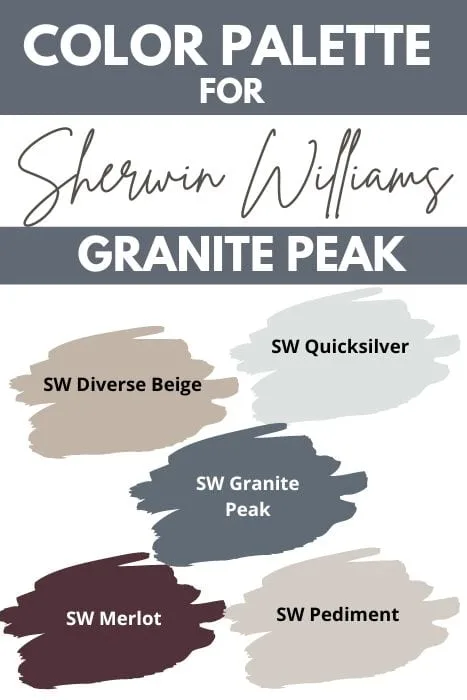 COLOR COMPARISONS
Let's compare some colors!
I love to share color comparisons because it can be very helpful in choosing paint color. It lets you see how similar or different colors can be.
GRANITE PEAK VS GRAYS HARBOR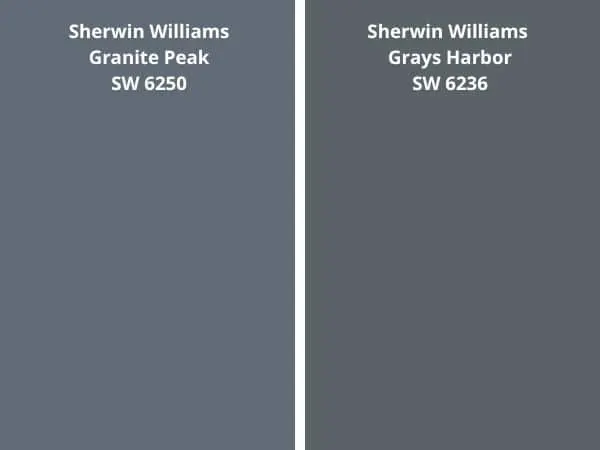 Sherwin Williams Grays Harbor has an LRV of 12. A few points lower than GP.
Grays Harbor has less color or saturation to it. GP is a bit more blue.
Granite Peak is the lighter paint color.
Both are colors that have a slate-like feel to them.
GRANITE PEAK VS HALE NAVY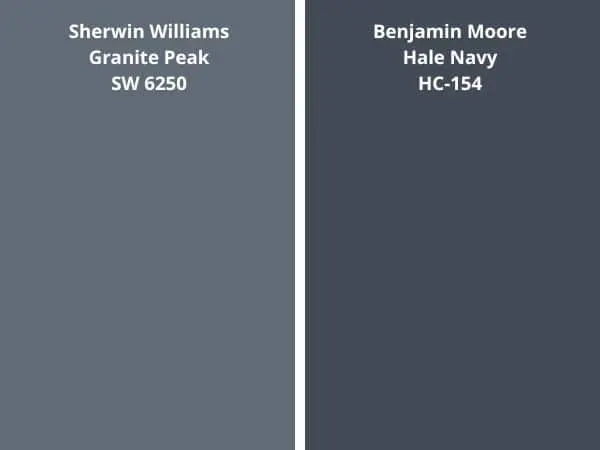 Benjamin Moore Hale Navy has an LRV of 8.36. A bit lower than GP's 15.
Hale Navy is the darker blue.
GP has more color or saturation to it.
Hale Navy is more of a navy blue.
READ MORE: FULL PAINT COLOR REVIEW- BENJAMIN MOORE HALE NAVY
GRANITE PEAK VS SLATE TILE 7624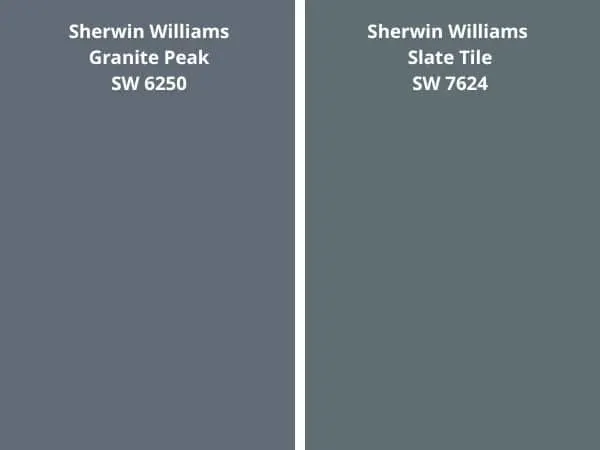 Slate Tile has an LRV of 15, the same as Granite Peak.
SW Slate Tile is a bit lighter.
Slate Tile also has less color or saturation.
Both colors are slightly on the muted side.
GRANITE PEAK VS STORM CLOUD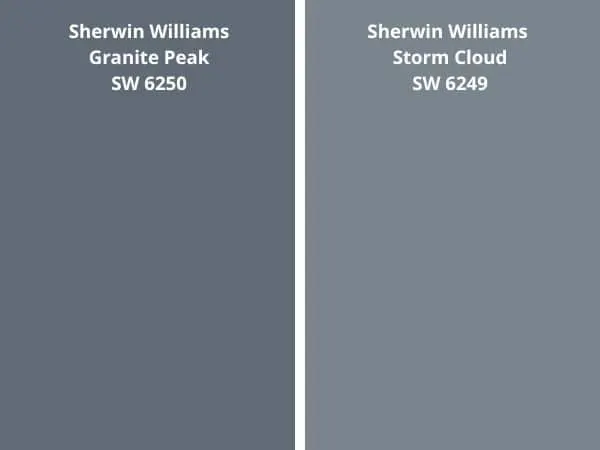 Sherwin Williams Storm Cloud has an LRV of 23.
Storm Coud is the lighter blue of the two paint colors.
Granite Peak has more saturation or color to it.
Strom Cloud is a blue-gray paint color.
RECAP
I shared a ton of valuable information about Sherwin Williams Granite Peak. It would be a shame if you missed any.
For that reason here's a brief recap of everything talked about in this article.
LRV – 15
HUE FAMILY – Blue
COLOR COLLECTIONS – Colormix Forecast 2020 (Haven), Top Interior Colors
Granite Peak is a deep blue with a bit of gray in it.
It's a cool-toned paint color.
Samplize Peel & Stick Paint Samples are the best way to test this blue paint color.
It looks terrific with a clean white trim like SW Extra White.
It is a lovely dark blue paint color to use as an accent or all-over color.
It is a striking blue paint color for the exterior of the home.
Britannia Blue is the closest Benjamin Moore paint color (spec-wise) to Granite Peak.
It's an easy paint color to coordinate with.
FINAL THOUGHTS
If I were to describe this color, refined, timeless, and classic would come to mind. It possesses a certain elegance, which is why designers and DIYers alike favor it.
The cool-toned deep blue paint is versatile and suitable for any room.
If you like cool tones and are drawn to the color blue, you'll love Granite Peak.
It's important to keep in mind that the colors you see on a computer screen may not accurately represent the paint colors. Testing the paint colors by sampling with Samplize is the best way to see their true color.
Do you still need a little more guidance finding a paint color?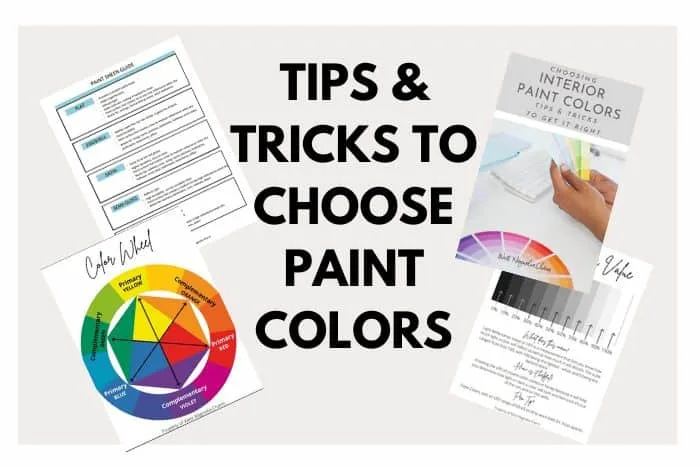 RECENT ARTICLES: