I may earn money or products from the companies mentioned in this post. Please click my Disclosure Policy to learn more
When it comes to transforming your living space, the power of paint cannot be underestimated. The right colors can completely redefine a room, create a specific atmosphere, and even affect your mood. Benjamin Moore, a trusted name in the world of interior design, is here once again to guide you through the color trends of 2024. With a dazzling array of colors, their 2024 palette promises to be a source of inspiration for your next home makeover.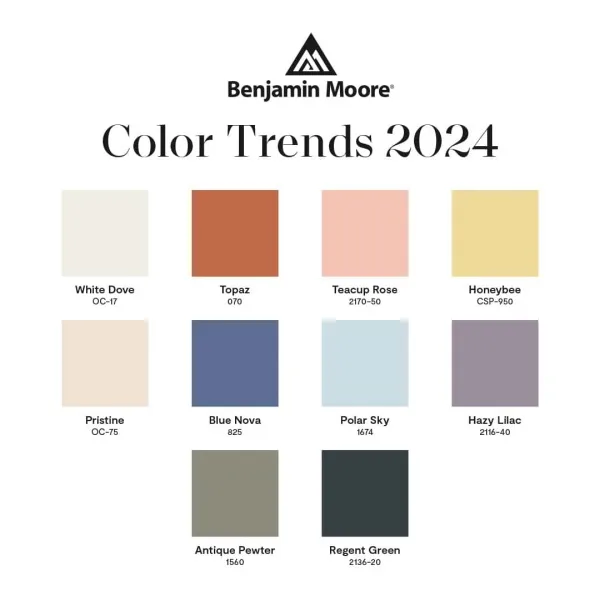 Homeowners, designers, and DIY enthusiasts eagerly await Benjamin Moore's annual color forecast, which often sets the tone for interior design trends. In 2024, Benjamin Moore has chosen an eclectic mix of colors, ranging from serene and neutral to bold and expressive, ensuring there's something for everyone. Let's take a closer look at some of the standout colors and how you can incorporate them into your living spaces.
Benjamin Moore 2024 Color of the Year – Blue Nova 825

Blue Nova (825): Bold Statement
For a bold and dramatic statement, "Blue Nova" is the ideal choice. This deep blue can be used to create a focal point in any room, whether on walls or with bold furnishings. Pair it with metallic accents and contemporary decor for a modern and eye-catching look.
Honeybee (CSP-950): Warmth and Joy
"Honeybee" is a golden yellow that radiates warmth and happiness. This color can be used to infuse your space with a sense of cheer and positivity. It's an excellent choice for kitchens, dining rooms, or as an accent color in a home office. Pair it with cheerful decor and vibrant textiles for a lively and welcoming atmosphere.
Polar Sky (1674): Frosty Elegance
"Polar Sky" is a frosty blue-gray that evokes the serenity of the polar regions. This color is ideal for creating a cool and calming atmosphere in bedrooms, bathrooms, or home offices. Pair it with minimalist decor and soft textiles to enhance its icy quality.
Teacup Rose (2170-50): A Touch of Charm
"Teacup Rose" is a soft pink that adds a touch of charm and sweetness to your space. Use it in bedrooms, nurseries, or as an accent color in living areas. This color pairs beautifully with romantic decor and feminine accents to create a space that's both elegant and inviting.
Topaz (070): Jewel-Toned Luxury
"Topaz" is a deep, jewel-toned topaz that adds a touch of luxury to your interiors. This color is a great choice for creating a rich and opulent ambiance in dining rooms, libraries or as an accent in a glamorous living room. Pair it with metallic accents and sumptuous furnishings to enhance its regal quality.
How to Sample Benjamin Moore Color of The Year
Instead of physically going to your nearest paint store to grab your samples, you need to try Samplize Peel & Stick paint samples.
Why should you try Samplize?
Super affordable
Mess-free
Non-damaging
Made with real manufacturer paint
Displays color just like a wall
Environmental friendly
Reusable
These peel & stick paint samples are super affordable and allow you to test a paint color in all different areas of a room without the mess of a traditional paint sample!
You know how I feel about testing paint colors. It's a must!
Don't create more work for yourself. Order Samplize now and have them shipped directly to you. No fuss, no mess! Check them out for yourself. You won't be disappointed.
Get $5 off your first Samplize order using the code "FIRSTFIVE"
Antique Pewter (1560): Classic Elegance
"Antique Pewter" is a rich and classic pewter color that exudes antique charm. Use it to create a timeless and sophisticated atmosphere in living rooms, dining rooms, or home libraries. Pair it with classic decor elements and traditional furnishings for a look that's steeped in elegance.
READ MORE: THE BEST PEWTER PAINT COLORS
Pristine (OC-75): Fresh and Inviting
"Pristine" is a crisp, clean white that's always in style. This versatile color can be used in just about any room to create a fresh and inviting atmosphere. Pair it with any color scheme and style of decor to achieve a look that's both classic and modern.
Regent Green (2136-20): Timeless Sophistication
"Regent Green" is a timeless green that exudes sophistication. Use it in dining rooms, studies, or as an accent color in a classic living room. This deep green pairs beautifully with rich wood furnishings and classic decor, creating an elegant and refined atmosphere.
White Dove (OC-17): Timeless White
"White Dove" is a classic white that never goes out of style. This color is perfect for creating a fresh and timeless look in any room. Use it to brighten up your space, and pair it with any decor style, from traditional to contemporary, for a clean and inviting ambiance.
Hazy Lilac (2116-40): Dreamy Romance
"Hazy Lilac" is a soft, romantic lilac that adds a touch of dreamy romance to your interiors. Use it in bedrooms or living rooms to create a soft and whimsical atmosphere. Pair it with soft textiles and feminine decor to complete the romantic look.
How to Use Benjamin Moore's 2024 Color of The Year & Trending Paint Colors
Incorporating these colors into your home can be a transformative experience. Whether you're painting entire rooms, accent walls, or using them for furniture and decor, Benjamin Moore's 2024 color palette offers endless possibilities for depicting your style and creating the ambiance you desire.
Here are a few ideas on how to use these colors effectively:
Monochromatic Magic: Create a sense of cohesion and harmony by using varying shades of the same color in a room. For example, use "Metropolitan" on the walls and "Steam" for trim and accents.
Bold Accents: Consider using bolder colors like "Pompeii" or "Topaz" as accent walls in living rooms, dining areas, or bedrooms. This can add a dramatic and eye-catching element to your space.
Transitional Spaces: Use "Vapor" or "Polar Sky" in transitional spaces like hallways or entryways to create a seamless flow between rooms.
Furniture and Decor: Introduce the 2024 colors through furniture, textiles, and decor items. For example, upholster your sofa in "Teacup Rose" or add "Antique Pewter" throw pillows to your bed.
Mix and Match: Get creative and experiment with combinations. A mix of "Gentle Cream" walls with "Regent Green" furniture can create an inviting, classic look with a touch of sophistication.
Seasonal Transformation: You can easily switch up the mood of a room by changing out decor elements. "October Sky" walls can be transformed for different seasons with seasonal decor items.
Final Thoughts
Remember, lighting plays a crucial role in how colors appear in a room. Always test your chosen colors in your space and observe them under different lighting conditions before making your final decision.

Benjamin Moore's 2024 color palette offers an exciting range of options for any homeowner or interior designer. These colors can be used to create a variety of atmospheres, from tranquil and serene to bold and expressive. So, if you're planning to refresh your home in 2024, look no further than Benjamin Moore's exquisite collection of colors.
In conclusion, the world of interior design is always changing, and staying ahead of the trends is crucial to creating a space that reflects your personality and style. Benjamin Moore
WANT TO TRY THEM ALL? GET THE SAMPLIZE BUNDLE