I may earn money or products from the companies mentioned in this post. Please click my Disclosure Policy to learn more
Classic and timeless, Benjamin Moore White Dove, is a white paint color that exudes elegance.
I'm rather excited to get into today's paint color. It's a color that is super popular (all over Pinterest) and it's known to be a designer's favorite. I'm also fairly certain I receive the most questions about this particular Benjamin Moore paint color.
So what color are we taking a deep dive into today?
White Dove OC-17 – Benjamin Moore

You may be thinking, ah yes, just another white paint color. What makes this one so different, aren't all white paint colors the same?
Sure, It may seem like all white paint colors look the same, however, they are not. Whites fall into different categories, including warm whites, cool whites, and true whites.
So with that being said White Dove is not just another white paint color. Benjamin Moore describes it perfectly
The unerring style defines this classic, softly shaded white. Light and luminous, it is a favorite choice for moldings and trim.

Benjamin Moore
There is much more than meets the eye with BM White Dove. And lucky for you we are going to get down and dirty with all the details of this crowd-pleaser. Let's get into it, shall we?
STATS
White Dove OC-17 is also known as White Dove PM-19. What do those numbers even mean? They are there telling you the color collection. So, OC is the Off-White Collection and PM is The Premium Mix Collection.
Ben Moore White Dove has an LRV of 85.38. That's high up on the scale, and it's to be expected because it's a white paint color. If you forgot what LRV or Light Reflectance Value is, to sum it up it's a measurement commonly used by design professionals that measures the amount of light reflected from a surface. LRVs range from 0-100, with 100 being pure white and 0 being absolute black. Basically, higher numbers reflect more light and lower numbers do the opposite, they absorb light.
It's part of the Off- White Collection.
it is one of the best-selling and most popular white paint colors.

According to encycolorpedia.com
White Dove has The hexadecimal color code #f0efe6
In the RGB color model #f0efe6 is comprised of 94.12% red, 93.73% green and 90.2% blue.
WHAT COLOR IS WHITE DOVE
Benjamin Moore White Dove is a soft, creamy, off-white paint color. When it comes to white paint colors, White Dove is rather neutral. By neutral I mean, it is not super warm or cool and it's not a true white.
I know at first glance, White Dove looks to be a regular old white paint color. However, there is much more to it than meets the eye and lucky for you, we are learning all about it today.
IS BENJAMIN MOORE WHITE DOVE TOO YELLOW?
Nope, White Dove is not too yellow, nor is it really yellow looking at all. It is more of a creamy off-white that has a touch of grey in it to prevent it from looking yellow. It does have yellow in it, which provides it with that warmth you see. However, it's extremely important to sample it where you plan on painting it. Everyone's home and lighting are different so depending on your particular situation, it may appear more yellow than it would in someone else's home.
READ MORE: HOW TO TEST PAINT SAMPLES IN YOUR HOME
IS WHITE DOVE TOO WHITE?
No, I wouldn't consider BM White Dove to be too white. As we just learned, WD has a bit of gray in it, which keeps it from being overly stark. I great way to see how it's not too white is to compare it to Benjamin Moore Chantilly Lace.
Chantilly Lace is pretty dang close to a true white, so when you put the two side by side you can see how White Dove is more on the off-white side.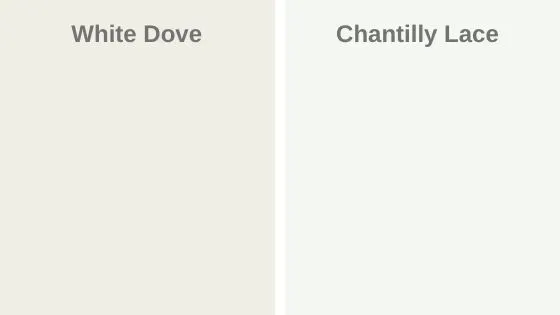 IS WHITE DOVE WARM OR COOL WHITE?
Benjamin Moore White Dove is a warmer white rather than a cool one. That being said it's not overly warm or yellow looking. And it's certainly not an icy, stark white. WD has a great balance of warm and cool tones in it.
LIKE WARM PAINT COLORS? CHECK THESE OUT:
WHAT UNDERTONES DOES WHITE DOVE HAVE?
BM White Dove has greige undertones. We already know that WD is a warm white paint color. That warmth comes from the bit of yellow in it. Now the thing that keeps it from looking too yellow is a tiny bit of gray. That tiny bit of gray helps balance out the warmth of the yellow.
---
WAIT! Before you start painting make sure you have the best painting tools to make your job easier. It will take hours off your painting time!
---
WHERE CAN YOU USE THE FANTASTIC BENJAMIN MOORE WHITE PAINT COLOR?
DW is the perfect white paint color to use almost anywhere. It's not overly stark white yet at the same time, it's not excessively warm, which makes it the ideal paint white paint color to use in an array of spaces.
Kitchen & Kitchen Cabinets
Interior Walls
Trim & Moldings
Exterior
Ceiling
Shiplap
You name it, you can paint it.
USE WHITE DOVE IN THE KITCHEN
Using white in your kitchen will keep it looking timeless and classic. Whether you decide to use White Dove on your kitchen cabinets or on your kitchen walls, this color will freshen up your space making it feel light, bright, and airy. White kitchens are here to stay, and White Dove is an exceptional white paint color option.
If you are considering painting your kitchen cabinets yourself, read this first!
READ MORE: POPULAR KITCHEN CABINET PAINT COLORS
PAINT YOUR WALLS WHITE BM WHITE DOVE
If you have tons of natural light spilling and overflowing your space, why not go for a White Dove wall? It will make your walls the perfect soft neutral backdrop for all your decor.
So is White Dove a good wall color? Yes, but only if your space has a lot of natural light.
Any white paint color on your wall will look grayed down, shadowy, and dull if the room does not have the right conditions. White walls look their best when there is a ton of natural light.
WHAT TRIM COLOR GOES WITH WHITE DOVE WALLS?
If you decide to paint your walls with Benjamin Moore White Dove, you may be stuck on what color to paint your trim.
A great trim color that goes with White Dove walls is White Dove. No, that is not a typo. You can use the same paint color on the trim as well as the walls. To add a little variation, use a flat finish on your walls and a semi-gloss on the trim. This creates a slight difference between the two.
If you think using White Dove for both the walls and trim is a little too matchy-matchy, you can try using BM Simply White. Still a white paint color, but it's a hint lighter and has a subtle warmth to it that will pair beautifully with White Dove.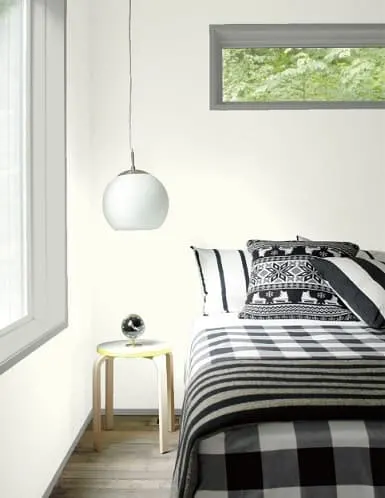 Another fantastic trim color option for White Dove walls is a color like BM Classic Gray OC-23. White Dove will work well with a light gray paint color with a subtle warmth to it.
If you want to go a bit bolder with your trim color, opt for a black paint color like SW Tricorn Black. This will create a ton of contrast.
I also have to note that WD works as a gorgeous complementary color that goes with light wood.
READ MORE: THE 8 BEST WHITE PAINT COLORS FOR TRIM AND DOORS
USE IT ON THE EXTERIOR OF YOUR HOME
The exterior of your home is another spectacular place to use White Dove. It has that touch of gray in it that will keep it from looking too blindingly bright. And come on, who doesn't love a beautiful, crisp white home?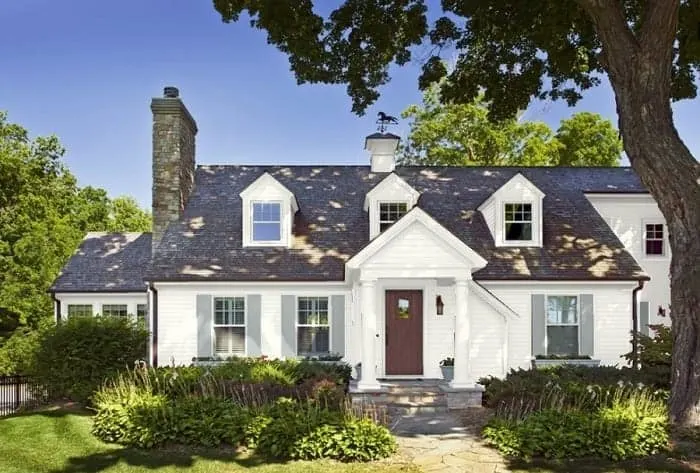 PAINT YOUR CEILINGS WHITE DOVE OC-17
Ceilings tend to be an afterthought for many people. We are always so focused on choosing the right paint color that everything else is thrown on the back burner. Let's not deprive those ceilings of looking their best.
Enter White Dove. I know it's a white paint color, but as we have already discussed, not all white paint colors are created equally. And the majority of the time, ceilings are white, so why not thoughtfully choose a white that will complement your wall color? That being said, White Dove would be a great ceiling paint color option, especially with paint colors like Coventry Gray, Agreeable Gray, Repose Gray, and Revere Pewter.
PAIR WITH HONEY OAK WOOD
Honey oak is a wood color that tends to throw everyone off when it comes to creating a color palette. I'm here to give you good news. If you are struggling with this, WD is an amazing white paint color to go with honey oak. The warmth that the color has works wonderfully with honey oak.
IS WHITE DOVE A GOOD TRIM COLOR?
Absolutely, White Dove is an exceptional trim color.
For wall colors that are leaning on the warmer side, White Dove is the perfect trim color option. The slight warmth in it coordinates perfectly with warm tones.
White Dove can also work with some cooler-toned paint colors as well. As we learned, it's not a yellow-y white, it's more creamy. So, it is possible to work with those cool tones without looking off.
READ MORE: THE BEST WHITE PAINT COLORS FOR TRIM
WHAT IS SHERWIN WILLIAMS EQUIVALENT TO WHITE DOVE?
The closest Sherwin Williams equivalent to White Dove would be SW Alabaster or SW Snowbound. Now, these colors are similar, but they aren't exact dupes.
Of course, you know will be similarities in colors between paint brands like Benjamin Moore and Sherwin Williams. Sometimes, the colors are almost identical to one another, and other times, they share a mere resemblance.
Each paint brand uses its own color system when mixing paint, so there are bound to be differences between all brands.
Now, in terms of Benjamin Moore's White Dove, I wouldn't say there is a Sherwin Williams equivalent. There are a few colors similar to WD. Ones you can consider more as siblings rather than twins.
If you prefer Sherwin Williams, you can ask them to mix White Dove. However, you have to keep in mind the color systems are different, and the color may not be 100% accurate. If you do decide to do this, make sure you sample the color first.
COLORS SIMILAR TO BENJAMIN MOORE WHITE DOVE
As I have already mentioned, white paint colors are not all created equally. I know it still sounds silly, but white paint colors are pretty dang complicated. That being said, there are colors that are quite similar to one another.
Let's talk about some white paint colors that are similar to White Dove.
Benjamin Moore Simply White OC-117
Benjamin Moore Oxford White 869
These white paint colors are quite similar to Benjamin Moore White Dove. However, they are not exact dupes.
BENJAMIN MOORE WHITE DOVE VS SW ALABASTER
When comparing Sherwin Williams Alabaster to Benjamin Moore White Dove, there are a few slight differences between the two colors.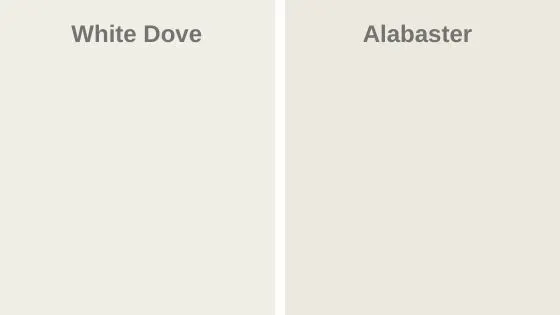 Both Alabaster and WD are considered off-white paint colors.
White Dove is closer to white than Sherwin Williams Alabaster.
Both paint colors are very light and have high LRVs. Alabaster has an LRV of 82 and White Dove is a tiny bit higher at 85.38.
BM White Dove has a hint of gray in its undertone, which grounds the color from going too warm. Though both colors have the perfect balance of warm and cool undertones.
SW Alabaster and BM White Dove are two colors that we recommend to clients all the time. They are no-fail paint colors that are truly timeless just with a few slight differences.
BM WHITE DOVE VS SW PURE WHITE
Now let's compare Sherwin Williams Pure White and Ben Moore's White Dove.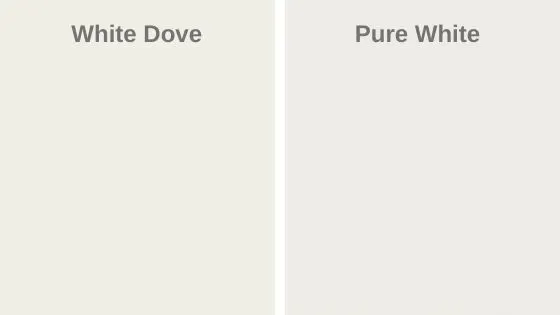 SW Pure White has an LRV of 84, which is a hair less than White Dove's LRV of 85.38.
White Dove has more warmth and is a little softer than Pure White. Pure white is a bit closer to a true white.
Pure white only has a very small amount of yellow in it, which gives it the tiniest amount of warmth in it. It also has some black/gray which helps balance out the warmth.
Out of these two particular colors, Sherwin Williams Pure White is closer to white and has less warmth in it.
READ MORE: A FULL REVIEW- SHERWIN WILLIAMS PURE WHITE
WHITE DOVE VS SIMPLY WHITE
I'm always getting questions regarding the comparison between BM Simply White and White Dove. So, what's the difference between White Dove and Simply White?
Simply White has an LRV of 91.7 Which is a bit lighter than White Dove's LRV of 85.38
Compared to White Dove, Simply White is a little cleaner and crisper.
Simply white has a hint of warmth, just like White Dove.
Simply White also has some yellow in it and that is what is giving its ever-so-subtle warmth.
White Dove and Simply White work well together because of the slightest warmth they both have in them.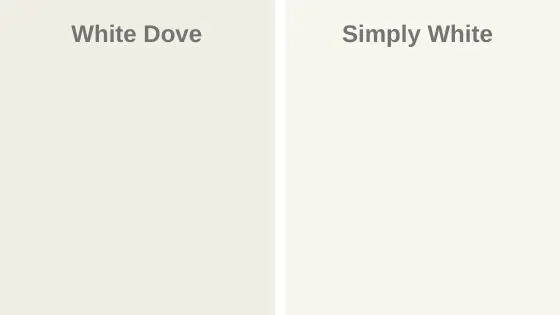 When it comes down to it, Both White Dove and Simply White are awesome white paint colors. Both have a good balance of warm and cool in them that makes them great choices for walls, trim, etc.
WHITE DOVE VS SWISS COFFEE
For the final comparison, let's talk about Benjamin Moore White Dove and Swiss Coffee OC-45.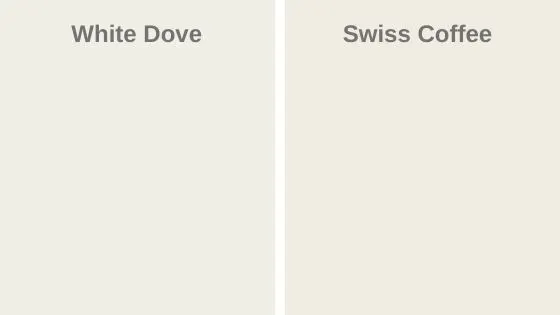 Swiss Coffee has an LRV of 83.93, very close to White Dove's 85.38.
Swiss Coffee is also a part of Benjamin Moore's Off-White Collection.
White Dove is more white when compared to Swiss Coffee.
Swiss Coffee has yellow and gray in it which gives it a warm yet airy presence. It's warmer and creamier than White Dove.
Both Swiss Coffee and White Dove are fabulous off-white colors. When deciding between them, it comes down to whether or not you are looking for a white paint color that has more warmth and creaminess to it. If that's what you are looking for, Benjamin Moore Swiss Coffee is the winner.
READ MORE: SWISS COFFEE PAINT COLOR REVIEW
---
Now is a good time to take a quick break to talk about paint samples!
Quickly, let's talk about testing paint colors.
Instead of physically going to your nearest paint store to grab your samples, you need to try Samplize Peel & Stick paint samples.
Why should you try Samplize?
Super affordable
Mess-free
Non-damaging
Made with real manufacturer paint
Displays color just like a wall
Environmental friendly
Reusable
These peel & stick paint samples are super affordable and allow you to test a paint color in all different areas of a room without the mess of a traditional paint sample!
You know how I feel about testing paint colors, it's a must!
Don't create more work for yourself. Order Samplize now and have them shipped directly to you. No-fuss, no mess! Check them out for yourself, you won't be disappointed.
---
COORDINATING COLORS WITH BENJAMIN MOORE WHITE DOVE
We discussed paint colors similarly, now let's chat about the colors that coordinate or work well with White Dove.
It's no surprise but White Dove works well with a ton of colors. That's a lot of colors!
Seriously though, because it is such a neutral white, it can work with just about any color. Let's explore a few favorites.
Classic Gray
Charcoal Slate
And let's not forget black paint colors. You can never go wrong with the black and white color combination.
RECAP
Here's a quick recap of everything we learned about Benjamin Moore White Dove OC-17:
White Dove is part of the Benjamin Moore Off-White Collection.
It has an LRV of 85.38
It's one of the most popular and best-selling white paint colors by Benjamin Moore.
It has a slight warmth to it.
White Dove has a bit of gray in it which keeps it from looking yellow.
The undertones of White Dove are greige/yellow.
WD is a warm white paint color.
White Dove is not too stark white.
BM White Dove makes an excellent trim paint color.
It coordinates well with many colors including Edgecomb Gray and Thunder.
White Dove is a designer's favorite.
FINAL THOUGHTS
In my opinion, White Dove is one, if not my favorite white color from Benjamin Moore. The slight warmth along with that hint of gray in it makes it easy to work with and pair with many other colors.
Also, this creamy neutral off-white paint color is the perfect backdrop to highlight any decor style. It lets the decor stand out as the star of the show, as well as permits you to easily switch up your decor without limitations.
That is why we end up suggesting this color to clients of ours. Especially when they are looking for the perfect white for trim and kitchen cabinets. The versatility of this color is just so appealing, it's no wonder it's on Benjamin Moore's bestseller list.
Don't forget, when it comes to paint colors it's always a good idea to use large swatches like Samplize Peel & Stick Paint Samples where you intend to use the color. Lighting will change in the room so pay attention and be observant. You want to make sure you will love the color in every lighting situation.
RELATED ARTICLES: